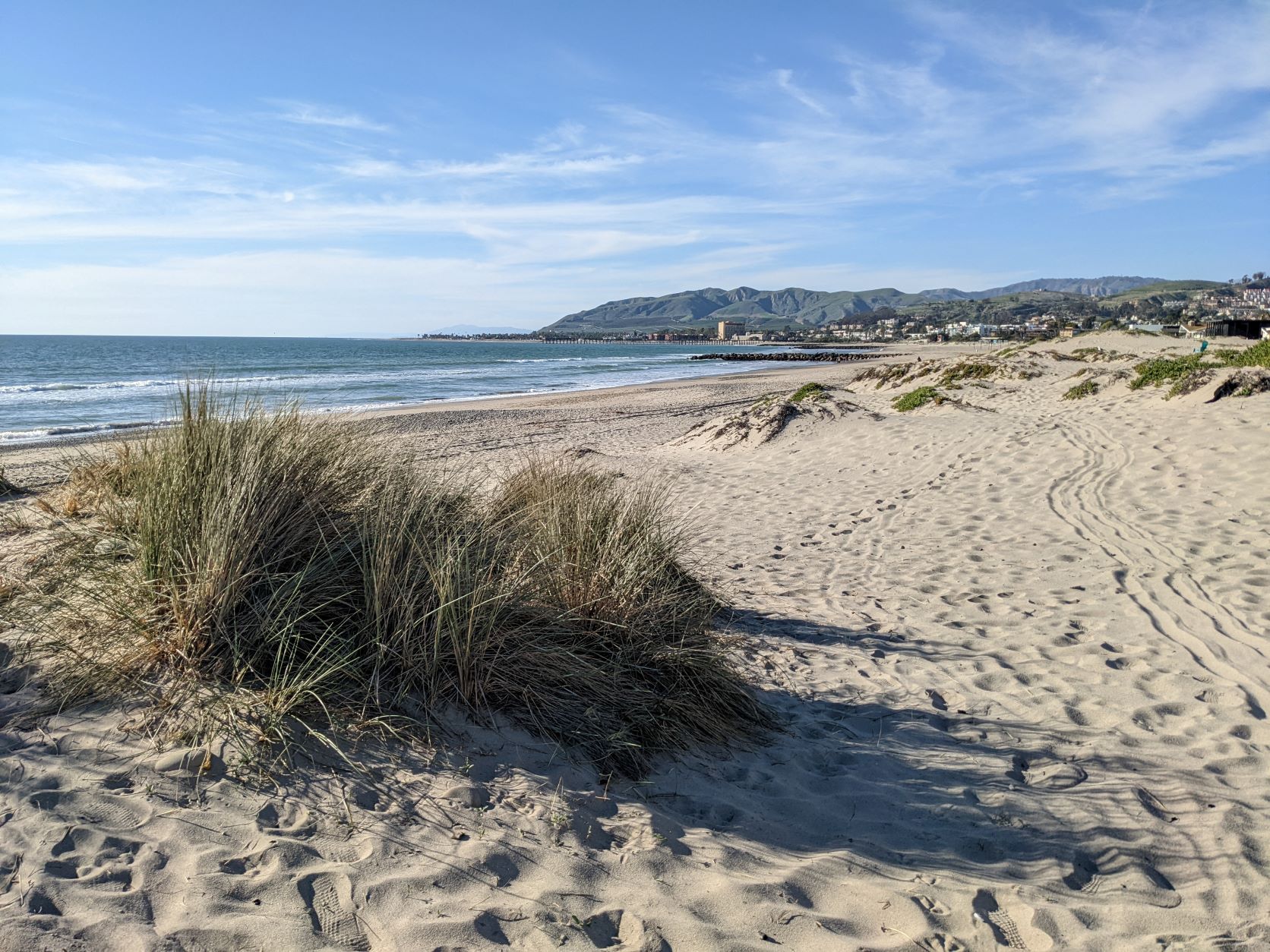 At the start of February, my family made a spontaneous visit to Ventura, California to visit relatives. It turned out to be a well-timed visit as the weather in Ventura was phenomenal while Austin suffered from multiple days of freezing temperatures (not as bad as last year, don't worry) and a "boil water notice." This happens when the water treatment plant has an issue (surprisingly unrelated to the freeze this time) and tap water needs to be boiled before drinking. It was a good time to be away from home!
---
Vivid Ventura Beach
We flew into San Francisco to meet up with my parents and uncle and drove down Route 101 through California farmland until we reached Ventura, approximately a 5 hour drive (7 with traffic). And as any true Californian knows, we made an obligatory stop at In-N-Out burger for a cheeseburger - animal style - and a chocolate milkshake.
Our rental was a lovely house just a few homes inland from the main stretch of Ventura Beach. It was incredible to have the water so close to where we were staying. Need a mental break or want to go for a walk? Just pop over to the beach for a few minutes to clear your mind. I spent hours soaking up views of the blue waves. While it was far too cold to swim in February (though some surfers in wetsuits gave it a shot), we spent many afternoons on the beach in 70-degree sunny weather.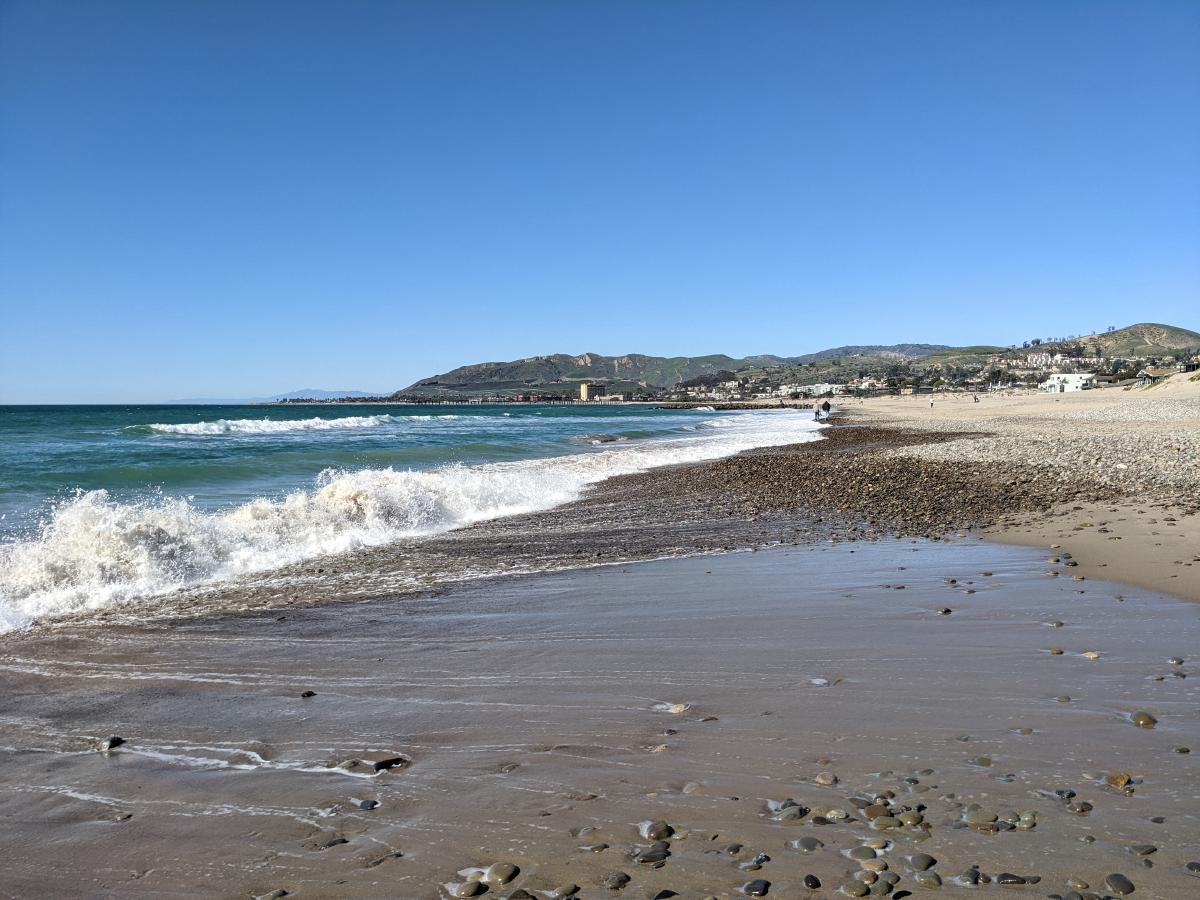 ---
Ventura Highlights
Ventura is a town on the California coast, about an hour north of Los Angeles. It has a beach town vibe, with stunning sand, waves, quintessential rolling golden hills, and lemon and avocado ranches mixed in with residential areas. My family grew lemons here for over 100 years!
In the downtown, we visited a few of the main highlights.
Mission San Buenaventura
California is home to El Camino Real, or The King's Highway, which was a road (now Route 101) that followed the path of 21 Catholic missions built by the Spanish Empire during their expansion in the 18th and 19th century. The missions were built to convert the Native American population to Catholicism and provide a network of places to stay when traveling along California's coast. I won't get into the controversy surrounding the missions, but I will appreciate the Spanish architectural style. Nearly every kid who grew up in California studied the missions in elementary school and built a model of a mission. I say nearly, because my class did an alphabet book instead (insert sad engineer noises).
Mission San Buenaventura's chapel was built in 1809 and has traditional white walls covering brick made from local materials, red tiles on the roof, and wooden beams for supports. The mission got its fresh water from an impressive aqueduct system that ran up into the nearby mountains. This mission is also home to the only wooden bell known to have existed. One theory is that the wooden bell, lined with metal on the inside, had a dampened sound that would only reach townsfolk without alerting potential pirates in the nearby channel of their position.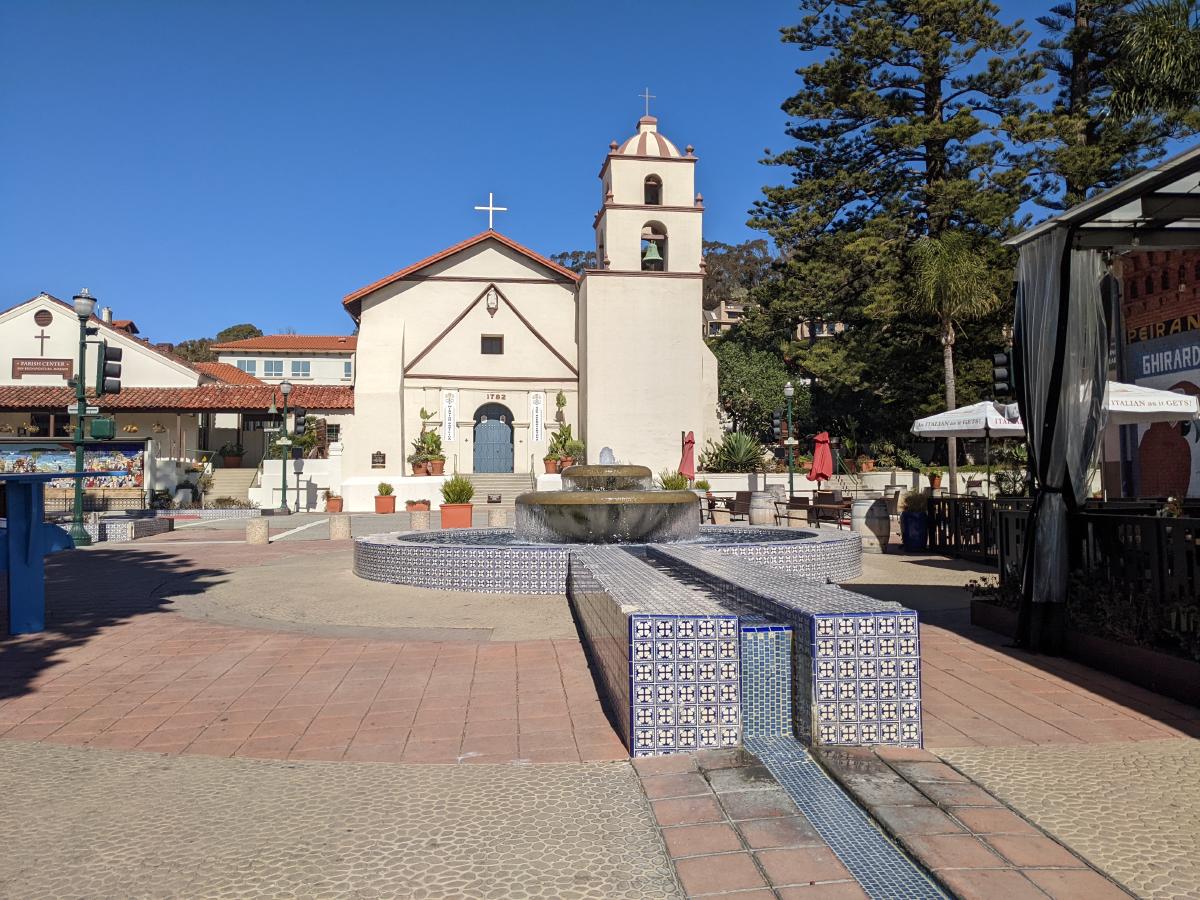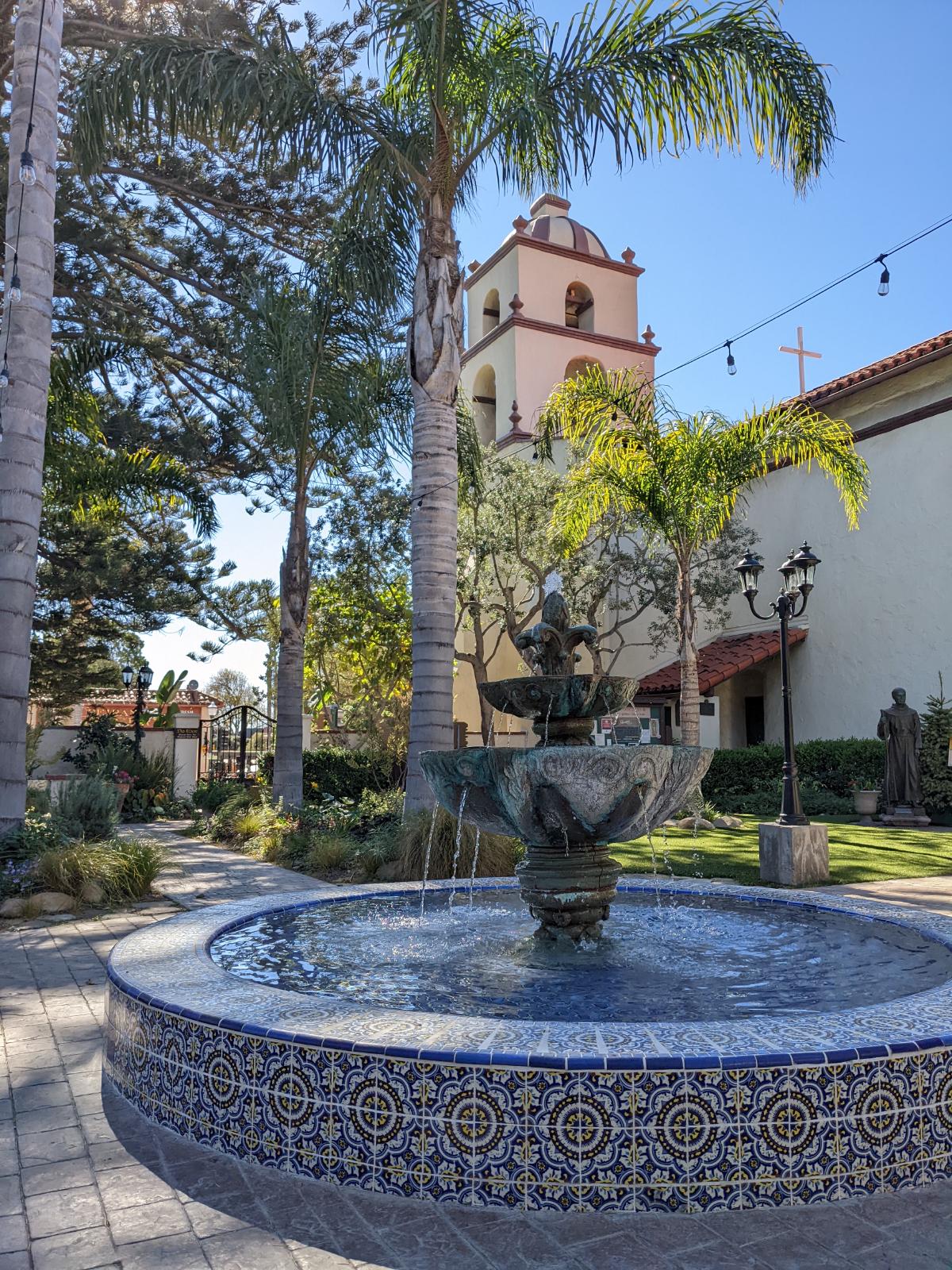 Patagonia Flagship Store
I can't call myself a true boulderer without visiting Patagonia's flagship store in downtown Ventura. Patagonia was founded in 1973 by Yvon Chouinard as the Great Pacific Iron Works, where Chouinard fabricated climbing gear to support the fledgeling climbing industry. Now, Patagonia is known for its high-quality and pricey outdoor gear (such as my beloved nano puff and fleece jackets) along with its focus on sustainability and emissions reduction, equipment repair and used goods resale, and environmental stewardship. I'm happy to spend a bit more to have a product that was made with recycled materials from previous jackets, can be repaired by Patagonia, and is made by a company that has a proven track record of supporting environmental initiatives. Many companies claim to be "sustainable" or "eco-friendly," but are often just greenwashing. Patagonia truly seems to be trying its best to be a genuinely environmentally friendly company. I bought a pair of climbing pants to use while bouldering!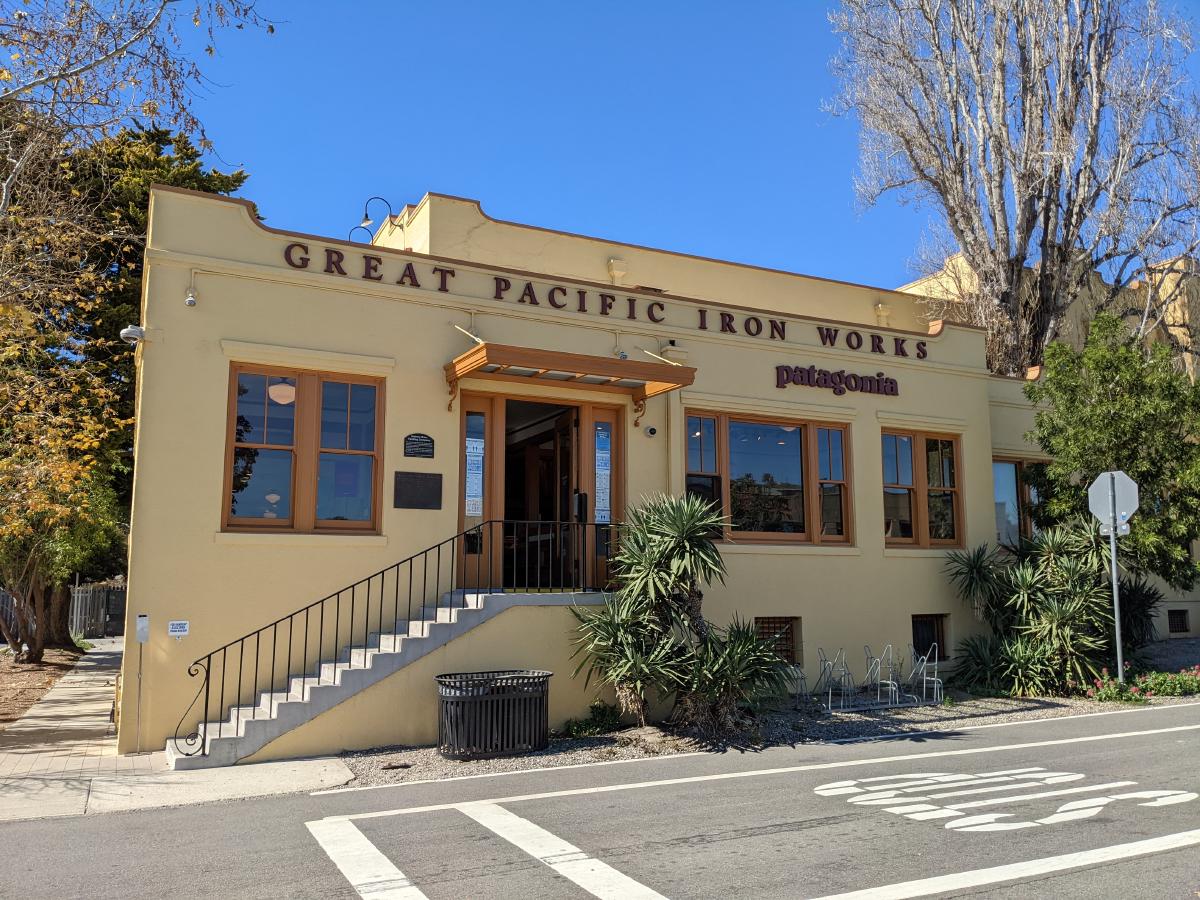 I recently read this fascinating blog post about how Patagonia is trying to solve the gnarly issue of zipper repair and replacement to improve the longevity and repairability of their products.
Real Cheap Sports
Just down the street from Patagonia is a true gem of an outdoors store: Real Cheap Sports. If you are looking for last season's sporting equipment, including Patagonia jackets, at great discounts, this local store is the place for you. I love visiting stores that fill a niche, have friendly and knowledgeable staff, and truly exude the spirit of their locale.
Le Petit Cafe & Bakery
Out at the Ventura Harbor is a delicious little French bakery and cafe called Le Petit Cafe & Bakery. We popped in multiple times to engorge ourselves on eclairs, croissants, and chocolate mousse cups.
Burrito Central
Looking for amazing hole-in-the-wall burritos? Look no farther than Johnny's Mexican Food, for the Chile Relleno, or Corrales, for their Green Chile Chicken. If you want a wonderful afternoon, pick up a burrito and bring it to the beach to eat.
---
Caution: Beware of Sticky Tar!
We took advantage of our proximity to Los Angeles and visited some friends down in La Brea. Guess what is in La Brea? Did you guess it? The one-and-only La Brea Tar Pits! I always thought that the legendary Tar Pits were long gone and paved over by now, but it turns out that they are still very much active and a current dig site for fossils from 10,000 - 20,000 years ago.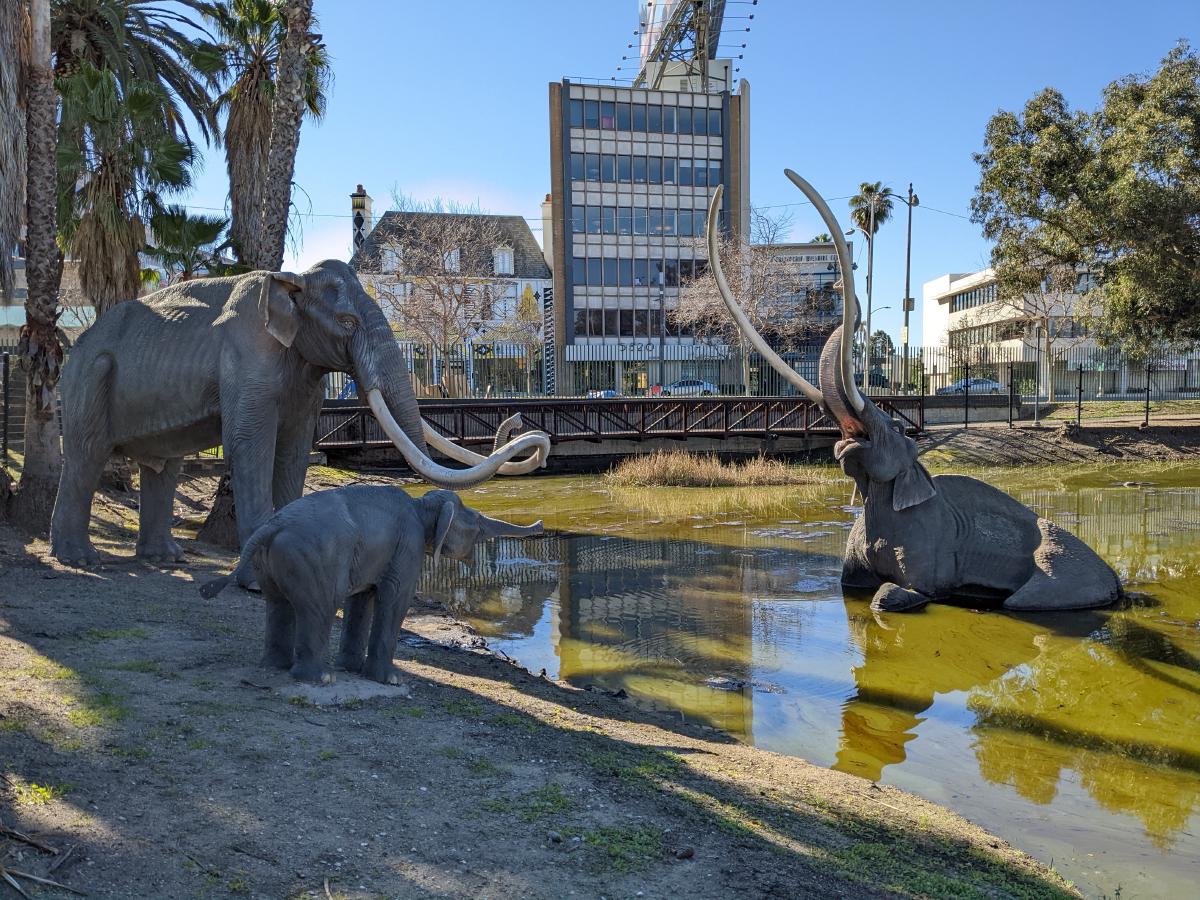 The museum is filled with mammoths, mastodons, sabretooth tigers, and giant sloth skeletons. What was especially fascinating is how outside the museum, the tar pits were still bubbling away. The lovely grass of the park would occasionally have a traffic cone marked "STICKY" or a little fenced off area where the tar was starting to seep up through the lawn. Multiple dig sites highlighted just how much stuff had gotten stuck in the tar pits over the past millennia. There are crates and crates filled with bones and fossils that have yet to be classified due to the sheer amount of material excavated.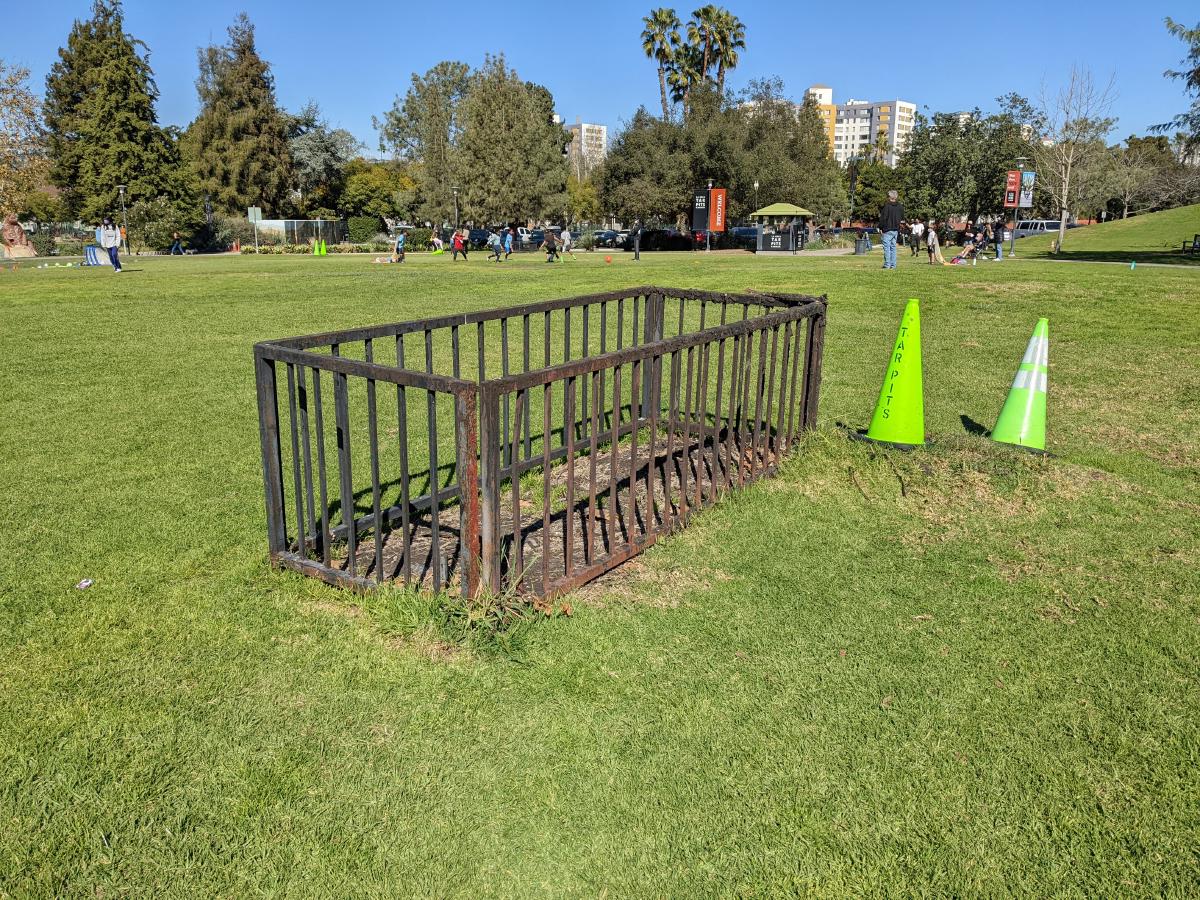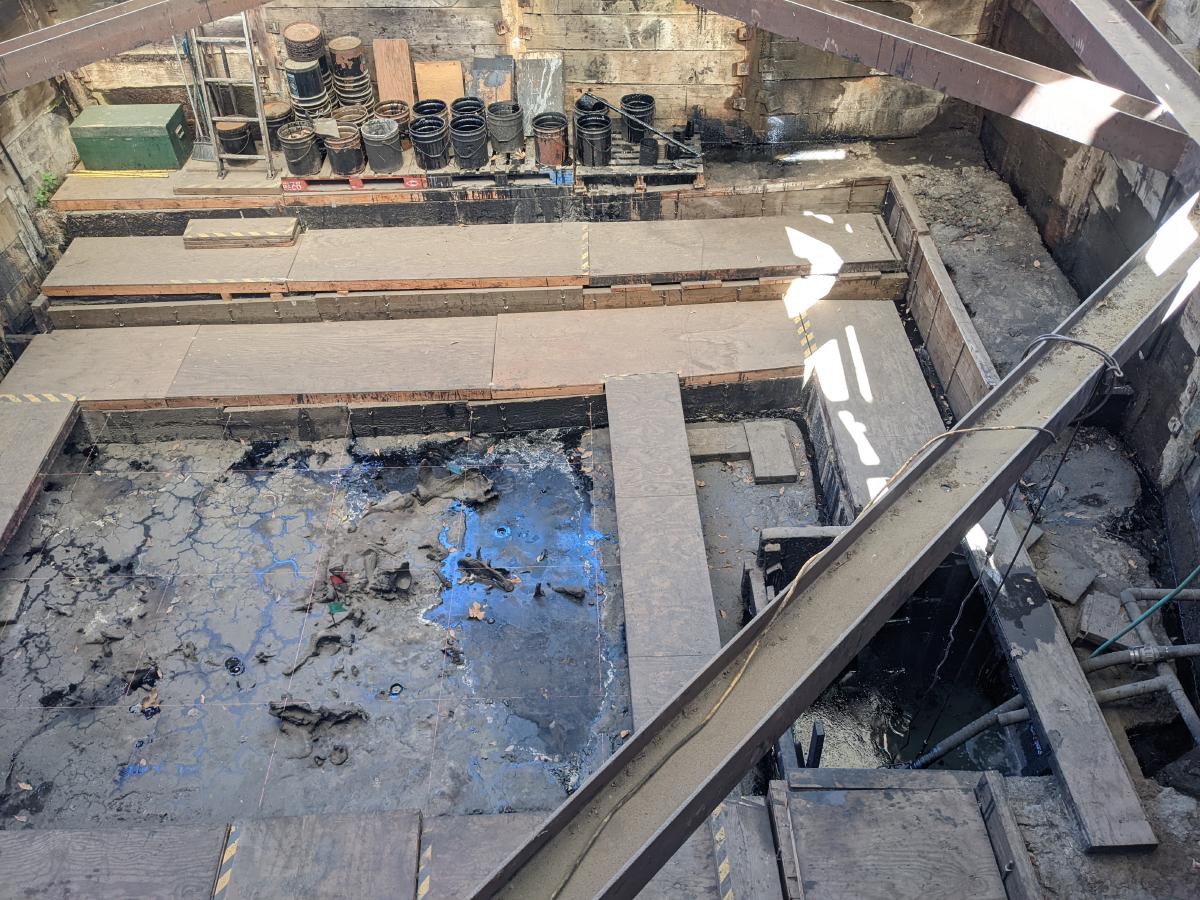 ---
Staying Spontaneous
This trip was the definition of spontaneous travel. We booked flights and the beach rental only a few weeks before traveling, which is quite spontaneous when planning a family trip. Fortunately, in February, beach rentals were plentiful in Ventura. Summer is quite a different story.
We didn't know how much time we would spend with family in Ventura, so we purposefully left our schedule open with some loose ideas of what to do (visiting the Tar Pits, the mission, Patagonia, beach time, In-N-Out). As time permitted, we casually knocked off these items without feeling rushed or stressed. Since we are likely to come back to Ventura again, we didn't feel the pressure to make sure we got everything done in one trip.
As I've said before, spending time with family is one of the most important things I can be doing with my time right now. It's a huge part of why I'm taking a break from work. My husband and I were able to jump on a plane and take a trip with very little notice to be with my family. No cutting the trip short to budget vacation days or needing to work remotely. Just a week of sunshine, burritos, and my pesky family.