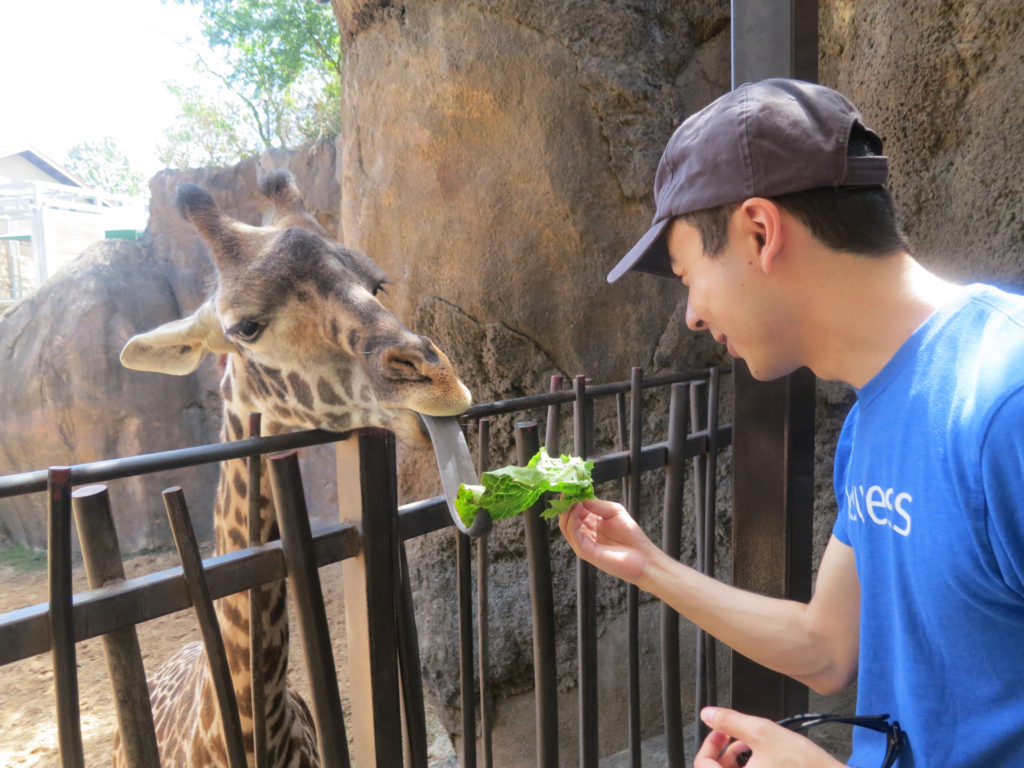 With how wonderfully hectic last month was (getting married, going to Belize), I almost completely forgot about the Memorial Day holiday. Never fear, it was the perfect opportunity to go on another spontaneous monthly trip! The Tuesday before the 3-day weekend, my husband, our good friend who I'll refer to as Casey, and I realized that none of us had ever visited the NASA Johnson Space Center in Houston, so we snagged a hotel room for Saturday night and made plans to head out early Saturday morning. The theory was that since most people would be heading for the coast (places like Galveston or Corpus Christi), hotel rooms in Houston itself would be relatively inexpensive.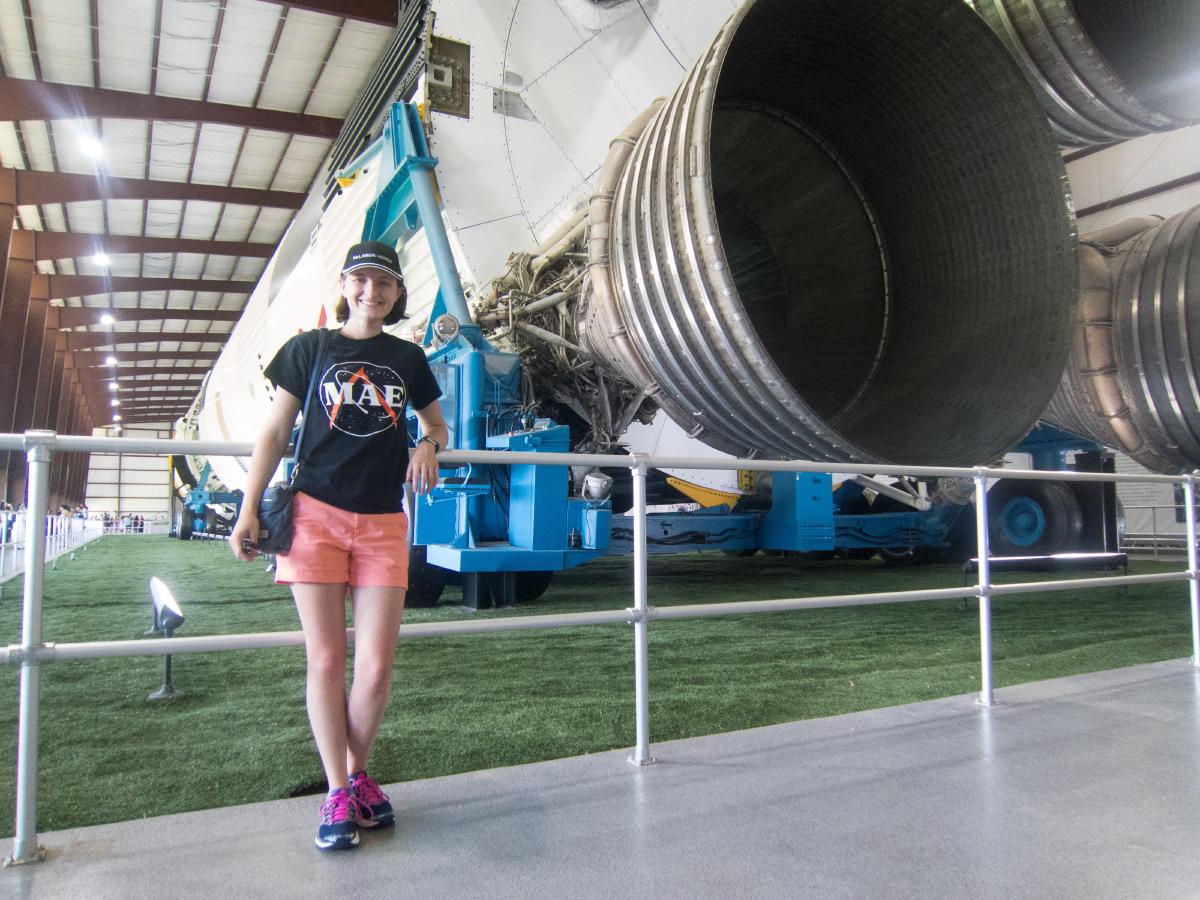 We decided to purchase the CityPASS, which for $60 gives you access to 5 Houston tourist destinations, including the Space Center Houston, the Museum of Natural Science, and your choice of the Houston Zoo or the Museum of Fine Arts. There was also access to the Aquarium and either the Children's Museum or Kemah Boardwalk, but we weren't as excited about those. This weekend was going to be about science.
---
Saturday: NASA and Ceviche | Day 1
We left at 8am Saturday morning after a hearty breakfast of cinnamon rolls. It took us a little over 3 hours to reach Space Center Houston, not counting our traditional stop at Buc-ee's for refueling. If you haven't been to Texas, I insist that you visit Buc-ee's – my coworker described it as taking a convenience store and pressing copy-paste fifteen times. I call it a marvel of modern engineering. You won't believe it until you see it. There are locations on any route between major cities in Texas.
After grabbing a massive bowl of gumbo and a delicious fried chicken sandwich at Viola and Agnes' Neo Soul Cafe across the street from the Space Center (heads up: food inside the Space Center is prohibitively expensive), we were finally at NASA!
Space Center Houston aka NASA
All three of us work in tech (me a mechanical engineer, husband a software developer, and Casey a data science engineer) so visiting NASA was inevitable. We walked inside, and it felt like Disneyland for space nerds. A model of the lunar lander hung from the ceiling, and there were dozens of exhibits about supersonic travel, the upcoming Mars missions, and the history of space exploration. Upon arrival, we immediately got in line for the Blue Tram Tour of the NASA campus and the 60's Mission Control Room – the wait claimed to be 2 hours, but by having 3 people we were able to take shifts with one person waiting in line while the others explored the exhibits. The Red Tram Tour was of the Astronaut Training Facility, but as Apollo 13 nerds, Mission Control was a must-see for us.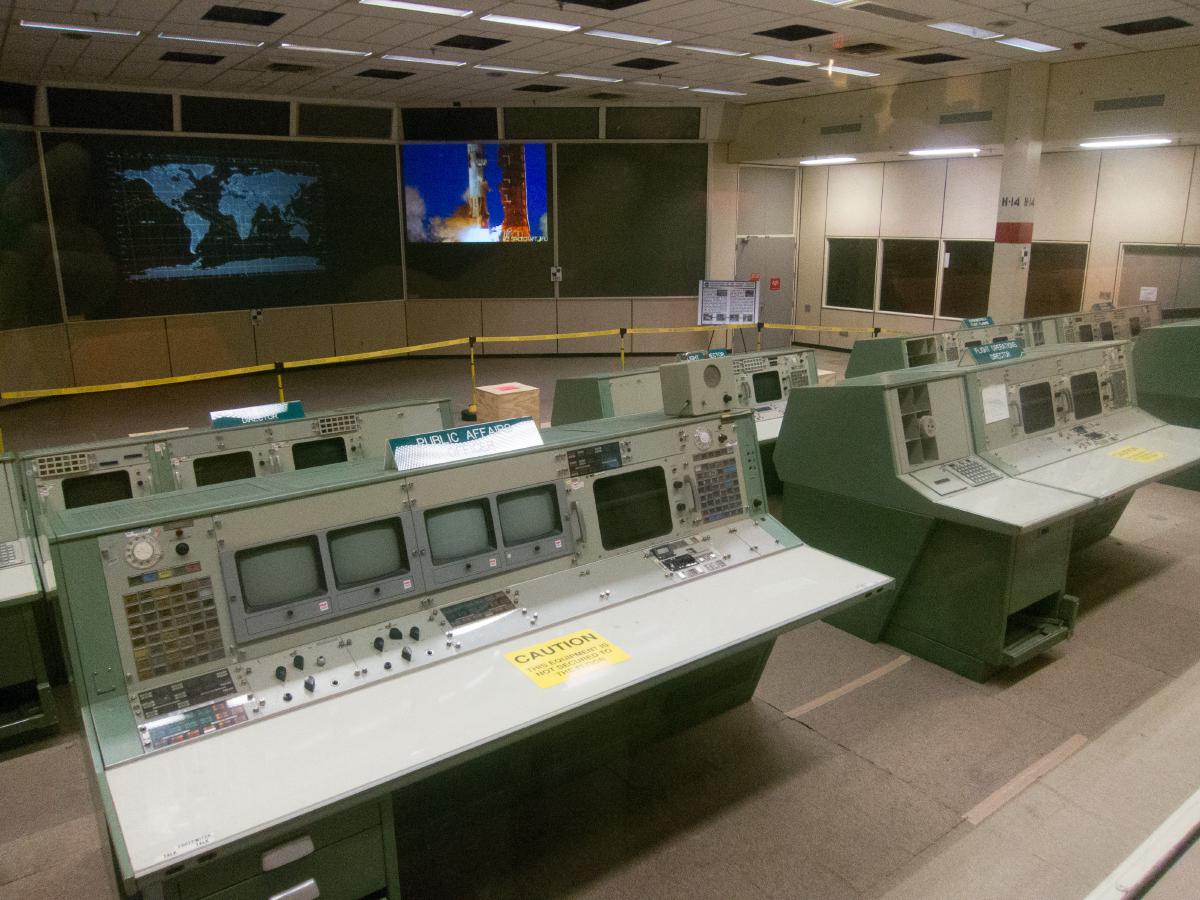 **Fun Fact: **The first and last words spoken from the surface of the moon? Houston.
And then we were there, in the viewing room for Mission Control for the Apollo missions. Flight Director Gene Krantz's desk was five feet away! Unfortunately, it really is just a room, but we were intrigued by how much smaller it was than how we'd perceived it from the film. While it wasn't hugely interesting, it was still worth seeing.
The best stop of the day was on the tram ride back to the Space Center – Rocket Park, home of the last remaining Saturn V rocket. Intended to be used for the cancelled Apollo 18 mission to the moon, the Saturn V is a three-stage rocket capable of taking humans to the moon. It's the only thing constructed that's ever taken humans out of low Earth orbit. And it's big. I mean, really big. The two rockets outside the building (Little Joe and Redstone) were just teasers for what was inside.
The Saturn V is 363 feet long, and 33 feet in diameter. It's the length of a football field. It's absolutely massive and awe-inspiring. I couldn't imagine being strapped to the tip of the rocket and shot into space. And the most incredible thing is, no one died in space as a result of the Apollo missions or use of a Saturn V rocket. For something controlled with less computing power than you have in your smartphone, that's pretty amazing.
Spontaneity Tip: Ever in Houston or headed to the coast with an hour to kill? Rocket Park is free and accessible by car! No ticket to the Space Center is required.
Back in the Space Center, we saw other capsules from space exploration missions and were amazed at just how cramped they were inside. Being an astronaut is not for the claustrophobic, that's for sure. We then went outside to explore Independence Plaza, home of a replica Space Shuttle strapped to the top of a Boeing 747 (NASA 905, the original shuttle carrier aircraft). The Space Shuttle was designed to be reused – launched like a rocket, and landed like a plane on runways. But sometimes the Space Shuttle would land in Los Angeles and need to be taken back to Florida. What's the best way to get it there? Why, strap it to the top of an airplane, of course! This exhibit looked into the fascinating science behind flying two aircraft in tandem.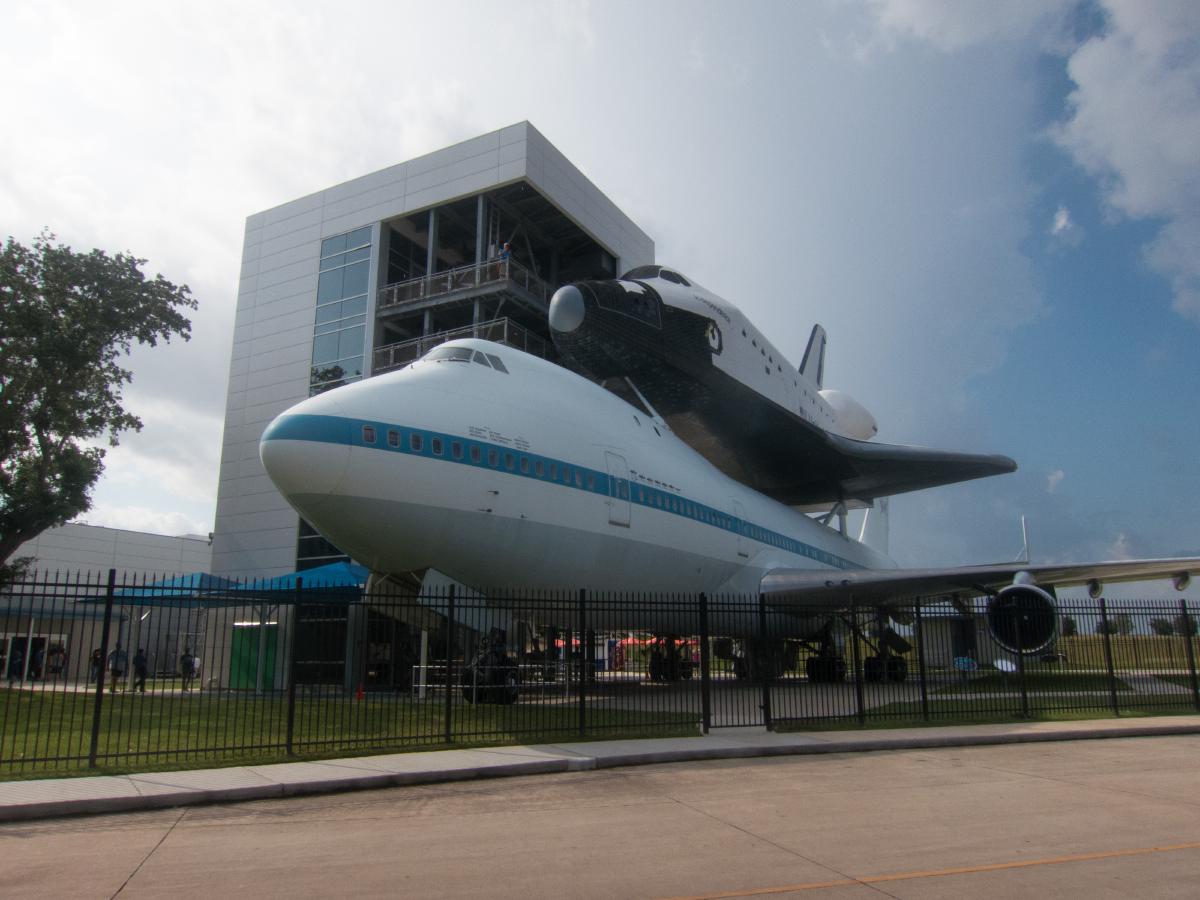 We spent about 5 hours at NASA and became thoroughly excited about the Orion missions to the moon starting in 2020, only two years away!
Dinner at La Fisheria in Downtown Houston
Exhausted, we drove back to downtown Houston and checked into our hotel, the Magnolia Houston, which has a swanky rooftop pool, a historic facade, and a cookies and milk bar from 8-10pm every night. Downtown Houston turned out to be surprisingly walkable with a historic downtown area, multiple parks, and brick streets. We had dinner at La Fisheria, an incredible Mexican seafood restaurant. If you're in Houston, you definitely have to check this place out. The restaurant interior is bright and colorful with energetic waitstaff, and had the right balance of formality where we could walk in with a t-shirt and shorts and feel comfortable, but could also go for a very nice date night before seeing a show. We split the ceviche (the best in the city) and the sweet corn tamale with shrimp and creamy garlic sauce – one of the 30 best dishes in Houston according to the Houston Press. Let's just say that I'll be dreaming about that tamale on my deathbed. It was that good. And the churros for dessert are the best I've ever had!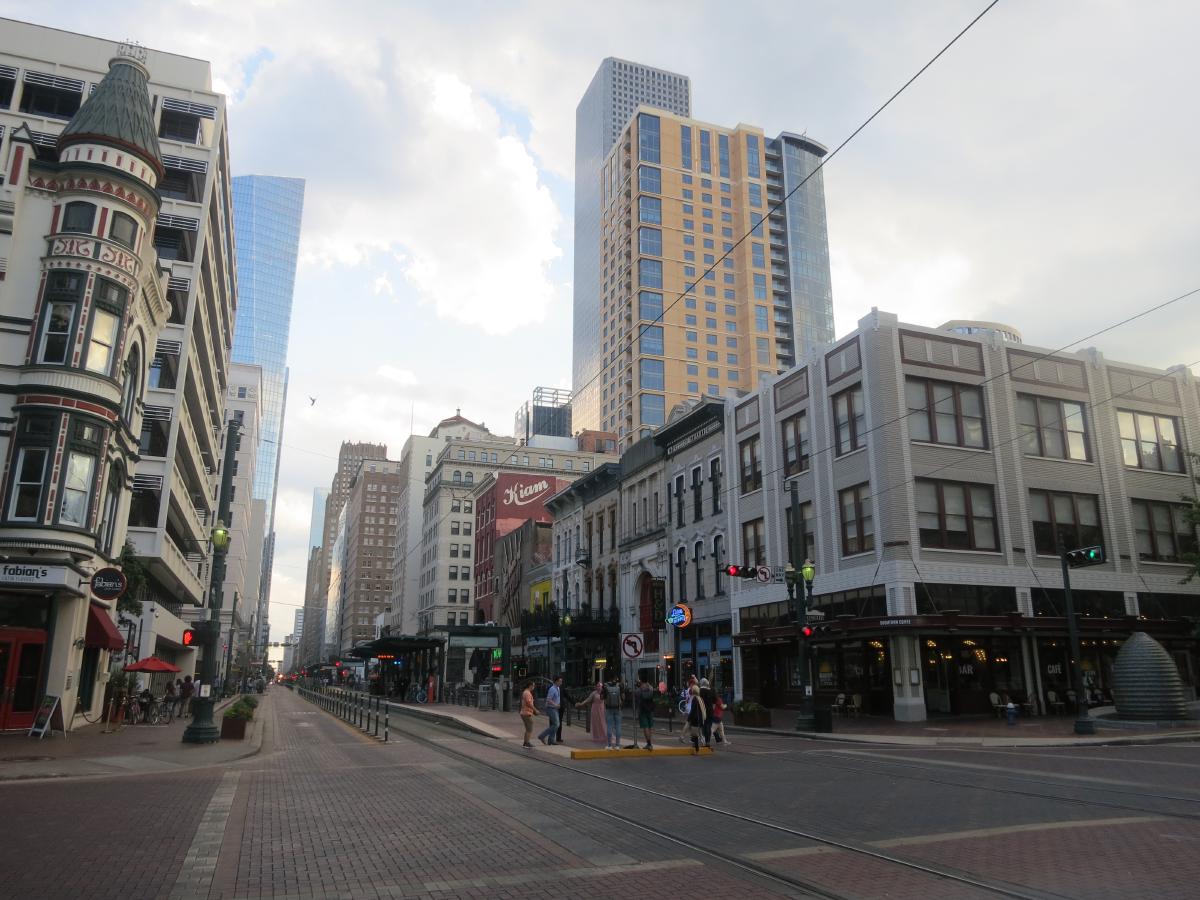 We had planned to walk over to the Downtown Aquarium, free with our CityPASS but not high on our must-see list, which is open until 10pm on Saturdays but heard a rumbling of thunder in the distance. A quick look at our weather app showed a huge downpour starting in 2 minutes, so we booked it back to the hotel as the wind picked up around us and made it inside right before the skies opened up and sheets of water poured down. Sometimes a good storm and complementary cookies are all you need to end a wonderful day.
---
Sunday: Animals, Alive and Dead | Day 2
Houston Zoo
The next morning, we checked out of our hotel and drove to Herrmann Park to visit Houston's Museum District. The free parking lot at the Zoo was quite literally a zoo, but fortunately parking at the Houston Conservatory, normally limited to 3 hours, was unlimited on Sundays. A nice walk through the park brought us back to the zoo in time to feed the giraffes at 11am, something my husband desperately wanted to do.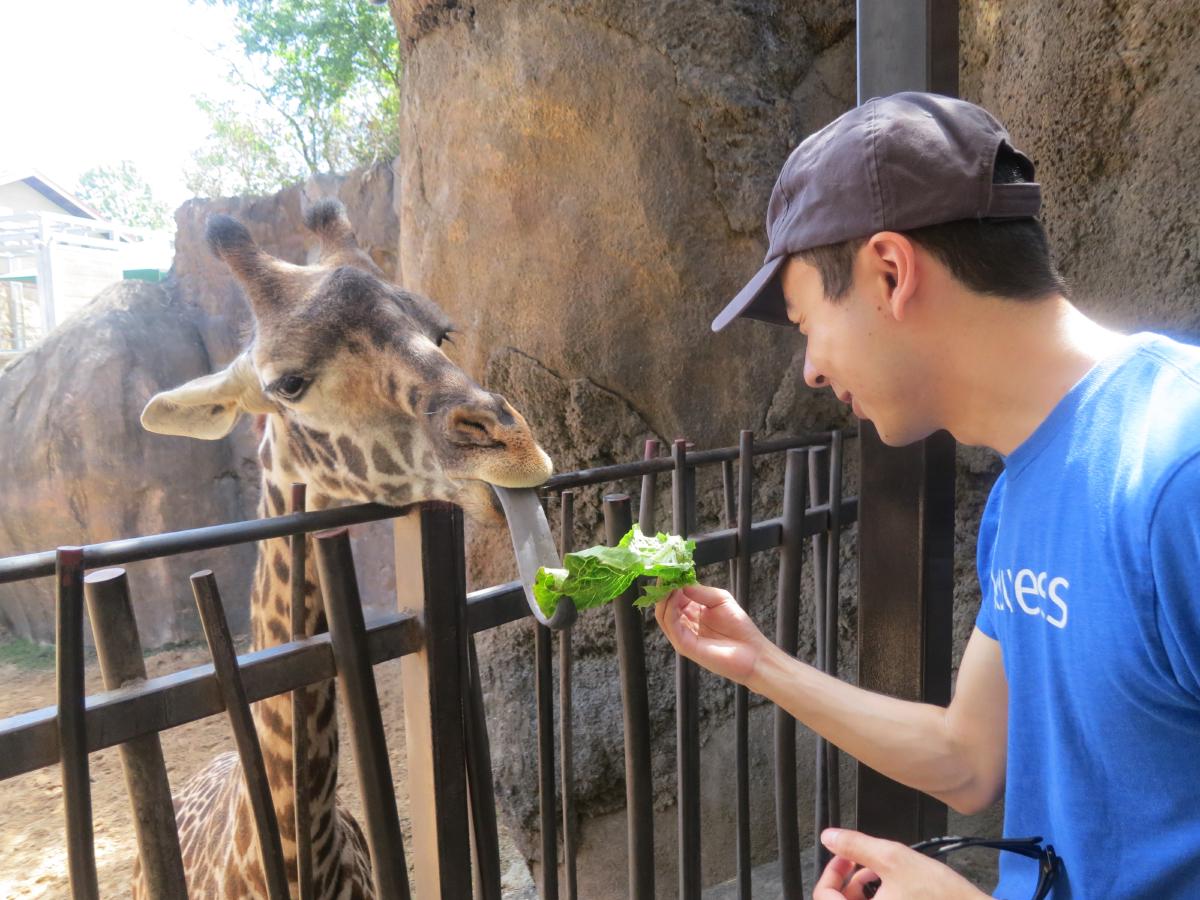 For $7, we were handed three pieces of lettuce, and had the delight of feeding a giraffe named Sally. Her tongue was so long! The rest of the zoo was excellent, with a nice balance of outdoors exhibits like capybaras and a massive elephant enclosure, and indoor exhibits like the bug house (check out the giant walking sticks!) and the reptile house. They also had giant bug statues that I very much enjoyed sitting on.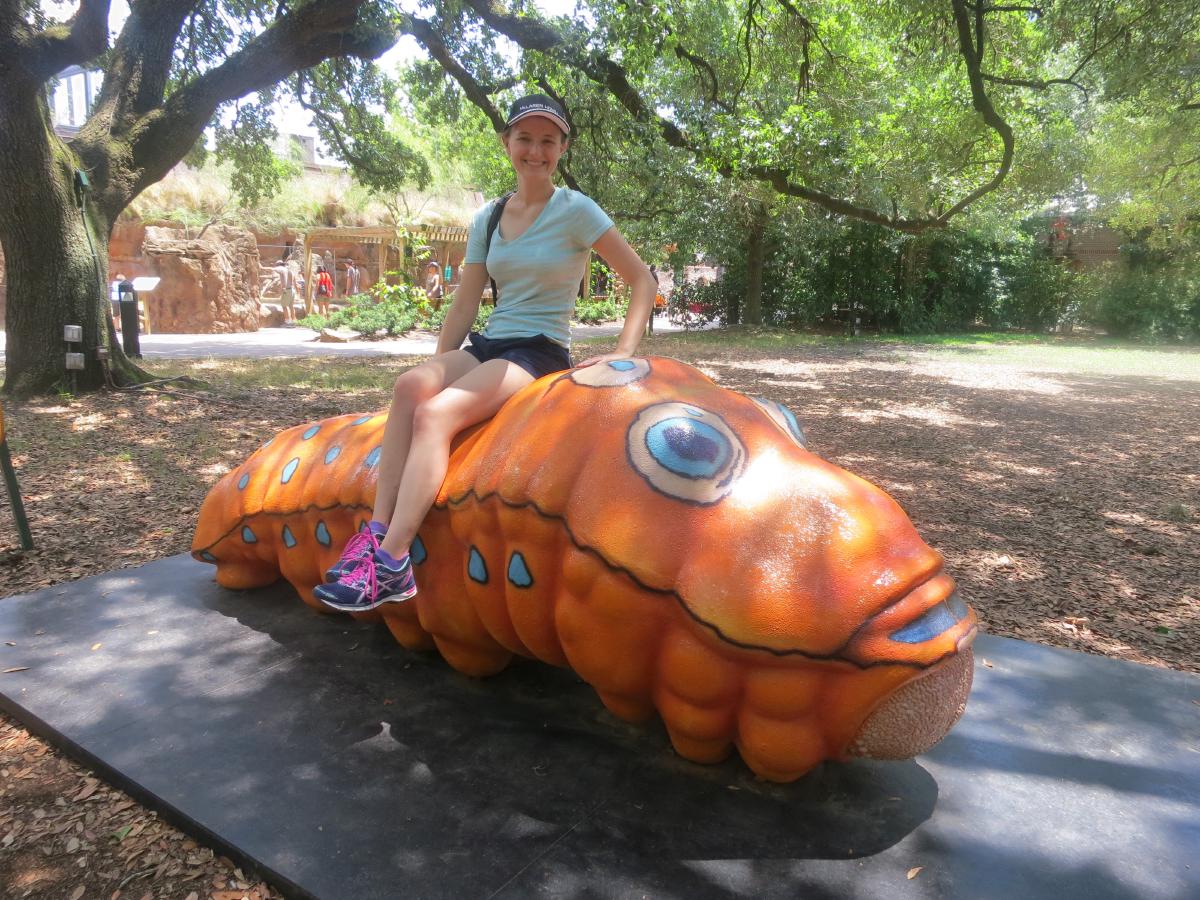 Houston Museum of Natural Science
Visiting the zoo in the morning was the right call, as the temperatures continued to rise into the nineties, and the air conditioned Museum of Natural Science was calling our names. We walked to Barnaby's Cafe, near the museum, for lunch, and enjoyed salads, sandwiches, and homemade lasagna. Refreshed and cooled off, we made a beeline for the Morian Hall of Paleontology in the museum.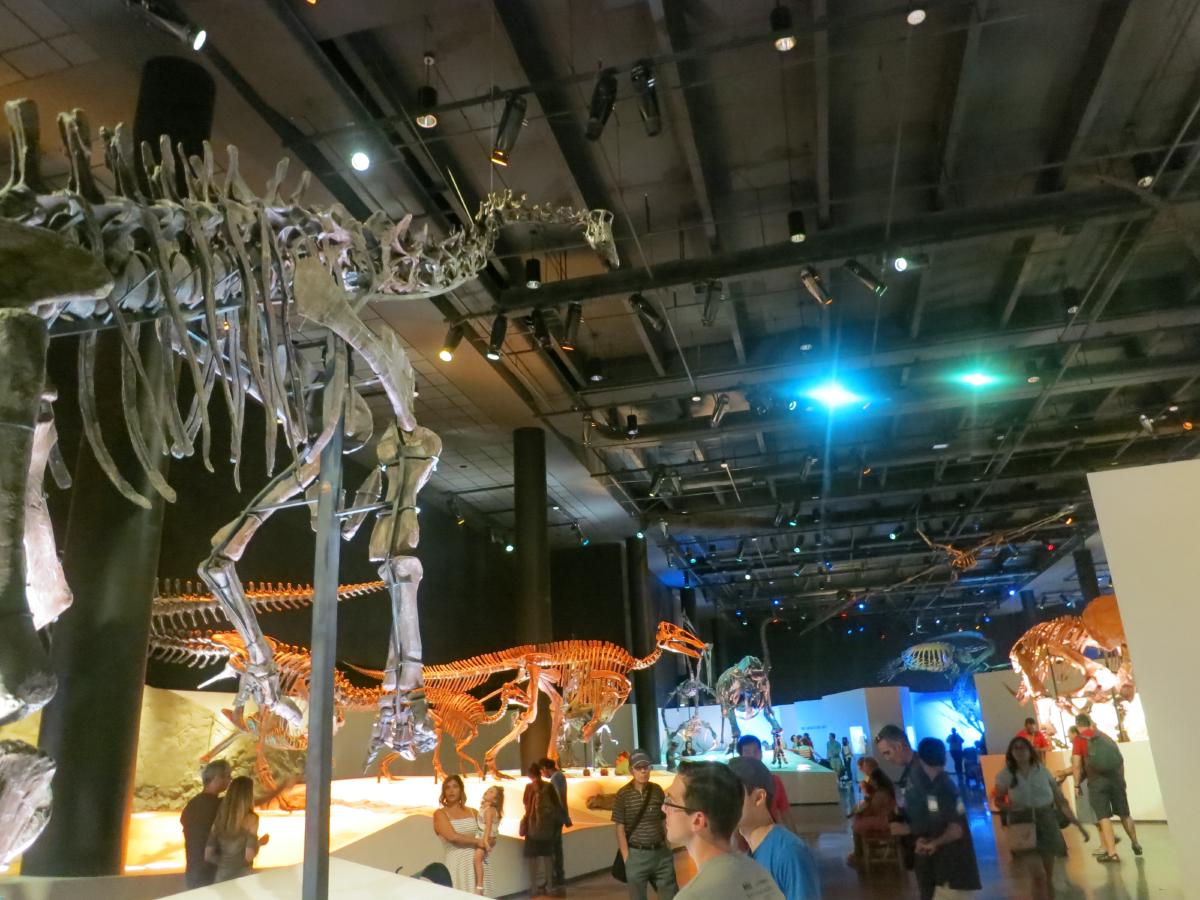 I have visited a lot of dinosaur exhibits in museums, including the Field Museum in Chicago and the Museum of Natural History in New York, and I can safely say that this paleontology exhibit blew them out of the water. Their collection of trilobite fossils is impeccable, extensive, and informative, with each fossil so delicate as to seem fabricated. I never thought bugs would be so fascinating. They were presented in well-lit glass-fronted boxes that made it almost like an art gallery, and I was inclined to spend minutes staring at them instead of seconds. In comparison to the open and stagnant halls of other dinosaur exhibits, the larger dinosaur skeletons, such as the Brachiosaurus looming over us and the Pleiosaurus hanging from the ceiling, felt so real and magical, posed in action instead of standing still.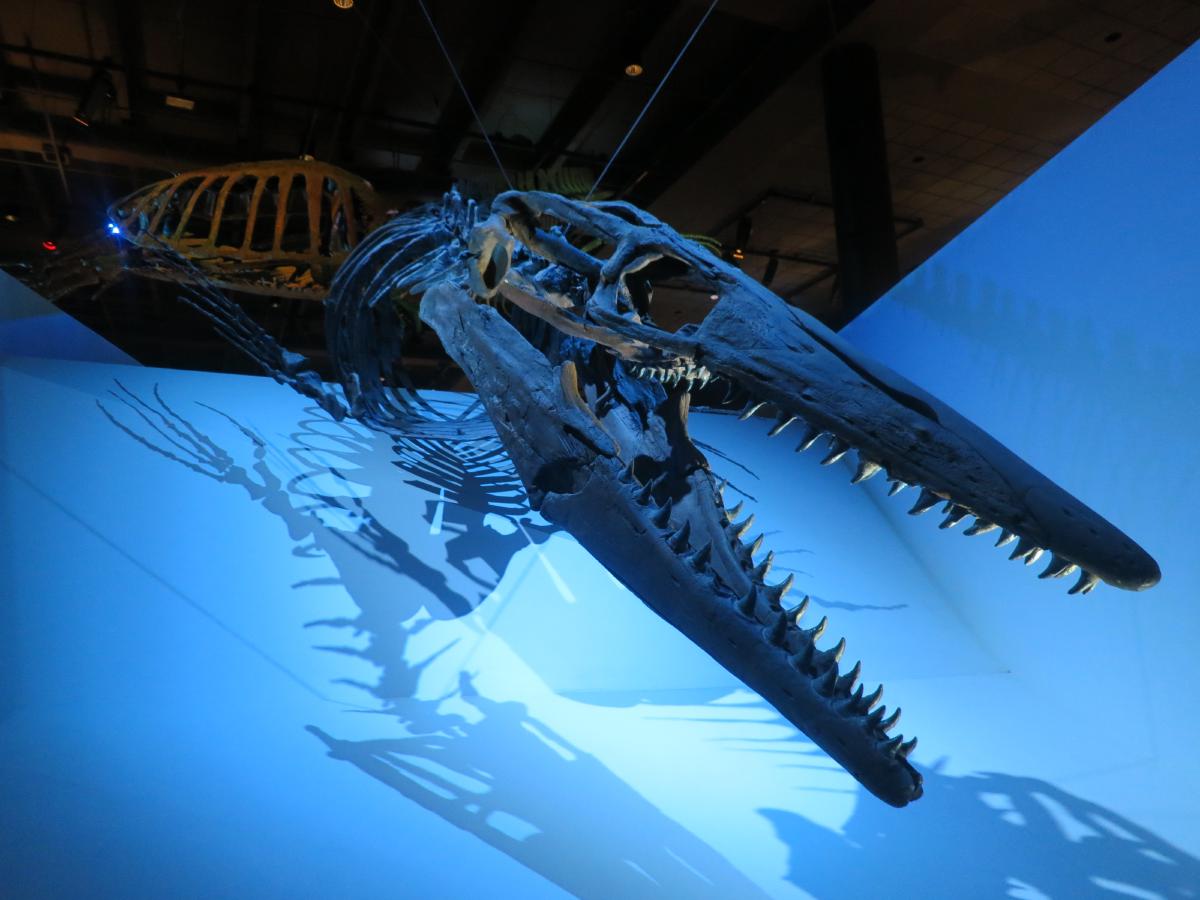 Even more astonishing was the Megalodon jaws, the largest ever found, which were easily large enough to consume a small car. The text of the exhibits was written so that even as an adult who knows a fair amount about dinosaurs, I learned new things about different evolutionary traits and the story of our formation, all the way from the fossilized mats of bacteria and crystallized tree trunks to the Woolly Mammoth playfully tossing a human skeleton into the air.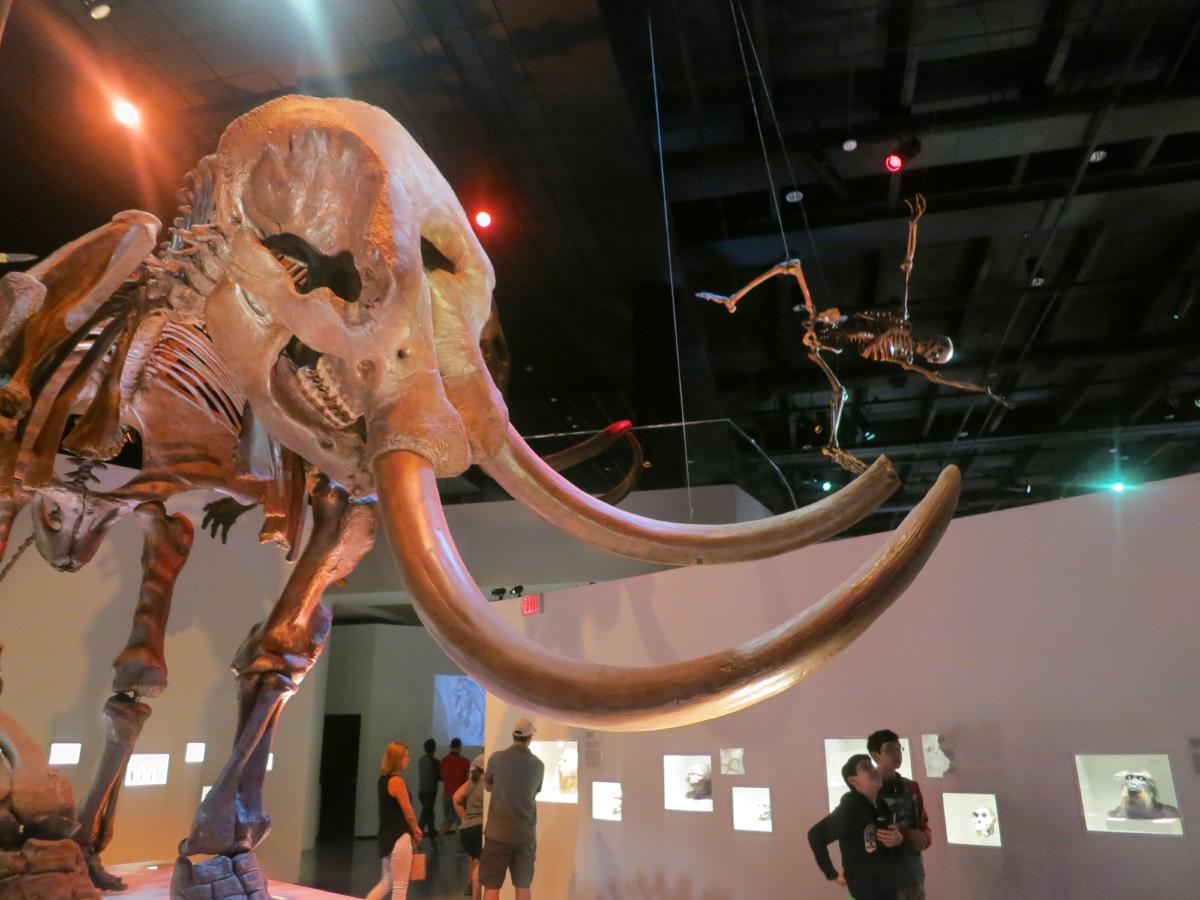 Truly in awe, we then visited the Hall of Ancient Egypt, which is home to multiple sarcophagi and actual mummies in different states of unwrapping. Once again, the low lighting, likely to help preserve the artifacts, cast an air of intimate mysticism over the room and encouraged much closer viewing of the artifacts than if it had been a well-lit and overwhelming space.
We ended the day with a planetarium show about dark matter. Unfortunately, this was the low point of the museum. As an engineer with a love of outer space, I already knew a lot about dark matter, and the show didn't tell me anything new, especially since scientists don't understand dark matter themselves. My recommendation? Skip the planetarium, and stick with the dinosaurs.
---
So, Should You Visit?
This overnight trip to Houston was a great way to get out of town and learn more about the world. All of the attractions we visited, from NASA to the zoo to the science museum, were world class with excellent information that inspired all of us to learn more. I probably won't visit NASA again until I have little ones to bring along, as all of the information can be found online, but it was very enjoyable seeing the Saturn V and Mission Control in person. While the Houston Zoo isn't anything special compared to other zoos, it still housed a wide variety of animals and is worth visiting.
The true standout is the Museum of Natural Science. There are entire floors that we didn't even see, and I could easily peruse the paleontology and Egypt exhibits for hours more. The exhibits were thorough and informative, with a storytelling approach that was intriguing and effective, and I was completely absorbed by the fossils. I just know that I'll be making another trip to Houston. We didn't even touch the multiple art museums like the Museum of Fine Arts and the modern Menil Collection.
And, of course, we stopped at Buc-ee's on the way back, too.
---
Staying Spontaneous
We purchased a CityPASS for this trip, which somewhat limited our activities to the included attractions. However, this constraint actually gave us the ability to be spontaneous with everything we did outside of the museums, such as finding places to eat. We knew that we wanted to visit NASA, the zoo, and the science museum, which provided us with a structure to work with. We chose restaurants based on what time it was when we left the attractions and how hot and hungry we were. We weren't worried about finding activities to fill the time but weren't pressured to cut activities short to make restaurant reservations. For this trip, a little bit of structure was just right.