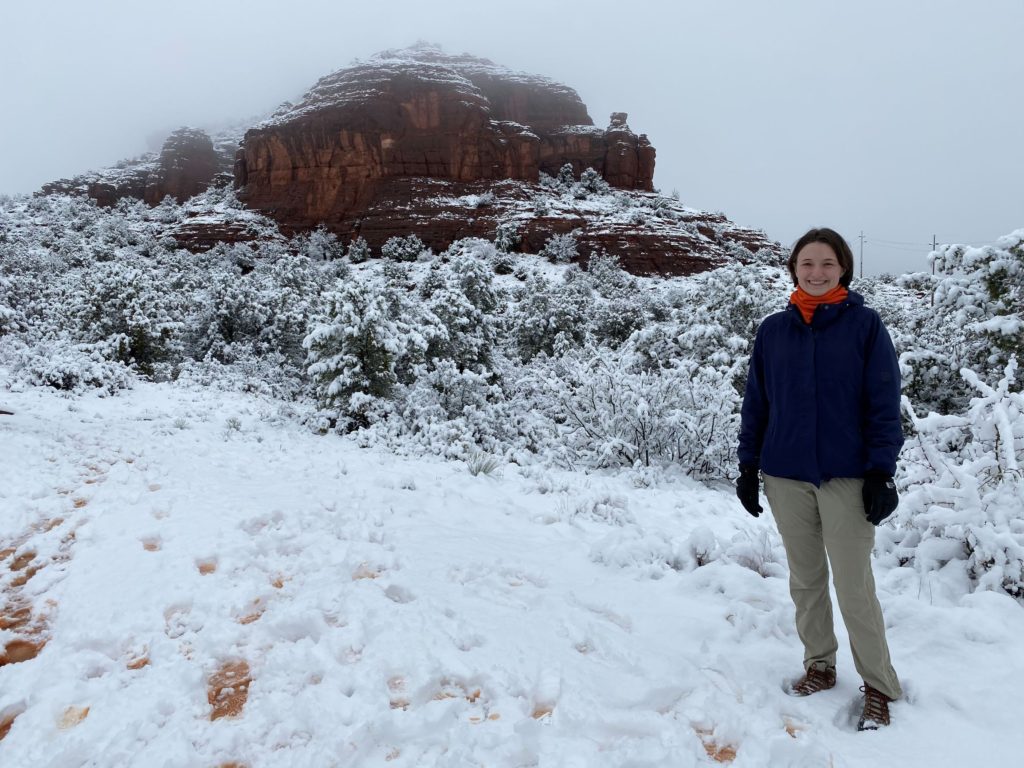 By now, all my readers know my obsession with red rocks and my personal requirement to see such rocks at least once a year. So, for Thanksgiving, my husband Glenn and I visited Sedona, Arizona for a few beautiful days of hiking, peace, and quiet. Sedona itself is an odd combination of high-end tourism (spas, fancy arts and crafts) and the mystical (vegan restaurants with a no airwaves policy, crystal shops). We flew into Phoenix on Tuesday night and drove to our Airbnb near the Thunder Mountain Trailhead. We stopped at the World's Largest Kokopelli on the way and admired the dark starry night sky, but couldn't wait to see the red rocks in the morning.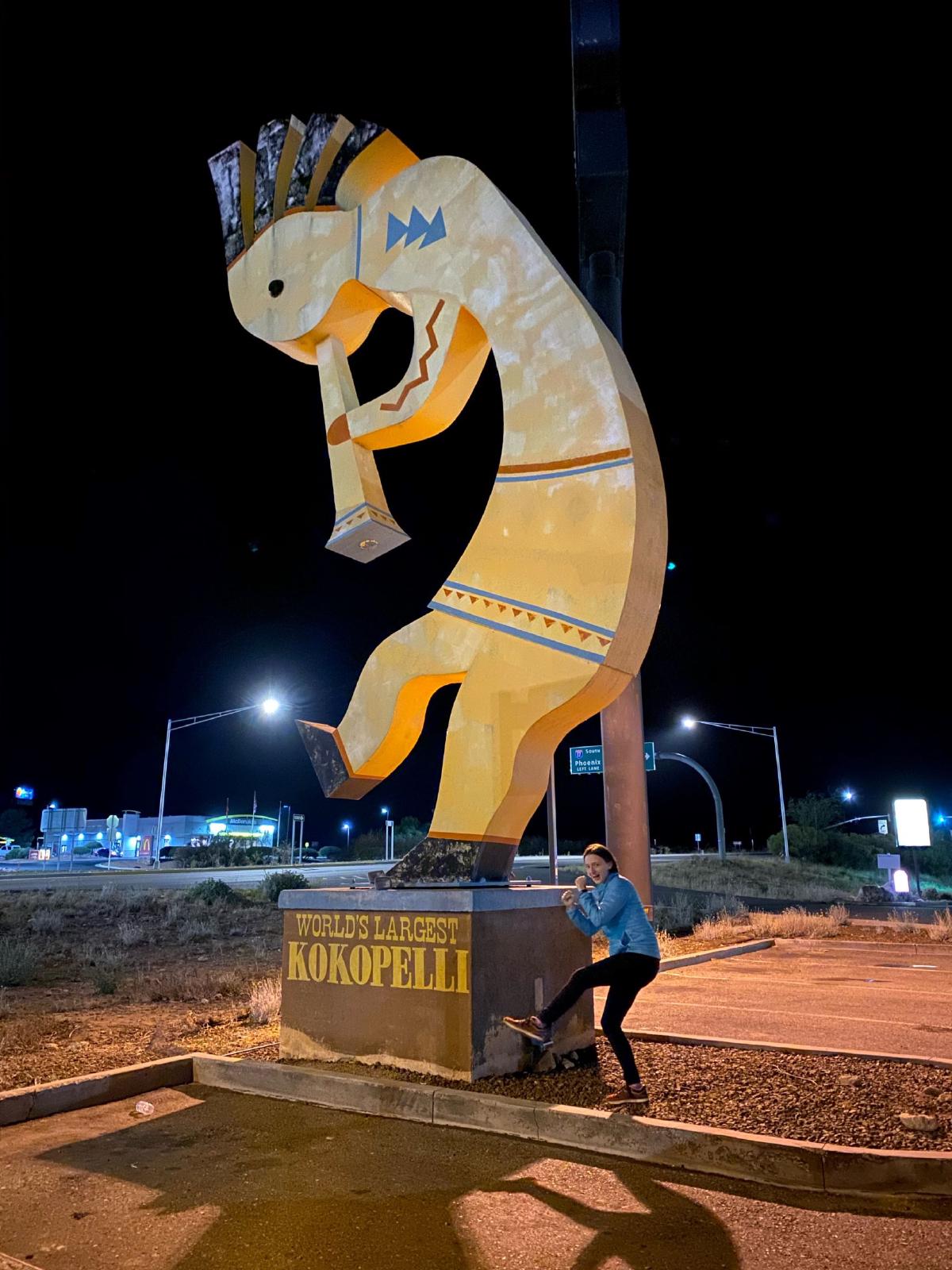 Wednesday: Hiking and Drone Photography
We woke up to a gorgeous morning and were stunned that the Thunder Mountain peak was visible right outside our window. We'd soon learn that the entire town had great views of the rocks, but we felt special for the moment. Maybe everyone in town felt this special all the time.
Thunder Mountain Trailhead
The trailhead was a block from the house, so we did a quick hike to a lookout where we could see the valley, Airport Mesa, and Chimney Rock. Glenn brought a drone, and while drone photography is prohibited in Arizona State Parks and US National Parks, it somehow is allowed in National Forests – what a fun loophole! We had a delightful time figuring out the different flight and video recording modes – a trip video is at the end of this post!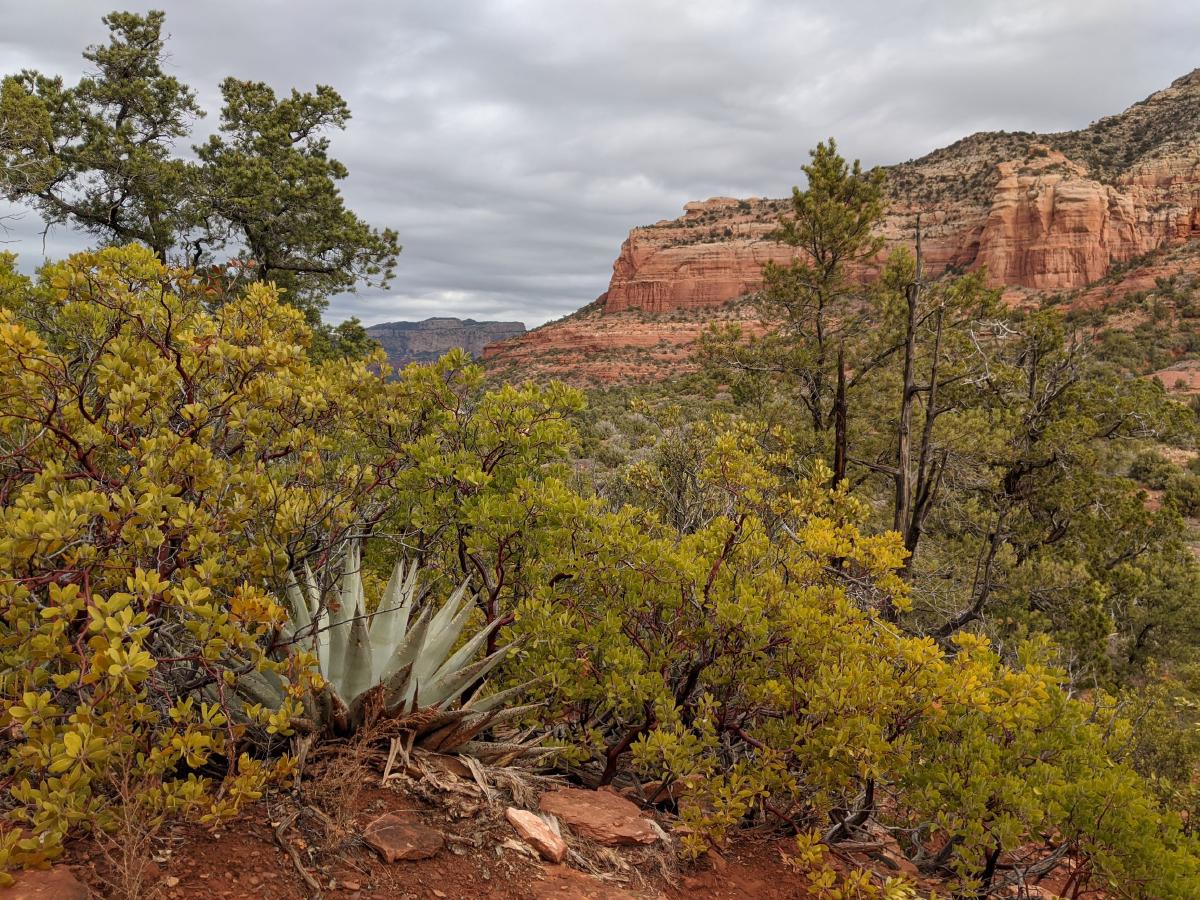 Coffee Pot Restaurant and ChocolaTree
We only ate out twice in Sedona, and both times were mid-day on Wednesday. To start, we ate breakfast at Coffee Pot Restaurant, known for its brunch and massive selection of 101 omelettes on a giant newspaper-style menu. I had the huevos rancheros, which was very good. It's a typical small-town diner with local decor and absolutely packed with locals and tourists alike.
Craving some hot chocolate, we hopped across the street to ChocolaTree, a self-described "organic oasis" where they requested that we put our cell phones in airplane mode to avoid polluting the airwaves. The space consisted of multiple rooms filled with a varied assortment of tables, seats, blankets, and spiritual decor. We took advantage of the excuse to go offline and indulged in homemade natural hot chocolate while browsing the booklet of different foods and their health benefits. The vegetarian and homemade cuisine looked delicious, but after the huevos rancheros, I wasn't up for more food at the time.
Submarine Rock Hike
There had been warnings of a heavy winter storm headed our way, so we headed to the visitor center (make sure to go to the real center and not the commercial outfits trying to sell Jeep and Vortex tours) for some advice of the best place to hike and if there was any more info about park closures due to Thanksgiving. The docent informed us that the entire National Forest would be closed on Thursday and Friday due to the storm – what a bummer! What about Wupatki Pueblo? Too high of elevation – it'll definitely have snow. The trailhead by our house, perchance? That's part of the forest, it'll be closed too. Well then, what can we hike?
She recommended hiking at Submarine Rock on the other side of the valley from where we were staying to get a different perspective of Sedona, so we scrapped our plans to go to the grocery store (it would be open after sunset) and drove out to the trailhead, which was only 10 minutes away. Everything in Sedona is in very close proximity.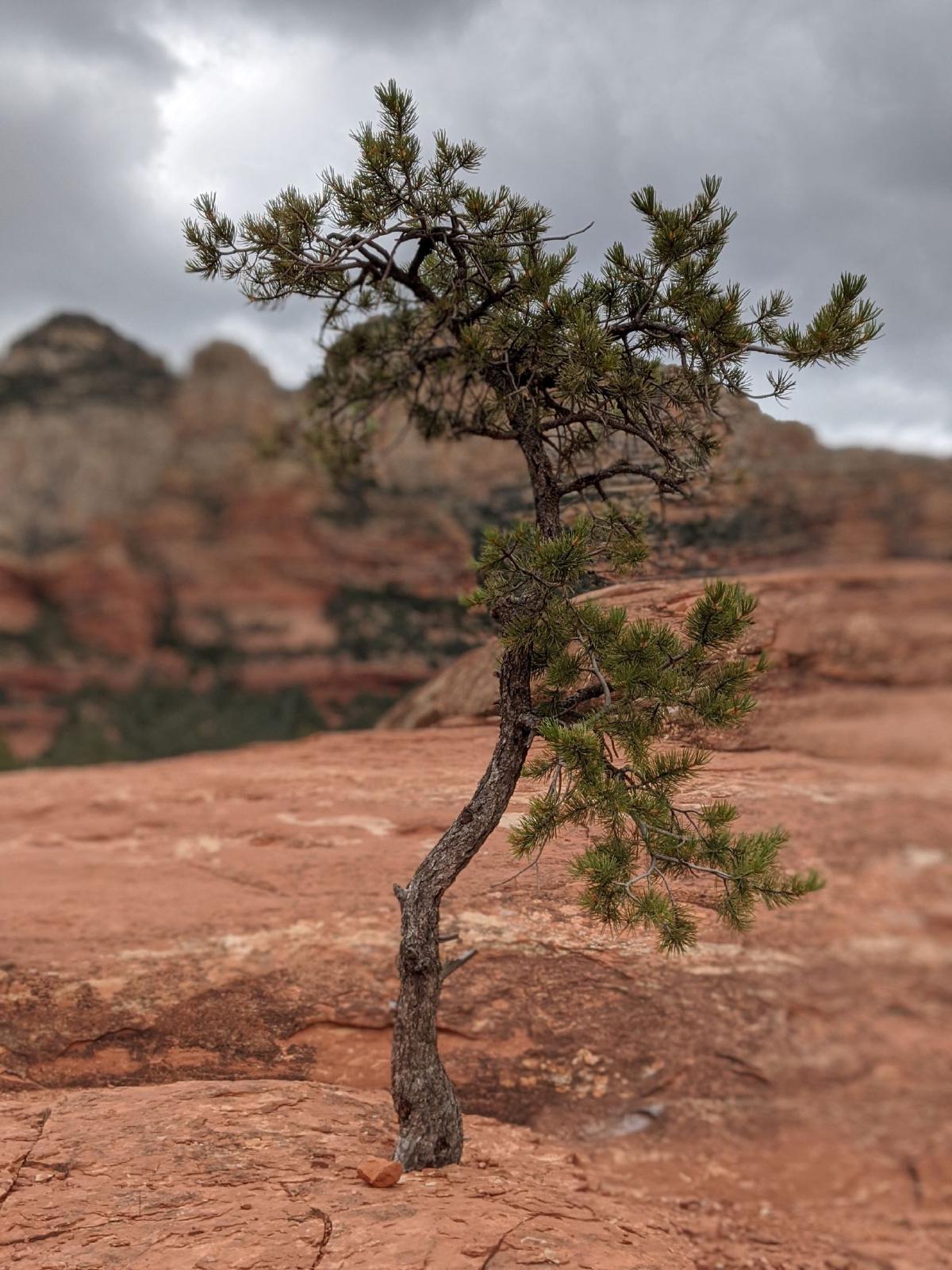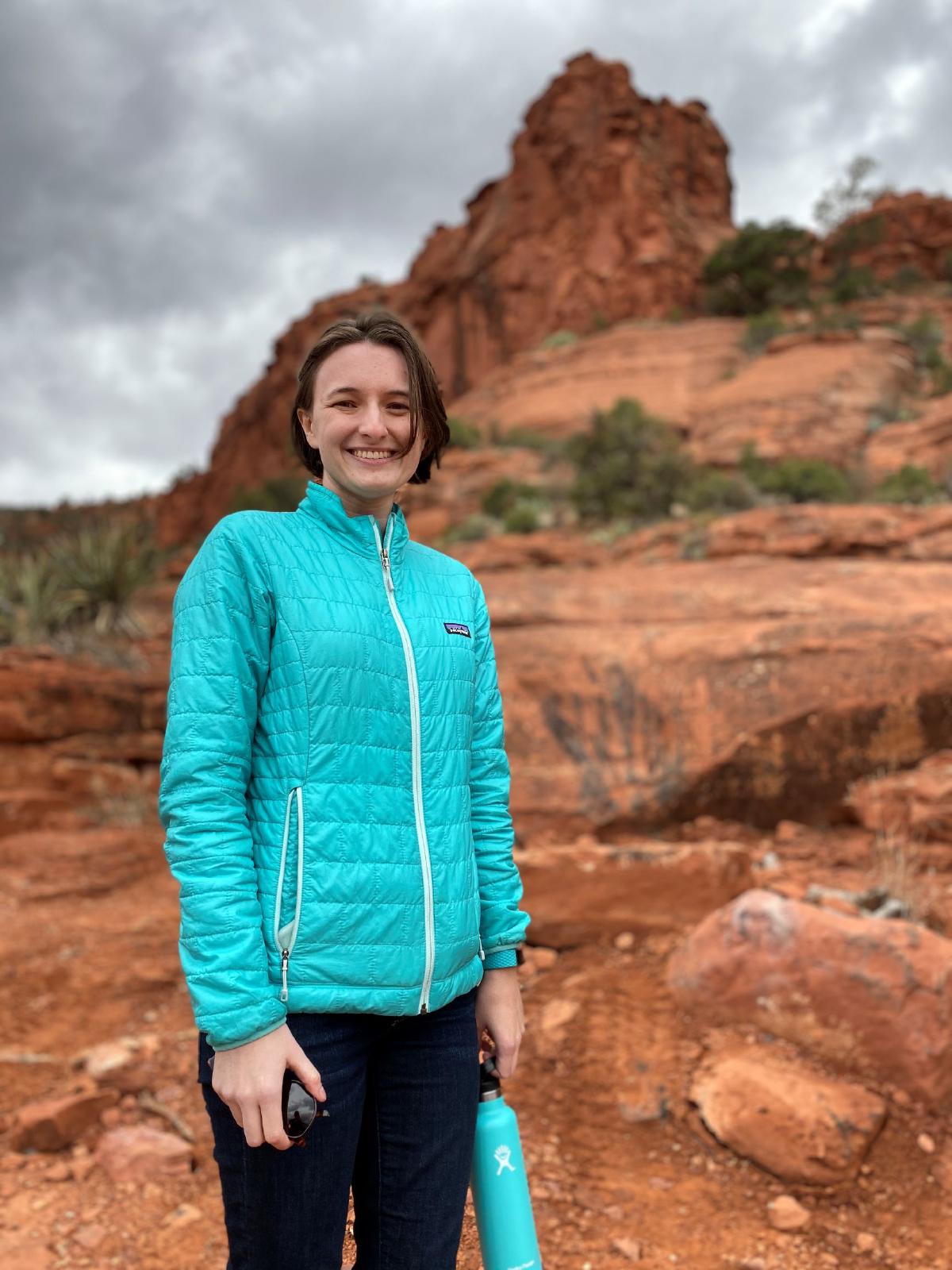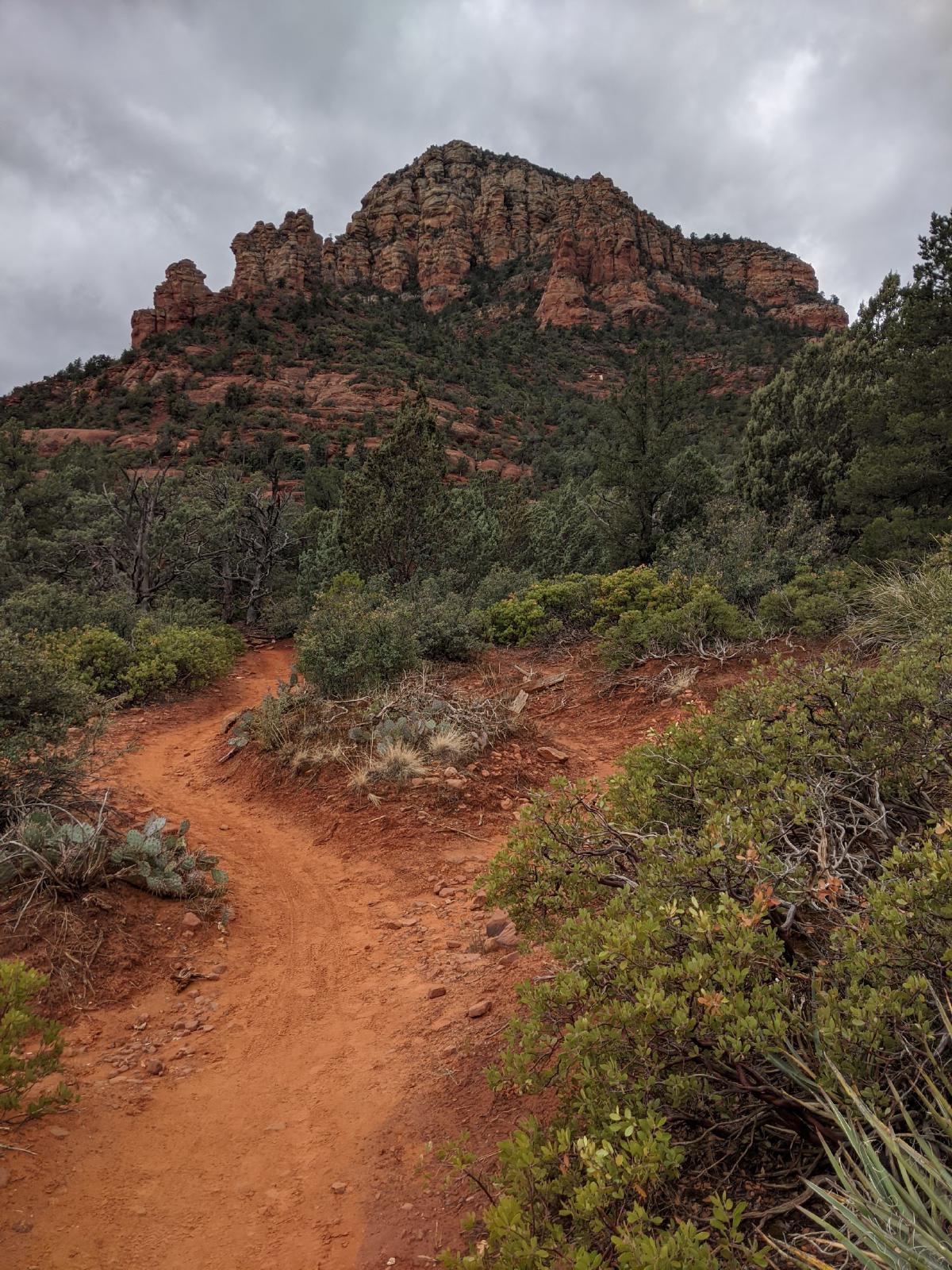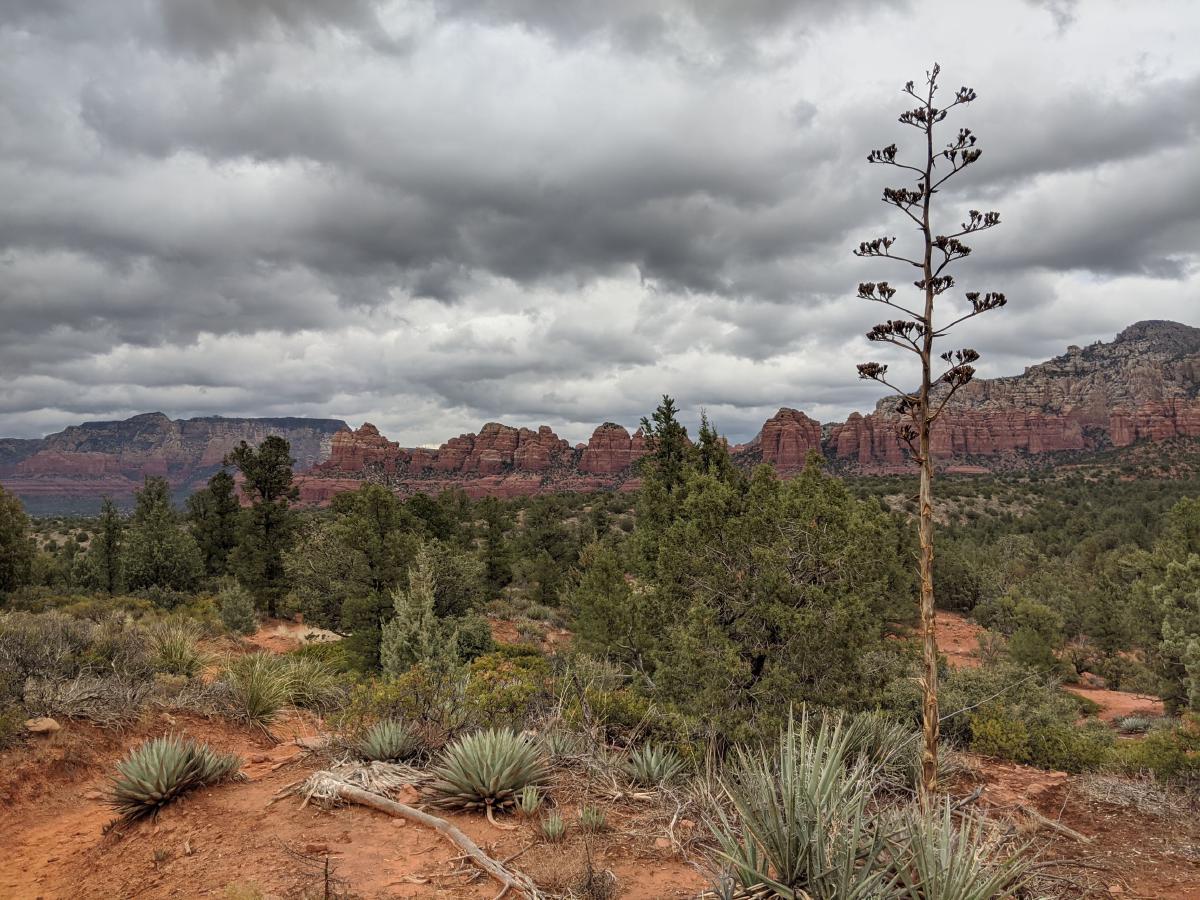 ![]](images/IMG_20191127_134417.jpg)
The hike was fairly flat, crossing over some dry riverbeds, through shrubbery and a thin forest, and eventually dropping us off atop Submarine Rock, a very large expanse similar to Enchanted Rock in Texas. Glenn took some video with the drone, and we enjoyed the vista to the nearby buttes.
Chapel of the Holy Cross
The Chapel of the Holy Cross is an obligatory stop in Sedona. It's crowded and hard to find parking, but the chapel is indeed a stunning modern piece of architecture jutting out of the red rocks and is worth a few minutes of your time.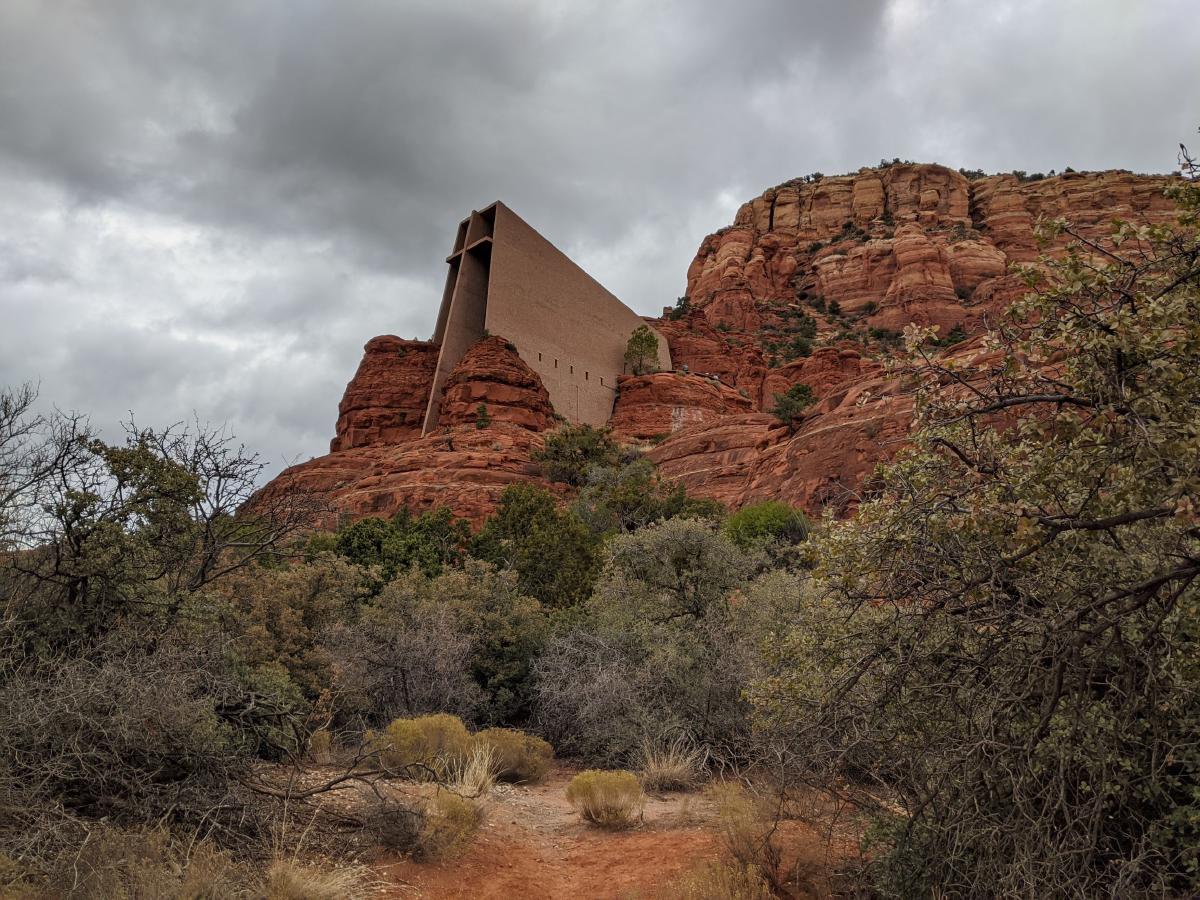 We ended the day with a run to the grocery store to pick up everything for Thanksgiving since we didn't plan to eat out much. We weren't in Sedona for the food, after all. Finally, a quick trip to the Airport Mesa overlook for sunset, and the day was over. Get there about half an hour before sunset and stay until the sun is long gone, since the colors are constantly changing, and be prepared to pay $3 to park.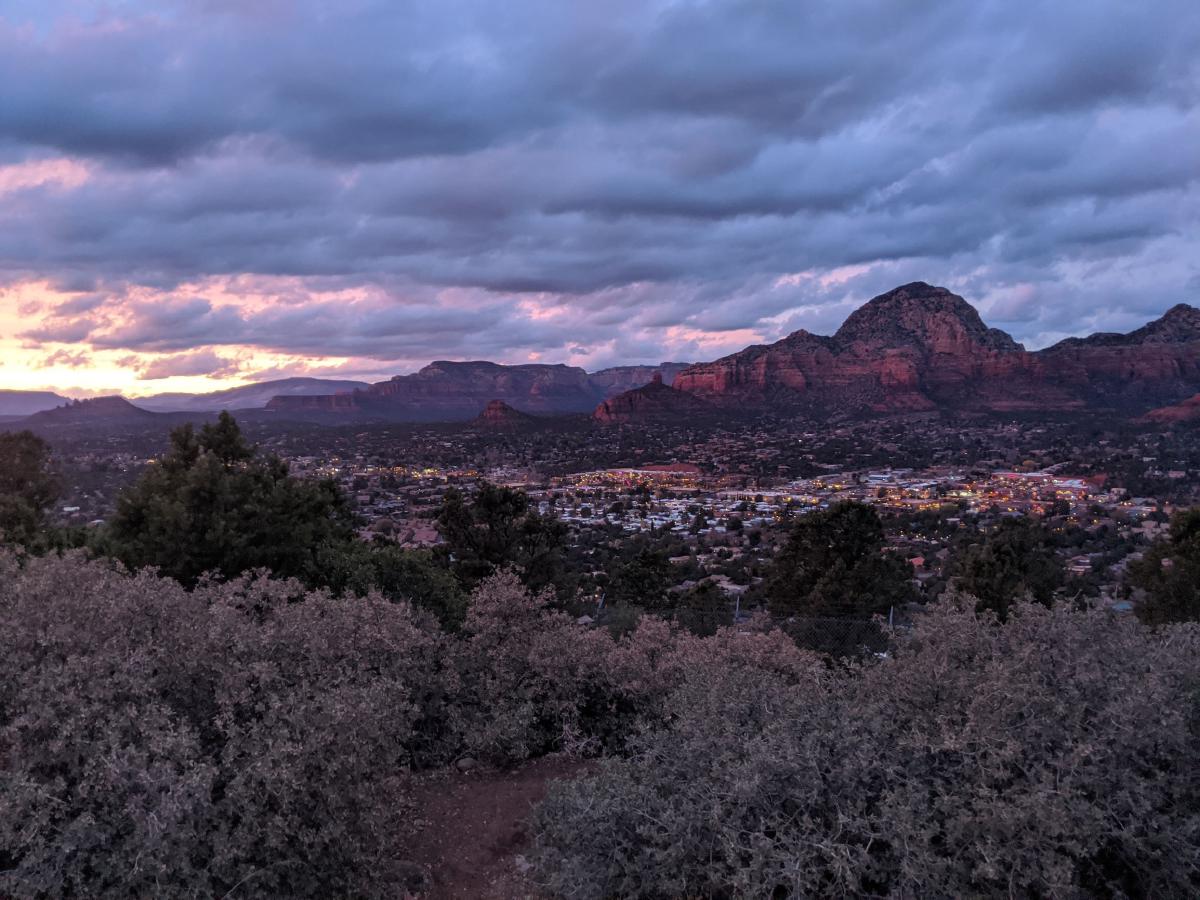 Thursday: Wupatki Pueblo and Sunset Crater Volcano (Oh, and Thanksgiving too)
Even though the docent yesterday had said that nearly everything would be closed, I called Wupatki Pueblo directly to see if they were open. "Yeah, we're open till 3pm – come on by!" While it's unfortunate that the docent had been overly conservative, I do wish there had been more agency rather than shutting down every place we suggested to go. Fortunately, it's relatively easy to pick up the phone and get your own information.
The drive up 89A to Flagstaff winds through an incredible canyon lined with fall foliage, sheer cliff faces, and along a rushing stream. By itself, this drive and the vistas are worth the time. We reached Sunset Crater in the late morning after a two hour drive and checked in at the visitor center. Sunset Crater and Wupatki are the same park connected by a gorgeous road through the open plains, so one admission covers both sites.
Sunset Crater Volcano National Monument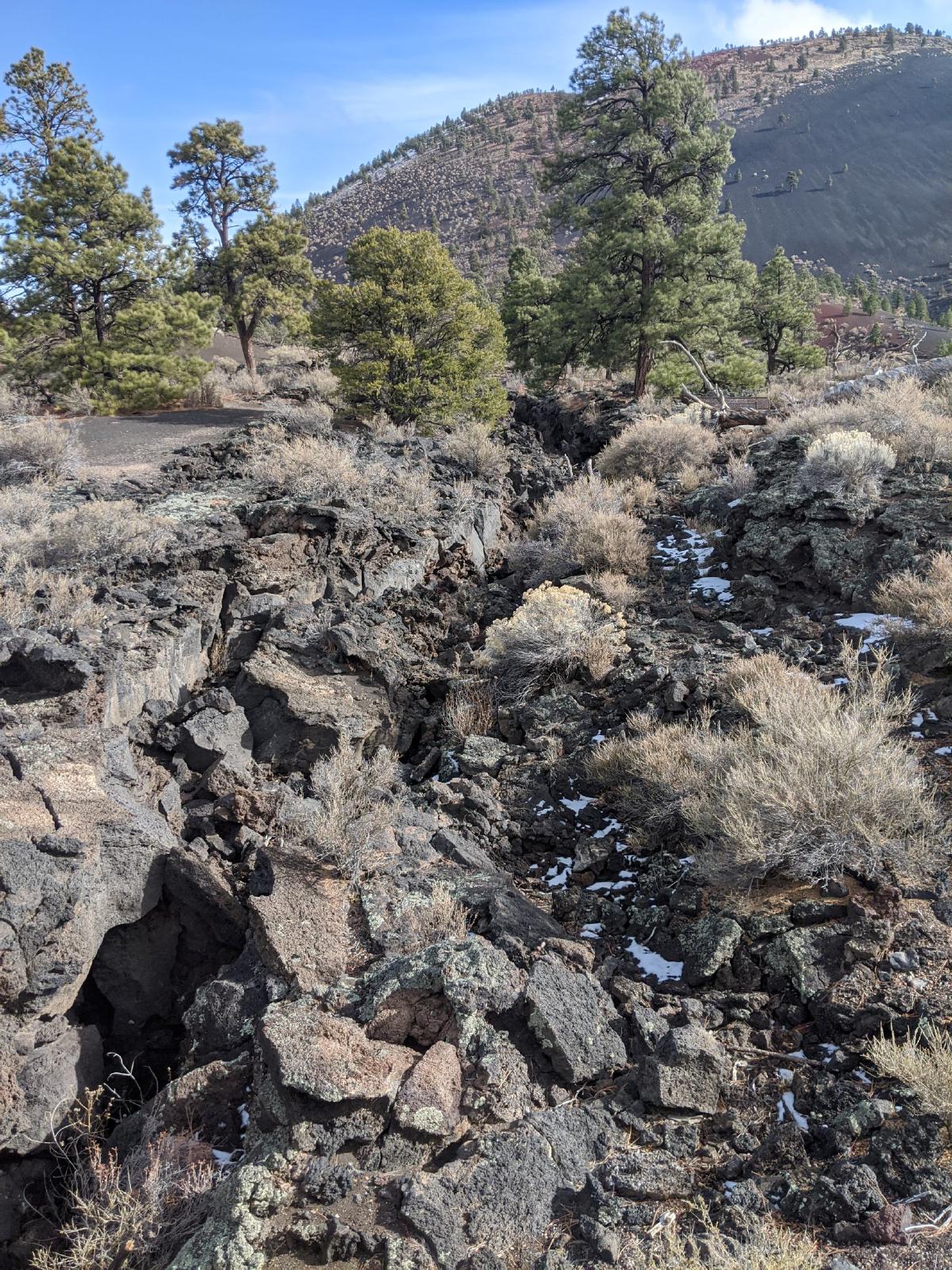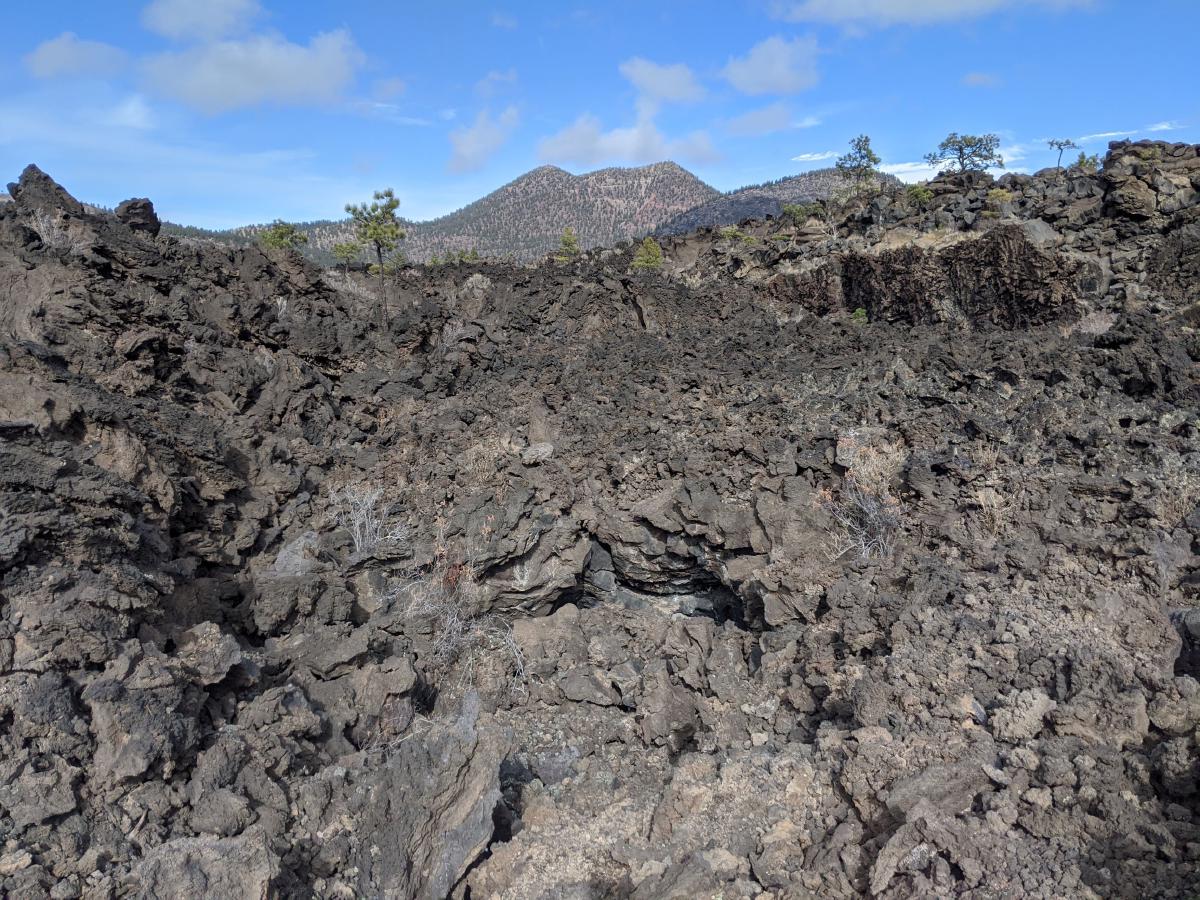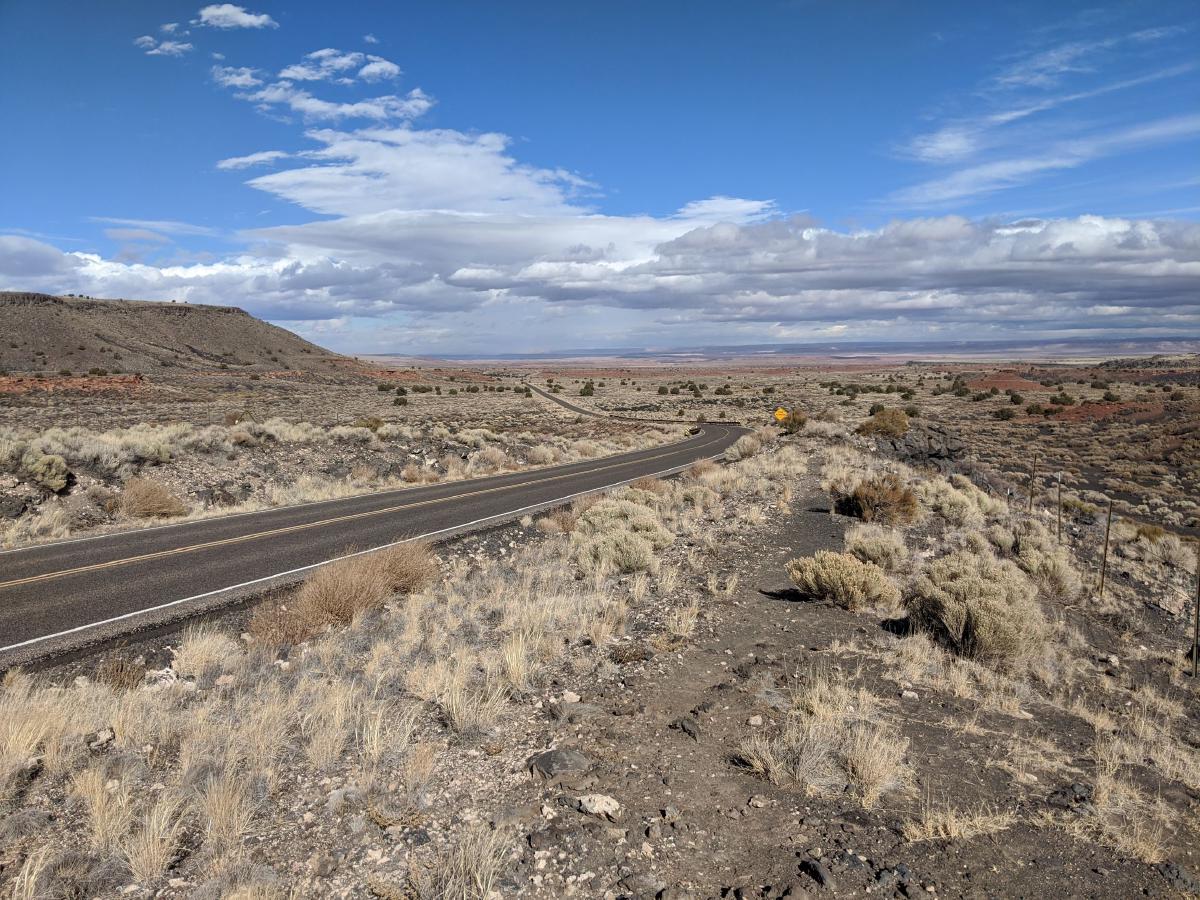 We hadn't planned to visit Sunset Crater, but very early in the auto loop we came face to face with a cinder cone volcano and had to learn more about the geology. The cinder cone was formed approximately 950 years ago and grew from nothing to 1,120 feet over the course of a year. More recently, a similar phenomenon happened in Mexico when Parícutin grew out of a cornfield in the 1940s.
The cinder cone itself is off limits to hikers because of preservation efforts to prevent erosion, but nearby trails explore cooled lava flows full of sharp volcanic rock. The A'a trailhead and the Lava Flow Interpretive Trail are quick and easy ways to explore the volcano if you only have a short amount of time. We knew a winter storm was coming in fast, so we probably spent an hour total at the trails before continuing on to Wupatki. However, Sunset Crater was one of the highlights of the trip and a great spontaneous moment.
Wupatki National Monument
As we drove out of the hills toward the open plains, a wall of fog and wind followed us in a race against time. We'd heard that the Grand Canyon was already closed because of the storm and were eager to see Wupatki before the same happened there. After missing out on Bandalier National Monument the previous year in New Mexico due to the government shutdown, I wasn't going to miss pueblos this time around!
The main Wupatki pueblo is right behind the visitor center, where they provide a numbered interpretive guide to the site. After the eruption of Sunset Crater in ~1085AD, native populations moved into the area and were able to thrive due to the increase in soil fertility from the volcanic ash. Wupatki (meaning "tall house") is the largest of a few pueblos in the park, consisting of over 100 rooms and a ball court. They were populated until around 1225 AD. The ruins are preserved but not restored, which shows them as they were found without trying to recreate what they had looked like in their heyday. The sites are still a spiritual home to the Hopi tribe, the descendants of the Sinagua tribe that originally inhabited the site. The red color of the rocks combined with the slow crumbling of walls over time is unimaginably beautiful, and I appreciate that the parks service has decided to preserve these sites rather than rebuild them.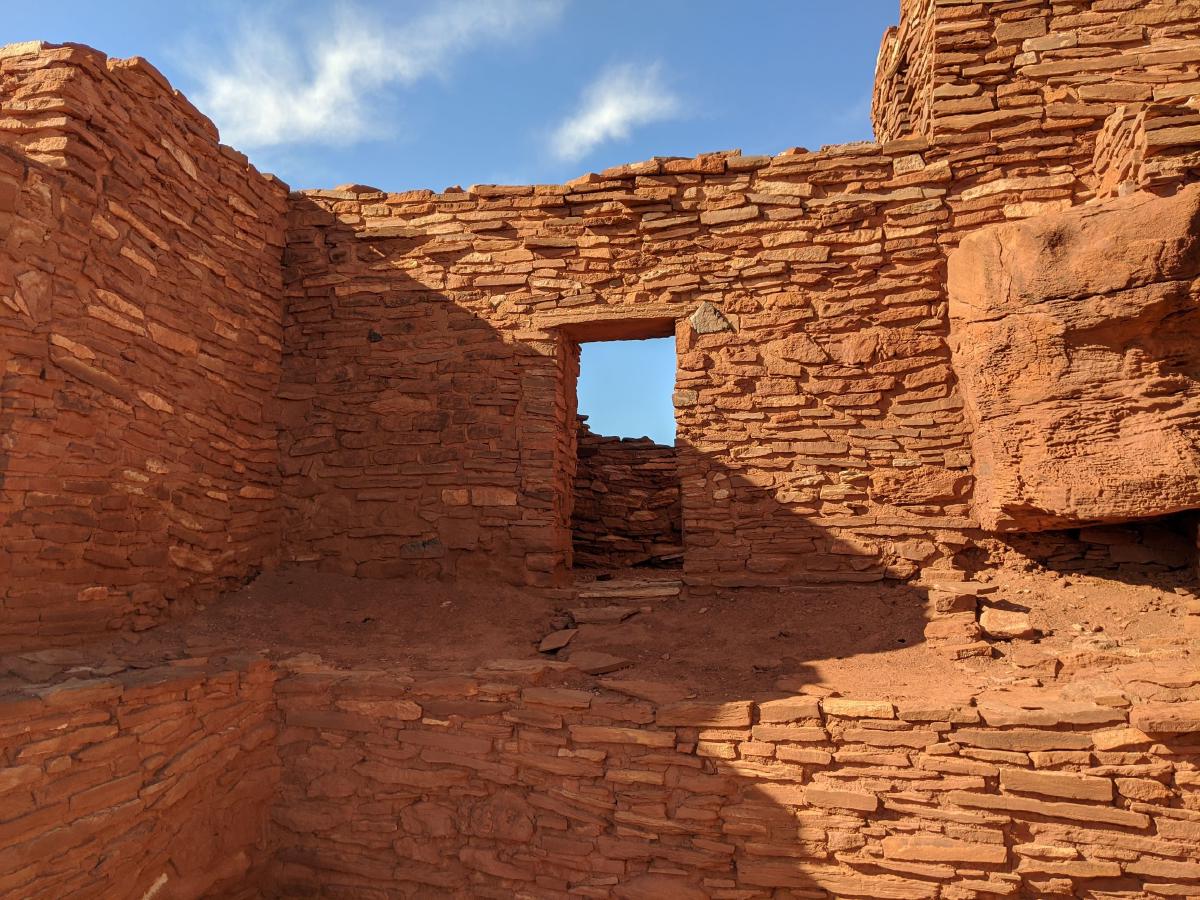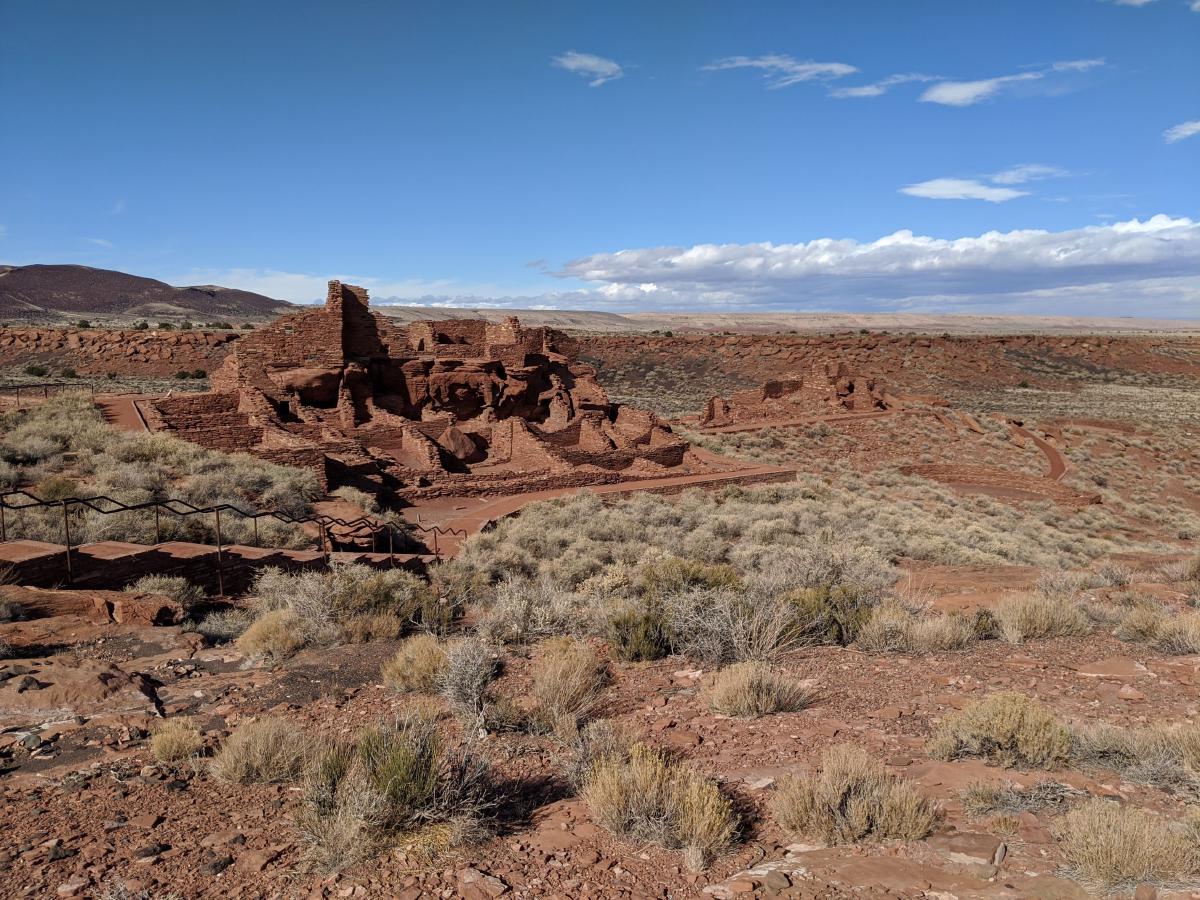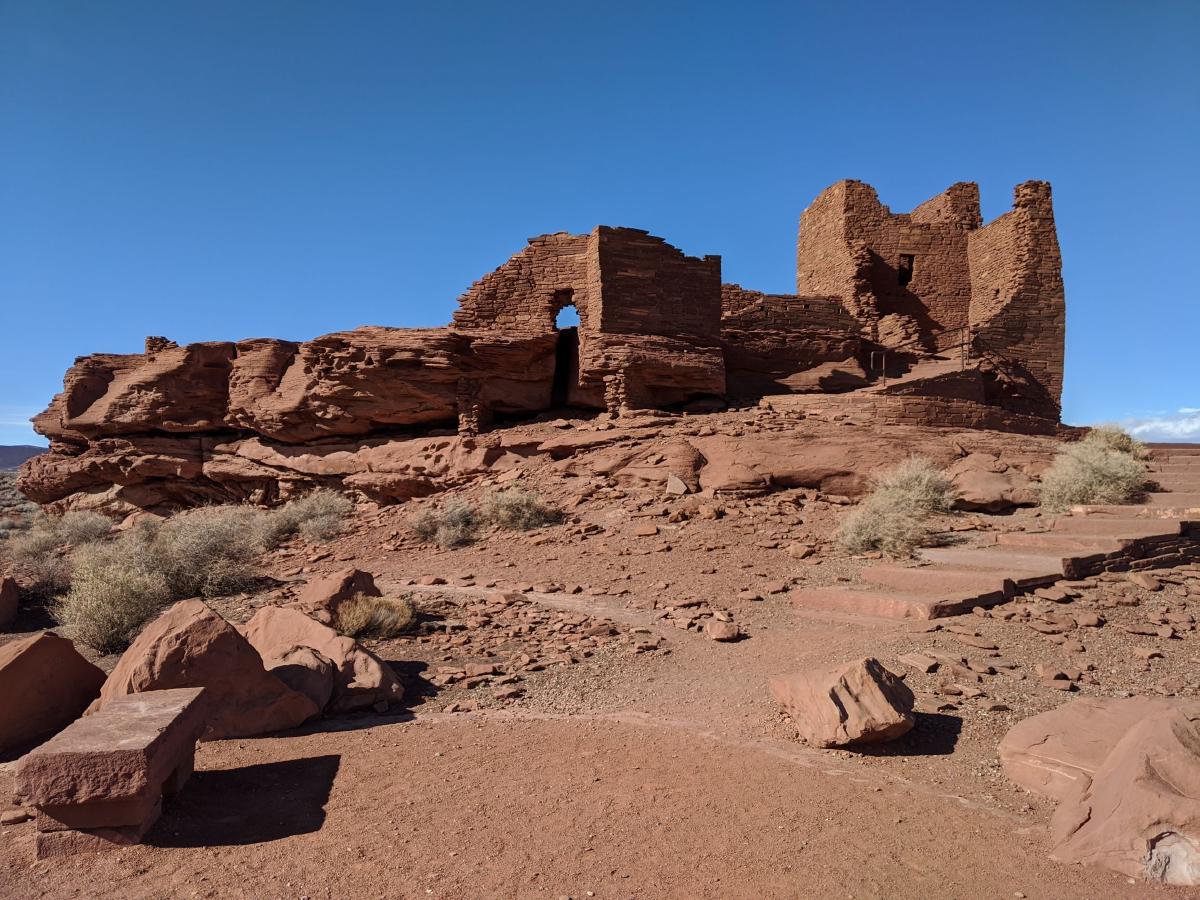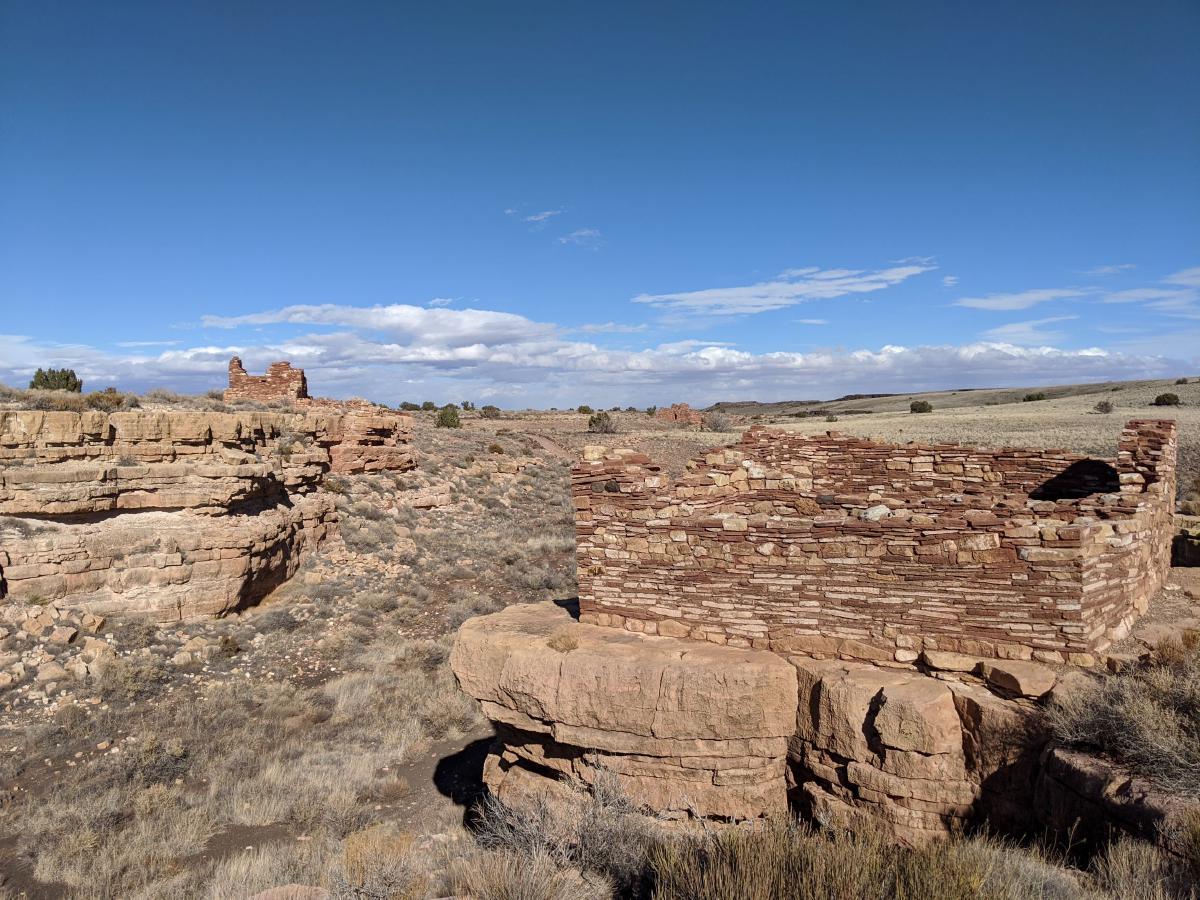 After exploring Wupatki, we backtracked to Wukoki, which looks like a ship's bow sticking up out of the horizon. The desert was incredibly quiet, aside from the howling wind in our ears, and the views across the grassland to distant cliffs were spectacular. Finally, the Box Canyon Ruins, made of different rock but no less stunning, are situated along the top of a box canyon toward the north side of the park.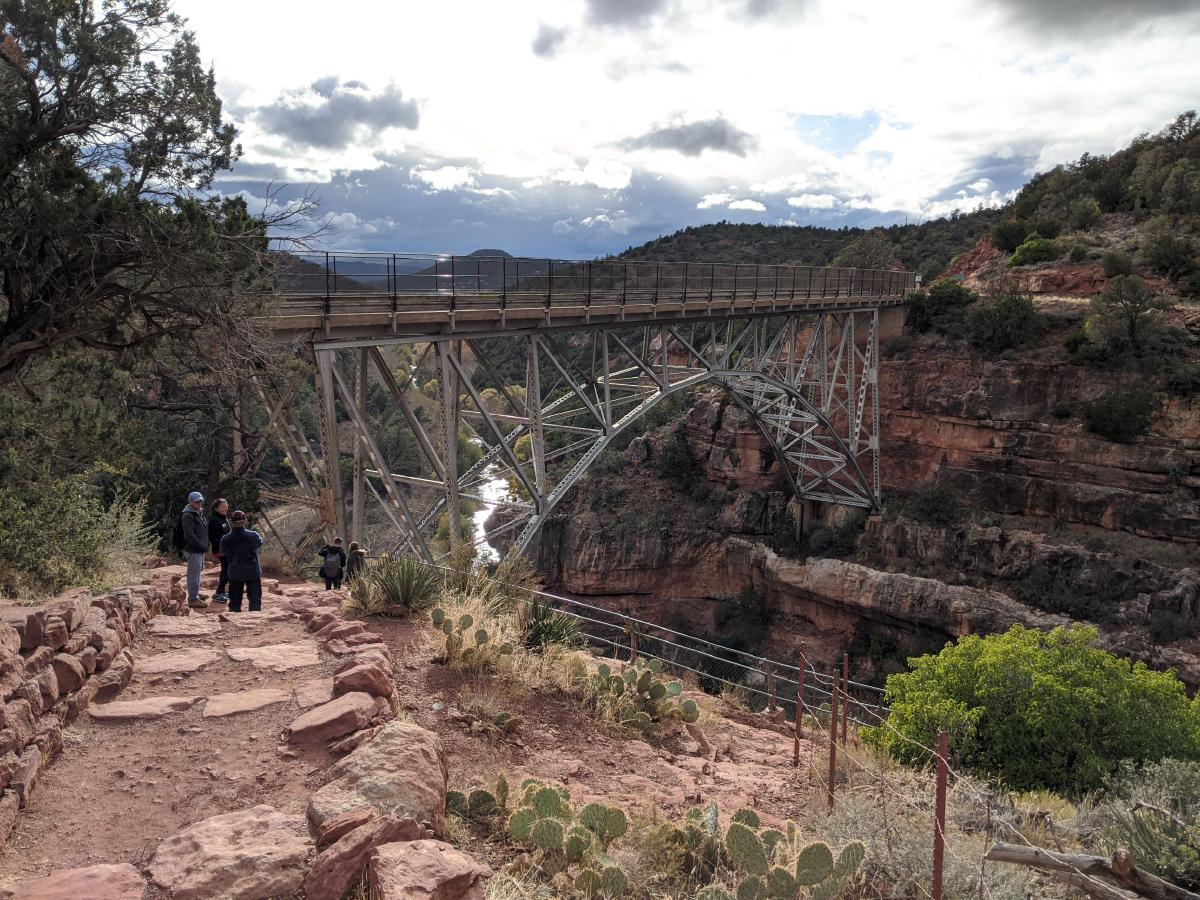 As the storm approached, we hightailed it back down through Flagstaff where it briefly started snowing, and made it back to Sedona by sunset for Thanksgiving dinner – gourmet grilled cheese sandwiches and eggnog.
Friday: Snow Day and Scenic Drives
True to word, it snowed overnight, blanketing the world in soft white and making everything incredibly quiet. We bundled up and walked to the nearby trailhead to explore the snow-covered world. The snow layered on top of the red rocks like icing on a cake, and each plant had its own graceful way of accommodating the fresh powder.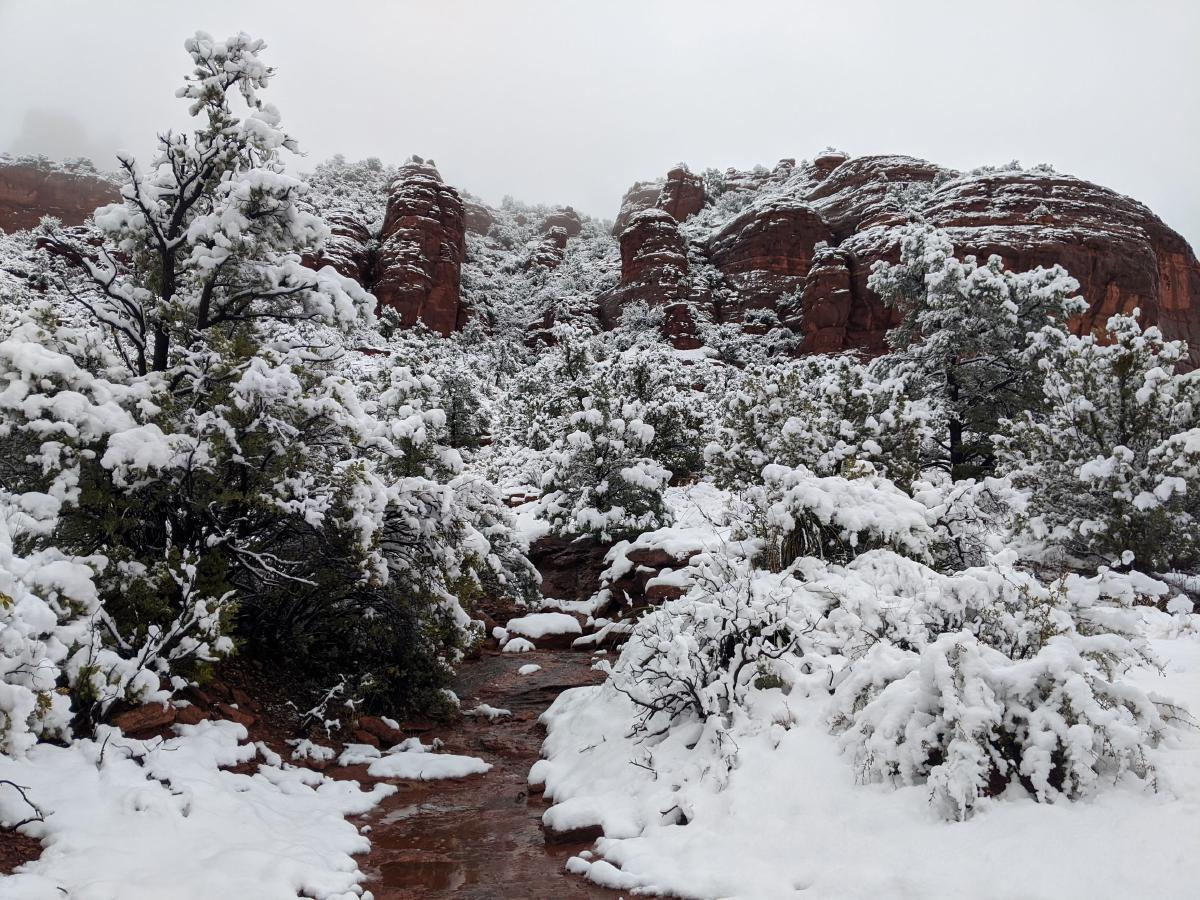 As the sky cleared and the precipitation stopped, the sun started to melt the snow, making the rocks look different every time you looked. We drove to Airport Mesa again for some more vistas before hitting Highway 179 for a drive through red rock country. This road is one of the most scenic in the country and laces through the buttes and cliffs of Sedona, with many pullouts and trailheads along the way. If only stopping for a photo, the trailheads are free, but hiking requires a Red Rocks day pass, which is cheap and easy to purchase at automated ticket machines.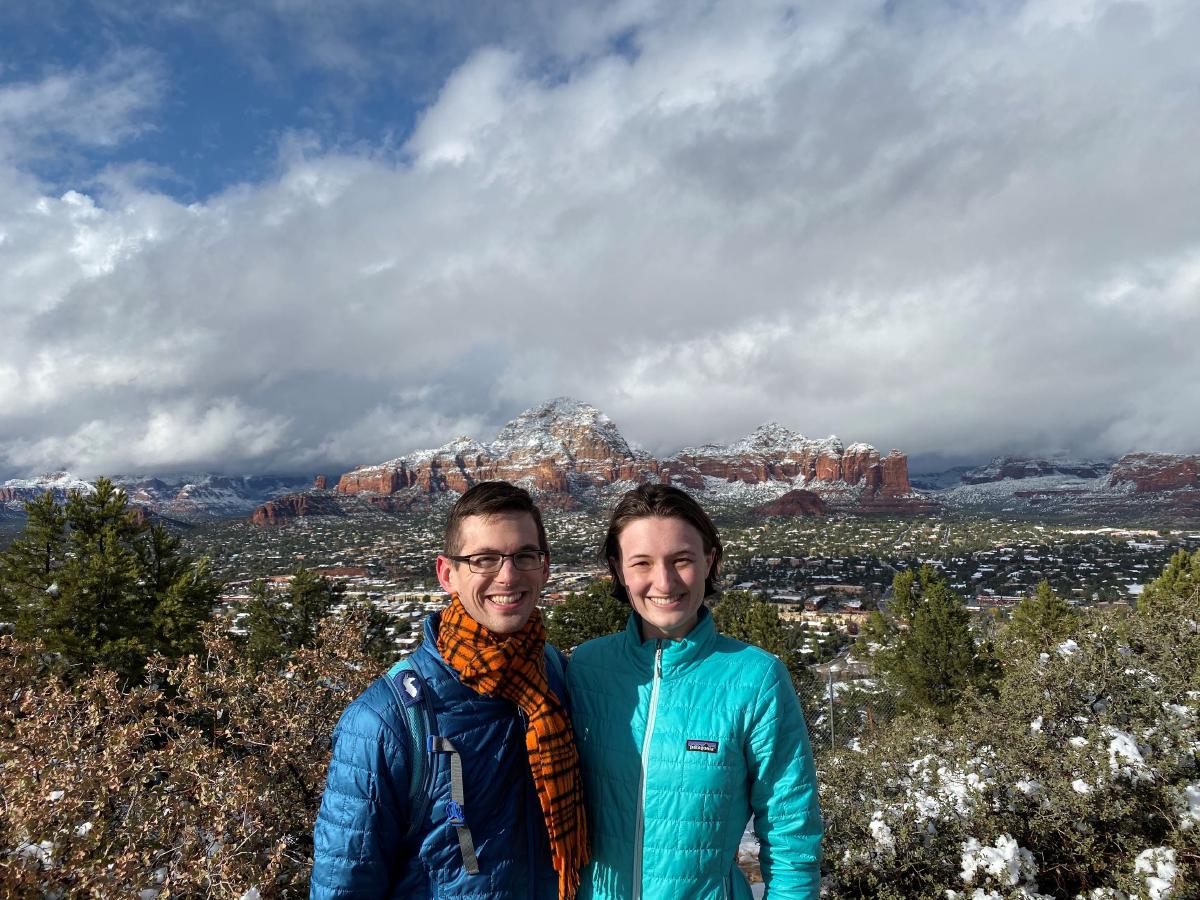 We finished the day with a walk through the Tlaquepaque Arts and Shopping Village, a medley of art galleries, shops, and restaurants in a recreated Mexican town. While it's somewhat contrived, we enjoyed wandering around, and stopped in at The Chai Spot for the best chai tea we'd ever had, with proceeds supporting women empowerment and other worthy causes. The decor was a traditional Pakistani tea parlor, with colorful cushions, fabric, and small tables, and it was a cozy way to spend some time on a chilly day.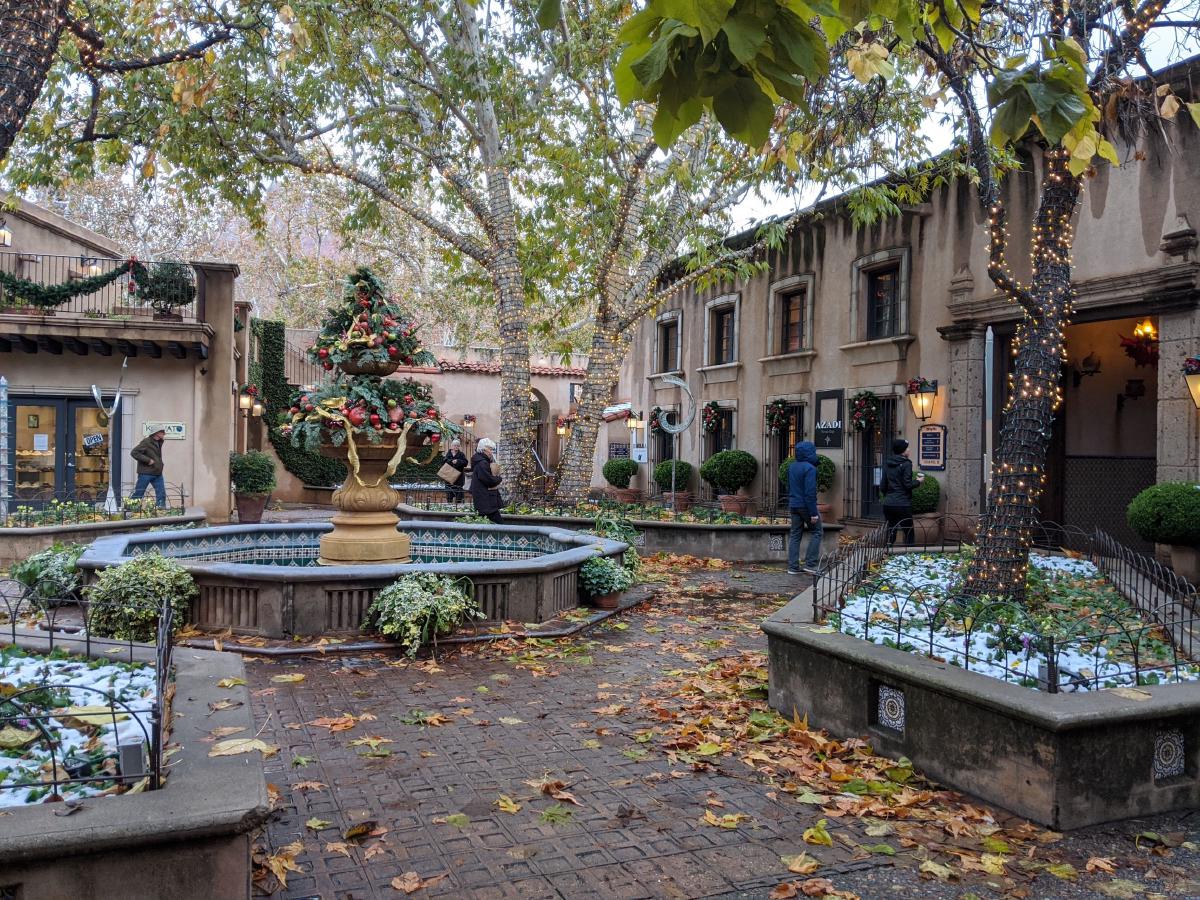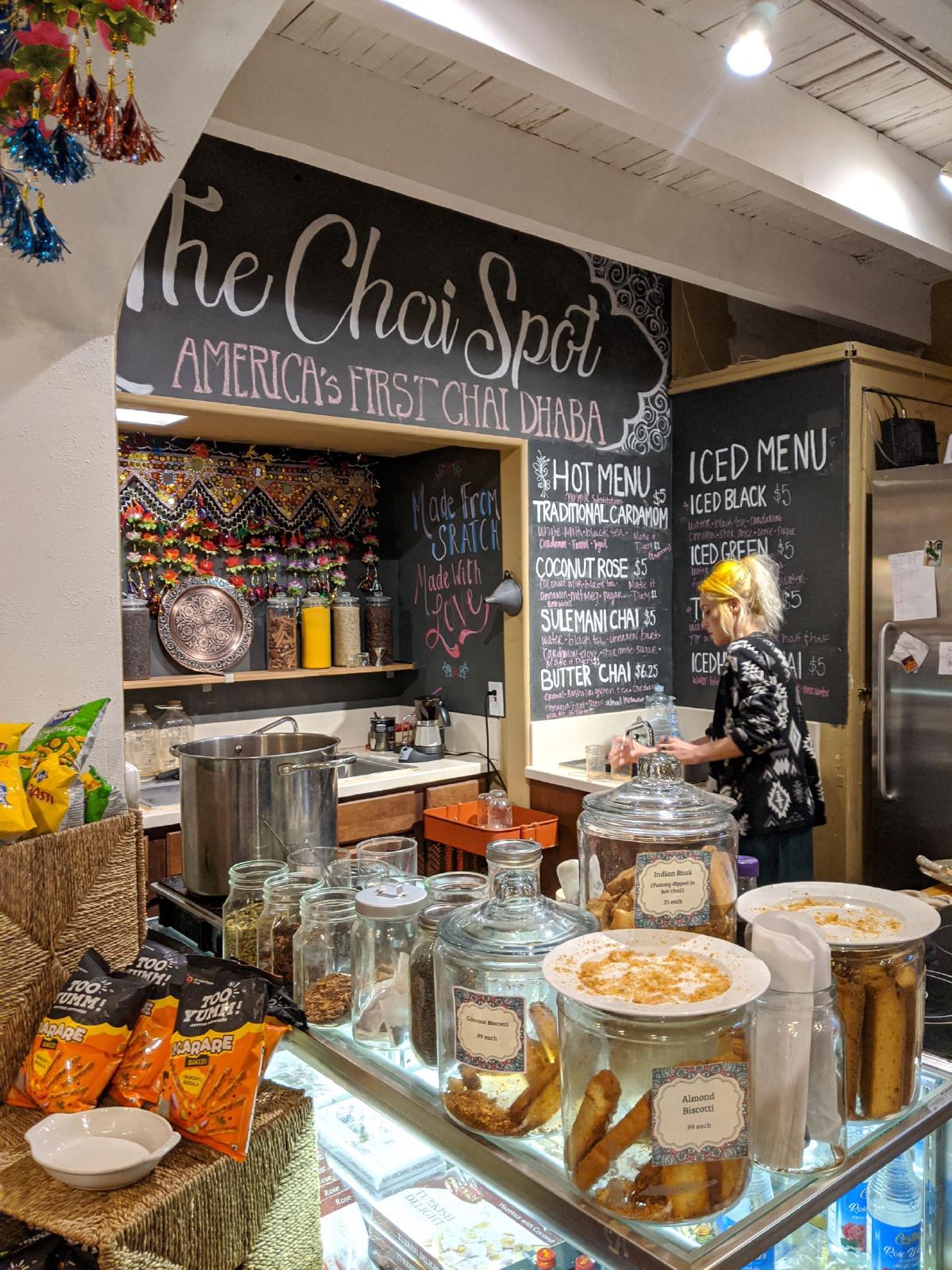 Our final stop was an obligatory visit to the Center for New Age, one of the many crystal and spiritual shops in Sedona. No photos were allowed inside, but it was a unique experience seeing all of the crystals and their descriptions, to be sure. Multiple rooms with shelves filled with crystals of all different shapes and sizes. I had no idea so many types of stones existed!
Feeling that we had seen everything we wanted to in Sedona, especially given the closures up north due to the snow that ruled out a Grand Canyon day trip, we decided to leave Sedona a night early and booked a hotel room for Saturday night in Scottsdale, where it was 70, sunny, and filled with saguaros.
Saturday: Montezuma Castle and Historic Scottsdale
After a good night's sleep, we packed up the car and left Sedona, heading south on 179 through the red rocks and the last remnants of snow. Our intended stop was Bar V Bar ranch, a set of well-preserved petroglyphs, but the entrance was closed due to flooding, so we headed on to nearby Montezuma Castle.
Montezuma Castle
The Montezuma Castle National Monument is a set of cliff dwellings constructed by the Sinagua people in the early 12th century. The entire Verde Valley, a fertile riverbed and traveled trade route in the dry Arizona desert, is full of settlements like Montezuma Castle, but some are better preserved than others, and some have yet to be discovered. Of course, the site has nothing to do with King Montezuma of the Aztecs and in fact predates him by a few hundred years, but the Spanish explorers who found the castle were not very discriminatory in their naming schemes for native populations and lumped them all together.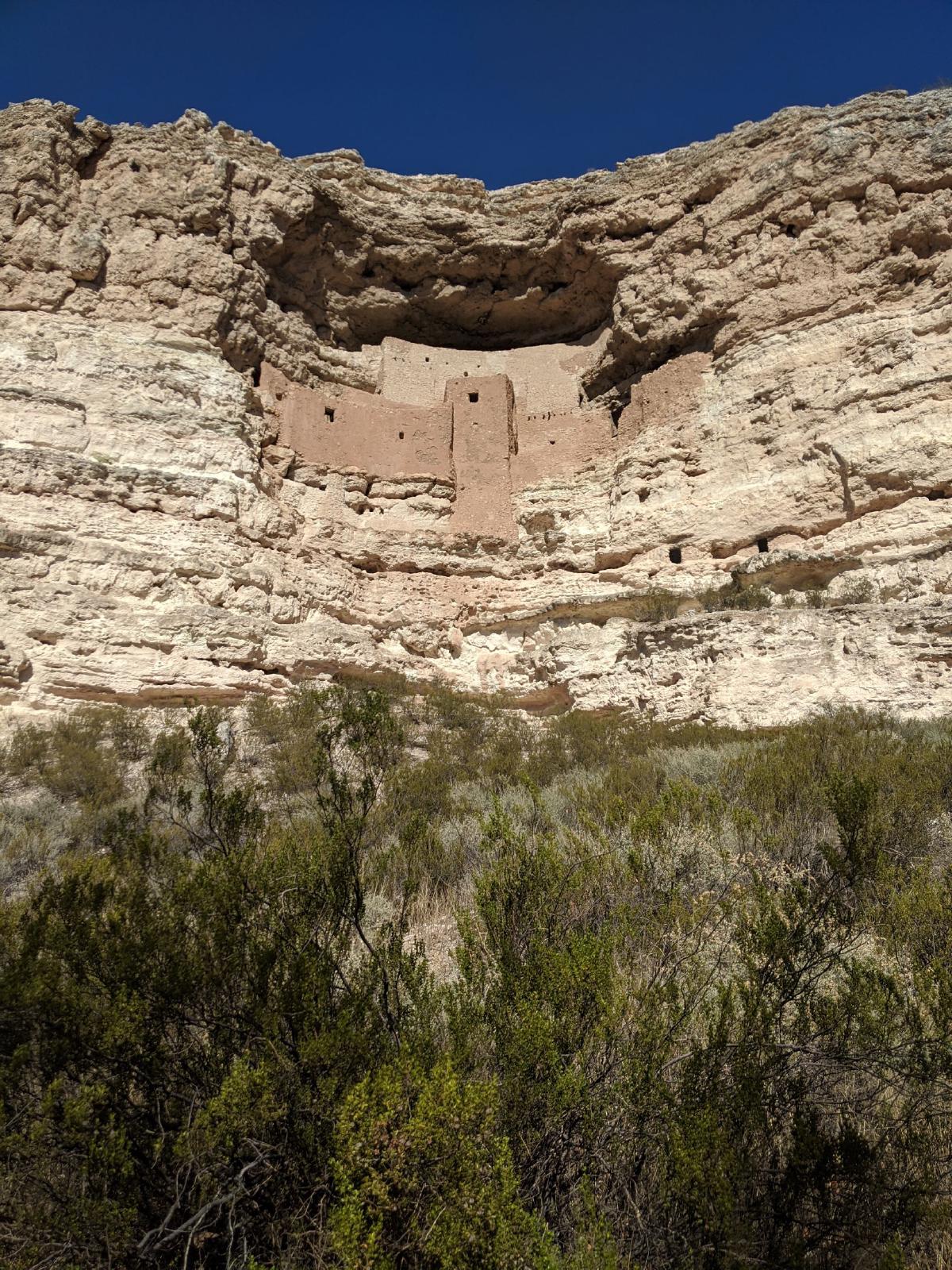 Regardless, although the dwellings can't be explored and are only seen from the ground looking up, it's incredible to think about how people lived hundreds of years ago. The docent was happy to tell us lots of stories about the site and local history.
Montezuma Well
Nearby Montezuma Well is an interesting geological feature – a limestone sinkhole filled with water year-round from an underground spring. While this may seem like an incredibly fortunate find in the desert, the water has a high concentration of arsenic and is home to some unique species of leeches, snails, and scorpions that only live in the unique ecosystem. The short walking trail takes you down into the well to observe some cliff dwellings, then around the backside where the well outlets into the nearby river. The Sinagua people created dams and aqueducts to control the flow of water for their farming and consumption.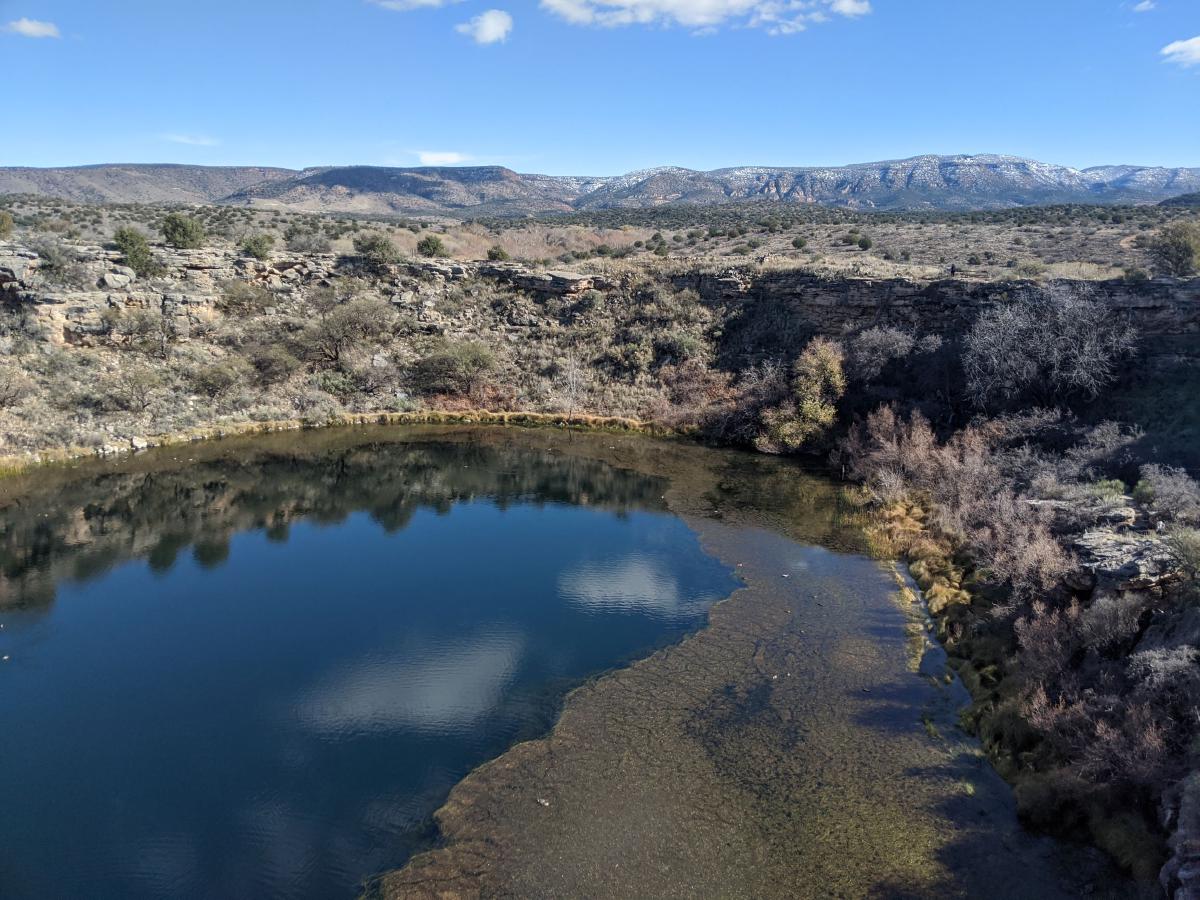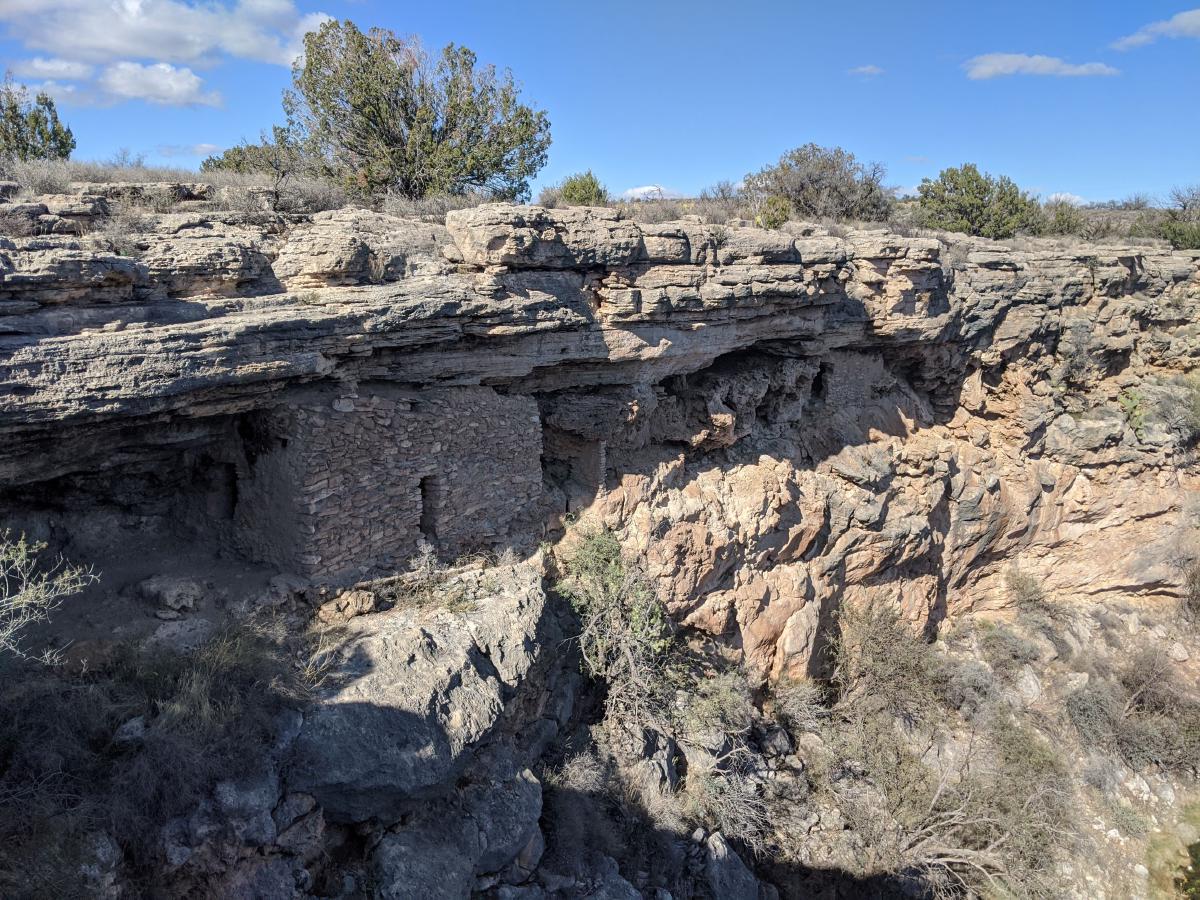 Out of the two sites, Montezuma Well was less crowded and more immersive, but both are included on the same admission, so take advantage of the pass and see both.
Scottsdale at Night
Driving south, we started seeing Saguaro cacti everywhere we looked – it was a national forest, after all, so why shouldn't cacti in the desert be as common as pine trees in the mountains? We arrived in Scottsdale, just outside of Phoenix, in the late afternoon and checked in to the Saguaro, a colorful mid-century modern hotel right in downtown. After a nice nap, we drove to friend-recommended Espo's for some delicious green chile and tortillas (be warned, Mexican food in Arizona is actually spicy!), then back to Scottsdale to wander around the Old Town and see the holiday lights and festivities. The sunset was unlike anything we'd ever seen – incredible red and pink highlighting a mostly cloudless sky, silhouetting triangular mountains and the arms of the Saguaro cacti.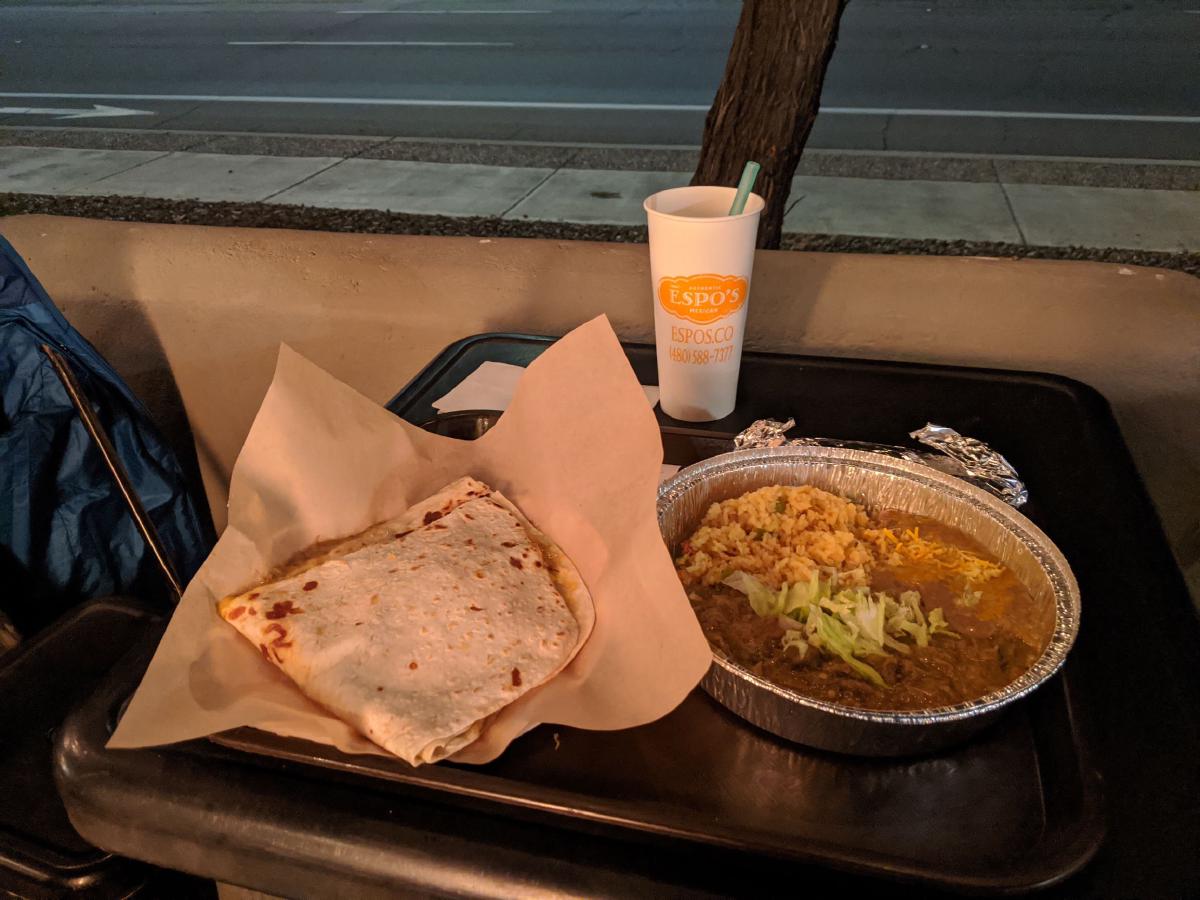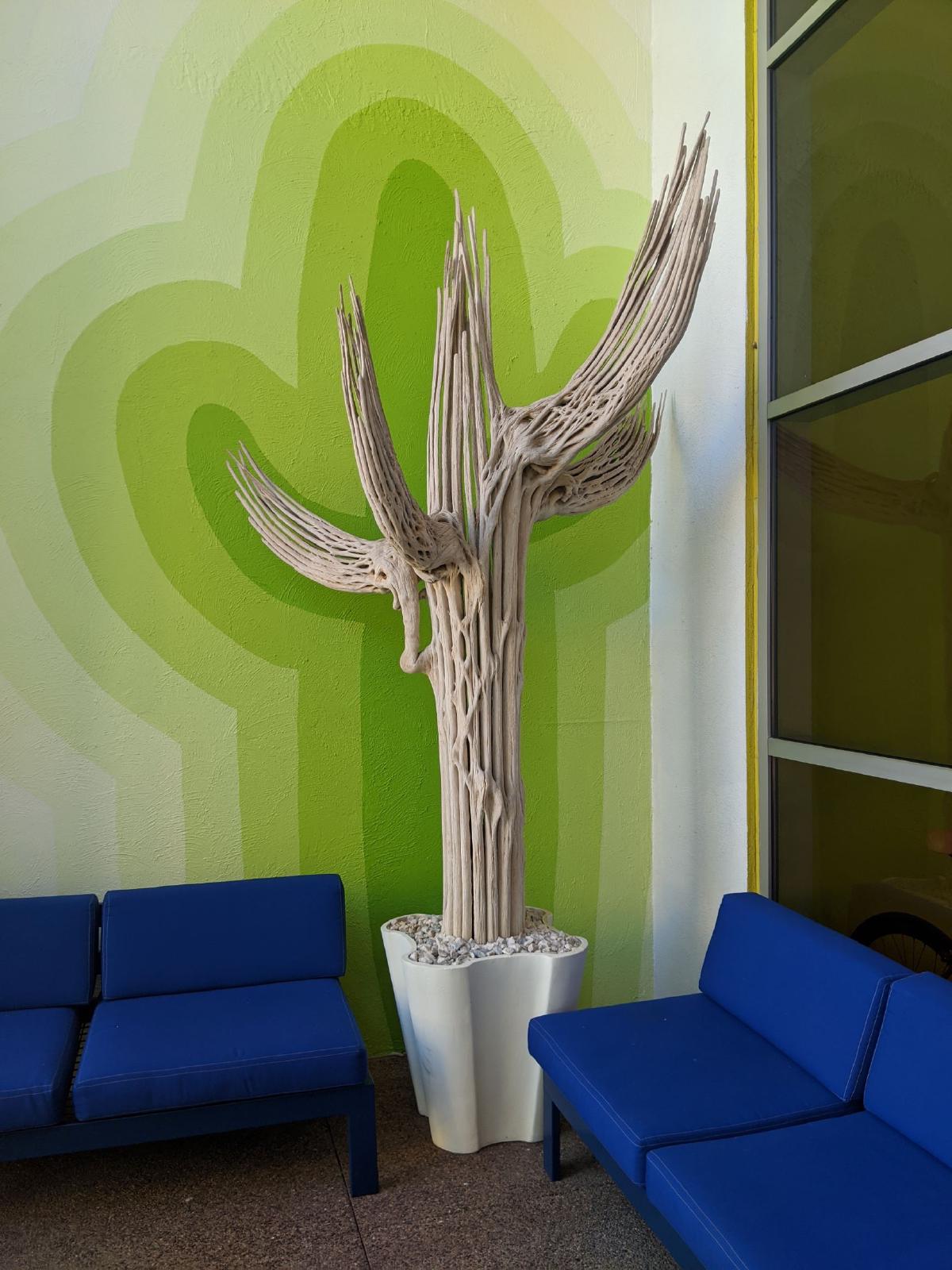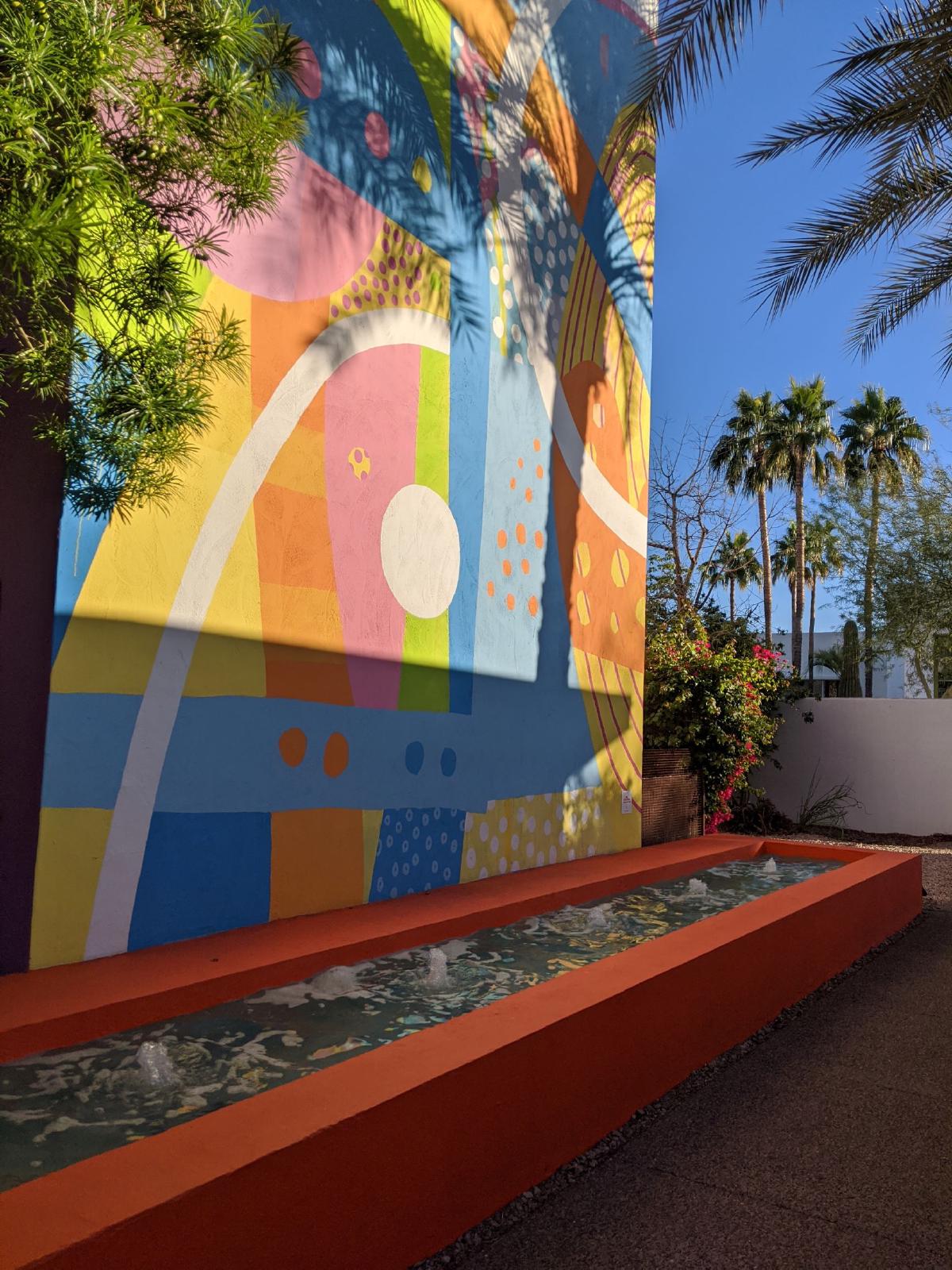 While we didn't spend much time in Scottsdale, it is full of art galleries, museums, eateries, cool sculptures and architecture, and lots of cacti. Most importantly, it's walkable with large sidewalks and pedestrian areas. I'd love to go back sometime!
Sunday: Saguaros, Taliesin West, and More Cacti
McDowell Sonoran Preserve
Since cacti are one of my favorite things in the world, I knew that I had to see saguaros in the wild. The McDowell Sonoran Preserve is just east of Scottsdale in the McDowell Mountains and consists of incredible trails accessible to all levels of hiking ability. We grabbed some bagels and arrived around 9am at the already crowded parking lot. While it was a November morning and we'd just been in the snow the previous day, it was 60 degrees Fahrenheit and warming quickly – remember to stay hydrated, even on short hikes!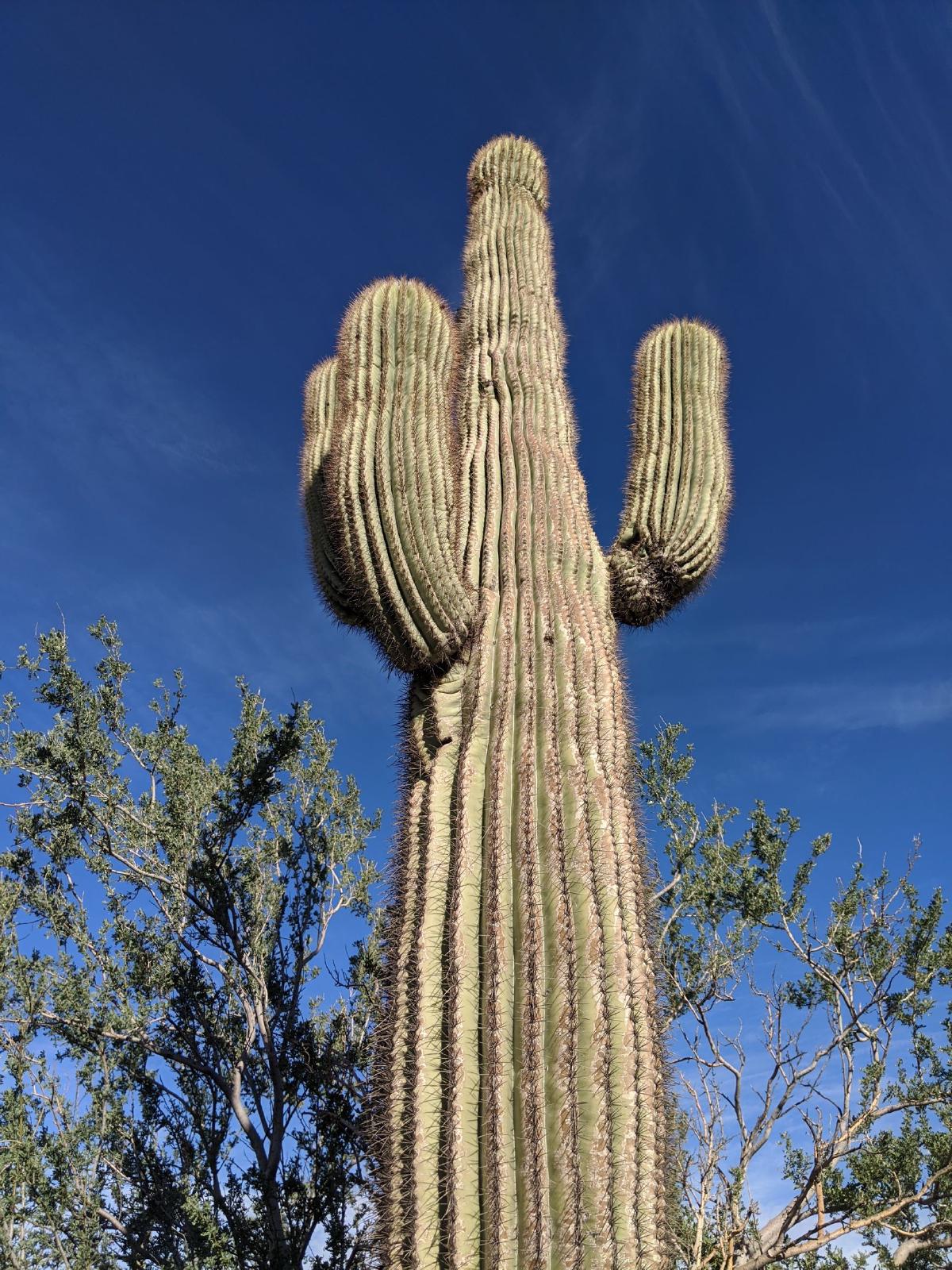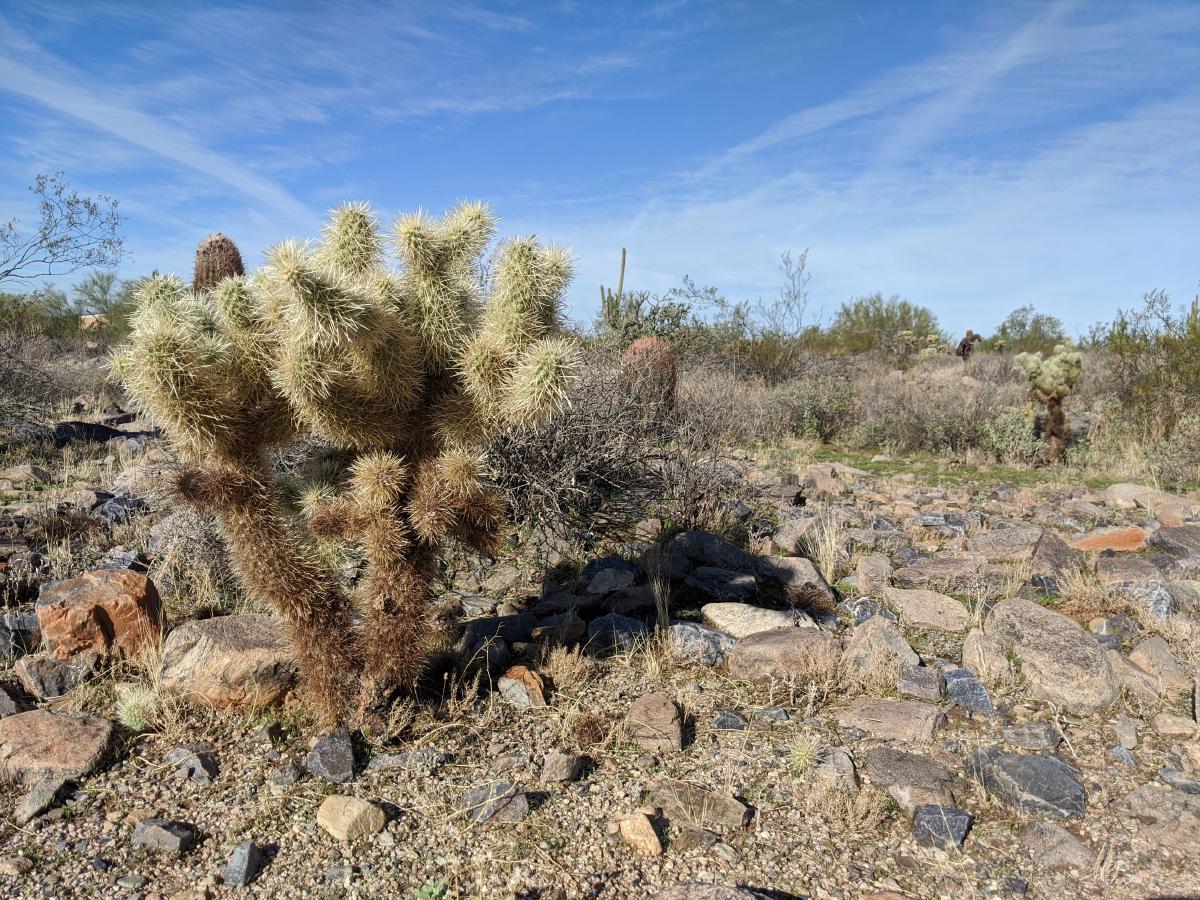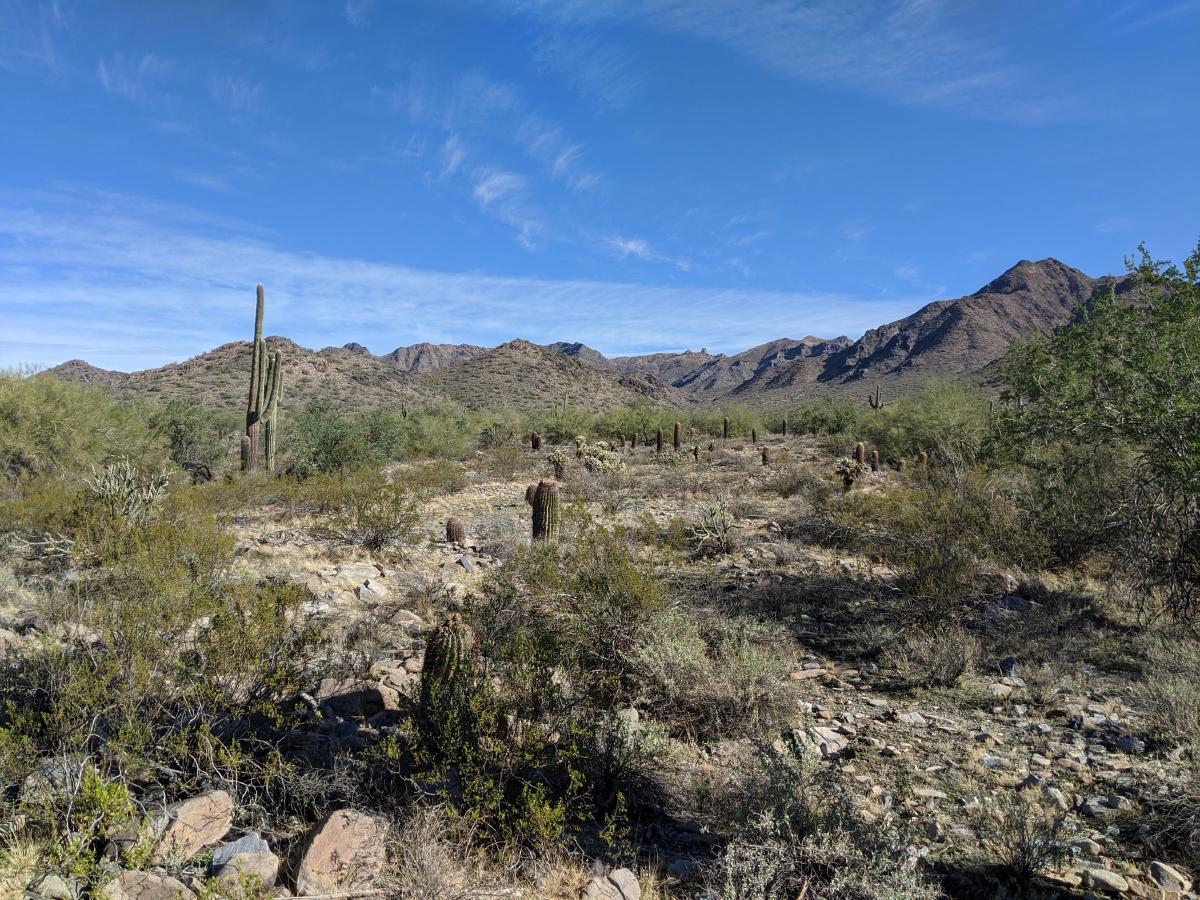 The Gateway Trail is a 0.5 mile loop with interpretive signs and examples of all of the different types of cacti, wildlife, and ecosystems in the preserve. I'd highly recommend this trail first as we learned about the skeletons of cacti and the fascinating life cycle of saguaros. They don't sprout their first limbs until they are at least 50 years old!
We didn't have much time to continue into the mountains themselves, but will absolutely be back to enjoy this park again.
Taliesin West
While Frank Lloyd Wright is primarily known for his Midwest architectural creations, he eventually grew tired of the cold winters in Wisconsin and built a Western residence and later architecture school nestled in the McDowell mountains outside of Scottsdale. We had booked the 90 minute Insights Tour for 11am, so it was an easy drive from McDowell to Taliesin West.
Wright used the surroundings and land on which buildings were built as inspiration for their design – a philosophy called "organic architecture". In this case, he mimicked the angular shapes of the mountains and used local stone to help the residence evoke the Arizona desert. He also played with light, color, and sound, utilizing canvas roofs to provide diffuse lighting, highlighting shapes with bright red paint, and experimenting with acoustical design. Taliesin means Shining Brow in Welsh, his mother's language, and the front of the house truly feels like the prow of a ship jutting out into the desert. The Cabaret room has a floor with space underneath, creating a drum-like effect that projects even the softest voices to the back of the room.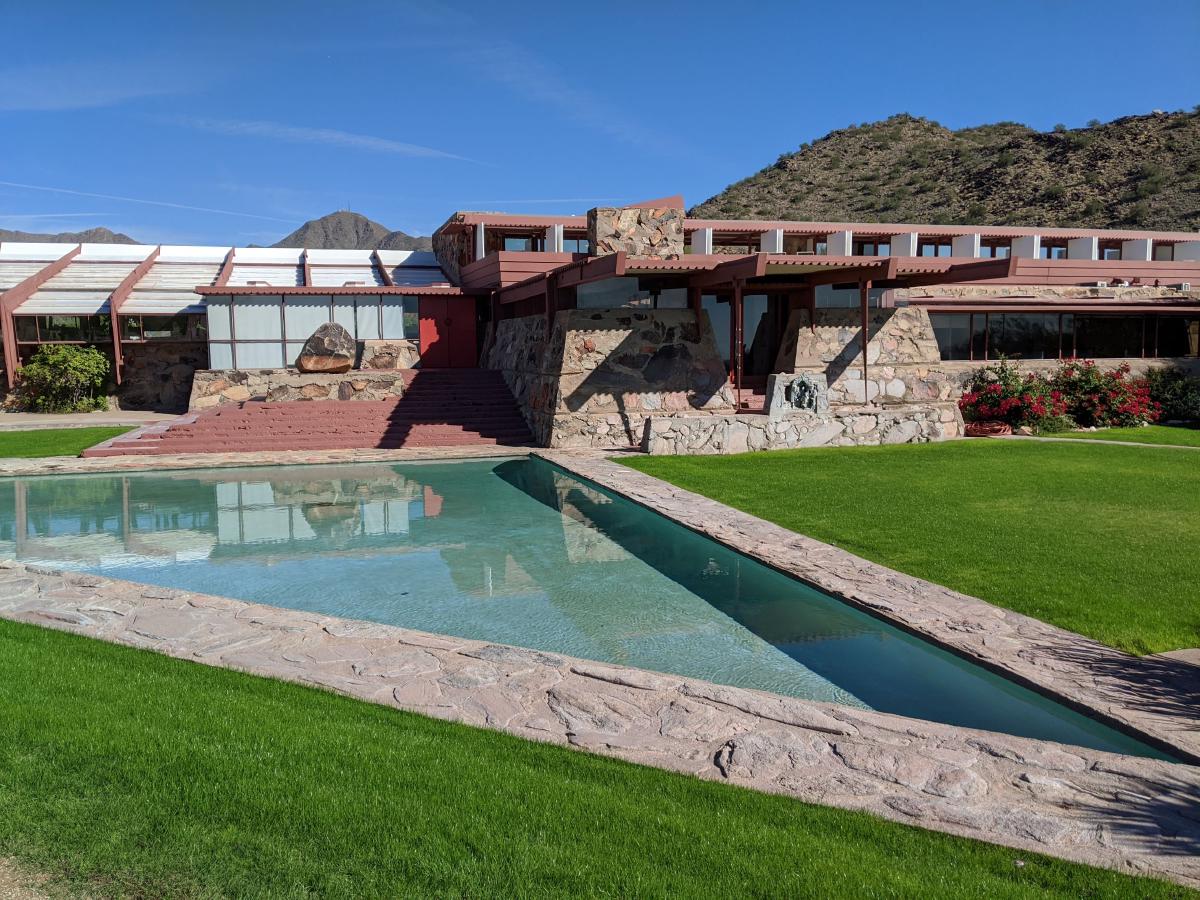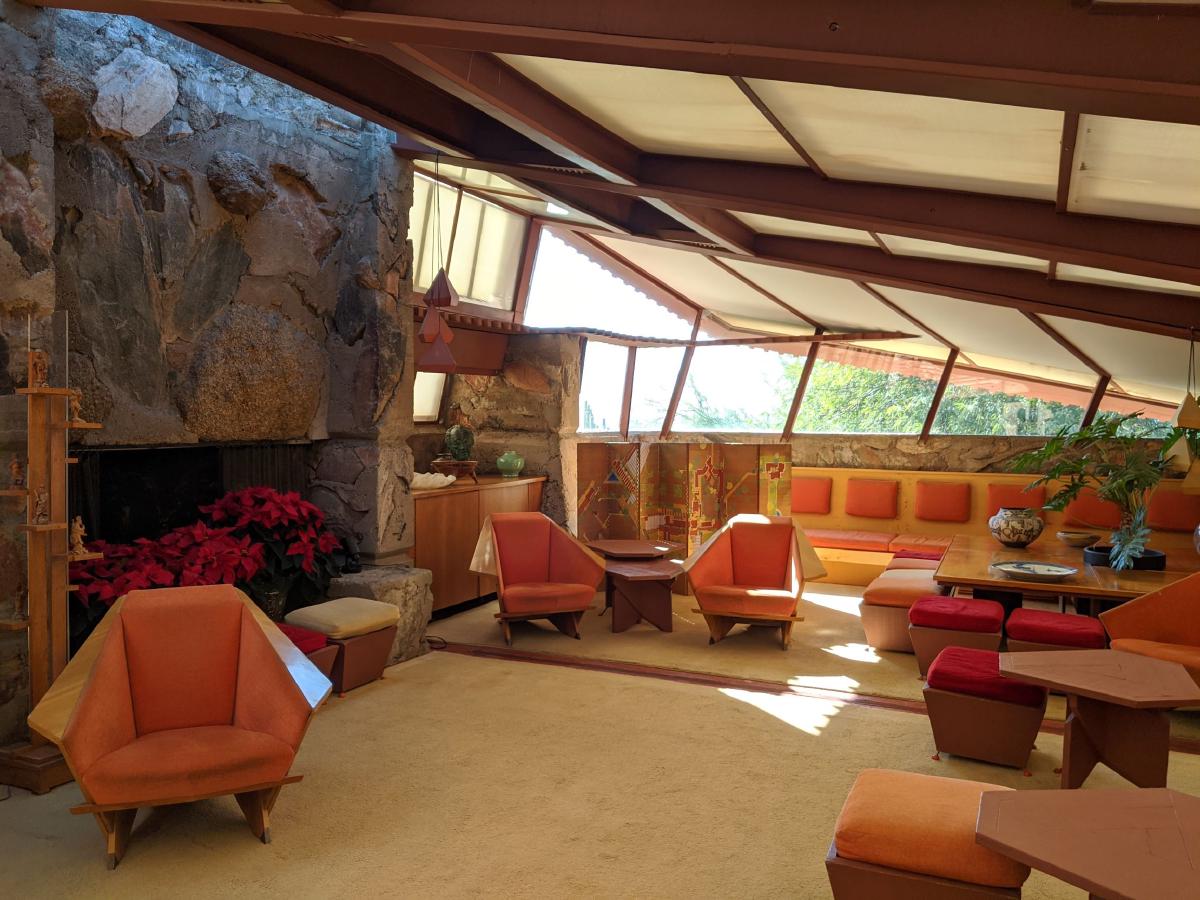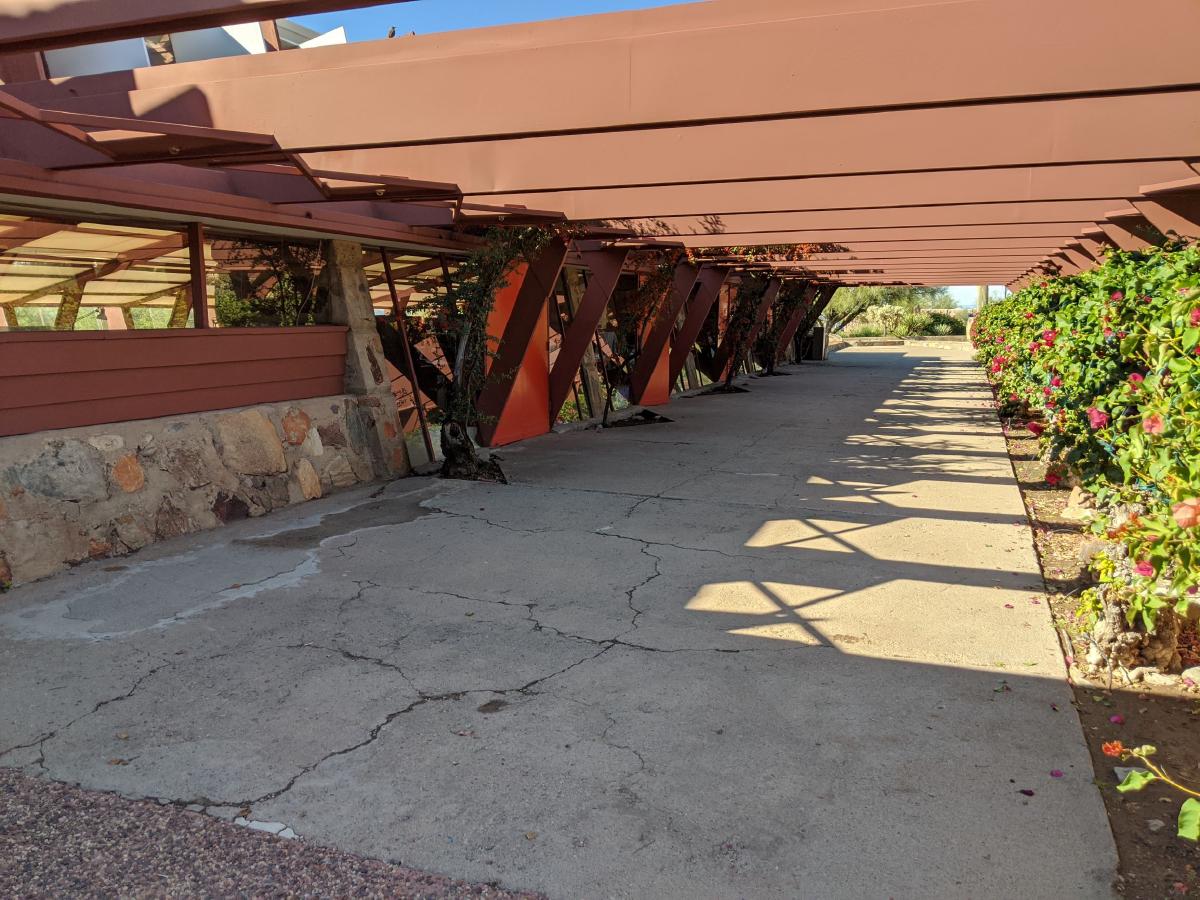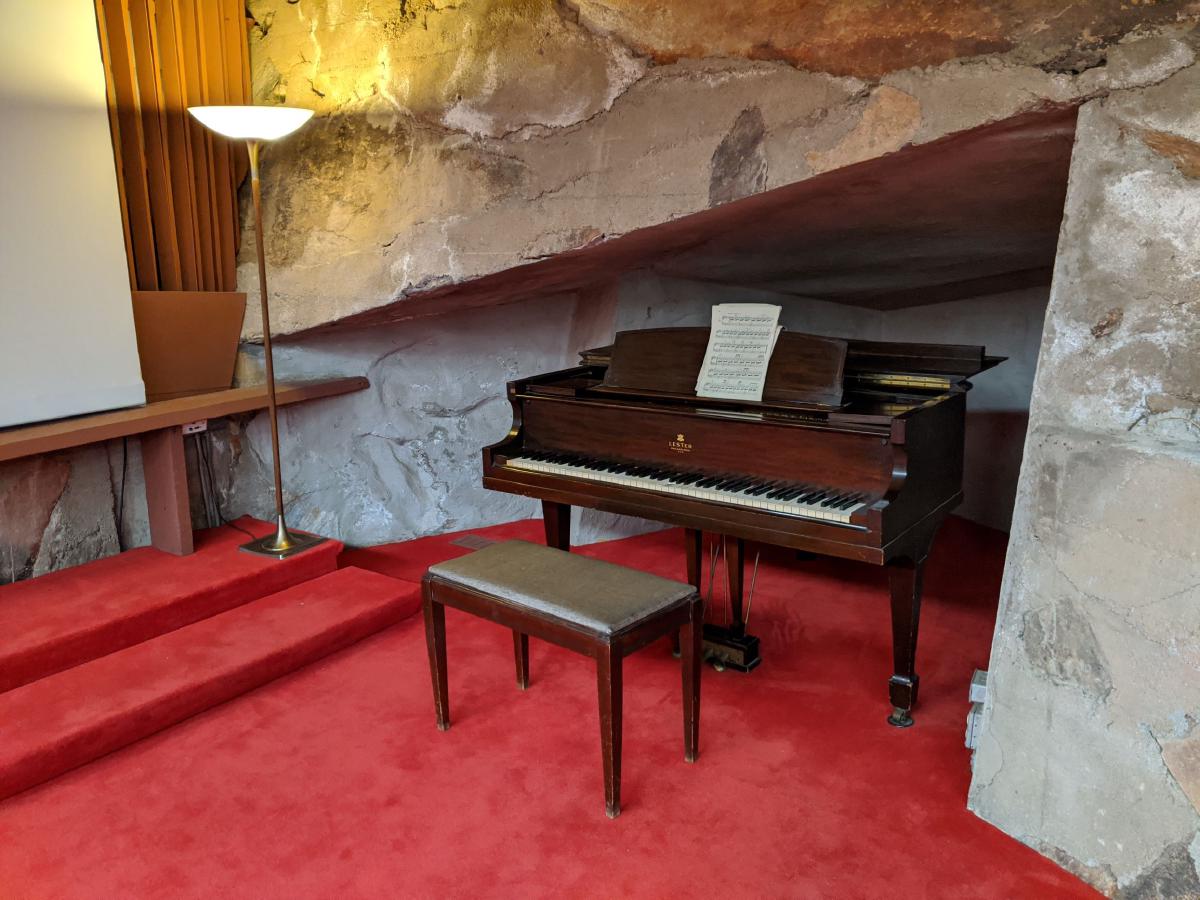 There were also influences from the Far East, especially Japan, in the architecture and art used inside. Spaces were designed to be re-purposed and rearranged depending on the time of day, position of the sun, and requirements of those using it. Our tour guide was fantastic, and I highly recommend visiting Taliesin West.
Desert Botanical Garden
To conclude our trip before heading to the airport, we drove back into Phoenix and stopped at the Desert Botanical Garden. As a cactus and succulent lover, this place was an absolute paradise. Established in the 1920s to preserve desert biodiversity, the founder sourced cacti from all over the Chihuahuan desert and transplanted cacti that were in the path of demolition in building projects.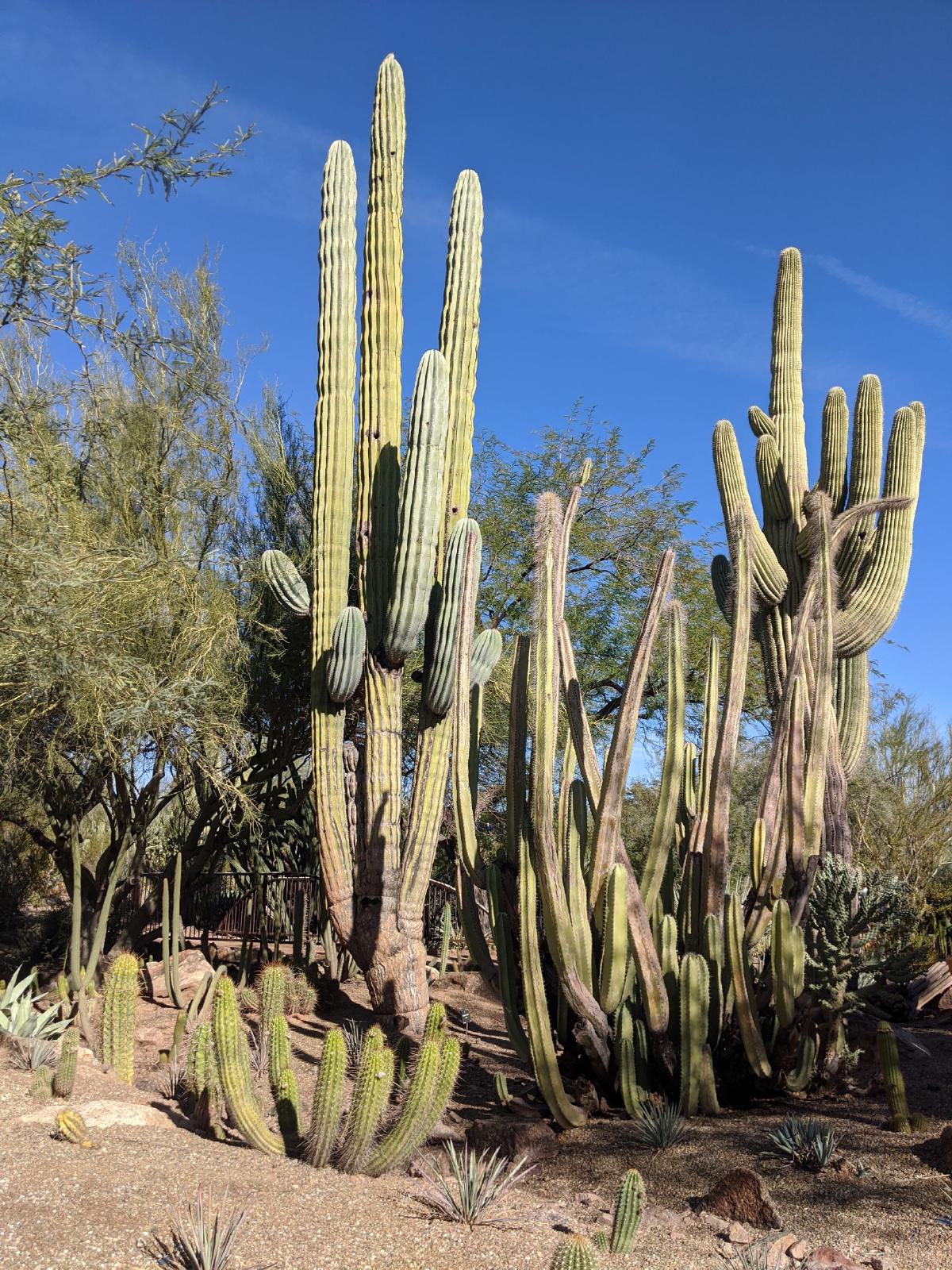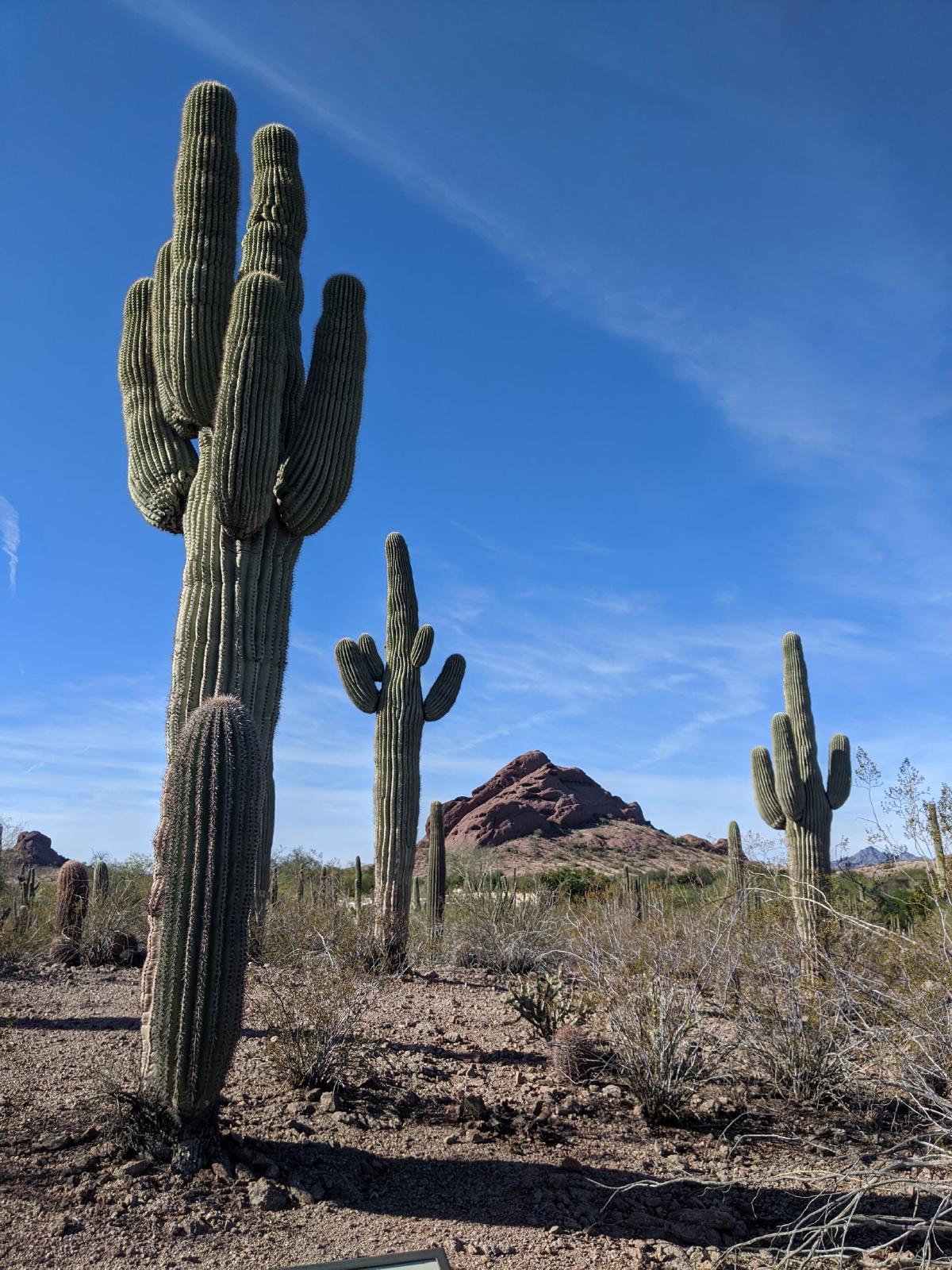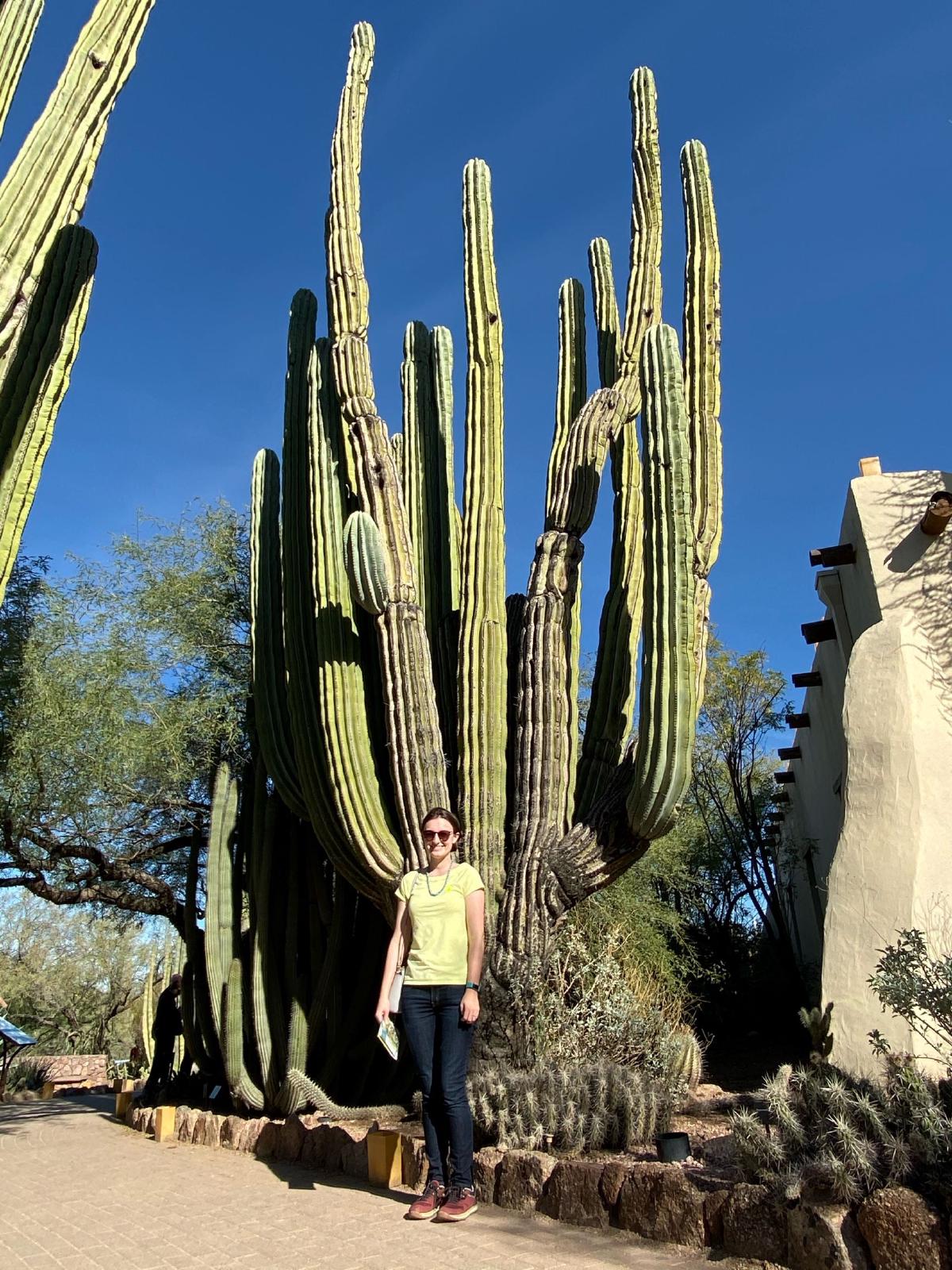 Every direction I looked was a postcard perfect vista, whether it featured 30-foot tall cacti with dozens of arms or a butterfly garden with the mountains of Papago Park in the background. It was like the Ladybird Johnson Wildflower Center, my favorite place in Austin, but five times as large and dramatic.
As an added bonus, the current exhibition was "Wild Rising" by Cracking Art. This consisted of brightly colored cast plastic figures of animals, from snails to frogs to meerkats to rabbits, in sizes ranging from 1 foot to 10 feet tall. I would have thought that the animals would detract from the desert landscape, but the pops of color and whimsical placement was delightful and unexpected.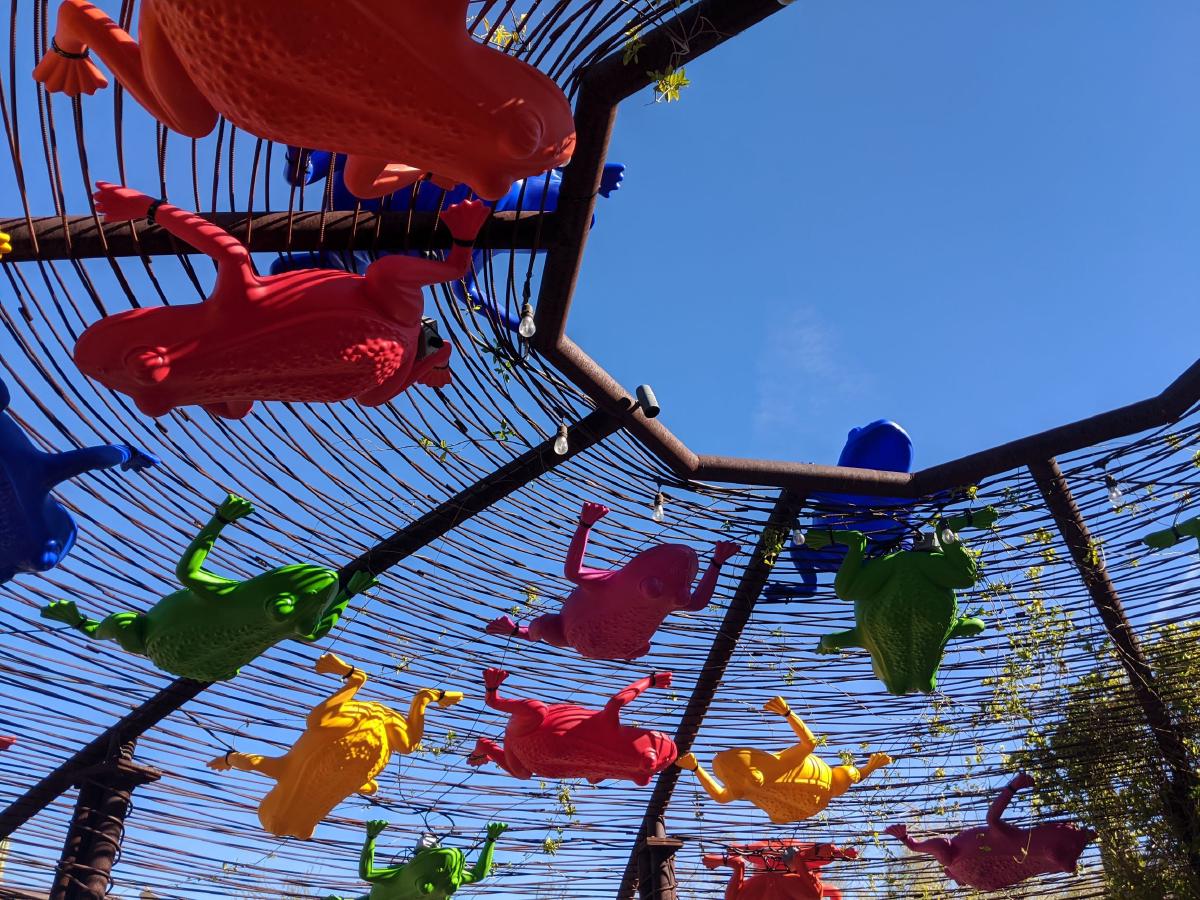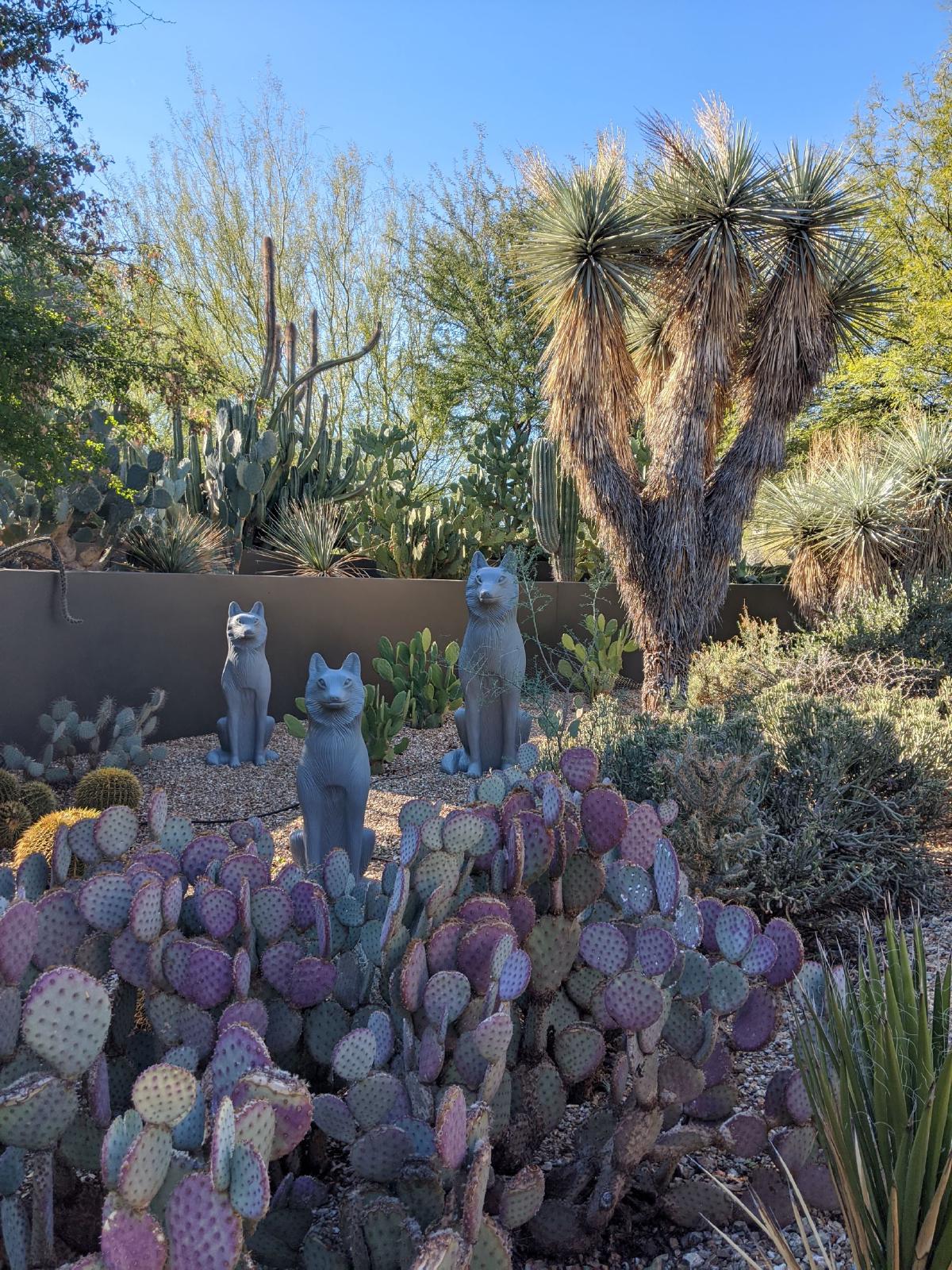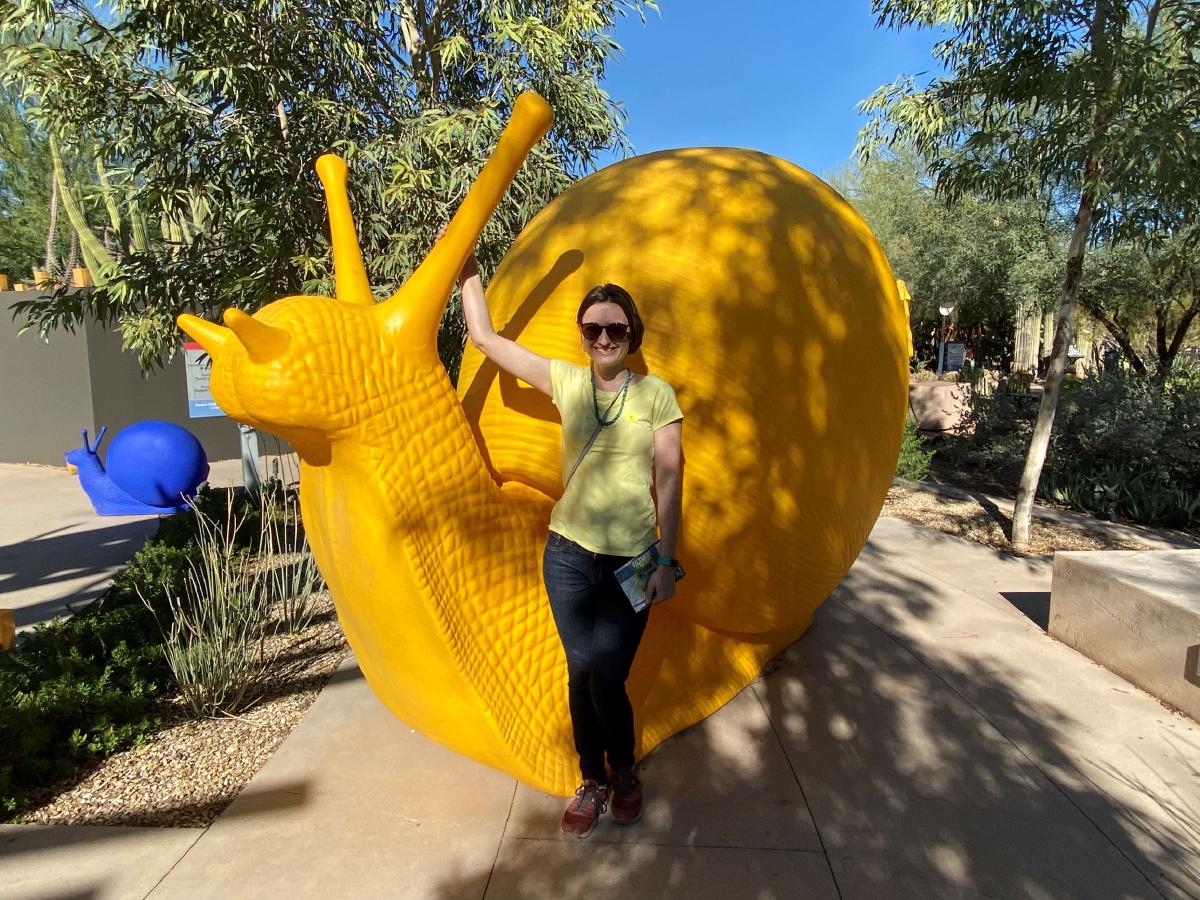 Our membership at the Wildflower Center got us in for free at the Botanical Garden. Without this reciprocal program, the admission is a bit pricey and we may not have gone since we only had an hour or two to spend, but even paying full price would have been worth it. The garden was a beautiful capstone for a fantastic trip. Additionally, the gift shop has a wonderful selection of tasteful items, and most importantly, the best desert-themed picture book of all time: Way Out West Lives a Coyote Named Frank.
We then headed to the airport, dropped off our rental car, and enjoyed the last few hours of sunlight through the windows of the terminal in spite of the huge post-Thanksgiving crowds.
---
So, Should You Visit?
Sedona is a gorgeous area to see once in your life. While the restaurants and lodging can be on the pricier and resort-like end of the spectrum, the scenery is breathtaking and there are hundreds of miles of hiking trails and vistas to explore. Additionally, Sedona is a great jumping off point to the Grand Canyon, Antelope Canyon, and plenty of other Arizona scenic and cultural goodness.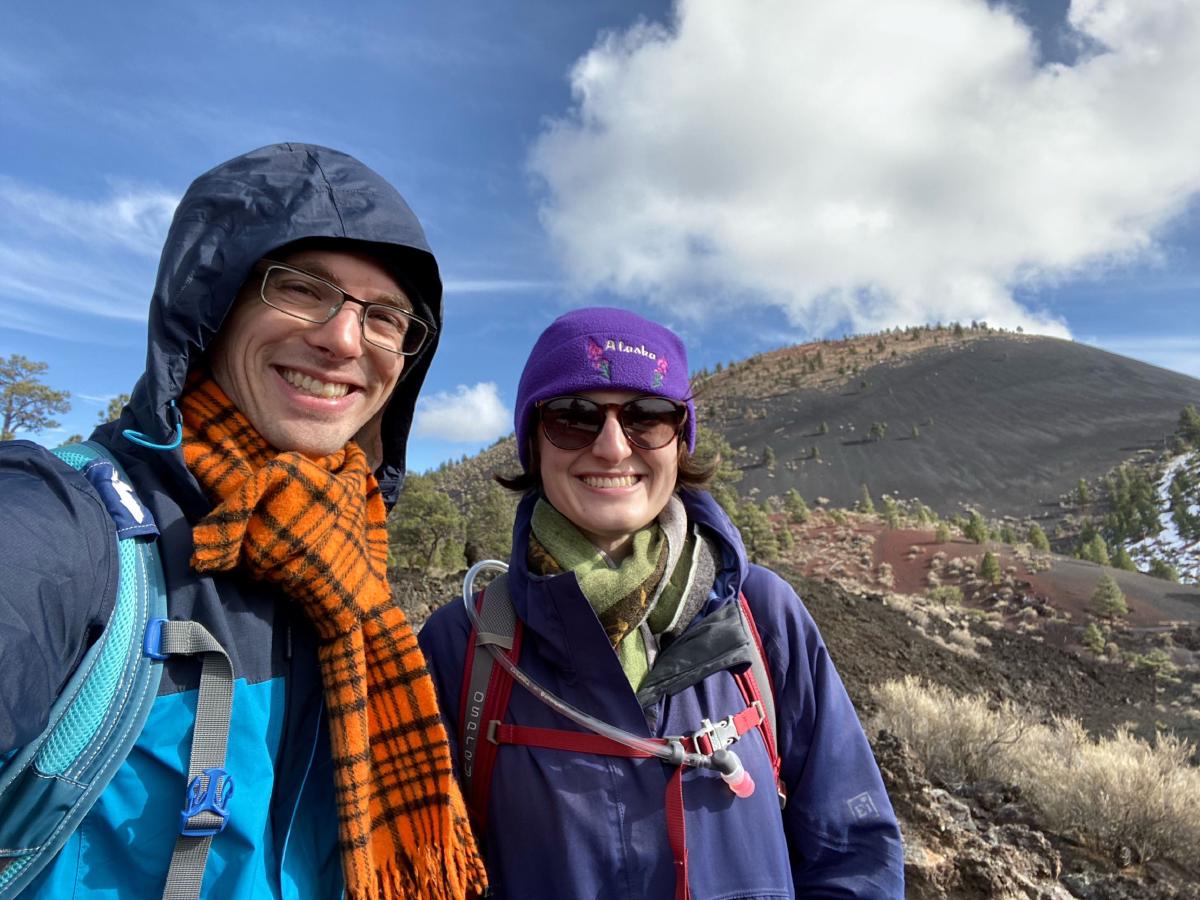 It was windy and cold in November. While Arizona is known for being hot and dry, it's important to remember that the high desert can also be cold and dry. Bring layers, since walking can warm you up quickly. Have an offline map saved on your phone, since cell service on trails can be spotty. Stay hydrated and bring extra water with you – cold and dry is still a great recipe for dehydration.
4 days was a good length of time to visit Sedona itself, especially if the weather had been more cooperative with our plans to hike and explore. We'd love to have visited the Grand Canyon as a day trip, but it will have to wait for another time. The limited daylight in November, plus the doubly expensive flights during a holiday, were some downsides, but Arizona's beauty is worth seeing as many times as you can. We loved Scottsdale and the nearby desert and will likely make a separate trip to spend more time among the Saguaros and explore the town.
A few of my favorite bloggers also went to Scottsdale recently, so check out their posts for a more in-depth look at this vibrant town.
My Wanderlusty Life: 4 Days in Scottsdale, AZ: A Jam-Packed Itinerary!
A Dangerous Business: 3 Days in Scottsdale, Arizona for a weekend
The Drone Video
I mentioned that my husband took some videos with the drone. Well, he also compiled the footage into a fun video to commemorate the trip. Without further delay, here's an overview of our trip to Arizona, complete with a generic banjo song, Annie mimicking a Saguaro, and a cute shot of a quail. Enjoy!
Staying Spontaneous
Our Sedona trip was 100% rooted in spontaneity. From changing our hiking plans on a dime and visiting Wupatki a day early to beat the snowstorm to leaving Sedona a night early to see more of the desert and cacti. As always, I recommend picking a few must-see activities to structure a trip, then leaving the rest up to the whims of chance.
A Note About This Blog
I've greatly enjoyed Unplan-it Earth these past two years. I started this blog to encourage me to live my life more spontaneously, and it has wonderfully exceeded my expectations. I was writing posts of itineraries, packing lists, travel tips, and had the Spontaneous Monthly Trip challenge to hold myself accountable to trying new things. However, you may have noticed that the quantity of posts has dropped off considerably in the past year.
I feel that Unplan-it Earth has achieved what it was designed to do. I travel a lot each year, look for the spontaneous in the every day, and am enjoying the little things in life much more. I went to a talk at UT this year for the first time ever, when previously I was terrified of finding parking downtown or was too anxious to go out on a weeknight. Honestly, there's just too much to write about now, and as a result I feel guilty or anxious for not writing as many blog posts or for taking months to write about a trip. Unplan-it Earth has done its job.
Never fear, Unplan-it Earth isn't going away, though. I still like reminiscing about trips and having a record of where I've gone, whether that's to share with friends and family, or to look back on in 10 years as a sort of journal. It's also been nice to have recommendations and provide inspiration for people who visit these places after I do.
The upshot is, I'm scaling back my blog posts to be more of an amusing and thoughtful account of my trips rather than a full-on travel blog. This is my strength as a writer, and when I talk to those who read Unplan-it Earth, it's what they enjoy as well. There are other bloggers out there who write excellent posts about itineraries, packing lists, restaurants, and travel tips, and I highly recommend you check them out for those details.
What this blog will always be is a record of where I've been and how the trips changed me as a person. When you return to this blog, I hope it will inspire wanderlust, curiosity, and give you the courage to make spontaneous decisions in your life. Oh, and hopefully be a bit useful, too.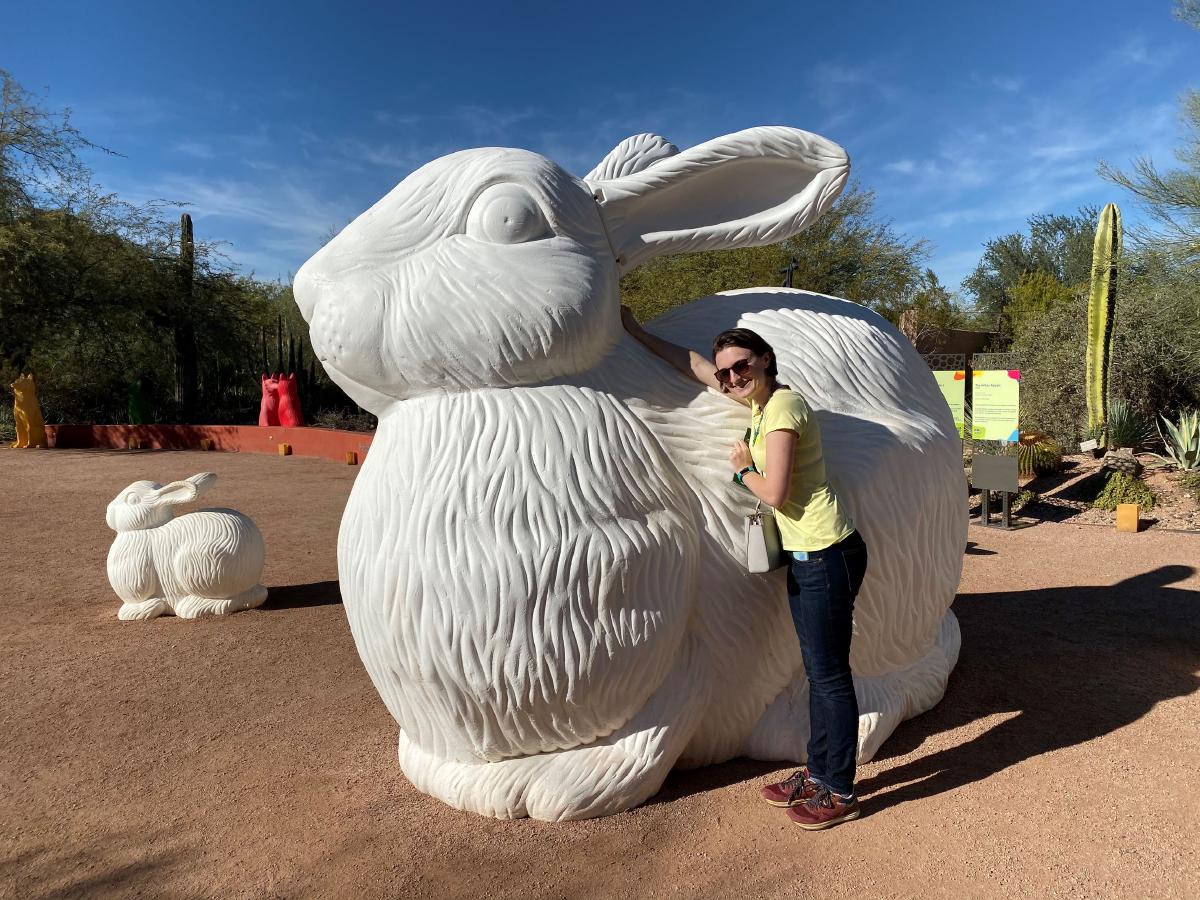 My Favorite Travel Blogs