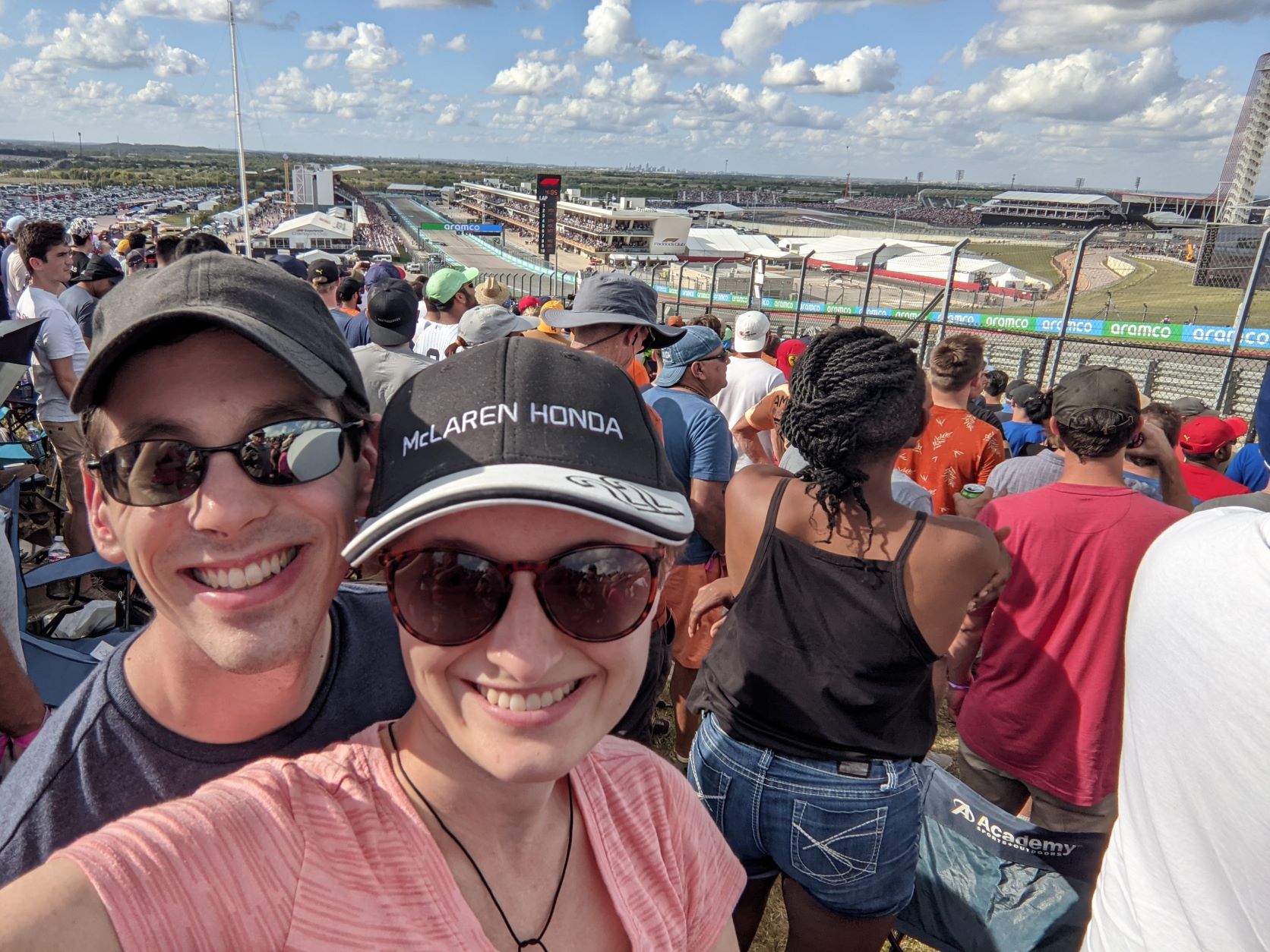 The past six months since I left the daily grind have been an incredibly fulfilling whirlwind of trying new things and taking time to rest. The goal was to visit family, travel, explore hobbies, and recover from burnout. And guess what? So far, so good! In this sequel to my post from July, (And We're Back), I'll give a rapid-fire account of everything that's been going on and plans for what's next.
---
New Mexico Road Trip
In July, Glenn and I escaped the Texas heat and drove to New Mexico for our first non-family trip since before the pandemic. We stayed in Taos and Albuquerque and enjoyed hiking in the mountains, exploring historic cliff dwellings and petroglyphs, and learning about Pueblo life and the history of nuclear science. For more details, read my all-encompassing blog post, Green Chiles and Mountain Peaks.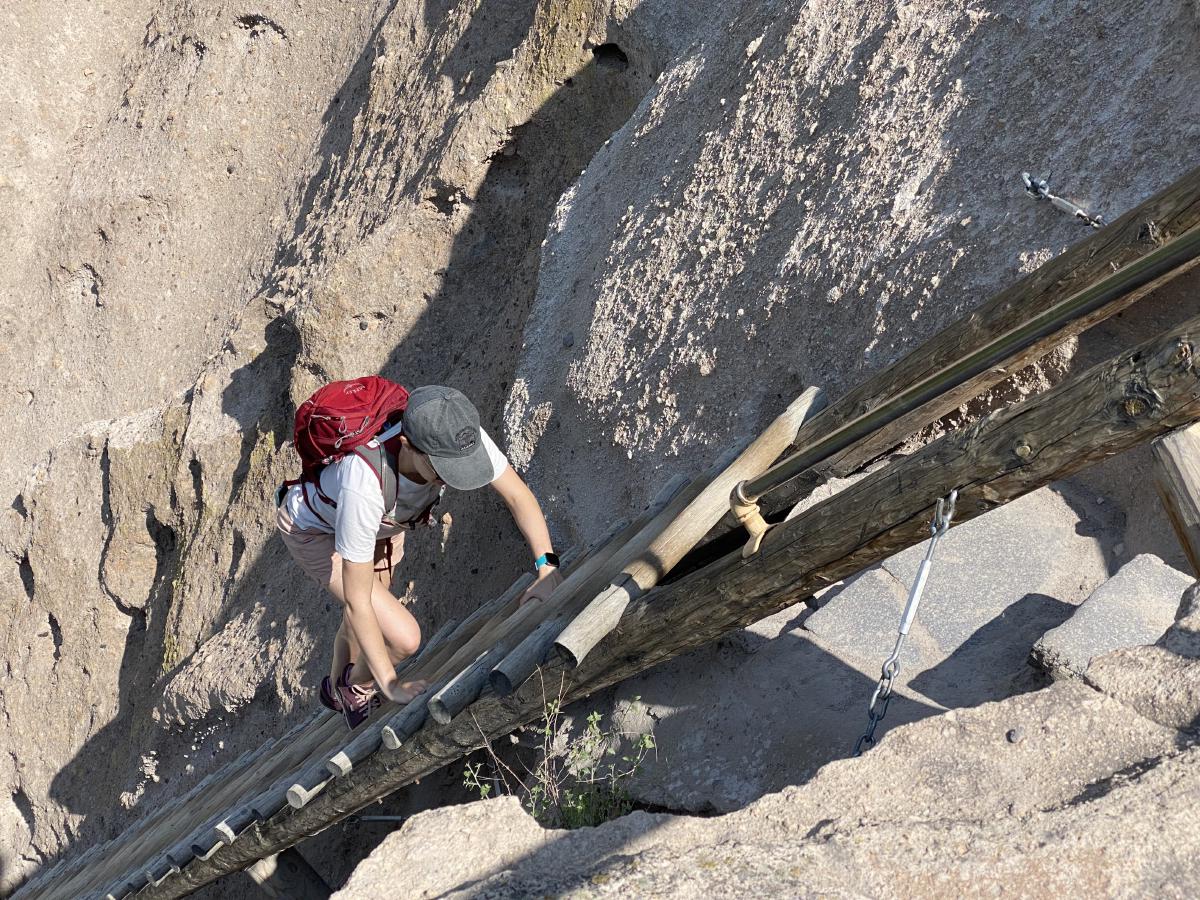 Cars in California
For the first time in over a year, I visited my family in California. It was wonderful seeing family, friends, and enjoying life in a vaccinated and pre-Delta variant world. We spent a day at the Rolex Monterey Motorsports Reunion, an annual car show and race at Laguna Seca Racetrack in Monterey that features historic and famous cars. We saw Niki Lauda's 1976 Formula 1 car (driven in the same season as his infamous accident), the 1966 Le Mans winning Ford GT40 Mk. II featured in the movie Ford Vs Ferrari, and some 100-year-old cars that look like they came straight out of Chitty Chitty Bang Bang. We also walked along the coast of San Francisco and visited the Golden Gate Bridge on foot as a tourist, which I had never done even after growing up in California.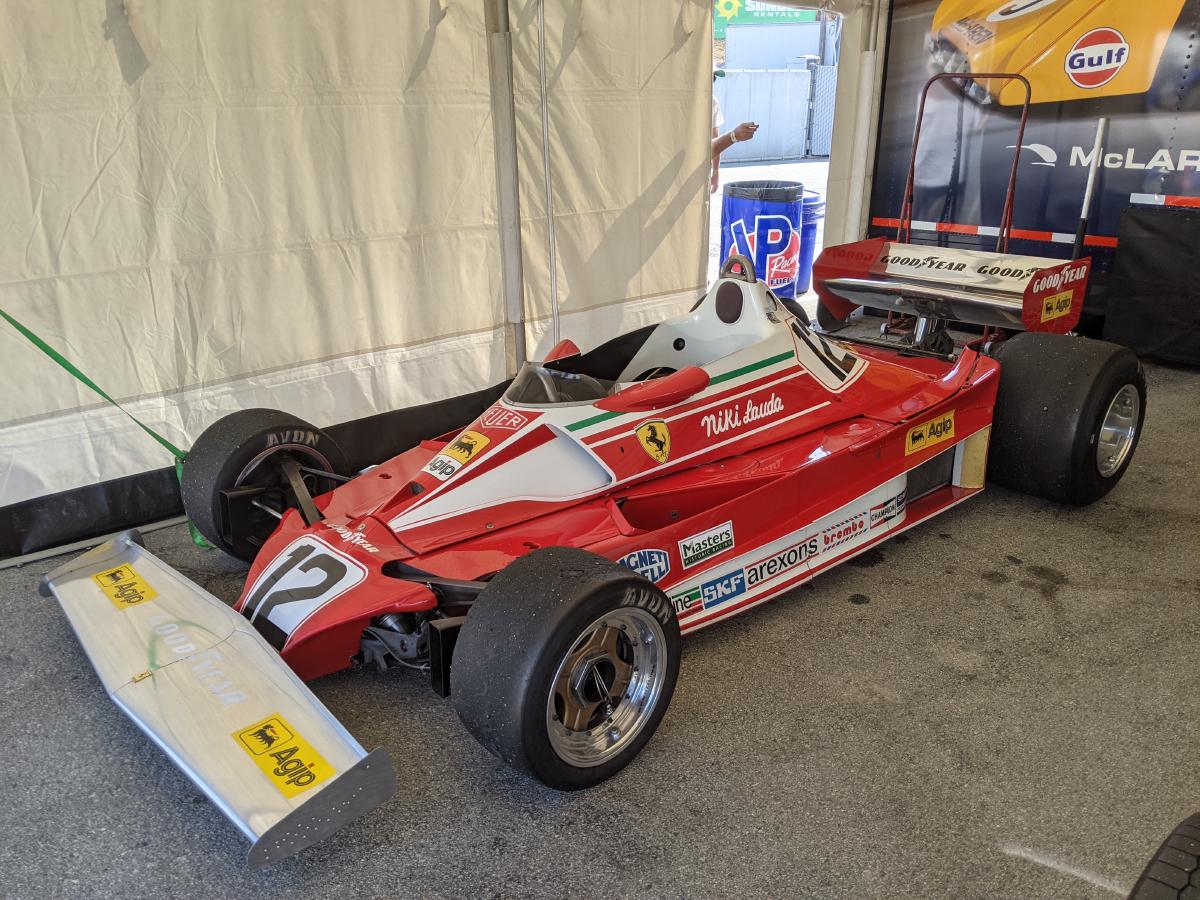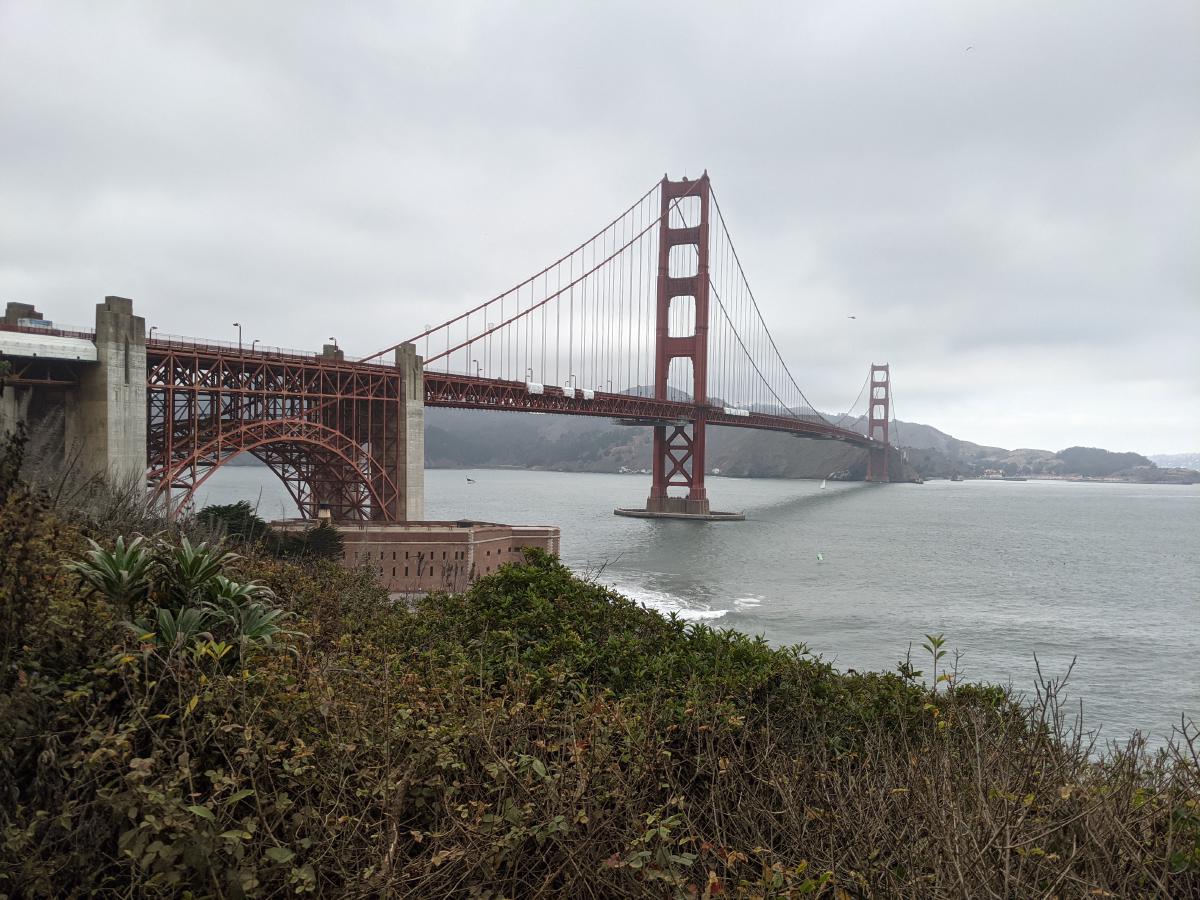 Virginia Mountains and Valleys
Some friends of ours recently moved to Blacksburg, Virginia, and Glenn and I had planned to road trip across the South to visit them this fall. However, with the Delta variant on the rise in September, our excitement dwindled as the trip crept closer. Fortunately, multiple years of practice in traveling spontaneously presented another option - fly cheap flights to New Jersey on Spirit with only a personal item, and borrow a family member's car to drive to Virginia from the North. We ended up driving less than half the amount we would have, stayed with friends every night of the trip instead of needing hotels, and had a built-in visit with my husband's family.
The landscape of the Appalachian Mountains in Virginia is like someone took a piece of aluminum foil, crumpled it up, then halfheartedly smoothed it out. A quick stop at New River Gorge National Park (the nation's newest National Park) provided an incredible vista and leg-stretching opportunity in West Virginia.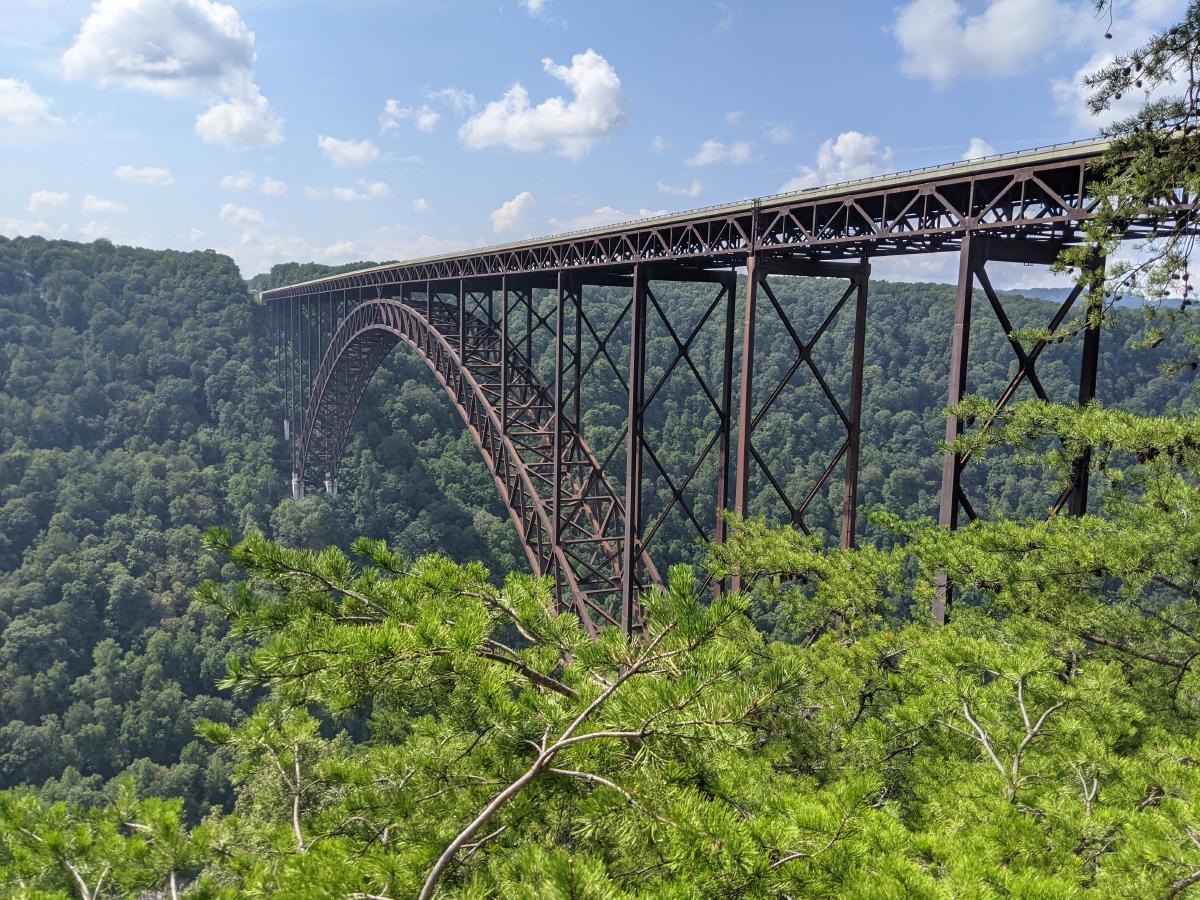 A Weekend in Scottsdale, Arizona
Glenn and I spent a long weekend in Scottsdale, Arizona, visiting some friends of ours and exploring the desert. (Two desert trips in a year - lucky me!). Highlights were a beautiful hike to Tom's Thumb in the McDowell Sonoran Preserve, a visit to the Musical Instrument Museum, and fulfilling my husband's long-time wish to try ATVing.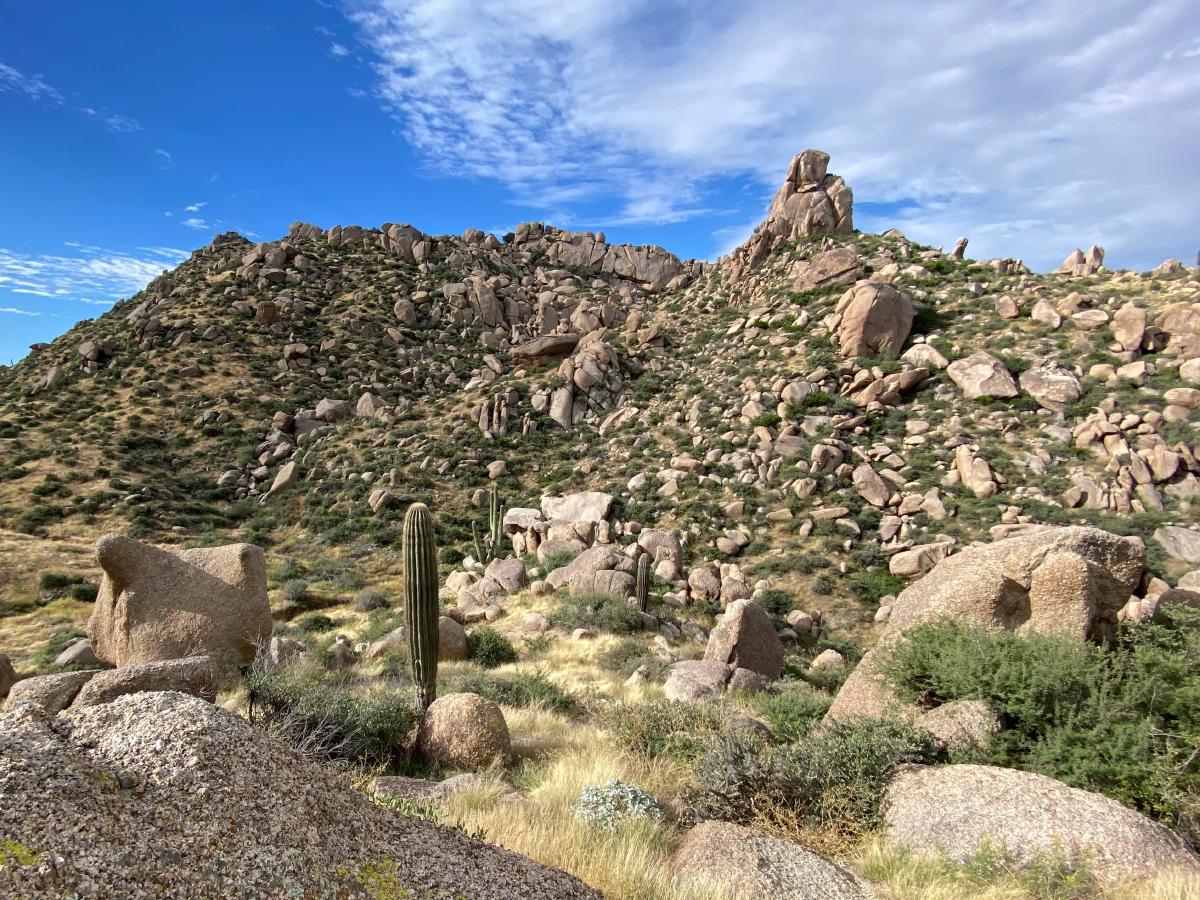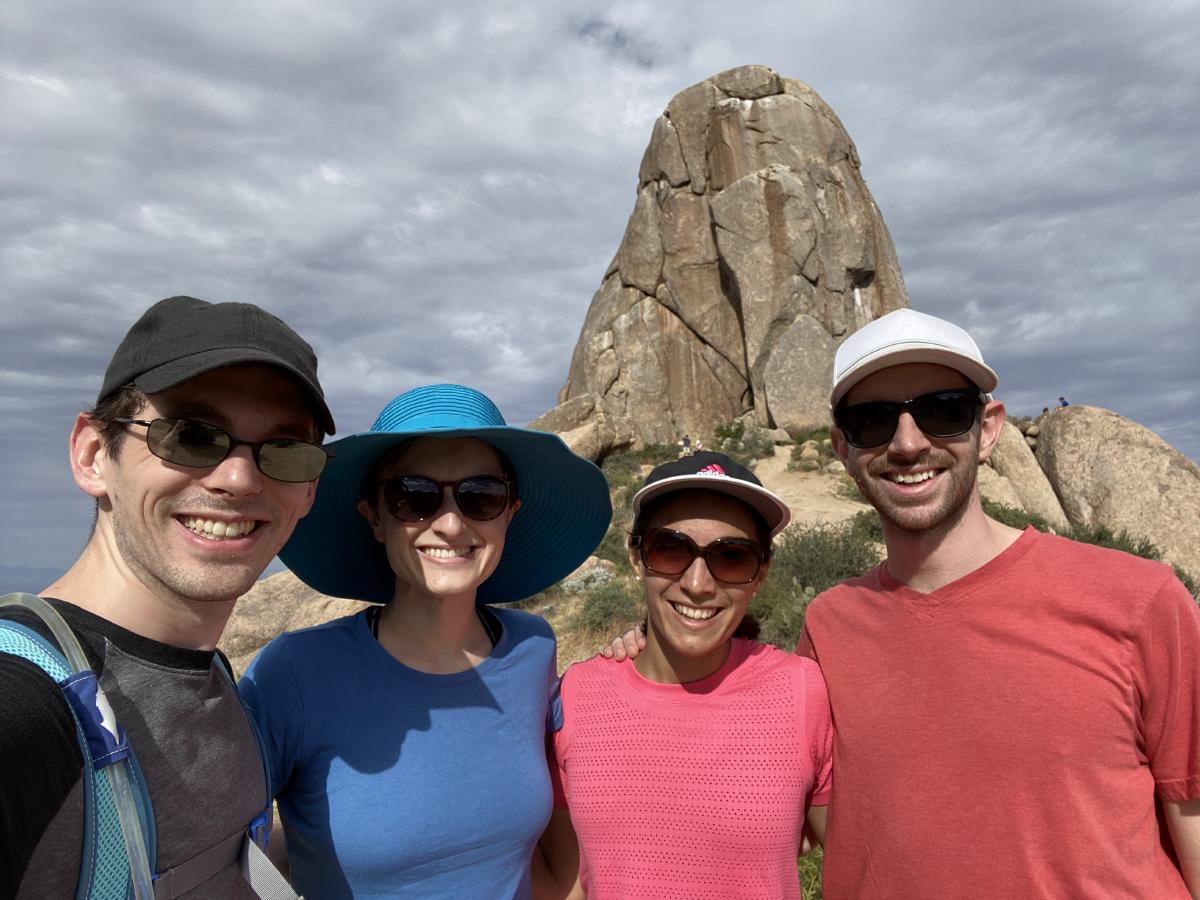 The Musical Instrument Museum is a hidden gem. This state-of-the-art facility is filled with instruments from famous musicians, a room full of player pianos and nickelodeons, and an entire floor with exhibits on musical instruments from all over the world, sorted by country. They had the drum kit that Keith Moon blew up on The Smothers Brothers Comedy Hour in 1967. What more could I want?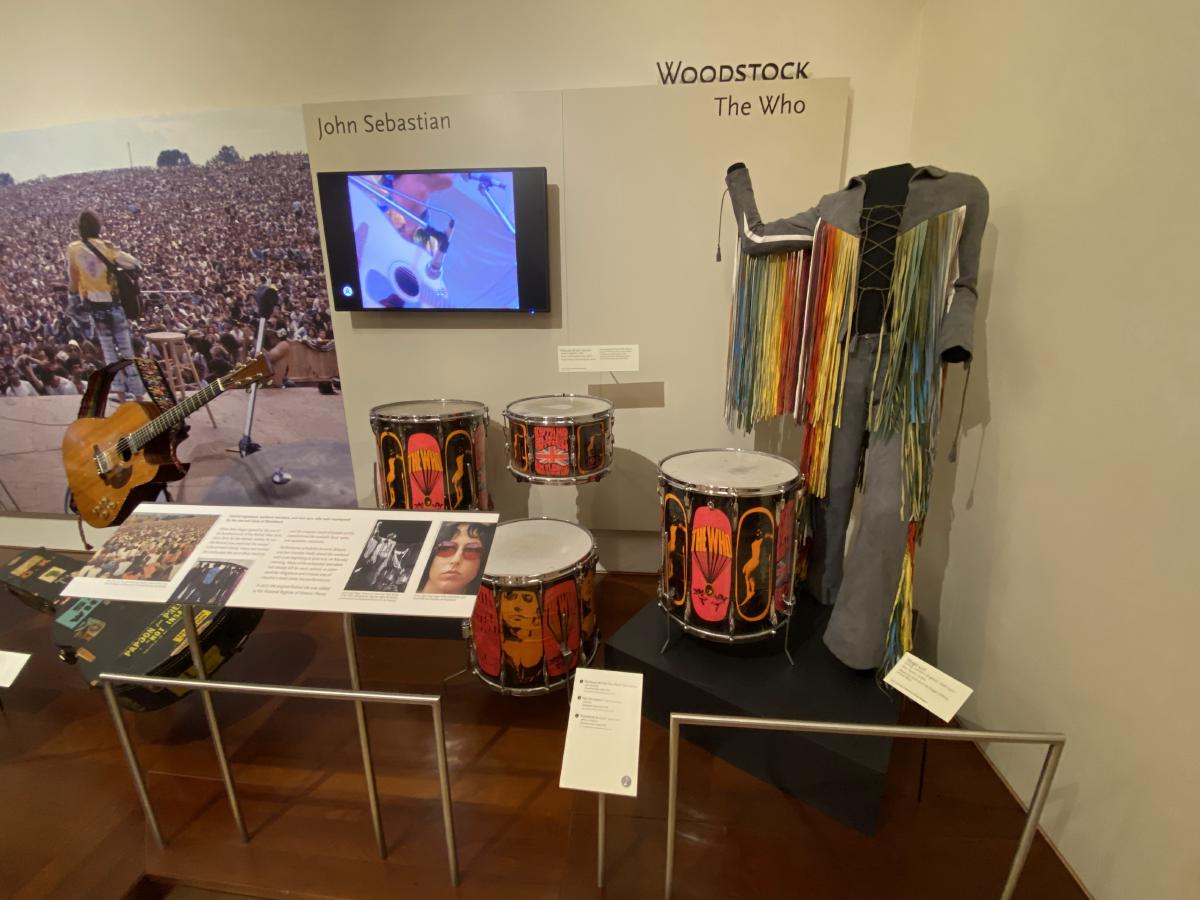 The museum also provides a headset at the start of the visit. Normally I dislike headsets as I feel they control my pacing at the museum and I feel obligated to listen to all of the content. However, at a museum of music, the headset provided an immersive experience and let me explore the instruments and bands independently from everyone else. Simply walking close to an exhibit brought the audio into focus and played in sync with performance footage on numerous televisions. I loved this format, as my ears were filled with sound that changed as I walked around the space.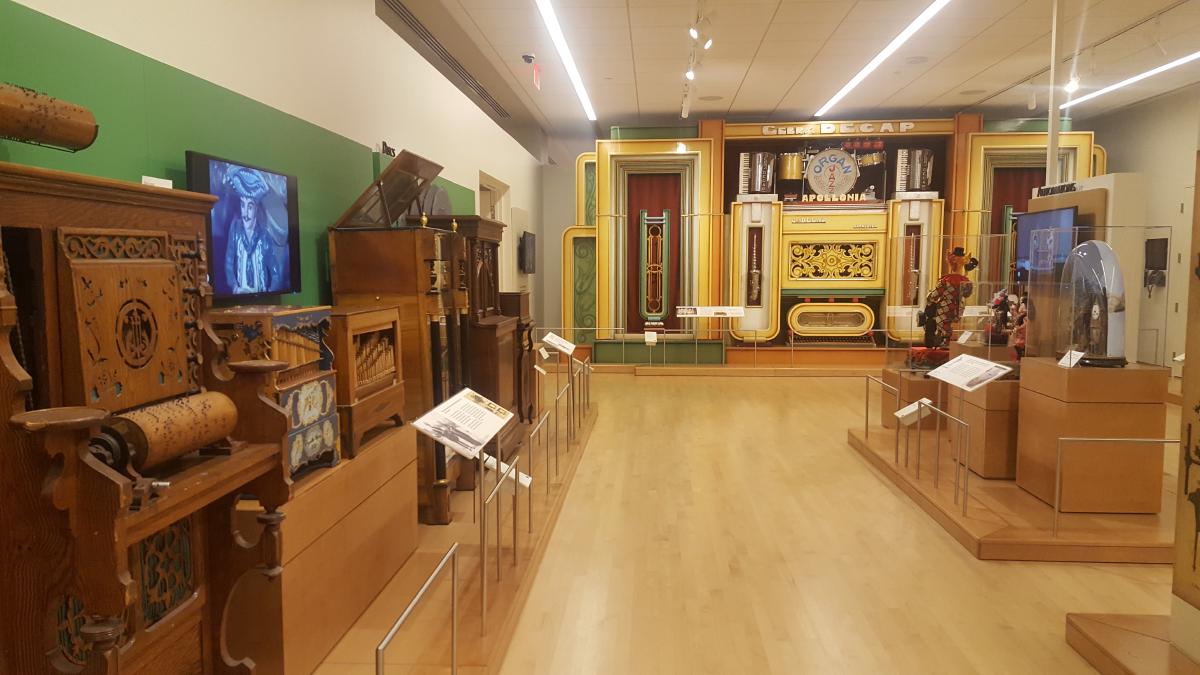 The ATVing took place in the Tonto National Forest, a cactus-filled landscape with a beautiful cool river running through it. We took out a Can-Am two-seater and drove through a valley formed by the sandy wash of a floodplain, then rose up to the crest of the cliffs and saw incredible views. While exhilarating at first, the dustiness and bumpiness of the ATVing eventually wore us down, but the experience was worthwhile overall.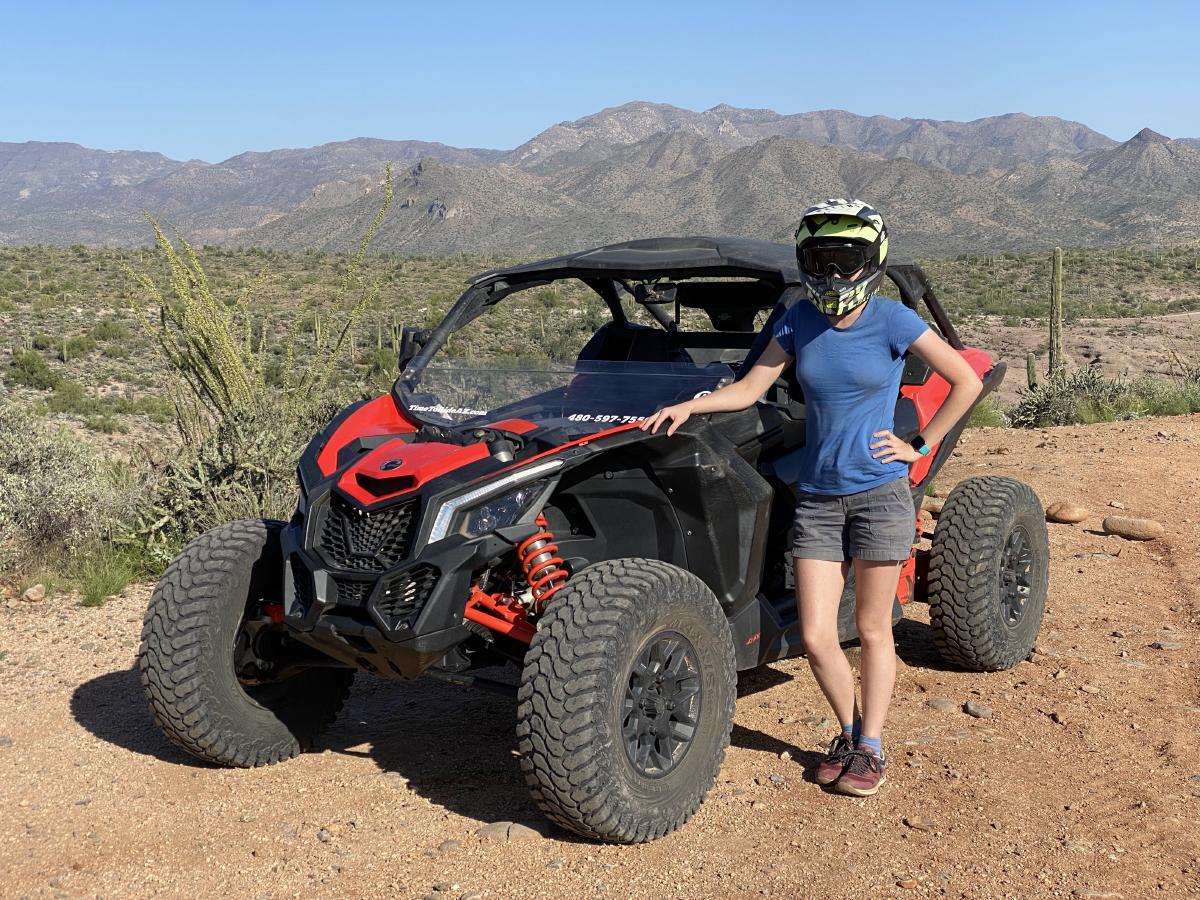 Fast Cars Go Fast
I am very lucky to live in Austin, Texas, which currently hosts the only Formula 1 Grand Prix in the United States (although next year there will be one in Miami). This year, I attended the race with some friends and family, and loved all of the excitement created by the close title fight between Max Verstappen and Lewis Hamilton and the newfound interest from the Netflix series Drive to Survive. I loved hearing the support for Sergio "Checo" Pérez, a Mexican driver who just got a big break driving for one of the top teams. He had a huge number of fans fly up from across the border, and fortunately, he ended up on the podium even after the hydration system in his car stopped functioning early on in the race. The calls for "CHECOOOOOO" were deafening. The included evening concert from Billy Joel was just icing on the cake.
This year's race was twice as crowded as any I had ever been to before. I'll probably watch from home next year! Our friends had a tradition of cooking recipes from every race destination on the week of the race, which will be fun to incorporate into my viewing schedule in the 2022 season.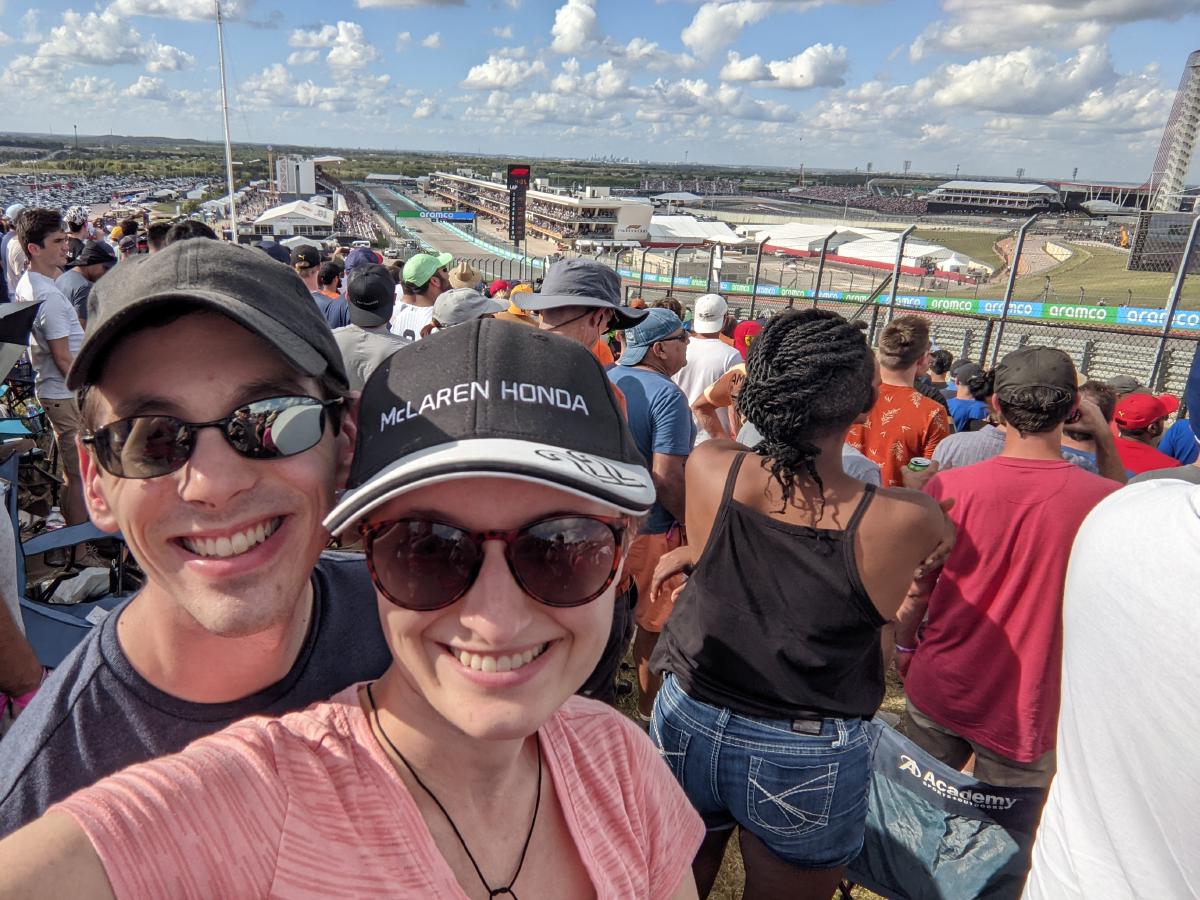 Michigan Fall Color
My husband and I made a quick trip to Michigan to visit family and see some final remnants of fall color. I love visiting Michigan at different times of the year, as the trees and lake change color with the seasons. In the summer, the lake is varying shades of cerulean and royal blue, but in the winter it's navy with moody streaks of grey. At all times, it is absolutely splendid. The thick green foliage of summer turns to fireworks of fall color, concluding with bare branches that afford more visibility to the lake and beyond.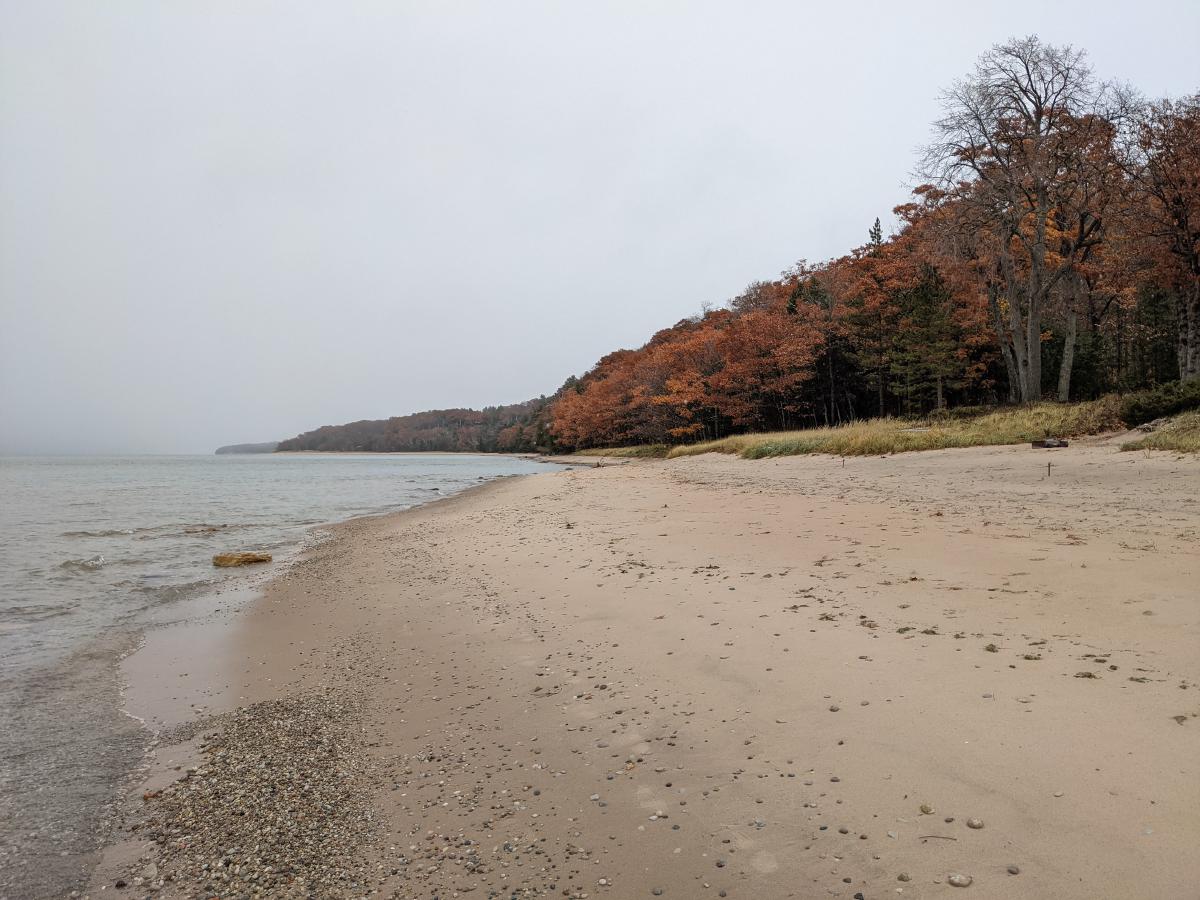 Hiking at Lost Maples
Just west of San Antonio is a pocket of maple trees that have survived since the last ice age ten thousand years ago. Normally, maple trees can't survive in Texas, but these trees are naturally occurring in the secluded and cool valleys in the area and change color in the fall. Casey, Glenn and I finally visited Lost Maples and hiked a grueling trail from the valley floor to the top of the surrounding cliffs. The leaves had mostly fallen by early November, but there were traces of the spectacular show that had taken place a few weeks prior.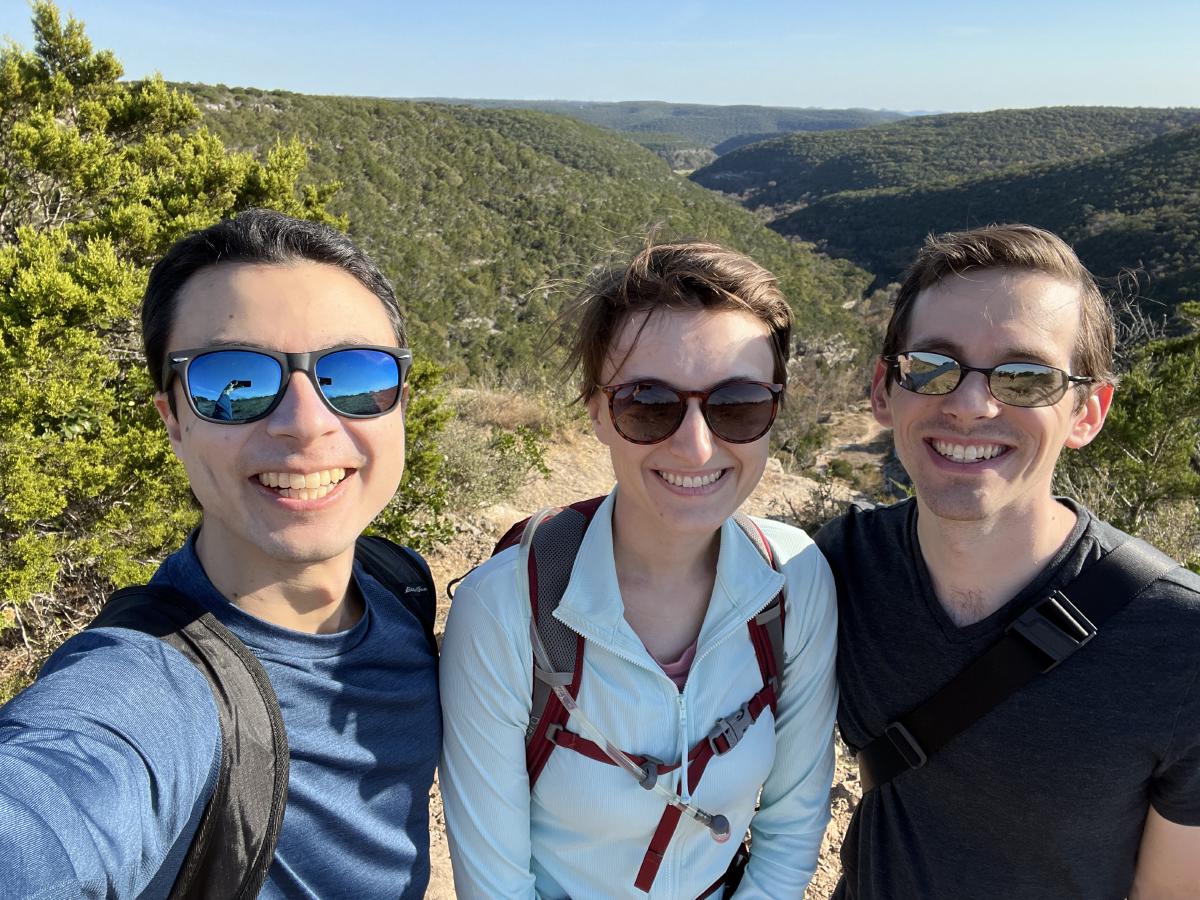 ---
Reading Extravaganza
Remember how I said I wanted to read 4 books per month this year? Well, I did it! I finished my 56th book on the last day of the year, beating my original goal of 48 books by 8 entire books. I'm so proud of myself for making a consistent habit of reading and look forward to exploring longer books next year when I'm not trying to meet a quantitative goal. I'd also love to read more poetry and short stories. I've started by subscribing to Poetry Foundation's Poem of the Day newsletter which drops a juicy poem in your inbox every day.
Bouldering Bliss
After a few years of construction, the local climbing gym Austin Bouldering Project (ABP) was finally completed! I have always wanted to spend more time bouldering, but was always too tired after work and the other ABP location is across town. Now, with the winning combination of unstructured time and convenience, I can visit the gym every day of the week for climbing and yoga classes and still have energy to socialize and take on other constructive projects.
For those who don't know, bouldering is simply rock climbing without a harness or rope, up to a height where it's safe to fall onto a padded mat. I love that I don't need to find a belay partner and can try a bunch of bouldering "problems" every time I go. It's a mentally challenging activity that tests your strength, endurance, technique, flexibility, and problem-solving skills. I look forward to seeing how my body and mind grow and expand and if I can overcome my fear of falling.
Daily Yoga Practice
I've been a follower of Yoga With Adriene for a few years now and have recently focused on practicing yoga every day as much as possible. The climbing gym has hour-long group classes that will push me to the next level and expand my practice by working with different teachers who can provide feedback. I have managed to convince most of my family to do this January's 30 Days of Yoga challenge, MOVE, because of all the benefits yoga has provided me with. Flexibility in both body and mind. Strength both physically and mentally. You get the picture. Even 10 minutes a day has a huge impact.
Pickleball and Hiking
Pickleball (aka medium tennis, or large ping-pong) has quickly become a favorite way to incorporate cardio into my life. Glenn and I have found a lovely outdoor court in Austin and are developing the skills of both doubles and singles whenever we get the chance to play. Singles is great for cardio, and doubles is a fun social activity where we play with strangers at the court or friends who join us. After years of trying to make a habit of physical activity, incorporating the exercise with a skill-based and technique development challenge helps me stay driven and motivated. This is in contrast with running or weight lifting which, while sometimes a nice change of pace, I had never been able to keep up consistently. Hiking has also been a great way to get outdoors and enjoy the beautiful Austin winter weather.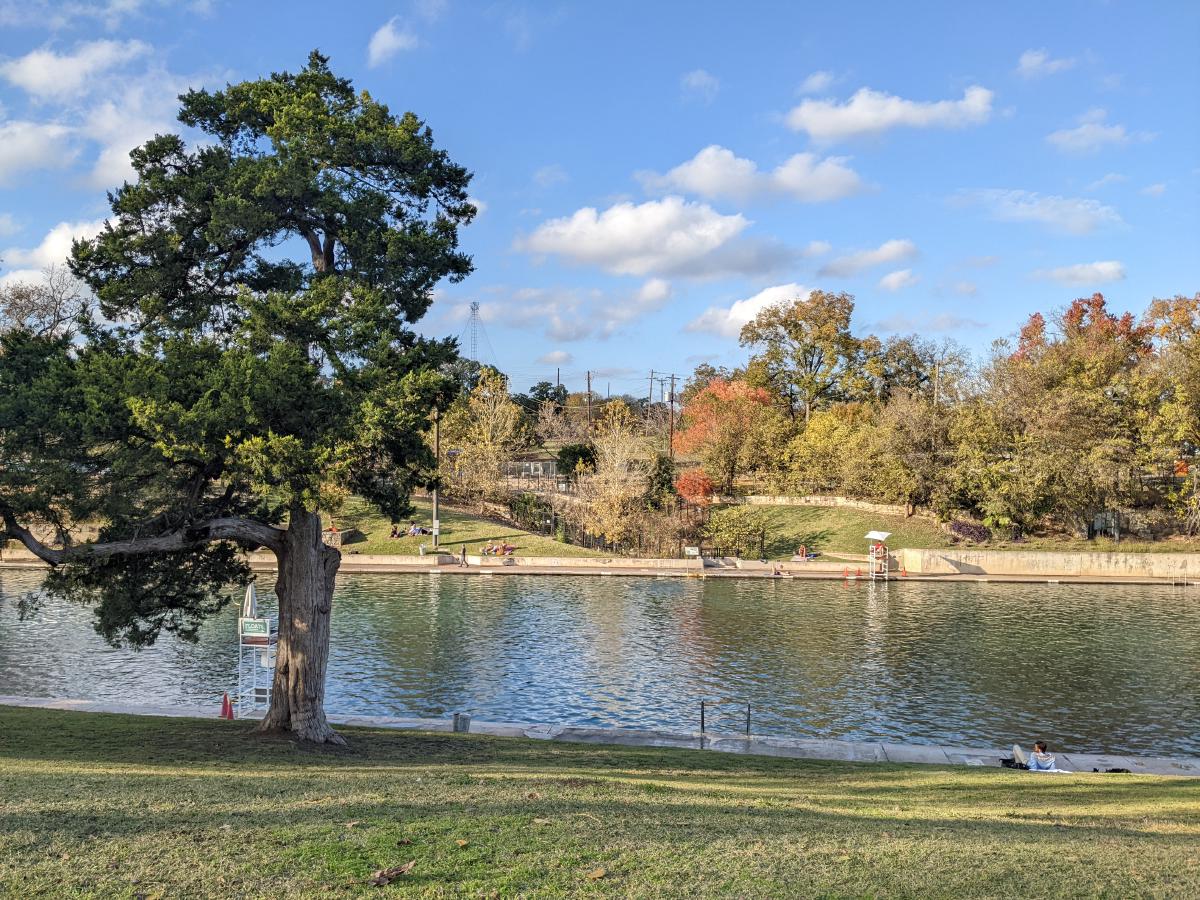 ---
Feeling 2022
In 2022, I look forward to digging into these hobbies and exploring some new ones, such as drawing and urban sketching, improving my Spanish, and cooking food from new destinations. I'll continue my volunteering through tutoring local elementary school students. There will also be travel (pandemic permitting) to Portugal and Alaska, with closer visits to family and friends sprinkled in between. I'm so excited to travel internationally again and can't wait to visit the grizzly bears after 12 years away.
Wishing you all the best for a happy 2022, with lots of kitty snuggles, quiet moments of reflection, and exciting new experiences to come. Thank you for your readership and support of this blog. It really means so much to me.
Now, time to go play some more Parkasaurus!
P.S. Are you feeling '22?
P.P.S. If you would like to be notified of new posts, please let me know and I'll add you to the email list!