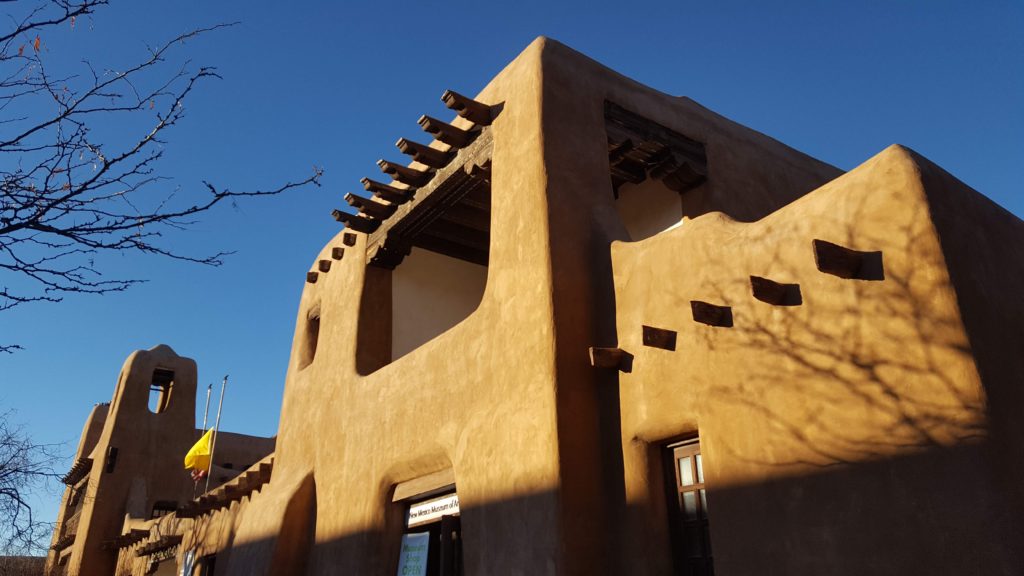 Happy 2019, y'all! I have lots of exciting travel and posts for you in store, including ones on how to plan holiday travel with family and an awesome spontaneous excursion to the gorgeous Nevada desert even during the government shutdown. But right now I'm going to tell you everything you need to know about spending 4 days in Santa Fe, New Mexico, over the holidays.
My husband and I decided to shake up the holidays this year. Instead of visiting family in New Jersey and California as we usually do, we opted for something a bit different – spending the holidays in a cat-filled Airbnb in Santa Fe, and bring family (his mother and sister) along!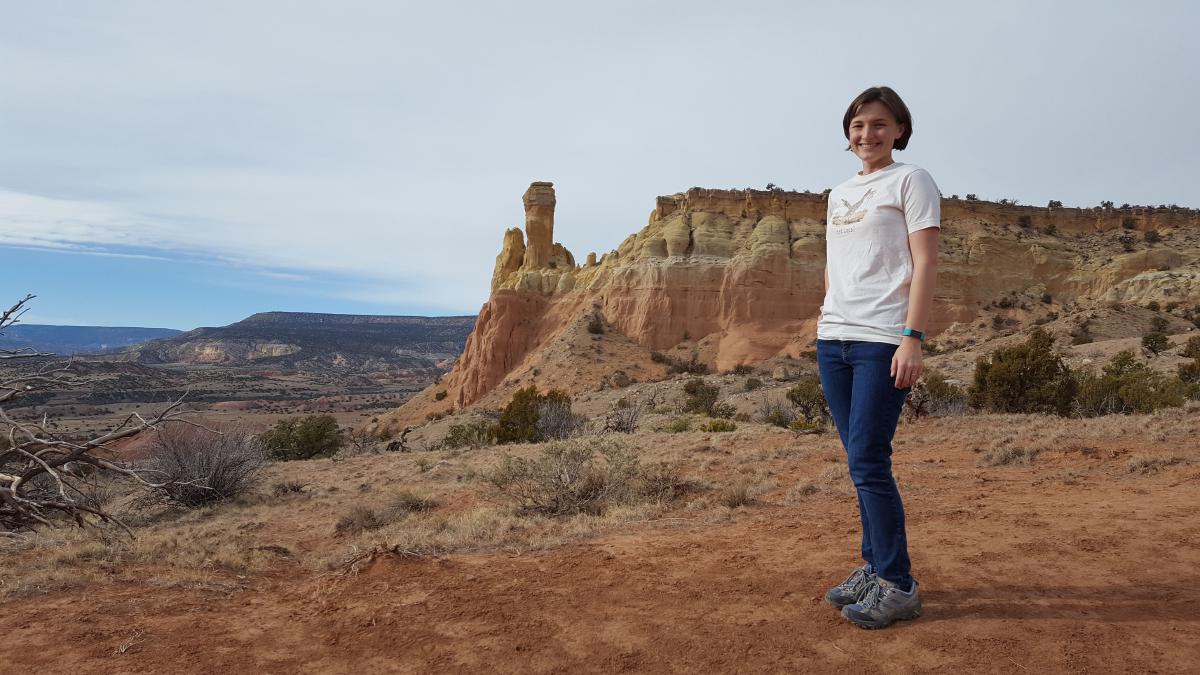 So, Why Santa Fe?
Santa Fe, New Mexico, has something for everyone while still being off the beaten path. It's pretty similar to our must-have list for Belize!
Accessibility: Easy flights from New Jersey and Austin to Albuquerque, which is an hour's drive from Santa Fe.
Culture: The local Pueblo people have influenced the culture with their version of Mexican food, Adobe buildings, and native art. Most speak English, but it's a fun place to know Spanish, too, as it provides an insight into place names.
Ancient History: New Mexico is home to some of the earliest settlements in North America, including Bandelier National Monument with cliff dwellings dating back over 11,000 years, and Petroglyphs near Albuquerque.
Art Galleries: Santa Fe is home to a huge artist scene, including local galleries, the Georgia O'Keeffe museum and her home at Ghost Ranch, and the more oddball Meow Wolf immersive experience.
Outdoor Adventure: The open desert, red rock cliff faces, and snow-capped mountains present opportunities for hiking, mountain biking, skiing, or even white water rafting or hot air ballooning (in the summer, of course).
Affordability: Santa Fe isn't the cheapest place in the United States, but it's no more expensive than any other artsy town and has plenty of great lodging options. Holiday travel kicks prices up a notch, so be sure to book lodging and airfare at least 6 months in advance.
---
A 4-Day Weekend in Santa Fe
This itinerary is perfect for a 4-day weekend, although we technically had 5 days, as one of them was Christmas when everything was closed. We flew into Albuquerque on Friday evening after work and drove the hour to Santa Fe, where we reached our Airbnb around midnight. You could also fly in on Saturday morning and do the Turquoise Trail scenic drive through the mountains during daylight.
Day 1: Exploring Downtown Santa Fe
We spent our first day getting used to the elevation (Santa Fe is at 7,100 feet!) and walked around downtown Santa Fe, enjoying the traditional adobe buildings with turquoise trim and gaining our bearings.
Three Historic Churches
The Loretto Chapel, the San Miguel Chapel, and the Cathedral Basilica of St. Francis of Assisi are all within a short 10 minute walk of each other, very close to the picturesque town square of downtown Santa Fe. The most touristy is the Loretto Chapel, with its mysterious 720 degree staircase to the choir loft built in 1878 by an unknown carpenter. There are no supports, and the staircase is quite stunning and worth seeing to check off your bucket list (at $4 per person).
However, I was blown away by the San Miguel Mission. Built in 1610, the mission is the oldest known church in the continental United States. A modest adobe building, walking inside immediately takes you back in time to a simpler era, with wooden beams running across the ceiling and a massive bell surrounded by charms called _milagros _(miracles). If you need to pray for something, you can purchase a milagro and nail it to the post that supports the bell. It's a very grounding experience to think of all the people who have rung this same bell over the centuries.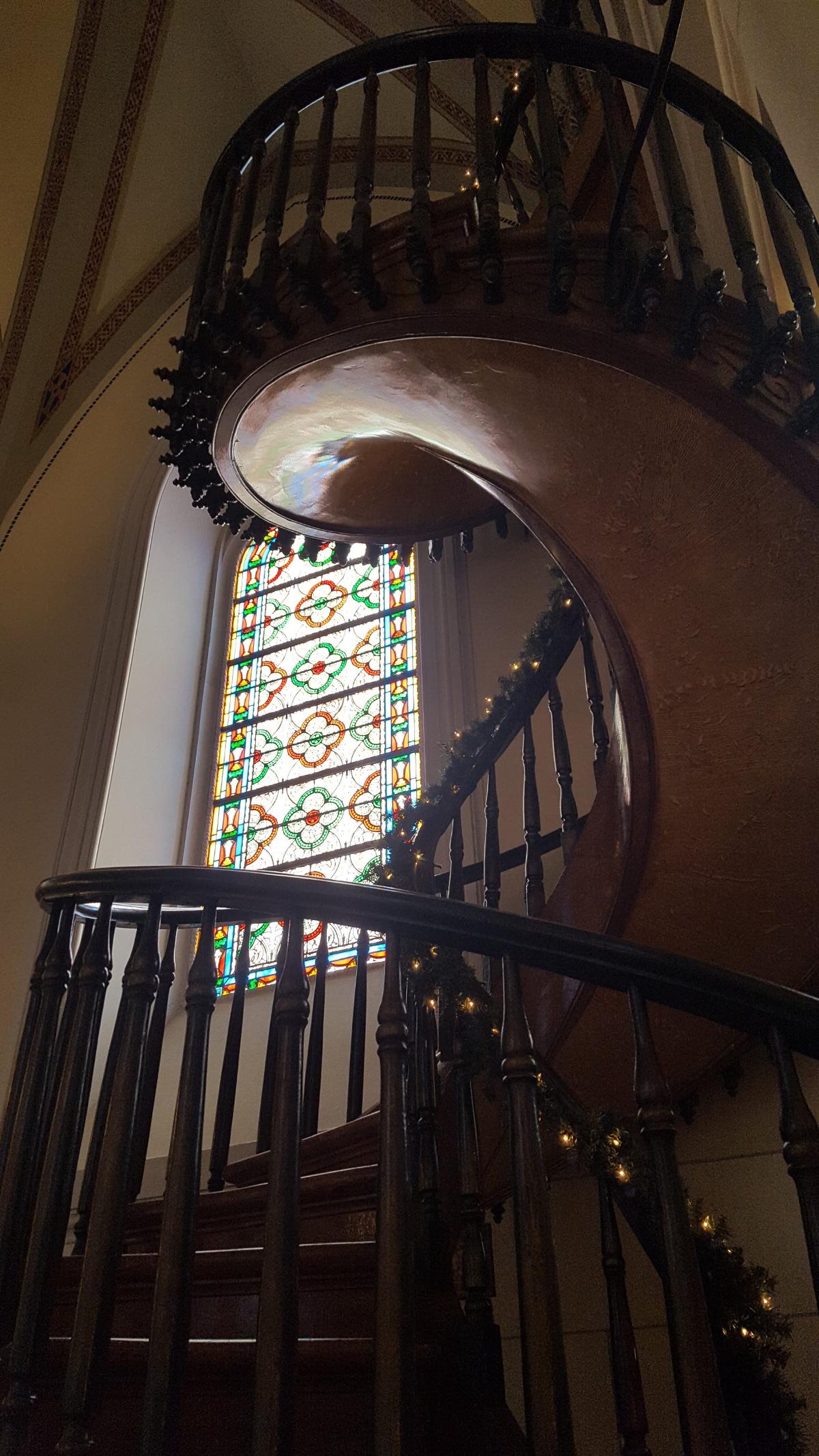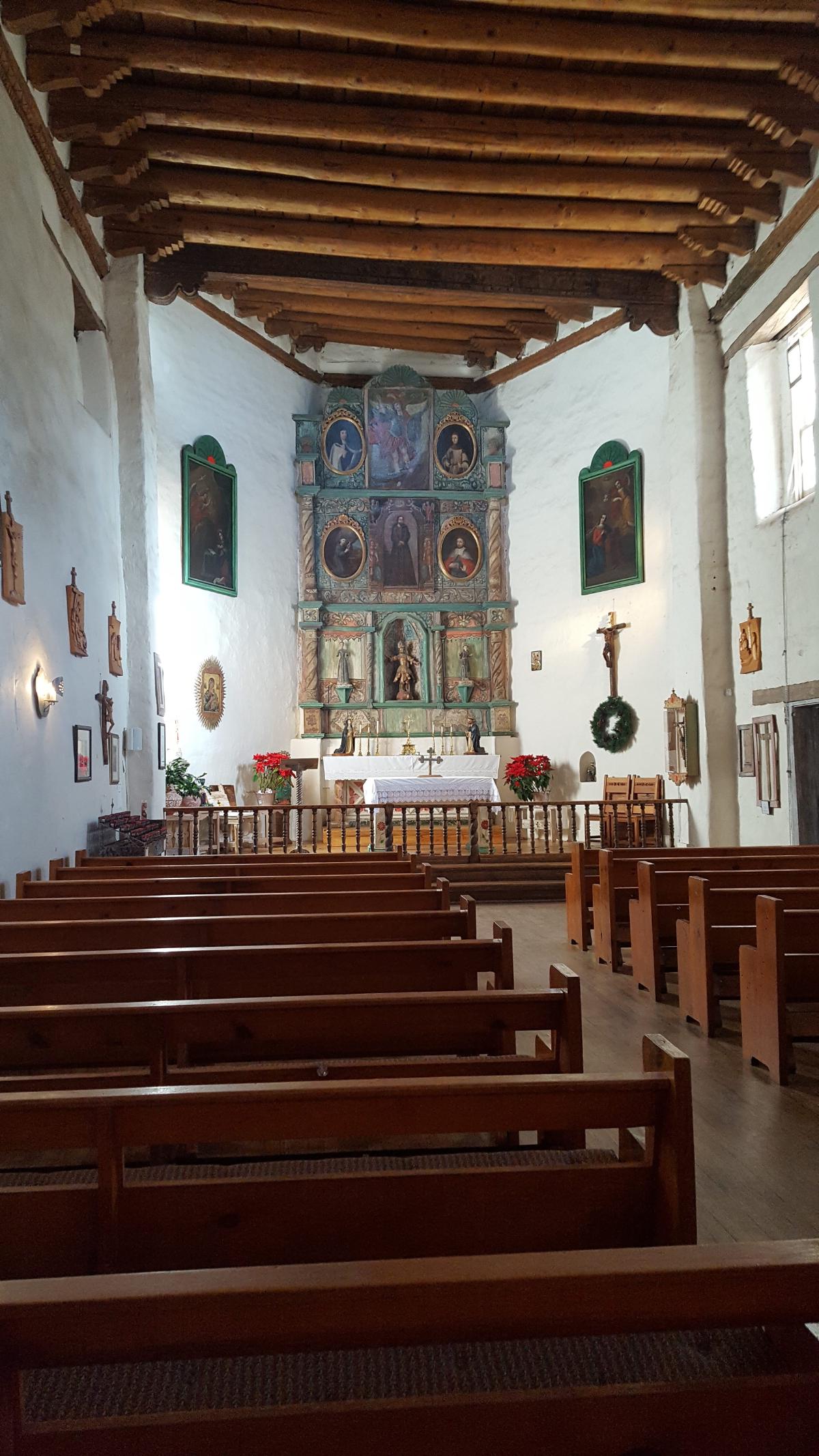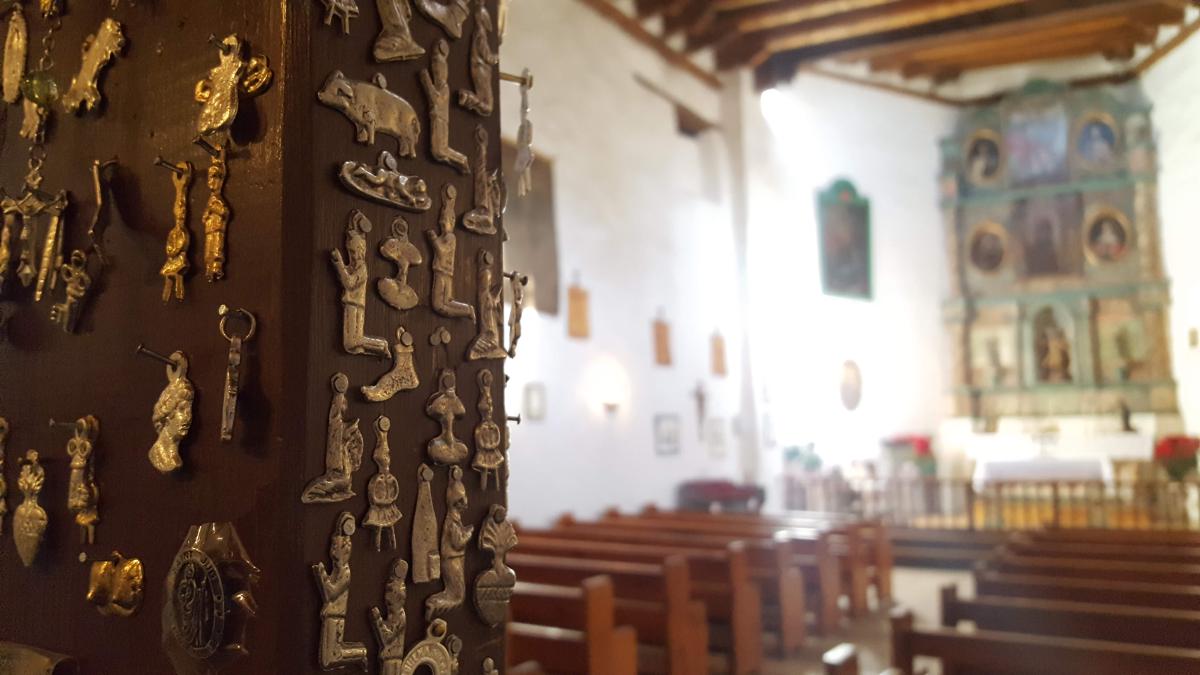 Georgia O'Keeffe Museum
New Mexico was the inspiration and later home of modernist painter Georgia O'Keeffe. Best known for her flowers and skulls, the terrain of the New Mexico desert also inspired her landscapes, and she visited every summer from New York for over 30 years before finally moving permanently after the death of her husband, the photographer Alfred Stieglitz, in 1946. The museum includes many of Georgia's paintings, photographs taken by those who visited her residences at Ghost Ranch and Abiquiú, painting supplies, and a lovely video summarizing her life. We were all captivated by the paintings and were inspired to visit Ghost Ranch the next day.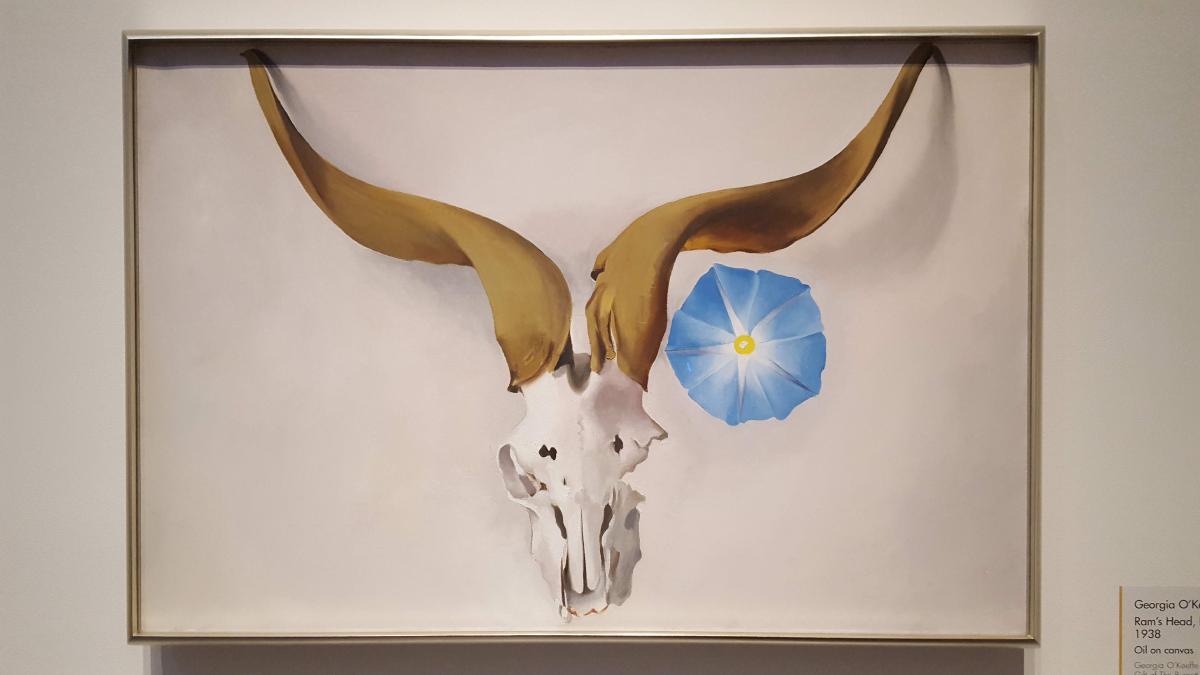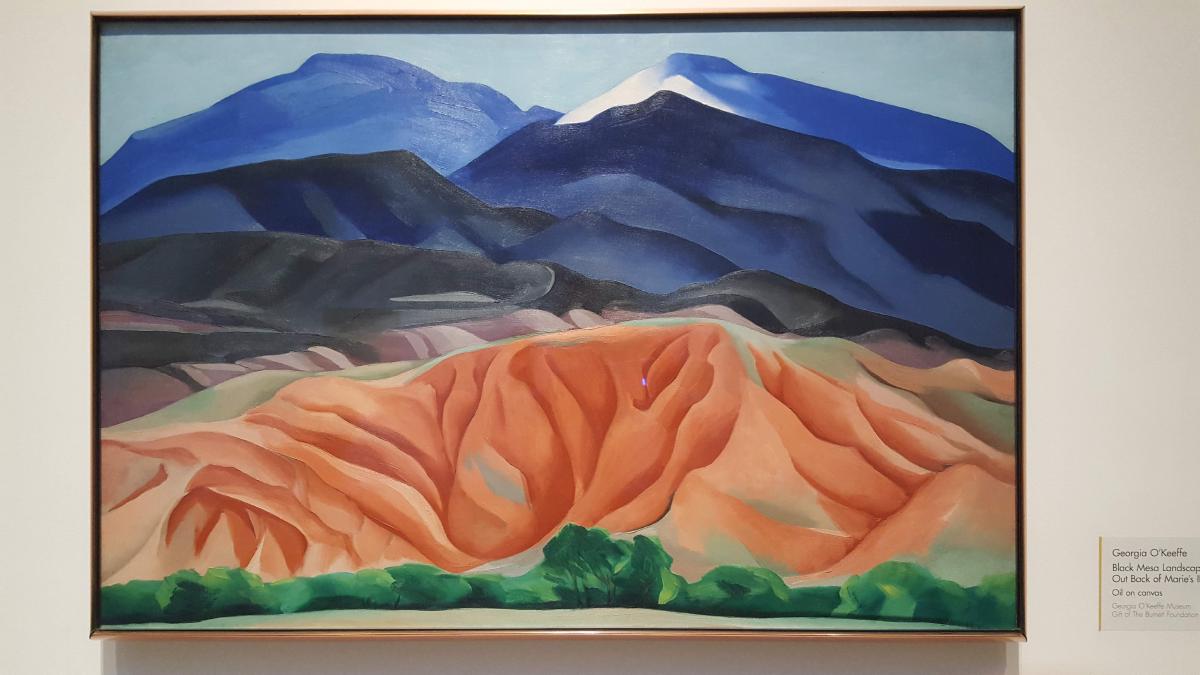 Day 2: Walking in a Painting
The government shutdown initially put a damper on our trip (more in another post), as we had planned to visit a few national monuments as outdoor activities. However, we improvised, and spontaneously visited Ghost Ranch to enjoy the wall-less and wide open desert landscape (and dinosaurs!). The hour-long drive through New Mexico's desert is filled with hills, red rock, cliffs, and snow-capped mountains in the distance. As we approached Ghost Ranch, every bend in the road presented a view more enthralling than the last.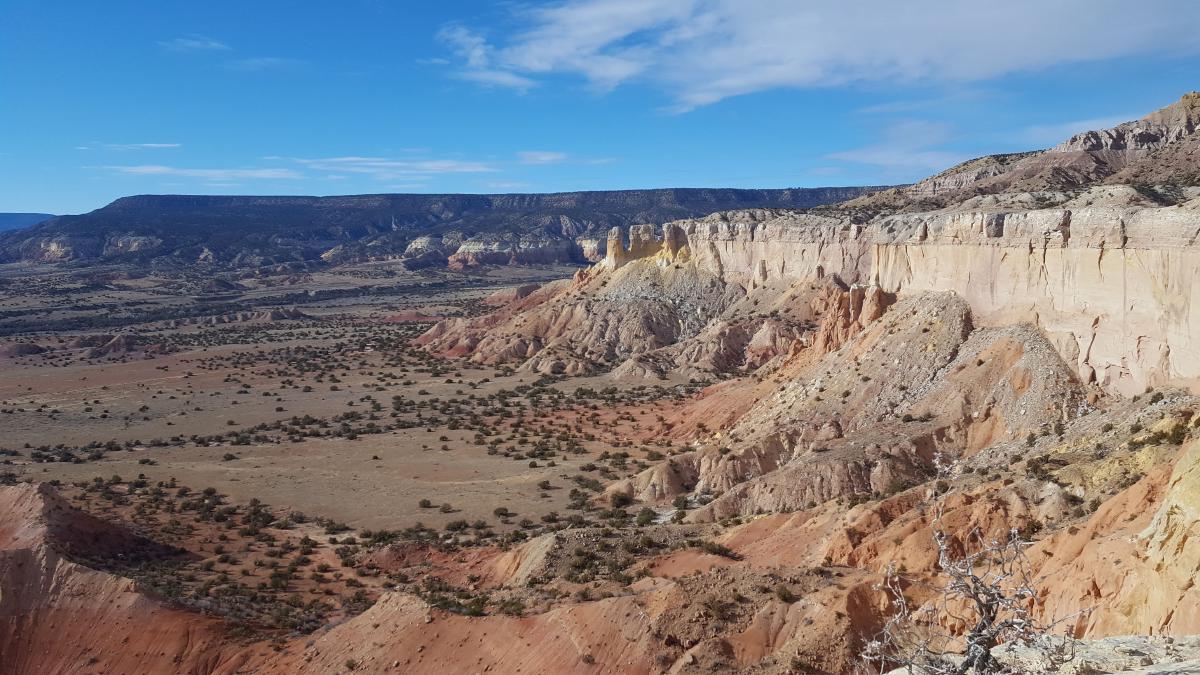 We arrived at Ghost Ranch, a former retreat for wealthy artists that's now an educational center in the wilderness, signed in at the visitor center for safety purposes, and began the 600 foot climb to Chimney Rock. The hike itself can be completed in 1-2 hours, but we took our time and spent over 3 hours, enjoying the winding route up to the plateau, the barren trees and cacti, and stunning desert views in every direction. At the top, we were presented with a glorious view of Chimney Rock, with the Abiquiú Reservoir in the distance glistening in the afternoon sun. I felt very small, but also at one with the world. I understand why Georgia came back here year after year and never got tired of painting these rocks.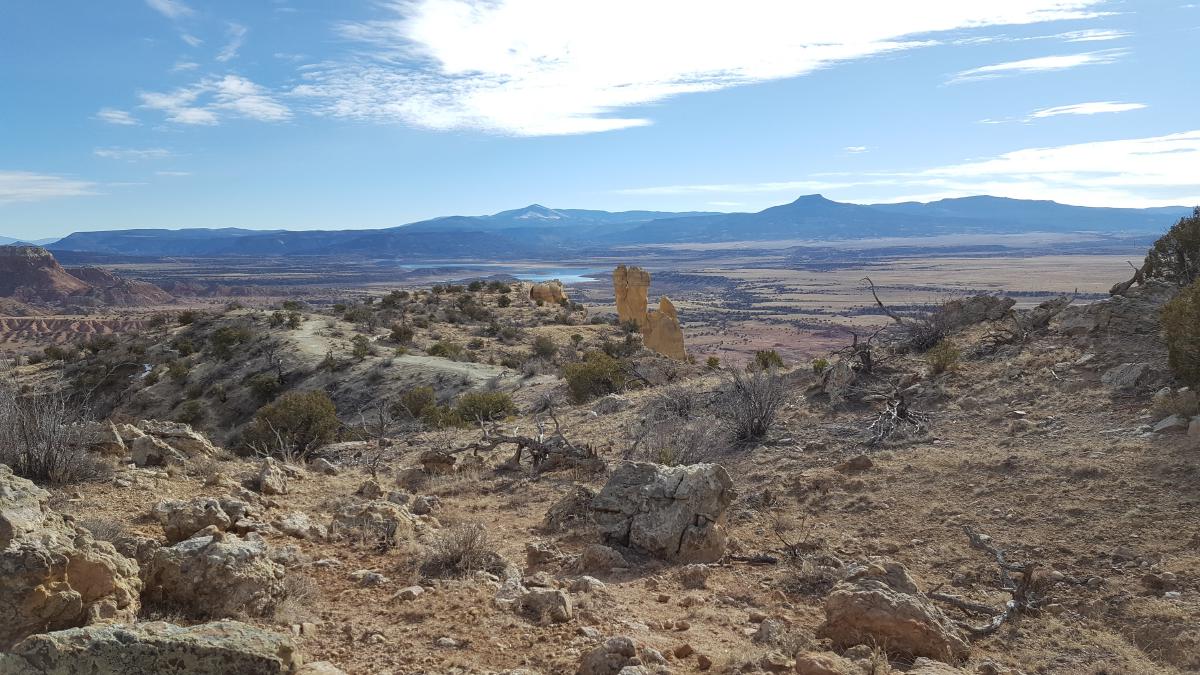 Ghost Ranch is also home to over 1000 specimens of New Mexico's state dinosaur, the tiny theropod Coelophysis. The paleontology and neighboring anthropology exhibits are small, but worth stopping in and are free with the $5 per person admission. It's a worthy price to protect this beautiful place. You could even rent a room to spend the night, if you wished!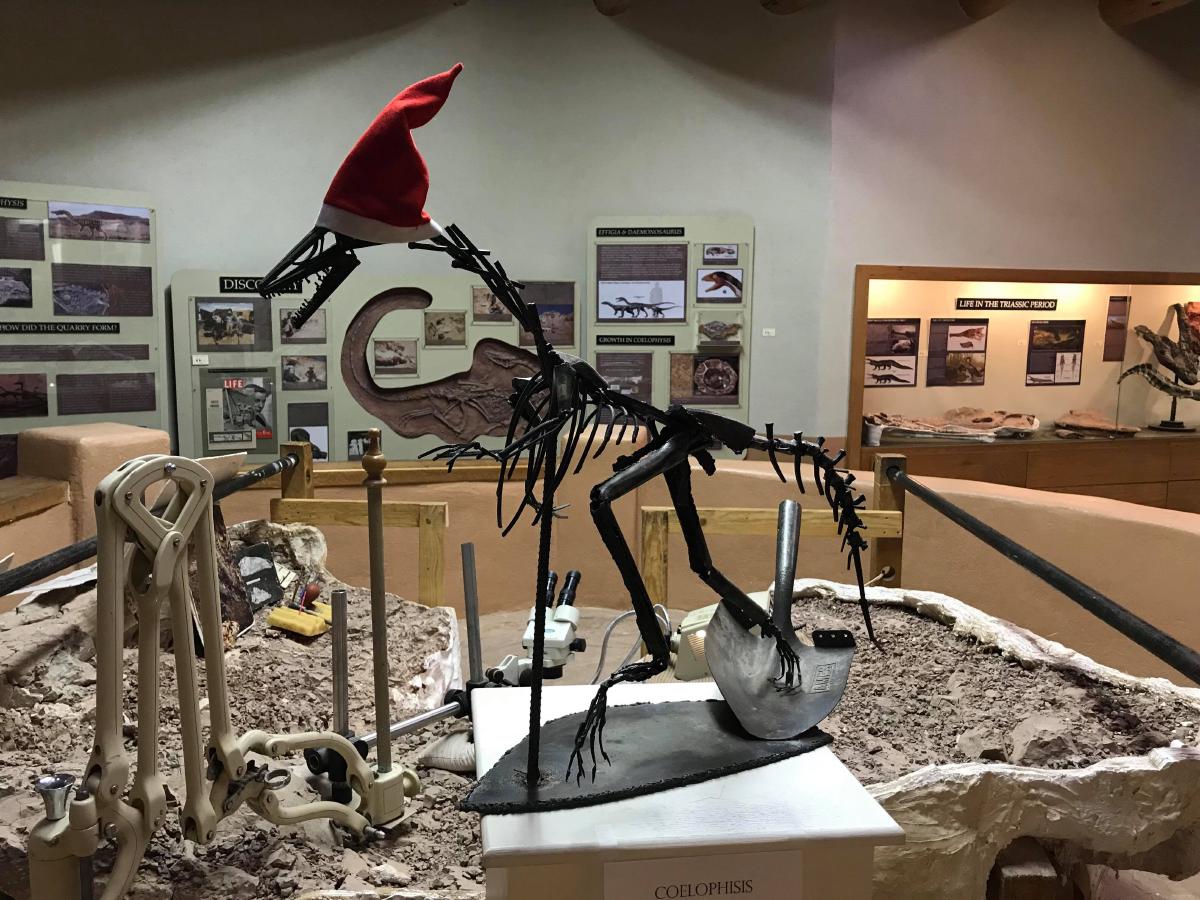 The drive back to Santa Fe treated us to a red and purple sunset against the mountains, and I know that I will have to come back again someday.
Day 3: Magic in Santa Fe
Meow Wolf: House of Eternal Return
I don't want to spoil Meow Wolf for you. But just trust me when I say, Meow Wolf (an interactive art experience, partially funded by George R. R. Martin) was one of the best experiences of my life. It's like Alice in Wonderland meets a haunted house meets the unbounded creativity of dozens of underpaid millennials with art degrees. Plan to spend 2-3 hours there, and buy your ticket online to cut to the front of the line.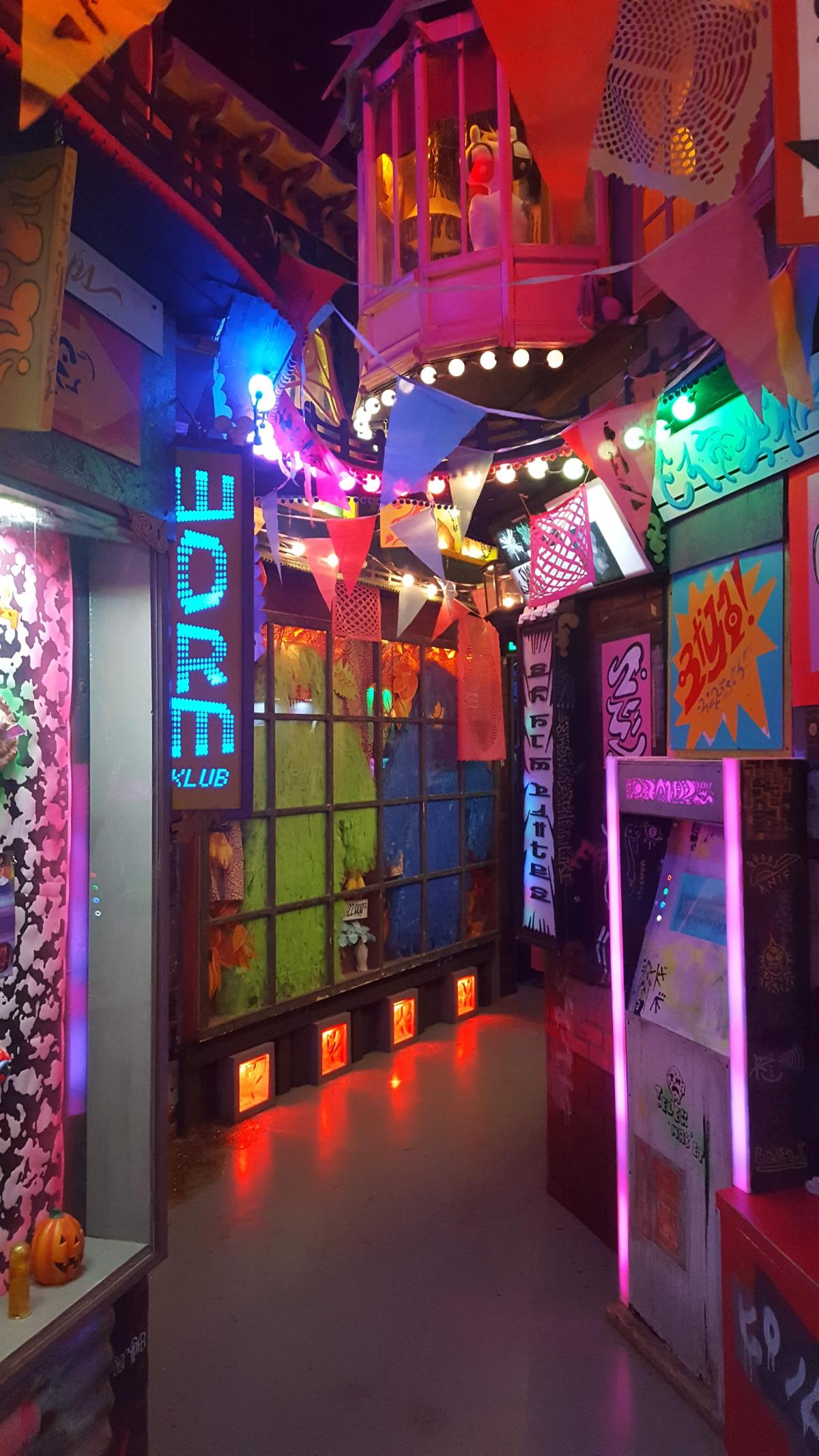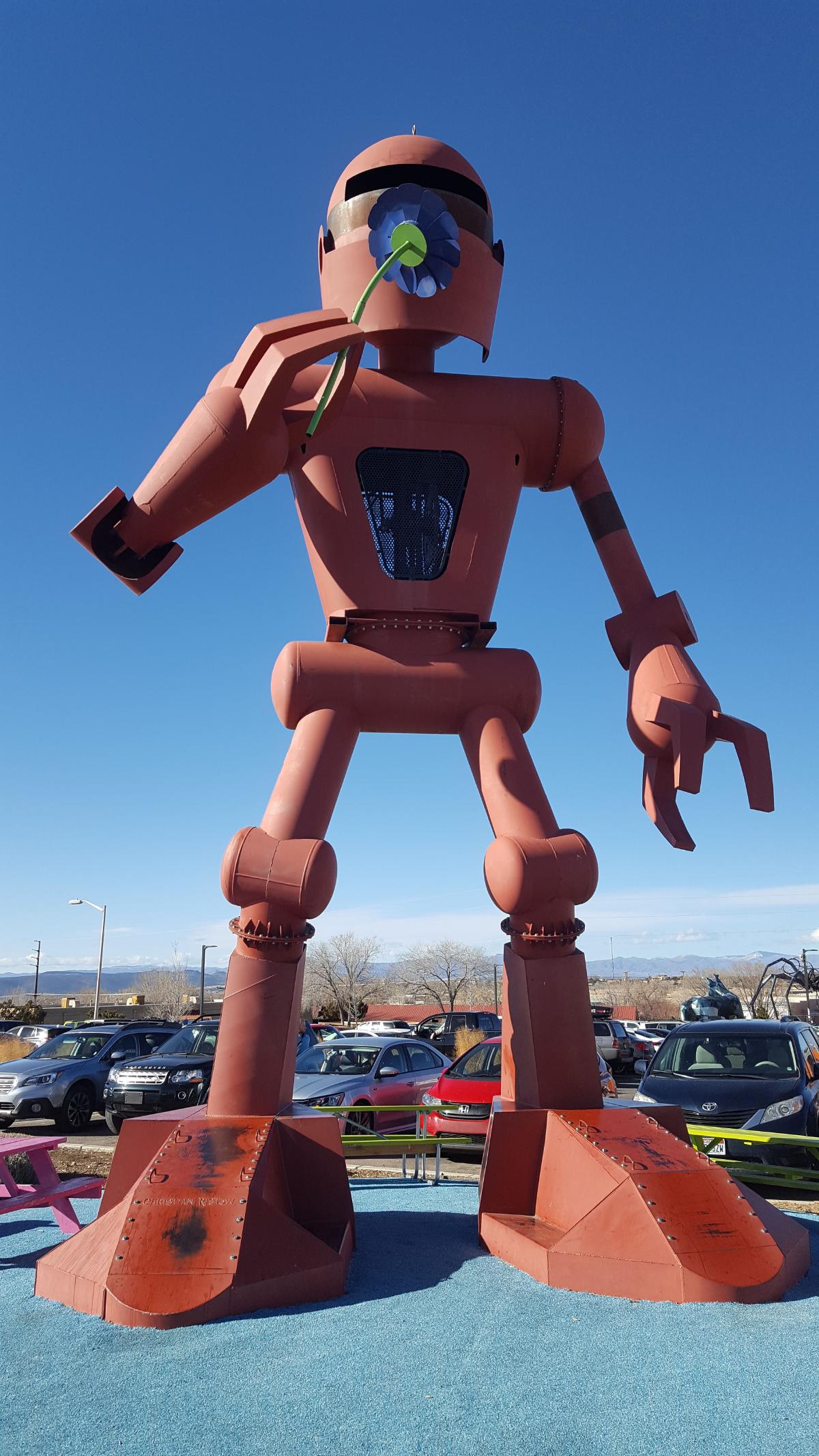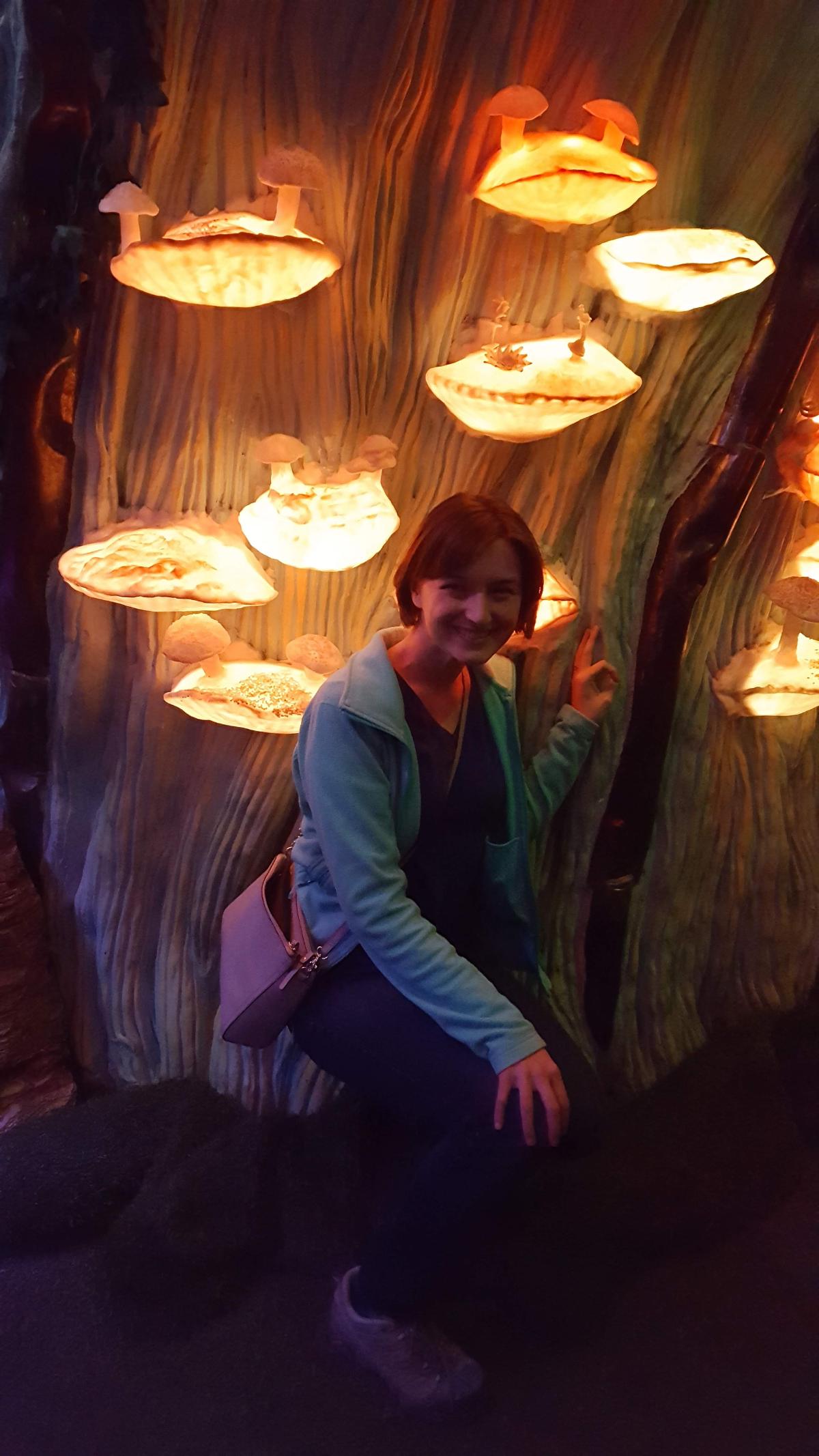 Canyon Road Farolito Walk
Christmas Eve is a special time in Santa Fe, and the city's traditions are part of what makes it a magical holiday destination. As the sun sets, paper bags with candles, called farolitos, are lined up along the tops of buildings and on the roads. People crowd around bonfires, hand out hot chocolate, and sing carols to celebrate the night.
The most iconic place to enjoy the holiday spirit is Canyon Road, a line of adobe houses-turned-art-galleries that are as picturesque at night as they are during the day. Many of the galleries are open for browsing (and warming up) with a backdrop of live music floating in from outside.
We arrived at sunset, which was around 4:30pm in the winter, and that gave us time to see the buildings in the orange glow and watch the candles grow brighter. Nothing is as awe-inspiring as a sunset in the desert.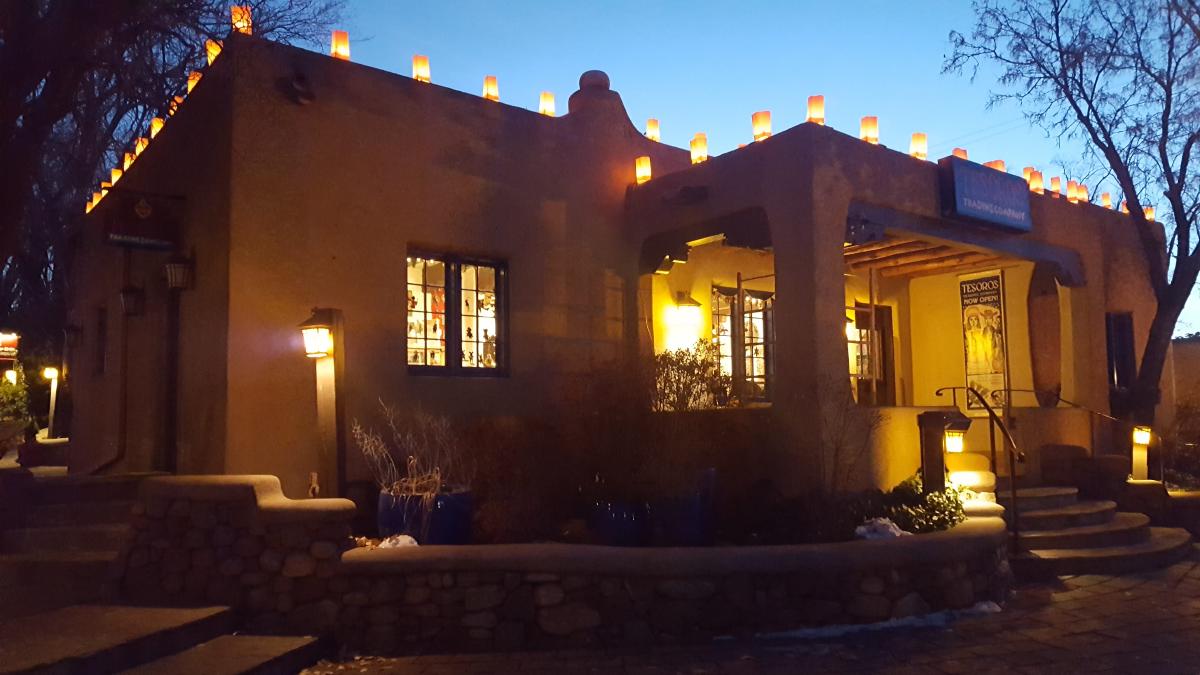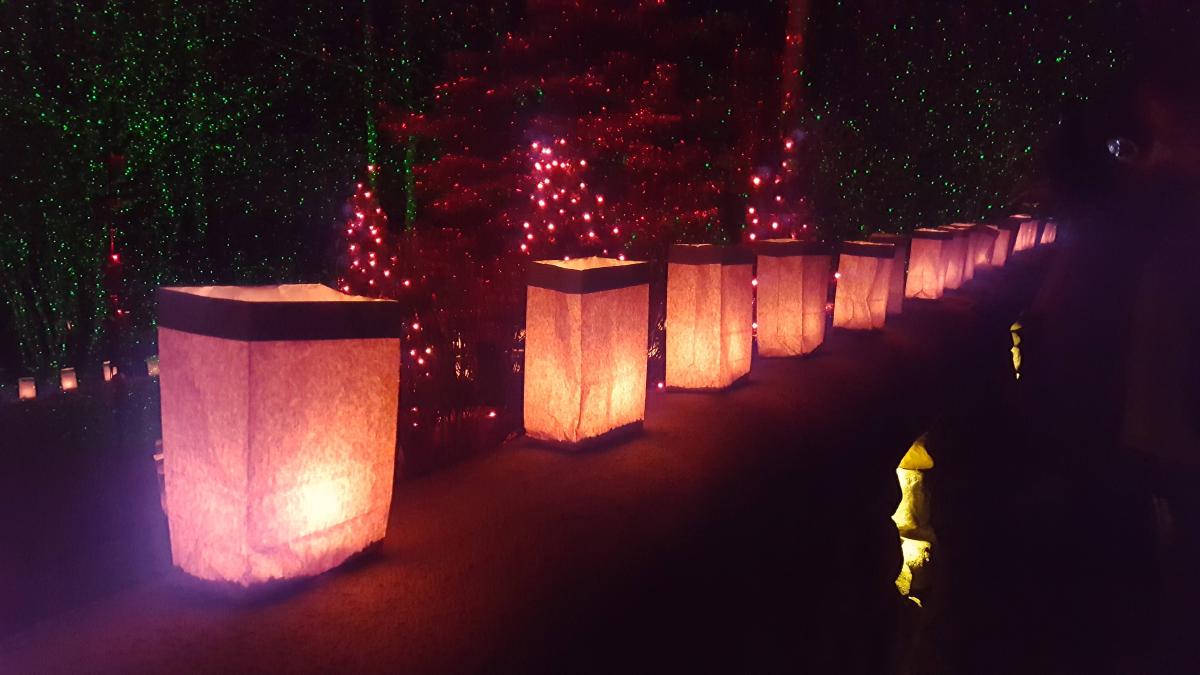 Parking can be tricky, but there are a fair number of public lots nearby if you get there at sunset. We used a ride-share, which was inexpensive on the way in, but had surge pricing at the end of the evening and was probably the wrong decision.
Day 4: Christmas with Cats
Our Airbnb had 4 cats (they even had a mousehole under a door so they could get into the bedroom!) which made for a very merry Christmas indeed! We made tamales, decorated ugly sweater cookies, and enjoyed the traditional Kiva fireplace. It was a wonderful day with family!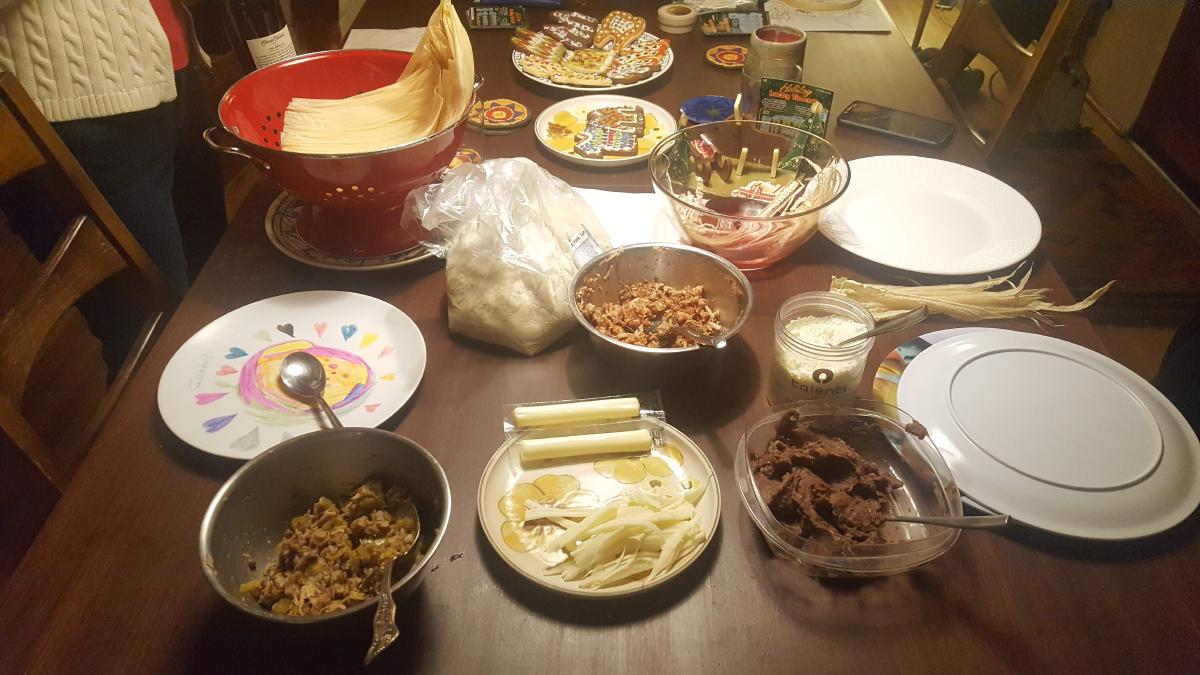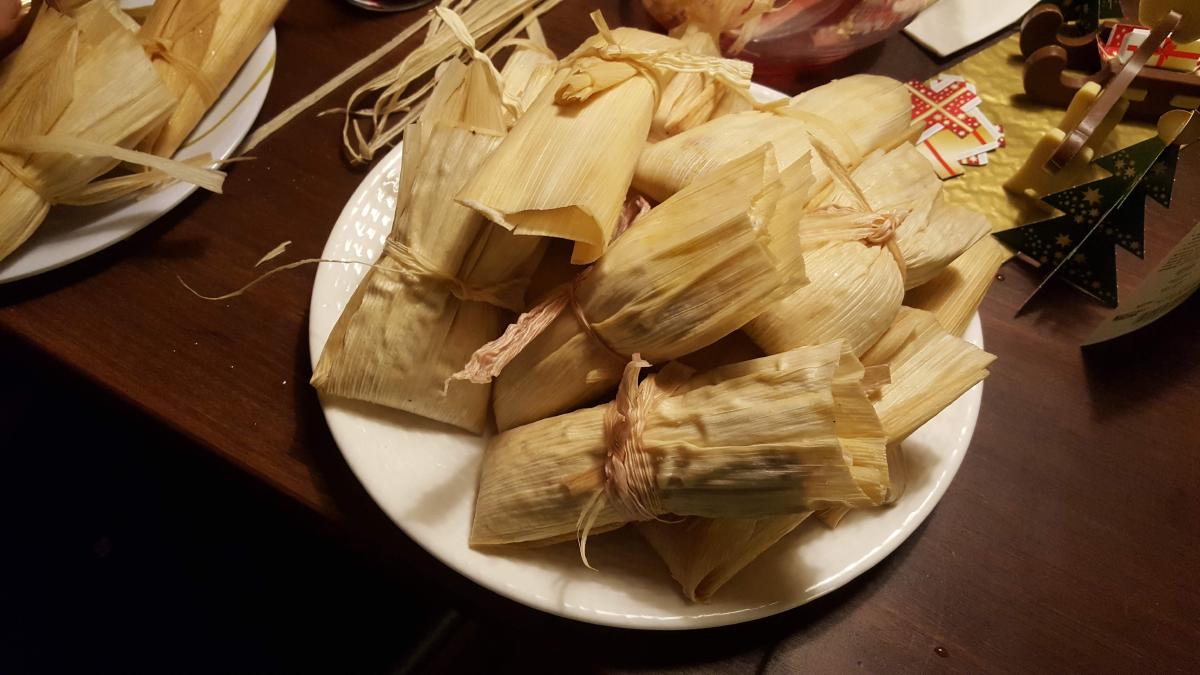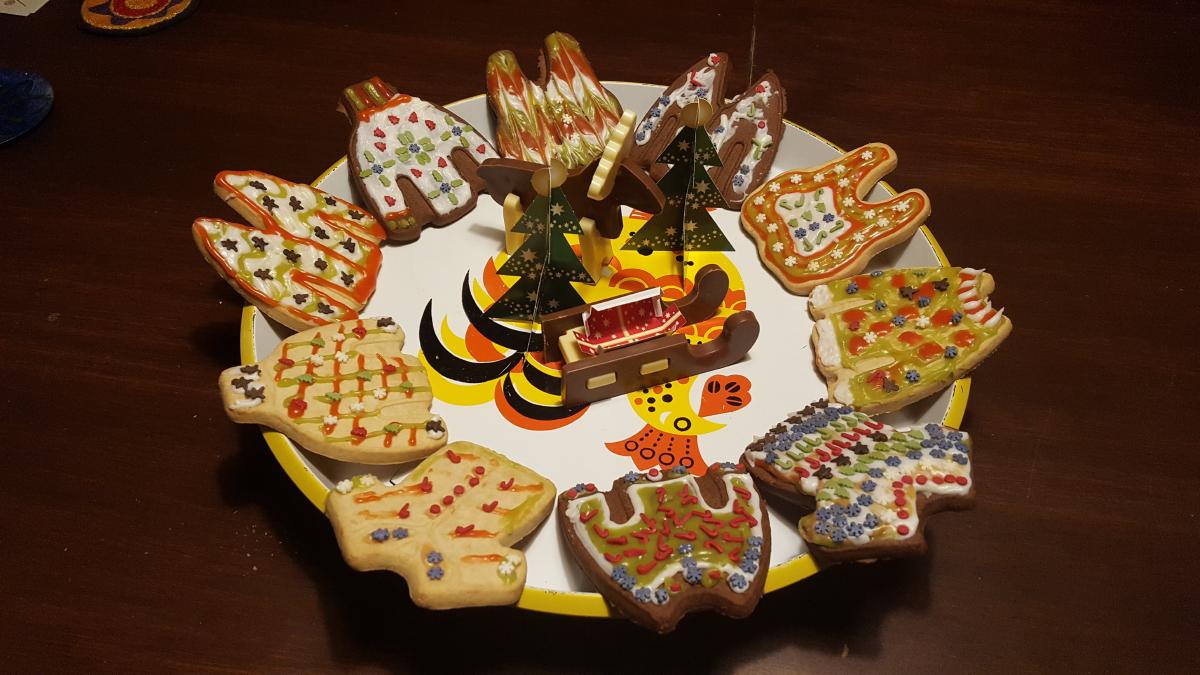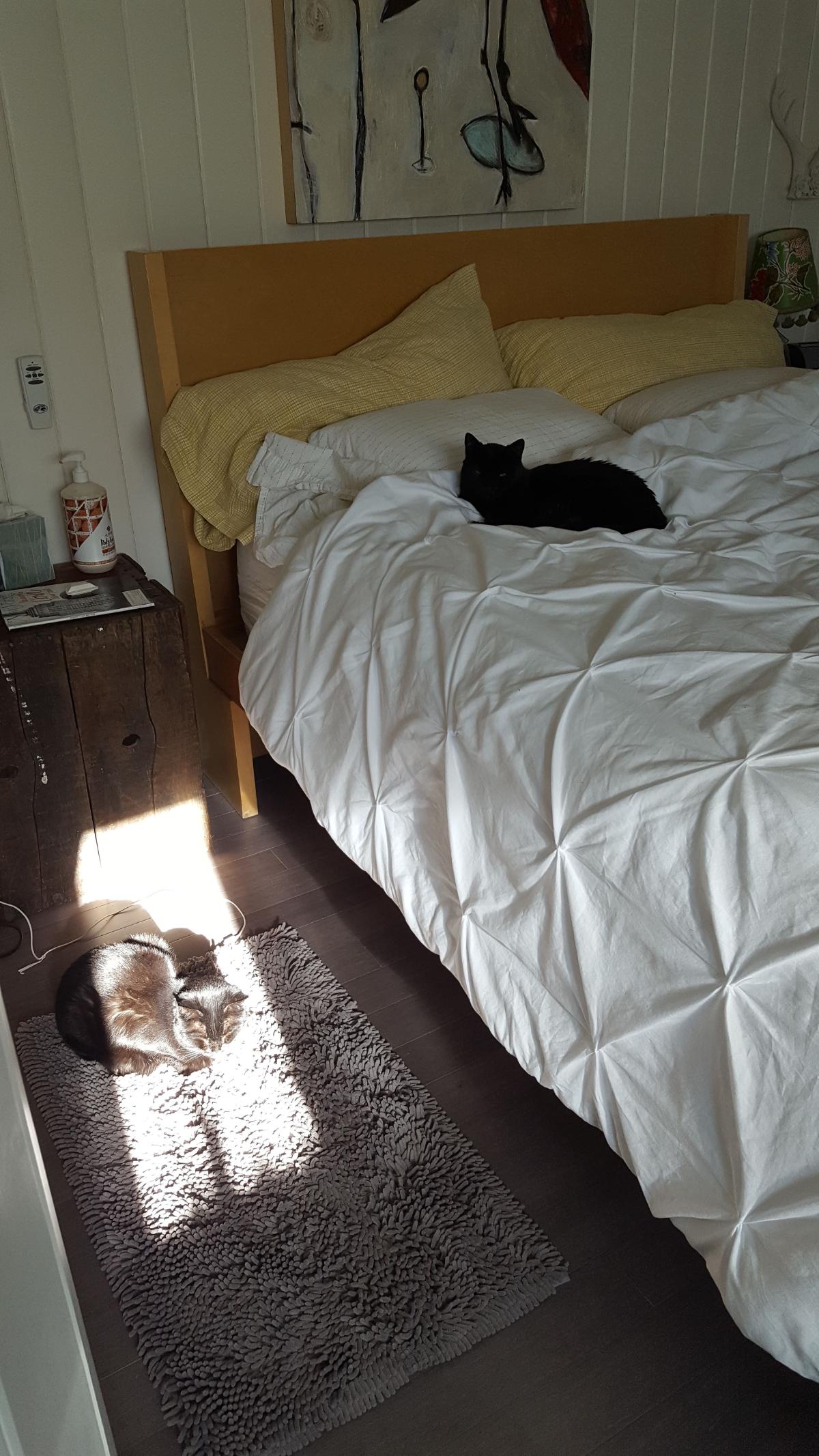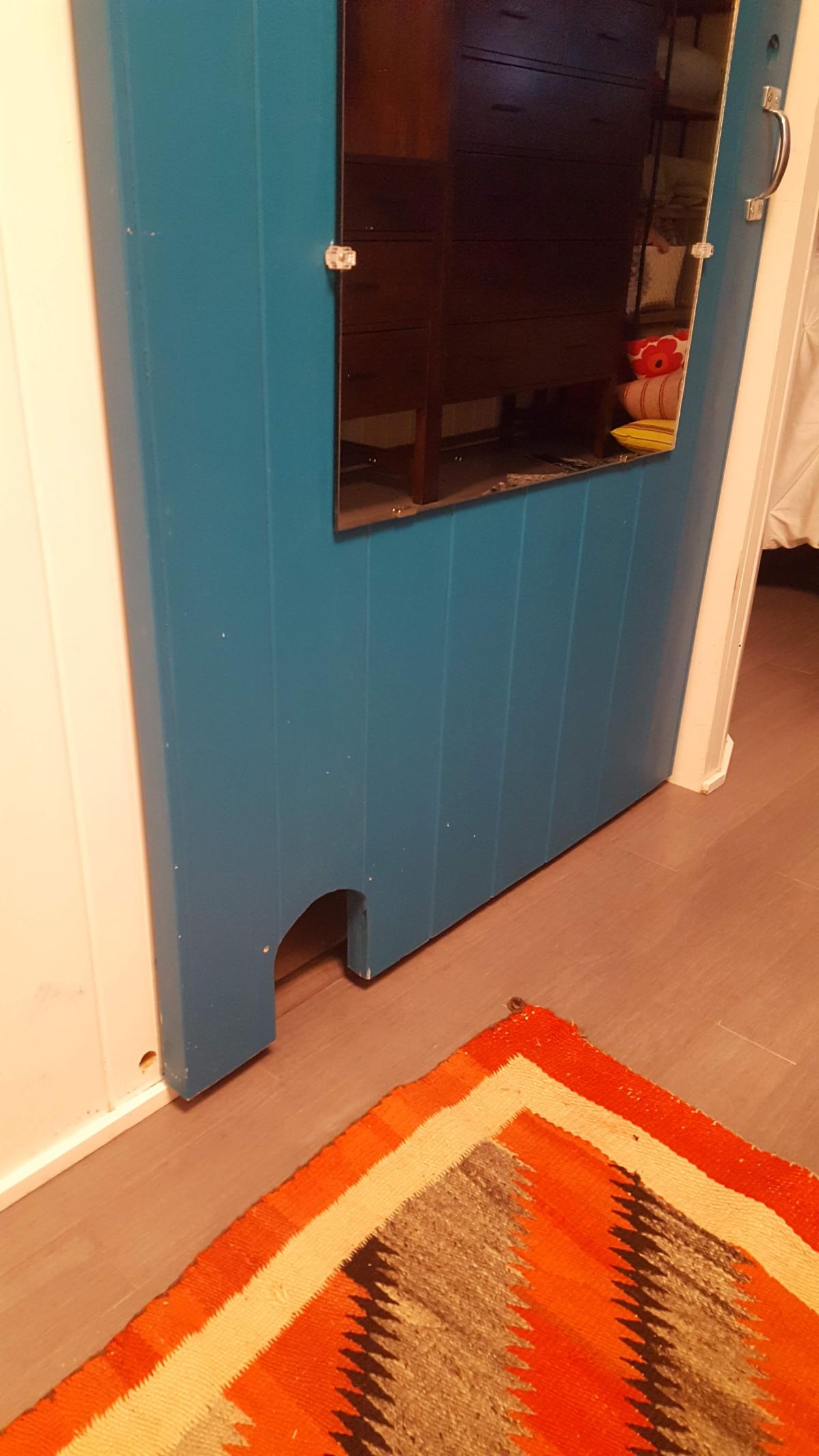 Day 5: Turquoise Trail to Albuquerque
Our flights out of Albuquerque were in the late afternoon and evening, so we took a leisurely drive on the scenic Turquoise Trail through the mountains. There are many historical artsy towns along the way, including Madrid where we stopped at a store selling local arts and crafts. Our time on the Turquoise Trail was cut short by the snowstorm (see below) that shut down all of the shops and restaurants along the way, but the snowy drive was an experience in itself!
I'd highly recommend driving the Turquoise Trail when it's sunny out, as there are many cool towns to visit and the scenery is just stunning. However, everything closed when it started snowing, as the people who live on the trail need to get home where it's safe. The snow was magical, but meant we couldn't see very far in any direction. I loved the contrast of the red rocks poking out from underneath a blanket of snow.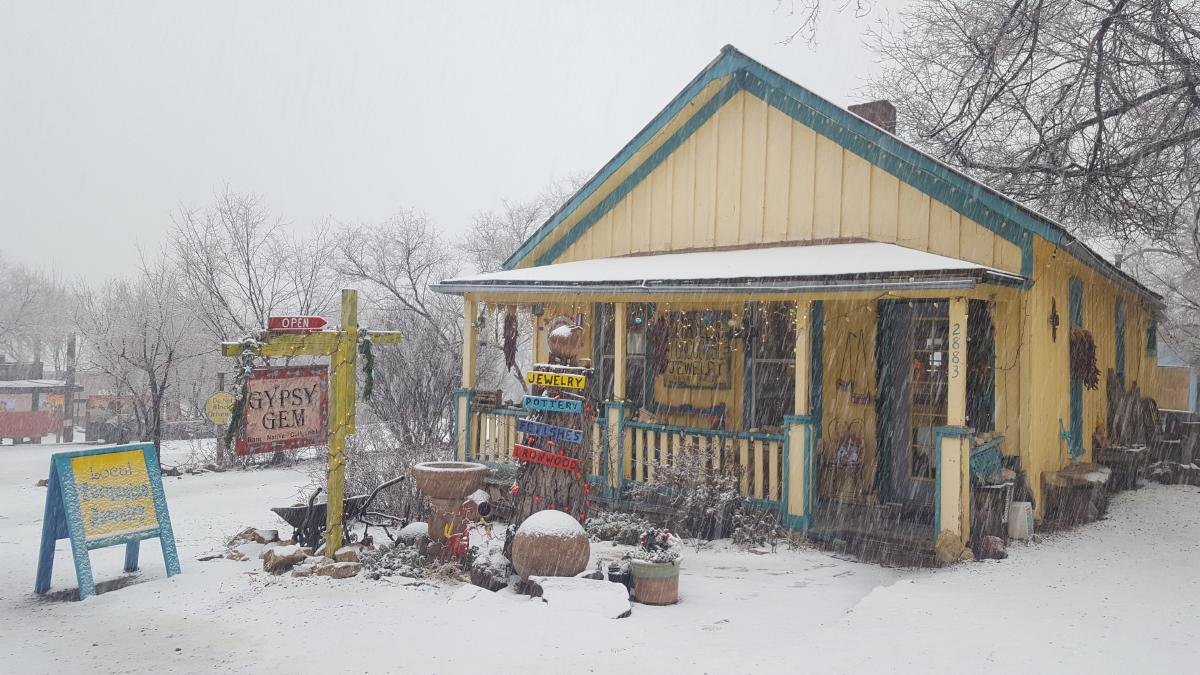 We stopped for lunch at Burger Boy, a traditional burger stop on Route 66, and drove on the musical highway part of Route 66 that plays part of America the Beautiful when driven at 45 mph. Had there been enough time (and no snow) we would have also ridden the Sandia Peak Tramway to the top of the mountain for a gorgeous view of Albuquerque and the surrounding scenery.
Albuquerque itself has a historic downtown with papel picado and turquoise trimmings. We stopped at the Candy Lady (the store that makes the blue rock candy used as a prop for the TV show Breaking Bad) and the Rattlesnake Museum. Everything started closing early because of the holiday, but I still had a lovely day in the historic downtown before heading to the airport (a 10 minute ride away) to catch my flight. Backpack-only travel for the win! The nearby BioPark, Petroglyphs, and Sandia Peak Tramway are also great fun if you have time!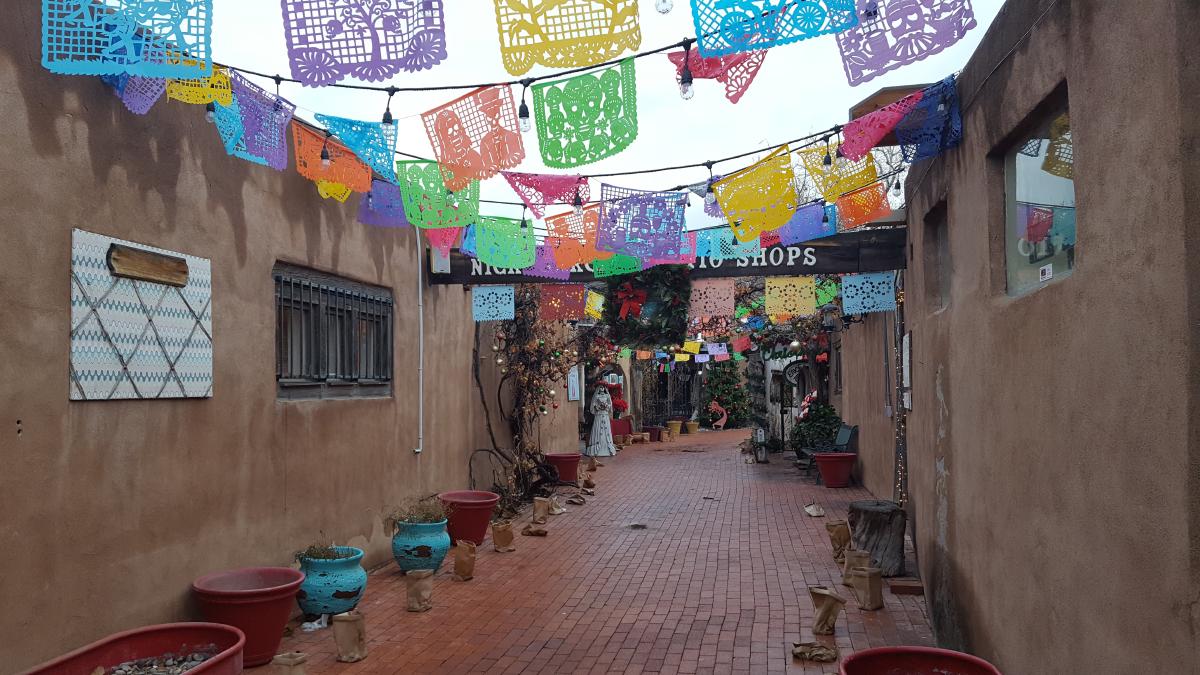 So, Should You Visit?
My husband and I are absolutely going to travel back to Santa Fe in the summer. There are native settlements, museums, and lots of outdoor hiking that we look forward to exploring when it's warmer and things are open. The terrain near Santa Fe is visually striking, and the sunsets and sunrises are incomparable. The adobe buildings with turquoise accents even inspired us to paint our living room turquoise for a pop of color!
There's something for everyone in Santa Fe, be it art, music, food, outdoor activities, relaxation, and local culture and history. It's accessible from most major airports and provides a wonderful look into a different part of the country that many haven't visited. Perfect for a 4-day retreat from the hustle and bustle of everyday life. What's travel for if not to learn and explore?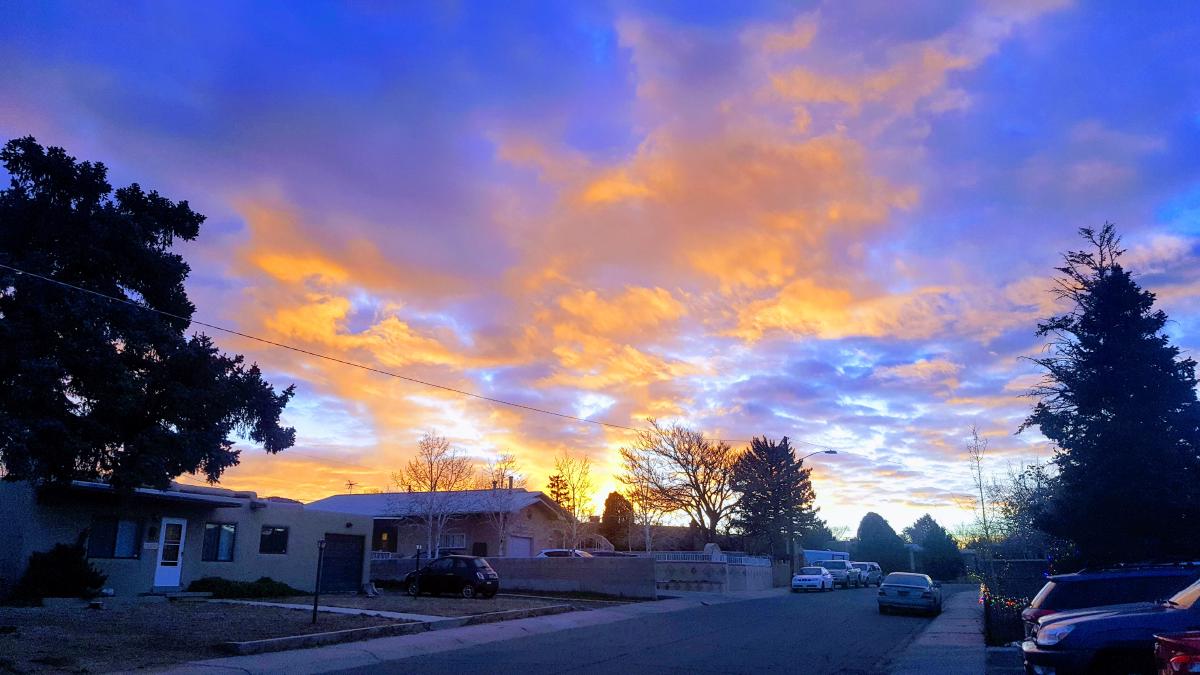 Some Things To Note
Santa Fe is at 7,200 feet elevation. Take your time on the first day getting used to the thinner air, and stay hydrated. The hike at Ghost Ranch was harder than we thought and we were glad that we'd brought water and worn sunscreen.
In the winter, the sun sets at 4:30pm, so make sure to get your daylight activities in early. Additionally, there isn't much nightlife in Santa Fe, so everything closes at 5pm. Check the weather, too – it's cold once the sun sets in the desert! I loved my new Darn Tough socks (women's | men's) and only needed 2 pairs to get me through the entire trip. The merino wool stayed smell-free and cozy the entire time!
Many of the popular outdoor activities are at the end of hour-long drives through the desert, so having a rental car is very useful. It is possible to travel between Santa Fe and Albuquerque on the Rail Runner if you're just planning to stay near the downtowns.
Downtown parking can be expensive, but ride-sharing is an option, as is the Rail Runner train line. If you're willing to walk a little bit, park a few blocks out of the downtown center and you'll be golden.
Staying Spontaneous
We had initially planned for 3 activities each day (morning, afternoon, and evening). However, the elevation and sunshine meant that we were exhausted much sooner than we expected, so we only ended up doing 1-2 major activities each day. The key is remembering that you can always visit again, and that you don't need to visit everything! Just pick a must-see experience to anchor each day, then go with the flow from there.
The government shutdown started right when we arrived in Santa Fe, which meant no National Monuments, Parks, or Historic Sites. This put a damper on our plans for outdoor exploration but gave us the opportunity to substitute in a visit to Ghost Ranch. We loved Georgia O'Keeffe's paintings and it was amazing to have the time to visit the scenery that inspired them!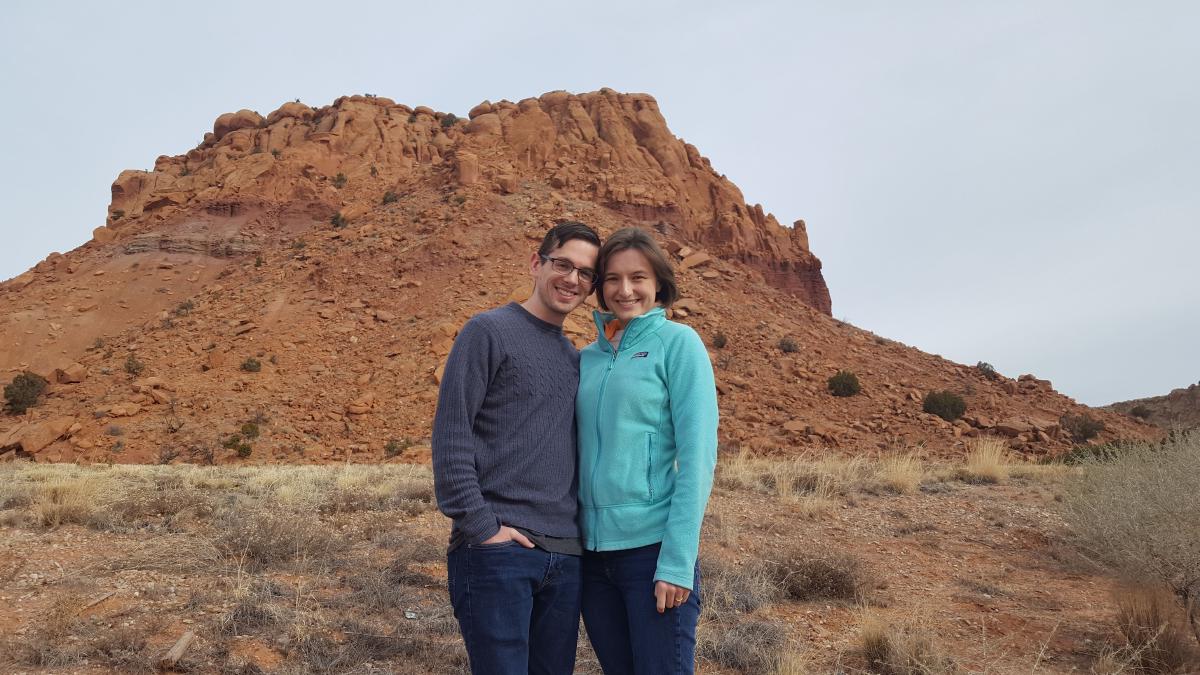 ---
All opinions and recommendations are my own and as unbiased as possible. As an Amazon Associate I may earn from qualifying purchases made through some affiliate links on this page. Read the full disclosure policy here.