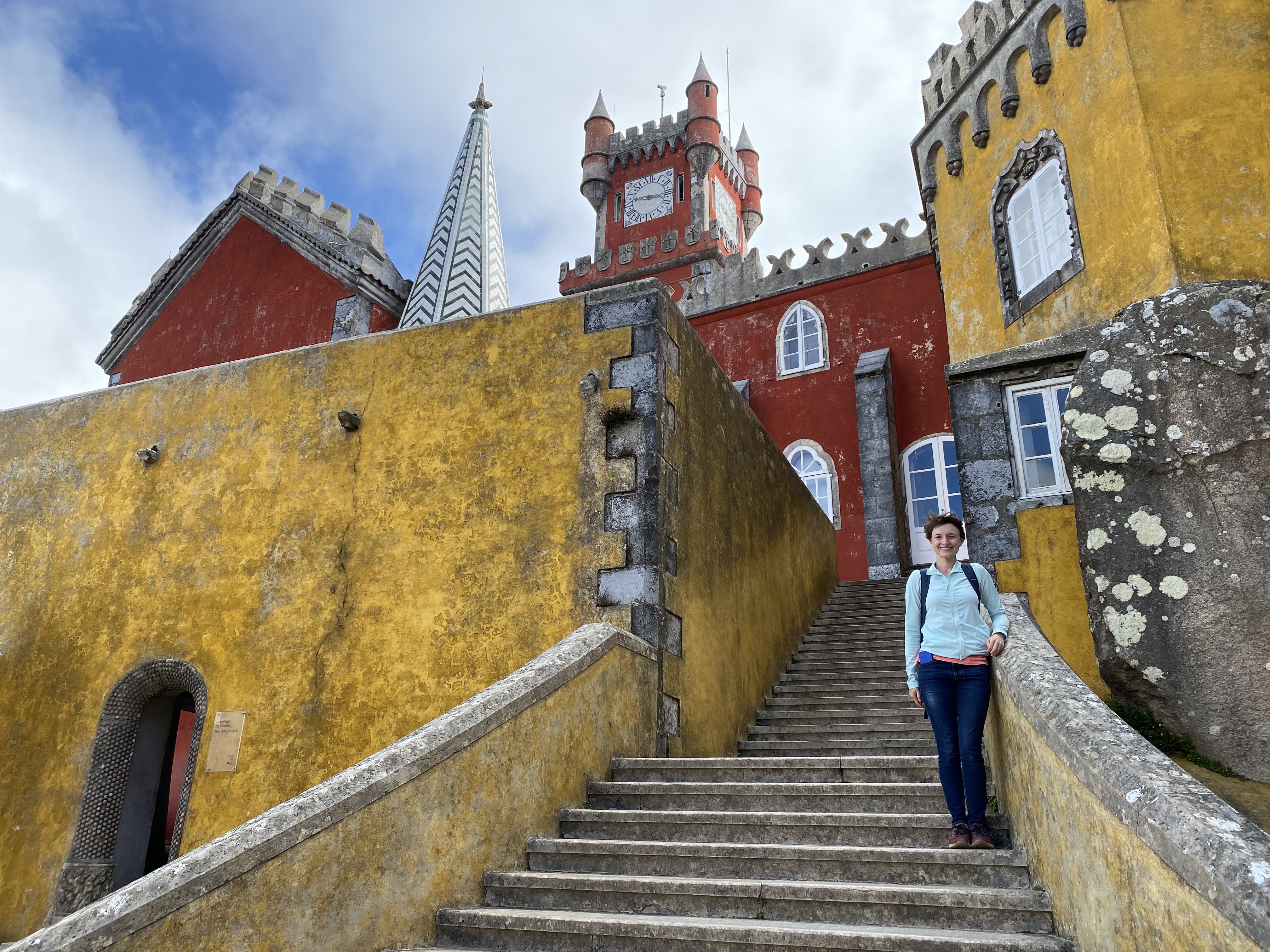 This is part 2 of a 3-part series about my trip to Portugal in 2022. The first, about Porto, can be found here. The third will document my watercolor sketchbook.
---
After a delightful 5-day stay in Porto, we took the express train to Lisbon for the second half of our stay in Portugal. We walked from the train station to our hotel in the Bairro Alto, where the energetic hotel receptionist, Miguel, was surprised that we had walked 40 minutes from the train station ("You know we have a metro?"). We enjoyed the walk as it gave us our bearings in this cosmopolitan city. It also sent us through the touristy cruise ship landing area that we pledged to avoid for the remainder of our stay. We hiked up flights of stairs to reach the neighborhood of our hotel, which was much quieter and less crowded.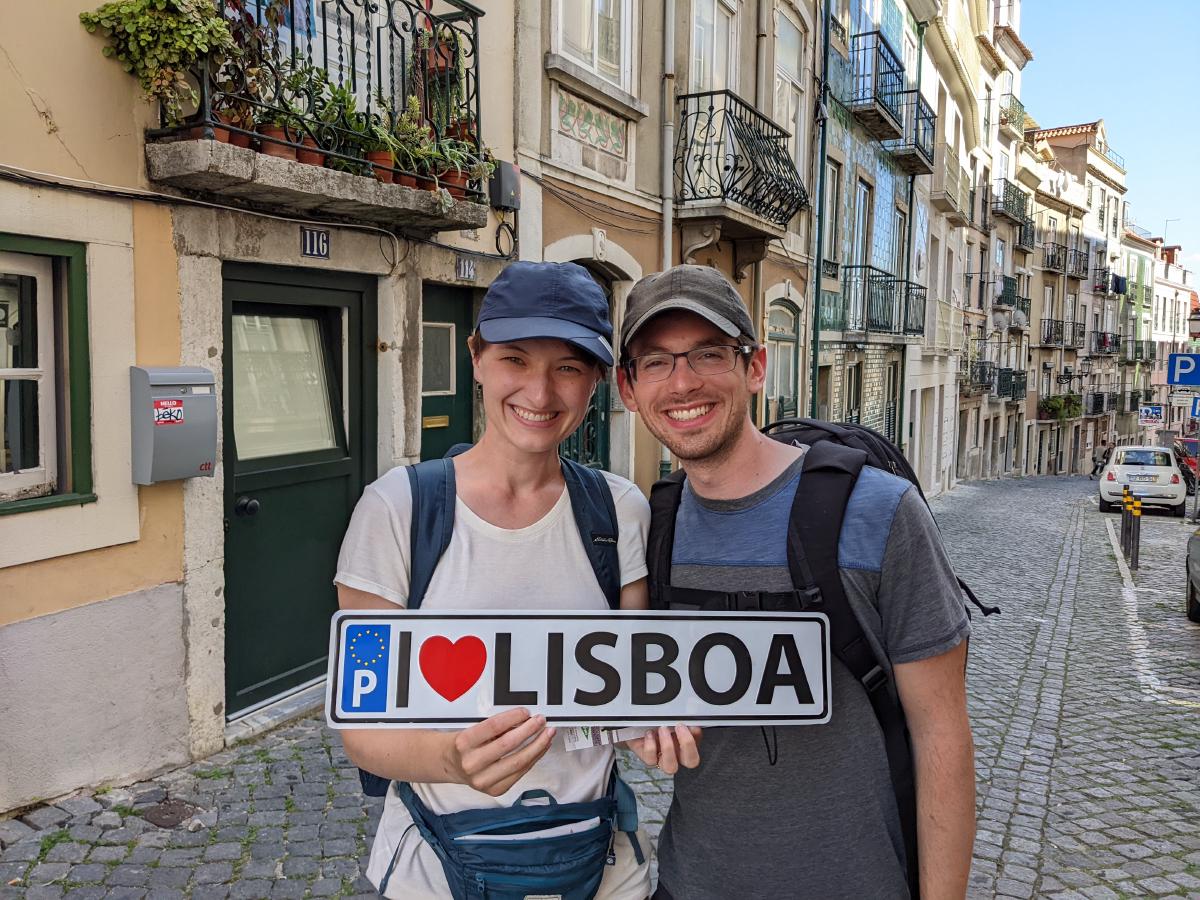 ---
Exploring Lisbon
Lisbon is a much larger and more modern city than Porto. Porto's old town is over 500 years old, with twisting pathways and stairs. In contrast, Lisbon was destroyed in a 1755 earthquake and was rebuilt with large promenades, mosaic sidewalks (they are slippery!), public parks, viewpoints (also known as miradouros), and 18th century architecture reminiscent of the main streets in Paris. It is a cruise ship hub, but we avoided the flat shopping area near the Praça do Comércio and historic Tram 28 (a pickpocket magnet now covered with crypto advertisements) and felt more like locals.
Lisbon is known for the elevadors, trams, and lifts used to navigate the city's many hills.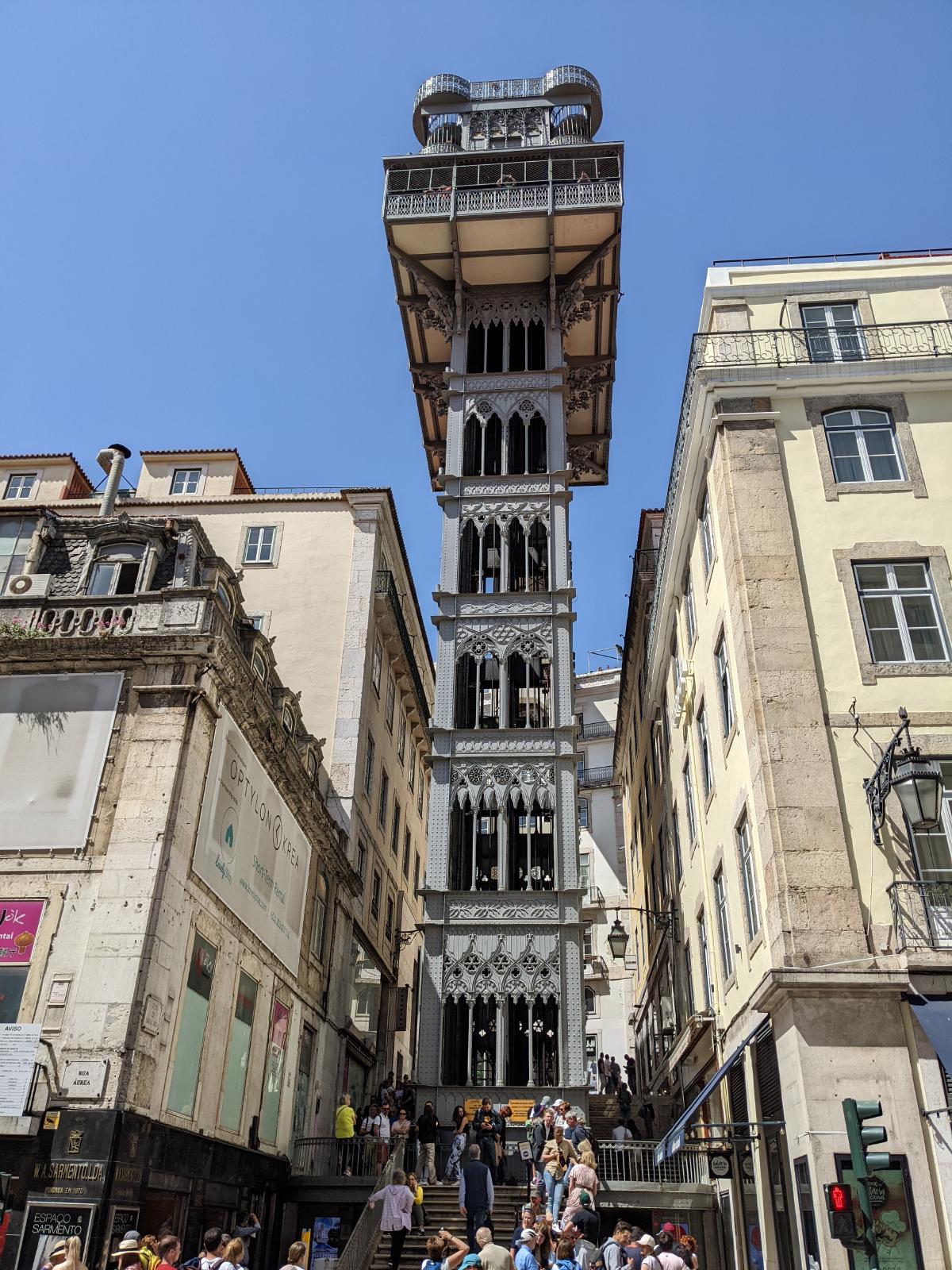 My favorite part about Lisbon was how we could just wander around and stumble across stunning architecture, parks, viewpoints, and bakeries. One of my best memories was spending an afternoon in a picturesque residential square with a fountain, eating gelato from Nannarella - recommended by our neighbors from home - and painting one of the buildings from earlier in the day.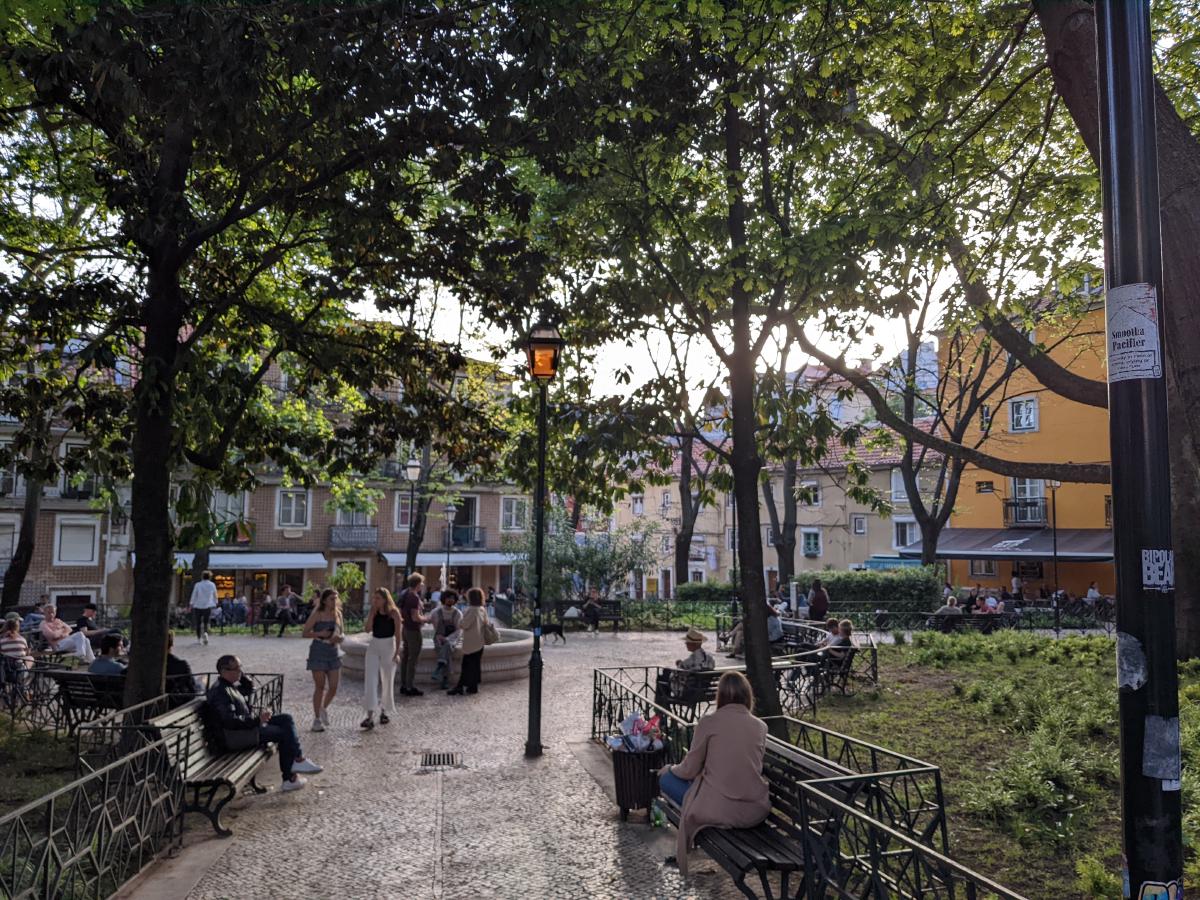 Another pleasant experience was exploring the city's many viewpoints. Miradouro da Senhora do Monte, in the Alfama district, was our favorite. The tree-covered park overlooks the city, the 25 de Abril Bridge, and many of the areas back in the Bairro Alto where we were staying. Multiple musicians played music while we sat and ate a loaf of bread which we'd purchased from Micro Padaria earlier in the day.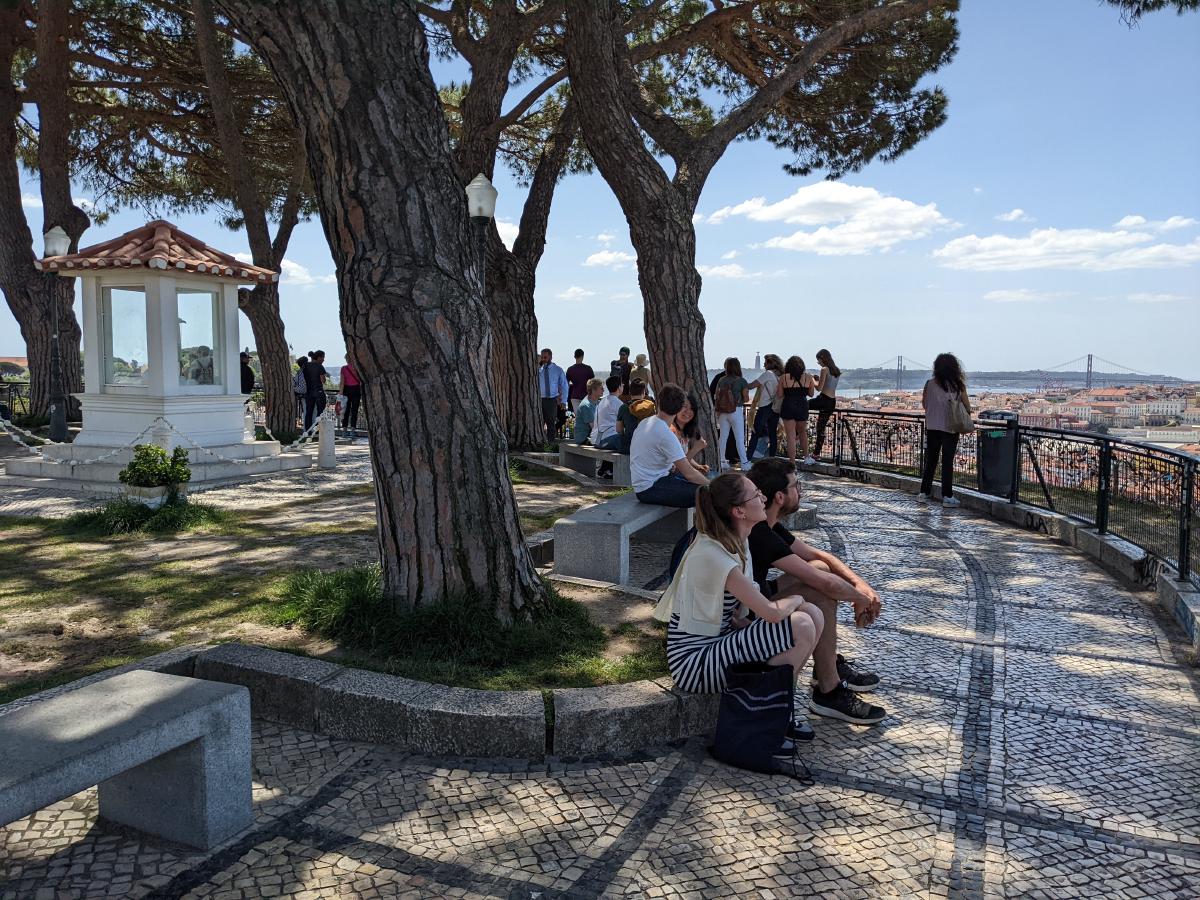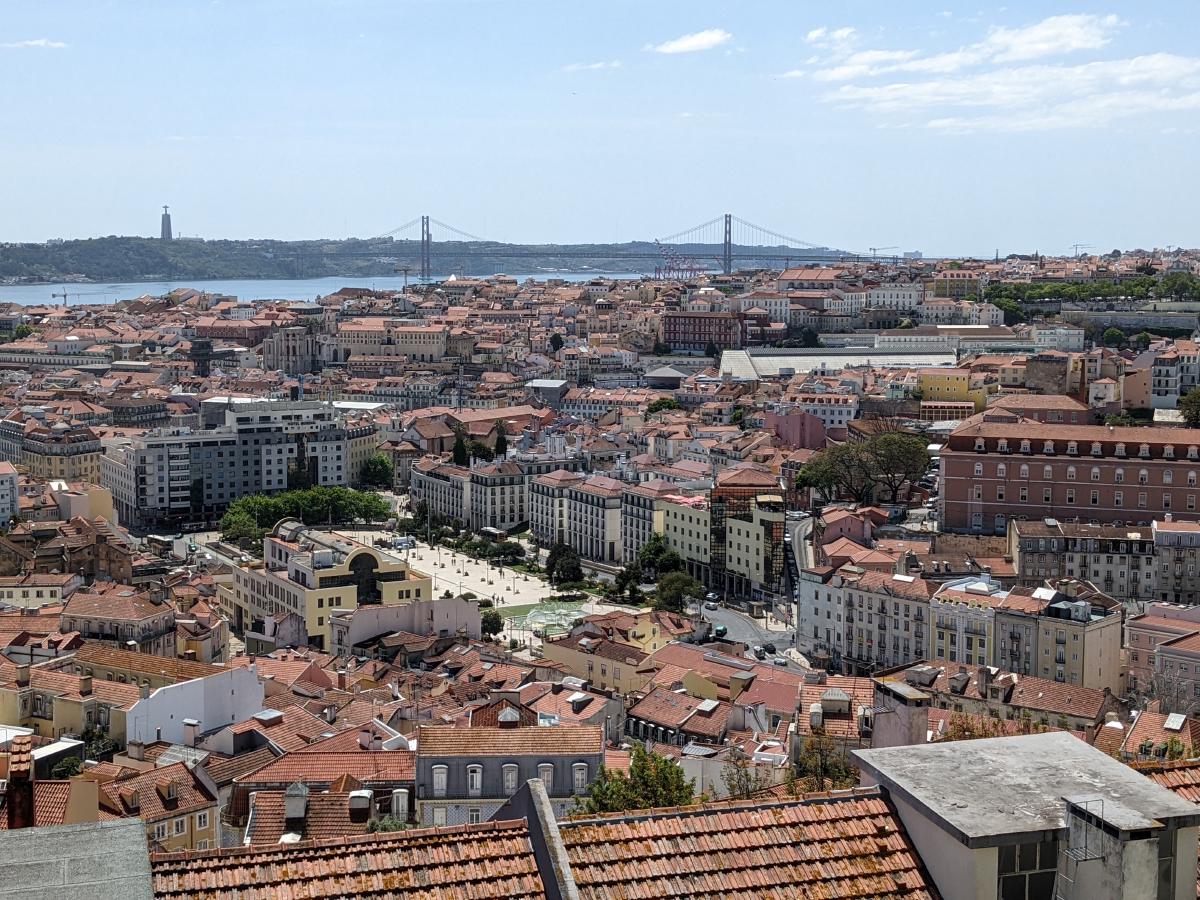 Miradouro de São Pedro de Alcântara was right by our hotel in the Bairro Alto and consisted of a rose garden with statues and benches right next to the Elevador da Glória. Miradouro das Portas do Sol is also very popular for its vista of the iconic red roofs but we felt like it was more touristy than the others (it had multiple bars and was at the top of the Tram 28 route).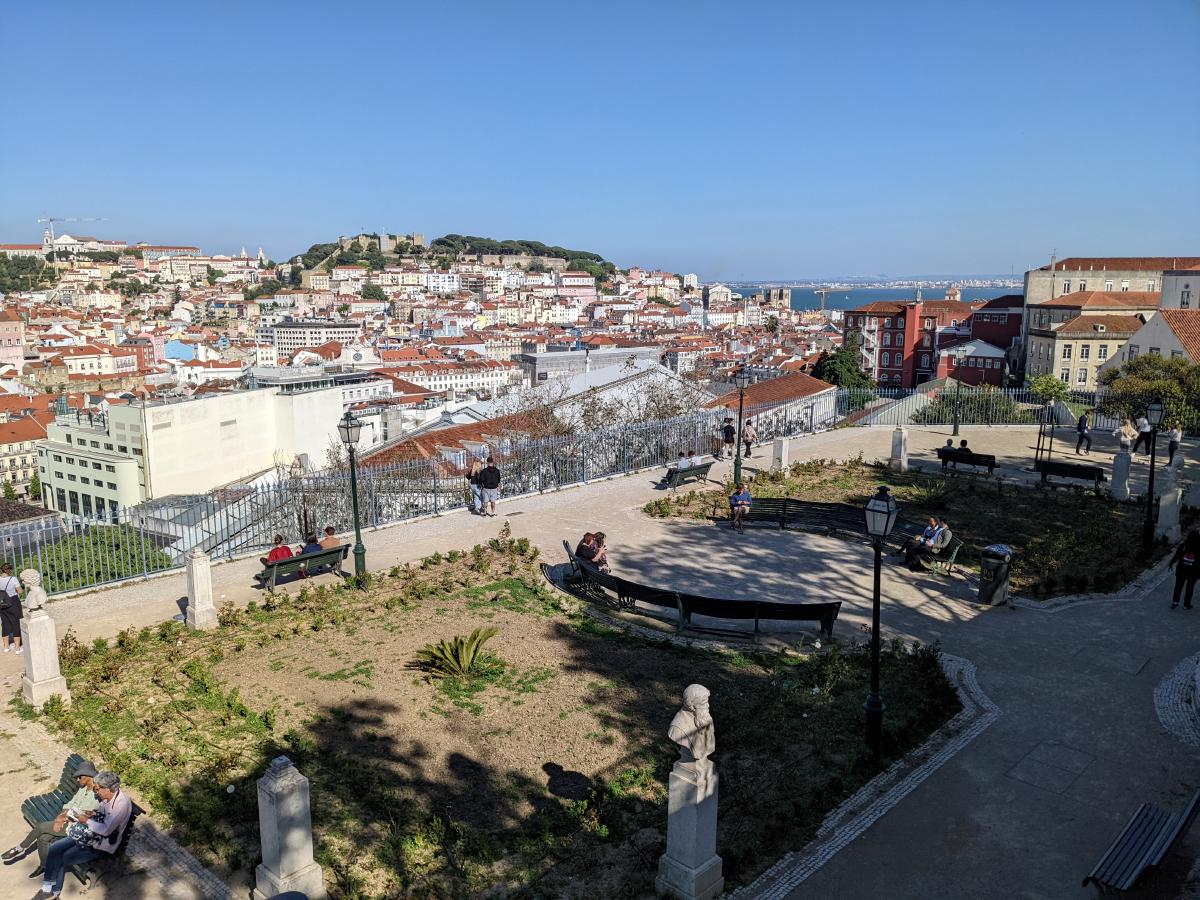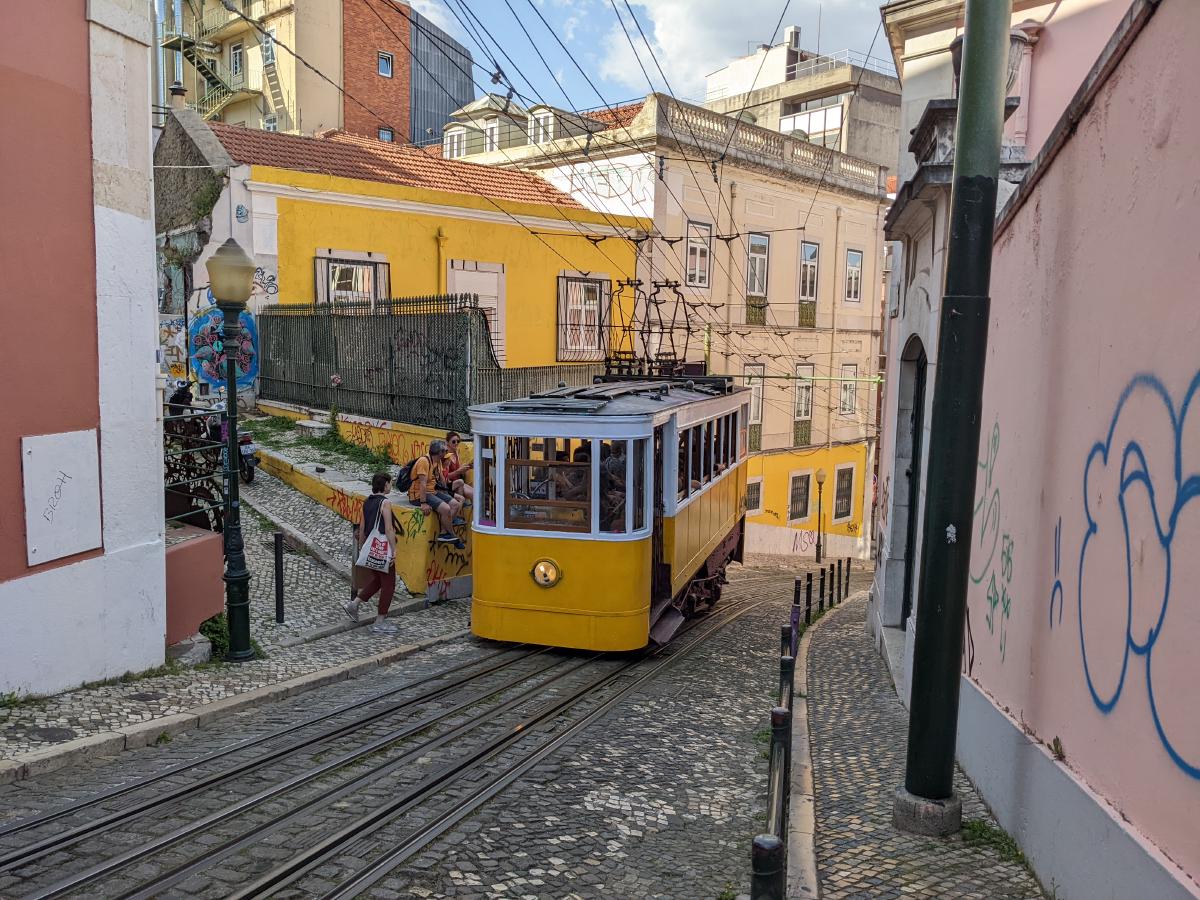 Magical Palaces in Sintra
On our first full day in Lisbon, we hopped on an early morning train from Rossio Station and took a day trip to Sintra, a small town about an hour west of Lisbon. The town and surrounding hills are filled with palaces and castles used as a country retreat for the wealthy and royalty over the years to escape the heat of the city. We hopped on the first bus to be first in line at Pena Palace, which is arguably the most iconic building in Portugal. Reserve tickets in advance! We opted for the 10am time slot and walked right in but could tell that 10:30 or later would have required a wait in a massive line.
Pena Palace is built on top of a hill overlooking the ocean and surrounding landscape. King consort Ferdinand II purchased a 15th century monastery in the 1830s and converted it into a Romantic-era summer palace. The architecture is a hybrid of Neo-Manueline, Neo-Gothic, Neo-Islamic and Neo-Renaissance architecture, with a traditional cloister, custom tilework, extravagant balconies, towers, domed roofs, turrets, and bright red and yellow walls. We enjoyed walking through the palace interior first, then leisurely walking around the building on the walls with stunning views of the palace and the surrounding area. Per the recommendation of our hotel receptionist, Miguel, we had brought picnic food and ate on a lovely park bench under a pergola instead of eating in Sintra town or at the expensive palace restaurant.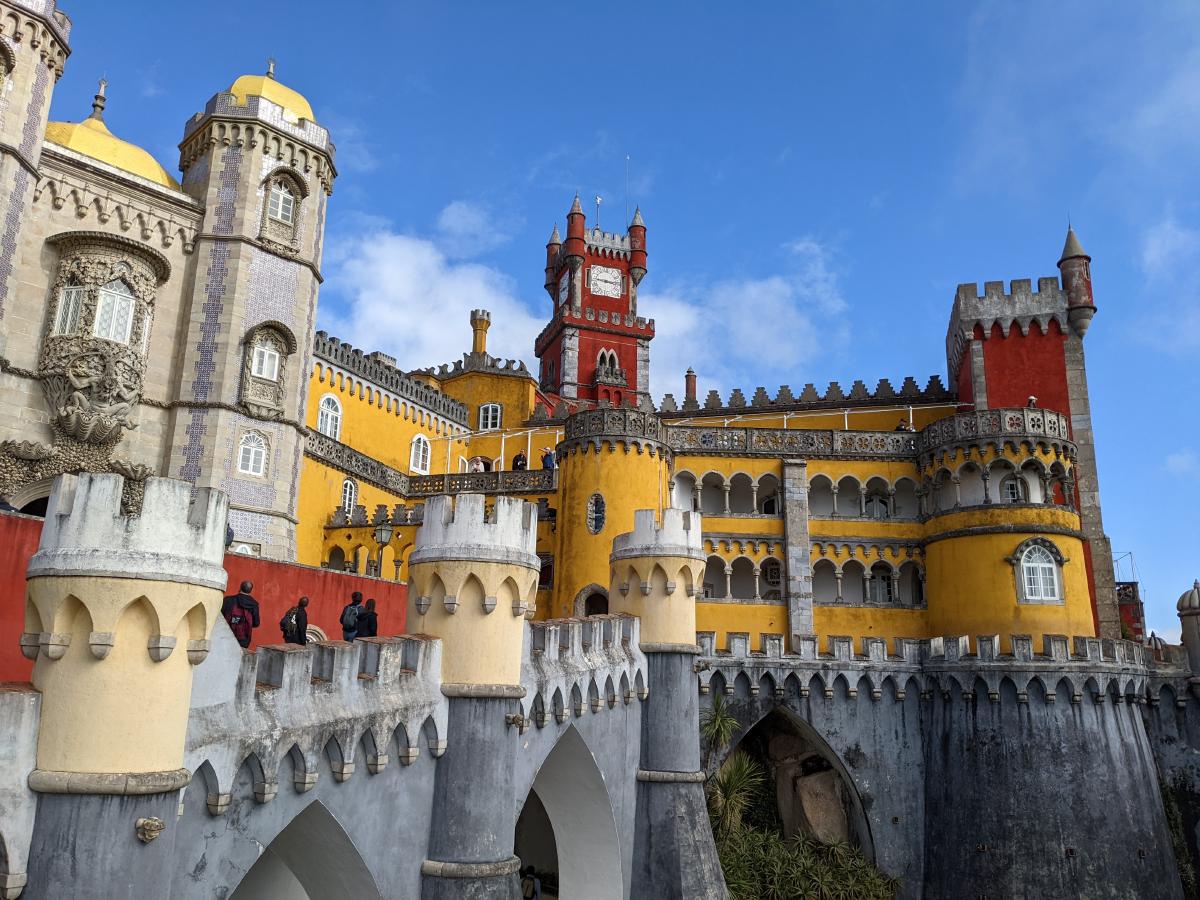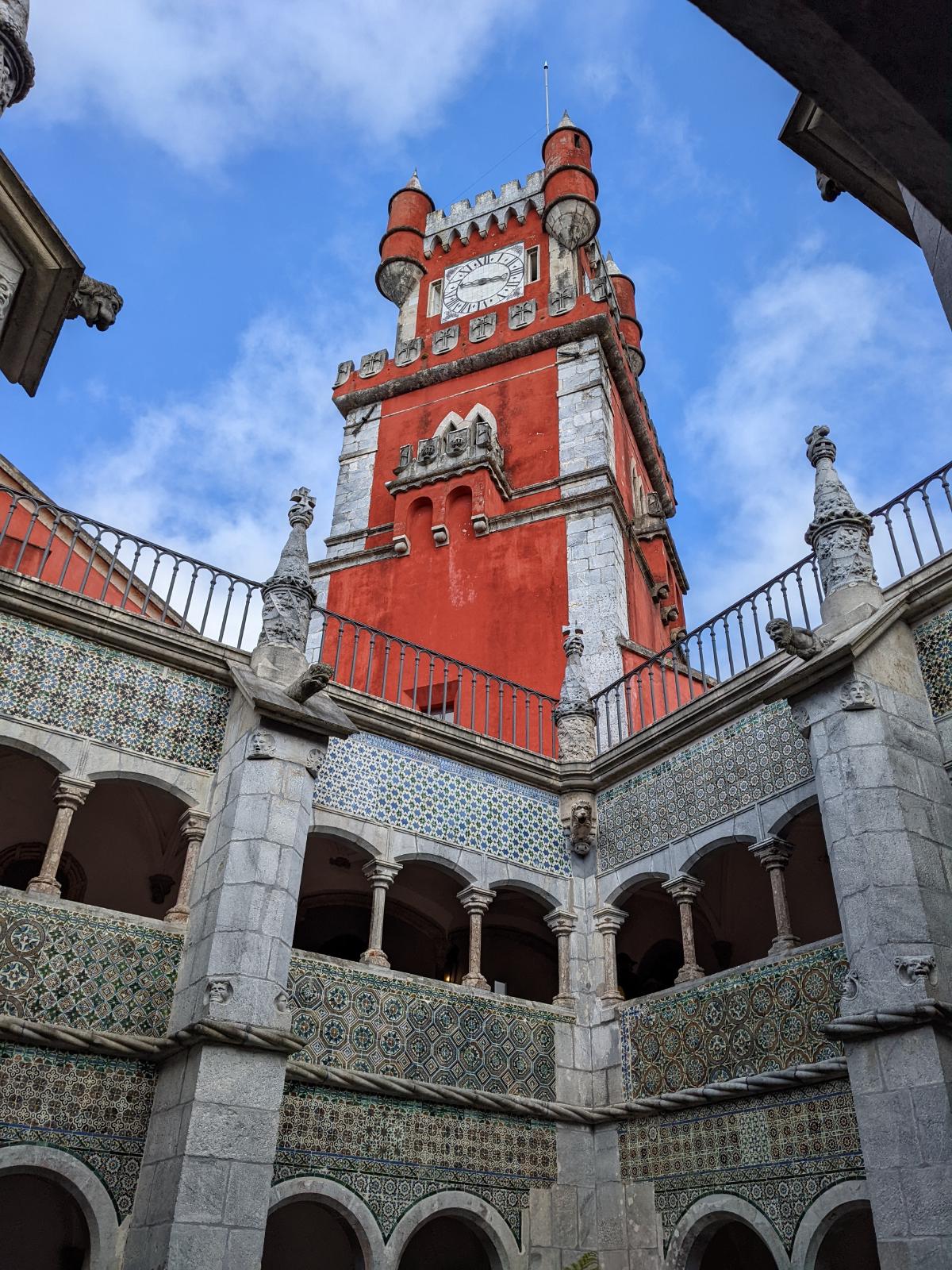 We left Pena Palace just after lunch and took the bus back into Sintra, where we walked to Quinta da Regaleira, a 16th century Renaissance-style manor with extensive gardens. The park is filled with fairytale elements like grottoes, a network of underground caves and waterfalls, turrets, fountains, and the Initiation Well, a spiral staircase heading down 27 meters. Some of the caves were so dark that we needed to use our phone flashlights to avoid getting lost!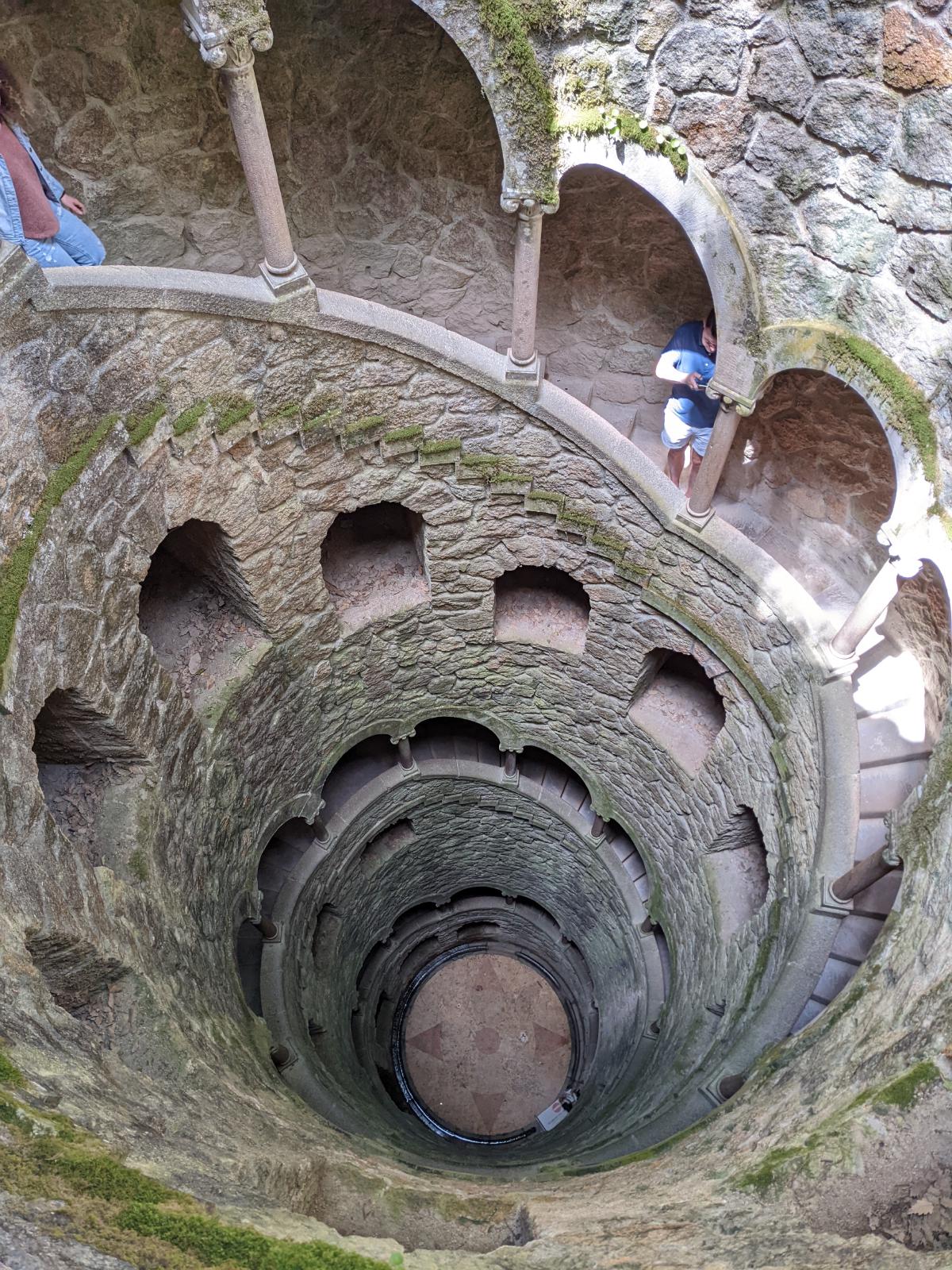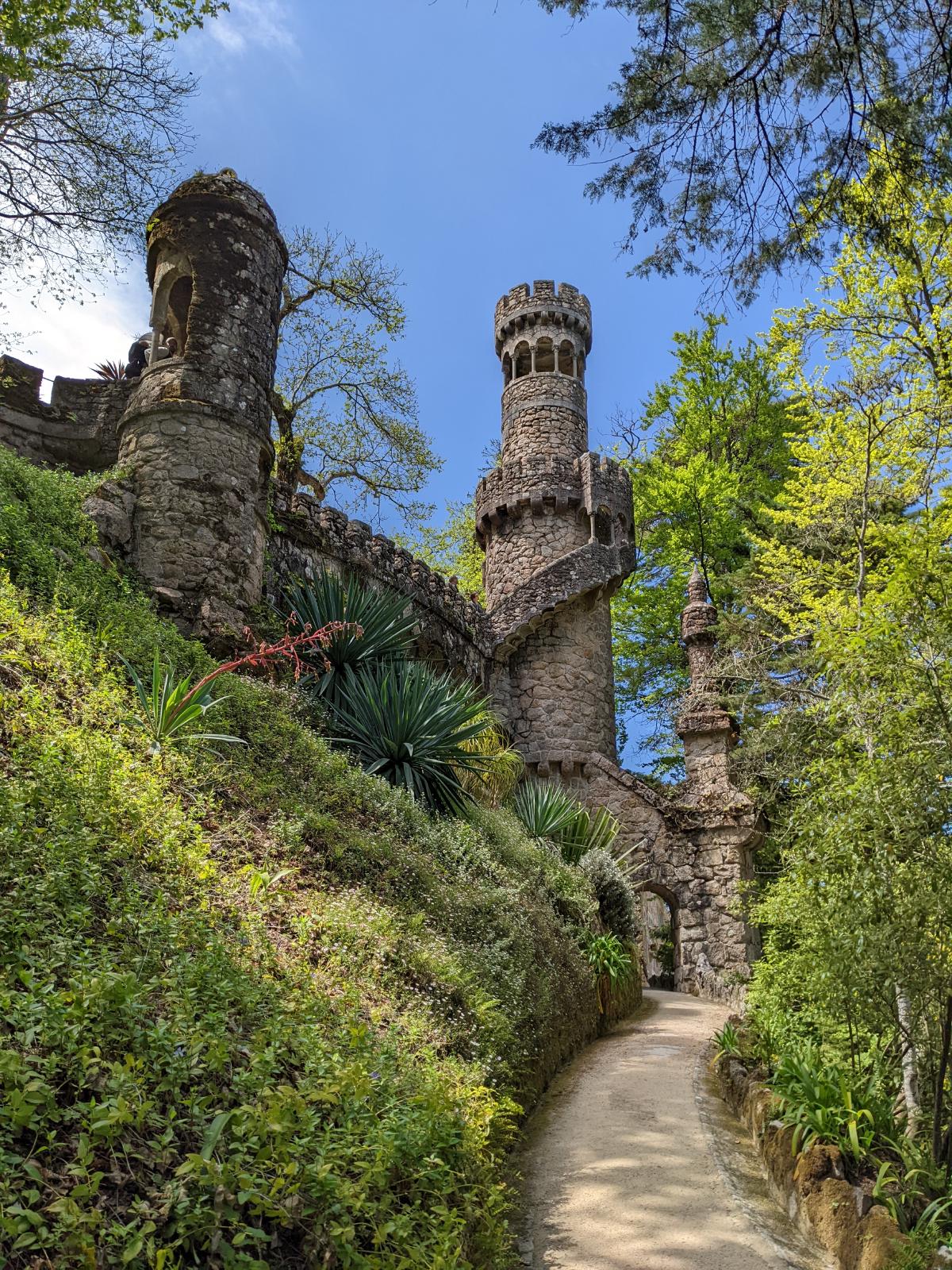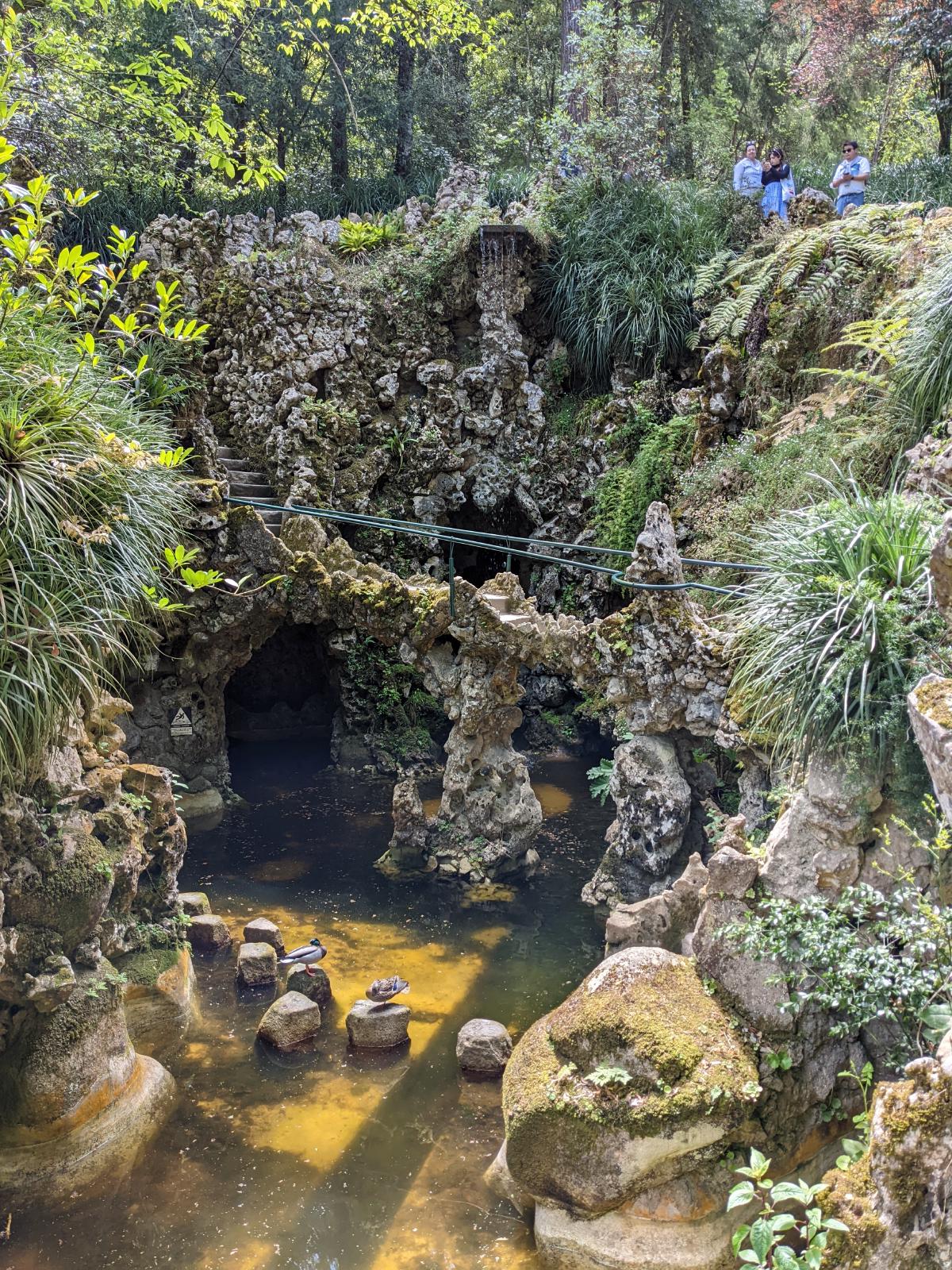 It's easy to overdo a day in Sintra, as there are many more palaces nearby that are also stunning and unique. We enjoyed visiting these two and know that we can always go back another time to see more.
Lisbon Architecture
One of the most unique buildings in Lisbon is the Carmo Convent, a church built in 1389 that was heavily damaged in the 1755 earthquake. Instead of restoring the convent, it is now an archaeology museum with both open-air elements and enclosed areas. It was awe-inspiring to see the skeleton of the Gothic church filled with historic statues, pediments, stella, and other items. The antechambers were enclosed spaces that included more fragile items, including artifacts from ancient settlements in Portugal, stunning tilework, and even a mummy. On the day we visited, the museum was free to enter as there was an archaeology festival.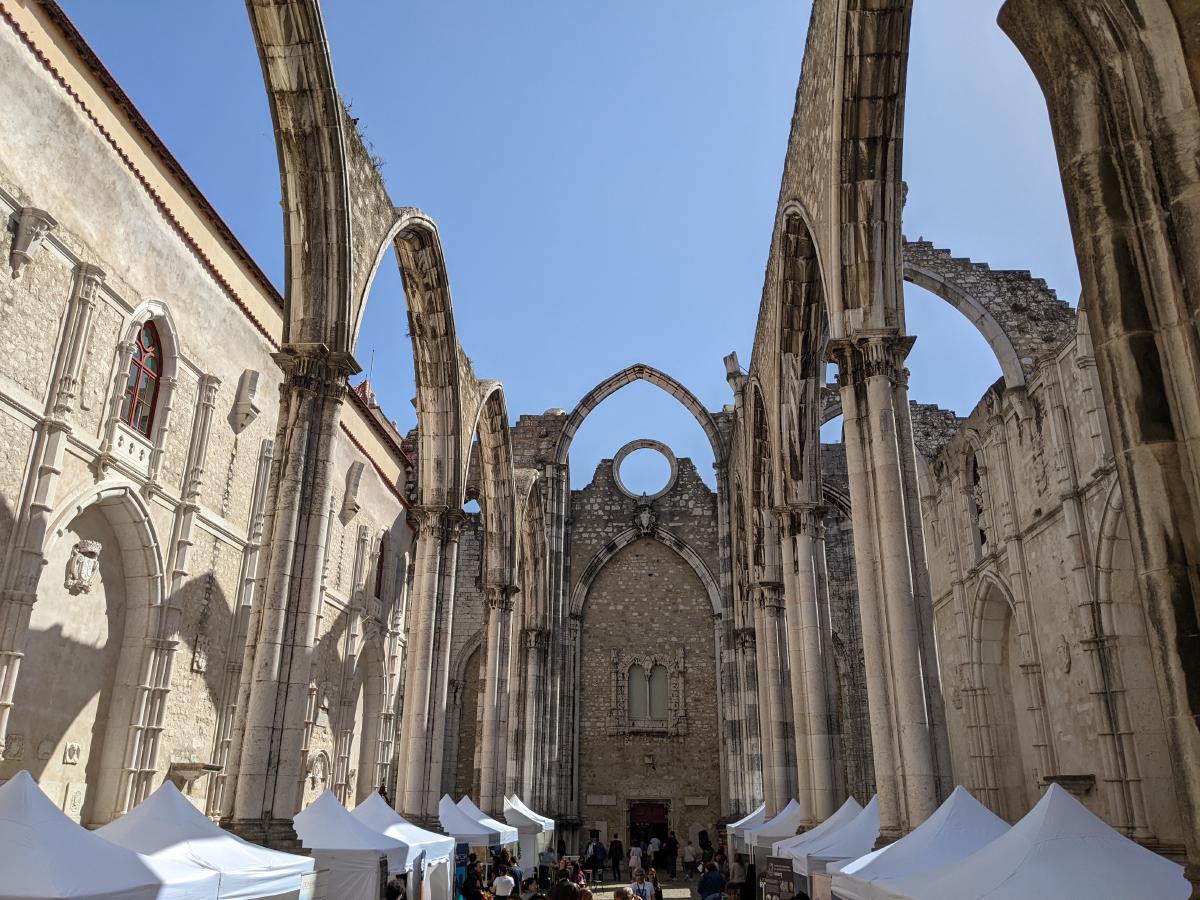 On our main Saturday in Lisbon we purchased the Lisboa Card, which gave us 24 hours to try and see as many "touristy" attractions as possible. I'll preface this by saying that this day was incredibly stressful since I felt like we were just checking off items and waiting in lines, but it was an efficient way to knock out some of the most popular items so that the rest of the trip could be stress-free and leisurely. It also let us jump straight to the front of the line (or to the line with all the other card users).
We started at Pastéis de Belém, an iconic pastry shop that is the birthplace of Pastéis de Nata. While it was a unique experience eating there (they have what seems like endless rooms going back into the building) I wouldn't recommend the food or drinks here. Stick to the smaller cafes.
Right next door is the Jerónimos Monastery, opened in 1495 and built in the Late Gothic Manueline Style. The magnificent cloister is spectacular (but yet again crowded with tourists) and we didn't feel that it was worth the 10-euro price of admission, as there was very little information inside. The attached ornate church holds the remains of Portuguese explorer Vasco de Gama and the poet Luís de Camões. Since the monastery was secularized in the late 1800s, two of its wings have been converted into the Maritime Museum and the National Archaeology Museum. This was a common theme throughout our trip - a formerly religious building now being used as a museum or secular public space.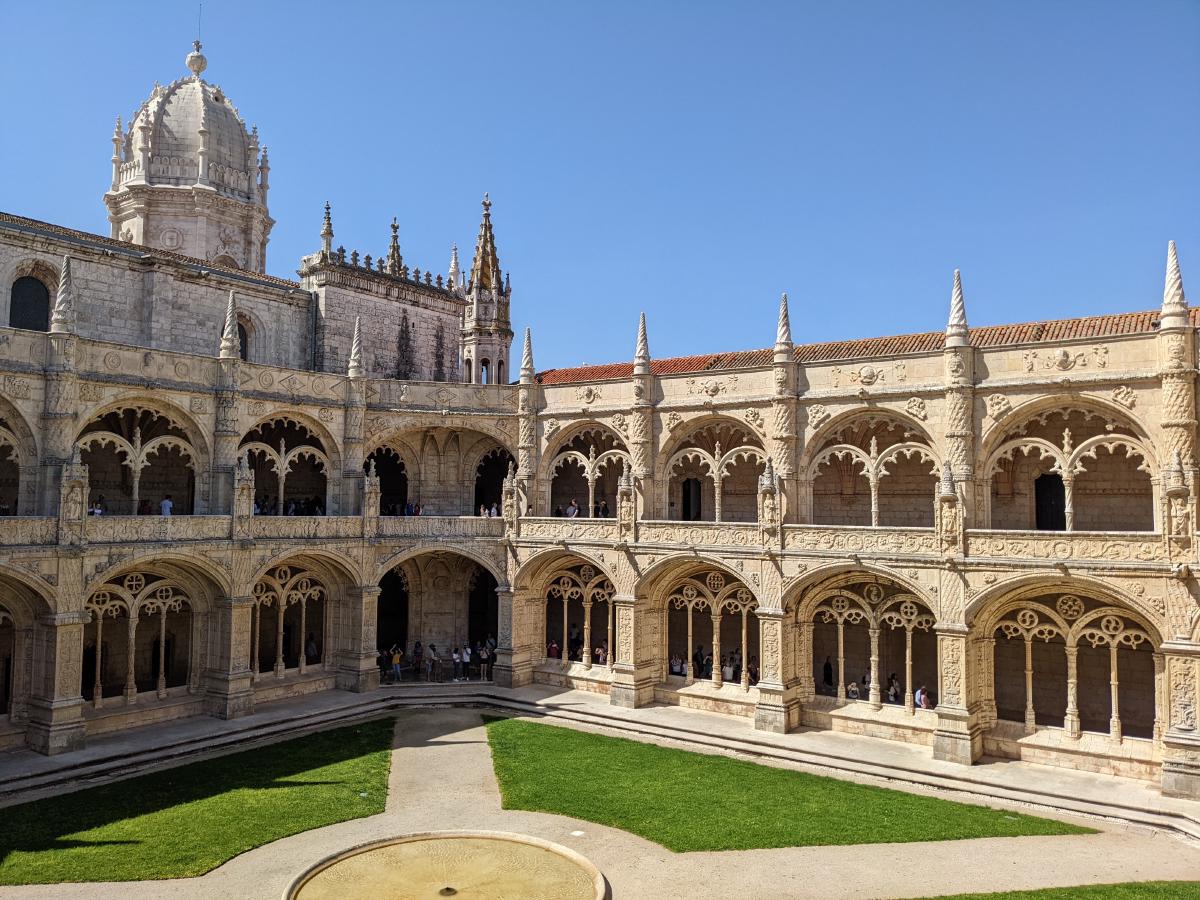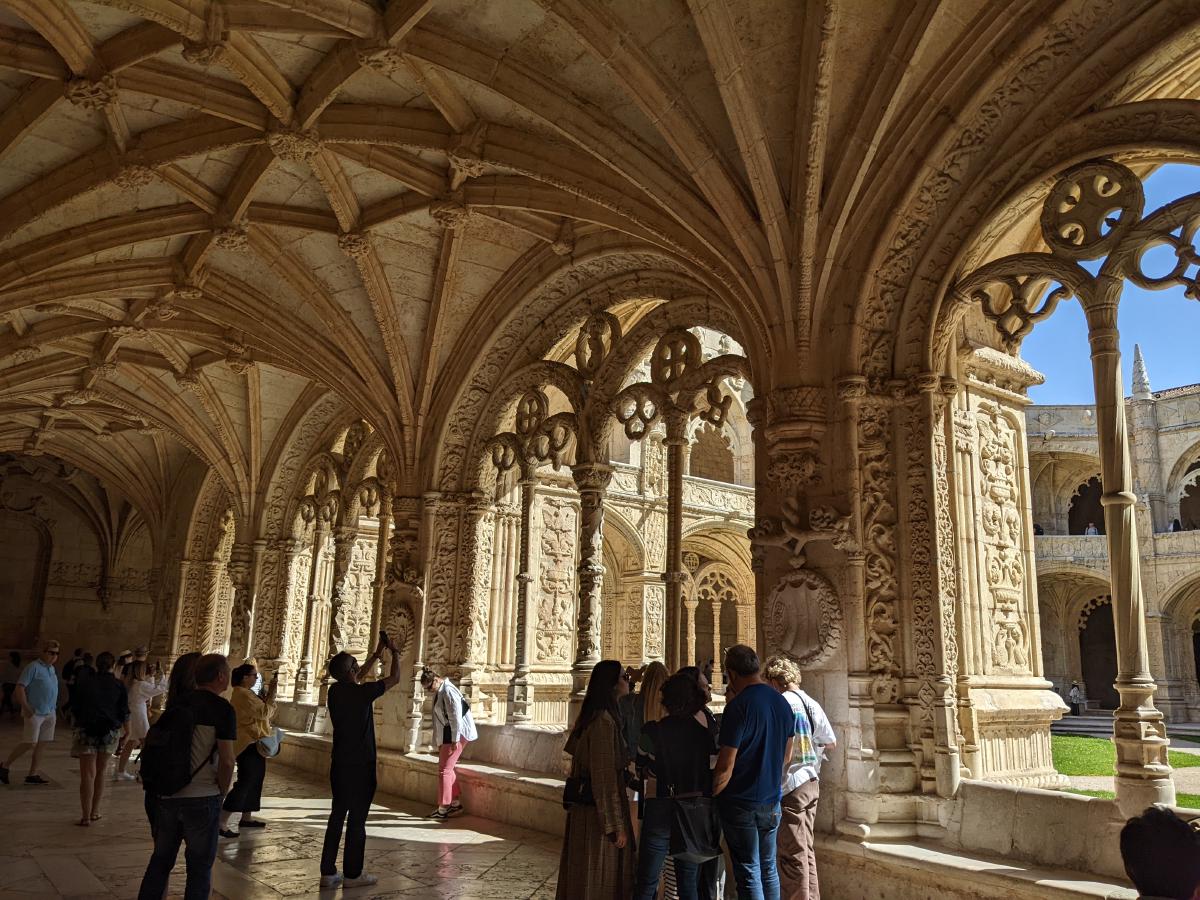 We walked to the nearby Monument of the Discoveries, a prominent stone sculpture jutting out over the river and commemorating Portugal's robust seafaring tradition. Just a bit down the road is the Belém Tower, which is probably the second most photographed building in Portugal after the Pena Palace in Sintra. It's a 16th century fort built to mark the gateway between Lisbon and the sea. We went inside the tower but weren't allowed to go up to the top floor which was a disappointment after hiking up the one-way spiral staircase.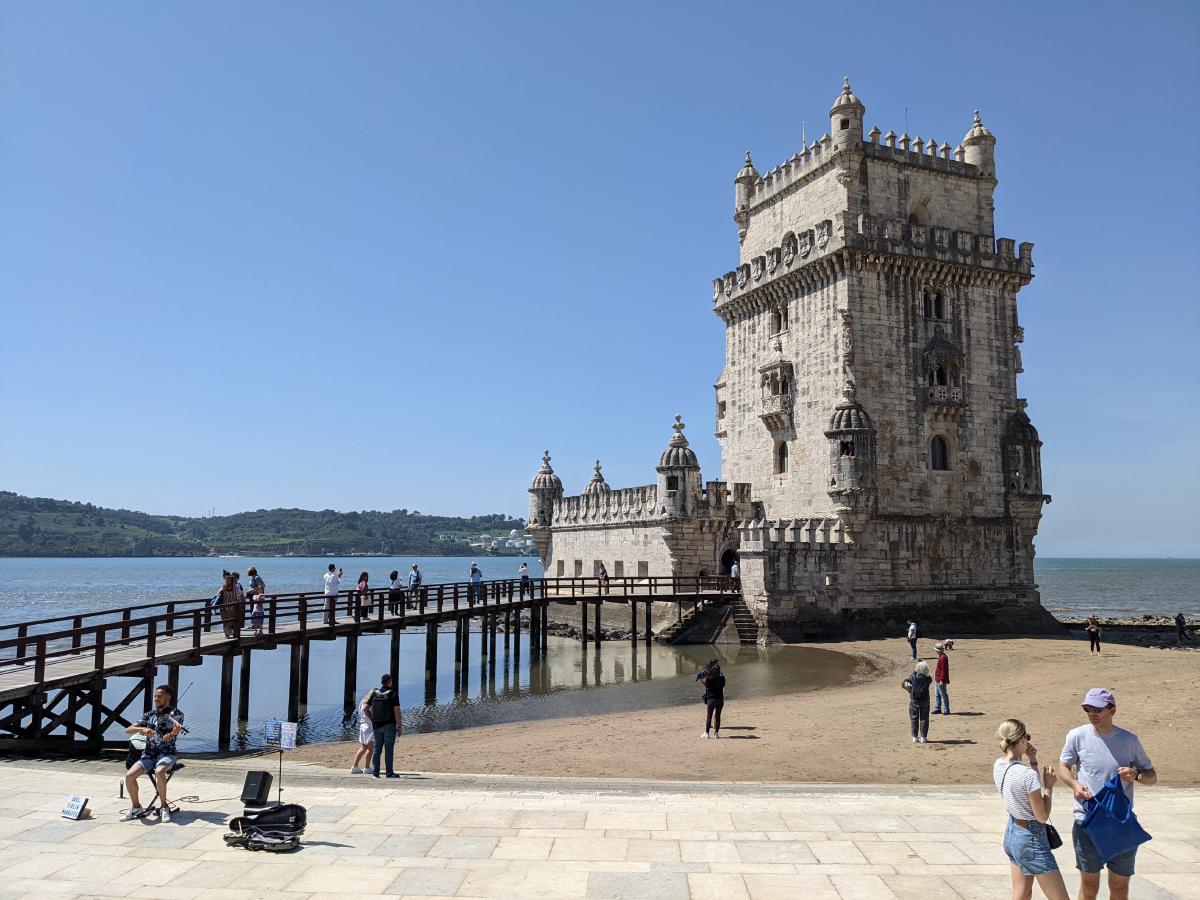 We left the touristy part of town and made our way to the Pilar 7 Bridge Experience. The 25 de Abril Bridge was completed in 1966 and is very similar in aesthetic to the Golden Gate Bridge. The bridge experience took us inside of the tower of the bridge to see where the cables were anchored in the ground, then up an elevator to the bridge deck where we stood on a vertigo-inducing glass floor.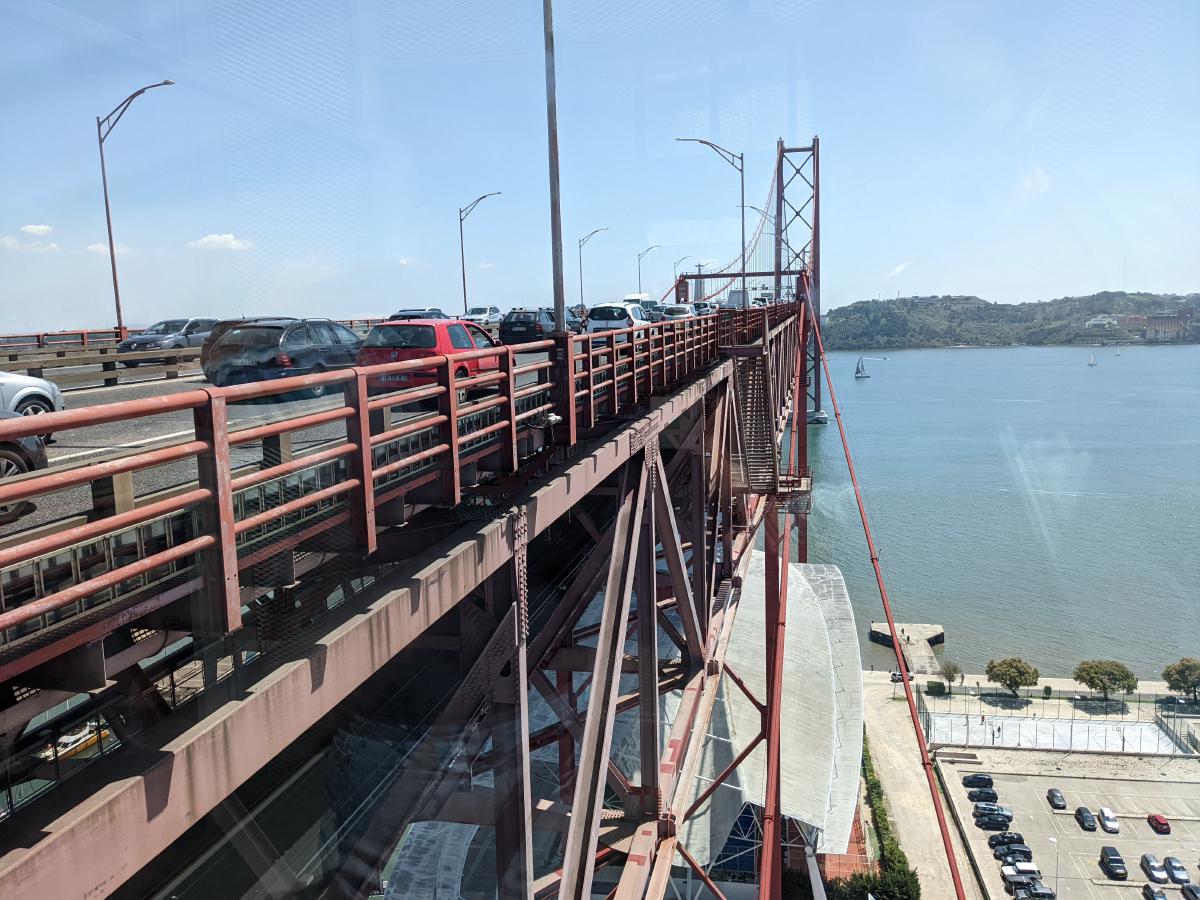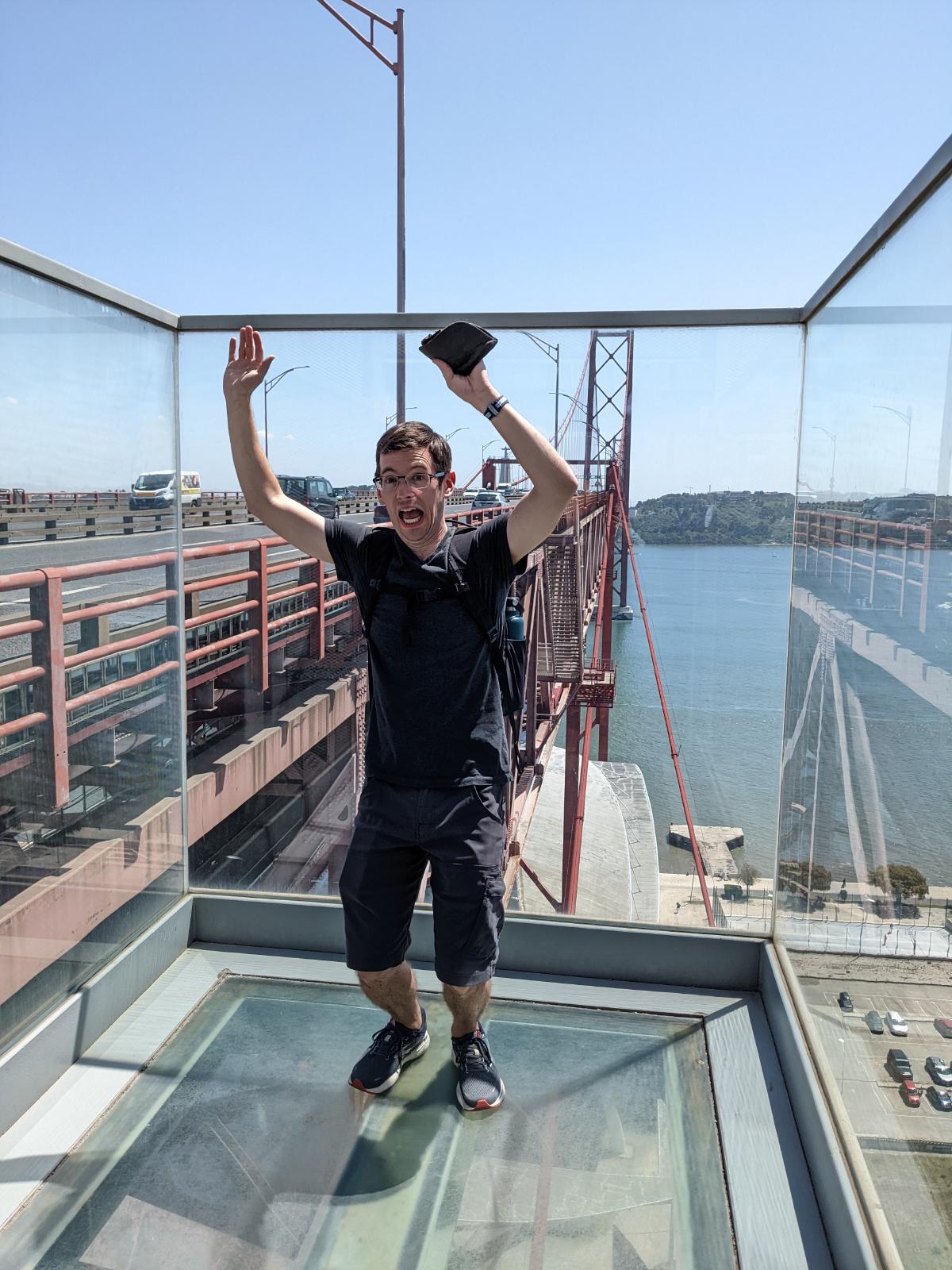 To wrap up the day, we took the bus to the other side of town and stopped at the National Tile Museum. While the Azulejo tiles were more prominent in Porto due to its rainy climate, the museum in Lisbon has the most comprehensive look at their history and provides incredible examples of the tile. Once again, this museum was built in an old church with multiple cloisters. The chapel inside the museum was one of the most stunning I have ever seen - gilded walls and ceilings, paintings on every surface, and Azulejos lining the walls. In my opinion, skip the Jerónimos Monastery and visit this museum instead.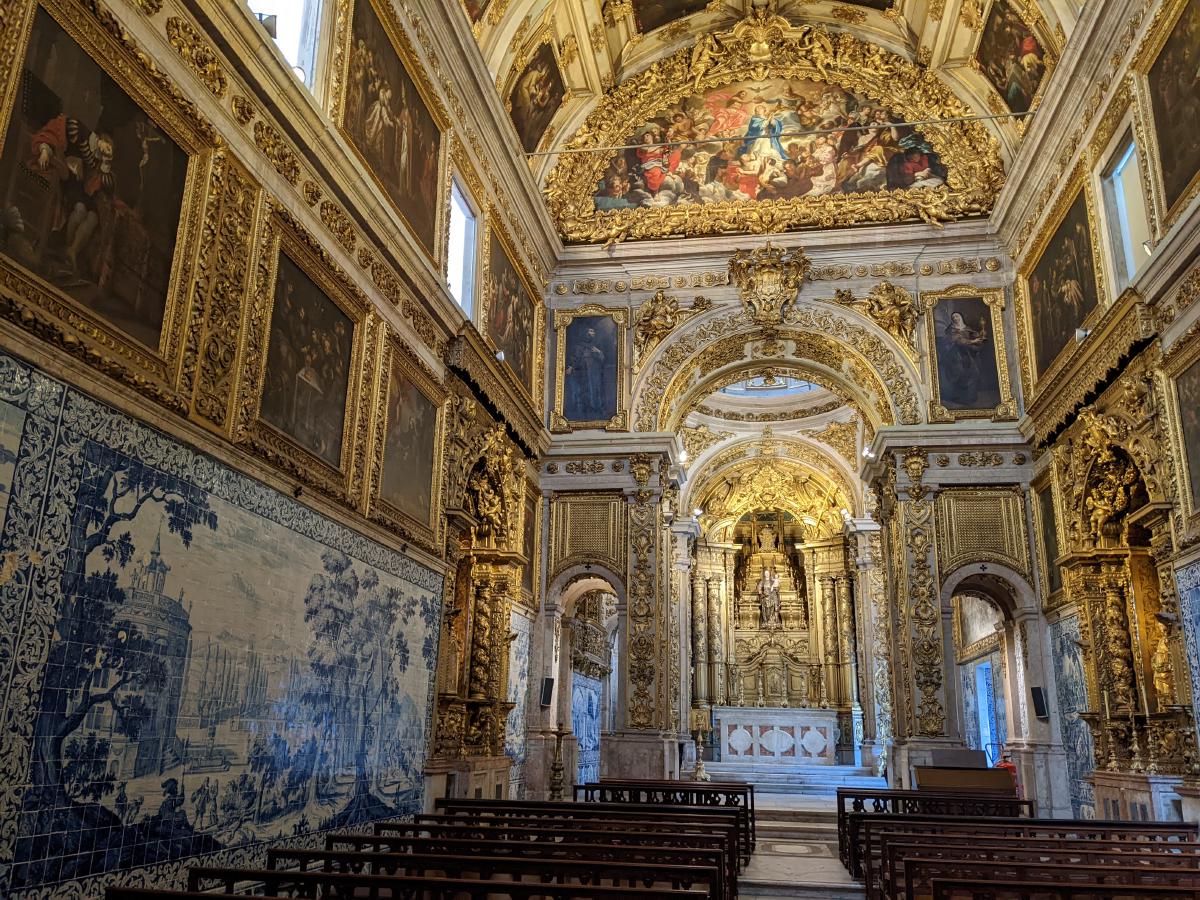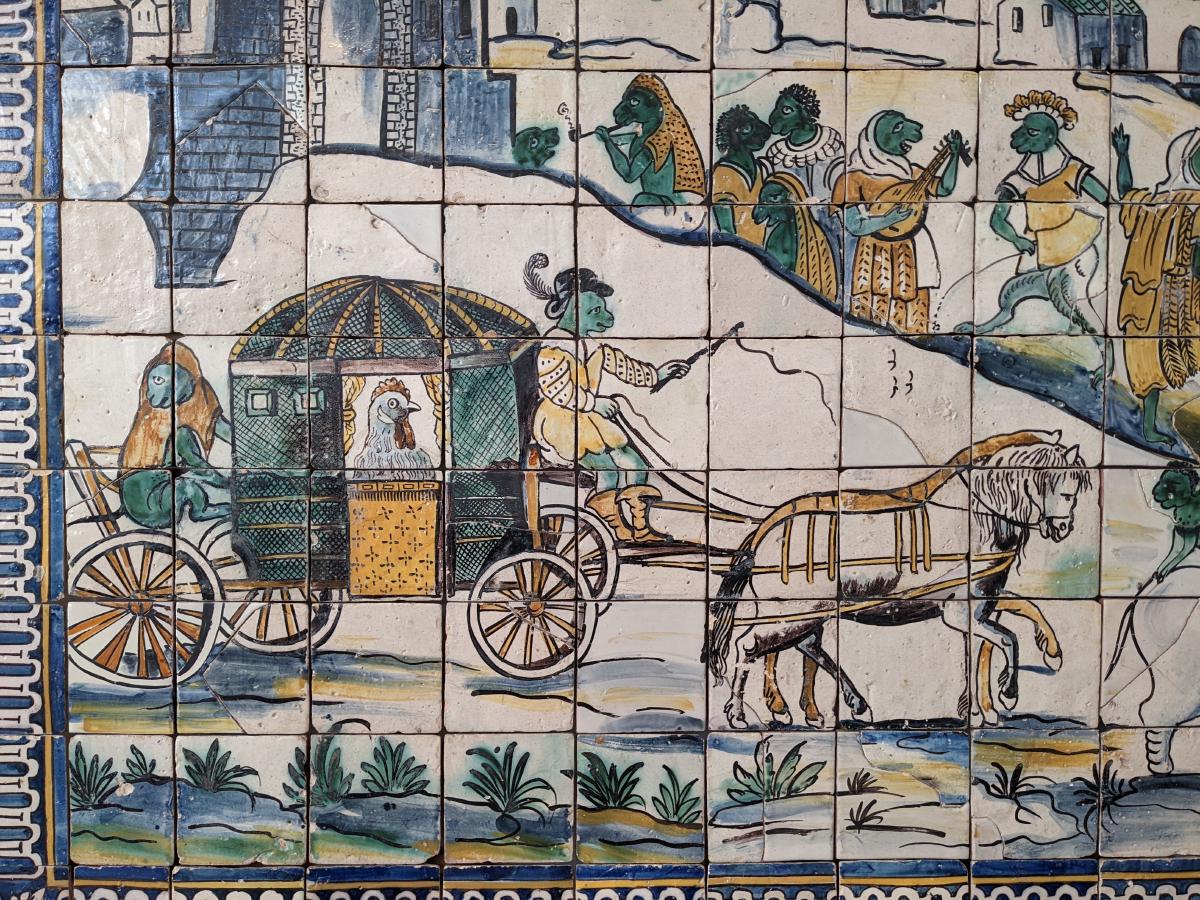 Fado Show
A highlight of our time in Lisbon was enjoying an intimate Fado show over dinner. Fado is an emotional type of performance, centering on a singer backed by a few instruments, most notably the Portuguese guitar. The music is melancholic and often tells stories of lovers lost at sea or past romances and irreparable loss. While Fado shows are often a commercialized experience for tourists, we made a reservation at Canto da Atalaia per the recommendation of Gisela, the night receptionist at our hotel. We entered the tiny restaurant and were seated at a table just before the lights dimmed and the singer of the day performed 3 gorgeous songs. Her voice reverberated through the space and needed no amplification and every diner sat in reverant silence. After singing, the lights came back on, and the restaurant erupted to life with service and chatter. Every twenty minutes, the lights would dim, and another 3 songs were performed.
Since the Fado community is very tight knit, we saw a few guest performers pop in for a set, and were able to watch both female and male singers. While we ate, the singers and musicians sat at the bar just a few feet from us and it felt like we were in a family home. The performance was built into the price of the food and was very reasonable for dinner and a show. We even ordered chorizo, which was served flambé style!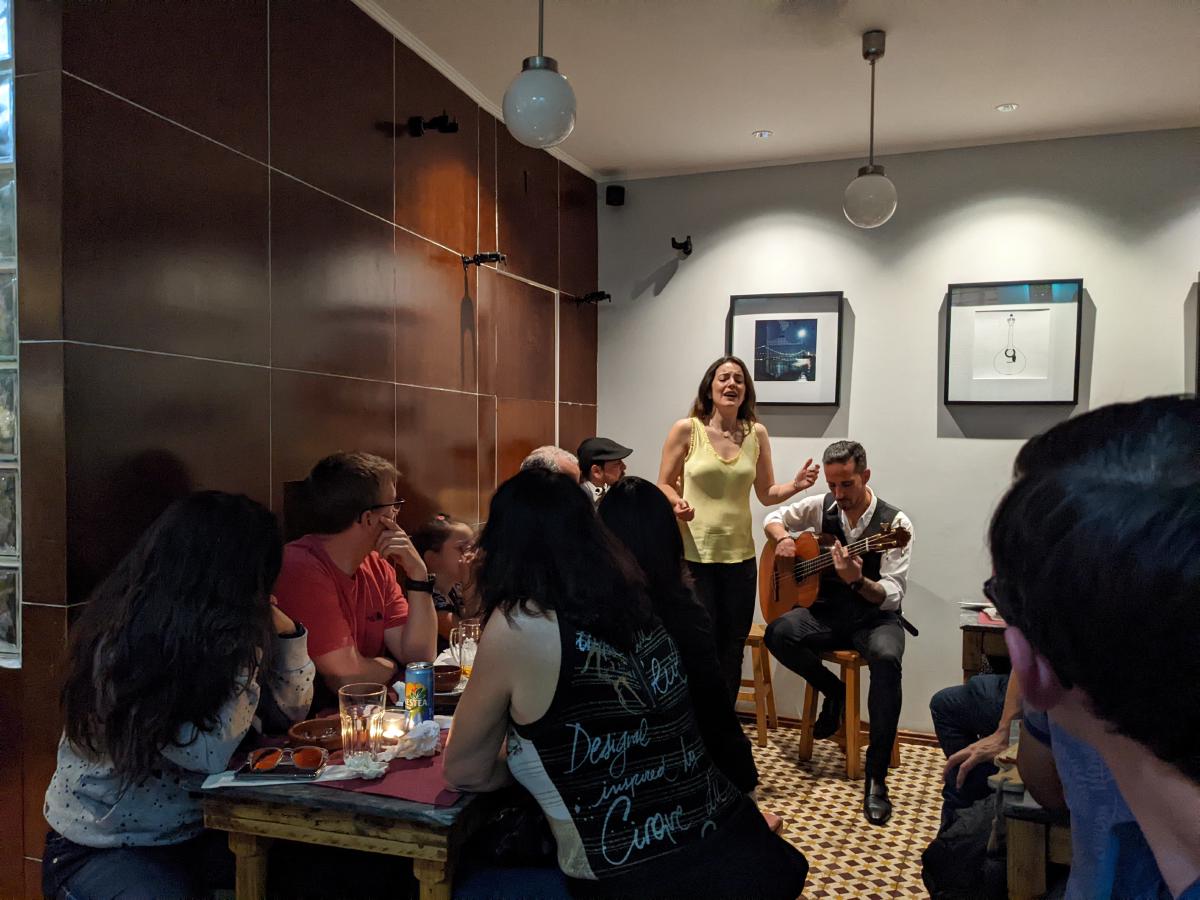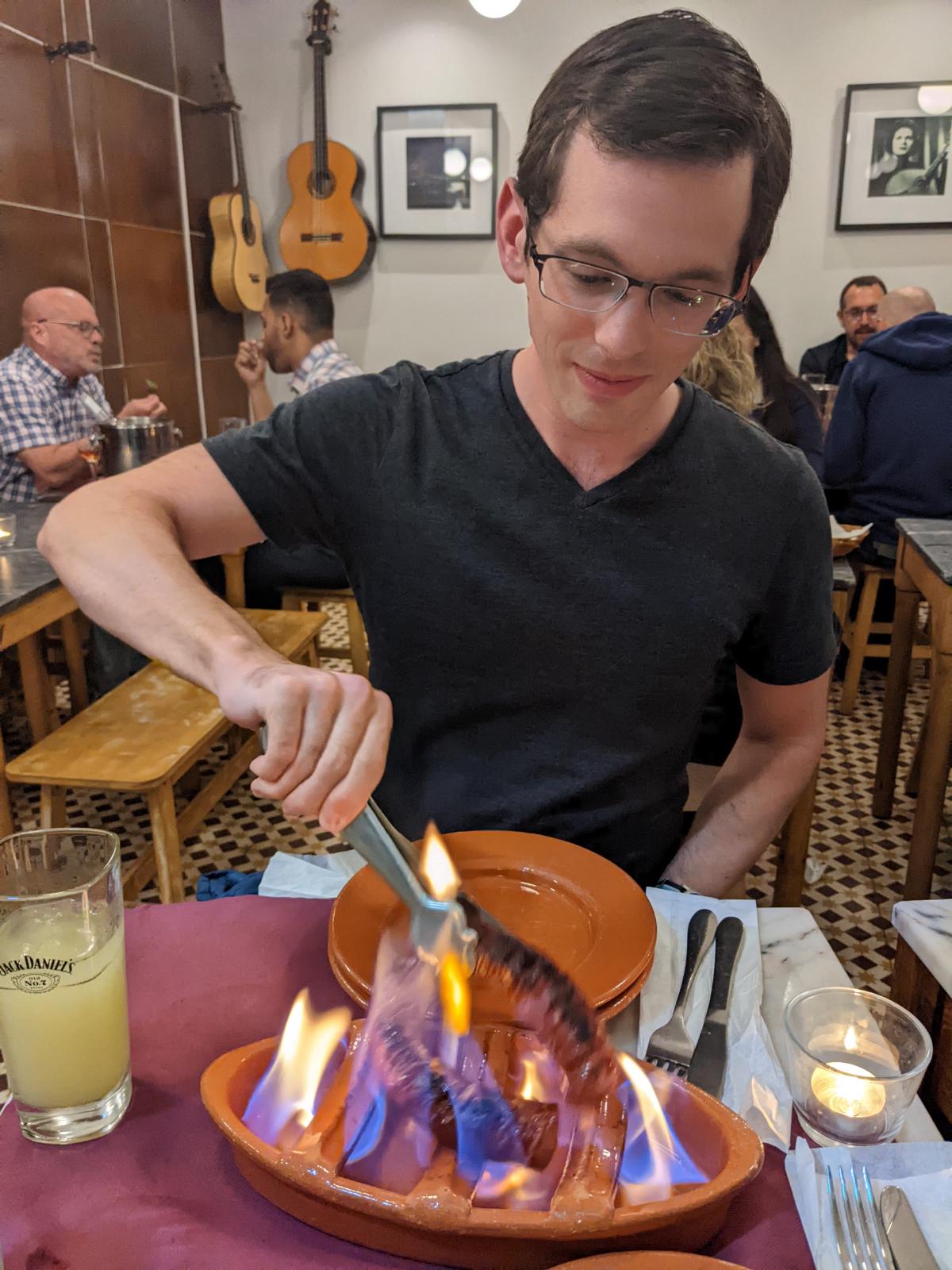 ---
Lisbon Food
And now, it's time to reveal all about the pasta and bread promised in my last post. Lisbon is a vibrant city full of excellent food from many different countries and cultures. Of course, we ate plenty of traditional Portuguese food (an entire gilt-head bream fish, rissois dumplings, and salt cod fritters) but we branched out more than we did in Porto, as we'd already tried many of the staples.
The Most Interesting Meal: Alongside the same cute park (Praça das Flores) where I sketched during the day is an Iranian restaurant, Cafeh Tehran, which is owned and operated by an Iranian immigrant. We indulged in eggplant, Koofteh meatballs in tomato sauce, and delicious focaccia with homemade spreads. Many dishes were topped with caramelized onions, mint-yogurt sauce, and a liberal scattering of pomegranate seeds.
The Best Desserts: Portuguese food is heavily influenced by its ties to Brazil, and desserts are no exception. Just a block from our hotel was an adorable patisserie called Smor, where we enjoyed pão de queijo (warm cheese bread) in waffle format and brigadeiros, a fudge-like ball rolled in sprinkles. We loved supporting these small cafes and restaurants and ordering from the store owners themselves. We also enjoyed the nearby Nannarella for Italian gelato topped with a heap of freshly whipped cream.
The Best Pasta: We ate dinner at Leonetta, a cute and modern Italian restaurant covered in photographs and posters, twice during our stay in Lisbon. The first time we ate there, I was introduced to my new favorite pasta shape - Mafaldine. It's like a Pappardelle (a wide strip) but with lasagna waves along the side. To my immense pleasure, it was covered in fresh tomato sauce, cherry peppers, and an entire ball of burrata that melted into the sauce and made it incredibly creamy. Absolutely divine, and only 14 euros (tax and tip included)!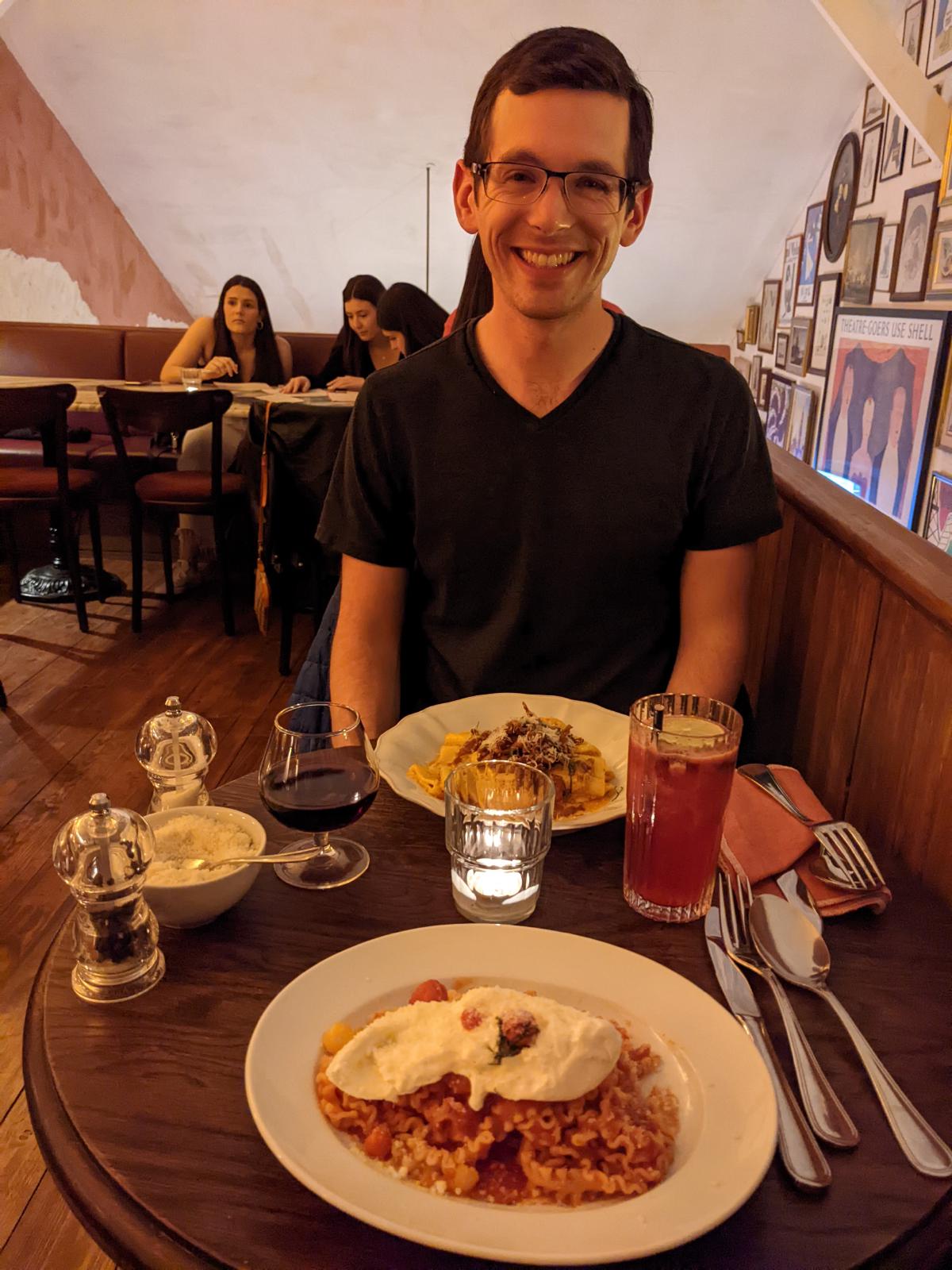 The Best Baguette: Here we go, the one you've all been waiting for! One morning before the crowds grew, we took Tram 28 to the edge of downtown to find what was supposed to be the best bread bakery (padaria) in Lisbon. Gleba did not disappoint. We bought their baguette along with an olive bread and sat outside on a park bench to dive in. The baguette was a bit larger than a French baguette - more like a rustic batard - and the combination of moisture, crumb, crust, and chew was the single best piece of bread either of us had ever eaten. About 30 seconds later the baguette was gone, as we had devoured it completely. We promptly went back inside to purchase an entire loaf of bread (sliced fresh for us!) to eat throughout the day. Whether everyone would consider it a baguette is up for question, but it was labeled as such and is now the bar for every other baguette in the world to beat.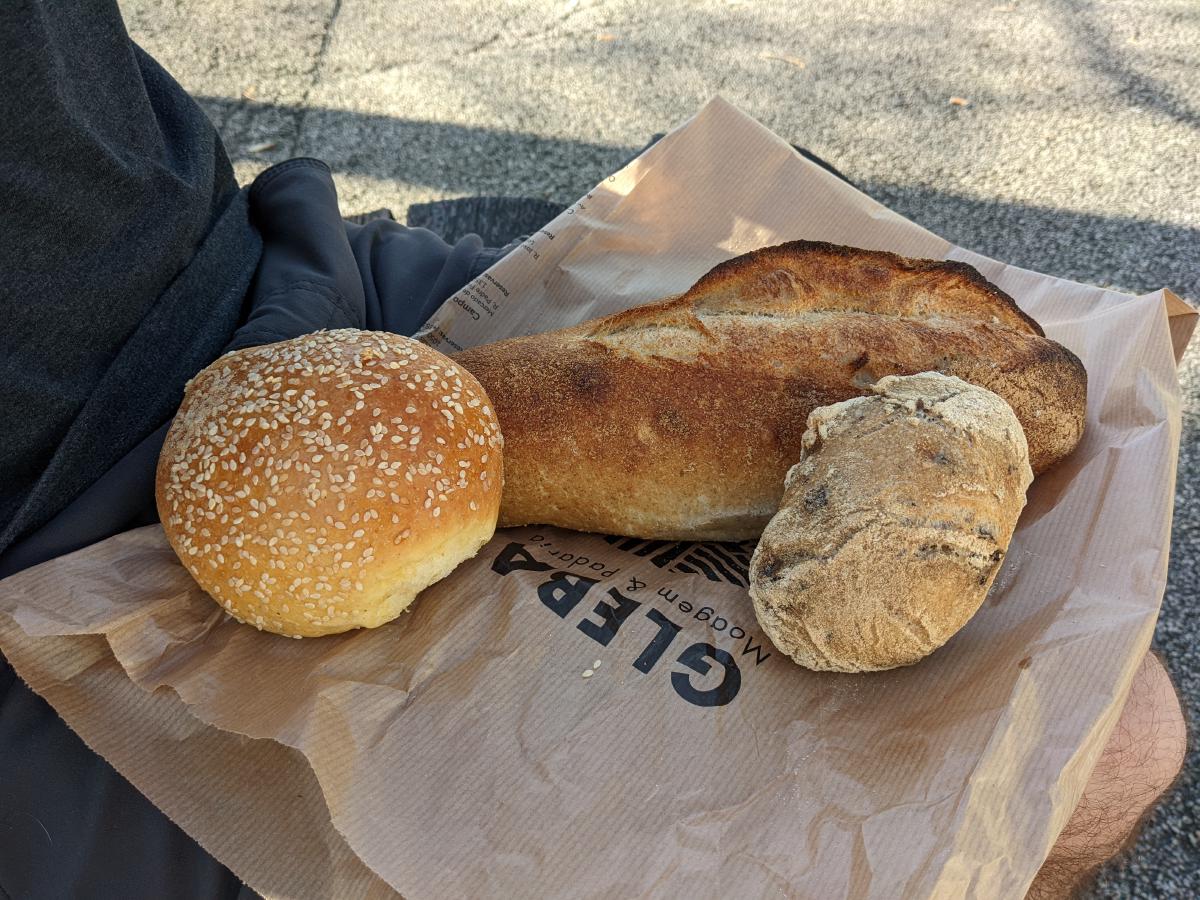 ---
Staying Spontaneous and Lisbon Conclusions
I loved all of the parks and walkable areas in Lisbon. Purchasing groceries in Portugal is a more local experience, as every area has a bakery, a vegetable grocer, and a butcher. I could easily see thinking about what to make for dinner every day, then going on a walk to the specialty stores to pick up ingredients rather than the weekly grocery run we do in Texas. We stayed in the Bairro Alto at Anjo Azul, where the receptionists Miguel and Gisela were so helpful and welcoming! We were able to walk or easily take trams or buses throughout the city and its surroundings.
The Bairro Alto is a party area with vibrant nightlife on the weekends, but our hotel was a street over from the main bar street and was fairly quiet. We escaped to quieter areas during those evenings. As I mentioned previously, we avoided the touristy Tram 28 apart from one morning when we left the downtown area to get bread. We were certainly warned about pickpockets but kept our valuables in deep pockets in our backpacks (or in the hotel safe) and always had one limb through a strap. In general, the pickpockets go for crowded and touristy areas, so our strategy of avoiding the main areas and exploring residential neighborhoods was perfect for our comfort level. We felt like locals and never felt unsafe in the city.
I made good progress painting and tried out multiple styles which I'll elaborate on further in my next post. I also had my first "commission" to paint Anjo Azul, which is now on the front page of their guestbook!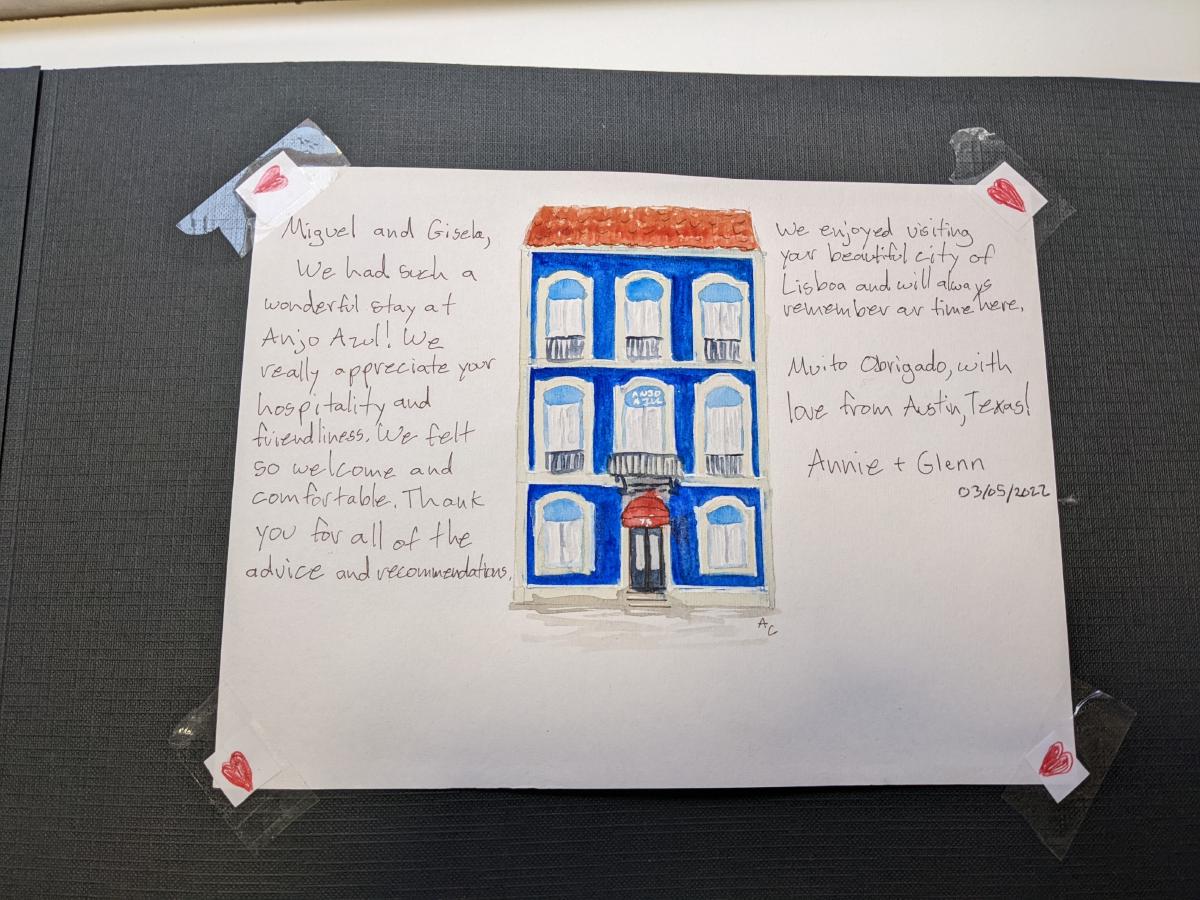 Leaving the country was as simple as taking a COVID test at a booth in one of the main plazas the day before our departure. Results were emailed to us in under an hour, and we just uploaded them to the United app to check in to our flight. Lisbon has great public transportation, and we took a bus directly to the airport. I love traveling with only a backpack!
Stay tuned for part three, where I document my travel sketchbook!