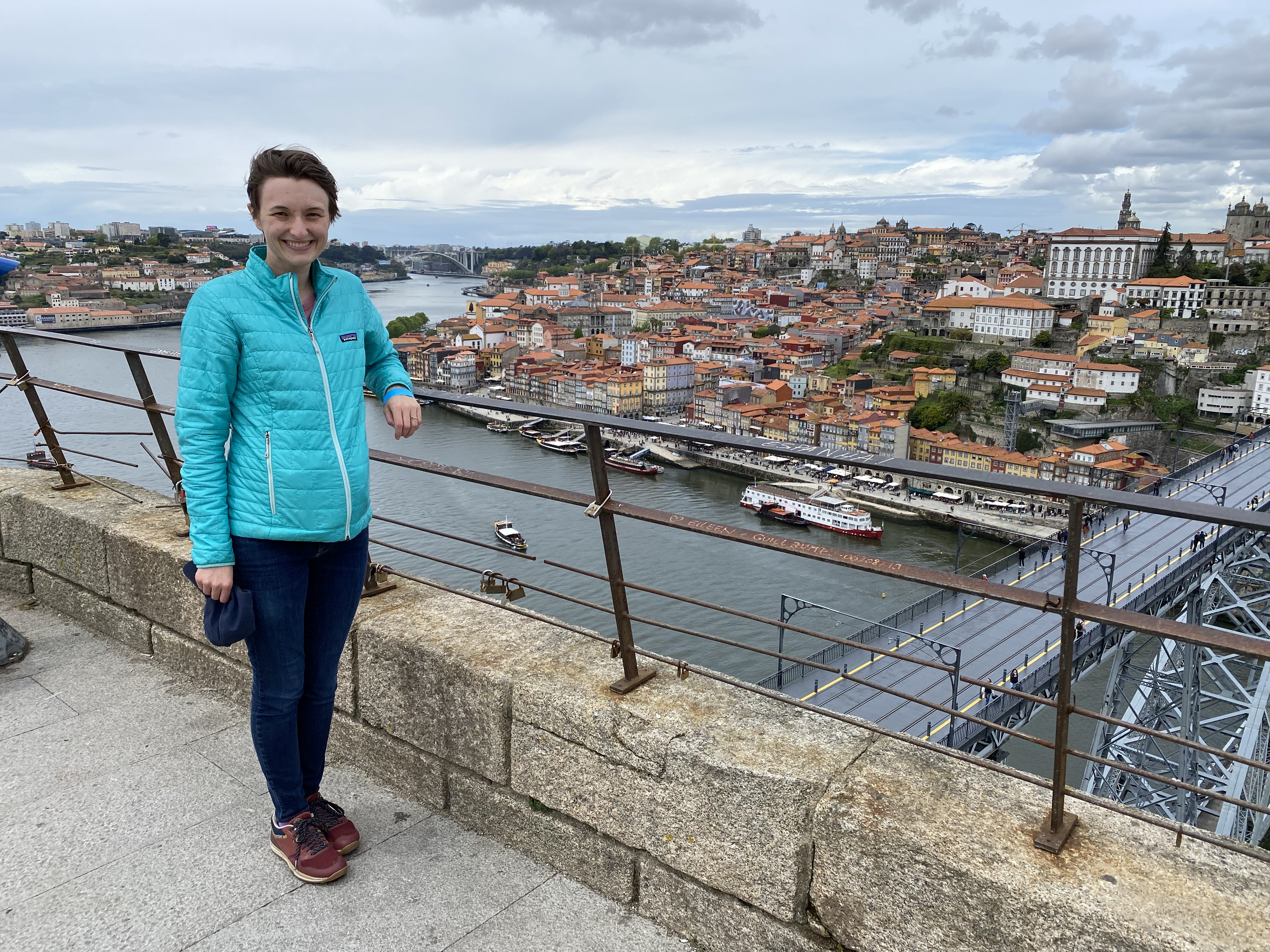 This is part 1 of a 3-part series about my trip to Portugal in 2022. The second, about Lisbon, is coming soon. The third will document my watercolor sketchbook.
---
I have dreamed of visiting Portugal for a long time. I'd seen pictures of the historic old cities and towns with winding pathways and cobblestone streets. The homemade pastries and bread with fresh cheese and local seafood. The gorgeous weather and beautiful scenery, from the lush countryside to the rugged coastline. Friendly people with a fascinating history and deep culture. Plus, incredibly high COVID-19 vaccination rates.
When we got the alert for cheap flights last August, we took a chance and booked nonrefundable tickets for 8 months out (April 2022). We figured the pandemic would be over by then (spoiler alert: it's not) and wanted to have something to look forward to. Was it worth it? Absolutely.
In the intervening months, I've had time to develop and nurture skills and have dived head-first into watercolors and urban sketching. This was the perfect opportunity to put my new techniques to the test and practice sketching au plein air. I prepared for weeks prior to the trip, consolidating my art kit and practicing the different types of scenery that I thought I'd run into (walls, bridges, skies, bread - you know, the important things in life). I'll write more about my watercolor journey in another post.
We booked an open-jaw itinerary, flying into Porto and spending 5 days there before taking a train to Lisbon for another 5 days and flying out. We felt that this was a great way to get to know Portugal without having too many transfers or hotel changes. It gave us plenty of leisure time to wander the cities, paint, find bakeries, and enjoy scenic vistas without feeling the need to cram days full of sightseeing. Most importantly, we know that we can always come back to Portugal to explore other areas such as the southern coast or the mountains. It will still be there.
Please note that this is not a comprehensive travel guide. This is a place for me to document and share the best parts of the trip and to refer to in the future. If you have questions about logistics or specific recommendations, please reach out! I'd be happy to help.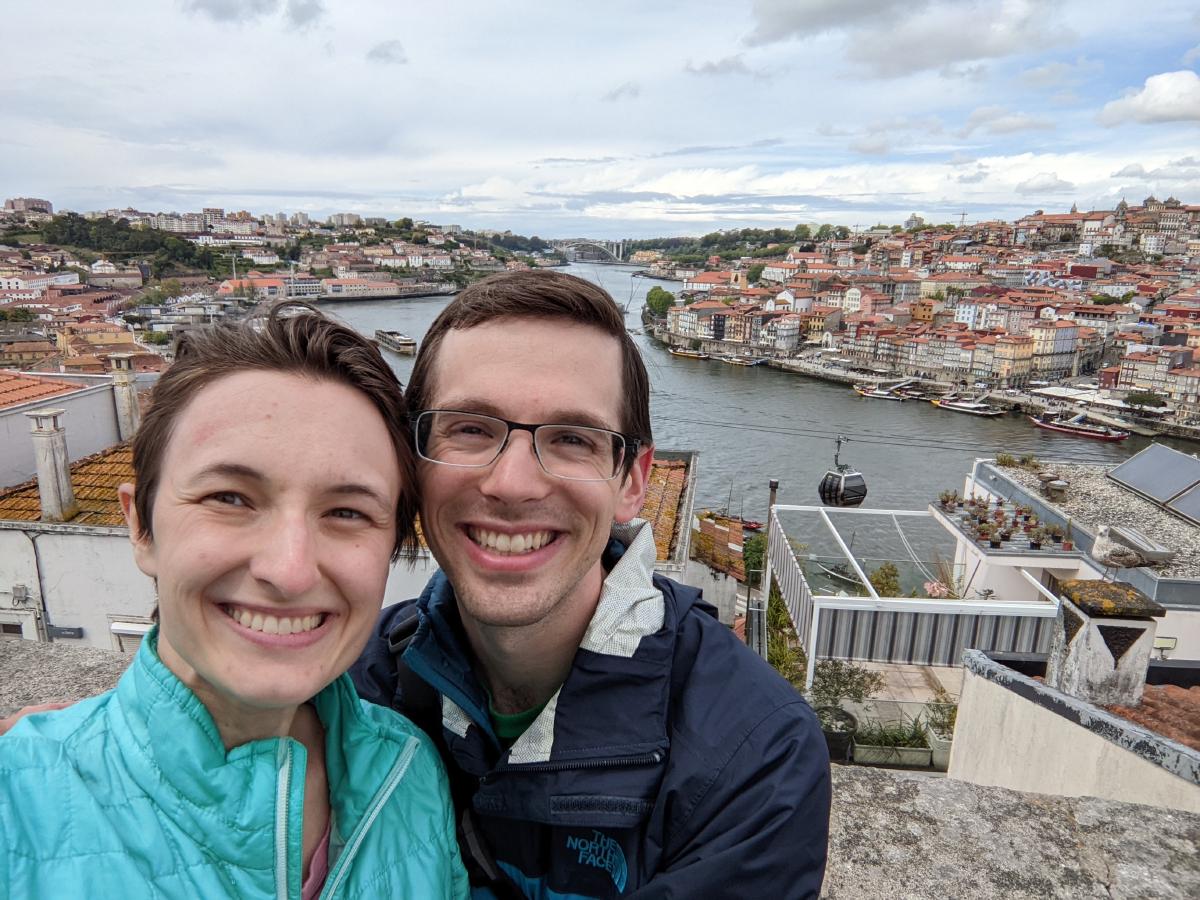 ---
Exploring Porto
Porto is a city nestled on the banks of the Douro River in northern Portugal. It's best known for its port cellars, as all port wine is produced in the nearby Douro Valley then brought downriver to Porto to age and for distribution. The area was settled over two thousand years ago and was a notable port city during the height of the Roman Empire. Porto's old town center has been around for over 500 years, making it an excellent place to explore full of twisting cobblestone roads and picturesque buildings. I was consistently amazed by the scope of this history and realizing that so many of the buildings were around from before Europeans knew the North American continent existed.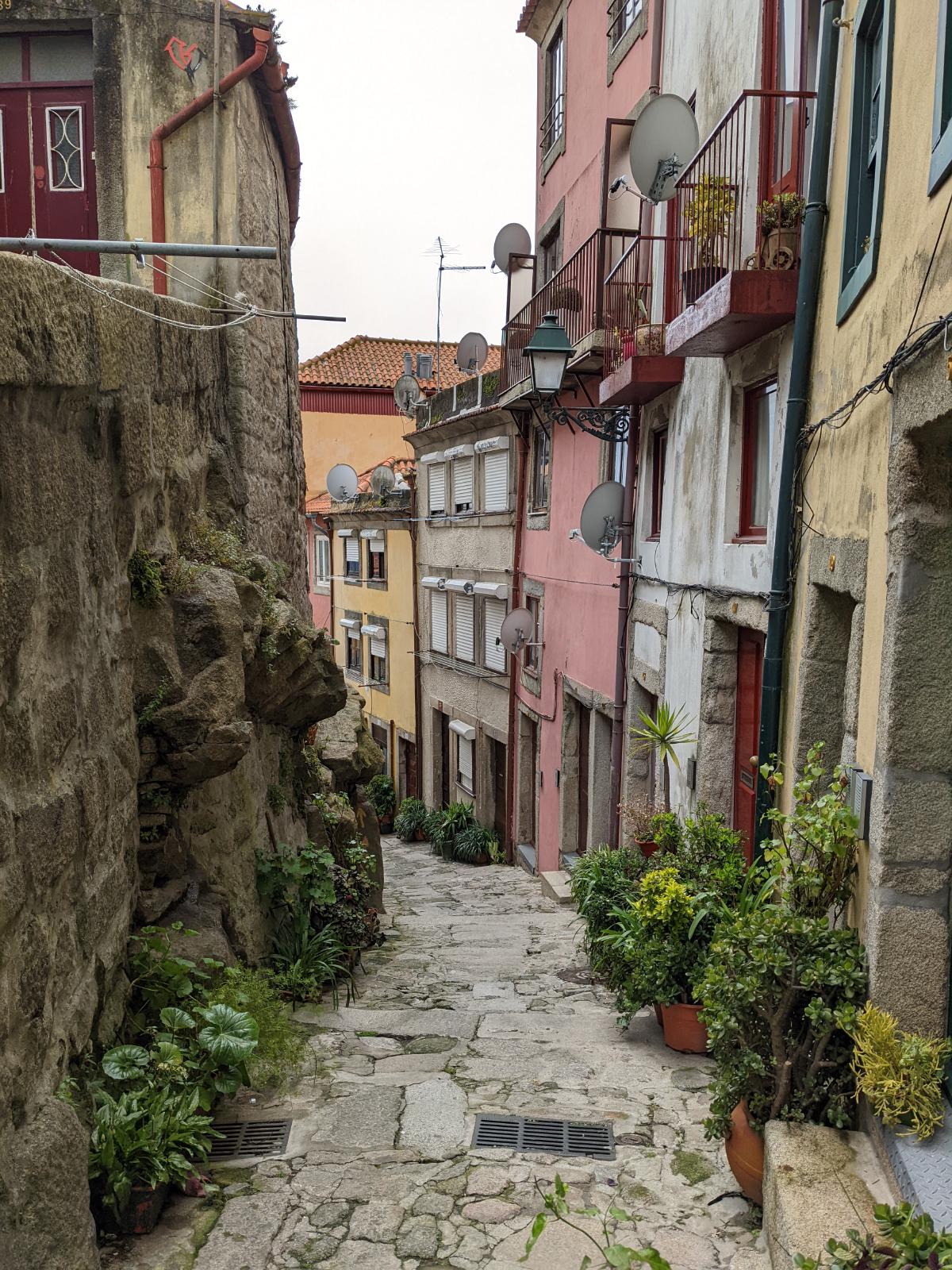 The Hunt for Pastéis de Nata
As Glenn has recently gotten into baking, one of our top priorities was finding the best versions of baked goods. We went on a quest to find the best Pastéis de Nata (an egg custard tart) and tried many on our trip (including the original Pastéis de Belém in Lisbon), and the best by far was at Confeitaria do Bolhão in Porto. We walked in to an expansive counter filled with pastries, confections, sweet and savory croissants, and fresh baked bread. Our eyes were like saucers as we pointed to request various items. They were then conveyed to the rear of the store which was filled with cafe tables and table service to order coffees and fresh squeezed orange juice. Portugal grows incredible citrus, and every cafe had a machine that takes oranges and squeezes them fresh to order. The coffee is also excellent thanks to Portugal's connection to its former colonies, most notably in South America (especially Brazil), India, and Africa.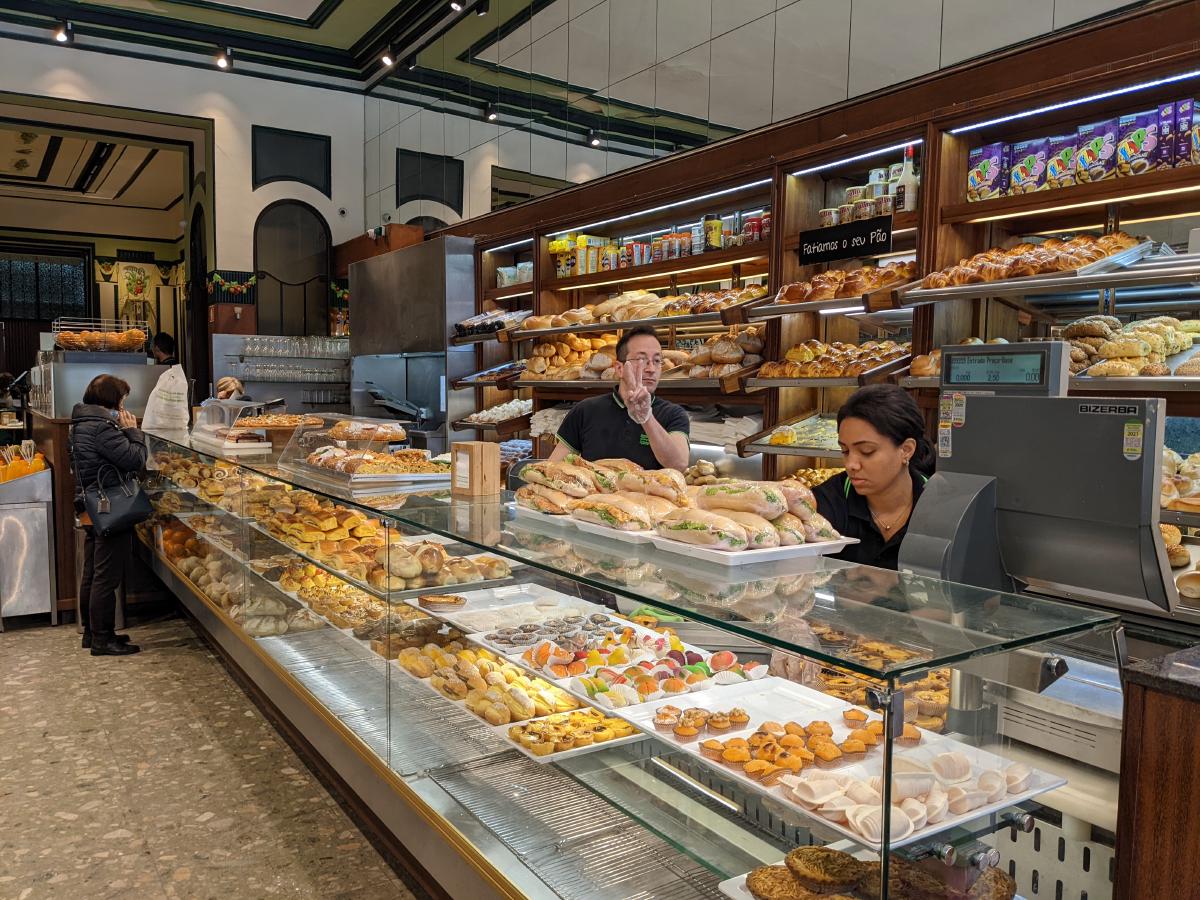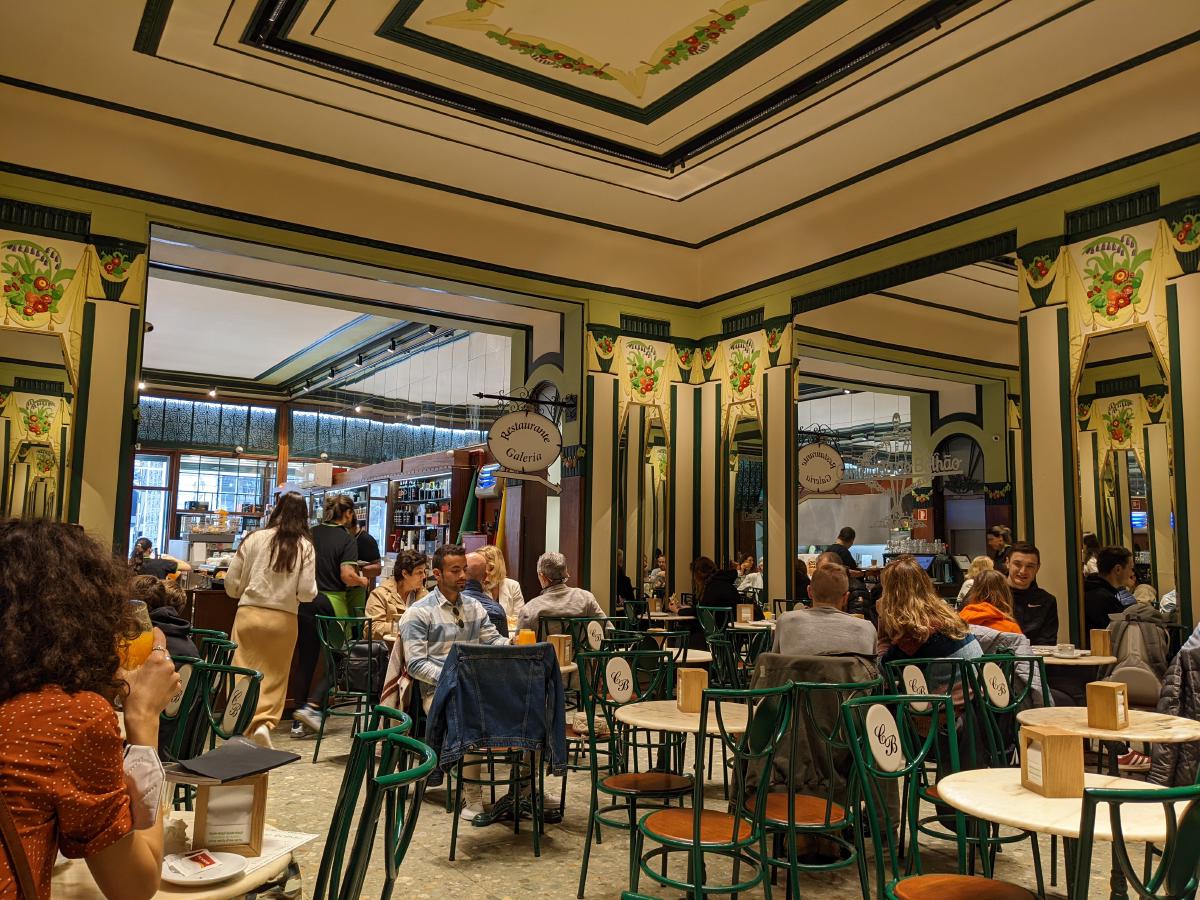 The Pastéis de Nata here had a flaky, buttery puff pastry crust and a creamy, rich custardy center with hints of citrus and vanilla. A sprinkle of cinnamon on top was the finishing touch to round out the treat. I am normally not a puff or flaky pastry person (I can't stand crunchy palmiers or dry brioche buns) but Portuguese bakeries truly have puff pastry figured out.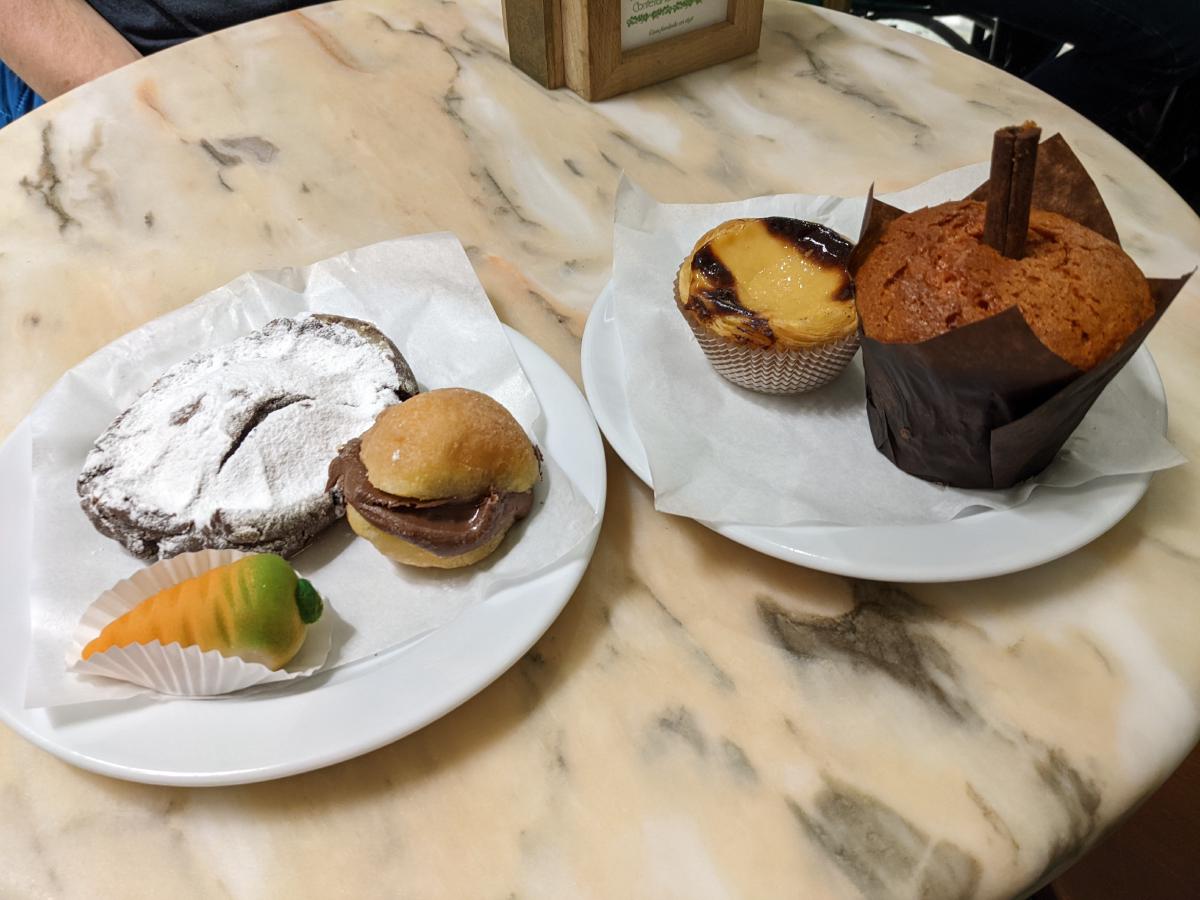 One morning we stumbled upon a small cafe where we ordered a quick breakfast of pastries, coffee, and orange juice. We were fascinated by the way that people ordered and ate standing at the counter. The staff would welcome the locals in and they even started singing a song together at one point. I was proud of ordering in my hybrid language of Spanish, basic Portuguese, and pointing.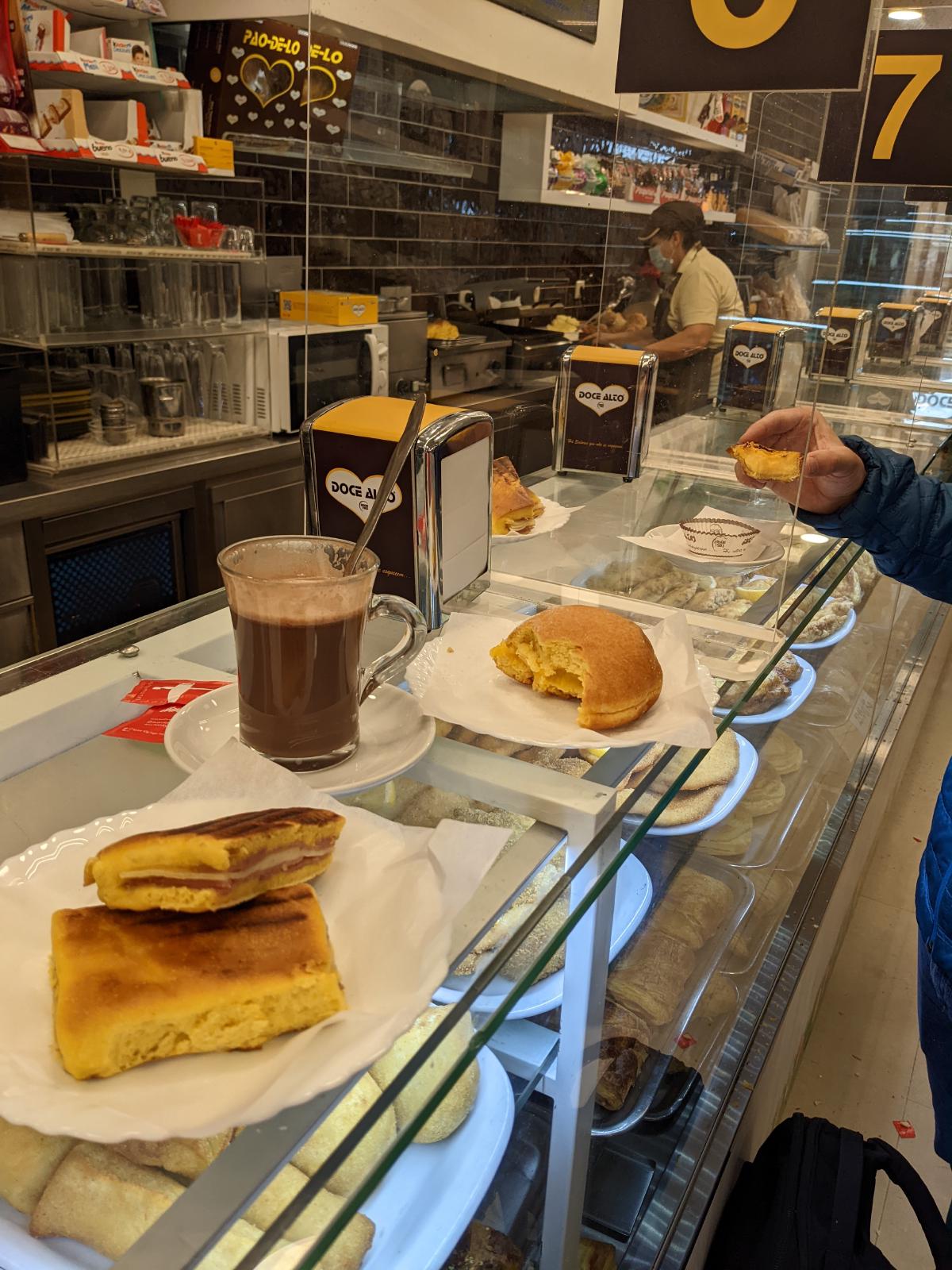 Bookstores and Architecture
One day, we took a walking tour from The Worst Tours, a group of architects looking to share information about their city while making some extra money in a down economy. Our guide, Pedro, explained that Portugal's economy was hit by the recession in 2010-2011, a few years after the US crash in 2008. They are still rebuilding from this period and tourism has really only been popular there in the past 10 years. This tour was in a more urban neighborhood north of the old town, where we learned about factory "islands" where workers rented small rooms built in the yards of the wealthy, similar to a factory town model. Many of these islands still exist today and are inhabited by people whose families have lived there for over a century. We also learned that Portugal had a dictatorship until the 1970s. Amazingly, a military coup then overthrew the dictatorship and installed a democracy. This is quite contrary to many other military coups that did quite the opposite. The tour provided many insights into the class structure of Portugal and the socioeconomic implications of the city layout and architecture.
Portugal's architecture is also heavily influenced by the Neo-Gothic movement and the Art-Noveau movement. Out of its many bookstores (Portugal had many famous poets and writers and a general appreciation of knowledge and literature), the most famous is Livraria Lello, known for its spiraling red and wood staircase, Neo-Gothic architecture, and gorgeous stained glass window. Since it's also the birthplace of Harry Potter (apparently J.K. Rowling spent time here while she was writing the books) it's also an Instagram magnet and requires a ticket (refundable if you buy a book) to get inside. We enjoyed our visit and the unique space, but it's sad to see a bookstore - usually a quiet and reverent place - become a tourist destination.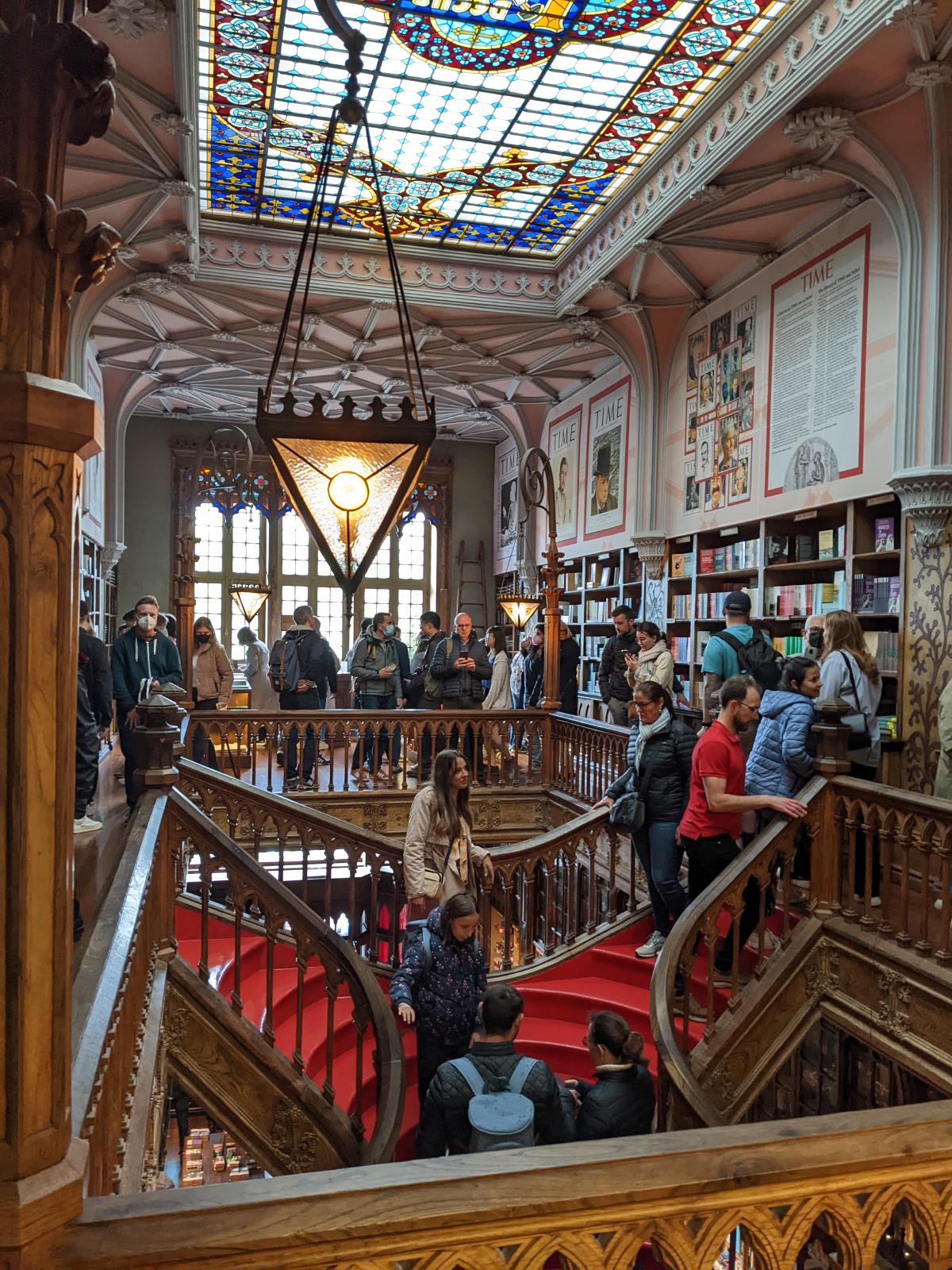 Many of the buildings in Porto are covered in Azulejos (colorful tiles) to protect the exterior surface of the buildings from the frequent rain. This is influenced by Portugal and Spain's ties to the Moorish world and attempts to imitate the mosaics of the Byzantine and Roman cultures. While some buildings were covered in a simple repeating pattern of tile, typically in green, blue, or yellow, more important buildings such as churches and palaces were covered in murals of significant events in history.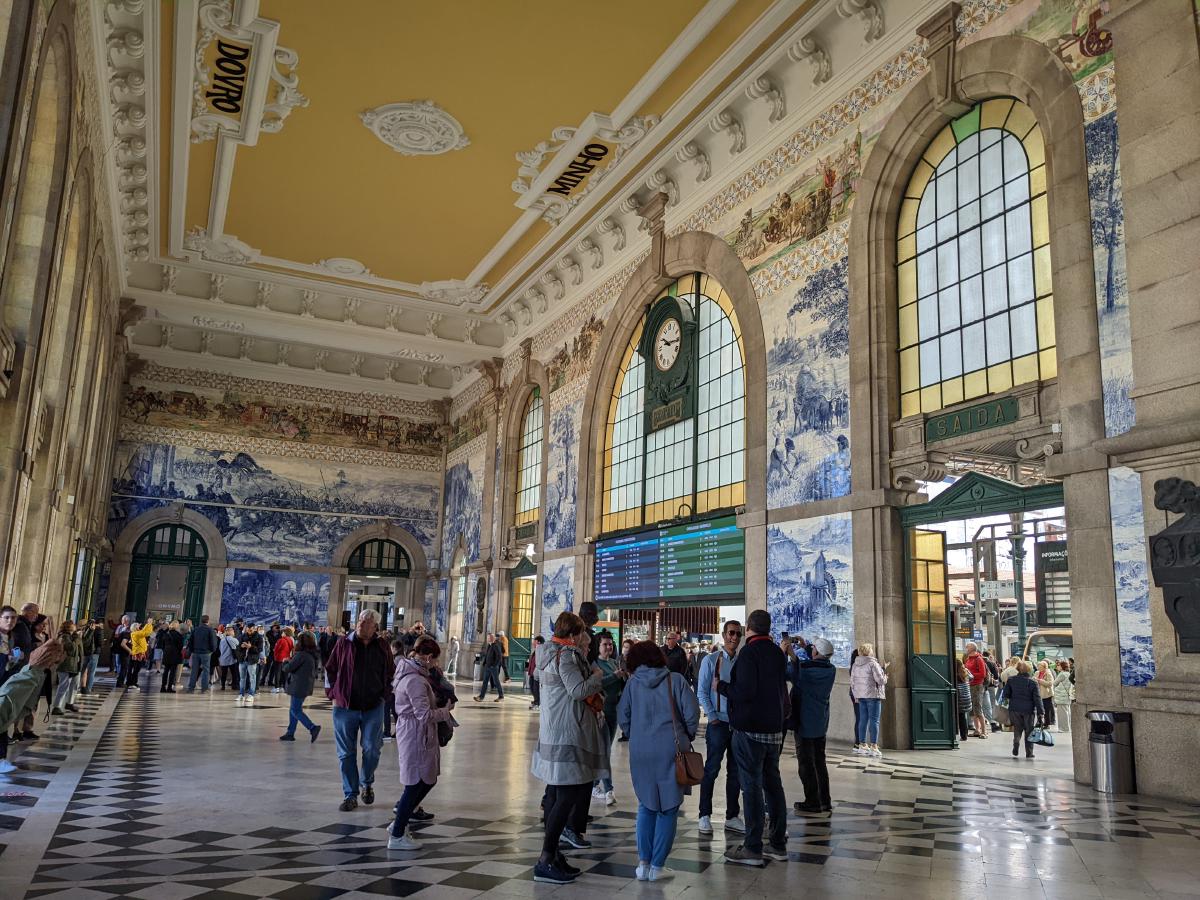 Bridges and Port
Porto is primarily known for two things: bridges and port wine. Six major bridges cross the Douro River, ranging from the Dom Luís I Bridge, a double-deck metal arch bridge built in the 1880s and designed by a protégé of Gustav Eiffel, to the Ponte da Arrábida, a reinforced concrete bridge built in the 1960s. The Dom Luís I Bridge connects Old Town Porto to the neighborhood across the river and has pedestrian walkways on both the upper and lower decks. The open upper deck only has a metro line and no car traffic, so it was a very pleasant walking experience without cars whizzing past. I spent a lovely afternoon painting the bridge and the surrounding buildings.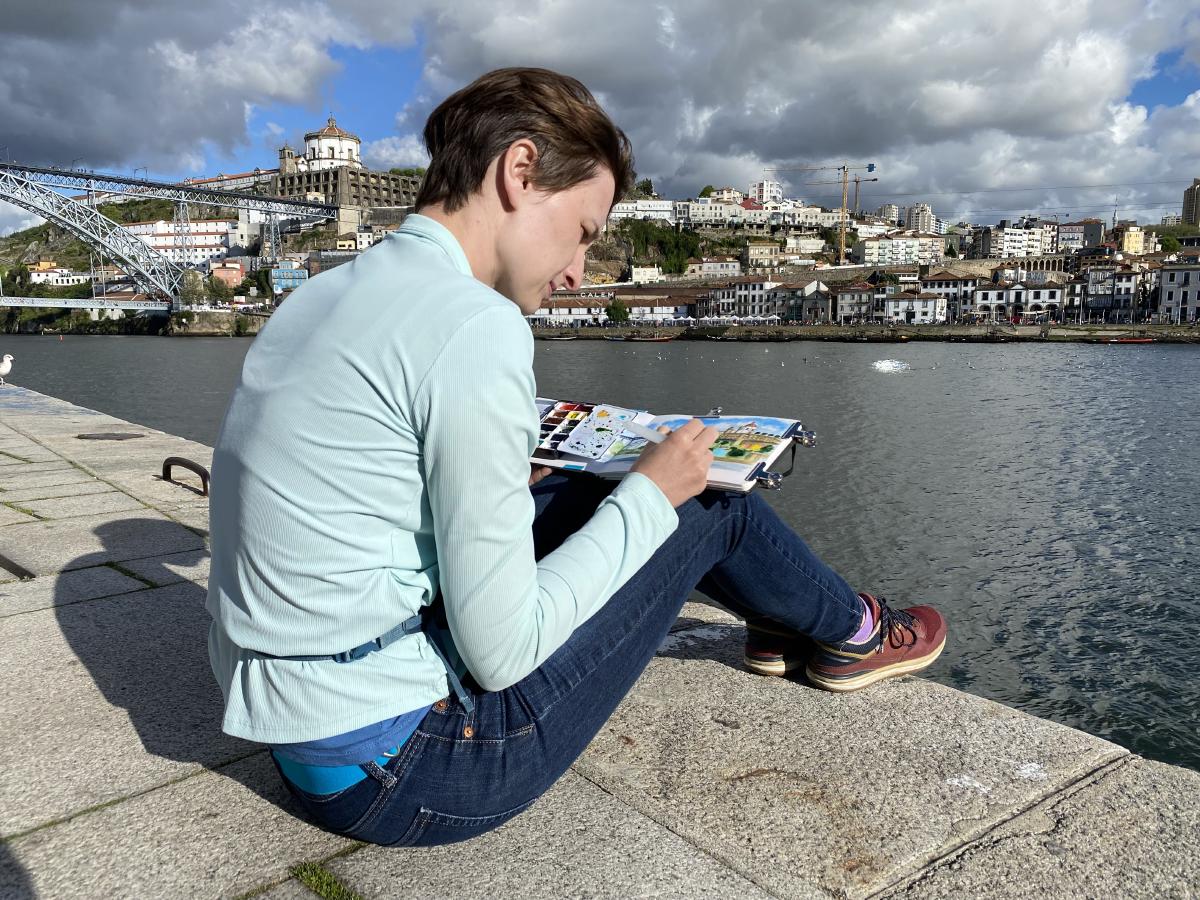 Port wine, a fortified wine that is sweet and smooth, has been produced for hundreds of years with grapes from the Douro Valley an hour up-river from Porto. We visited Ferreira, a port cellar founded in 1751 and most notably run by Dona Antónia, a 33-year-old widow, in the 1840s. She was focused on social welfare and had a good commercial sense, building the business and becoming a prominent figure in the male-dominated industry. The Vila Nova de Gaia riverfront is lined with cellars where port wines were brought to age before being shipped and distributed.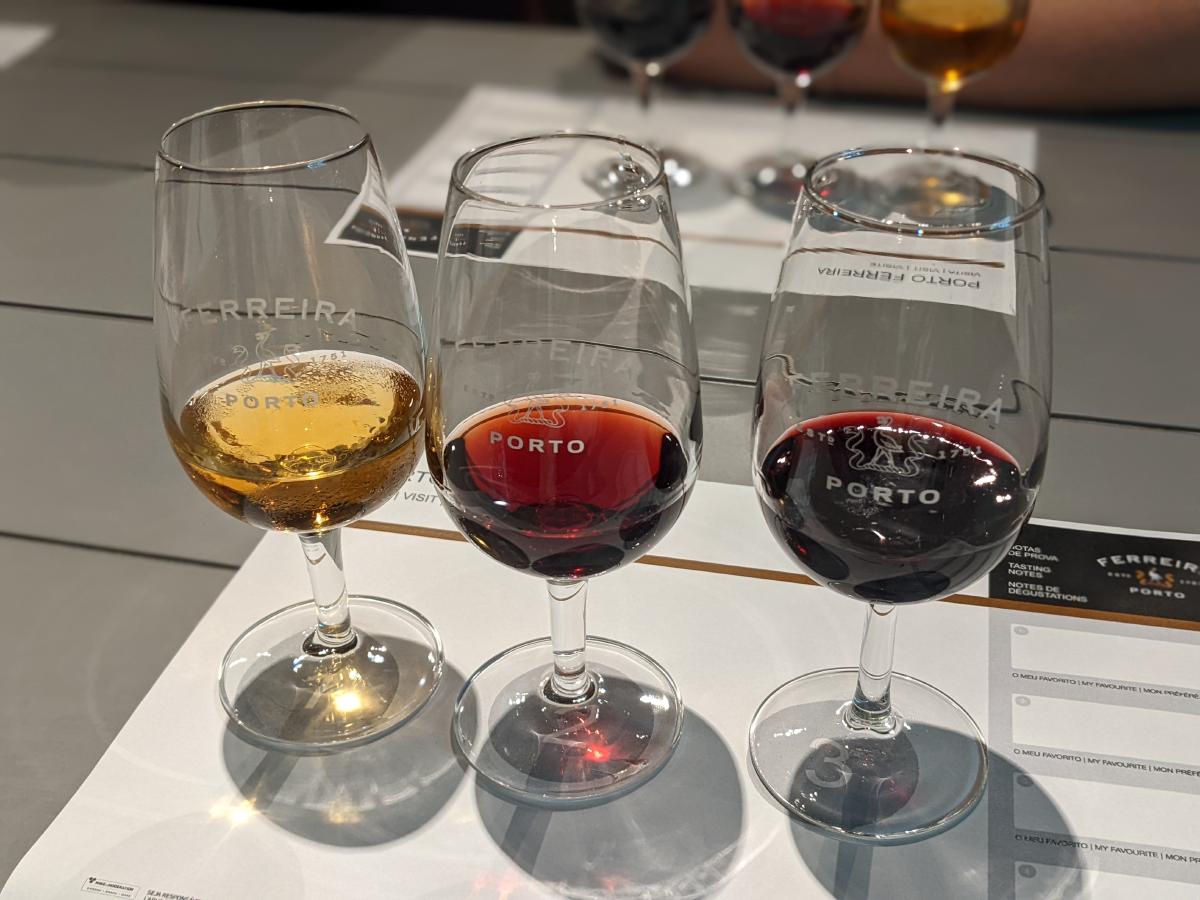 I typically don't like much alcohol, but I appreciated the port tasting at the end of the tour of the cellar. We tried white, tawny, and ruby ports which had variations in sweetness and undertones. Also, the cellar's mascot is an emu for good luck, and they had an excellent logo.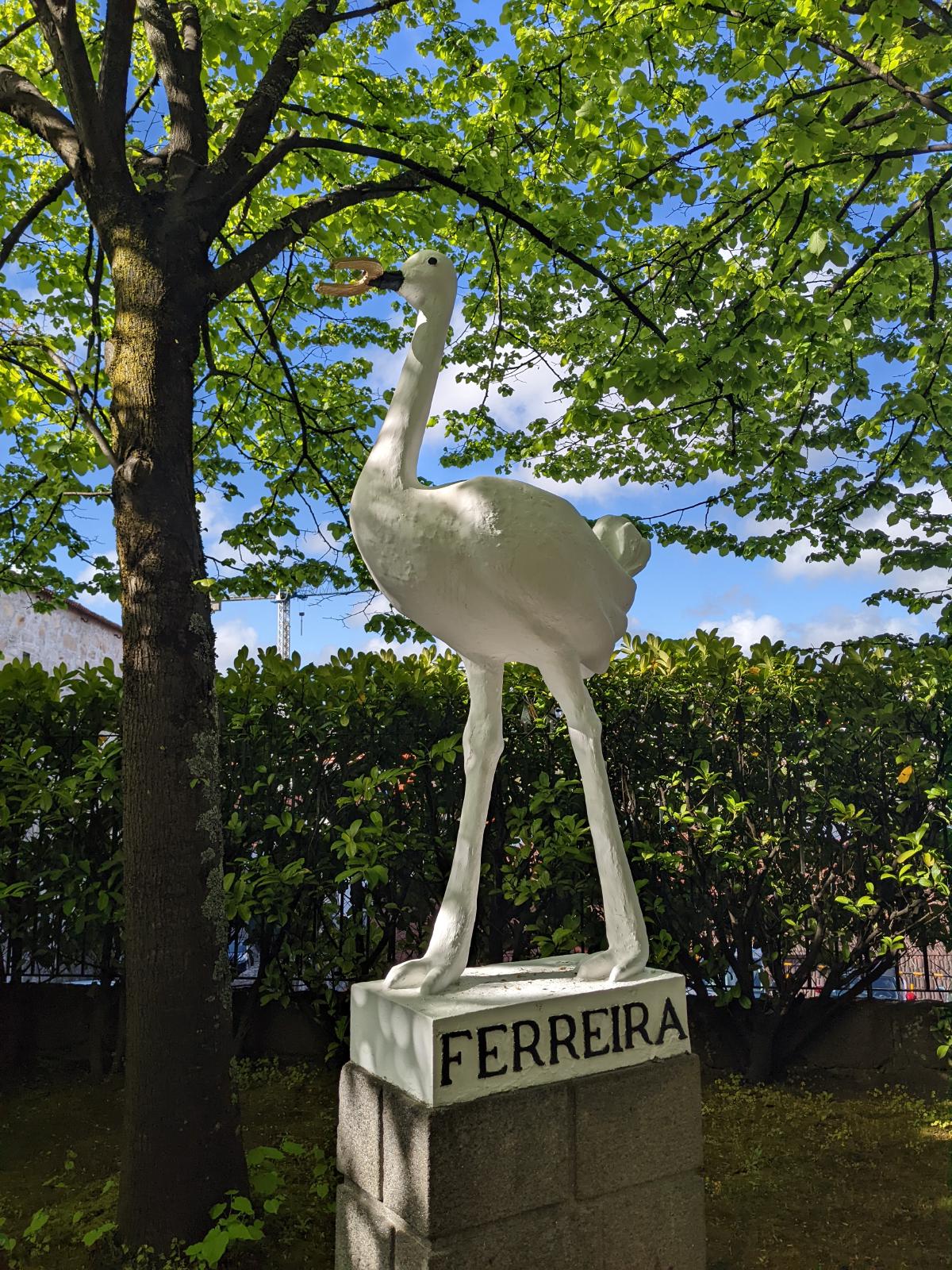 ---
An Afternoon by the Sea
Portugal has a lengthy coastline on the Atlantic Ocean and is home to some of the world's most extreme surfing (the world's tallest waves are in Nazaré) and lovely coastal towns. We took a bus to Foz do Douro, a beach town a few miles downriver at the mouth of the Douro River. The coast was lined with beautiful beaches, turquoise water, and my favorite, gorgeous reddish-brown rocks from a unique geological formation. I painted the water and rocks as we basked in the warm afternoon sun, and we caught the end of the Formula 1 Grand Prix which was being aired live in a cafe.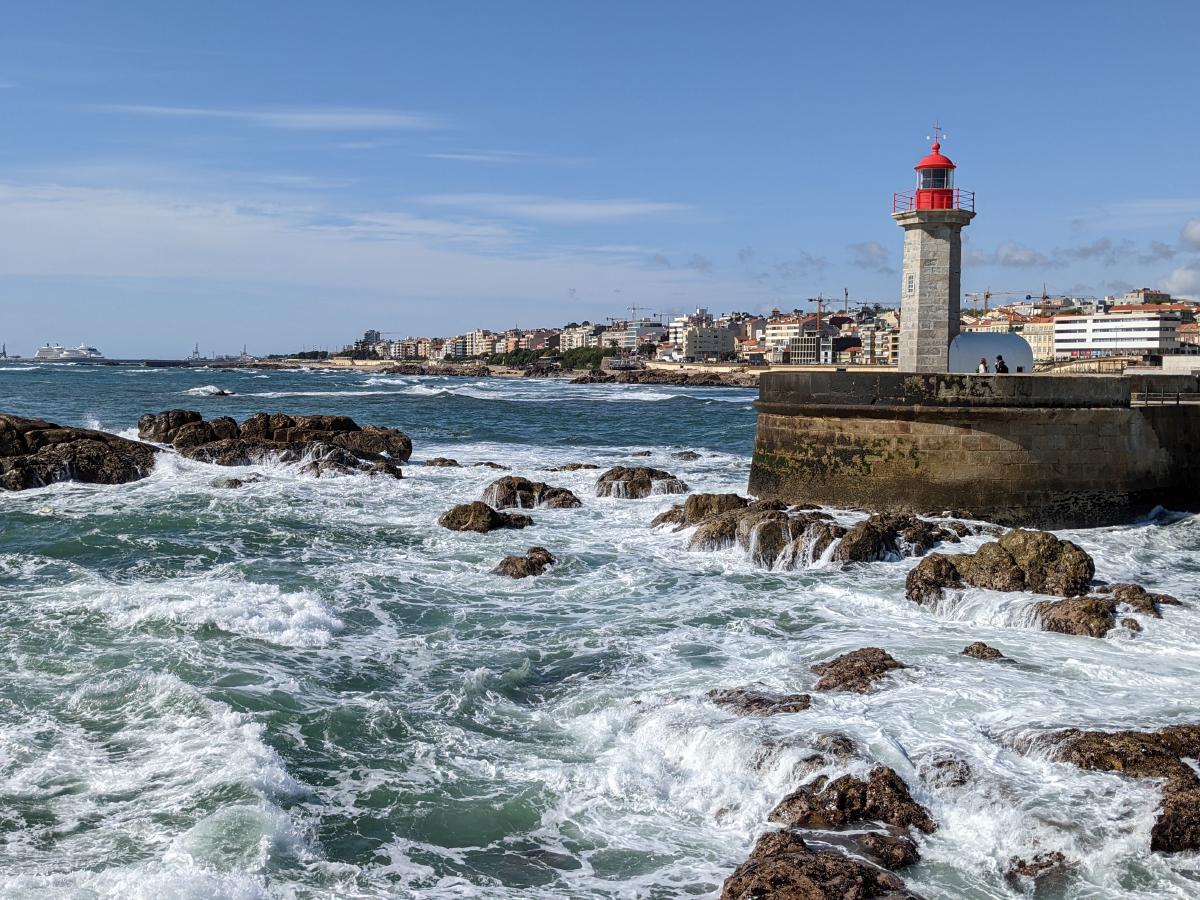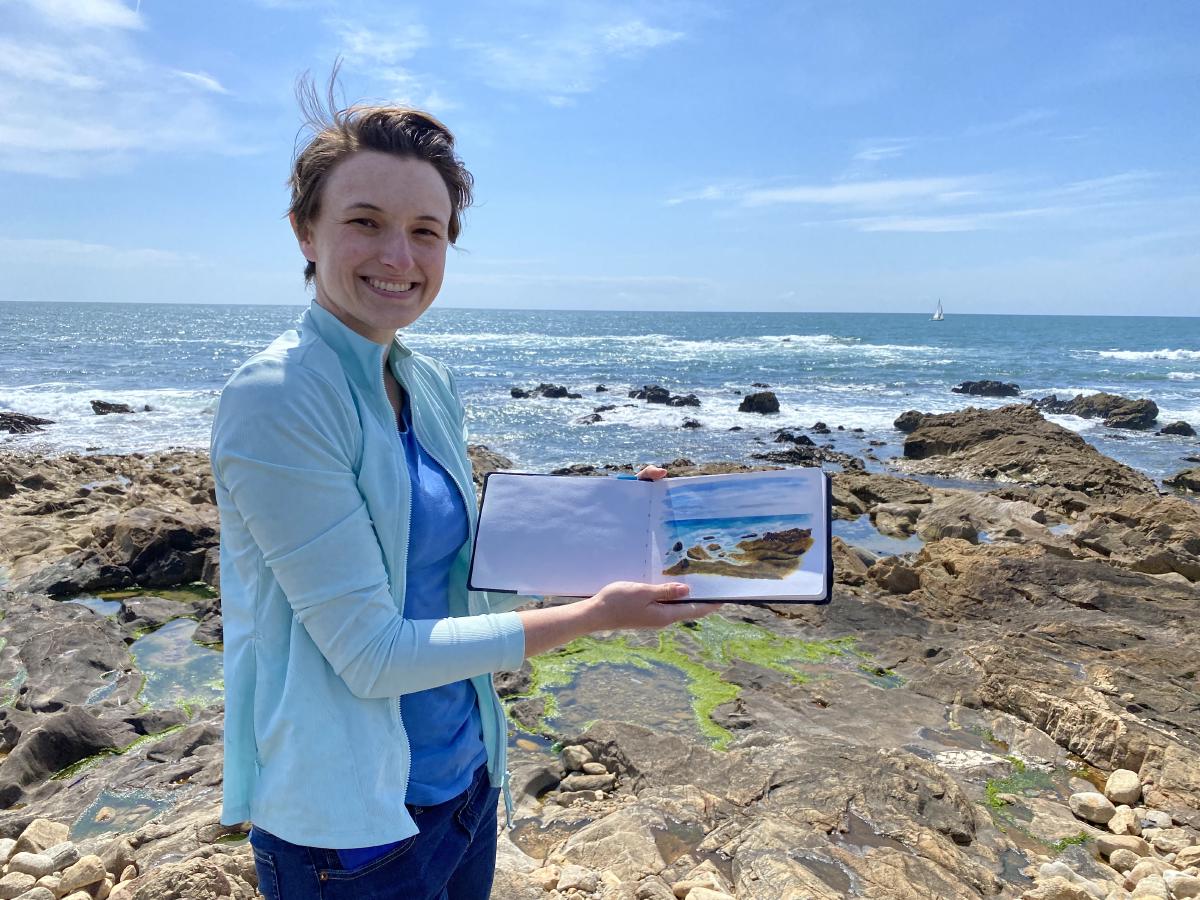 The buses returning to town were all full with beachgoers, so we ended up walking most of the way back and explored the waterfront parks. It also gave us the opportunity to walk underneath the Ponte da Arrábida and appreciate it from below.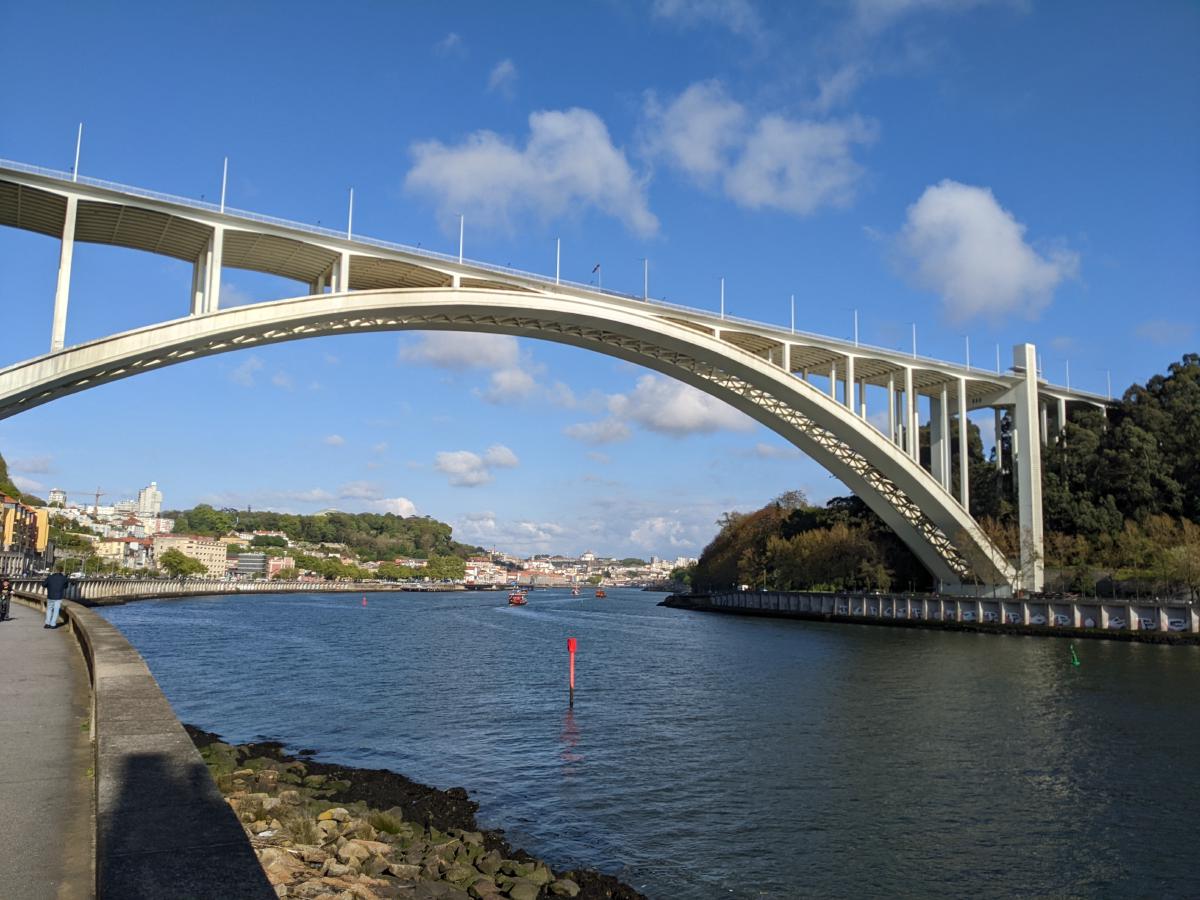 ---
Basilica in Braga
We took another day trip to Braga, an historic town an hour north of Porto by train. It has a picturesque downtown with some excellent examples of Azulejos and a gorgeous garden at the Archbishop's Court.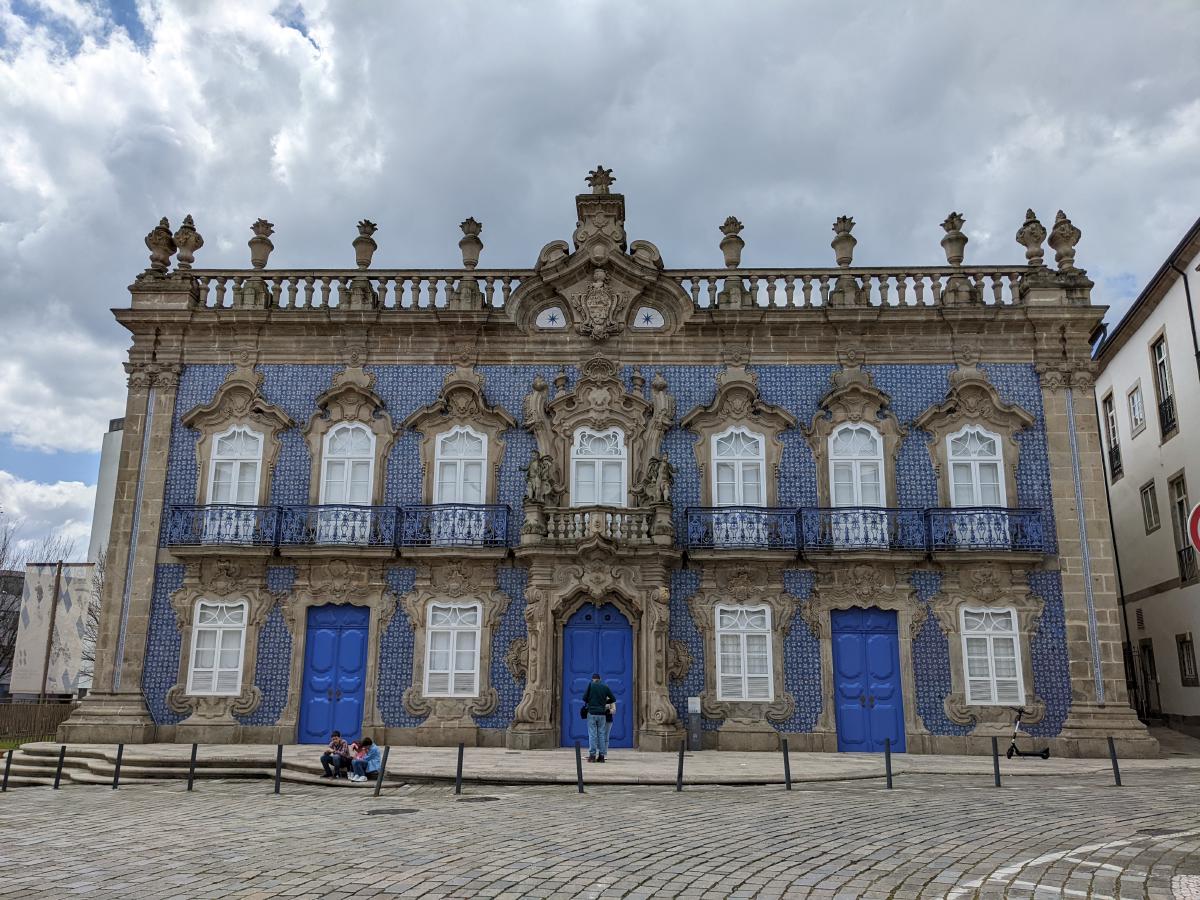 The highlight is the Sanctuary of Bom Jesus do Monte, a Portuguese Catholic shrine built in the mountains above the city. It's an important pilgrimage site and includes a 381-foot-tall Baroque stairway that climbs up to the church at the top of the mountain. At the top, the extensive gardens and grotto provided stunning views of the stairs and city below. I spent an afternoon painting here (standing up the whole time) and enjoyed the looks from passers-by wondering what I was doing.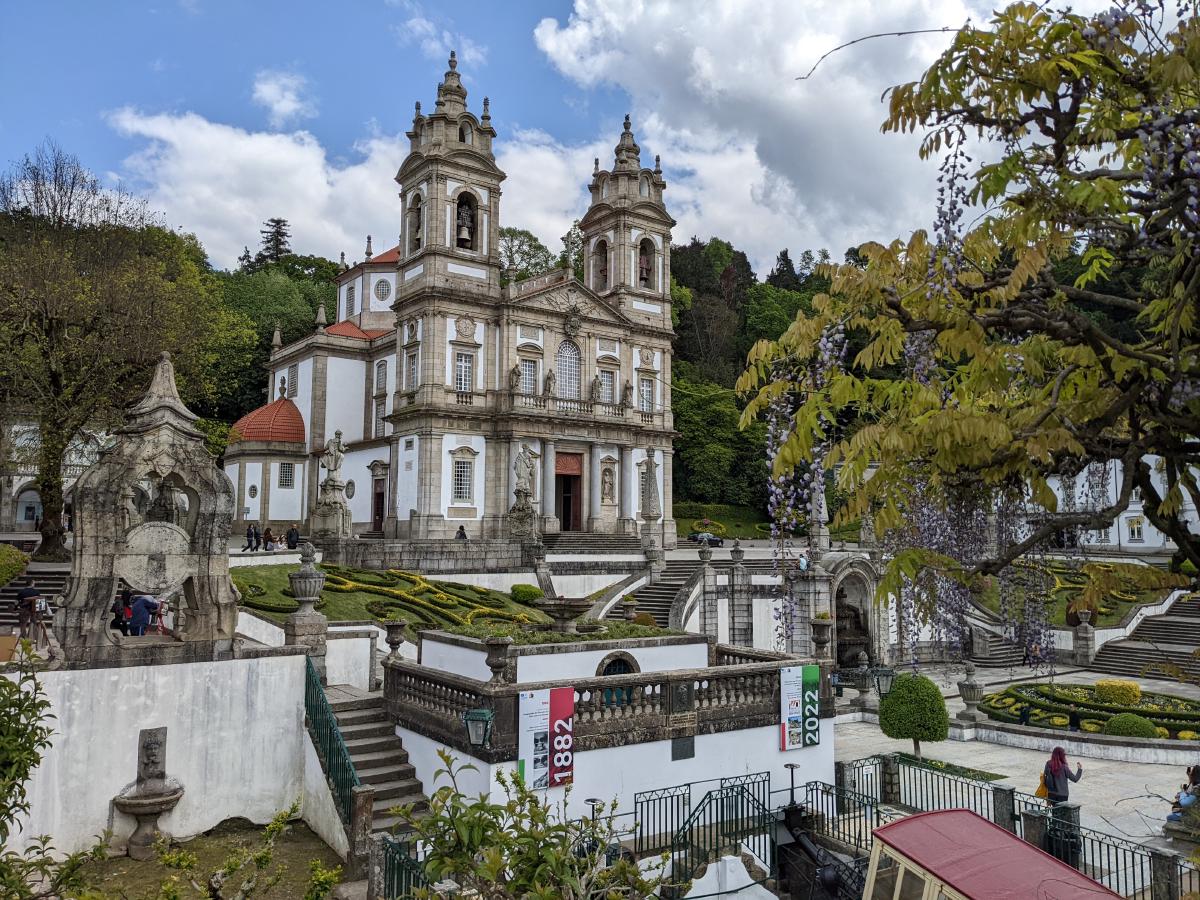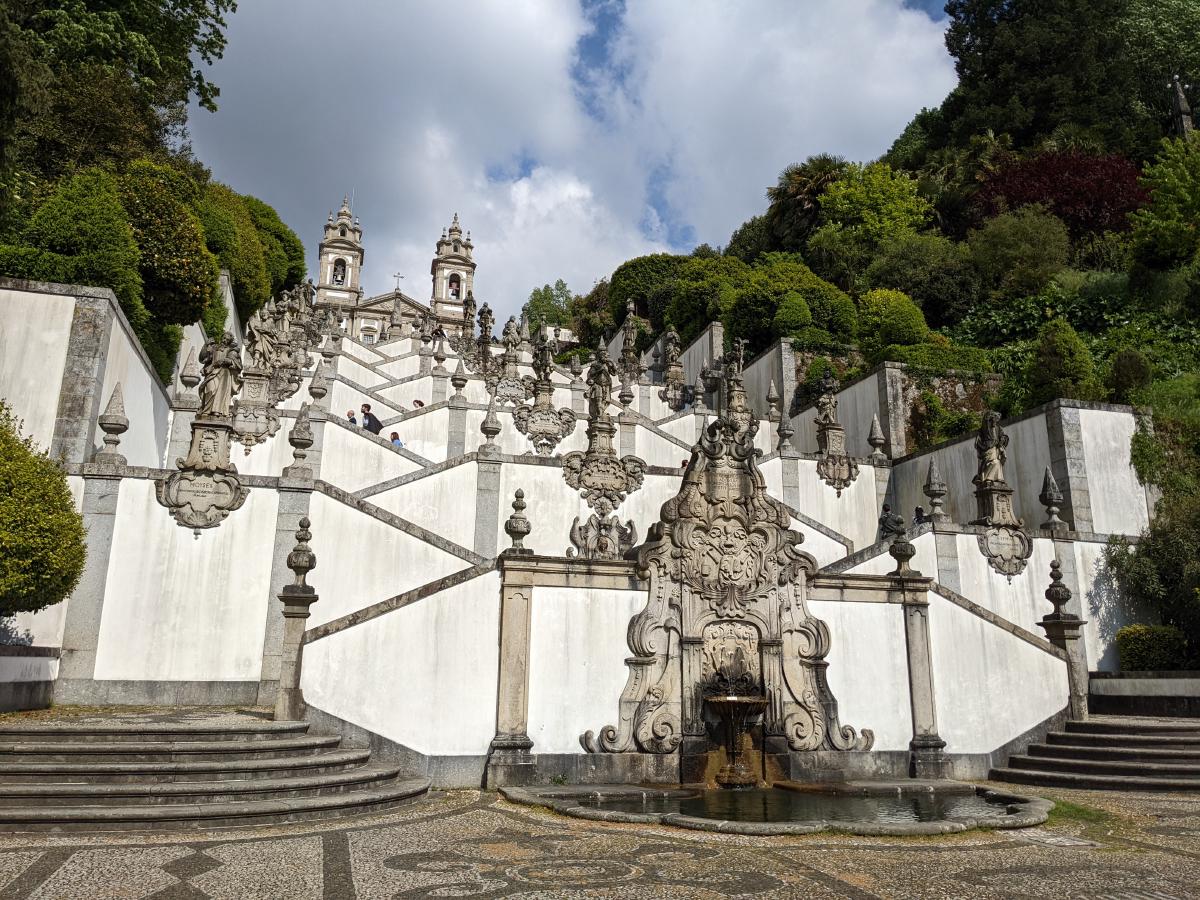 To my engineer-heart's delight, there is also a water-powered funicular that takes visitors to the top of the mountain. It was built in the 1880s and includes two tram cars that are connected by a steel cable, so as one rises, the other falls. It's an incredibly efficient system as it just uses gravity and the transfer of water ballast to move the cars. It's apparently the oldest funicular in the world that uses water counterbalancing.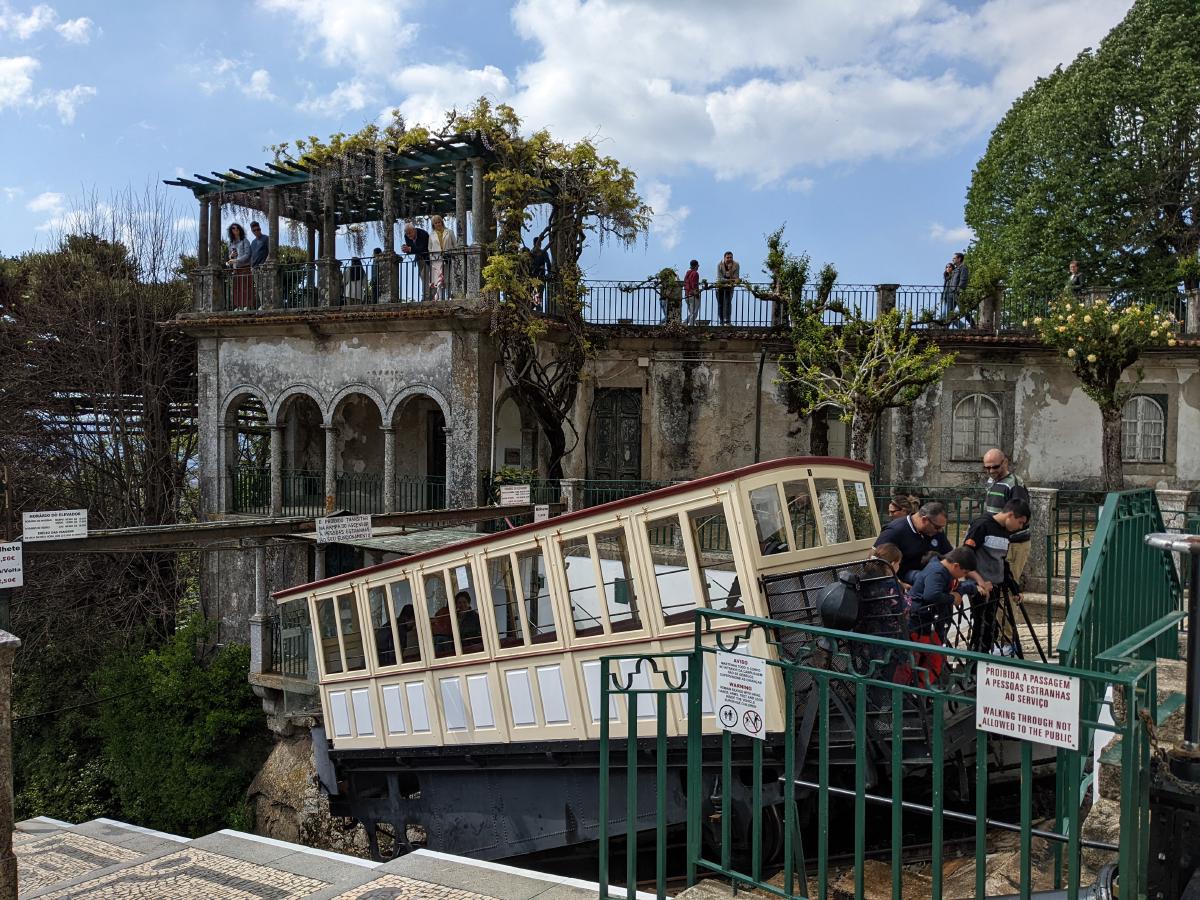 ---
Staying Spontaneous and Porto Conclusions
We loved our time in Porto and enjoyed the slow pace of life, the proliferation of bakeries, and exploring the nooks and crannies of the city over a relaxed 5-day period. Having 5 full days meant that we could take time to visit anything that caught our eye or stop and paint for half an hour without feeling rushed. I gained such an appreciation for colors, textures, architecture, and perspective by stopping to paint and observe something in detail. Porto is so dense with history that around every corner we would stumble upon some cathedral, church, gorgeous building, park, or statue.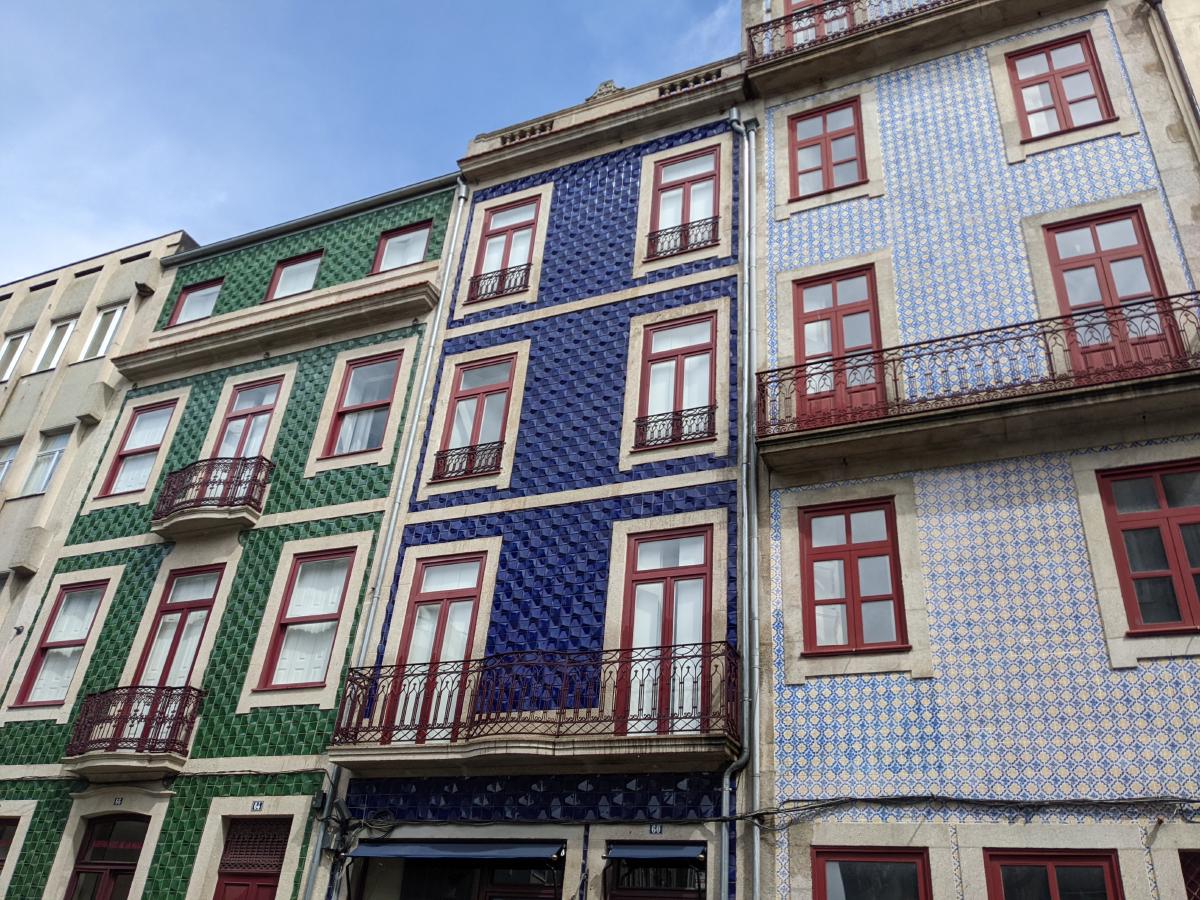 I was able to communicate using Spanish, English, and a lot of pointing. Reasonable prices and built-in tax and tip meant we could order at restaurants and bakeries with confidence, knowing that the price we saw was the price we paid. Servers did their jobs without needing to schmooze up the customers, and it was a refreshing change of pace from our tip-based society in the United States. We snagged an unlimited data SIM card for our trip from the Vodafone store at the Porto airport (15 euros for 15 days) and used it to book tickets for events and research places to eat or relax while out and about.
We walked a lot. And it was very hilly. We averaged 70 flights of stairs and 10+ miles a day, with 100+ miles over the course of the trip. Public transportation was excellent and meant we could make last-minute decisions about day trips and outings. We carried all of our belongings in fairly small (22-28L) backpacks and much preferred it to the rolling bags other tourists dragged up the hills and cobblestones.
Stay tuned for part 2, where we travel to Lisbon and explore castles, eat excellent pasta, and find the best baguette in the world (and we take that statement very seriously).