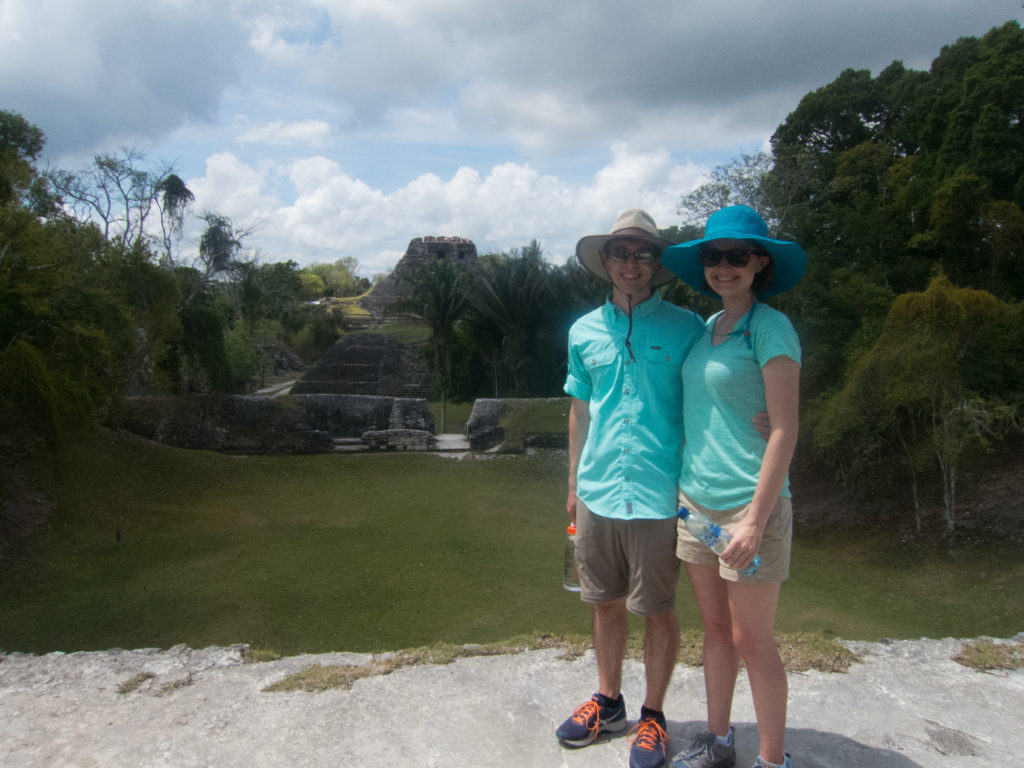 My honeymoon to Belize was my first trip to a tropical destination in over a decade, so I enjoyed the challenge of preparing as it was unfamiliar territory. It turns out that you only need a basic set of items to make it through a week of tropical travel. This post outlines the categories and quantities clothing and other items that I brought along with me.
It might seem counter-intuitive to plan packing so thoroughly when I'm trying to travel spontaneously, but I would disagree. By making sure I have everything I need ahead of time, my brain can spend less time worrying and more time enjoying the trip and whatever spontaneous opportunities come my way. The key to spontaneous travel is finding the ideal balance between planning for what would cause stress otherwise and leaving room for the unexpected now that my mind can focus on the experience.
Read more about my trip to Belize and a sample 9-day itinerary.
Fortunately, Belize is a casual destination, so shorts, t-shirts, and sundresses were the way to go, and no formal clothing or shoes are required unless you're in a really fancy resort area. I also invested in some packing cubes for organizing clothes by category and compressing things in my suitcase. Keep in mind that compressing your clothes isn't an excuse to pack more than you need! You'll be much happier with a suitcase that isn't completely full, as clothes tend to expand to fill the space available as a trip progresses. Rolling my clothes kept them wrinkle-free and nicely compressed.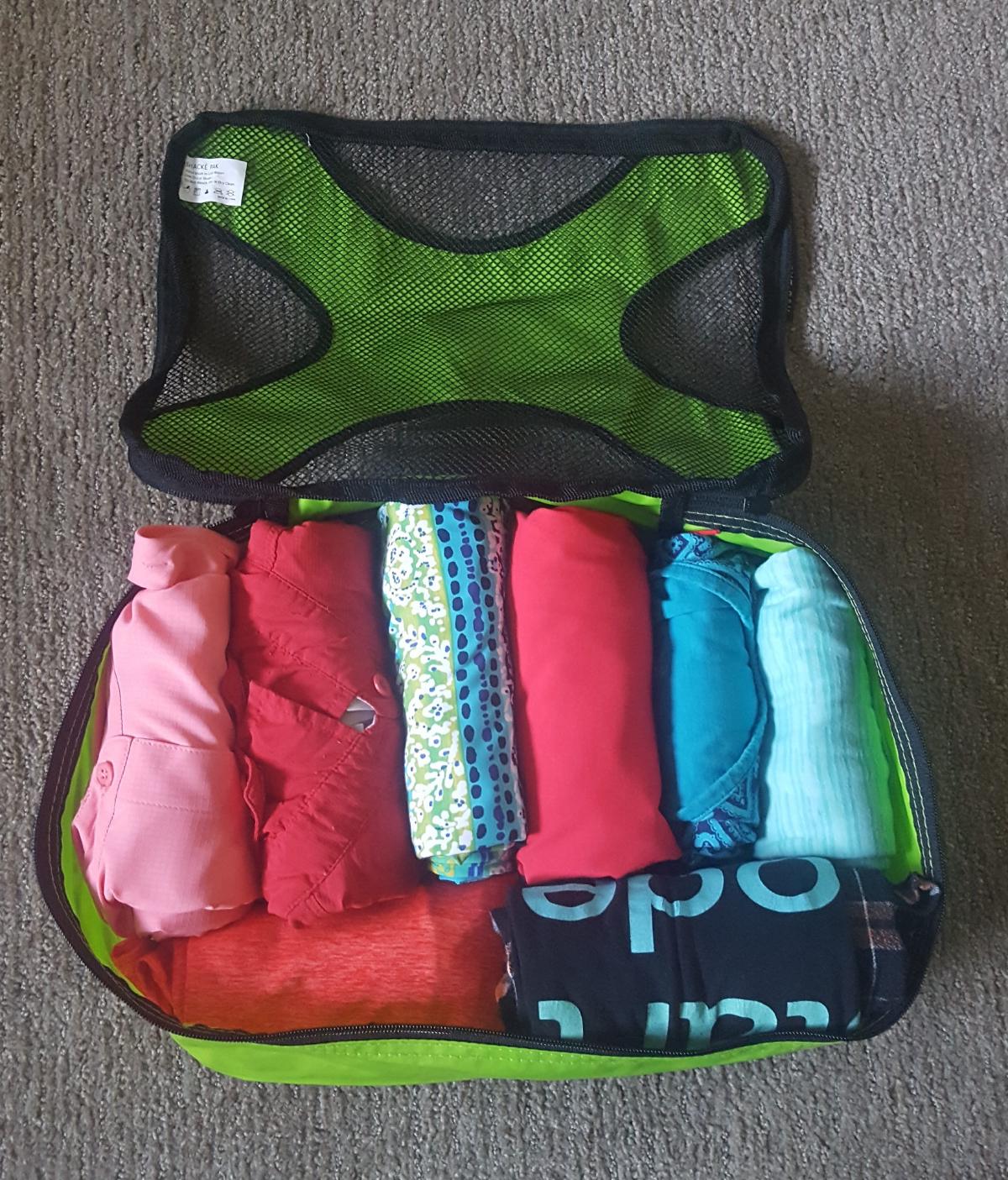 I also brought a drawstring bag for dirty clothes. While I wore many pieces multiple times, certain things like undergarments and shirts that got really sweaty ended up in this bag. Belize is very hot and humid, so it was nice for some separation of knowing what I'd already worn.
Bags to Bring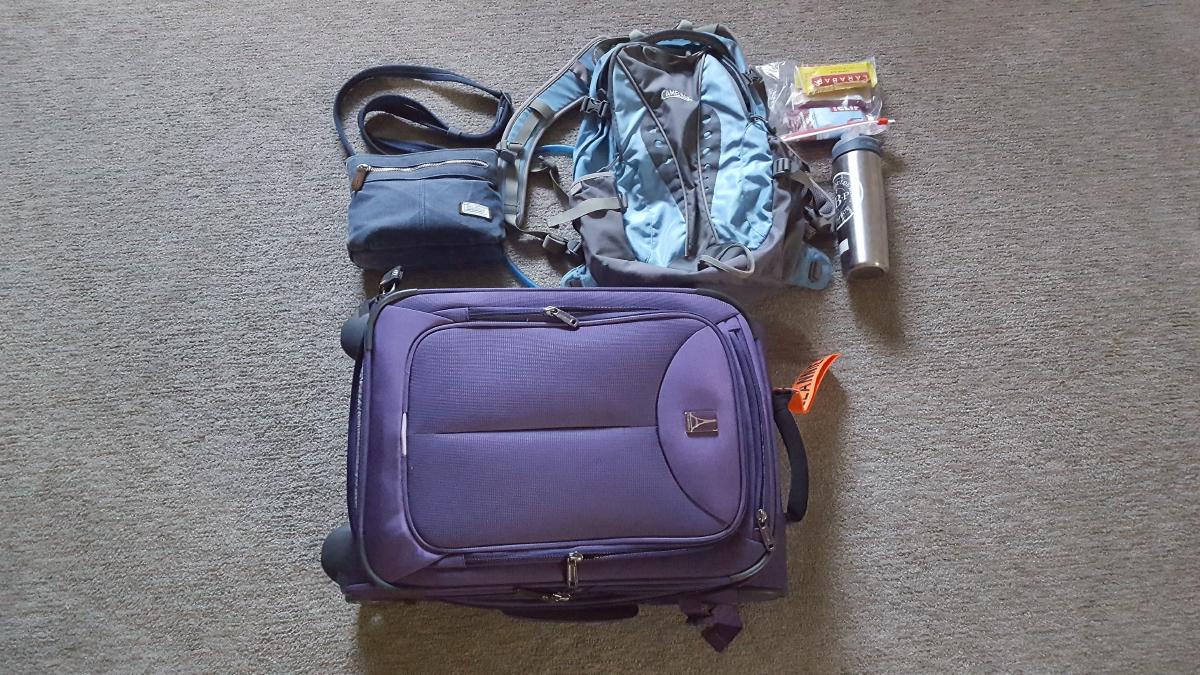 Purse – I have a travel-safe purse from Travelon with RFID protection, a locking zipper, and a slash-proof strap. This gives me peace of mind while traveling and also has lots of compartments for keeping things organized.
Camelbak Backpack – Great for carrying things on day trips and staying hydrated all the time.
Water bottle – Bring your own water bottle to fill up at the filling stations at hotels – otherwise you'll be going through a lot of plastic bottles.
Rolling Suitcase – I really like my Travelpro as it fits on planes easily and saves me time. Bring a TSA lock so you can leave your bag unattended on buses or small planes without worry. The wheels weren't great on the gravel or sandy roads, but the bag is sturdy enough to handle it. A duffel-backpack combo might be a good option too if you're using more public transportation and staying in hostels without door-to-door service.
For more information about packing, check out my post on how to sleep soundly the night before a trip.
Tops and Dresses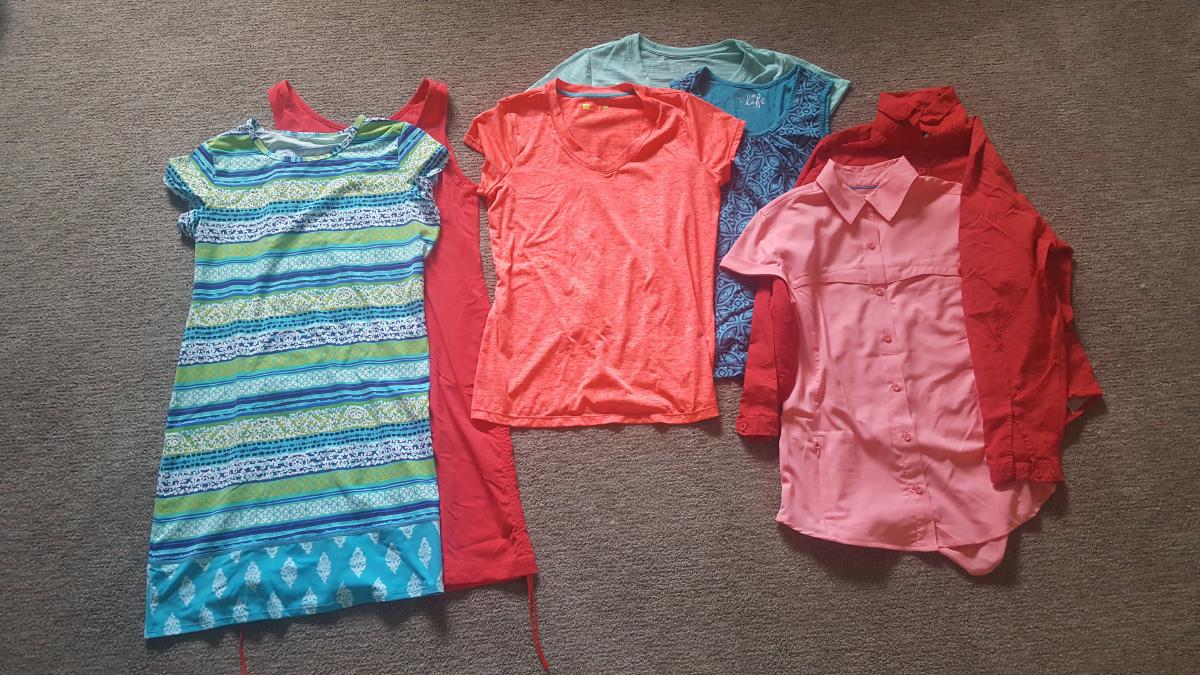 Columbia Anytime Casual Dress – UPF 50 protection, water and stain resistant, with ties to shorten or lengthen the skirt. Plus it has pockets!
Lands' End Swim Coverup – handy when walking around beach towns or for coverage between snorkeling stops. UPF 50 protection is a bonus – I highly recommend having as much sun protection as possible in Belize!
Quick-dry athletic shirts x2 – handy when you're spelunking through a cave
Athletic tank top
Short-sleeve breathable safari shirt – great for hiking
Long-sleeve breathable safari shirt – great for hiking when you need some extra sun protection
Bottoms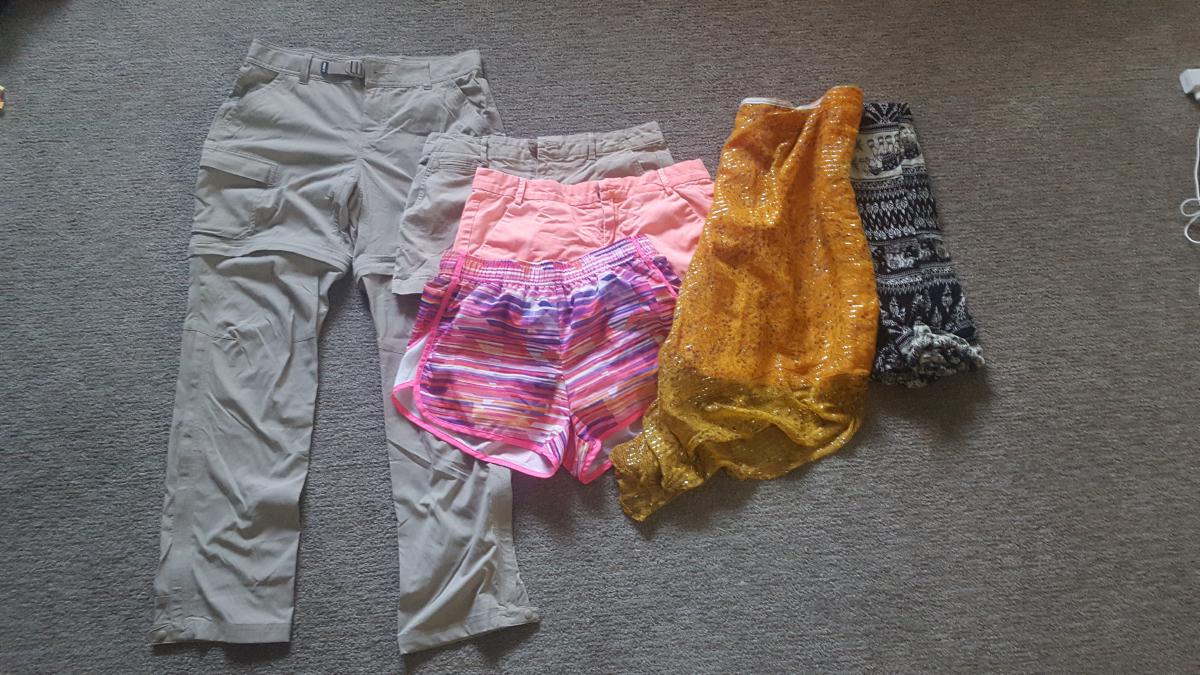 Zip-off safari pants – Pants for the plane ride that become shorts upon landing in Belize. Voila! The REI Sahara pants worked beautifully and were actually semi-stylish, as far as safari pants go, with a minimally noticeable zipper and large pockets.
Athletic shorts – for times when you might get wet, such as spelunking through a cave
Regular shorts – for wandering around towns
Lightweight wrap skirt – handy in Caye Caulker, as things are very casual and it was hot!
Elephant pants – for lightweight sun protection while wandering around in the evenings
Swimwear and Sun Protection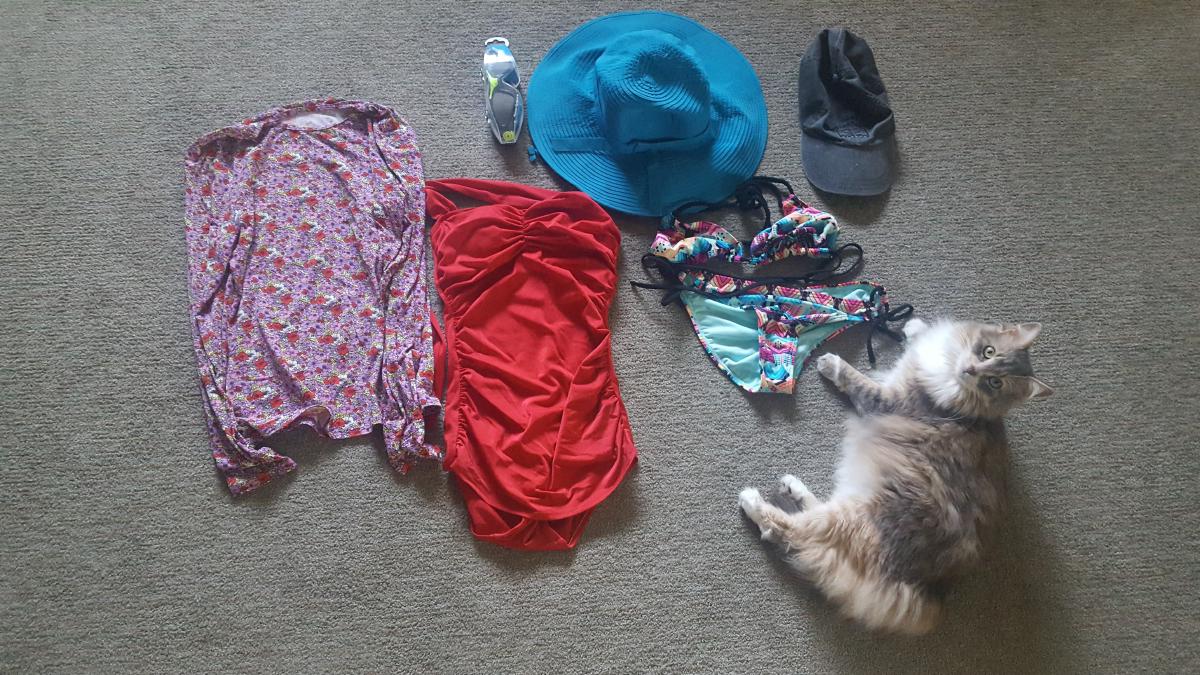 Giant full-brim sunhat from Sunday Afternoons – I loved this UPF+ hat! The adjustable chin strap and head ribbon meant it was impossible to lose on a windy afternoon or boat ride, and the brim was so wide that at midday my entire body was shaded from the sun. Plus, it's cute!
Baseball cap – Theoretically for the plane ride, but I don't think I ever wore it. Neck coverage was critical.
Swim Shirt – Don't bother trying to get a tan – it will happen whether you want it or not. To prevent burning, wear a long-sleeve swim shirt at all times, especially while snorkeling. It also means you don't have to apply as much reef-harming sunscreen.
One-piece swimsuit – For lounging with a bit more coverage
Bikini – For snapping a cute bikini photo before you put on your swim shirt for the rest of the trip. Having two suits meant one was always dry, too.
Swim Goggles – We didn't swim much outside of snorkeling, and the mask was provided, so they didn't get much use but were good to have just in case.
Snorkeling Mask – I didn't bring a snorkeling mask since I have 20/20 vision, but **Pro Tip: **If you use glasses, bring your own prescription snorkeling mask otherwise you won't be able to see any fish!
Cat – Always have a packing buddy!
Shoes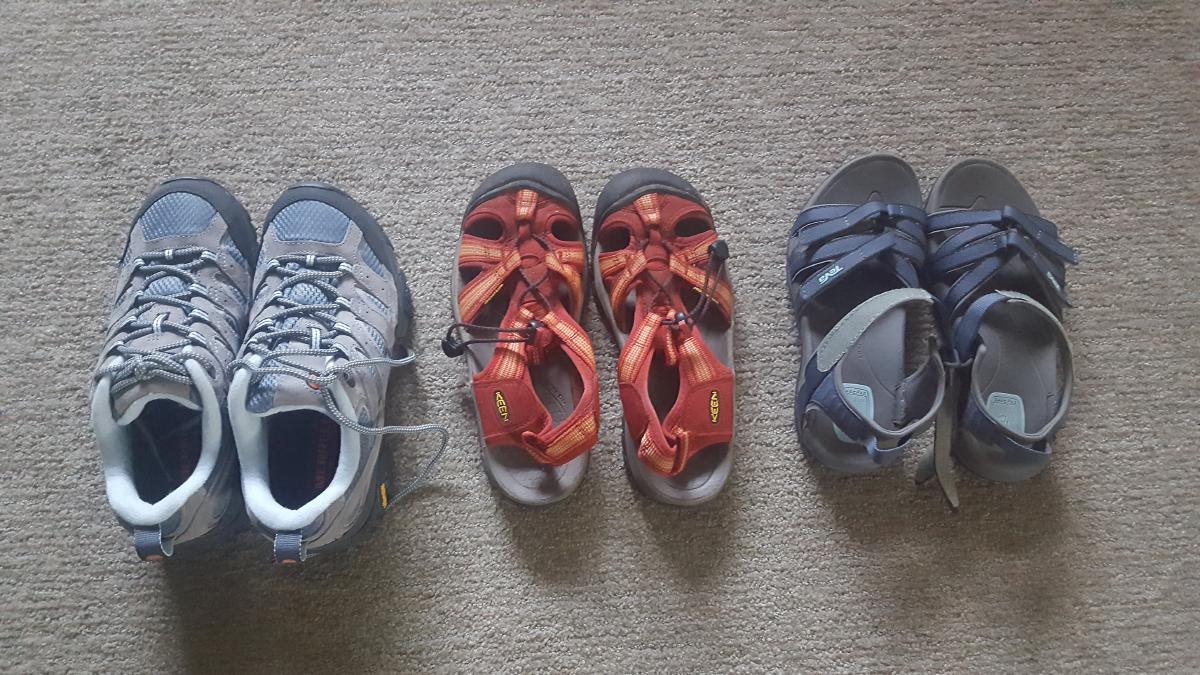 Merrell 2 Moab Vent Low Hiking Shoes (click for men's)- I debated wearing my sneakers in Belize but was happy to have the extra structured support with these shoes. Lightweight and breathable (do not bring waterproof hiking shoes to Belize, you will be miserable), they were great for climbing ruins.
Keens (Newport or Whisper) (click for men's)- These dorky-looking closed-toed sandals were a must-have for spelunking through ATM Cave. The toe protection was crucial when wading through dark water filled with sharp, and holes sandals meant water drained out of them. The sole is thick and provides great traction. My husband was reluctant to buy these for the trip but ended up being very happy that he did! Mine were over 8 years old and the sole actually split off right when I exited the cave – it's like they knew it was their purpose to get me through the cave, and they held on just until the end.
Teva Tirra Sandals (here's a similar style for men)- I wore these 90% of the time I wasn't hiking. Super comfortable and semi-stylish. Not that you need to be stylish in Belize, but it's nice to see Teva's upped their game. These are waterproof and pretty much indestructible.
Outerwear and Other Clothes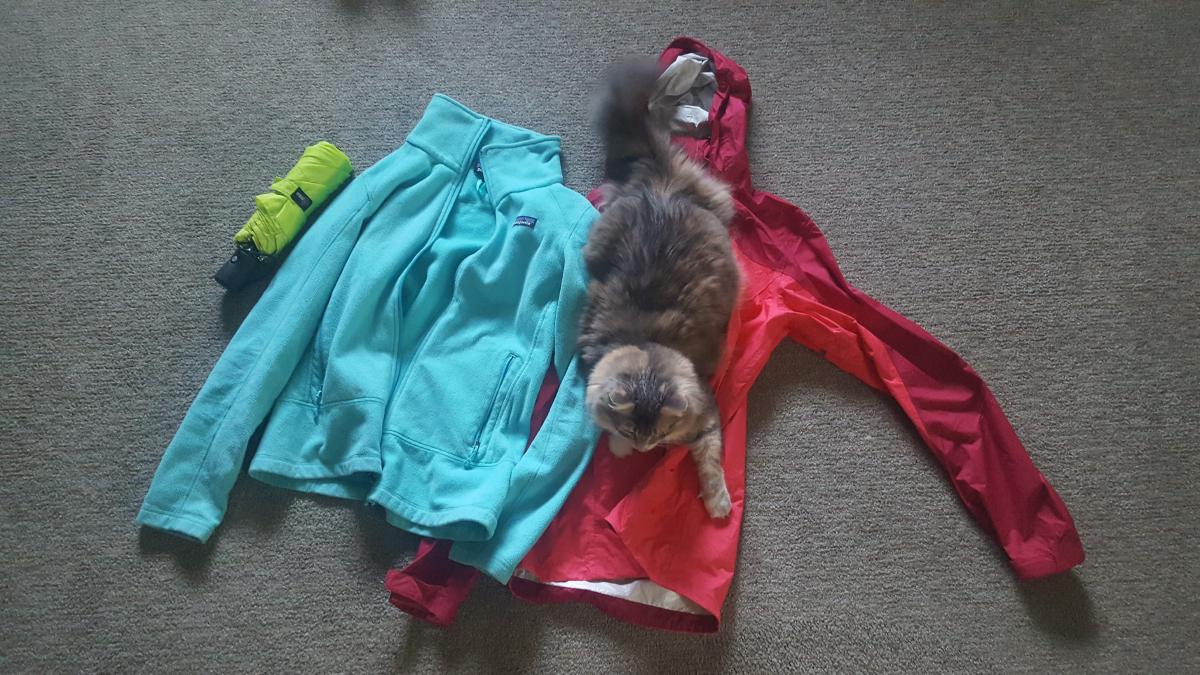 Lightweight rain shell – in case of a sudden downpour or rainy spell
Small umbrella – it never rained while we were outside, but this could come in handy since rain can start from out of nowhere!
Fleece jacket – for the potentially chilly airplane ride
Socks – bring a pair to trash at ATM cave, along with some hiking socks and mostly short socks for the rest of the time
Undergarments – you do what makes sense to you, but bring sports bras since you'll be sweating a lot! Also don't forget pajamas, but keep it lightweight. Electricity is 5 times as expensive in Belize as it is in the US, so AC in your hotel might cost extra.
Cat – I swear I didn't try to put her in these photos… it just happened!
Electronics and Documents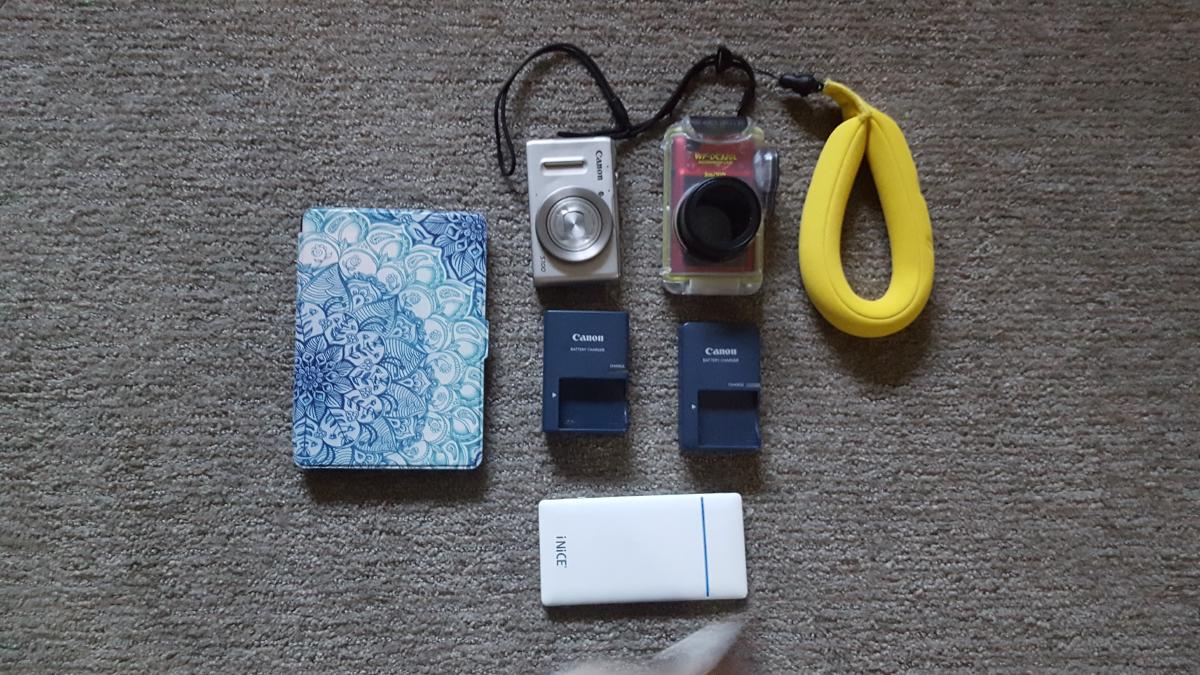 Waterproof camera and charger – Not necessary, but fun to have for snorkeling or beach photos
Floating wrist strap – Meant that I wouldn't lose my camera while snorkeling
Regular camera and charger – Great if you like taking photos that are nicer than those taken with a smartphone
Rechargeable Battery – Always good in case your phone dies while traveling
Kindle – For bringing all my books to read
Smartphone (not shown) – I did bring my smartphone but no laptop, as we wanted to stay off the grid as much as possible. It was handy for sending updates home and researching things on Yelp. All of our hotels had WiFi available so we didn't end up buying a SIM card for just the week.
Passport, travel insurance, and emergency contacts – These are all things you should bring. Travel insurance is great for peace of mind, since US health insurance won't work in other countries, and medevac is expensive if you do need it! Plus it refunds other trip issues outside of your control, such as a missed connection or activity that gets cancelled. Have photocopies of all of them and put them in all of your bags. We kept our passports in the hotel safe most of the time and just carried photocopies with us.
Cash – We brought $800 USD in twenties, plus some fives and ones for tips and purchasing things. We never had to go to an ATM and used the credit card for big purchases.
Toiletries and First Aid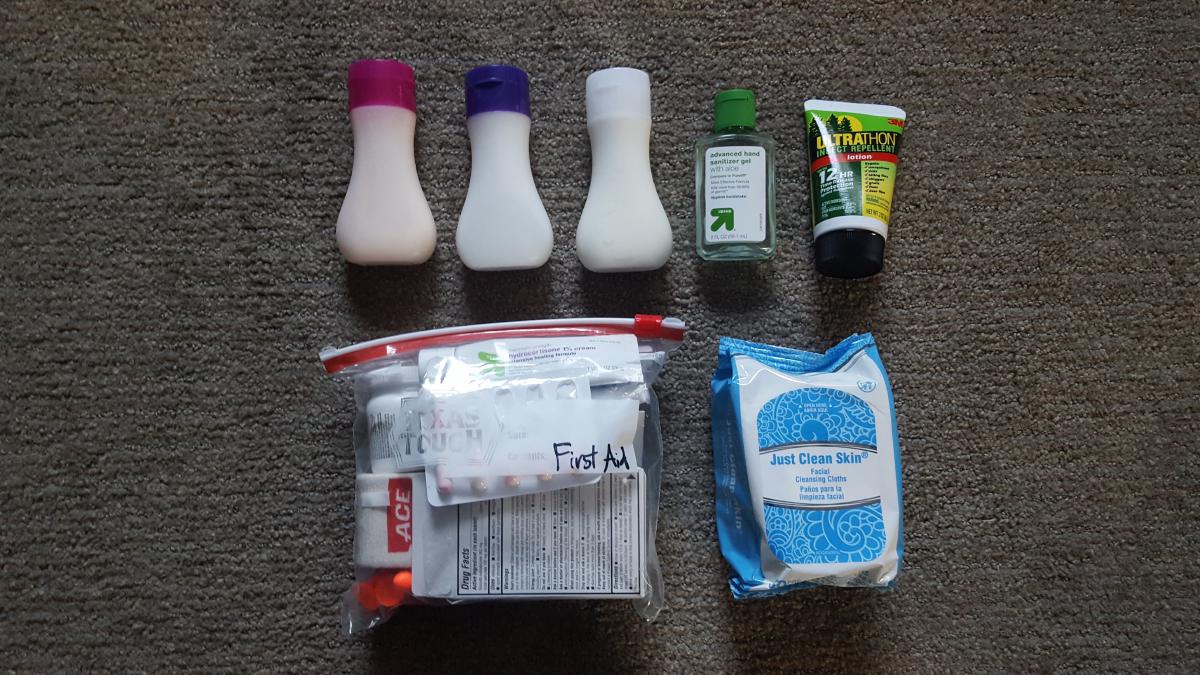 Sunscreen – I put SPF 50 sunscreen in 3oz bottles, so we had 6oz between the two of us. This actually lasted most of the trip because we wore so much sun protection and we figured we could purchase more if needed
Shampoo and conditioner – Some hotels might not provide this
Facial cleansing wipes – Since you're not supposed to drink the water, it's hard to wash your face. These wipes provide an easy way to wipe off after a hot day.
Hairbrush (not shown) – Since you'll be showering a lot, having a hairbrush is nice, but don't bother with makeup or a hairdryer since any styling won't last long in the humidity.
Hand Sanitizer – Always a good thing to have, especially when there's unfamiliar bacteria around
Bug Repellent Lotion – Little bitey bugs are the worst. Bring bug spray or lotion and apply around the ankles in the evening.
First Aid Kit – Doxycycline for a weird beach parasite, Azithromycin for really bad diarrhea, Imodium for diarrhea, Pepto Bismol chew tablets for preventing diarrhea, and regular first aid items like adhesive bandages, an elastic bandage, cortisone, antibiotic ointment, ibuprofen, acetaminophen, day and night cold and flu tablets, and sleeping tablets
Accessories and Miscellaneous Items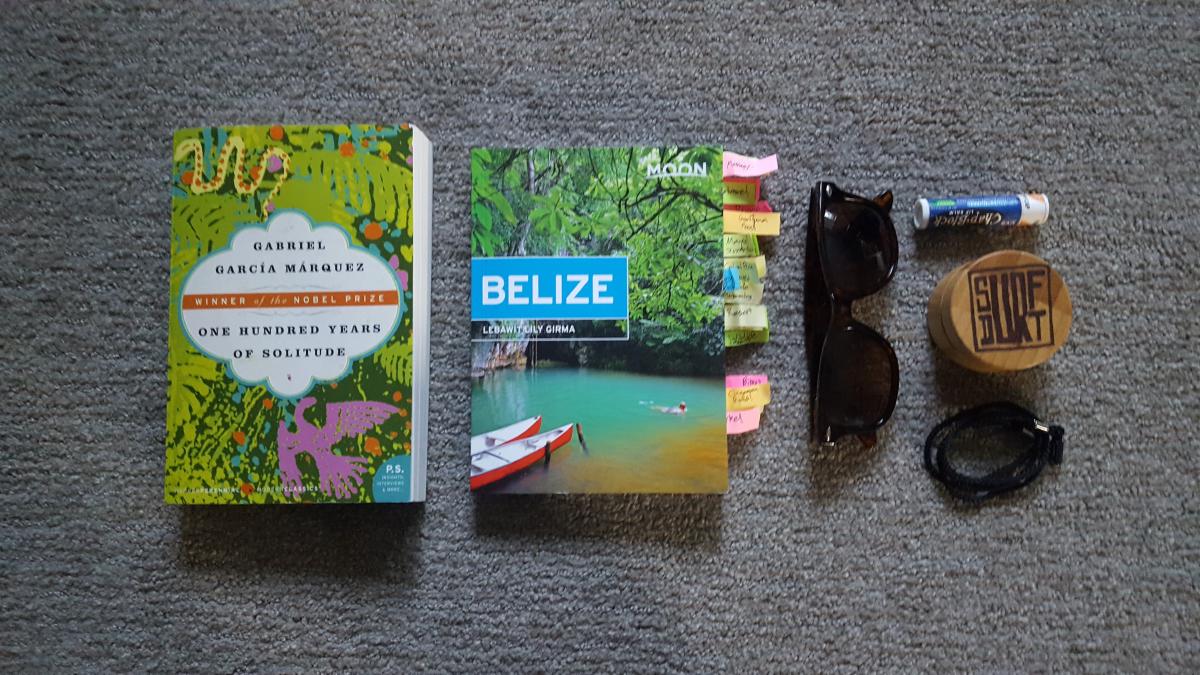 Sunglasses – These cheap-o sunglasses were perfect since I wasn't worried about losing or breaking them.
Sunglasses strap – Even though the sunglasses are cheap, losing them while out on a boat would be unfortunate.
SPF Lip Balm – Lips can get sunburned too, y'all!
Surf Durt – This is reef-safe sunblock that you apply when out snorkeling. Regular sunscreen really harms the reefs, so it felt nice to use something that was environmentally friendly! It doesn't rub in, though, so it's best for use during water activities only, and is wiped off afterward.
Belize Guide Book – My husband and I looked through all of the Belize guidebooks at our local bookstore and thought the Moon guide was the easiest to navigate and the most visually appealing. It also has great maps of each area, color photos, and sample itineraries to get you started on planning.
A book to read – I already had my Kindle but received One Hundred Years of Solitude as a Christmas gift so I brought it along as well.
Requirements and Regrets
Overall I'm very pleased with what I packed for Belize and ended up wearing and using pretty much everything I brought. I had enough sets of clothes that I felt clean during the week without needing to do laundry. What do I highly recommend bringing, and what do I regret not doing differently?
Requirements
**Sunscreen and Wide-Brimmed Hat – **In case it isn't clear yet, Belize is very sunny, and chances are you'll be outdoors a lot. Reapply all the time, and if you're getting a bit toasty, don't think "Oh I'll be fine…" because sunburns sometimes don't appear until you're back inside, and boy are they painful!
**Sunglasses – **Belize is really sunny, so bring a cheap pair that is comfortable and practical. Don't worry about style – make sure they actually have UV protection and are polarized so the tropical colors pop!
**Zip-Off Pants – **These came in clutch. Lightweight, comfortable, and space-saving. I only needed pants for the plane flights, so it was great to not have an unused wear of pants weighing down my suitcase the rest of the time. They also provide extra sun coverage if you can stand the heat!
Regrets
Sunscreen – A requirement and a regret? I wish I had brought more. If I had been checking a bag, I would have brought more sunscreen since it's cheaper in the US, but we had enough to get by with for most of the week.
Waterproof Camera – The case for my camera sprung a leak while snorkeling, so many of my images ended up foggy and the camera actually ended up shorting out. I also missed taking photos of the dolphins, but at least I got to enjoy them in person! Fortunately it was my older camera, but I'll miss it. Be sure to invest in something that won't leak.
**Jeans – **My husband brought a pair of jeans and a button-down shirt thinking that they might be useful for dressing up for a nice dinner. Psych! It was way too hot to ever wear jeans and these nice clothes just took unnecessary space in the suitcase. Belize is casual enough that you can wear shorts, a t-shirt, and sandals everywhere.
Concluding Thoughts
Belize's unofficial motto is "go slow." Don't stress too much about what you're wearing. I recommend setting your clothes out a few nights before the trip, then going back through during your final packing pass to take out anything you realize you probably don't need. Focus on staying comfortable in the heat and humidity and protecting yourself from the sun. Unless you're an Instagrammer, style is pretty irrelevant and you should just focus on having a good time. The people, scenery, sites, and food are worth it!
What's your must-pack item for a tropical destination? Let me know in the comments!
---
All opinions and recommendations are my own and as unbiased as possible. As an Amazon Associate I may earn from qualifying purchases made through some affiliate links on this page. Read the full disclosure policy here.