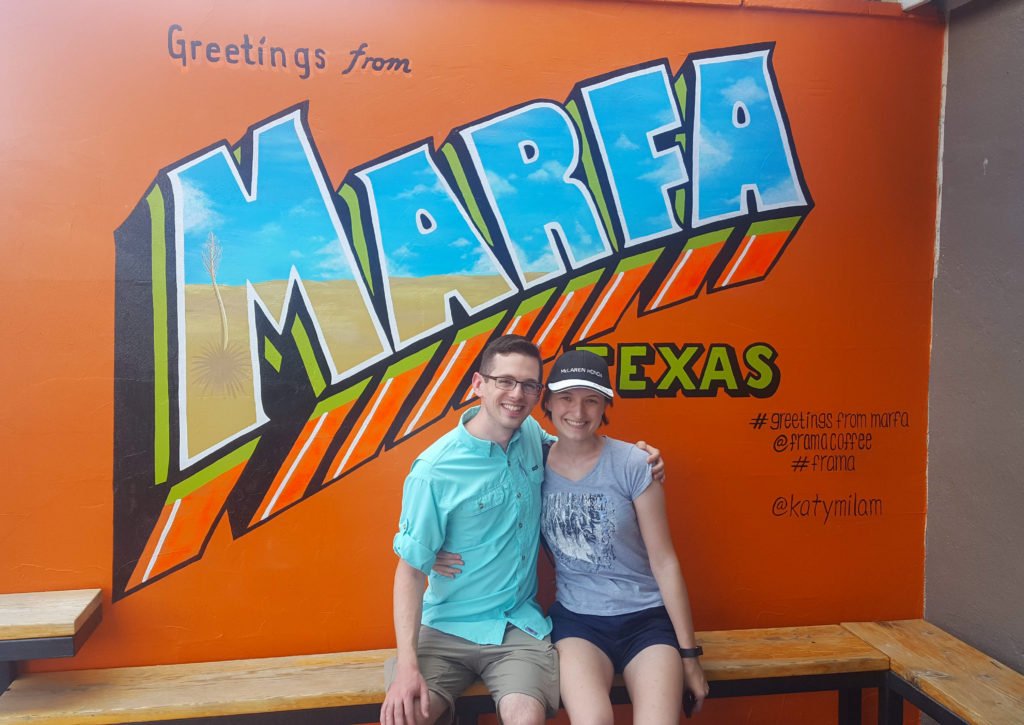 I never quite realized just how large Texas is until my coworkers and I spent 7 straight hours driving into the middle of the Chihuahan Desert for a long weekend in the artsy town of Marfa. That's right, 7 hours west of Austin, and we were still in Texas.
[Texas] is big. Really big. You just won't believe how vastly, hugely, mind-bogglingly big it is. I mean, you may think it's a long way down the road to the chemist, but that's just peanuts to [Texas]. – Douglas Adams, The Hitchhiker's Guide to the Galaxy
As we drove, the landscape transformed from rolling grass-covered hills dotted with oak trees to barren desert with rocky outcrops and sparse yet rugged vegetation. It looked like we were on another planet – and we practically were! The sky above Marfa is so dark that you can see the Milky Way and planets with the bare eye, and the art exhibits are pretty alien, too.
Marfa itself is a haven for artists and art appreciators. Walking through the streets is like traveling back in time to an era when everyone knew their neighbors and went to the same bar each night. Marfa is proud of its quirky heritage and its reputation as a slow and laid back town. To give you some perspective, our hotel's front desk closed at 5pm, and only one bar is open until midnight. Most restaurants are only open Thursday to Monday, when tourists are in town.
---
Friday: Desert Driving and Prime Rib | Day 1
We departed Austin around 10am and arrived in Marfa by 6pm. This monotonous drive included stops at Torchy's Tacos for a late breakfast and Dairy Queen for lunch. I'm warning you now, once you pass Fredericksburg, there is nothing but Dairy Queen and Sonic for miles and miles. Maybe it's wiser to just pack a sandwich and some healthy snacks for the car ride.
Pro Tip: Marfa is in the high desert, which is over 4,500 feet above sea level. Make sure to drink lots of water (hydrate, don't diedrate!) and wear sunscreen and hats. It's also a good 10 degrees cooler than Austin in the summer, which is a lovely break from triple digit heat.
The Thunderbird Hotel
We drove into Marfa from the east and saw 90% of the town on our way to our hotel. There's only one main street in Marfa, making it easy to explore within one full day. As the front desk of the Thunderbird Hotel closed at 5pm, we picked up our room keys from a lockbox and dropped our luggage in our rooms. The minimalist bedrooms surrounded a wonderfully landscaped courtyard and a refreshing swimming pool. The Thunderbird also has record players and typewriters for rent, if you're lucky to arrive when the office is open.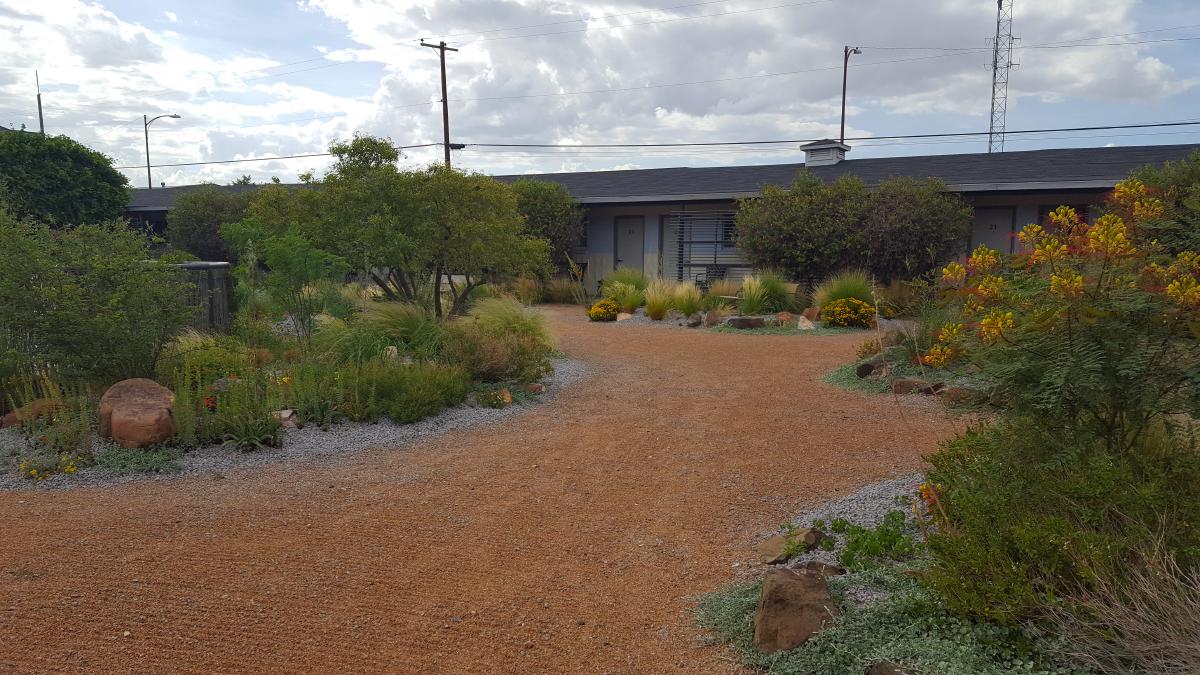 An Incredible Dinner at Capri
Across the street from the Thunderbird stands an absolute gem of a restaurant in the middle of the high desert – Capri. We walked through picturesque desert garden to a covered area and stylishly rustic bar. The waitstaff was entertaining and knowledgeable and made dinner a wonderful experience! We indulged in many things on the thoughtfully curated menu, but the highlights by far were the prime rib and the mesquite bean ice cream. Don't let anyone convince you to get the chocolate – the mesquite bean is better. We actually went back to Capri on Saturday for ice cream since it was the best any of us had ever eaten.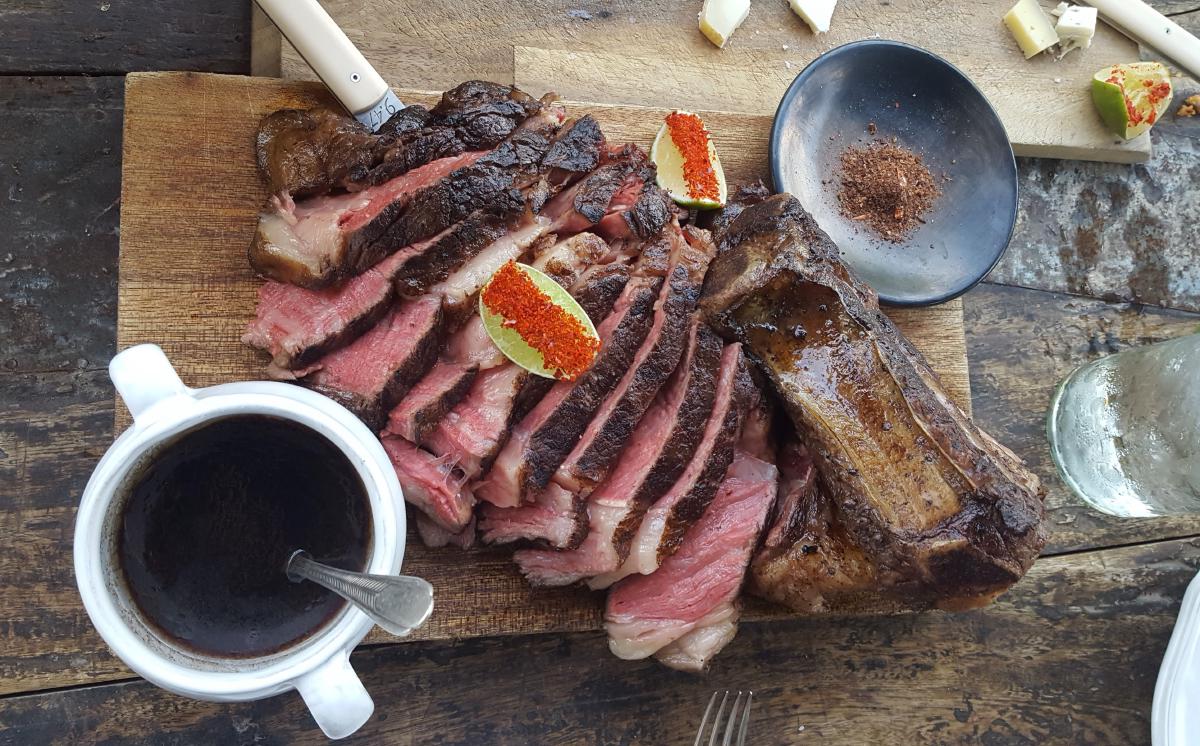 We finished the night at Planet Marfa, the neighborhood bar and the only place in town open until midnight. This place is fantastic to explore, with places to hang out like a school bus, a subterranean teepee, and a rooftop deck at the top of a spiral staircase. If you want funky, this is it!
We ended up skipping out on the Marfa Lights, a local "phenomenon" where mysterious lights appear on the horizon at sunset. Spoiler Alert: It's most likely an optical illusion caused by car headlights in the distance. There's a viewing area just outside of town, but it seemed like a tourist trap to us and we instead opted for staying longer at Capri and Planet Marfa.
---
Saturday: Weird Art and Outer Space | Day 2
We ate breakfast at Do Your Thing, a hole-in-the-wall hipster coffee shop that specializes in homemade toast. Yes, I paid $5 for a piece of toast with jam, but it was homemade! Our group then stopped by El Cosmico, a very cool bohemian campground where you can rent a furnished yurt or RV and relax with a couple of beers under the stars and wide open sky.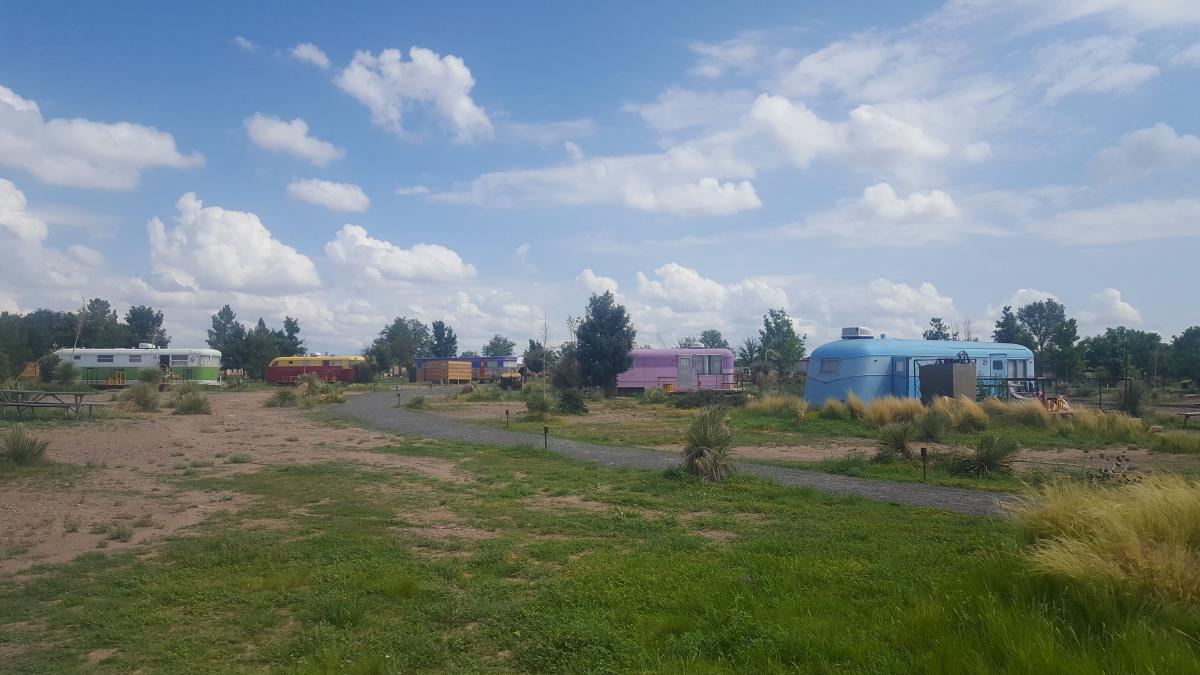 Concrete Boxes and Crushed Cars: Chinati and Judd Foundations
A visit to Marfa wouldn't be complete without a day spent looking at art. The Chinati Foundation has two main installations of Donald Judd's art – aluminum boxes and concrete boxes. The 100 aluminum boxes (no photos allowed) are about a meter per side and are all slightly different. I'm not really sure what the point is, but it was a neat experience. Perhaps even more interesting than the boxes was the old WWII hangar that housed the aluminum boxes. Outside, fifteen clusters of large concrete boxes (you can stand in them if no one catches you) stand in stark contrast with the wide open landscape. Rain clouds dramatically sweep across the plains and mountains in the distance. It costs $10 to see the aluminum boxes but the concrete boxes are free.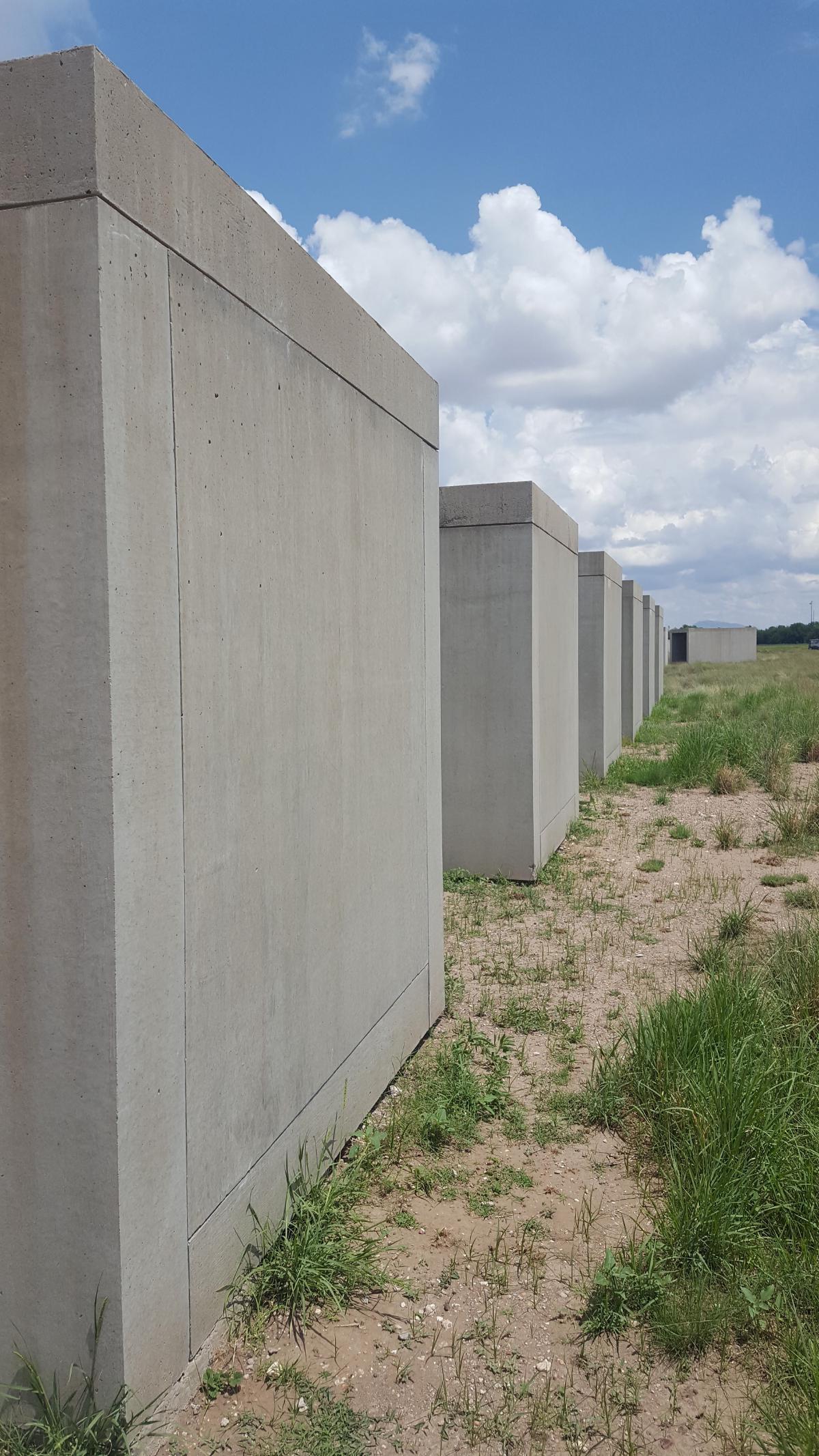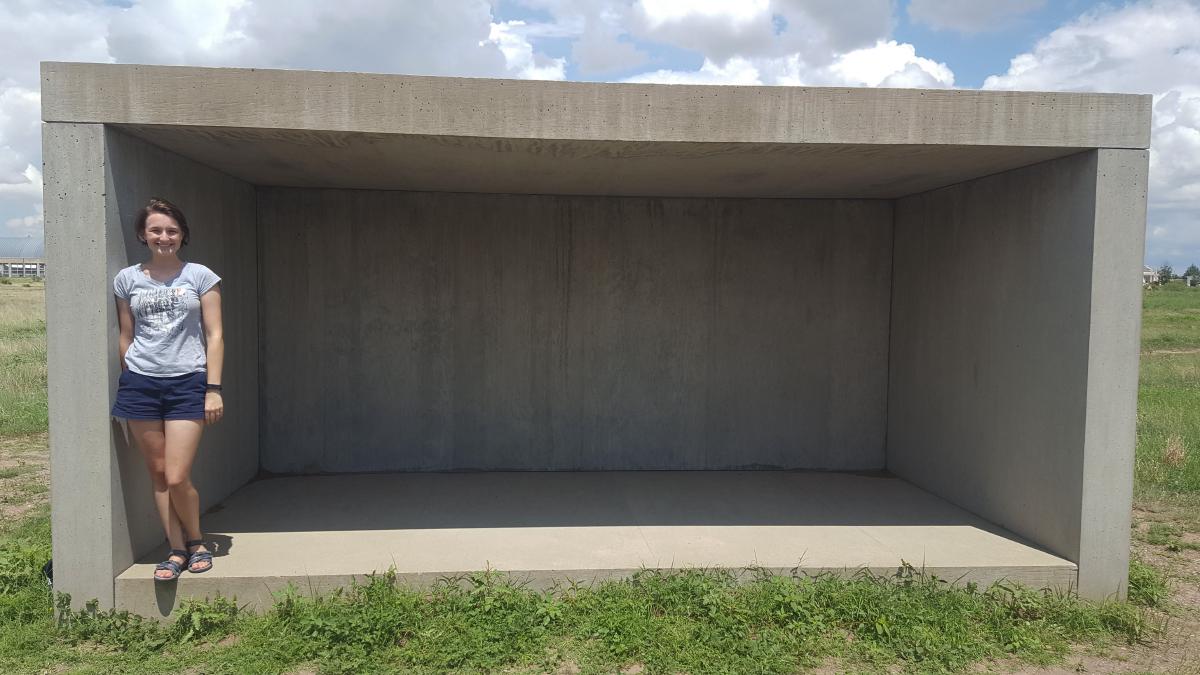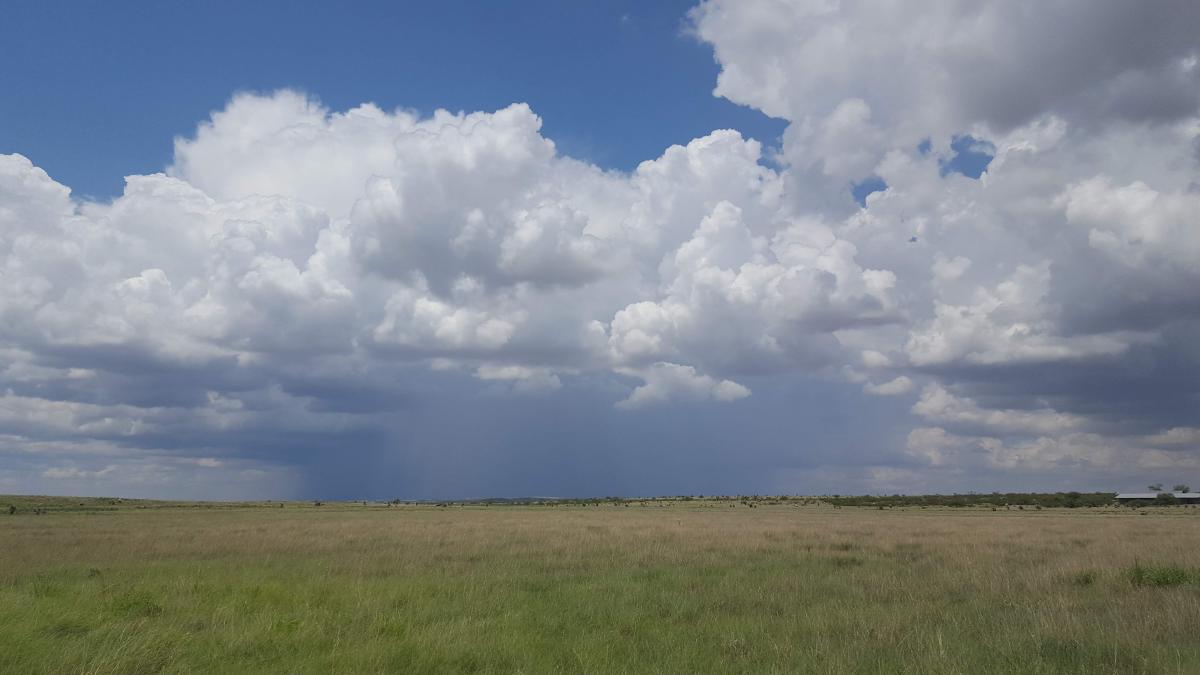 Later in the day, we went to the Judd Foundation downtown and explored the crushed car exhibit. It's literally a room full of cars that are… crushed. Once again, no photos allowed, but it was pretty neat and free to see.
The rest of the day was spent wandering through the streets of Marfa on foot. It's a very walkable town with cute art galleries full of expensive neon signs, an Andy Warhol version of The Last Supper, and awesome ice cream at Frama, a coffee shop and ice cream parlor tucked away into a laundromat – the lavender bean is incredible! Ballroom Marfa is another free gallery with some wacky art. Marfa provides a look into the past and small-town America, and is a glimpse into what it would be like to live in the middle of nowhere. Food Shark, a Mediterranean food truck famous for their "Marfalafel," is a great place to grab lunch.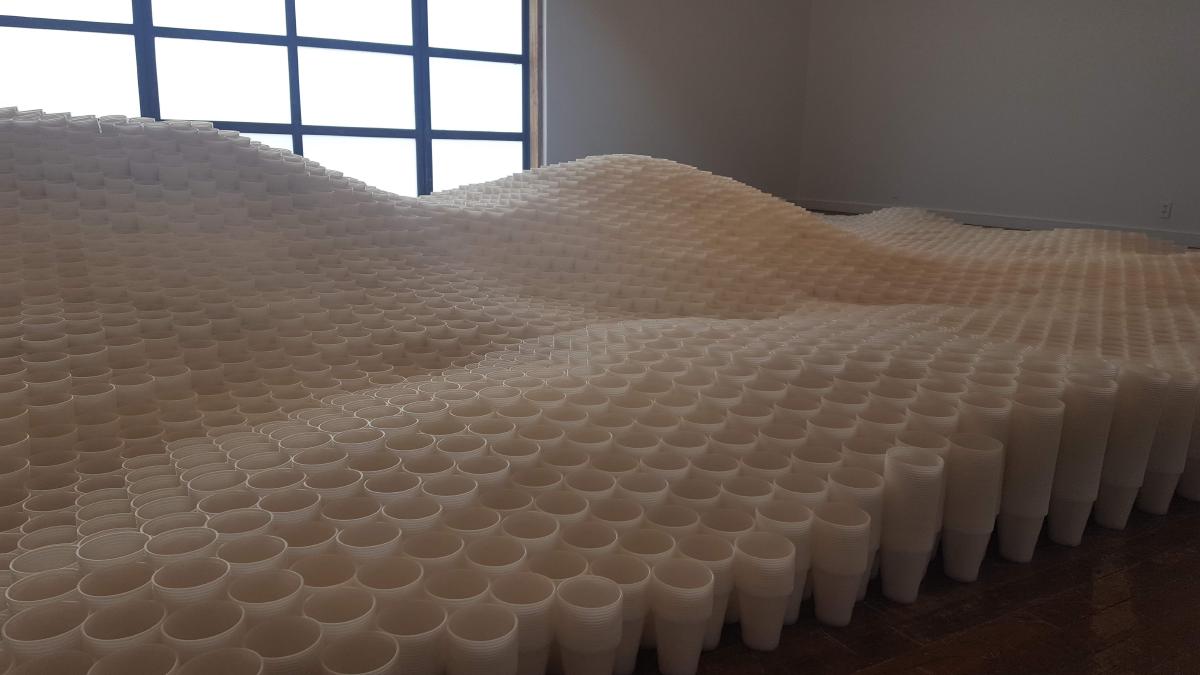 The Hotel Paisano in Marfa is where James Dean and Elizabeth Taylor stayed during the filming of Giant, James Dean's posthumously released final film. It's 3 hours long so I haven't seen it, but it's worth wandering into the hotel's lobby and enjoying the historic decor and photos of the actors.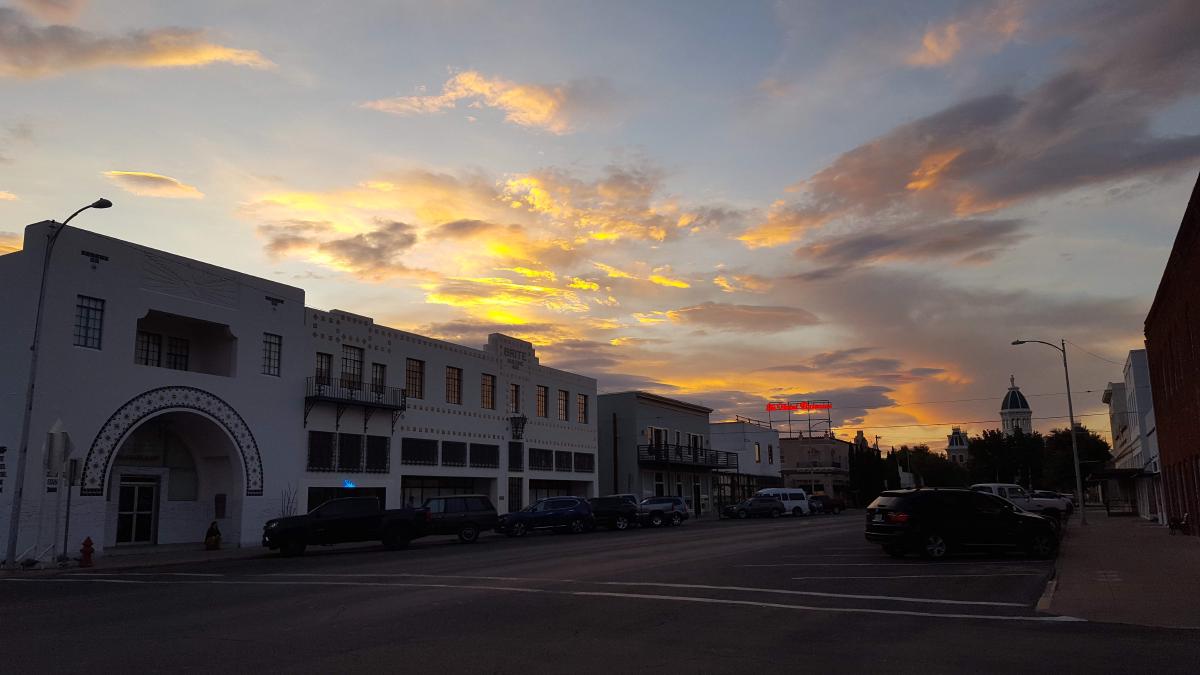 Stars and Planets: McDonald Observatory Star Party
As they say, "the stars at night are big and bright deep in the heart of Texas." Marfa, being in the middle of the high desert and hundreds of miles from the nearest major city, is about as dark as it gets. And at 6,700 feet above sea level in the mountains above Marfa is the McDonald Observatory run by the University of Texas at Austin in a large dark sky park. On weekend nights, they host an incredible experience called a Star Party where you can explore the universe in a truly incredible way. They set up eight to ten telescopes for viewing galaxies, planets, and star clusters, and have a laser guided show of the stars right above you. The night we were there, all of the Galilean planets could be seen with the naked eye, and the Milky Way shimmered as a band across the sky. Even without a telescope, I saw more stars than I had ever seen in my life. Make sure to reserve tickets in advance as space is limited, but the $12 price of admission is well worth it.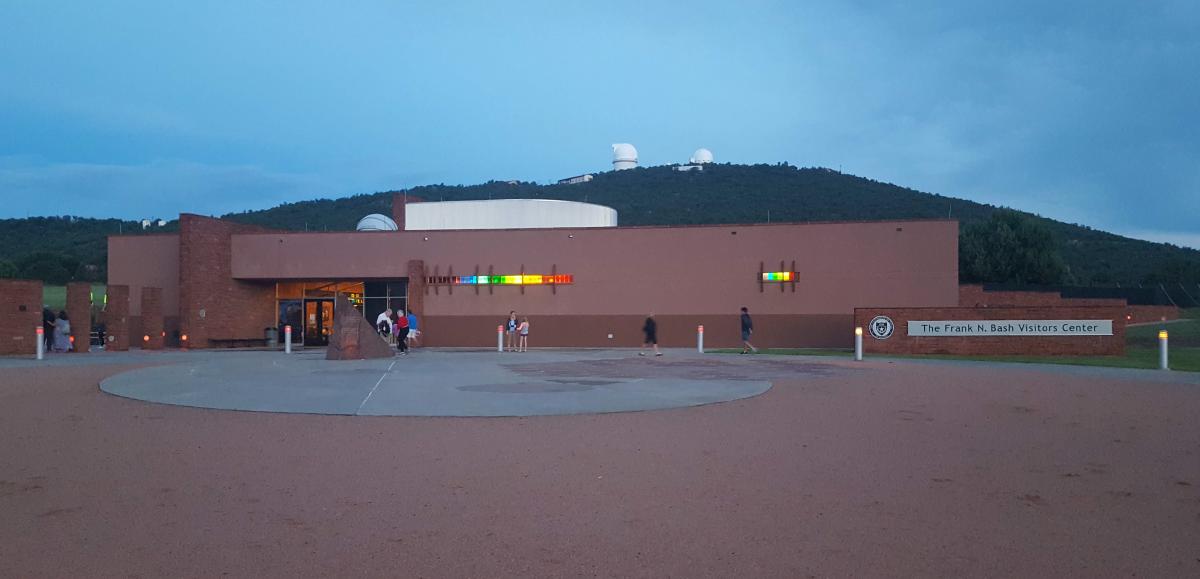 ---
Sunday: The Best Hot Chocolate Ever | Day 3
Prada in the Desert?
Early in the morning, my coworkers and I drove 30 minutes farther west to a lone building on the side of the highway – Prada Marfa. As is true about most things in Marfa, this concrete building is actually an art installation commenting on the reach of consumerism. You can't even enter the tiny structure. However, it must be said that it's a stunning contrast to the wide open desert beyond and makes for a pretty must-have Instagram shot. I wouldn't say it was "worth it," exactly, but it was still a fun outing before lunch.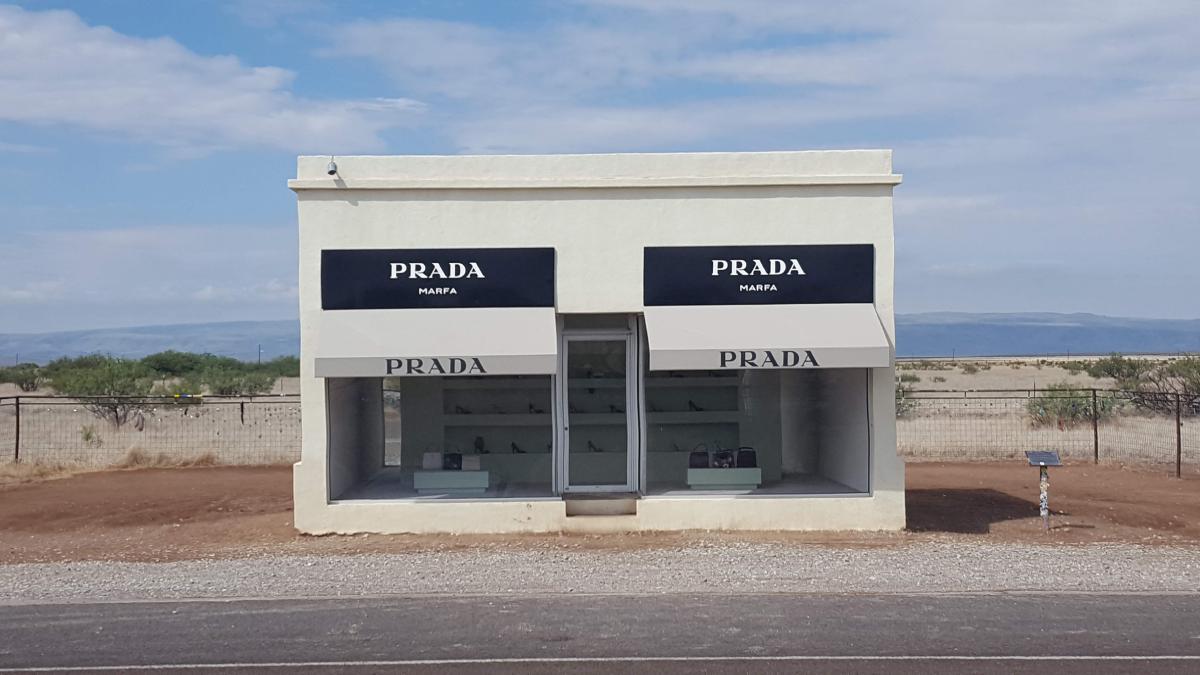 The Best Hot Chocolate Ever
We had lunch at Squeeze, a Swiss brunch restaurant in Marfa. Their claim to fame, aside from making delicious sandwiches and smoothies, is their chocolate. They are they only seller in the entire United States of Vollenweider Chocolate, a Swiss chocolate company founded by the store owner's father back in 1943. If you'd like a taste of this delicious chocolate and don't want to splurge on an entire pricey bar, I highly recommend the drinking chocolate with fresh whipped cream. Oh my goodness, you will not regret it.
---
So, Should You Visit?
Marfa is one of those bucket list items for Texans and is perfect for a 3 day weekend, no more and no less. I don't feel the need to go back (except maybe for another Star Party) but it's definitely a unique spot in the middle of the desert and provides some respite from the hot summer heat of Austin or nearby (as in 3 hours away) Big Bend National Park. The town is relaxed and quiet since it's far away from highways and major cities, and the sky is so dark that just looking up at the stars is an awe-inspiring experience in itself.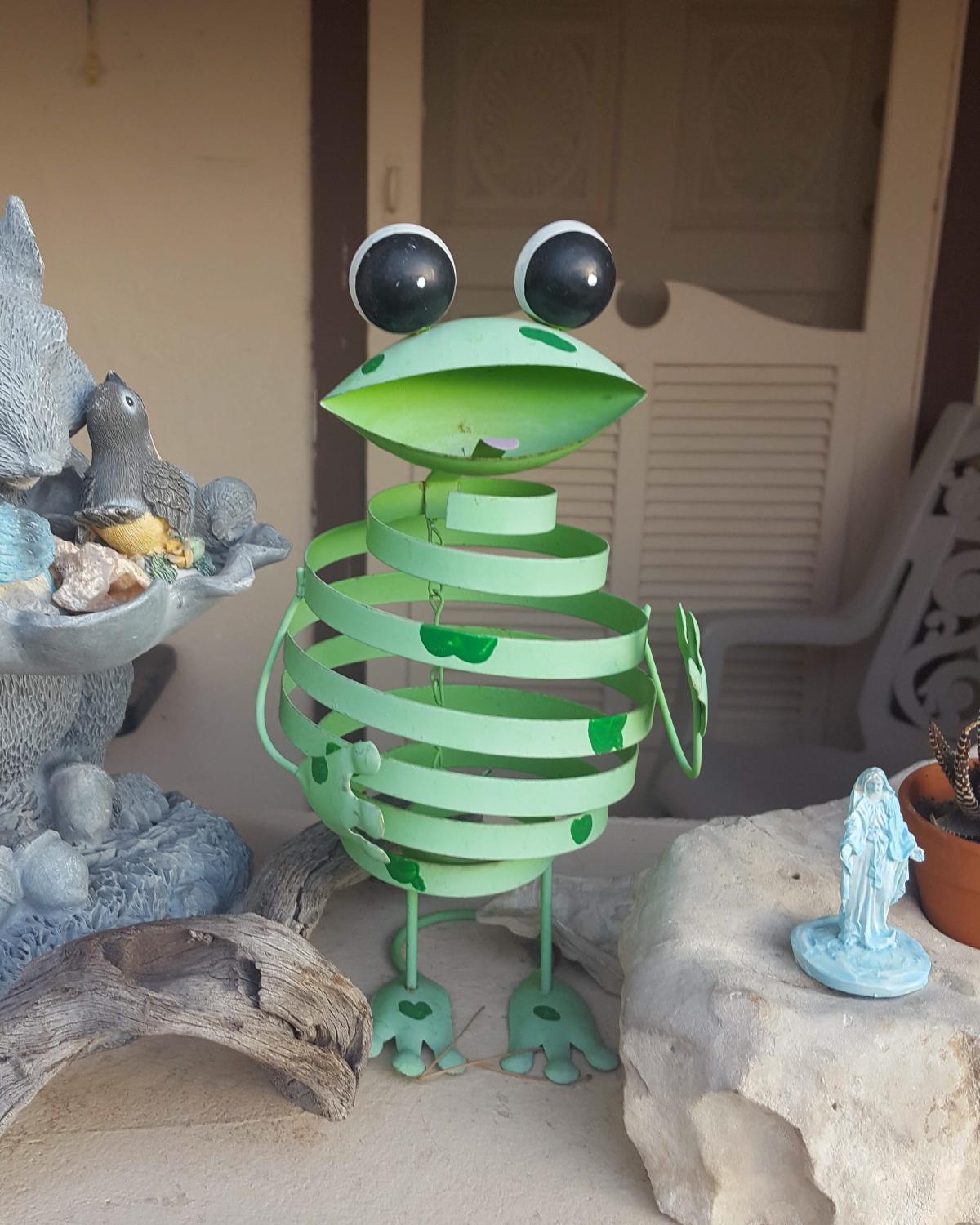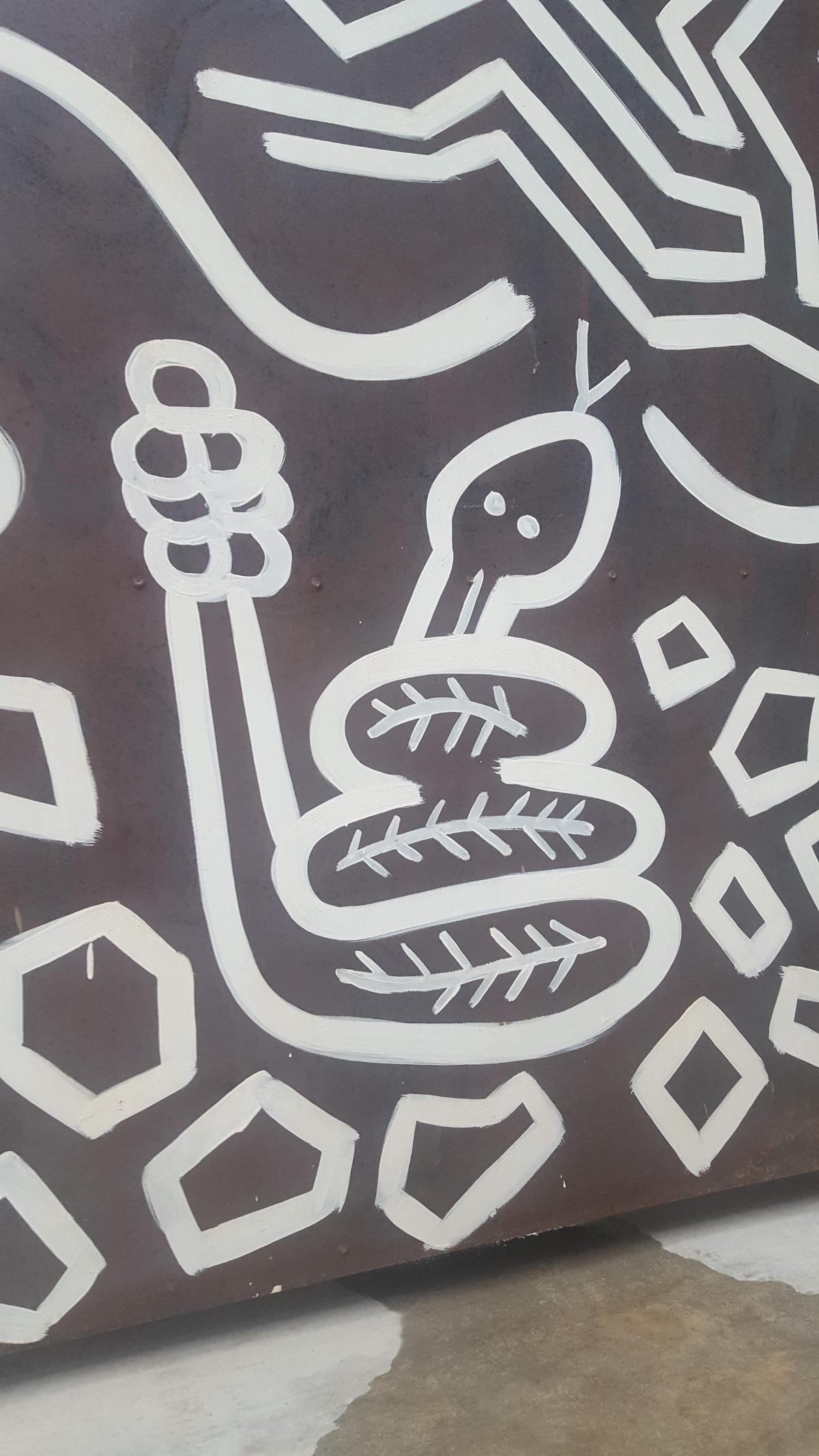 ---
Staying Spontaneous
Visiting Marfa is about as spontaneous as it gets. Wander around town to the various galleries and exhibits – just make sure to check the hours they're open, as most stuff closes by 5pm, and the Judd and Chinati foundations sequence their opening times so the staff can move between exhibits. Make sure to avoid visiting during one of their festivals, unless you're into artsy films, otherwise the town and accommodations will be packed.