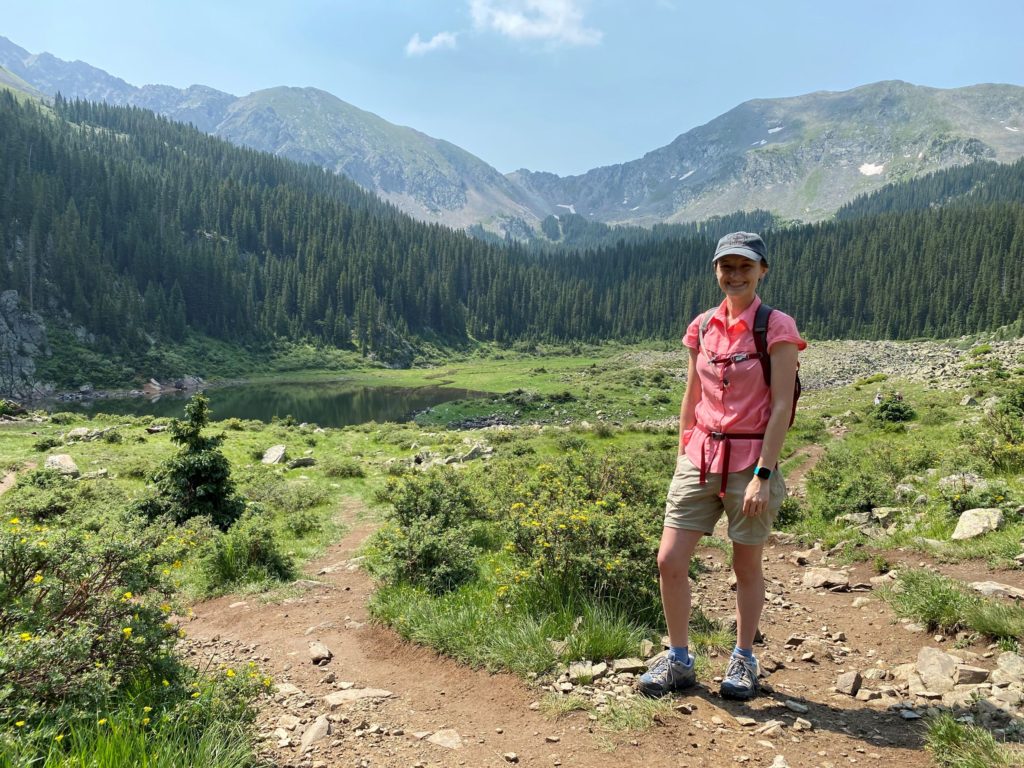 Where in the United States can you find high mountain peaks, evergreen forests, desert canyons, red rock formations, fascinating thousand-year-old ruins, and a fusion of cultures? You might be surprised, but it's New Mexico! Known as the Land of Enchantment, New Mexico is a state that keeps calling me back.
After over a year of minimal travel due to the pandemic, Glenn and I took advantage of being fully vaccinated and road tripped by ourselves to New Mexico. Living in Austin somewhat limits driving options, as motoring at 75 mph for six hours in any direction means you're still in Texas. But New Mexico was the closest place that had decent summer temperatures (less humidity, and high elevation) with an interesting change of scenery. I can safely say that we'll be back again.
Last time we went to New Mexico, we focused on Santa Fe with a short day in Albuquerque. That was also in the winter over the Christmas holiday. This time, we spent 2 days in Taos, then drove through Santa Fe to Albuquerque. We were also able to accomplish some of the items we'd missed last time due to inclement weather (snow on the Turquoise Trail) and the national parks shutdown (Bandelier National Monument).
Saturday: Heading for Lubbock
We started out on Saturday morning driving the 6 hours from Austin to Lubbock. It was a great opportunity to listen to an audiobook (in this case A Wrinkle in Time by Madeleine L'Engle, which my husband had never read). I had never been a fan of audiobooks because I felt like if I missed something it was a hassle to go back and figure out where I'd left off, but this book worked since I vaguely knew the plot from reading it as a kid.
We arrived in Lubbock in the mid-afternoon, checked into our hotel for the night, and looked for activities in Lubbock to burn the last few hours of daylight. We settled on dinner at Bryan's Steaks, which is truly a Texas experience. Inexpensive steaks, a buffet of "salads," and a soft serve ice cream machine. There were very few masks being worn, which made us uncomfortable, but we learned a lot by experiencing what is clearly a local favorite restaurant here.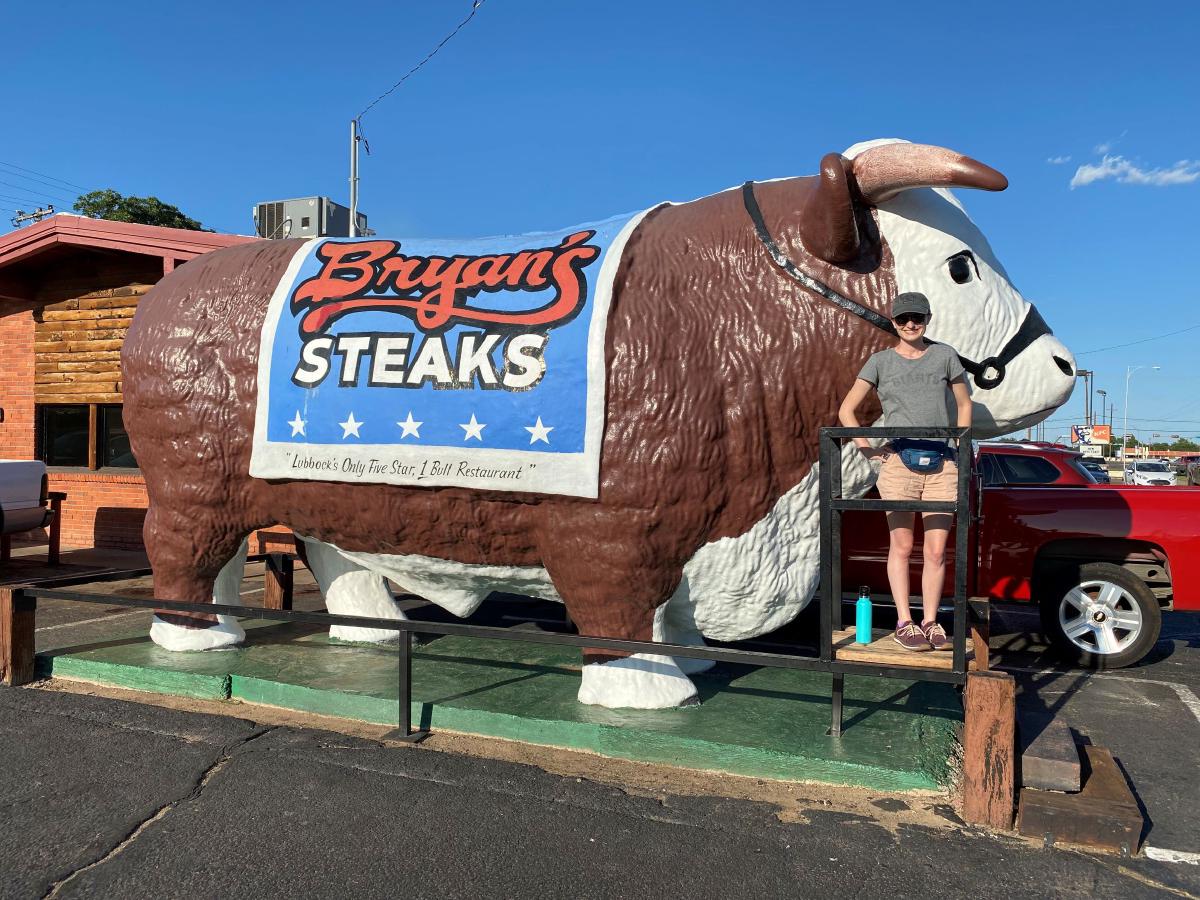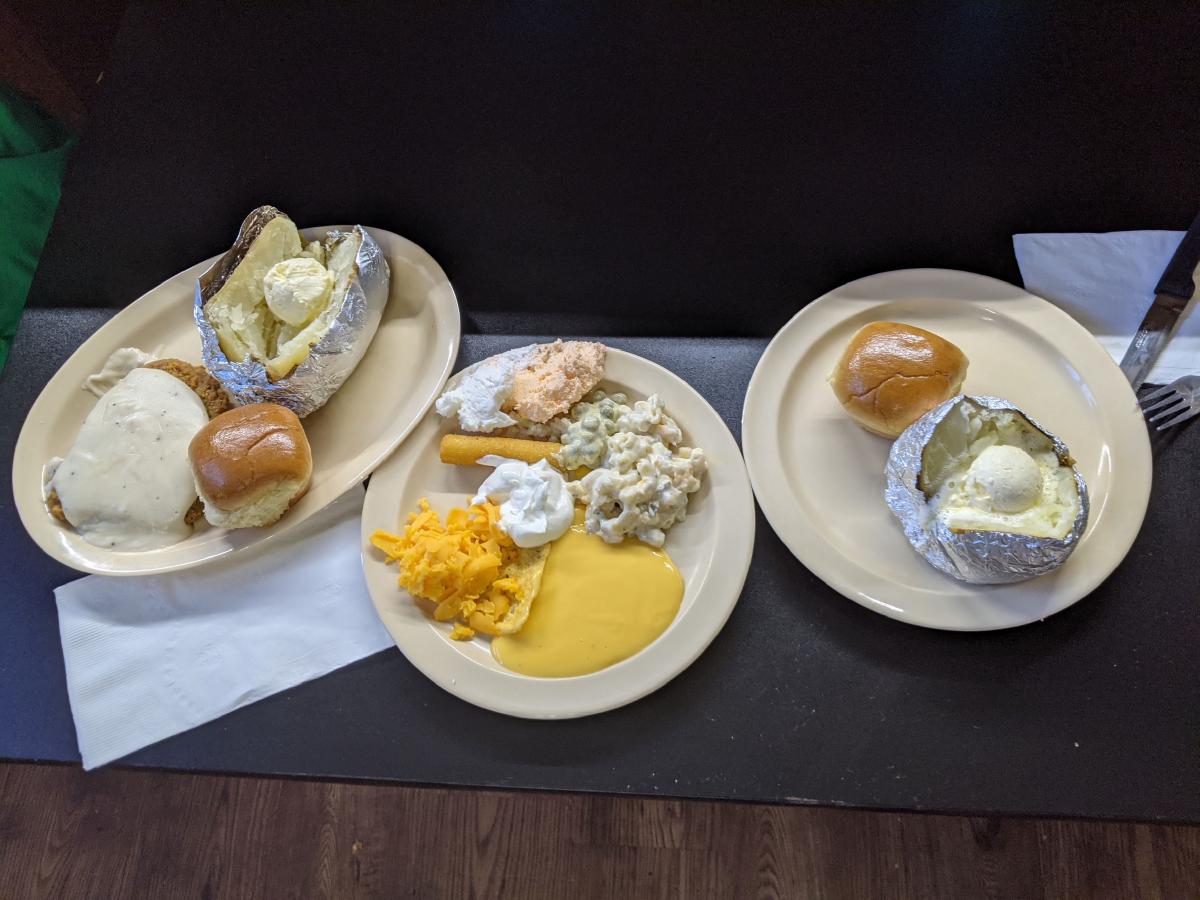 Afterwards, we headed to the free Prairie Dog Town, where we spent a good hour watching the little ones pop in and out of their holes.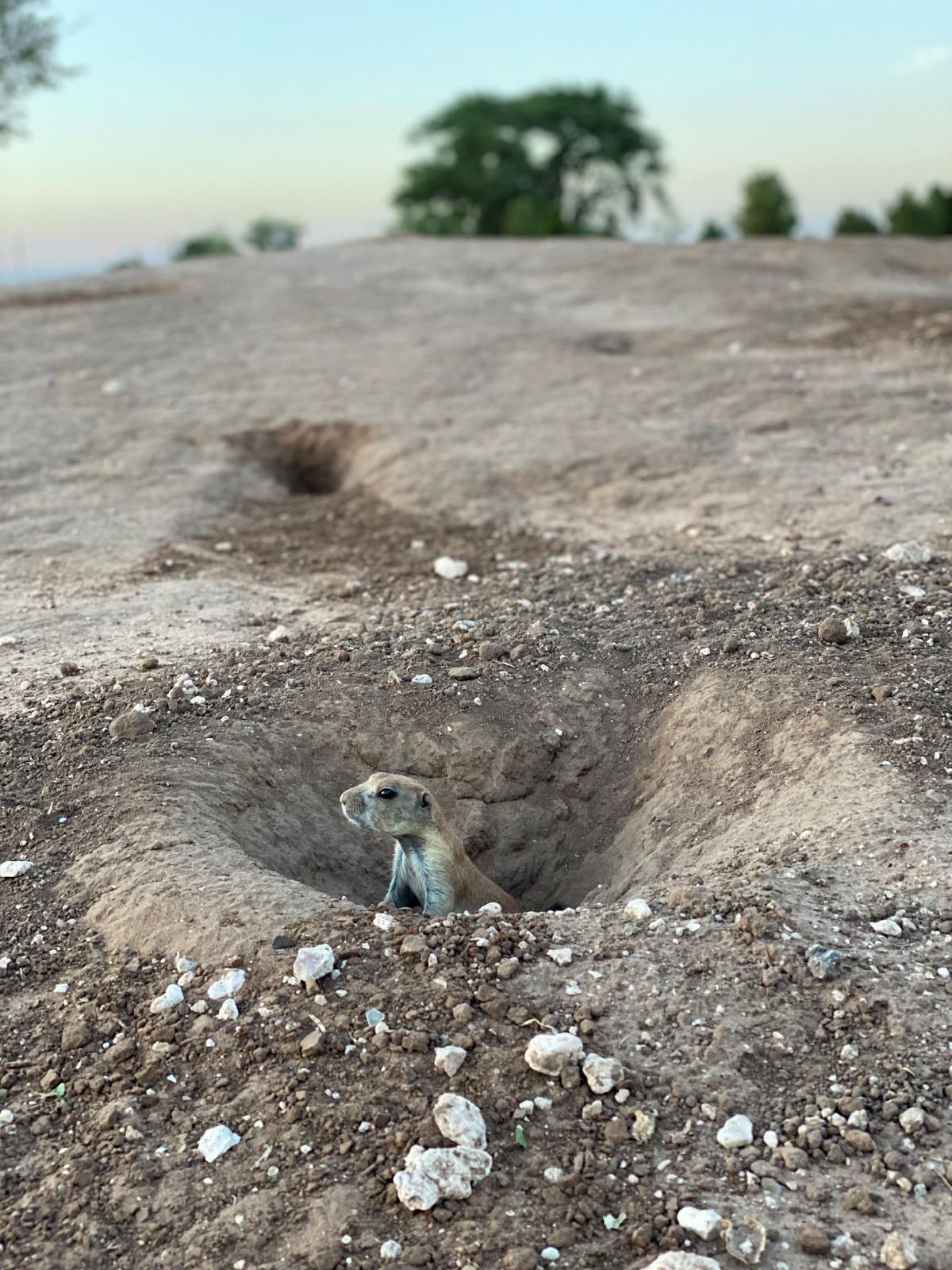 Sunday: The Drive to Taos
We headed out early and drove into New Mexico past fields of windmills. A stop at the cute Blackwater Coffee in Clovis (it felt like places in Austin) fueled us until we reached the junction with Route 66 in Santa Rosa for lunch at Chico's Tortas, where we got enchiladas and a quesadilla. This was authentic Mexican, but we looked forward to the green chile-heavy New Mexican food in our future. New Mexican cuisine is a fusion of Pueblo Native American, Mexican, and Spanish foods.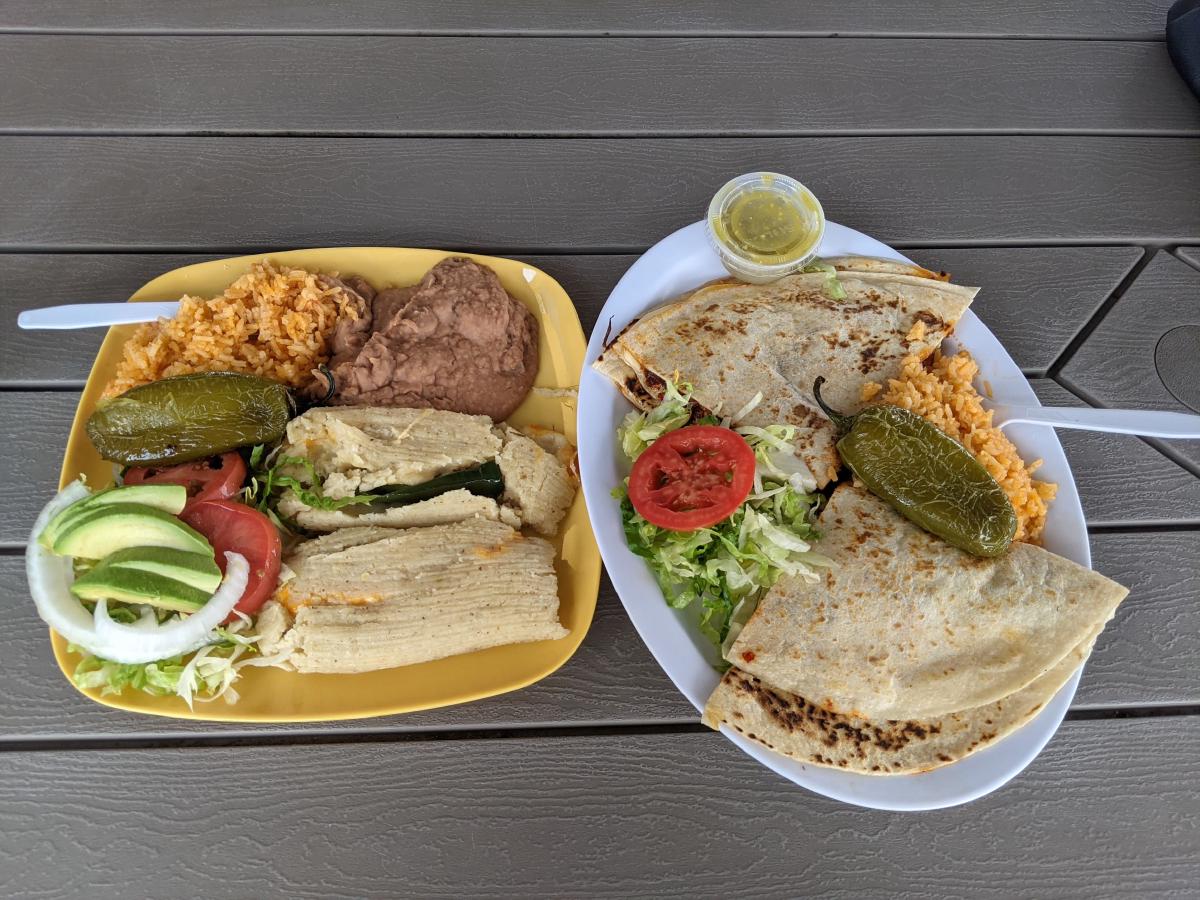 As we headed north into Taos, we kept climbing into the mountains until we were winding through evergreen trees in the Carson National Forest. In the late afternoon, after our last stop for gas, the skies opened and we were caught in an incredible hailstorm, with thunder and lightning. We pulled into a camping area and parked under a tree to try and save our car from dents or broken windows. This had been truly unexpected, as it was the middle of summer and had been blistering hot only an hour before, but was suddenly in the 40's with the ground covered in slippery ice. We were at almost 9,000 feet above sea level in the mountains above Taos.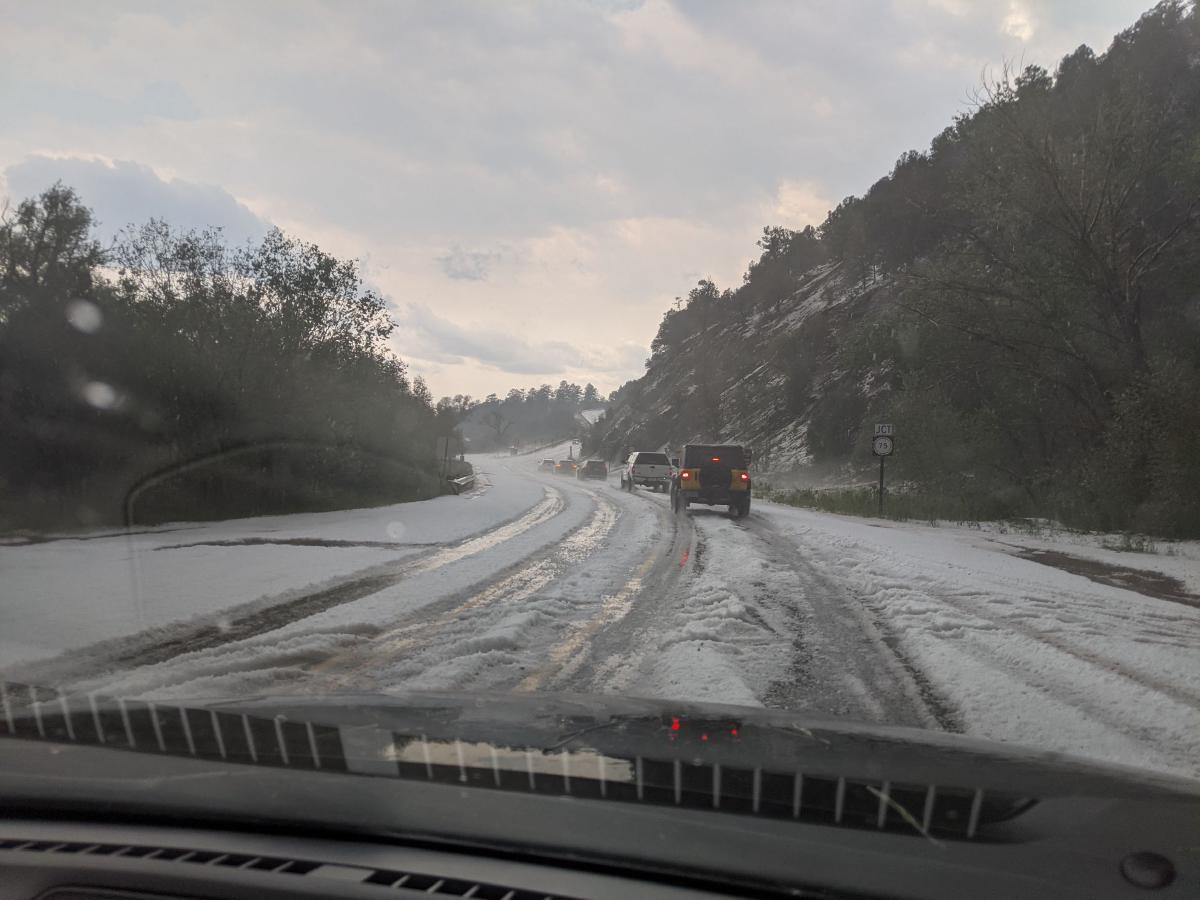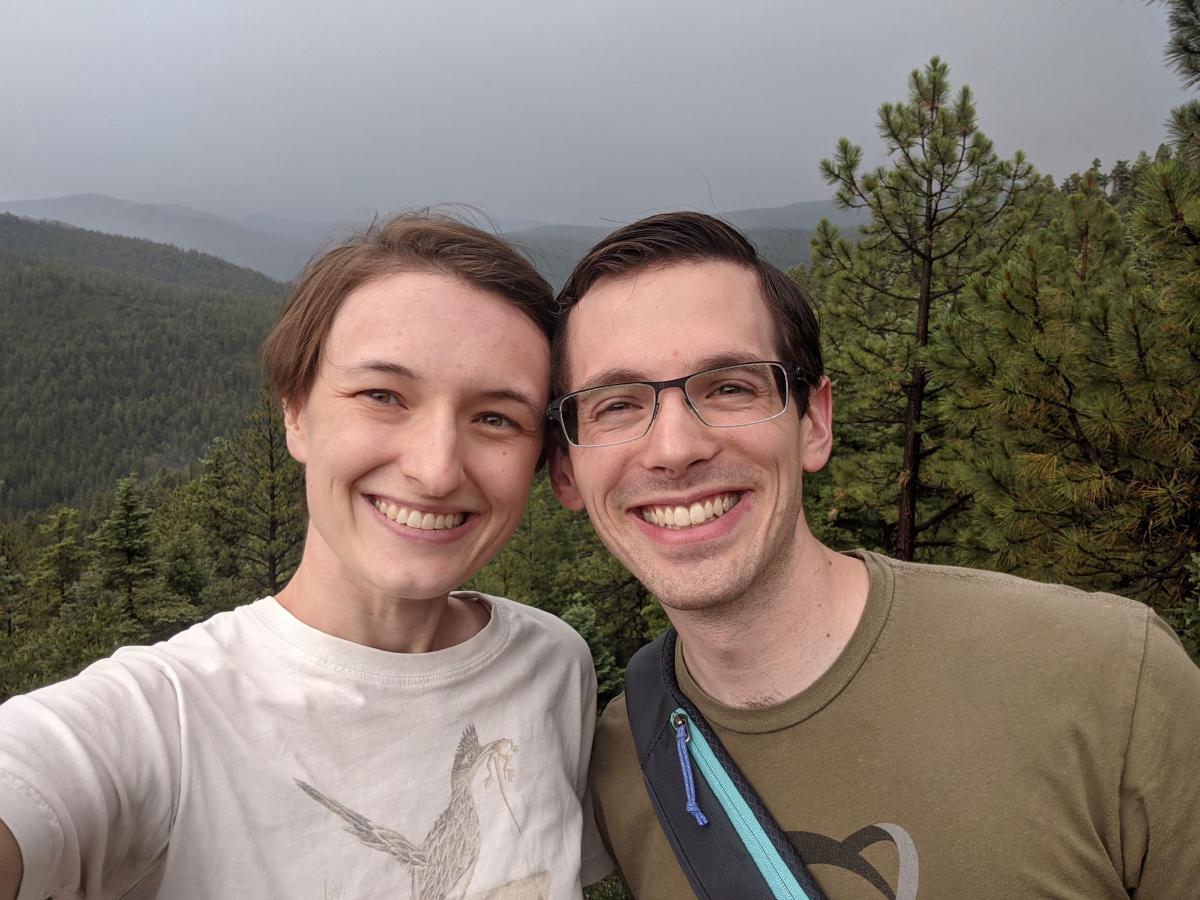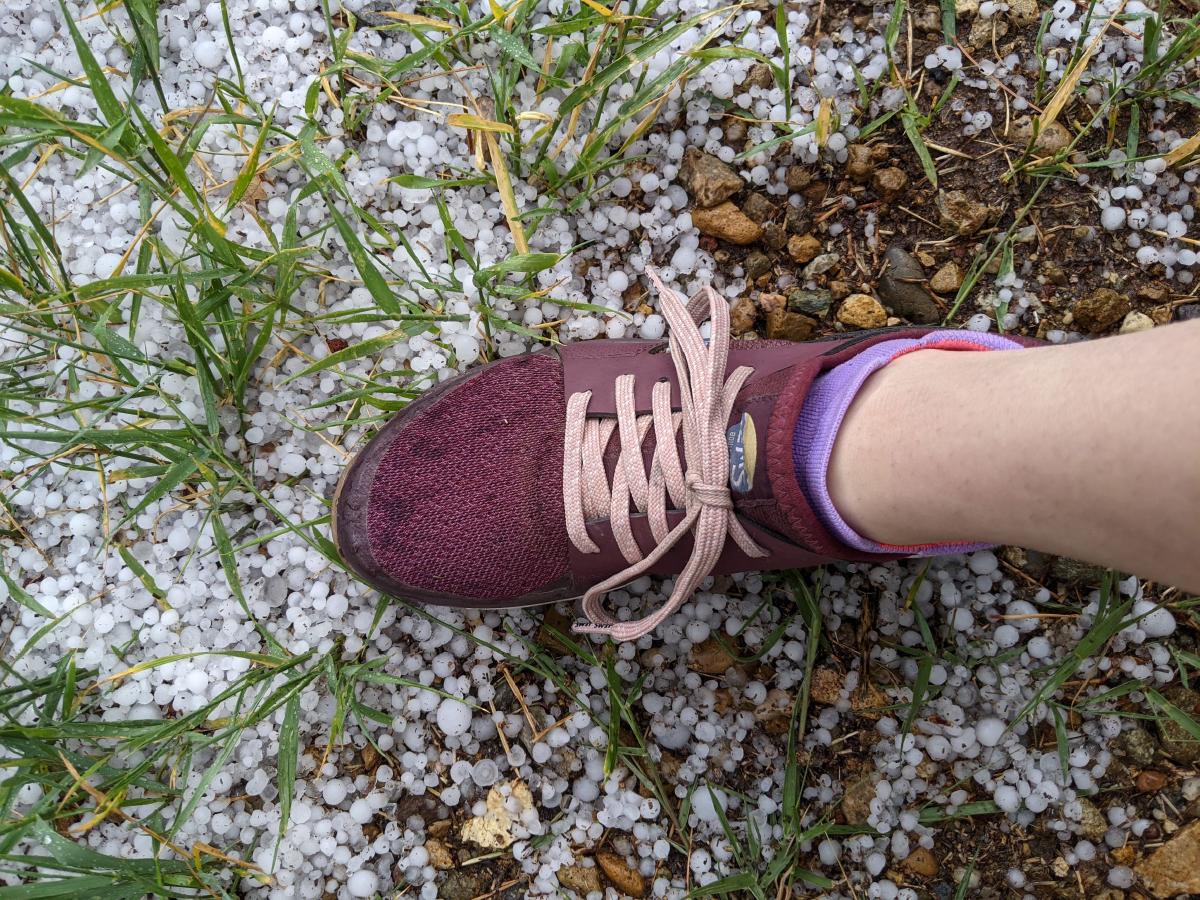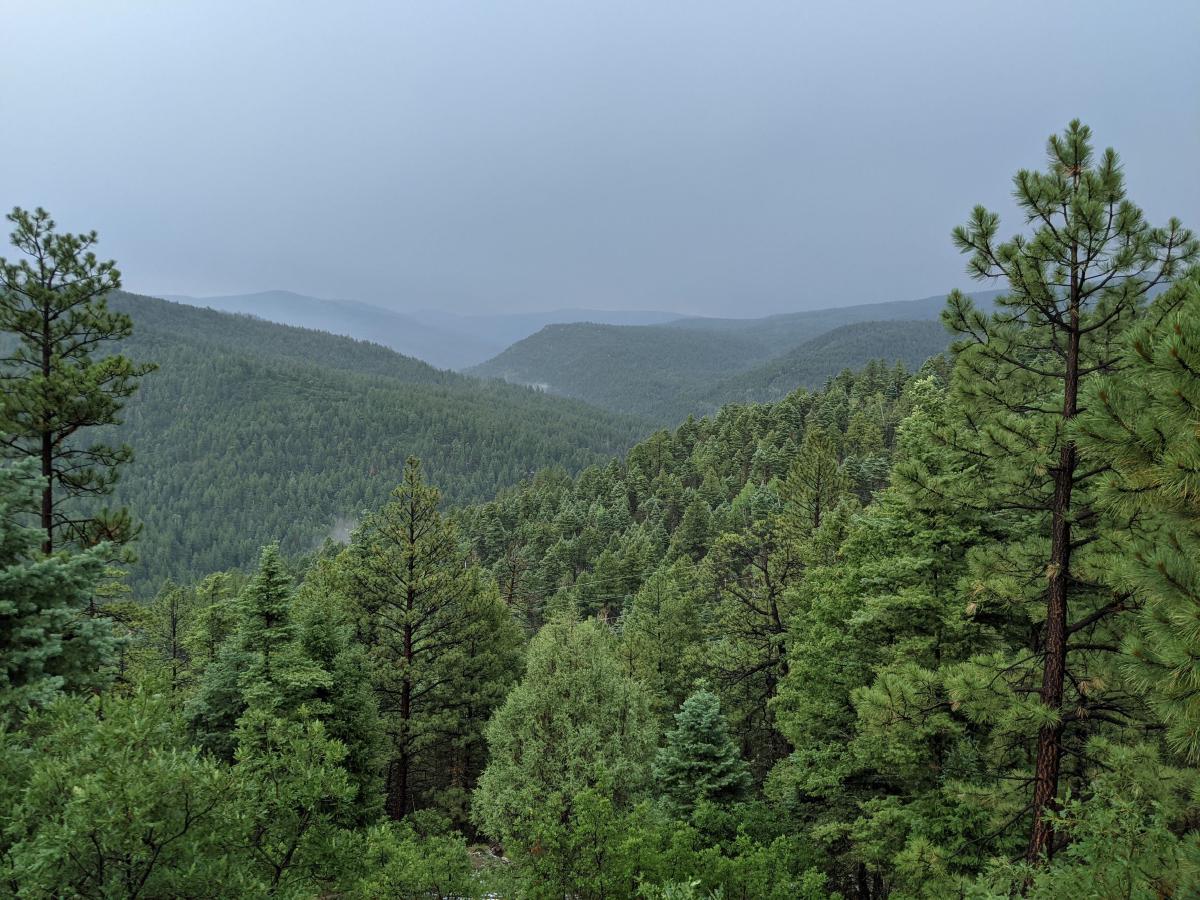 Travel Tip: Always make sure you have a good amount of gas in the tank, know where the next open gas station is, and download maps for offline use in case cell coverage is limited.
We entered Taos in the mid-afternoon and checked into our bed and breakfast, the delightful and historic Mabel Dodge Luhan house. Built nearly 100 years ago in the traditional Pueblo style by Luhan herself, the house was visited by many iconic visitors coming to Taos for inspiration over the years. Some of the most famous include Georgia O'Keefe, Dennis Hopper, Ansel Adams, D. H. Lawrence, Aldous Huxley, Martha Graham, and Willa Cather. It's currently a retreat and conference center, and the guest rooms have no wi-fi, televisions, or alarm clocks.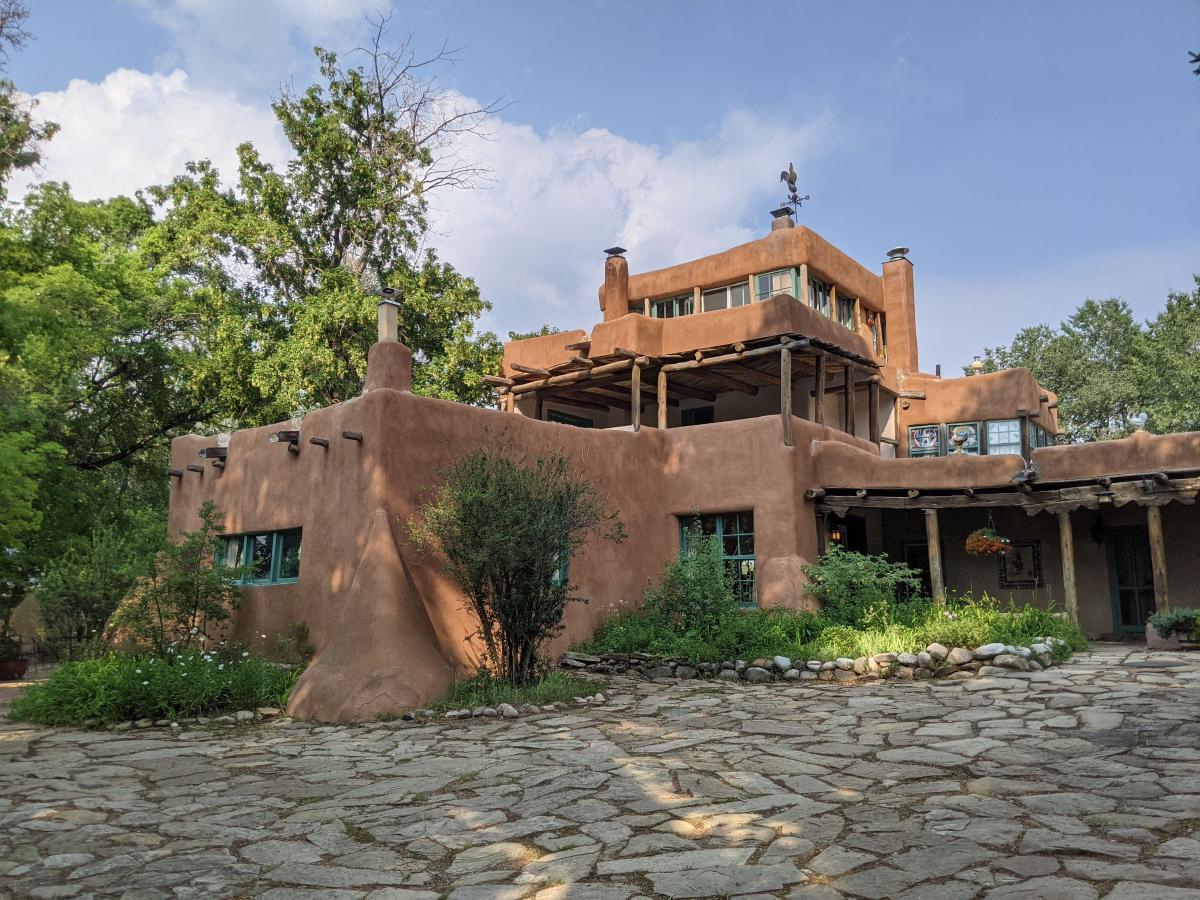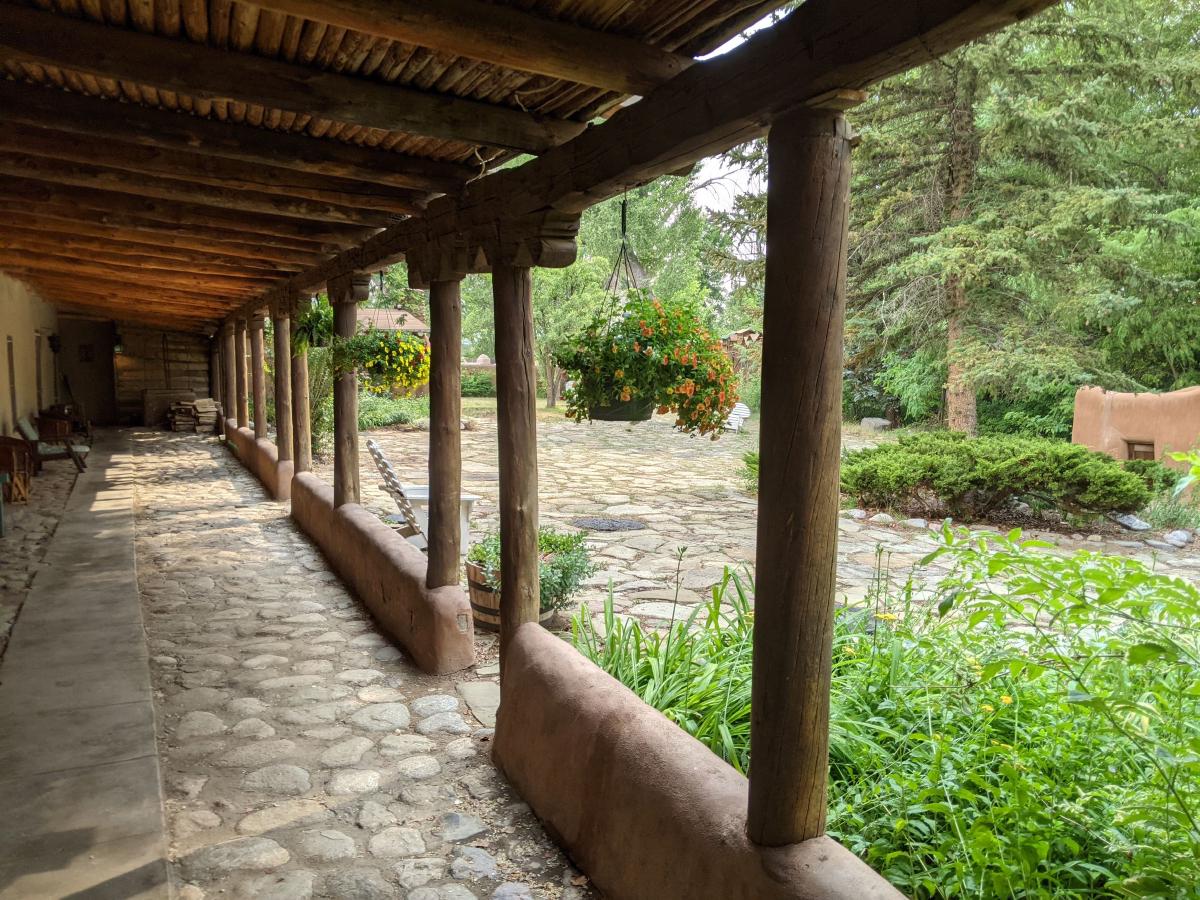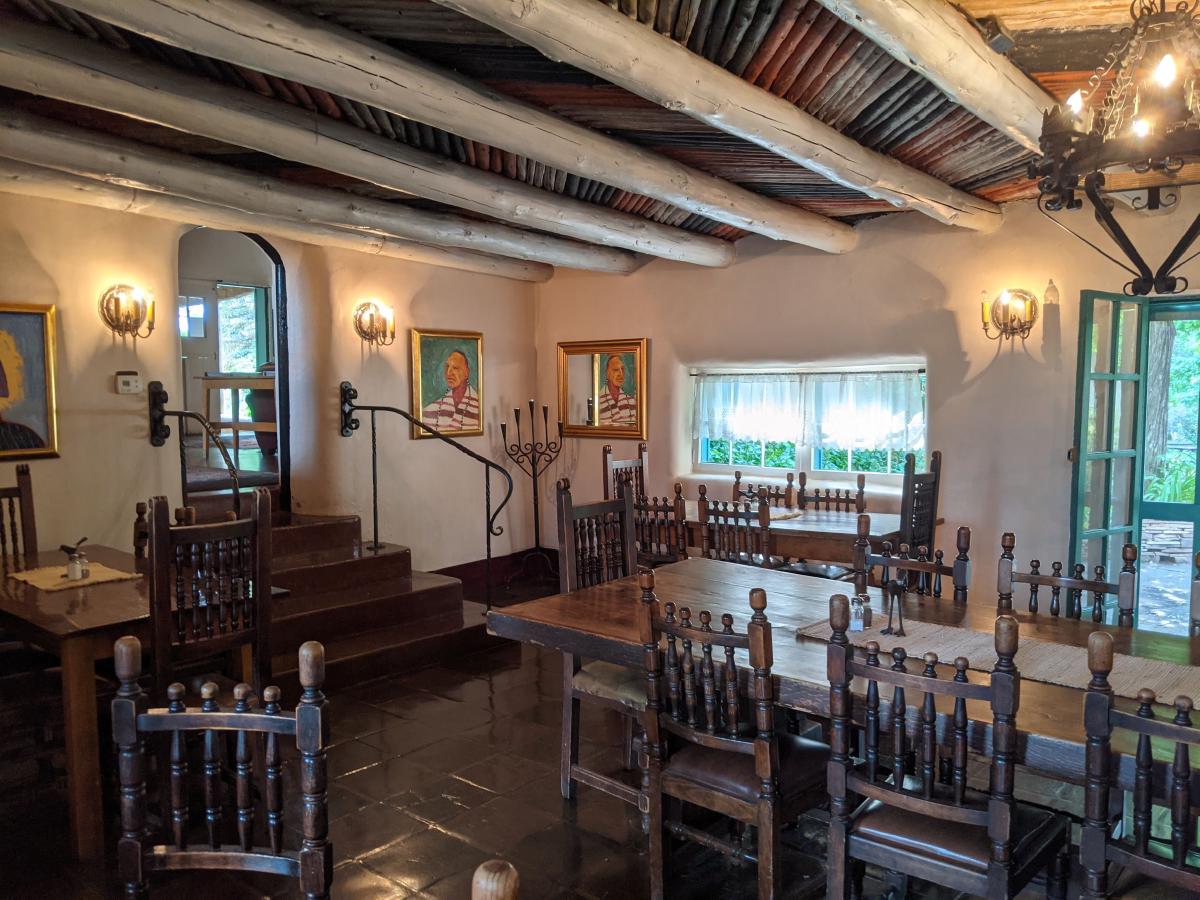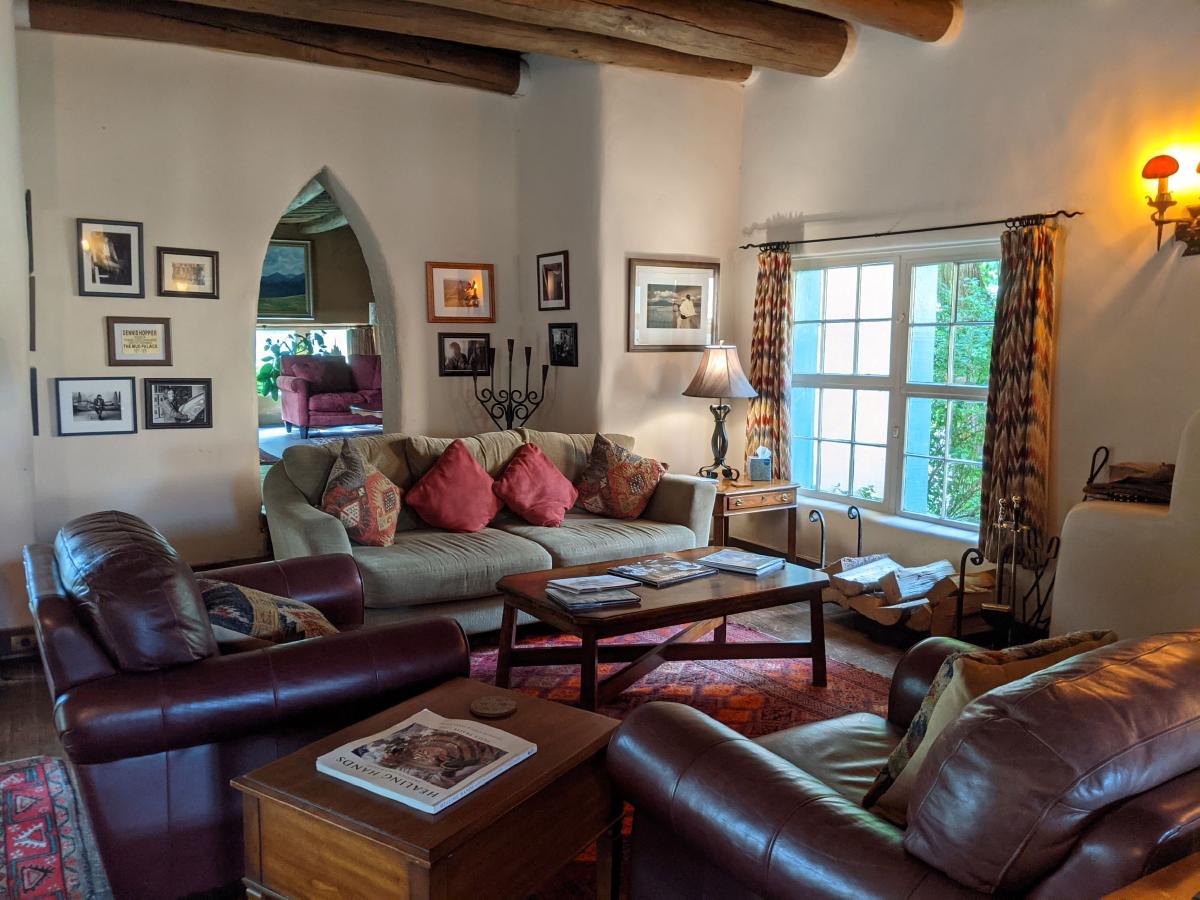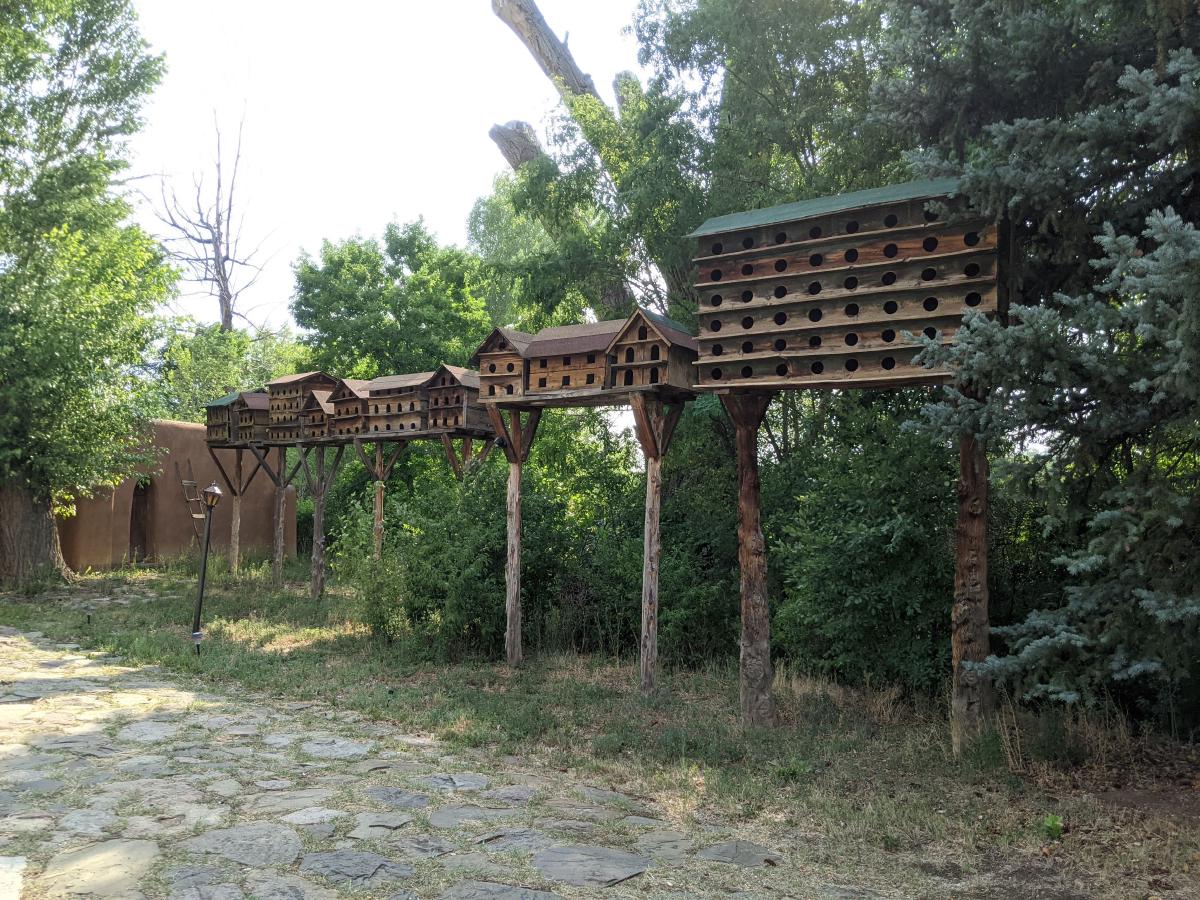 We wandered around downtown Taos and were caught in another surprise hailstorm, but made it back to the car unscathed. We were too tired to eat out for dinner, so instead ate lunch leftovers in the hotel and enjoyed the sunset and grounds. The hotel provided complimentary fresh-baked cookies and tea.
Travel Tip: Always be ready for surprise thunderstorms in the summer! They can appear without warning, often in the late afternoon once the air has warmed up during the day.
Monday: Taos Enchanted Circle Drive
The day started with a fantastic breakfast in the homey dining room. The freshly baked eclairs were phenomenal, and we had a lovely time chatting with another traveler at our table. It had been a long time since we had a spontaneous conversation with a stranger.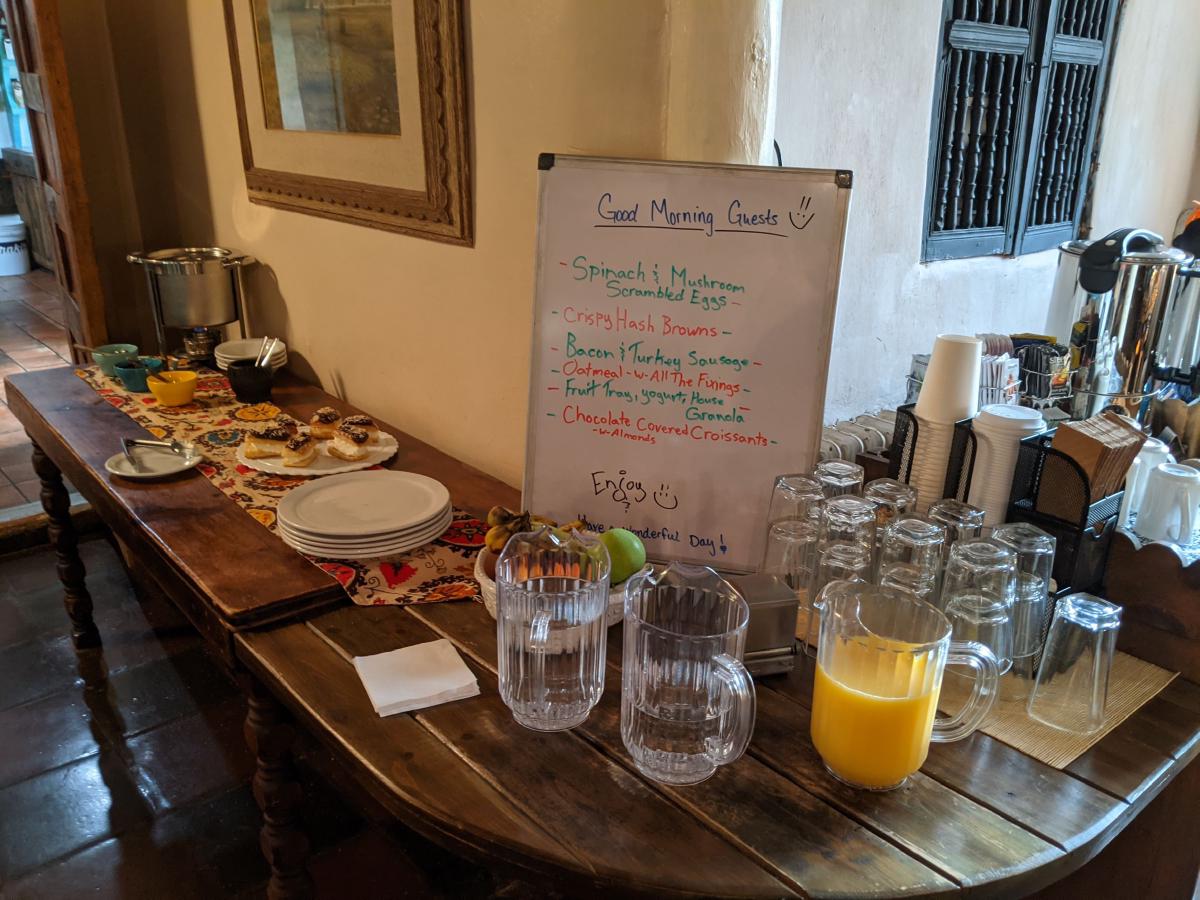 Unfortunately, the Taos Pueblo was closed to the public due to the pandemic, as it's a living town and the population decided to play it safe by not allowing visitors. This was okay in our book, as the main goal of this trip was to be spontaneous and relax after a stressful year. We started driving the Enchanted Circle, a ring of roads around Wheeler Peak that takes about 2 hours to drive.
We were astonished as we wound up through forests, then came out into a huge open alpine meadow with wildflowers and lakes. New Mexico is not only desert, as one might assume. There are high mountain peaks, skiing, lakes, and forests. Eagle Nest Lake State Park was a great quick photo opportunity.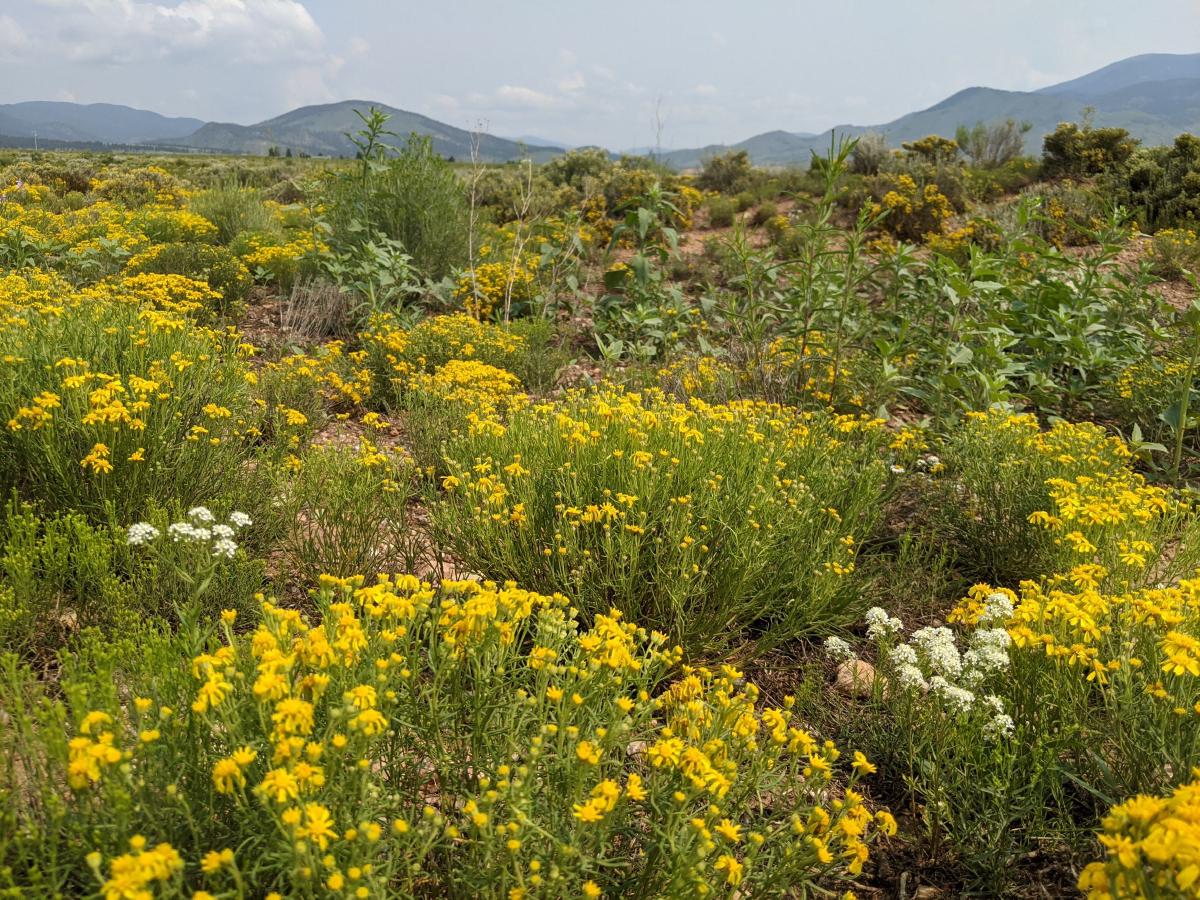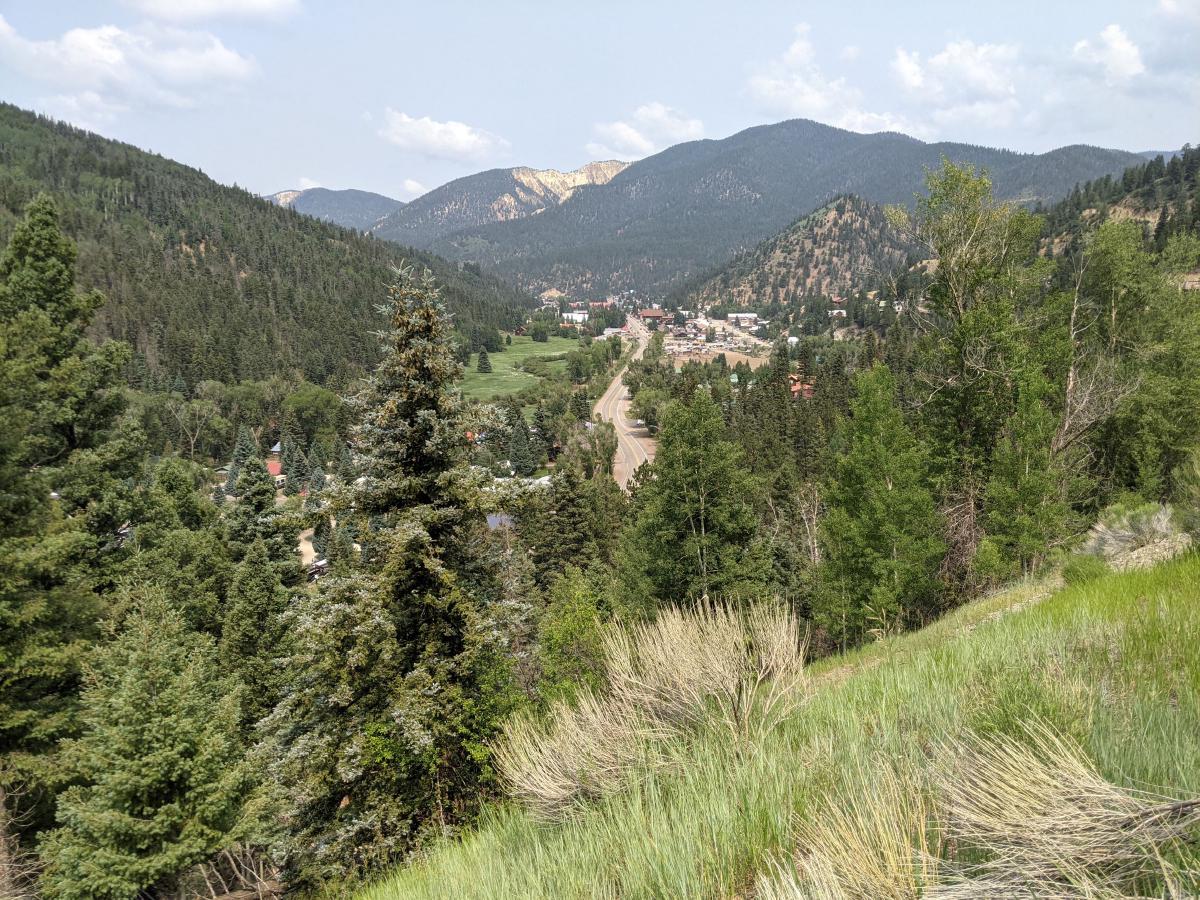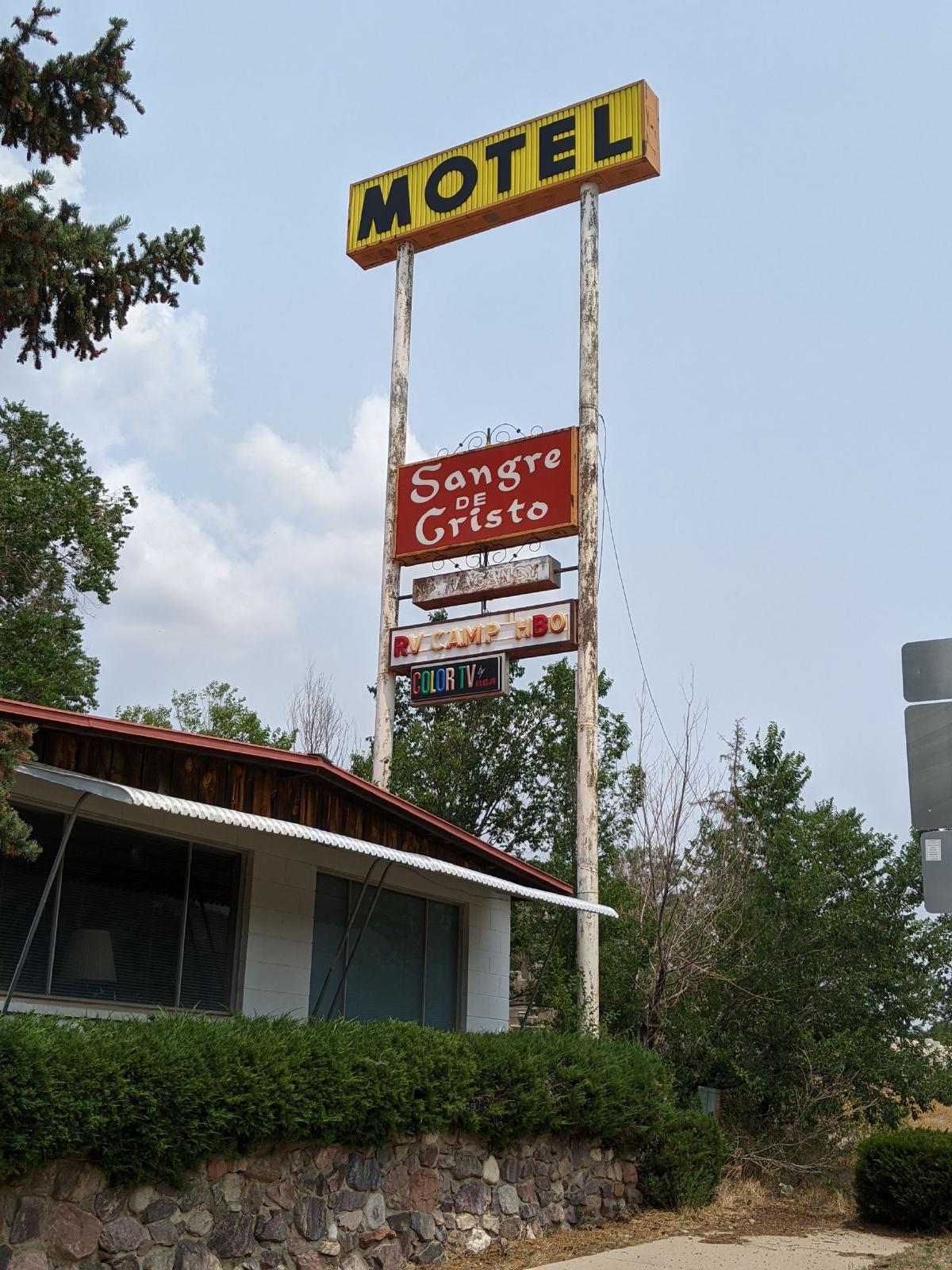 We stopped in Questa, a former molybdenum mining town, and walked a short historic trail to learn more about the church and town. Turns out the major mountain ranges in New Mexico are named after Spanish words for the red color created by the light of the setting sun on the rocks – the Sandía Mountains near Albuquerque translates to Watermelon, and the Sangre de Cristo Mountains near Santa Fe and Taos translates to Blood of Christ.
Next, we drove out into the plains to the Rio Grande Gorge Bridge. The steel truss bridge was completed in 1965 and spans 1,280 feet with a height of 650 feet above the river below. We parked just east of the bridge, and walked across and back – a feat not for the faint of heart!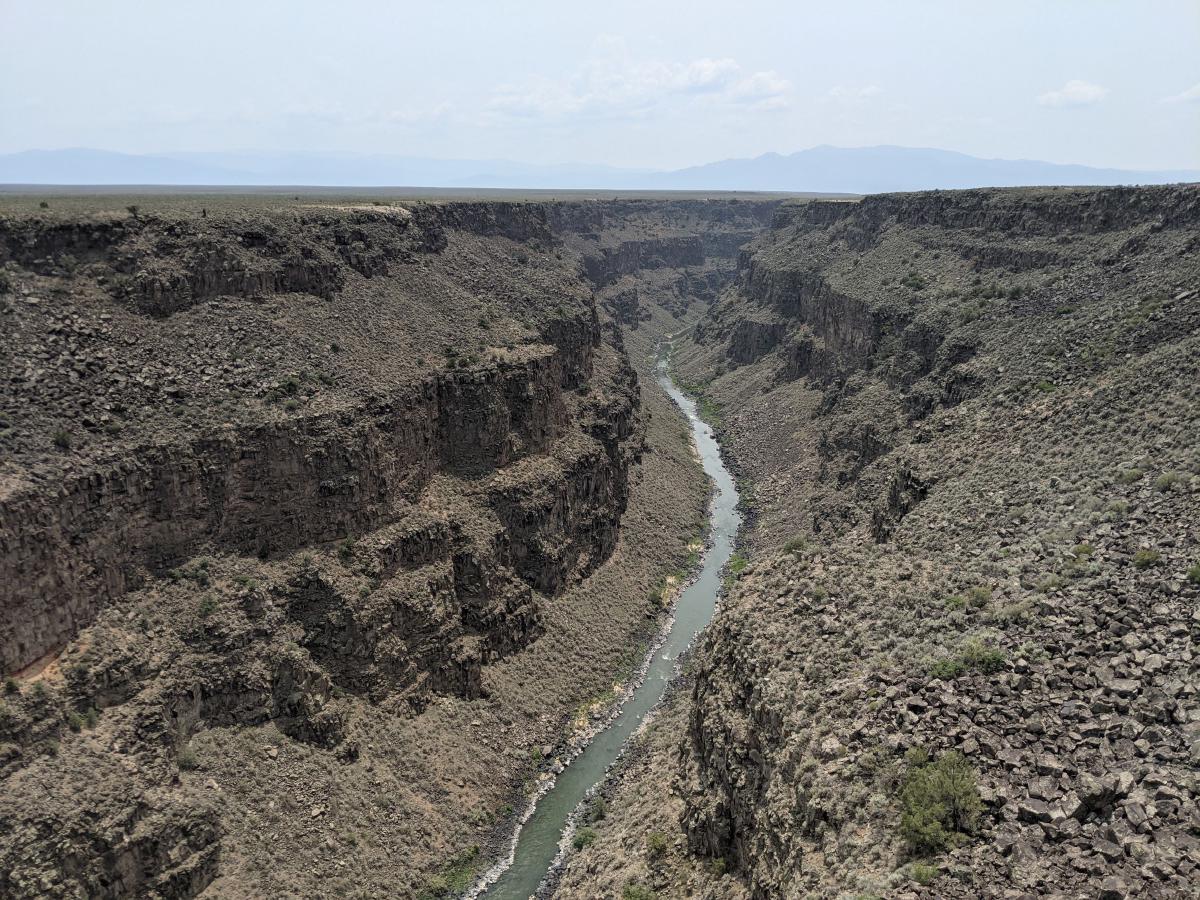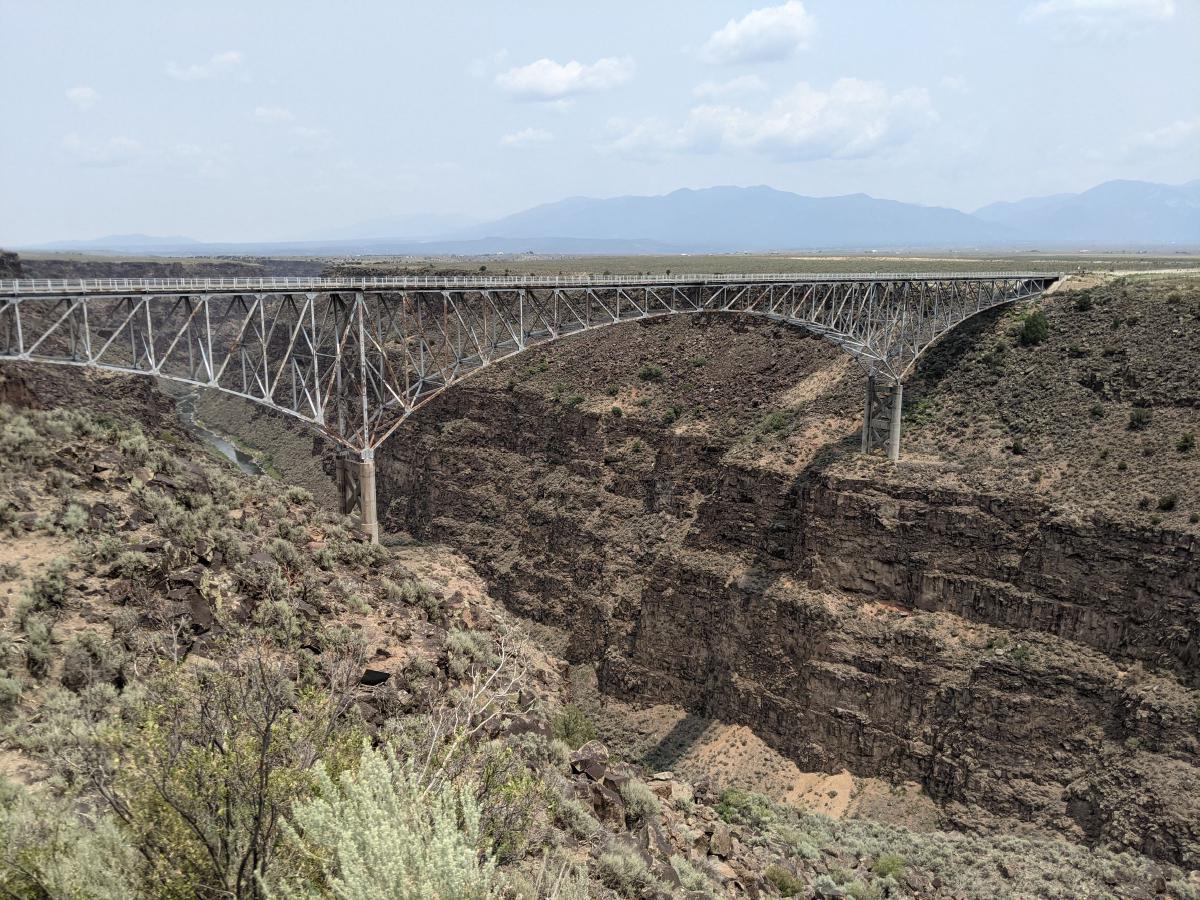 The charming town of Arroyo Seco provided our stop for lunch. We grabbed sandwiches and homemade ice cream at Taos Cow, then wandered the little town and enjoyed the flowers in full bloom. Hollyhocks were especially prolific in July and stood beautifully in front of the tan adobe walls.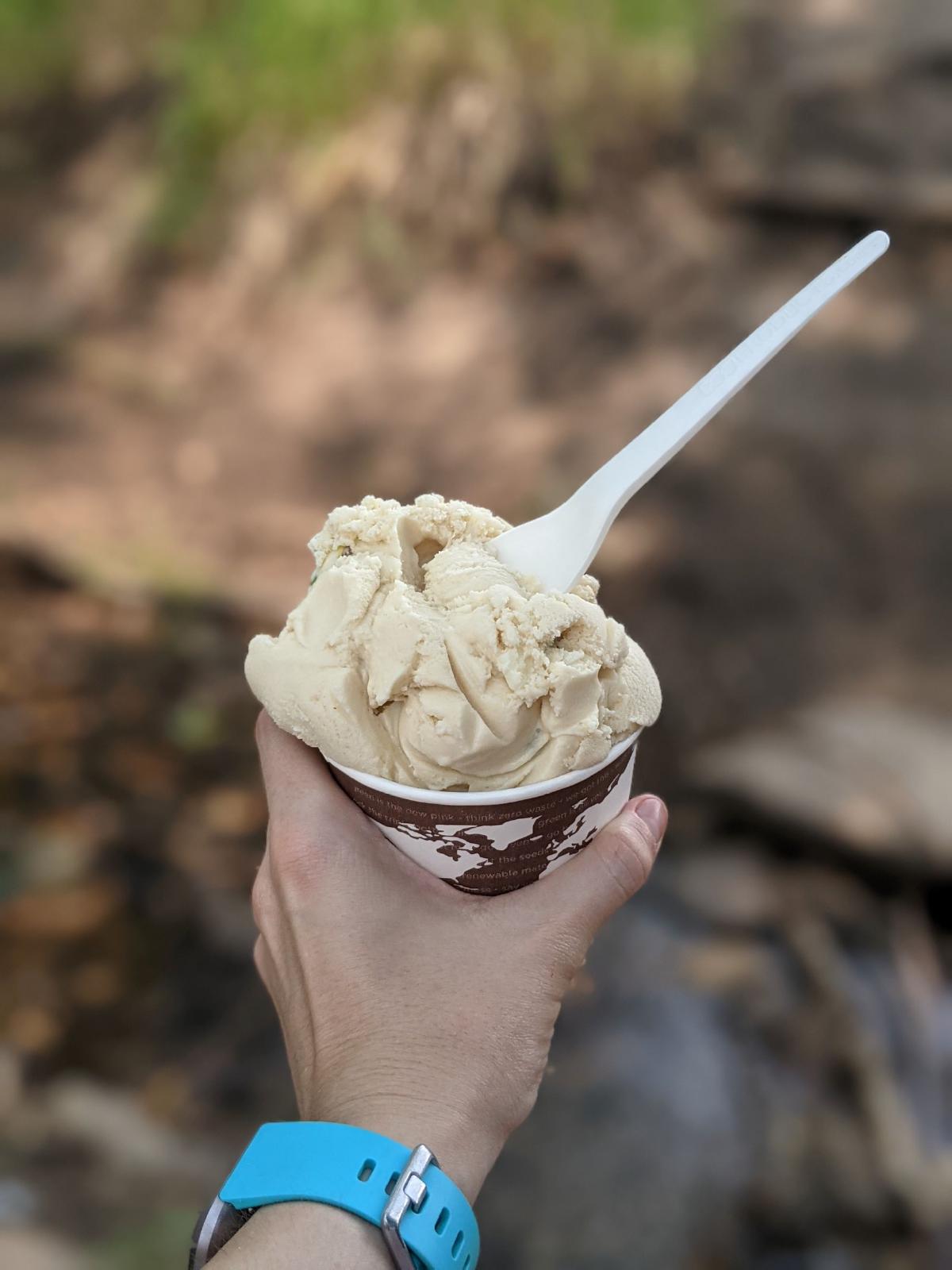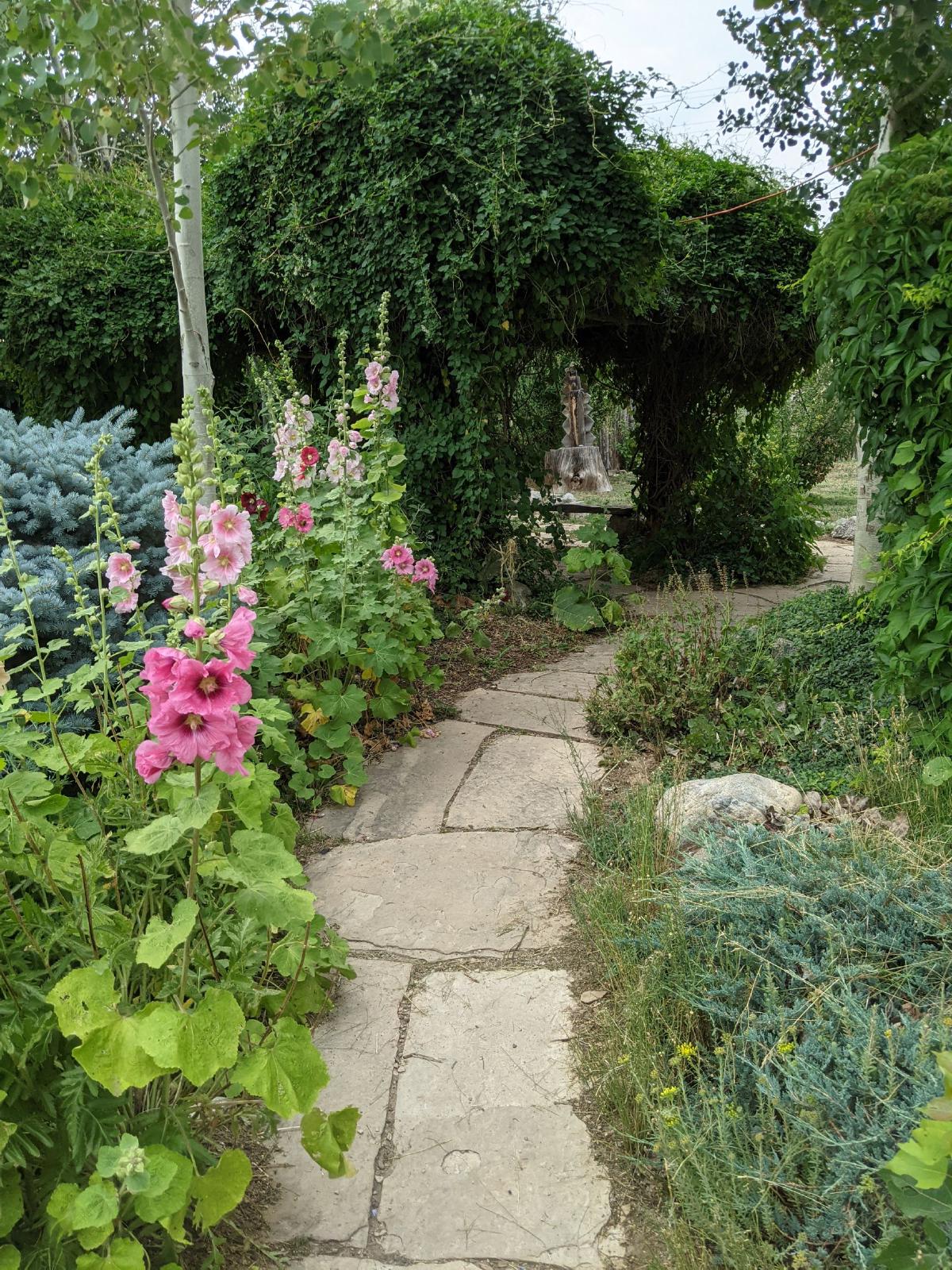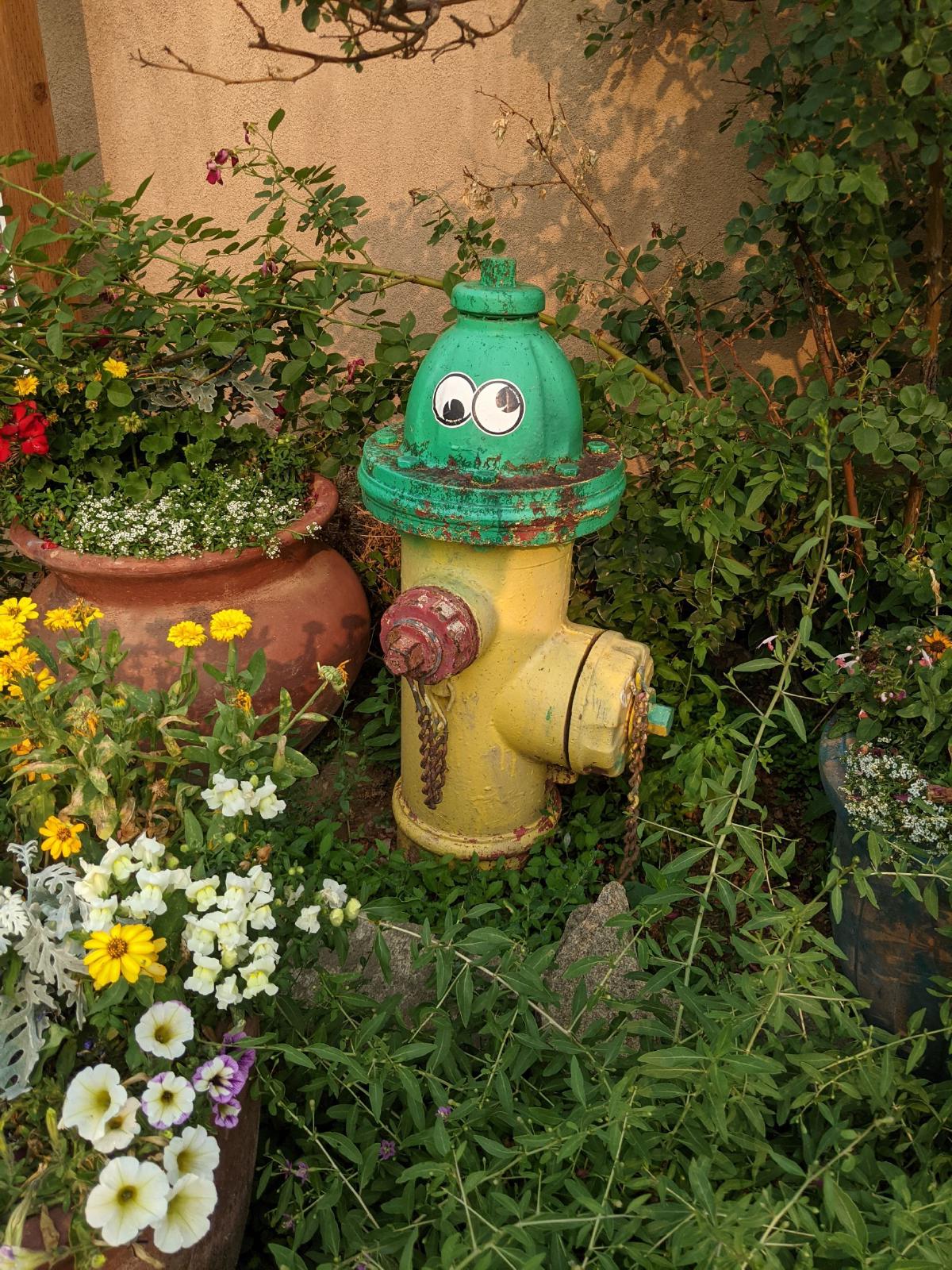 We finished the day with another stroll through downtown, a visit to the San Francisco de Asís Mission Church, then a relaxing evening at the hotel, tea and cookies, and bingeing Downton Abbey.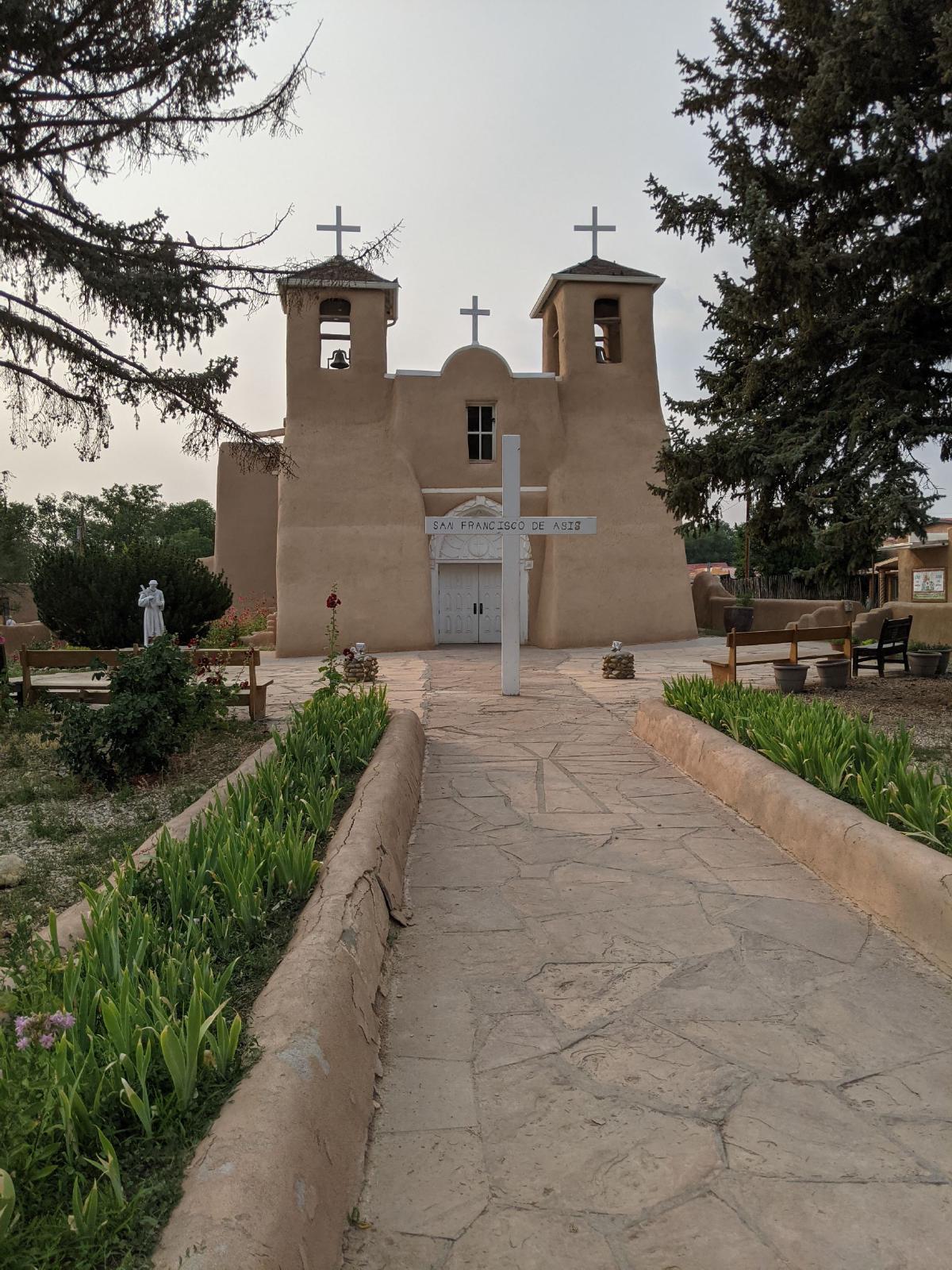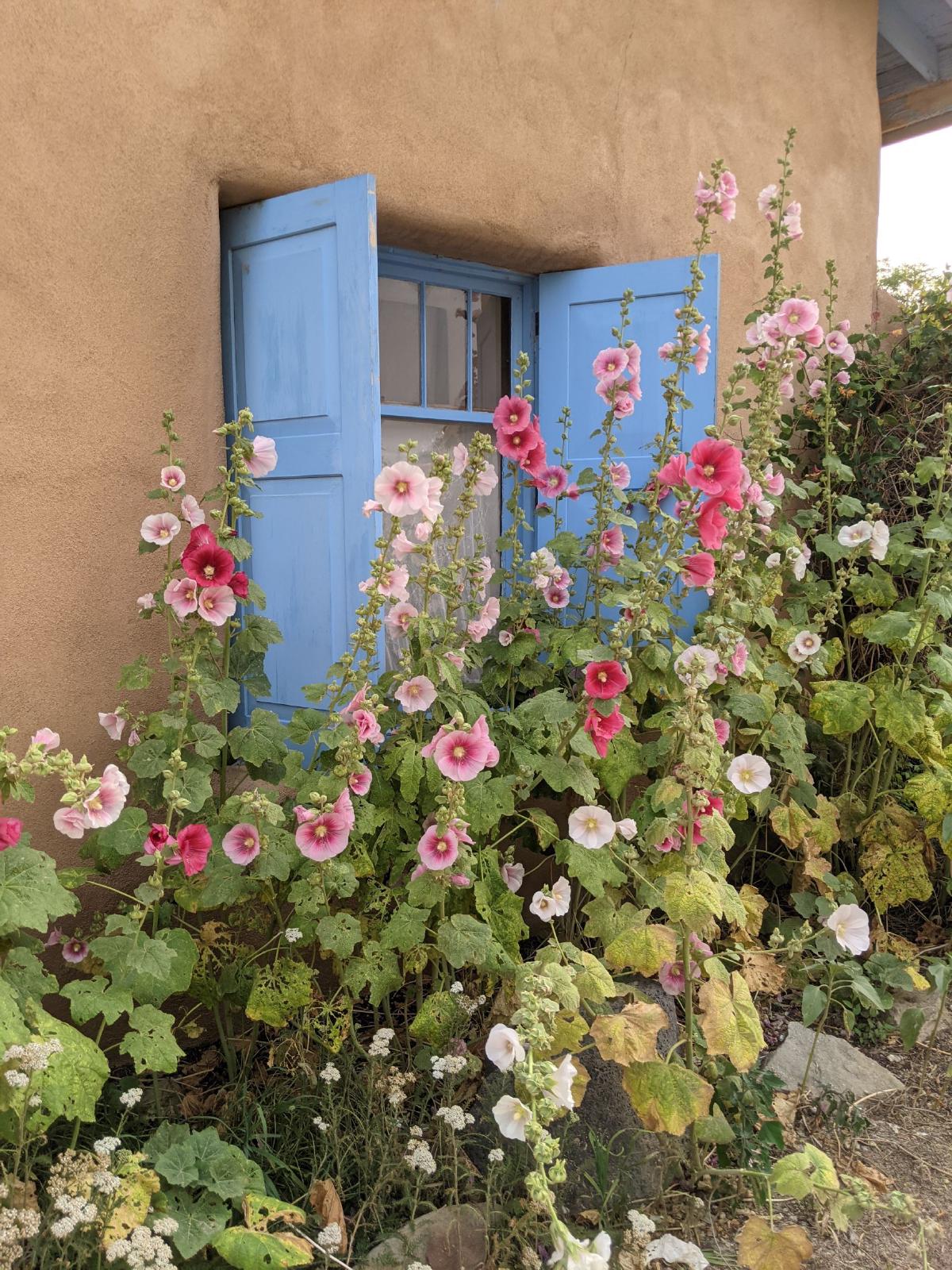 Tuesday: Taos Ski Valley and Chocolate Tasting
Eager to stretch our legs, we headed out early after breakfast to the Williams Lake trailhead in the Taos Ski Valley. The trailhead parking lot fills up very early, so we opted to get there by 9:30am and got one of the last spots. There were portapotties at the start of the trail (thank goodness we had hand sanitizer!).
The trail started with a lovely climb through alpine forests, along a babbling brook lined with wildflowers and moss. We knew it was about 2 miles to the top of the hike, but underestimated just how far 2 miles was when it's more or less uphill the entire time. The altitude started to get to me, so I took a lot of breaks to drink water, catch my breath, and let my headache subside. And to think, this is the easiest trailhead in the ski valley!
The final view was a lake surrounded by trees, rocks, and wildflowers, with the mountain peaks towering above us.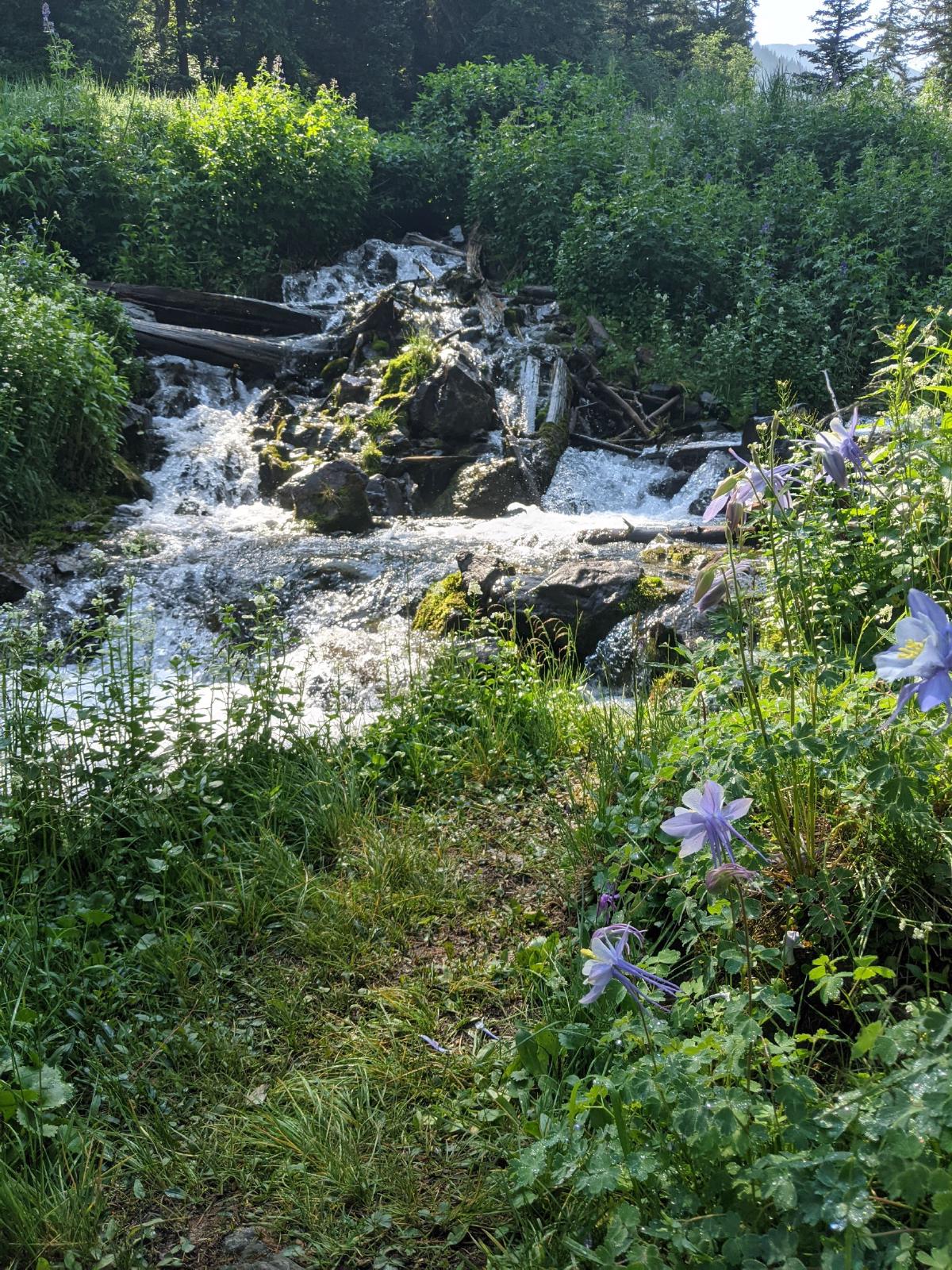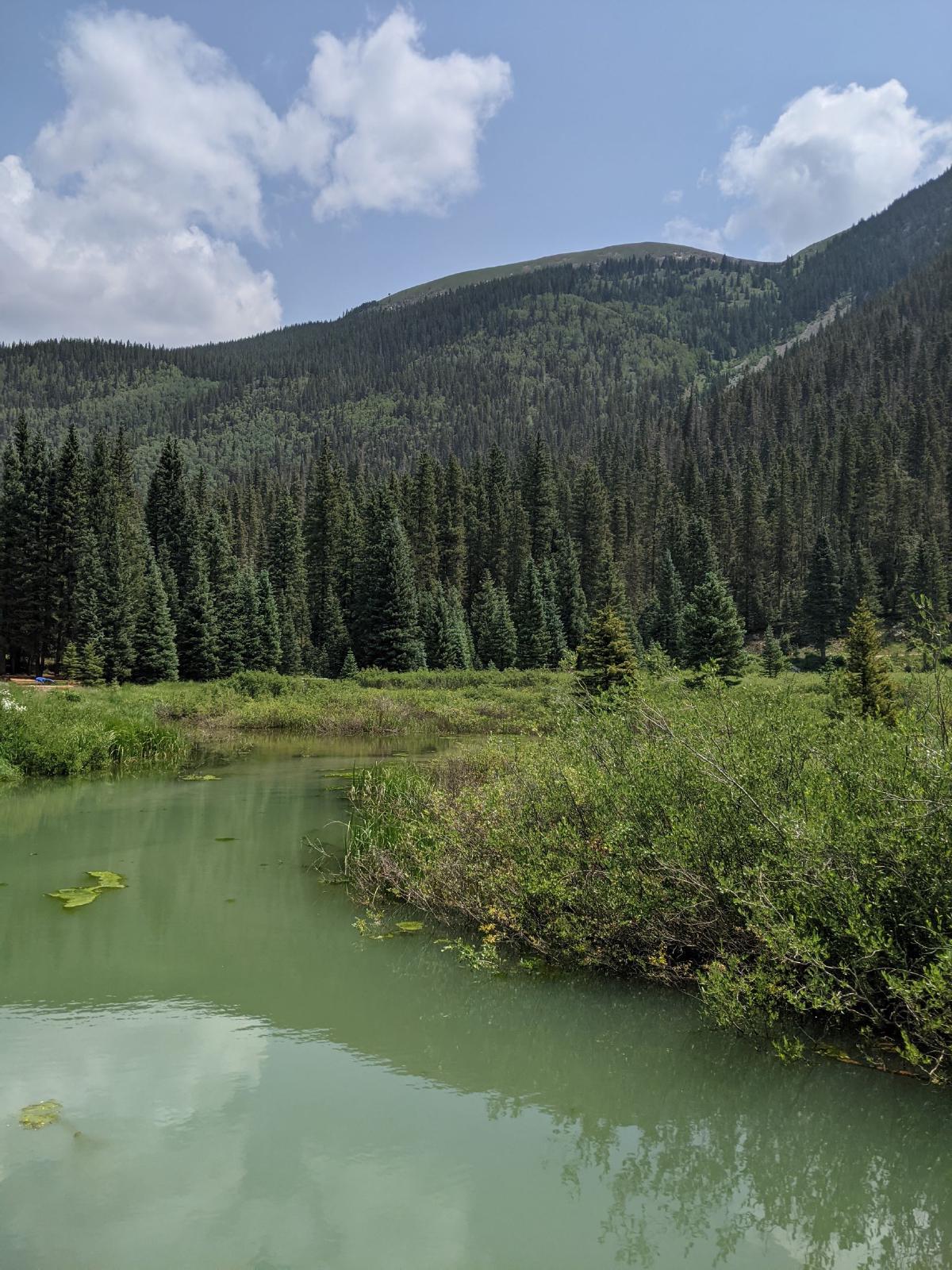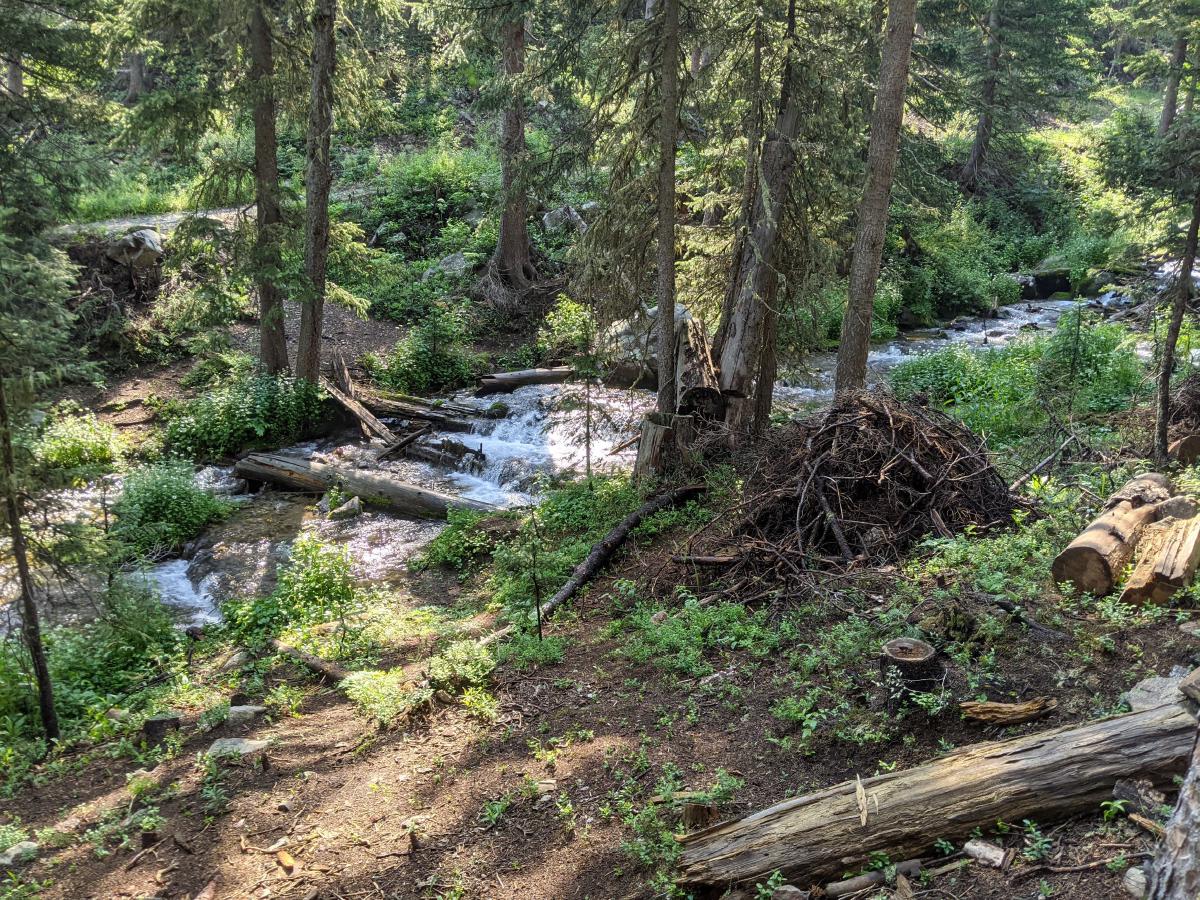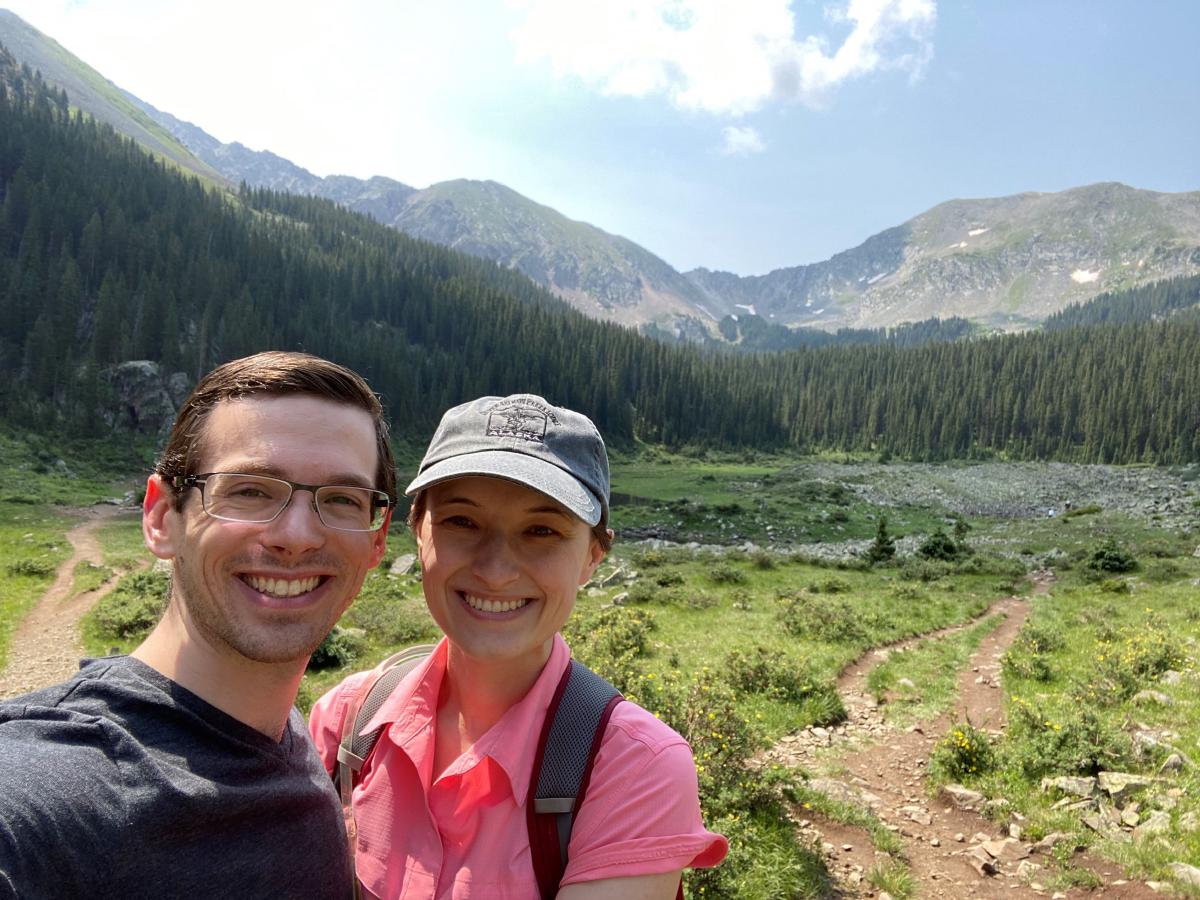 Back in Taos, we stopped at Manzanita Market for lunch and indulged in delicious food made from farm-to-table ingredients. It's the same owners as the Love Apple, the best restaurant in town, but much more accessible and affordable. Glenn had a grilled cheese sandwich, and I had a chicken and rice soup bowl.
For a treat, and one of the highlights of the trip, we got a sampler of drinking chocolates and mousses across the street at Chokola. They had so many delicious options to choose from, like a lemon-ginger mousse or Aztec drinking chocolate. We then explored a few of the abundant galleries and shops.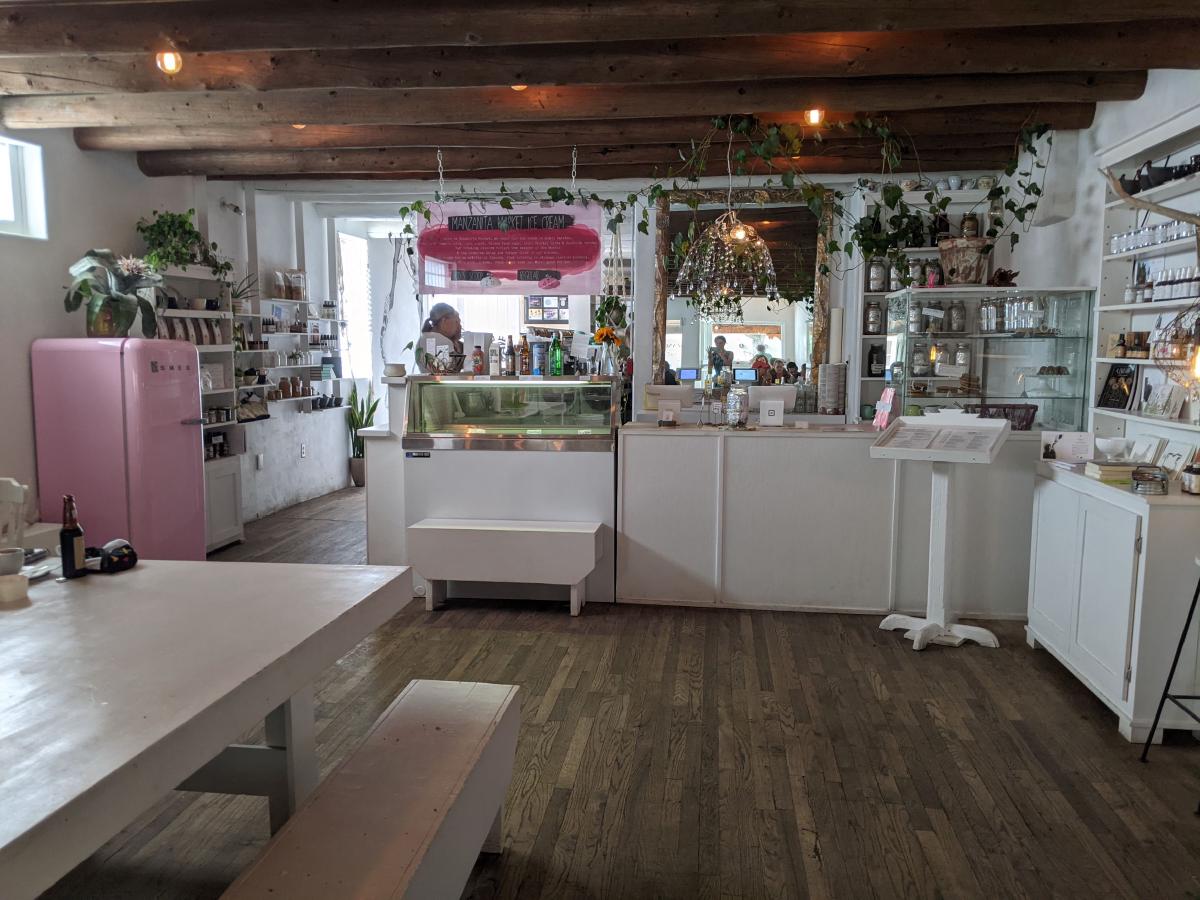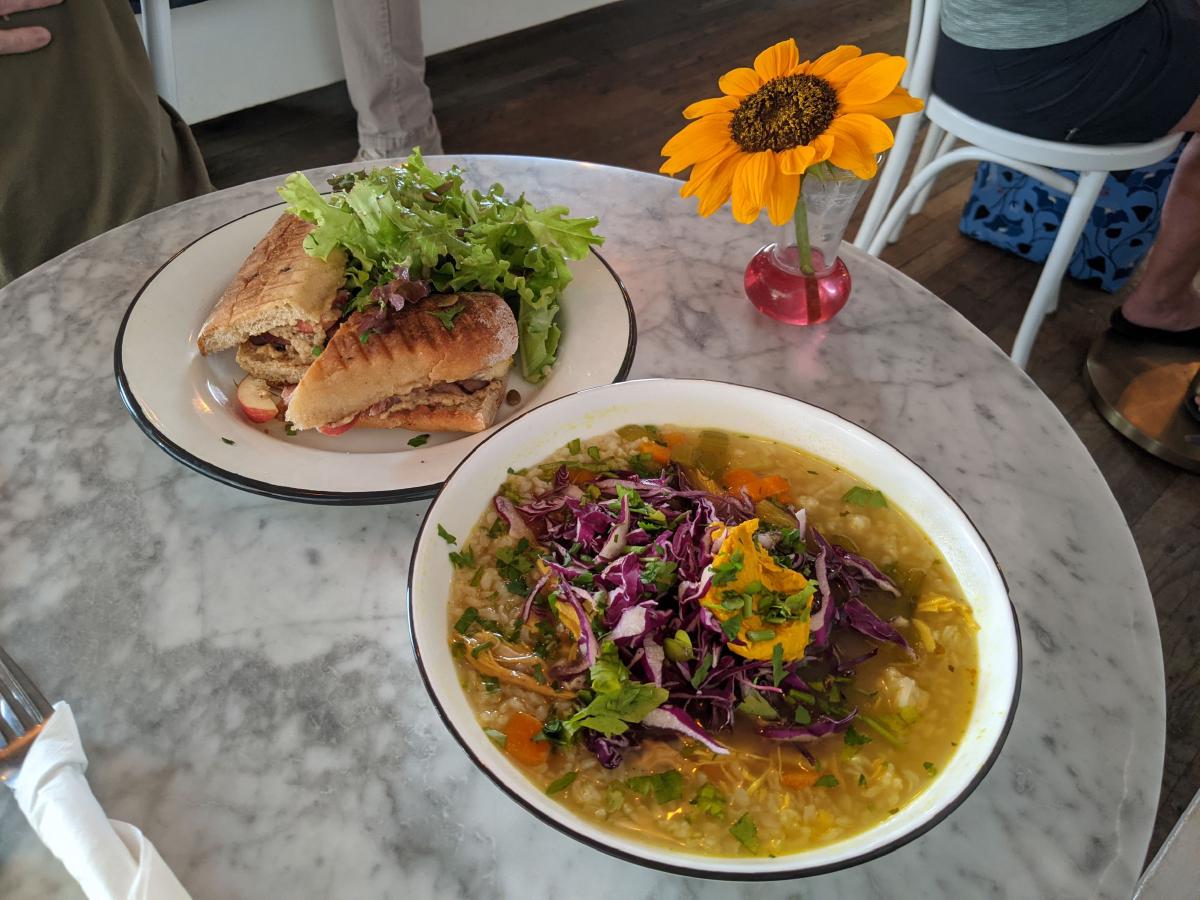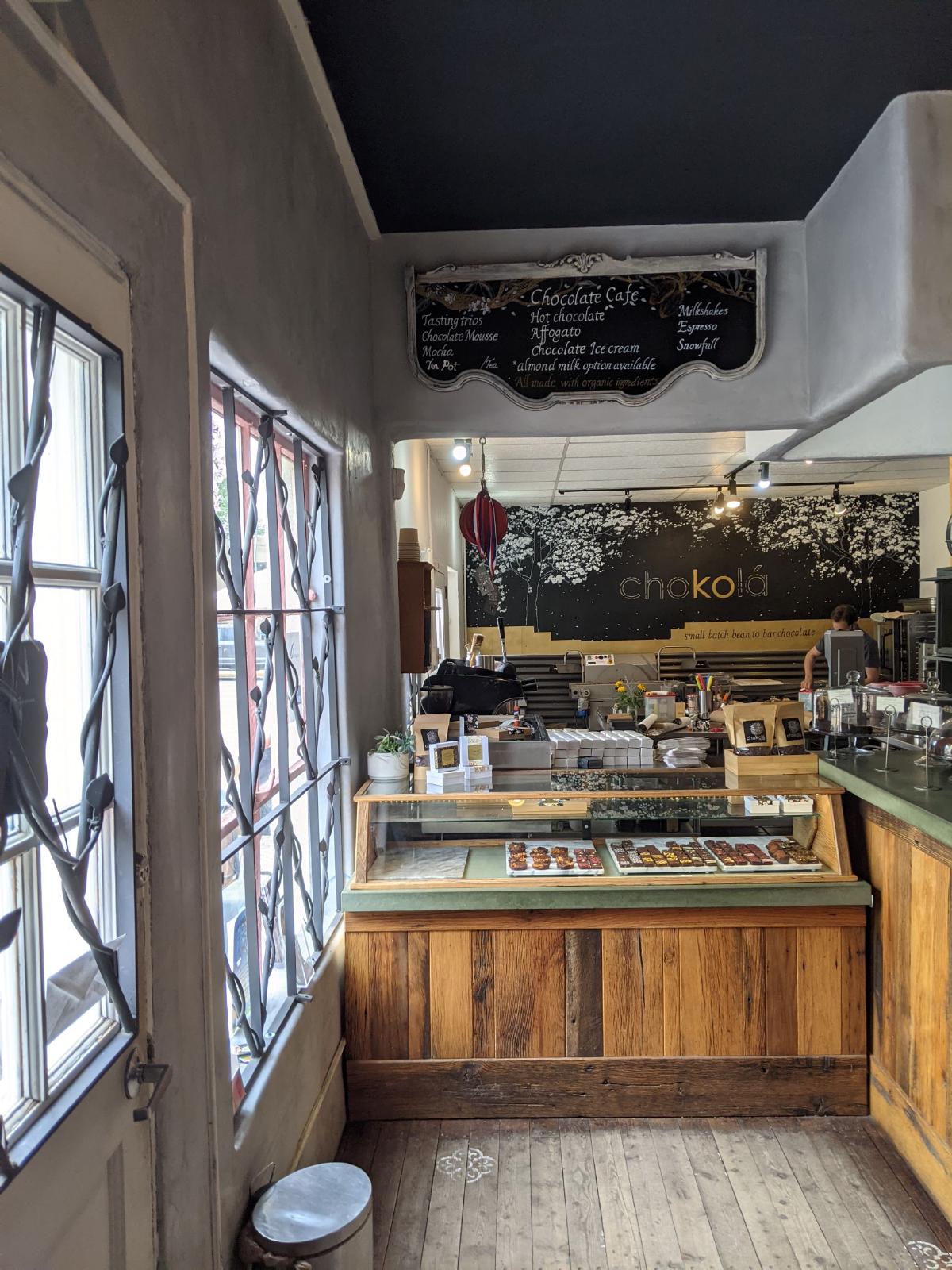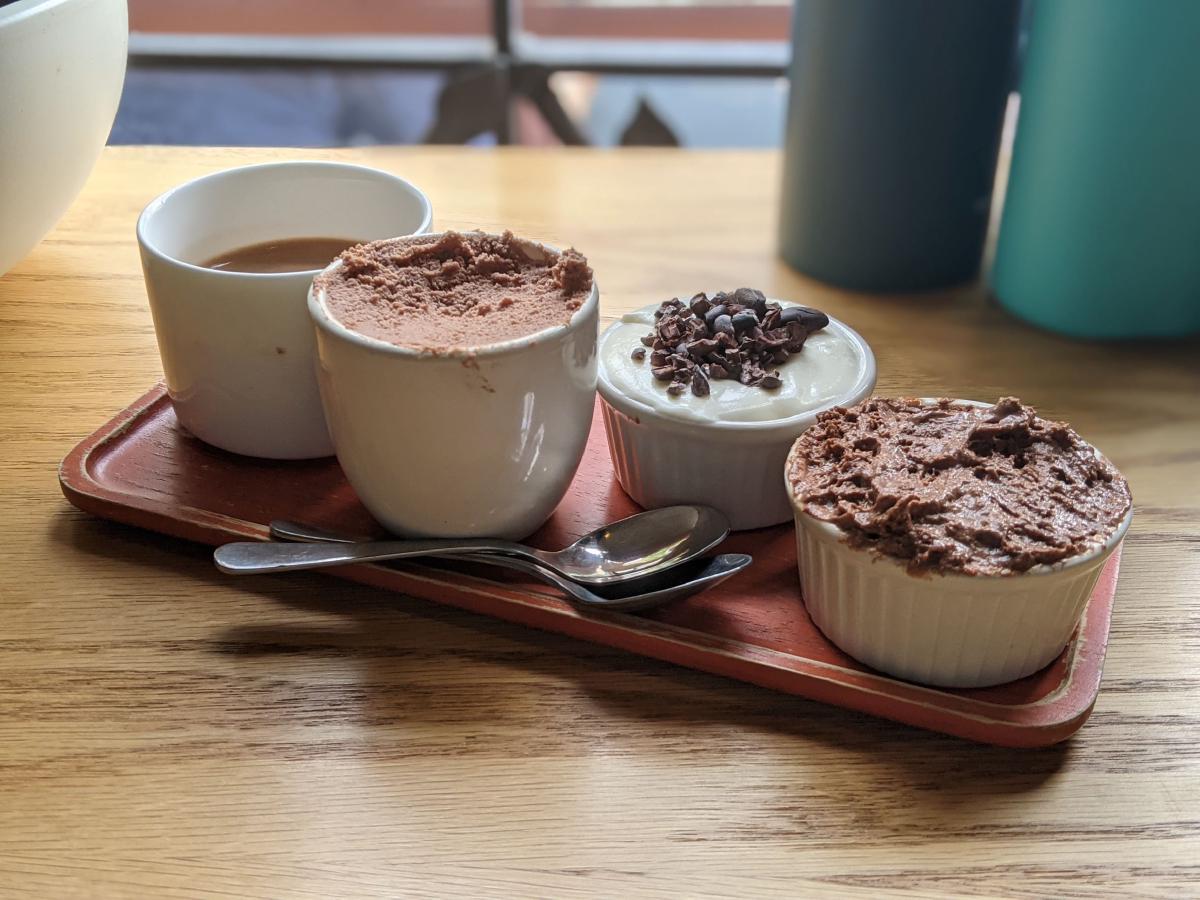 As we were exhausted and still fairly full from lunch and chocolate, we turned in early in preparation for our drive to Albuquerque in the morning.
Wednesday Travel Day: Bandelier National Monument and the Turquoise Trail
We left Taos around 7am, grabbing a very thoughtfully prepared to-go breakfast sandwich from the kitchen at the hotel, and made our way west to Bandelier National Monument. We'd purchased a pass in advance, as the cell reception isn't great outside of populated areas in New Mexico, and we wanted to be able to put the pass on our windshield if the entry was not yet staffed.
We arrived at 9am and parked at the main visitor center in the park itself. If it fills up, typically by late morning, there are shuttles that drive from White Rock. Bandelier was on my bucket list the last time we visited New Mexico, but was closed because of the national parks shutdown in 2018. It's a settlement that was populated by Ancestral Puebloans 500 to 1000 years ago, built into the cliffs formed from layers of soft volcanic tuff. We walked the loop trail which wound through incredible eroded formations of rock, up small stairways that felt like something out of Alice in Wonderland. Some dwellings we were able to enter by way of a wooden ladder. You could still see smoke residue on the ceilings from cooking fires and oxidation.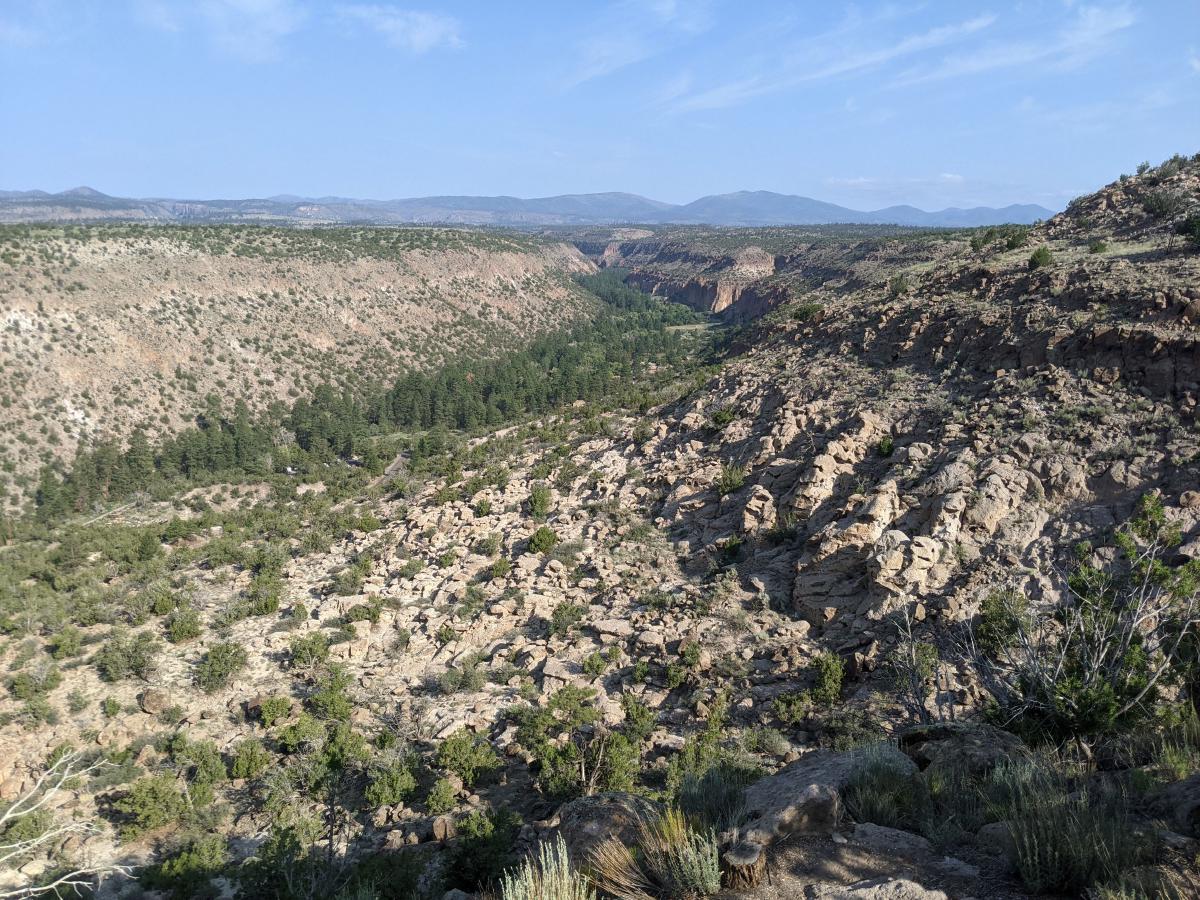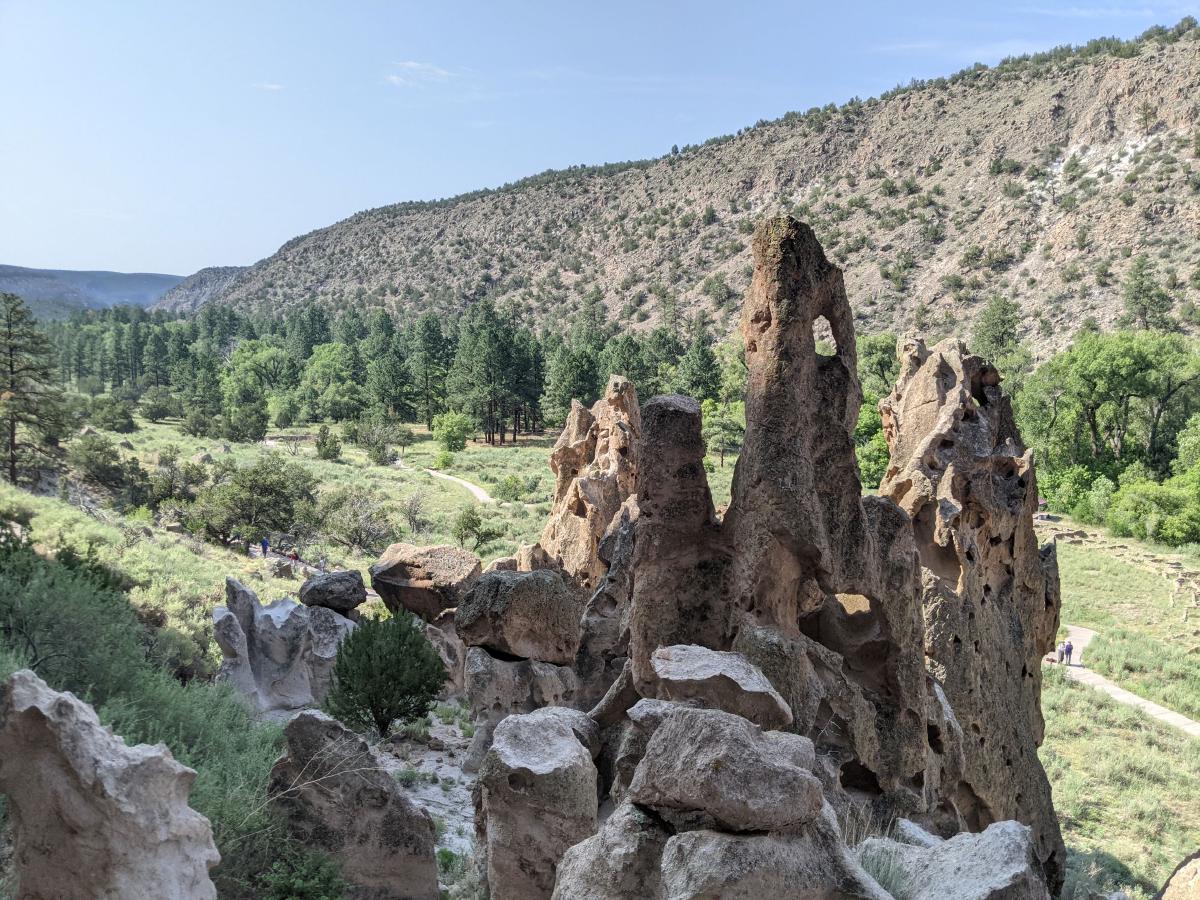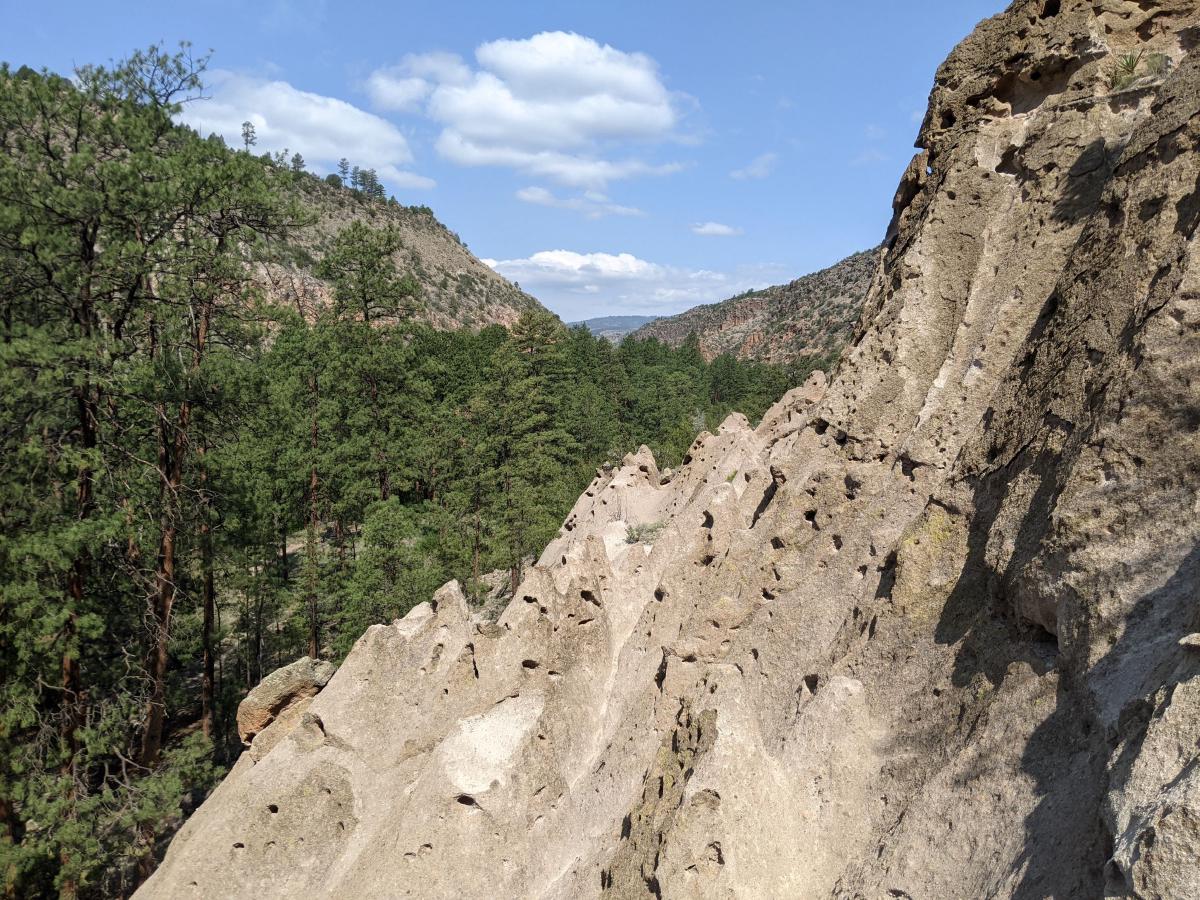 The loop trail transitioned into a hike to the Alcove House, which required a climb up 140 feet of ladders. The house itself was fairly underwhelming (a Kiva we weren't allowed to enter), but the view and the climb were incredibly unique experiences.
I'm so excited that I finally got to visit Bandelier. I've always been fascinated by geology and ancient architecture, and this was a combination of the two.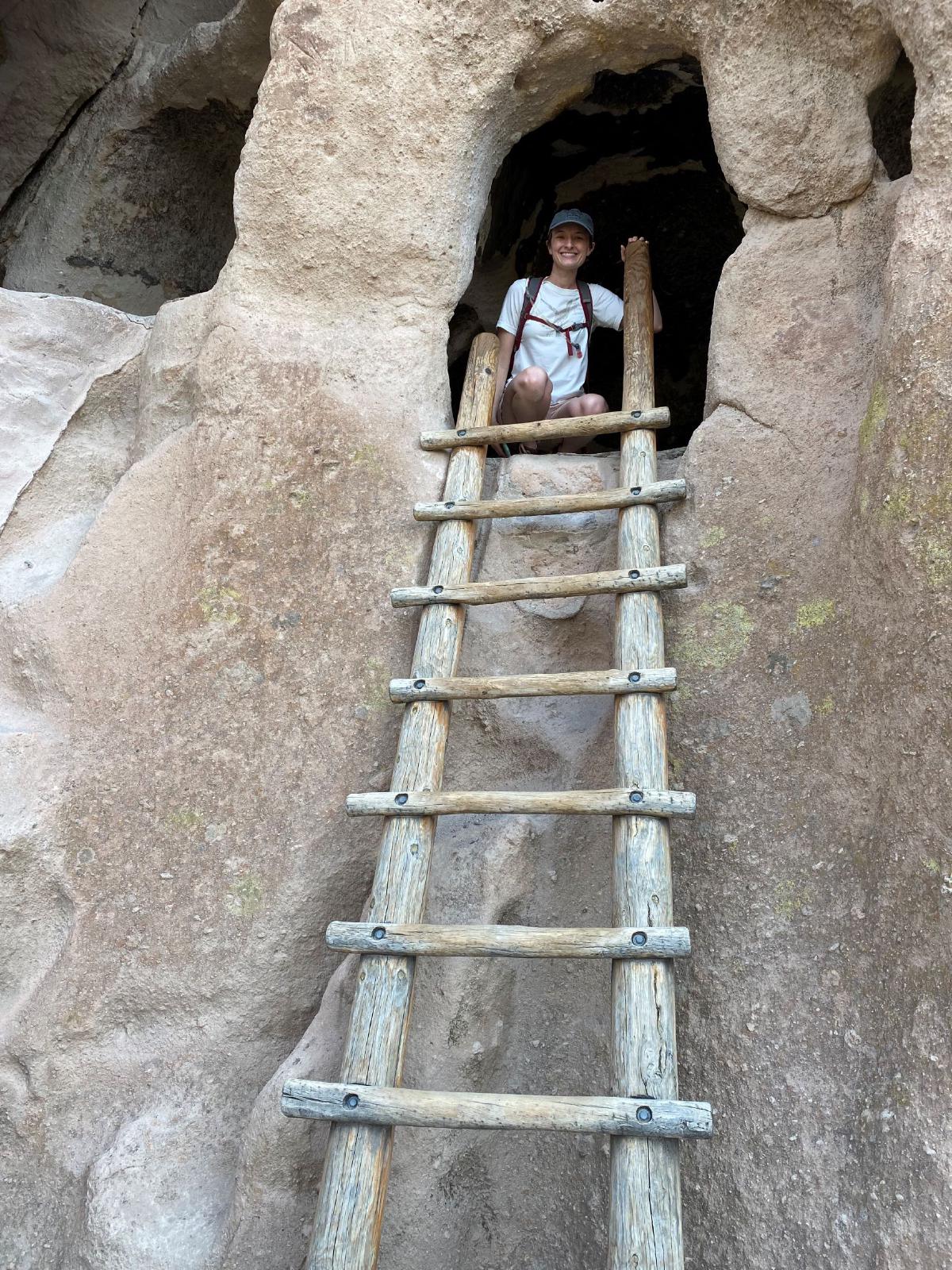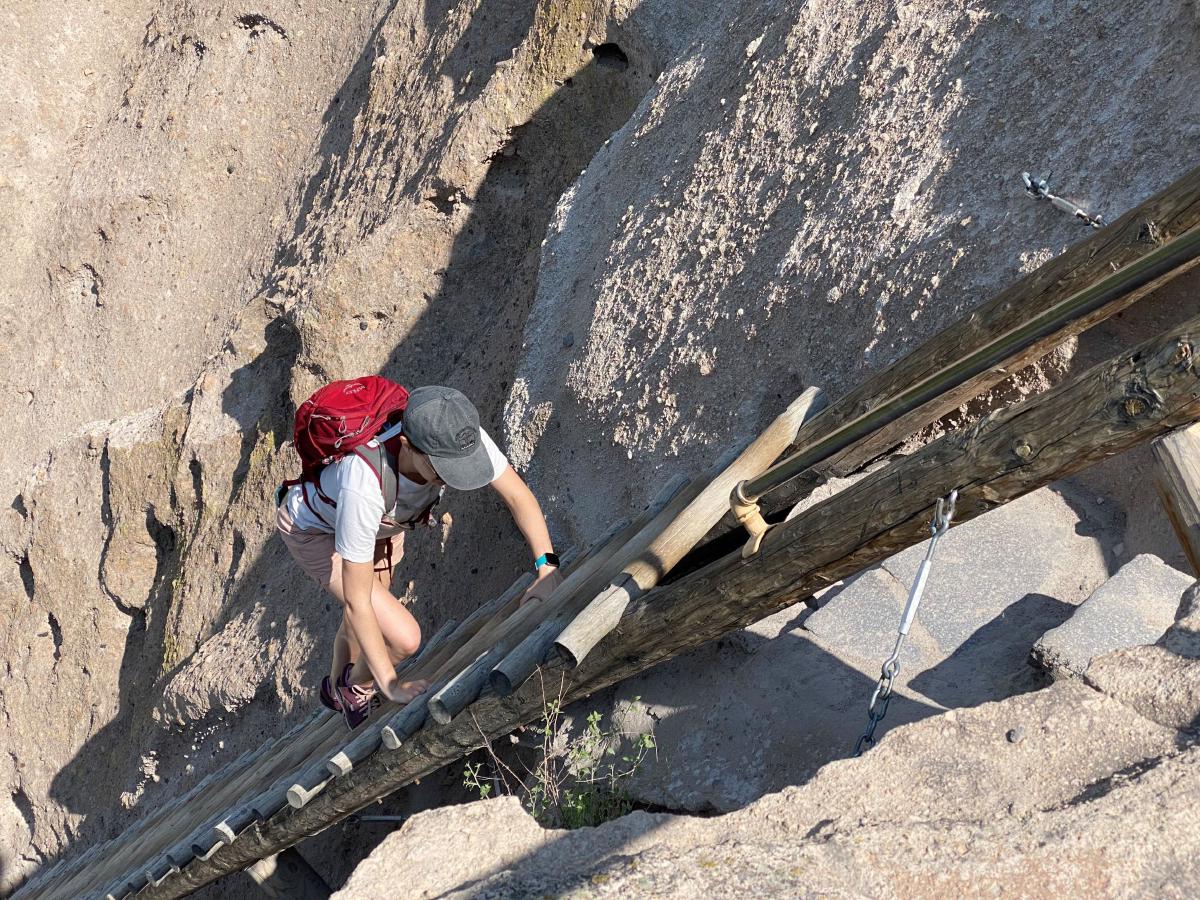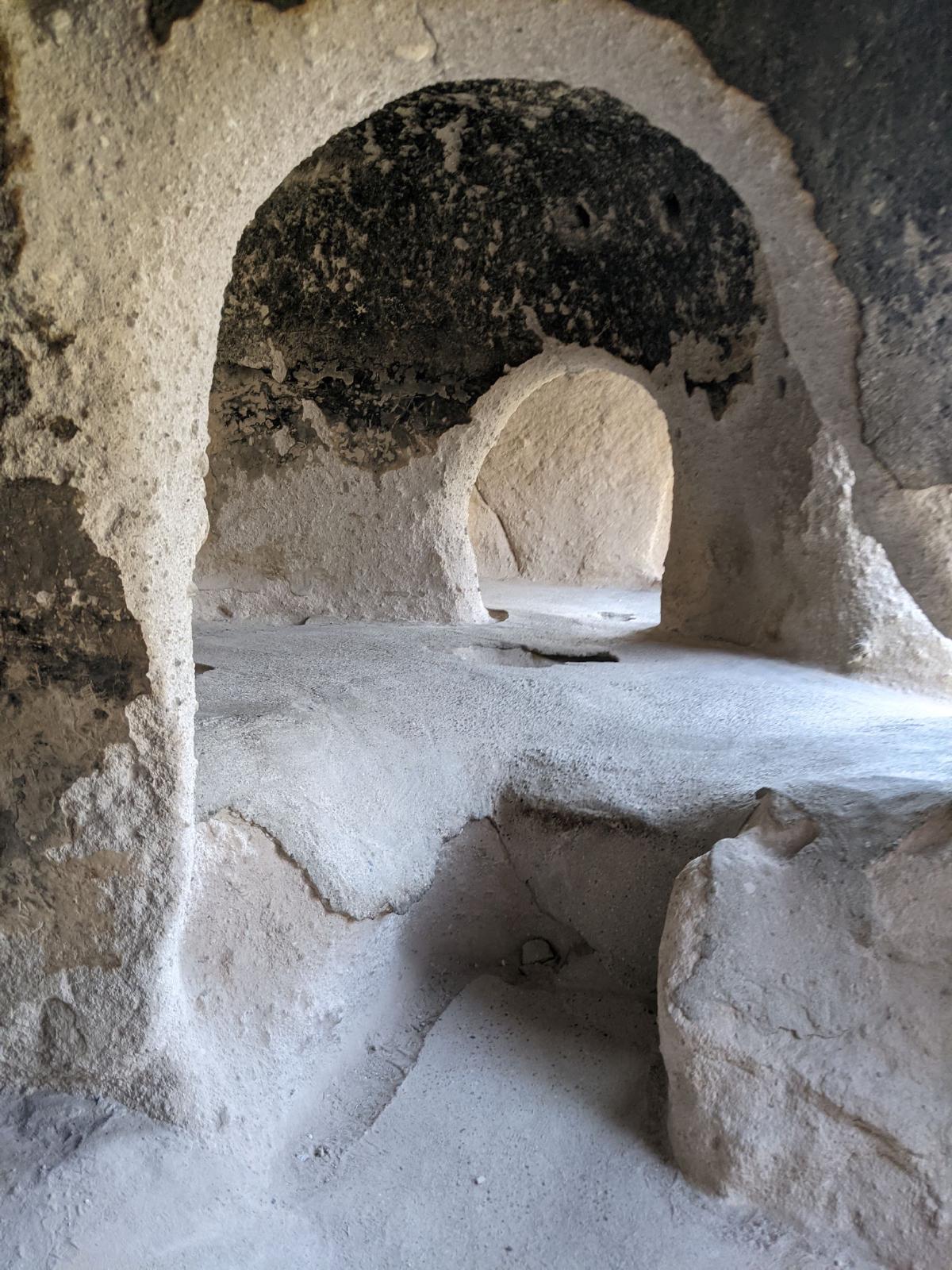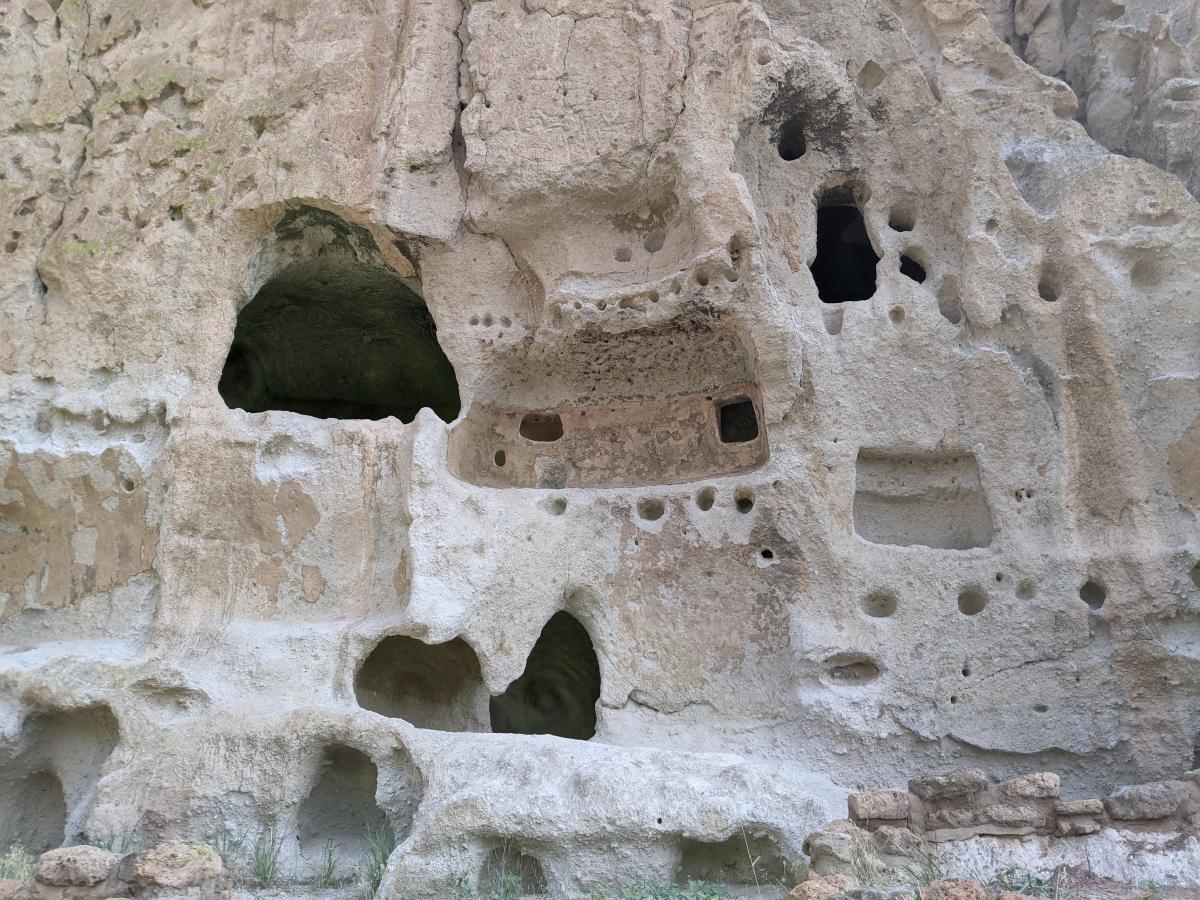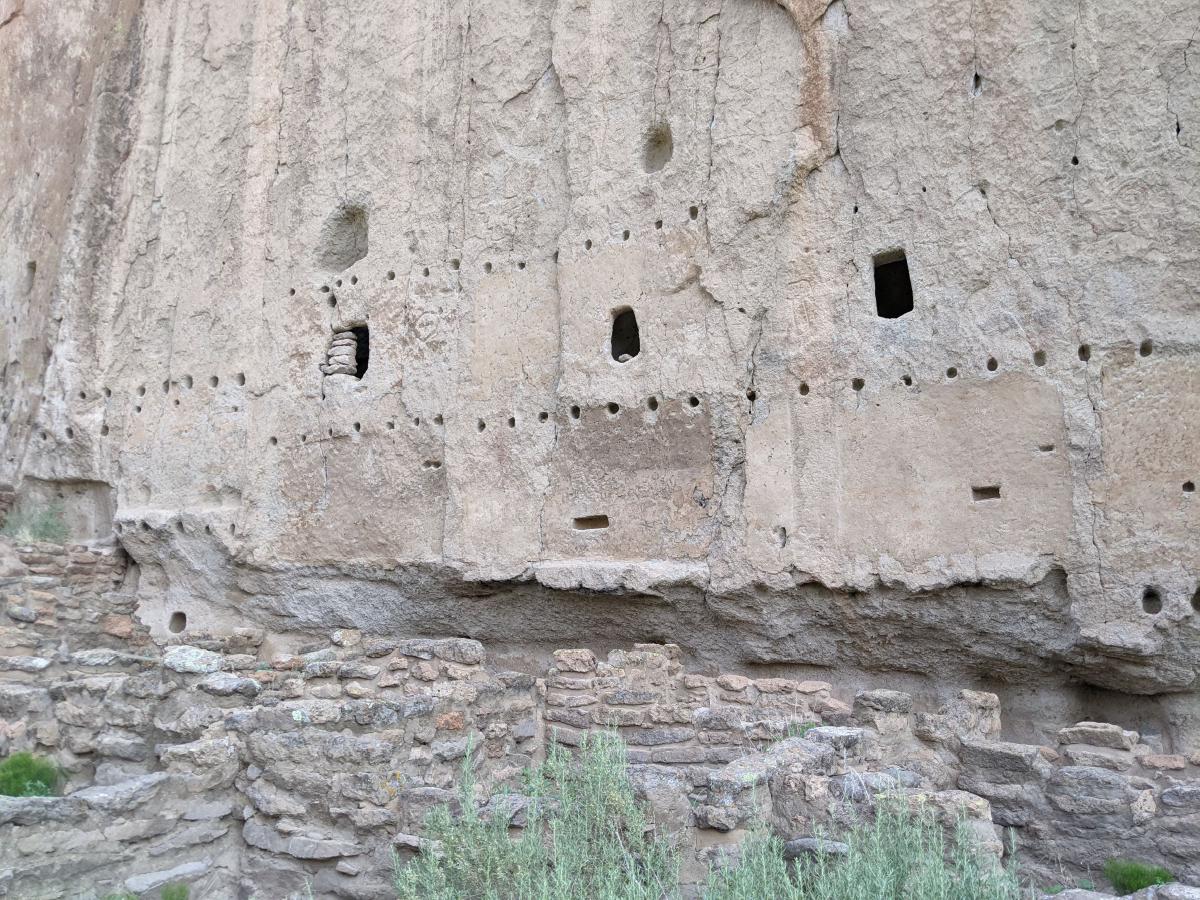 We left Bandelier around 11am, as the sun was high and the day getting hotter, and drove into Santa Fe for a quick stop at Oholi Coffee. The last time we were in Santa Fe, we took the Turquoise Trail (NM-14) to Albuquerque but were quickly caught up in a snowstorm and didn't get to enjoy the trip. This time, the day was bright and sunny, and the trail was filled with gorgeous scenery, red rock formations, and cute town settlements. We stopped in Madrid for lunch at the Mine Shaft Tavern, which has an award-winning green chile cheeseburger and a dimly lit wood interior with a 40-foot-long pine bar. The town of Madrid had brightly painted houses lining the street, and is a popular hangout for motorcyclists and day trippers.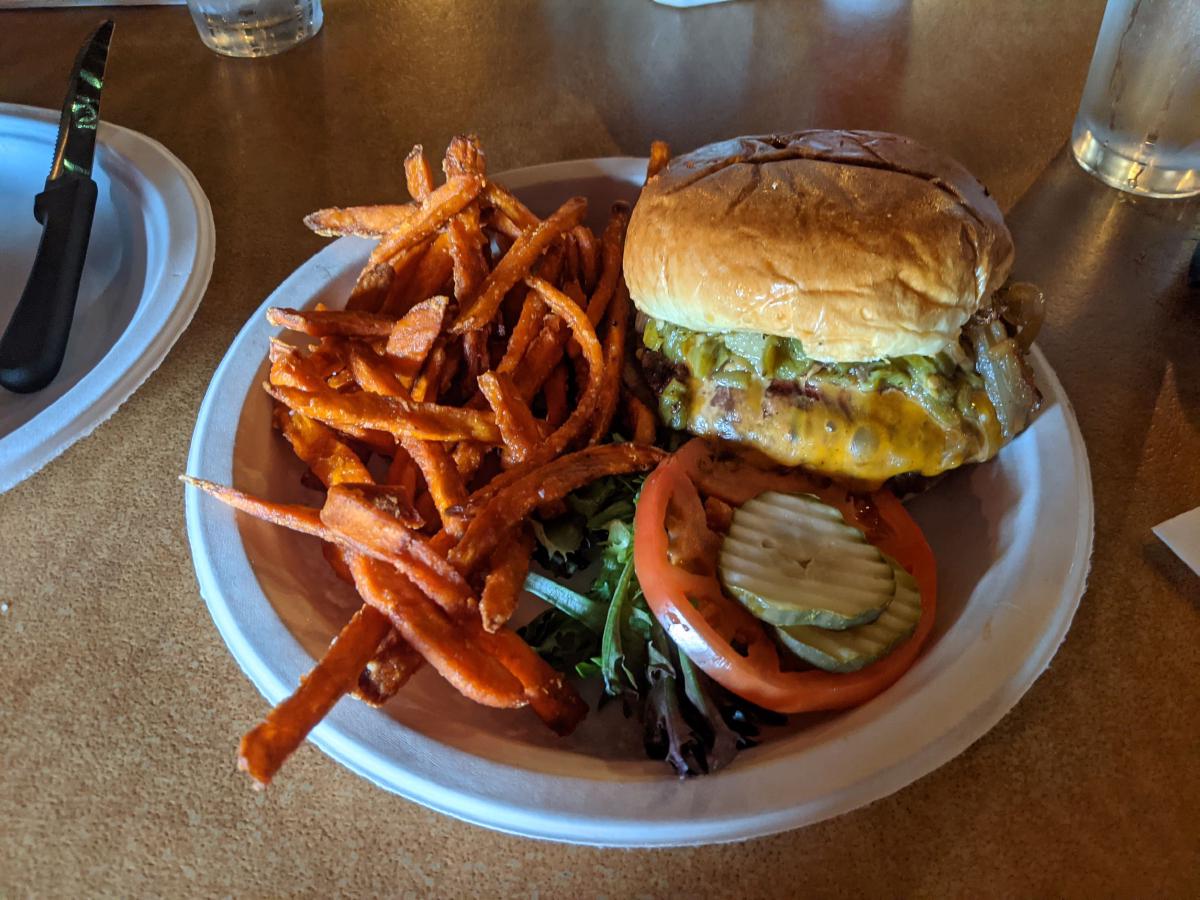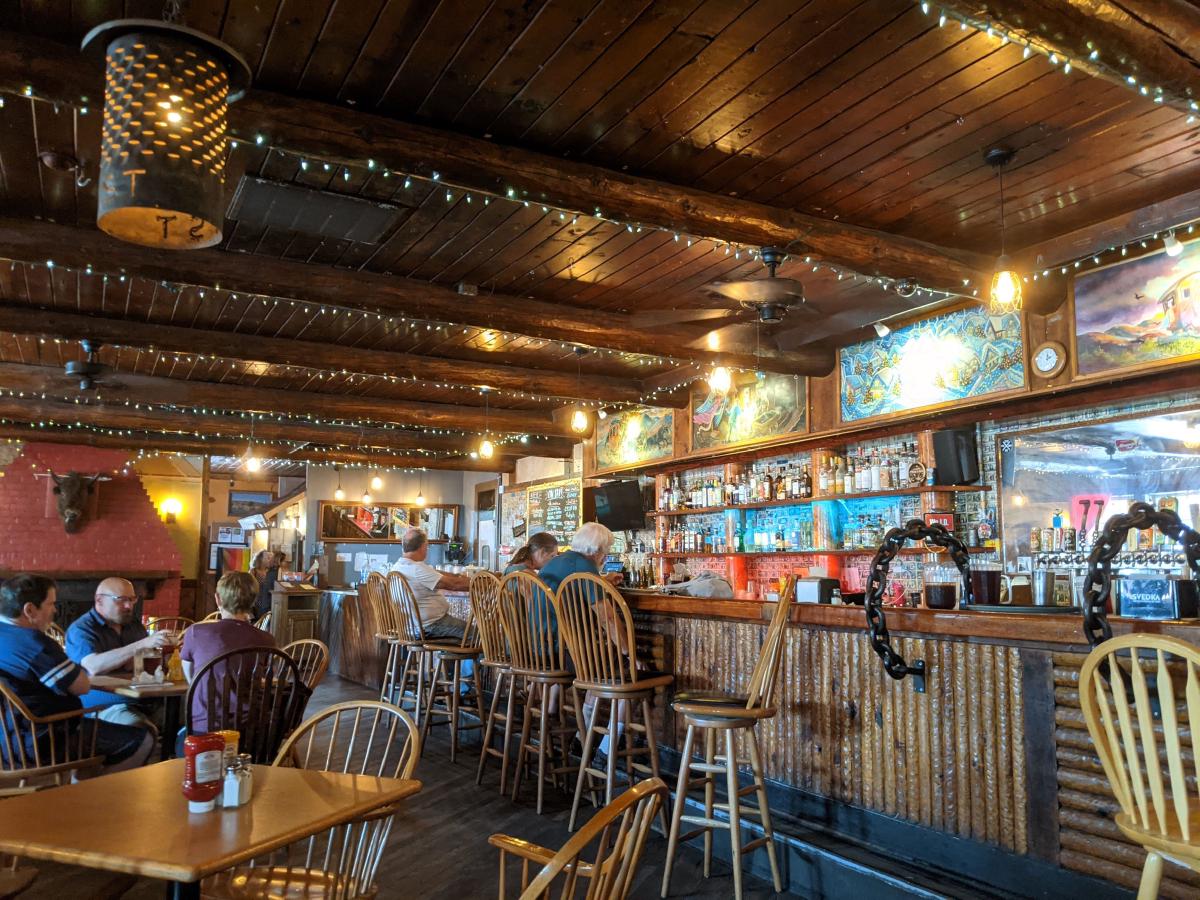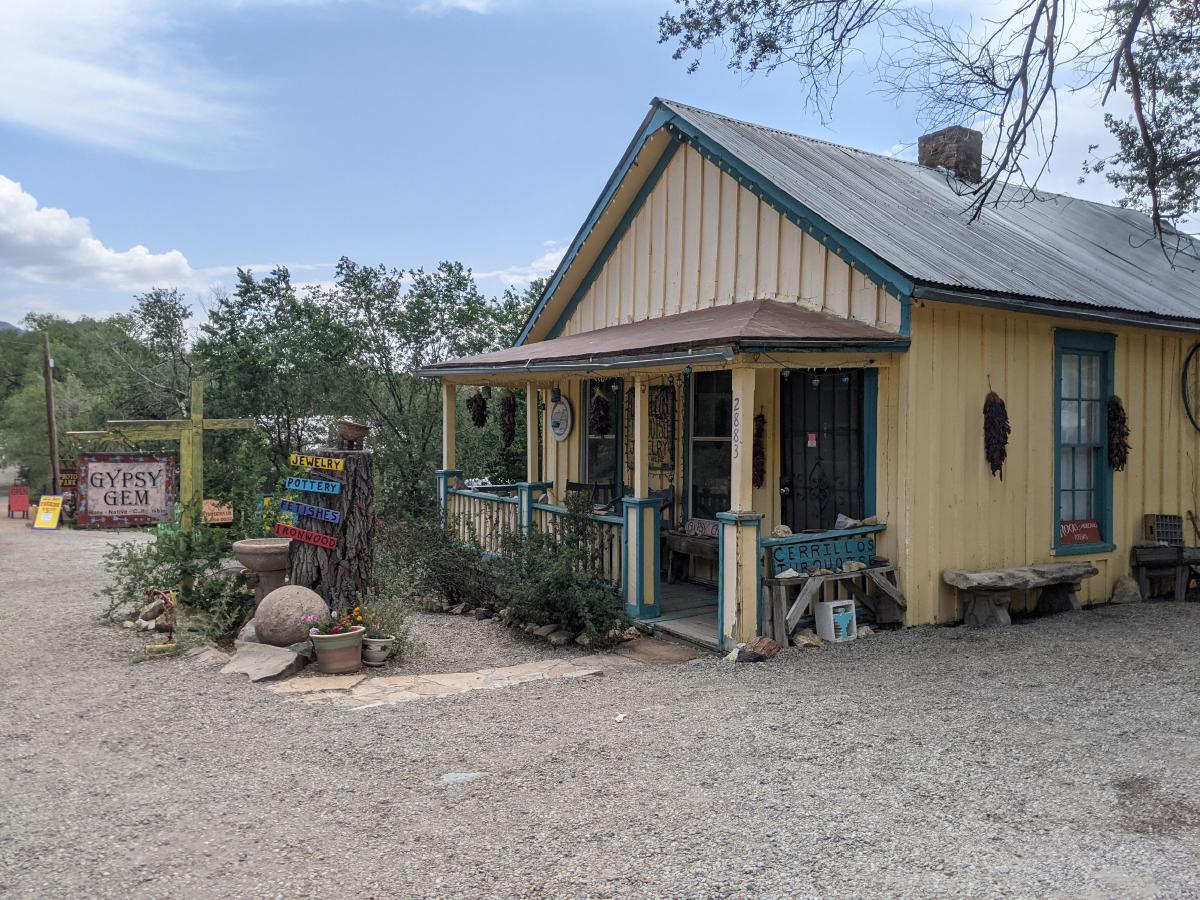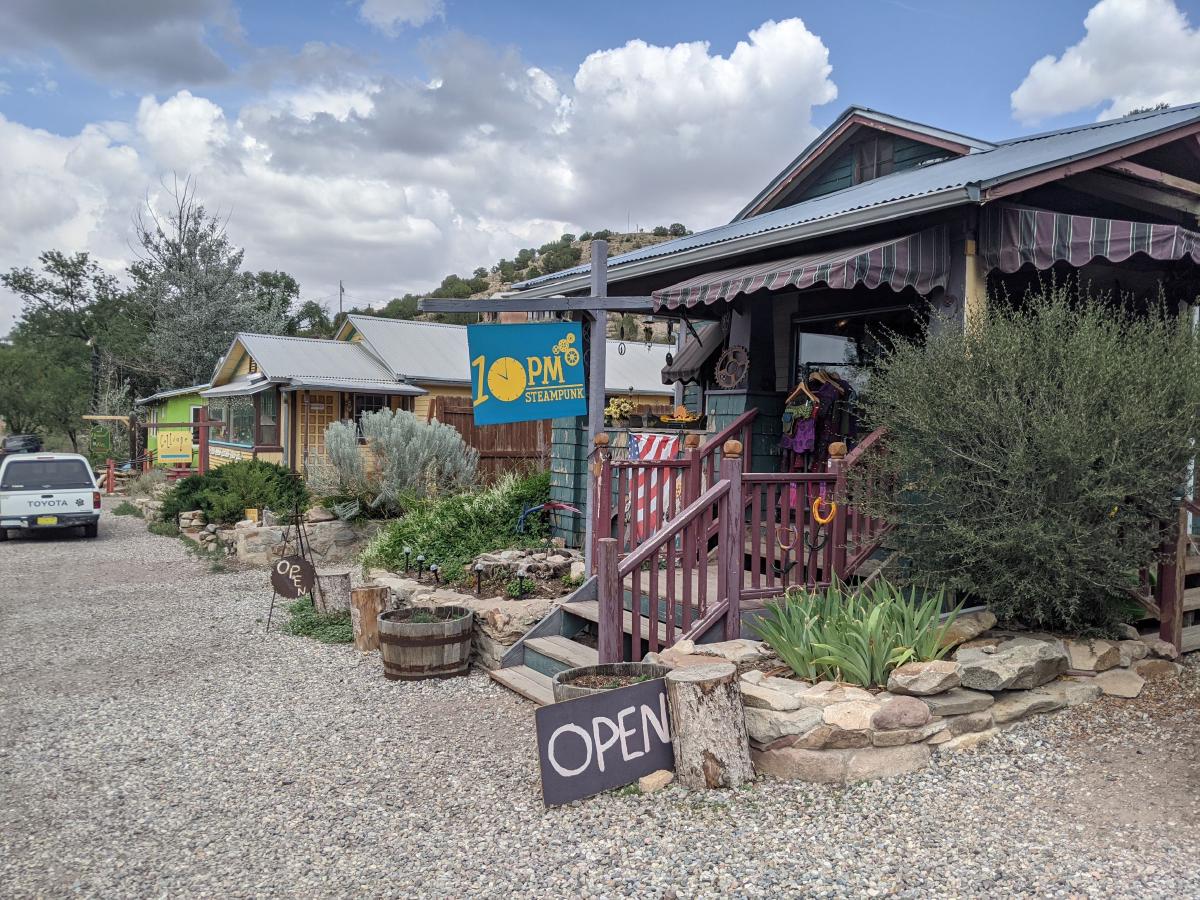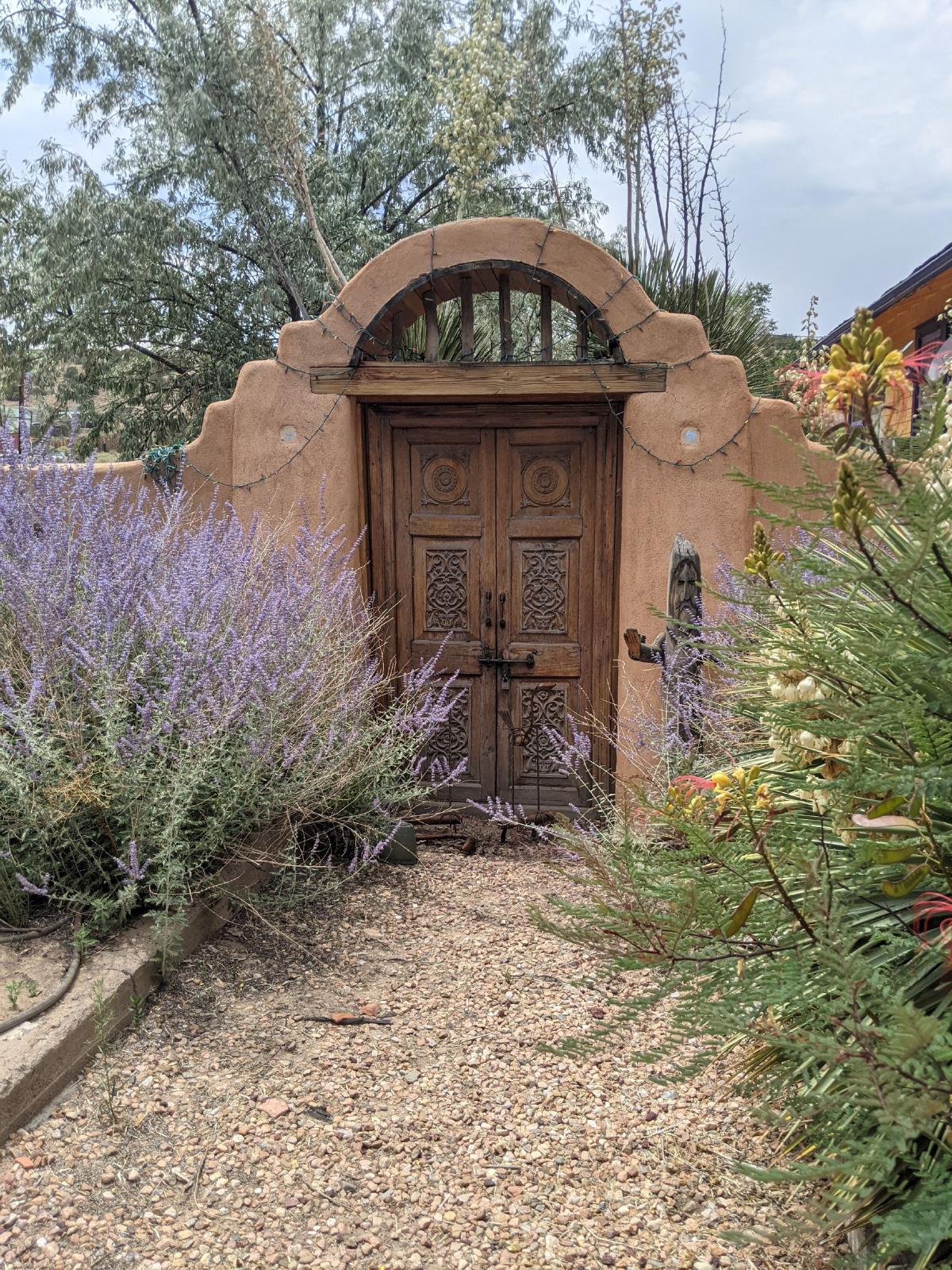 As we approached Albuquerque, we turned right up into the Cibola Forest to wind our way to the top of Sandia Crest. At ten thousand feet above sea level, the view from the top is incredible (and parking was only $3, done through an app!). We walked the nature trail along the edge of the mountain and saw views of Albuquerque across the plains a mile below us, a growing thunderstorm in the distance, jagged peaks formed from the granite uplift, volcanic cinder cones, and mountain wildflowers and Quaking Aspen trees. It was breathtaking and another trip highlight.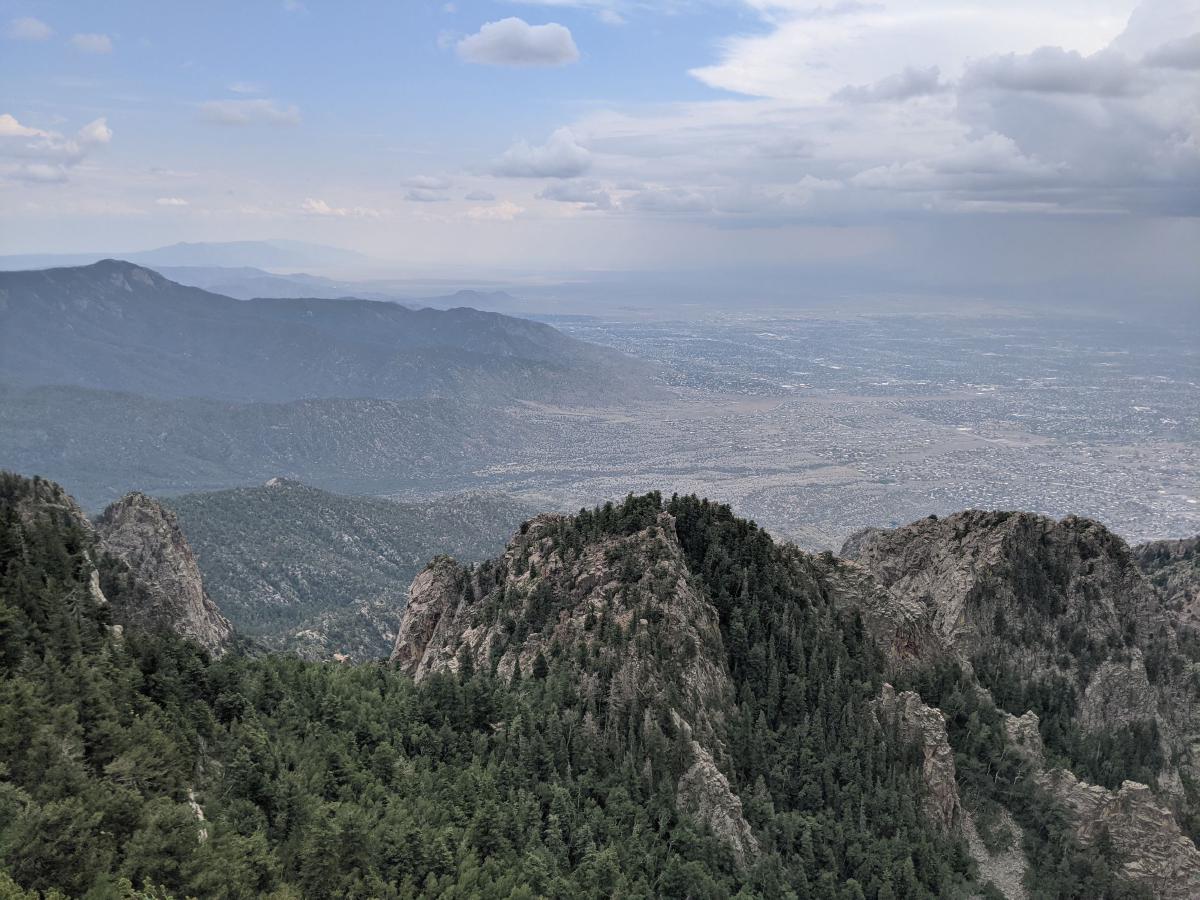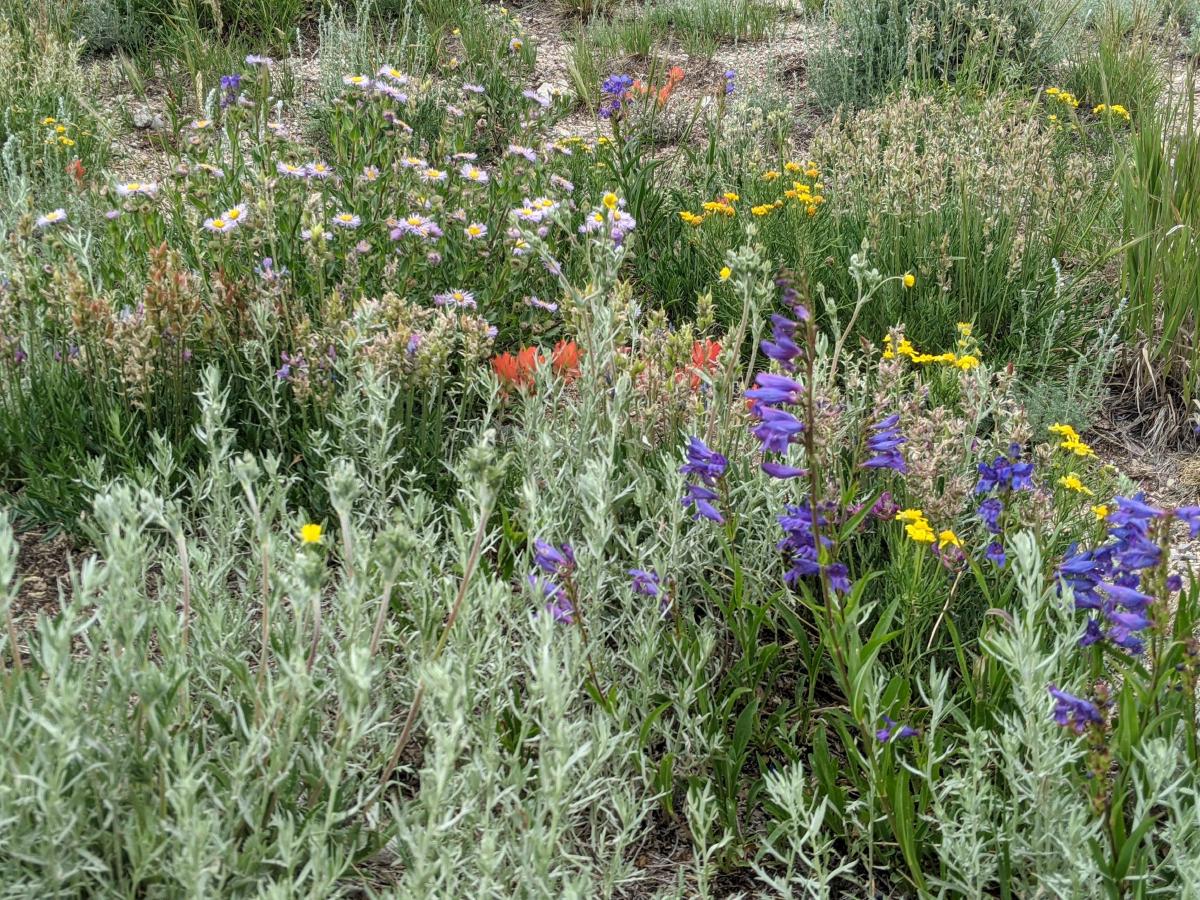 In Albuquerque, we stopped for dinner at the iconic Frontier Restaurant next to the University of New Mexico campus. We ordered from a massive and inexpensive menu at the front, then waited for our number to be called to pick up the food in one of the eclectically decorated themed rooms. Frontier is known for classic New Mexican fare, so we split a plate of green chile enchiladas with homemade flour tortillas on the side, and one of their famous cinnamon rolls and a cup of pozole. If I lived in Albuquerque, I'd probably go there once a day. Oh, and did I mention it's on my beloved Route 66, which cuts through the middle of downtown Albuquerque?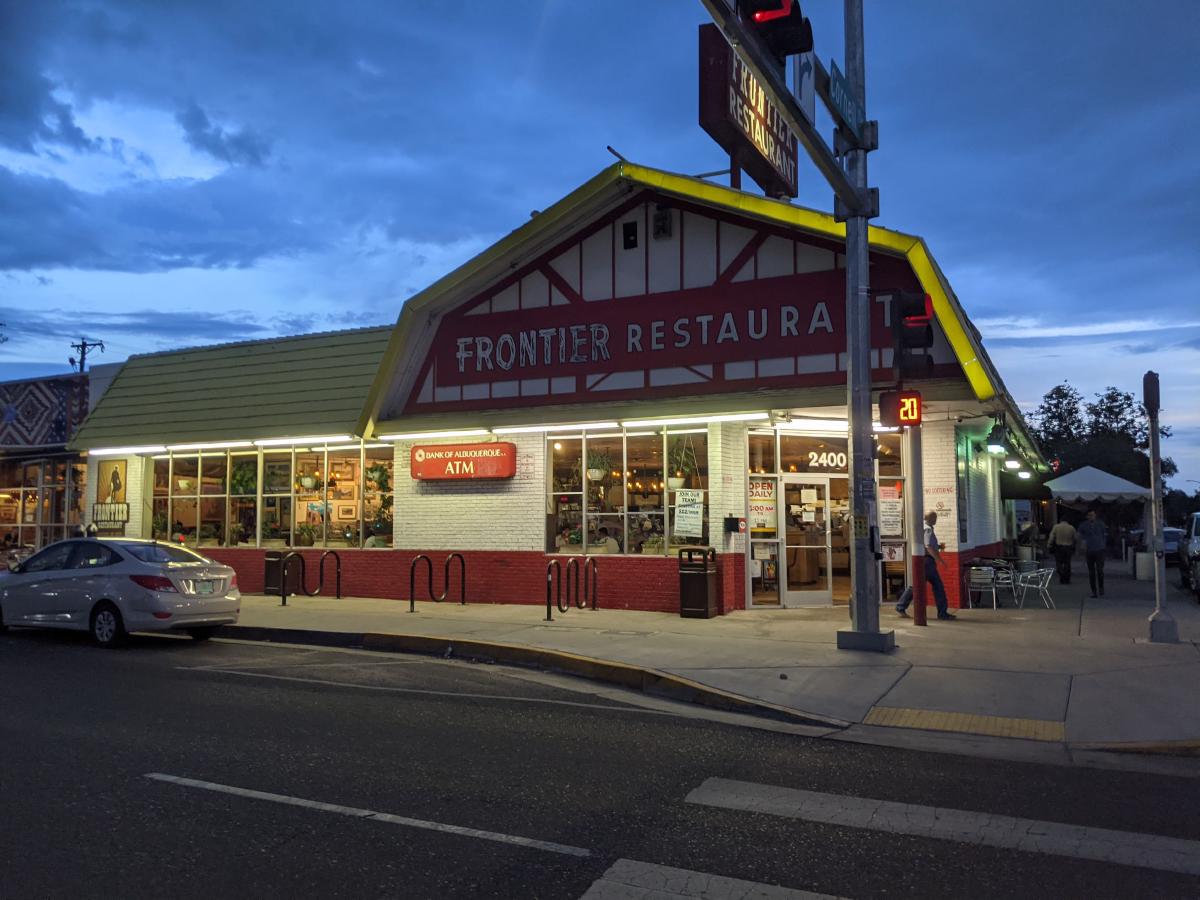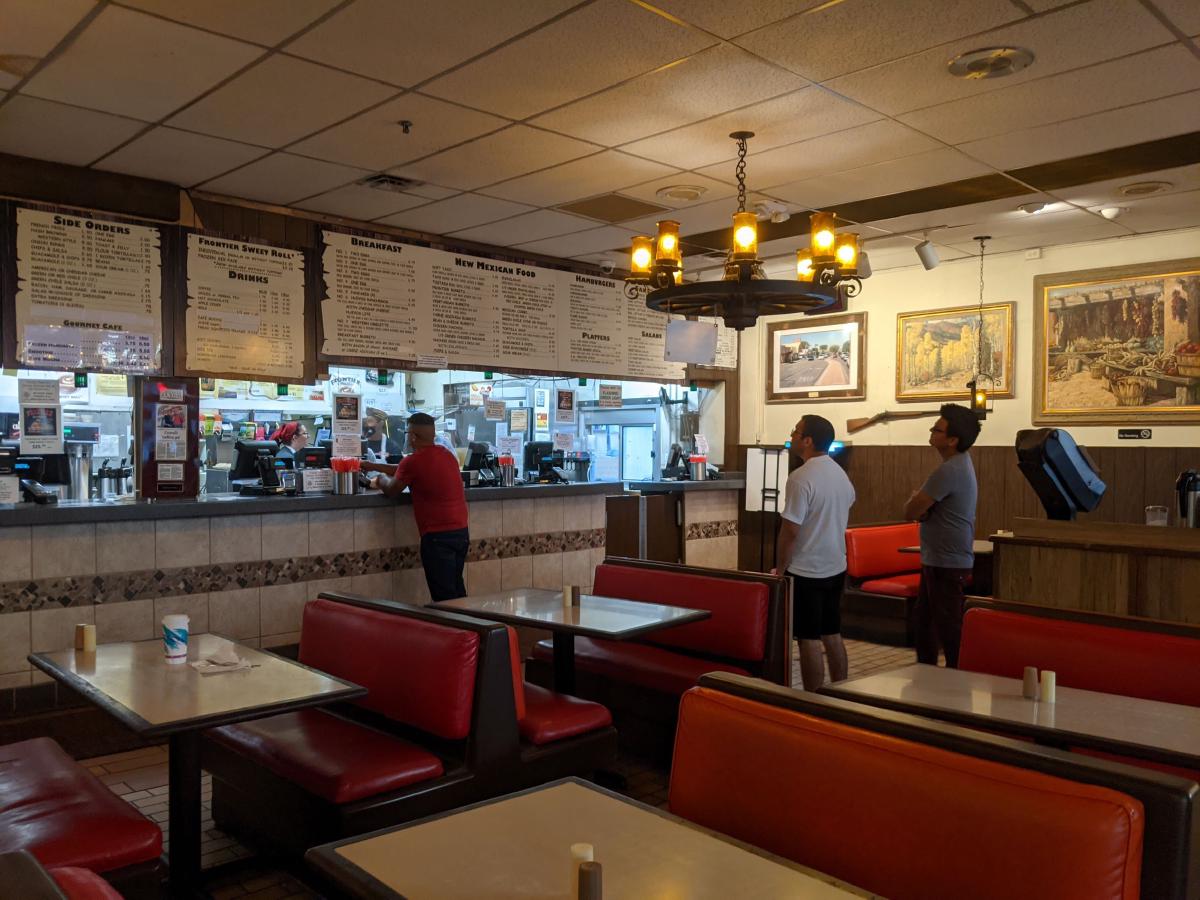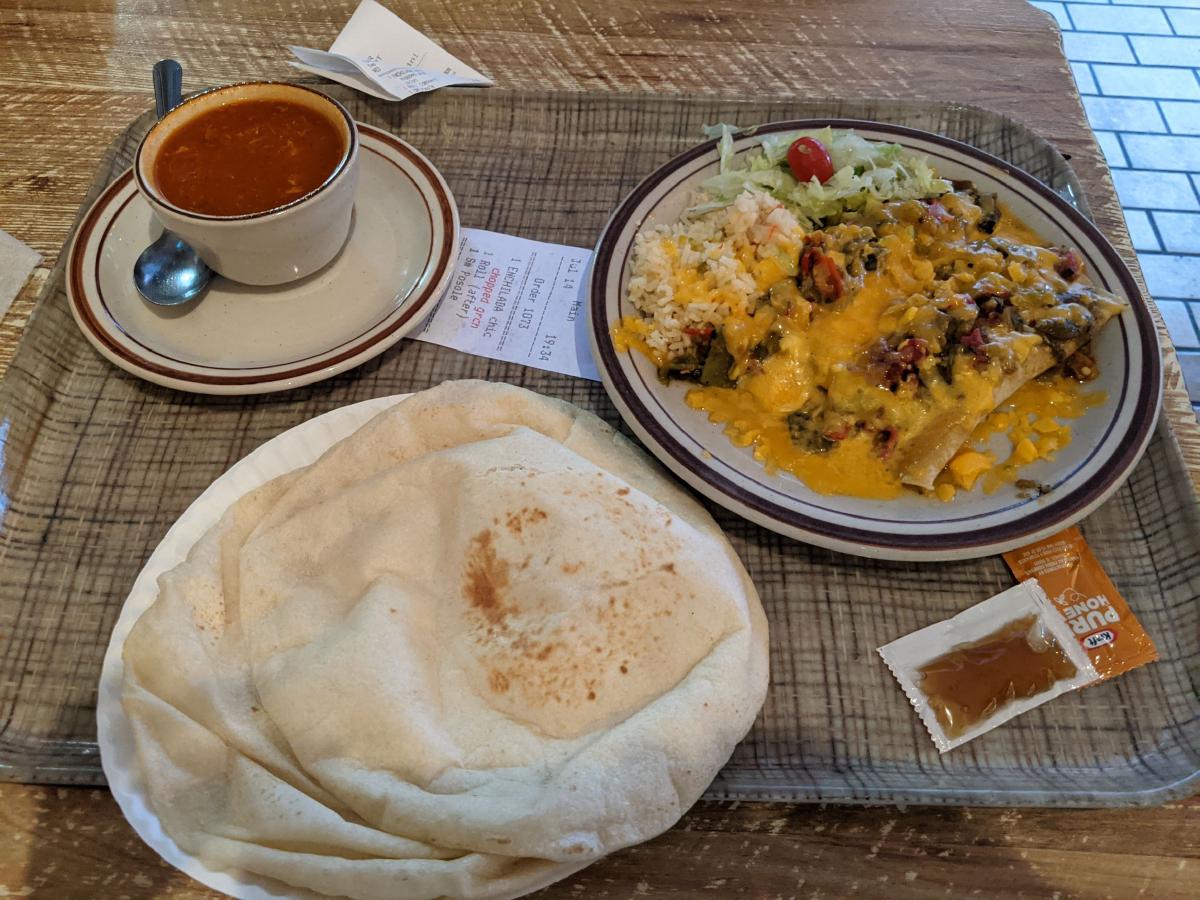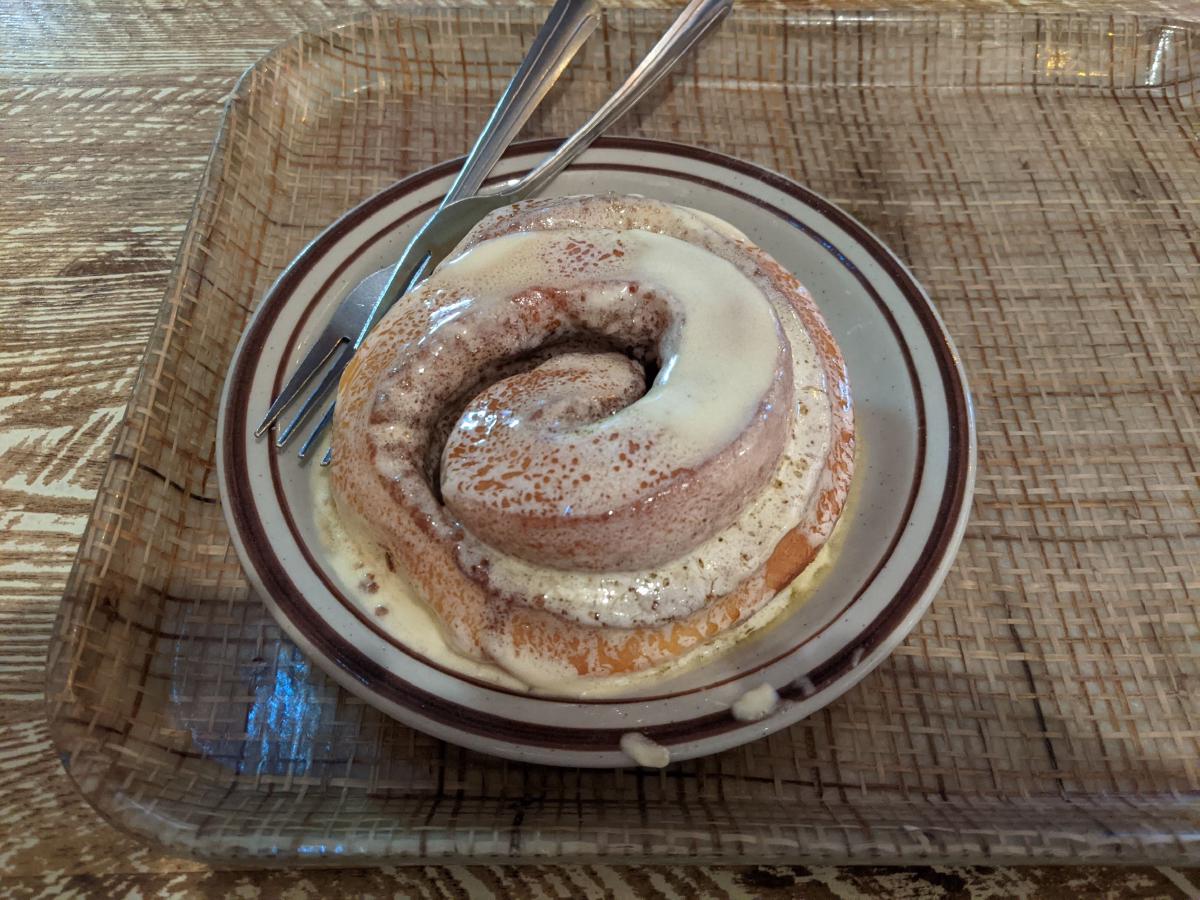 Thursday: ABQ BioPark and Nuclear Science Museum
The morning started with a visit to the ABQ BioPark Botanical Garden. We tried to do outdoor activities in the morning, as the day heats up uncomfortably past 11am in July despite the elevation. The desert area, rose garden, model train set, and butterfly house and Bugarium were highlights.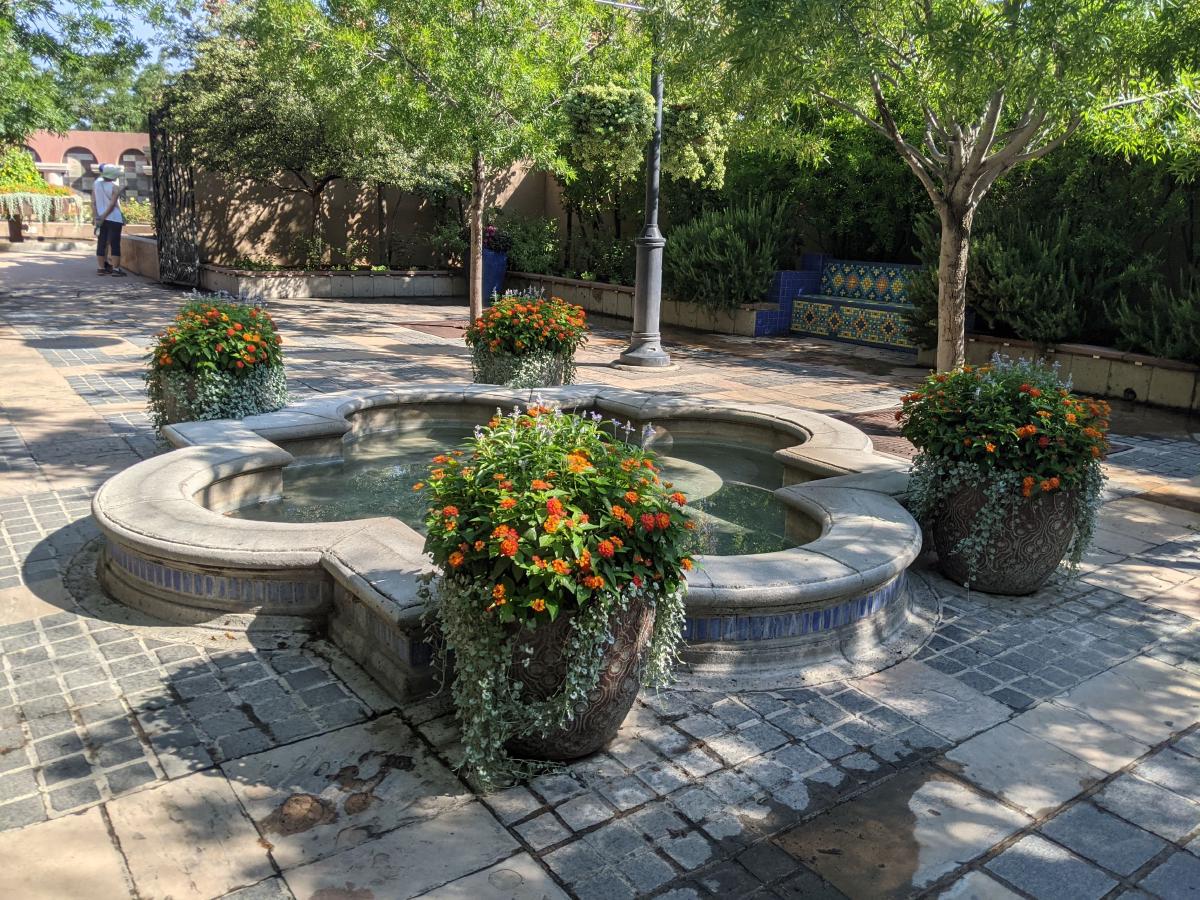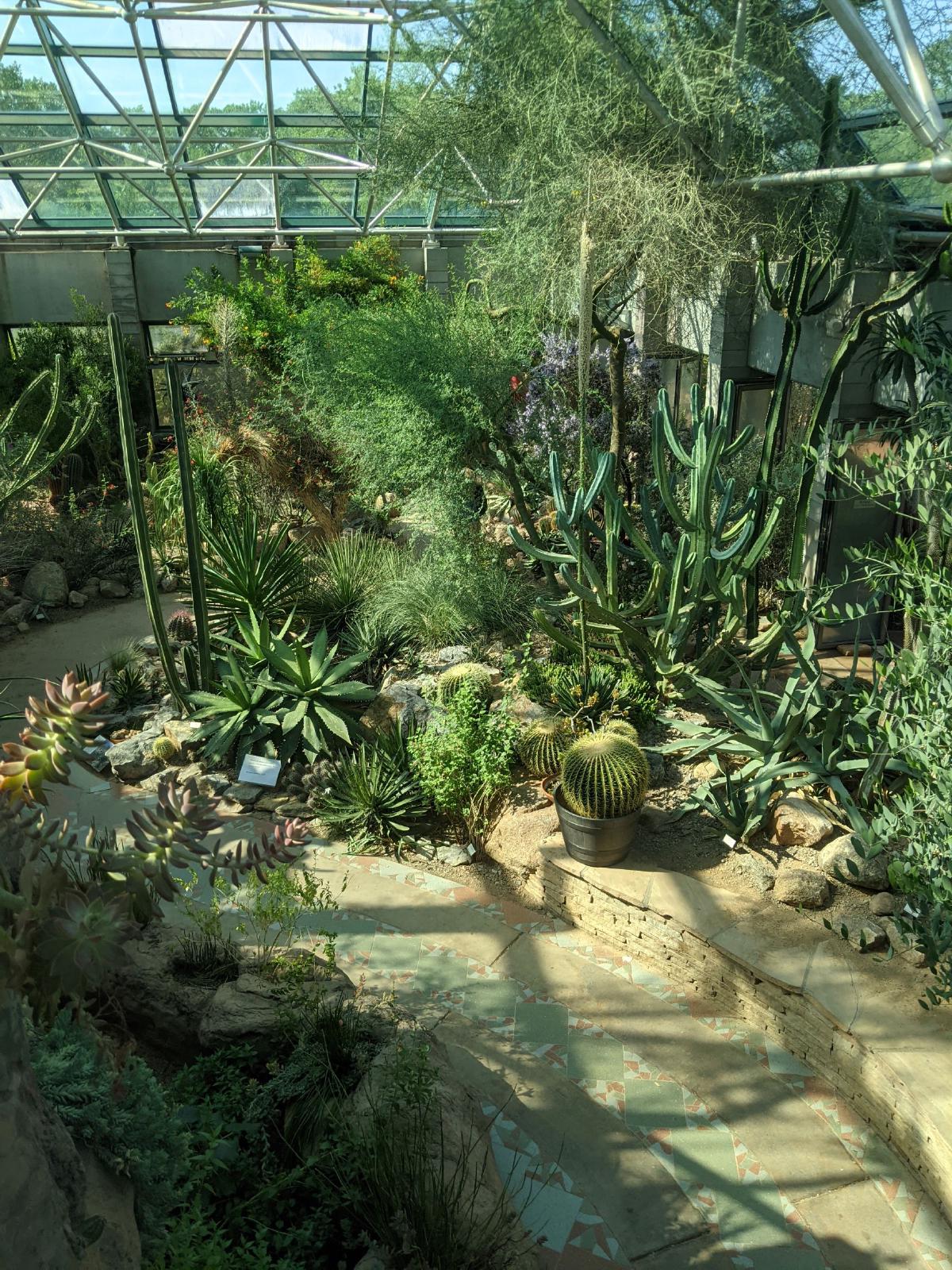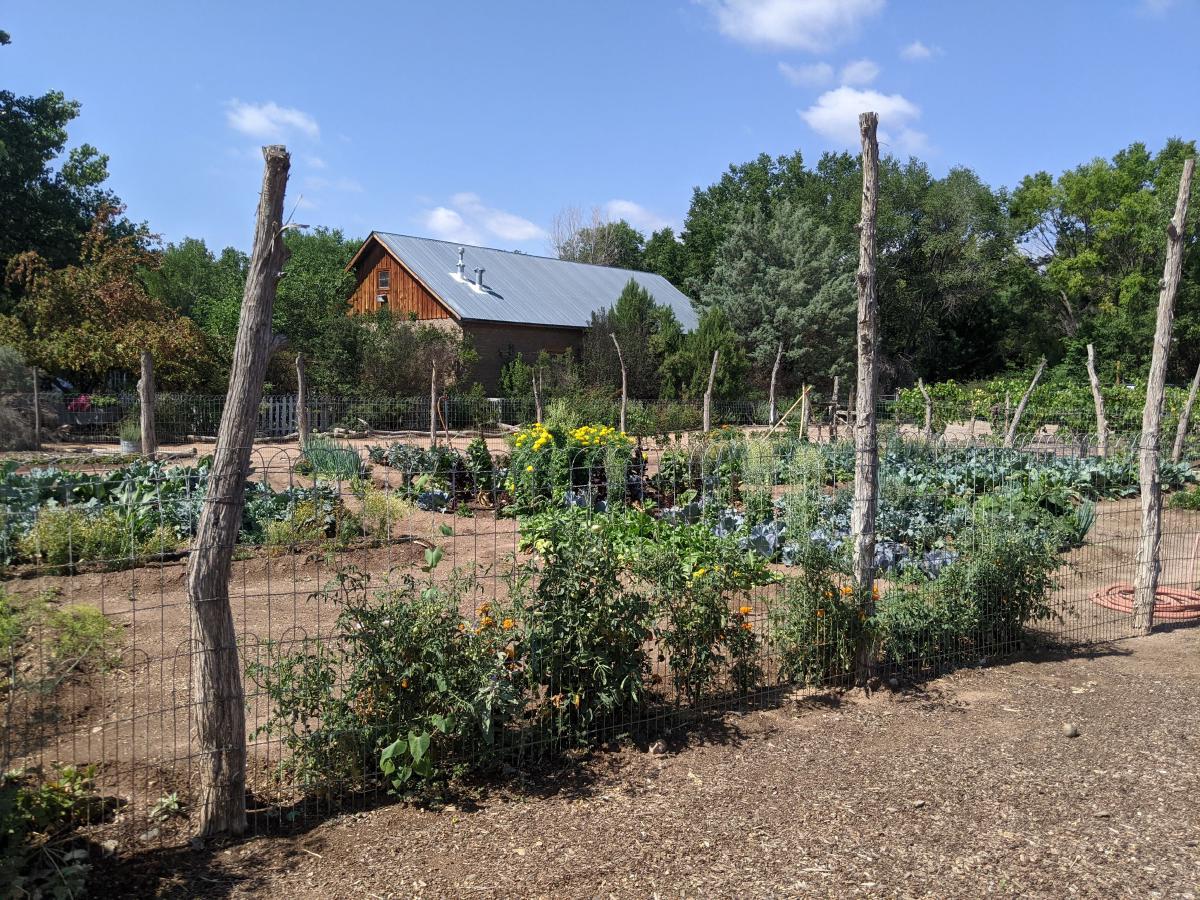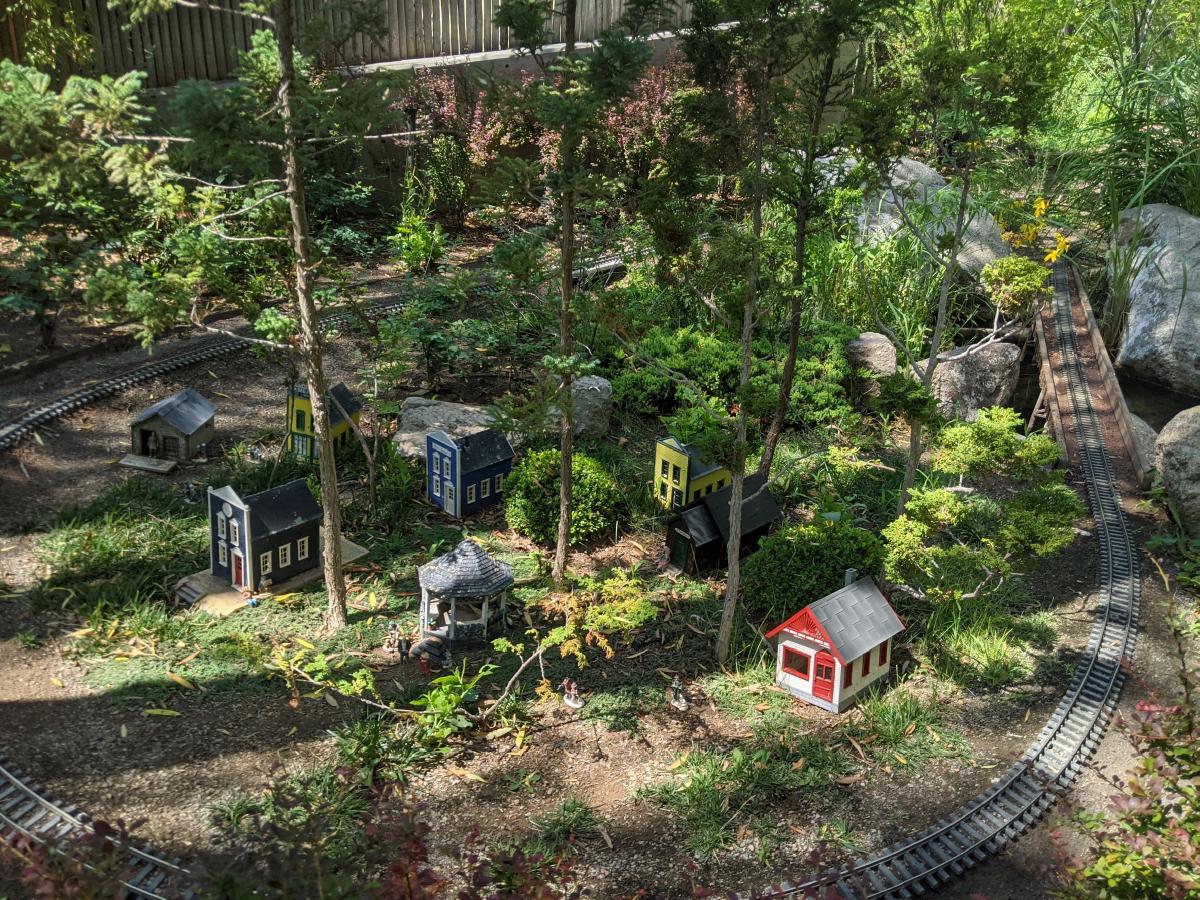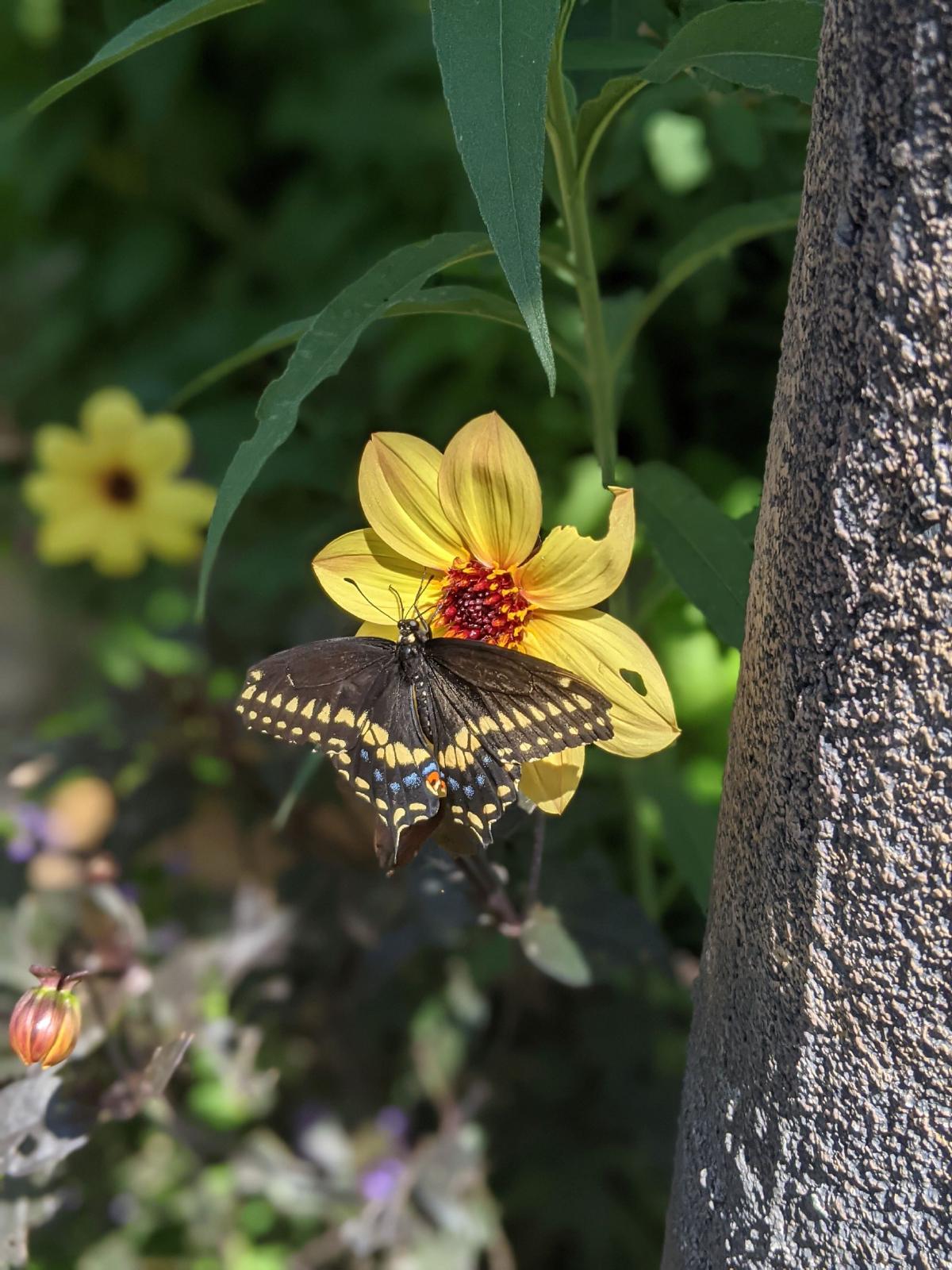 For lunch, we stopped in at the Indian Pueblo Cultural Center for a Navajo Taco (delectable fry bread covered with ground lamb), blue corn griddle cakes, and a Pueblo Pie to save for later. The restaurant is staffed by Pueblo people and serves authentic and modern Pueblo-inspired cuisine. Absolutely delicious, and one of the best meals of the trip. We opted to come back the next day to visit the museum exhibits, as there was a native dance performance scheduled that we wanted to see.
New Mexico is also home to Los Alamos, where the Atomic Bomb was developed and tested during the Manhattan Project. The National Museum of Nuclear Science & History is packed with thorough exhibits outlining this history and has a yard filled with an array of planes.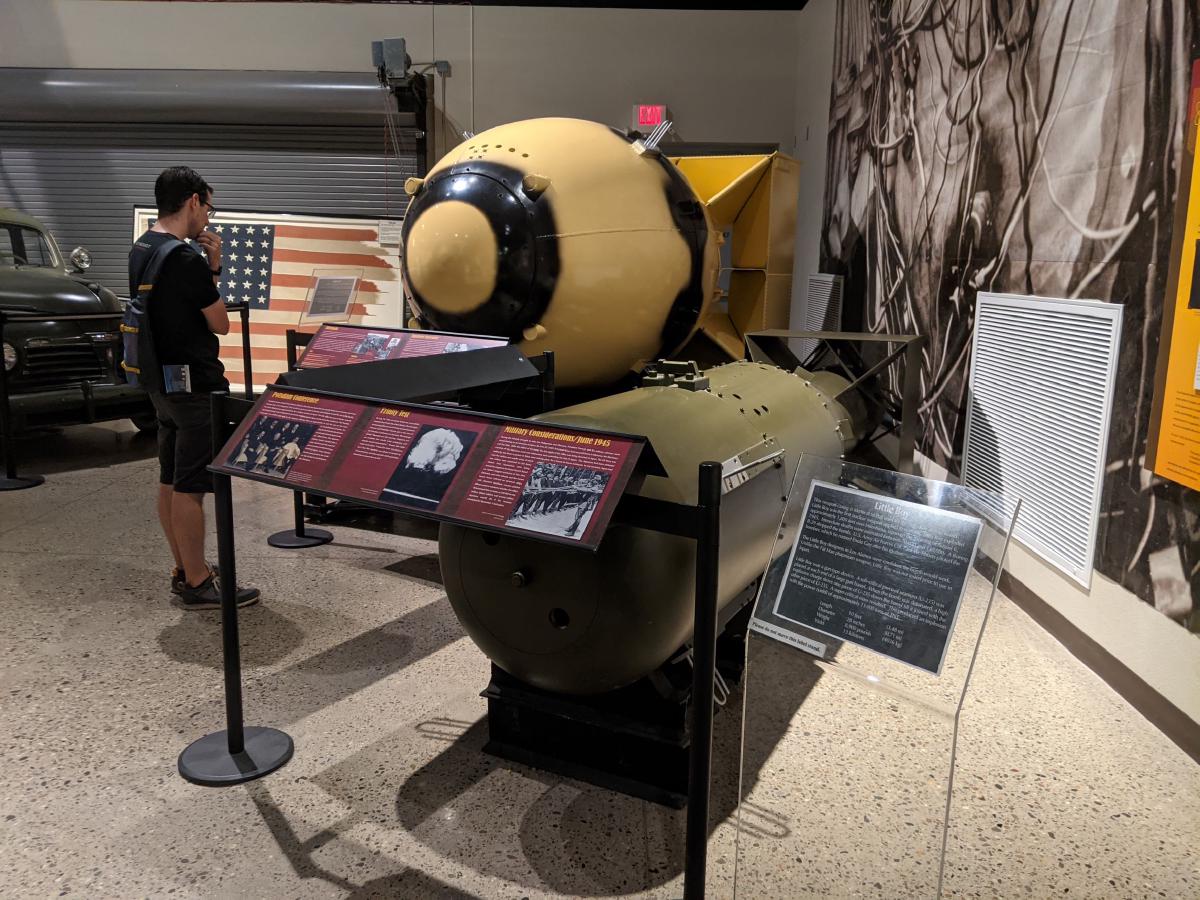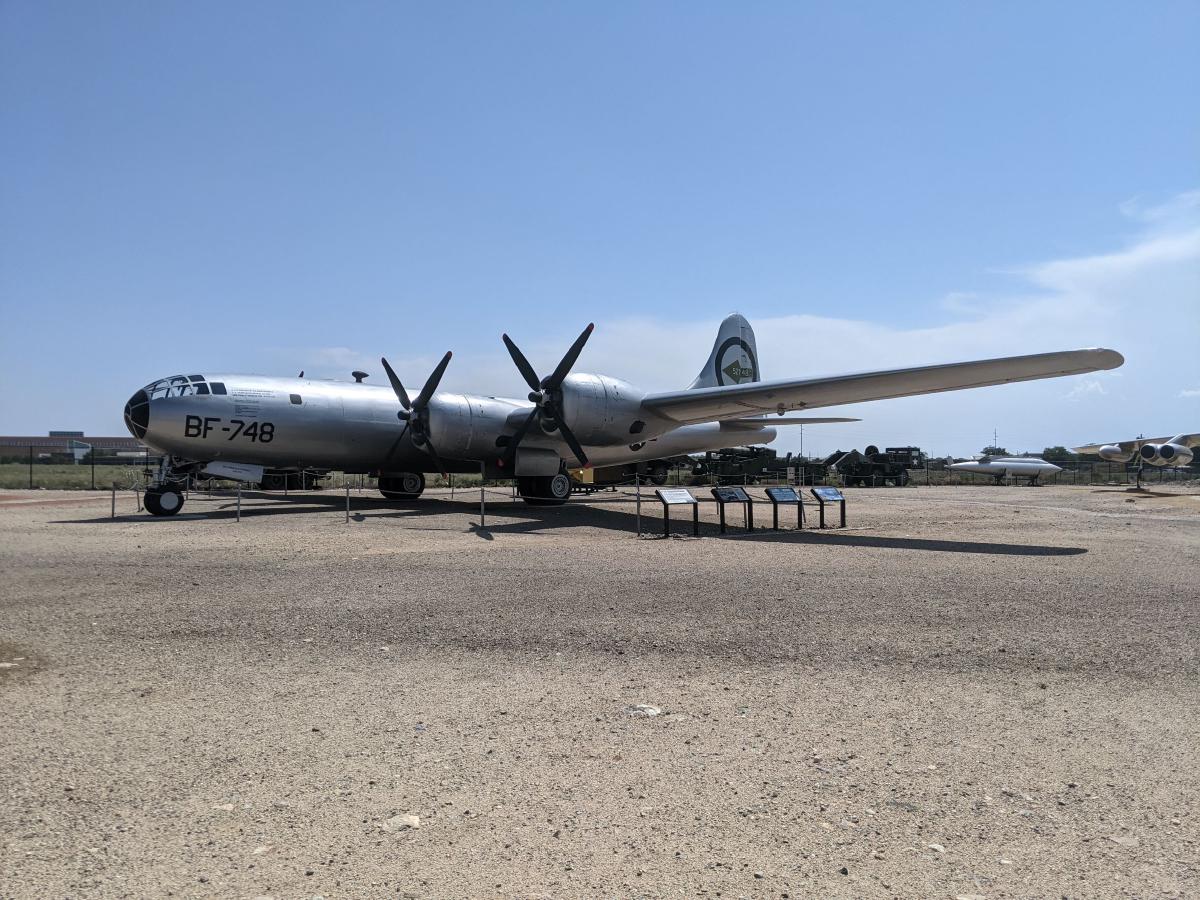 Friday: Petroglyphs and Pueblo Dances
Our last day in New Mexico began with a hike at Petroglyph National Monument. Hundreds of symbols were carved onto volcanic rocks by people as they passed through the area 400 to 700 years ago. They are a form of communication, where those who came next could see who had been there before. We hiked the Boca Negra Canyon (after paying $1 in cash to park) and saw over 100 petroglyphs. The rocks are white underneath, but over the years have oxidized with a black layer which is carved through to create the petroglyphs. The hike was very short, but informative and had a great vista of Albuquerque. There are also nearby cinder cone volcanoes and a few longer hiking trails with more petroglyphs which we did not visit.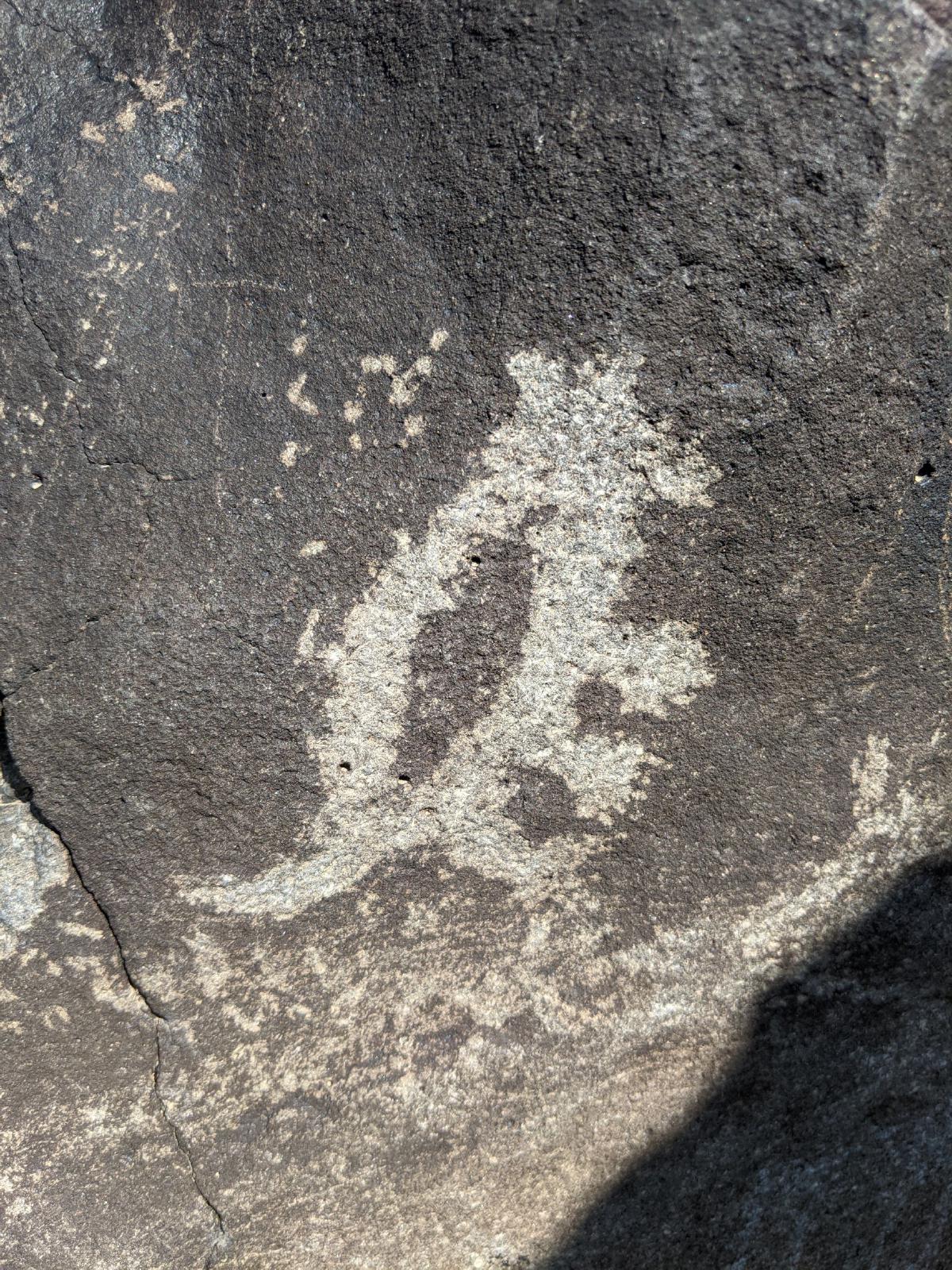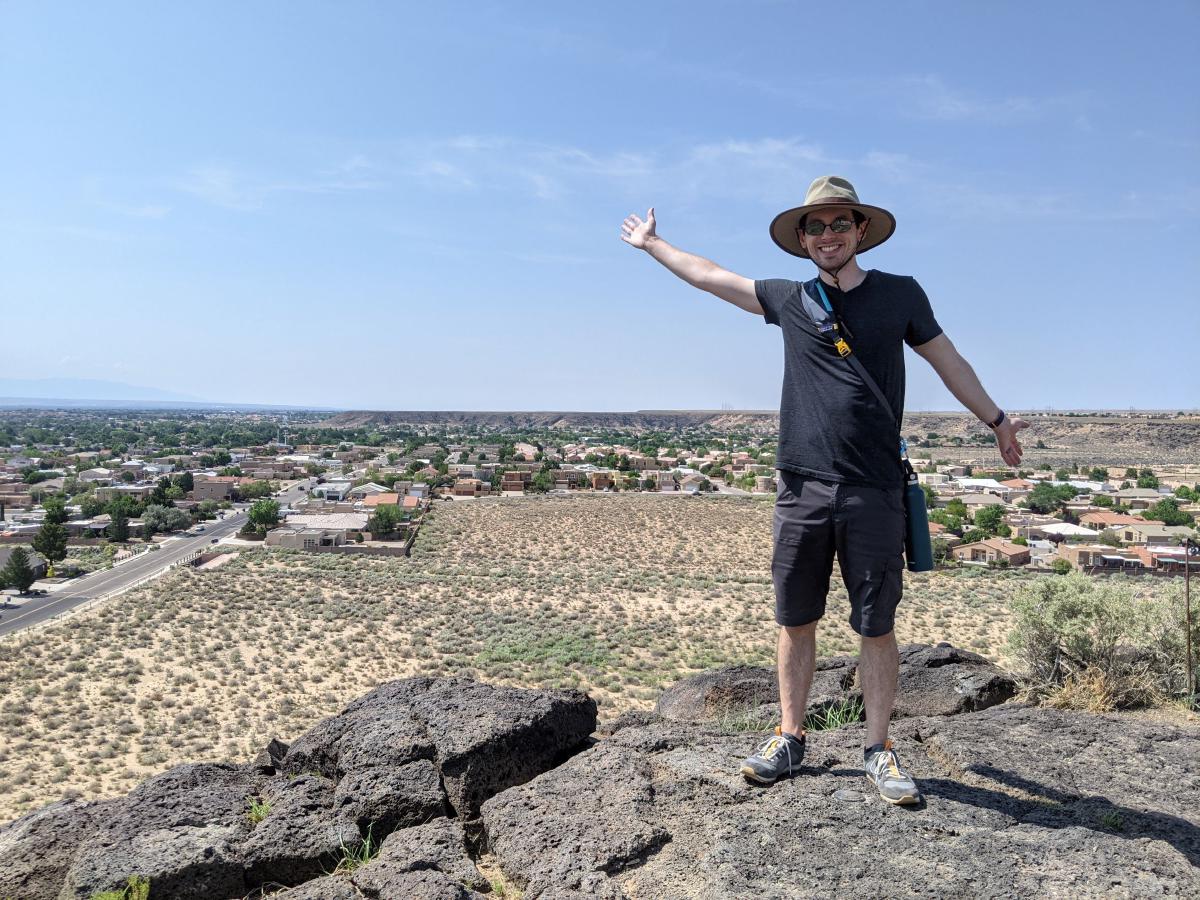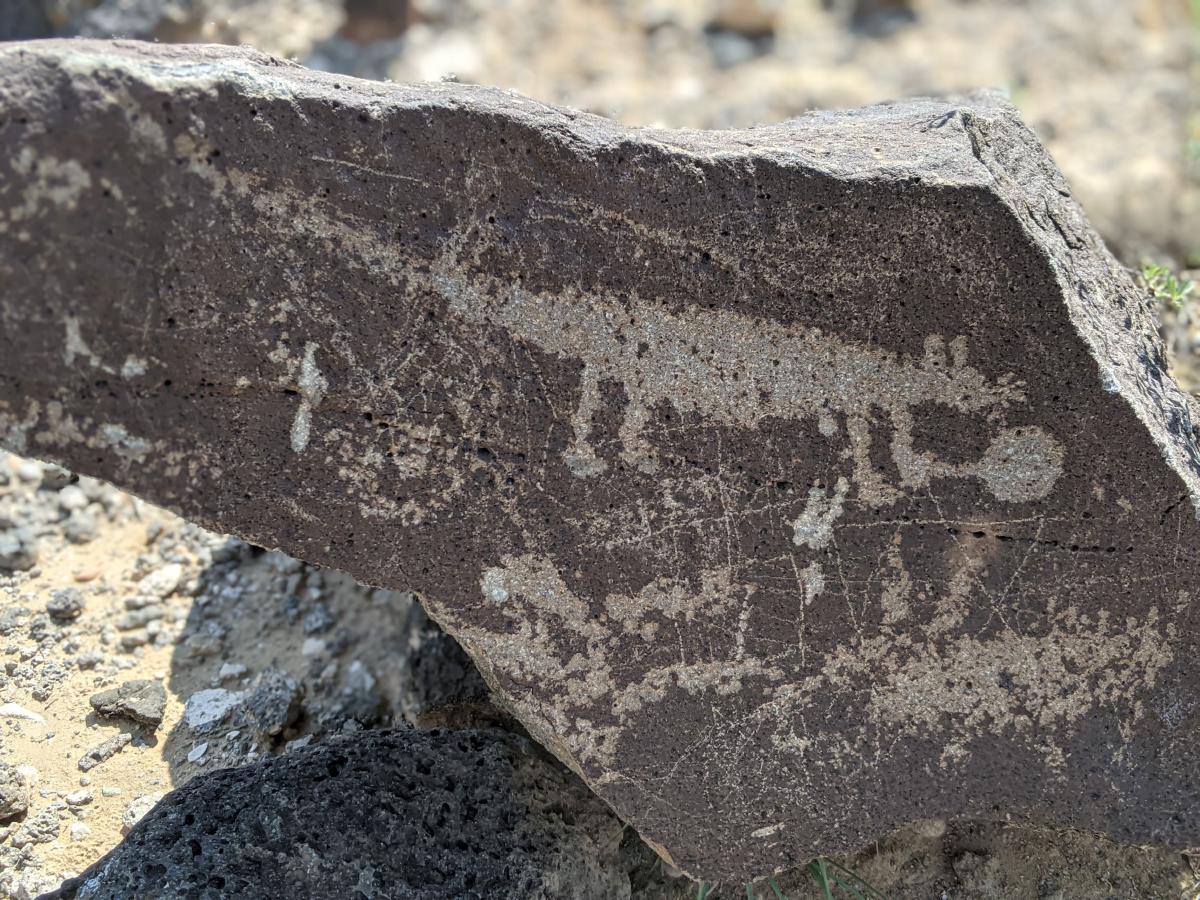 For lunch, we stopped in again at the Indian Pueblo Cultural Center and ate pozole and French dip with fry bread. The main museum exhibit, "This Is Who We Are," told the story of the Pueblo peoples, from the foods they ate and cultivated, to how they built homes and used all parts of the land to make clothes and provisions. There was also a section on the Albuquerque Indian School program opened by the Presbyterian Church in 1881 to assimilate native children into white society. After learning about the unmarked indigenous graves found recently in Canada at a similar residential school, this part of the exhibit was especially relevant.
Another special exhibit highlighted exceptional Pueblo women who had worked to preserve their culture.
Outside in the blistering sun, a group of young people of the Zuni tribe from the Acoma Pueblo danced for a full hour in traditional garments to drumbeats and chanting. We were in awe of their dedication and perseverance. Around the center, there were native artists selling their wares, and we purchased a small watercolor painting from Geraldine Tso, a Navajo artist.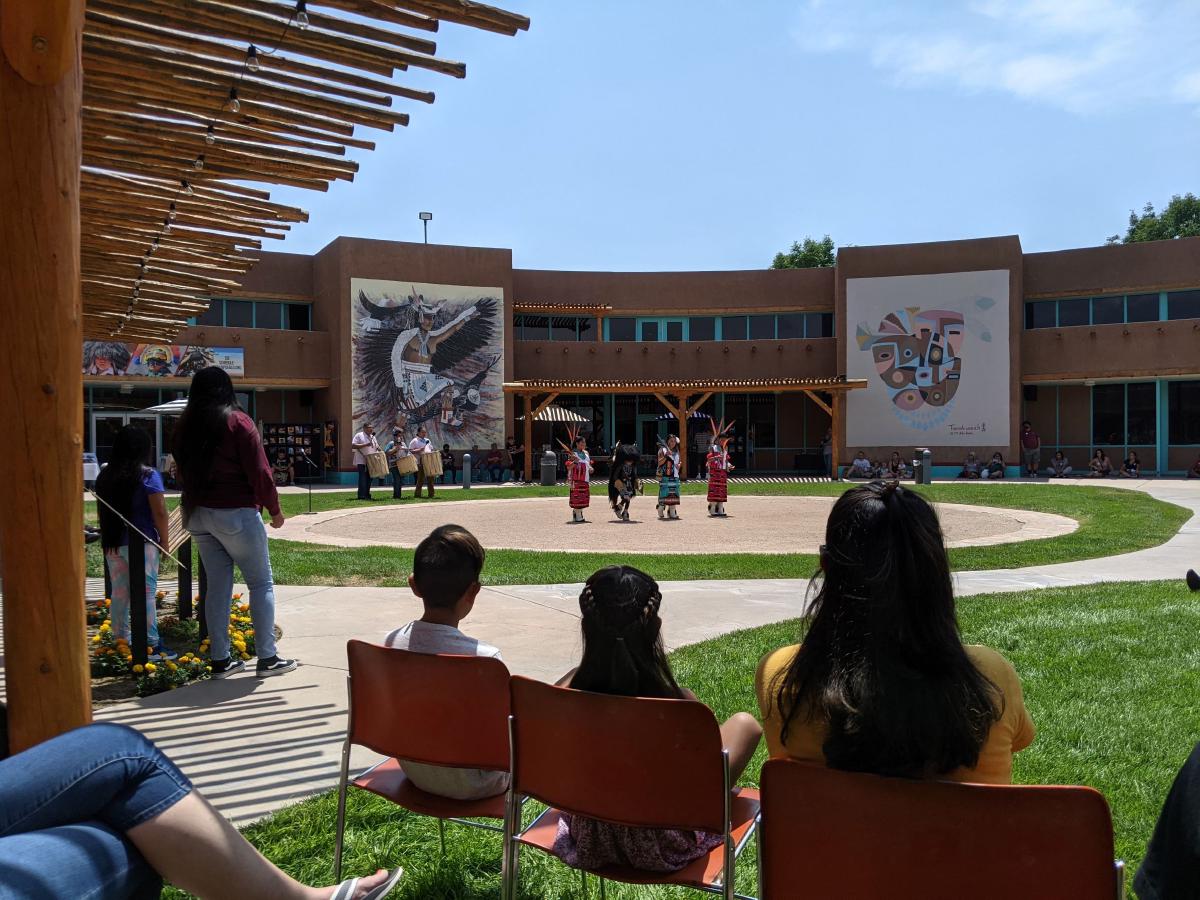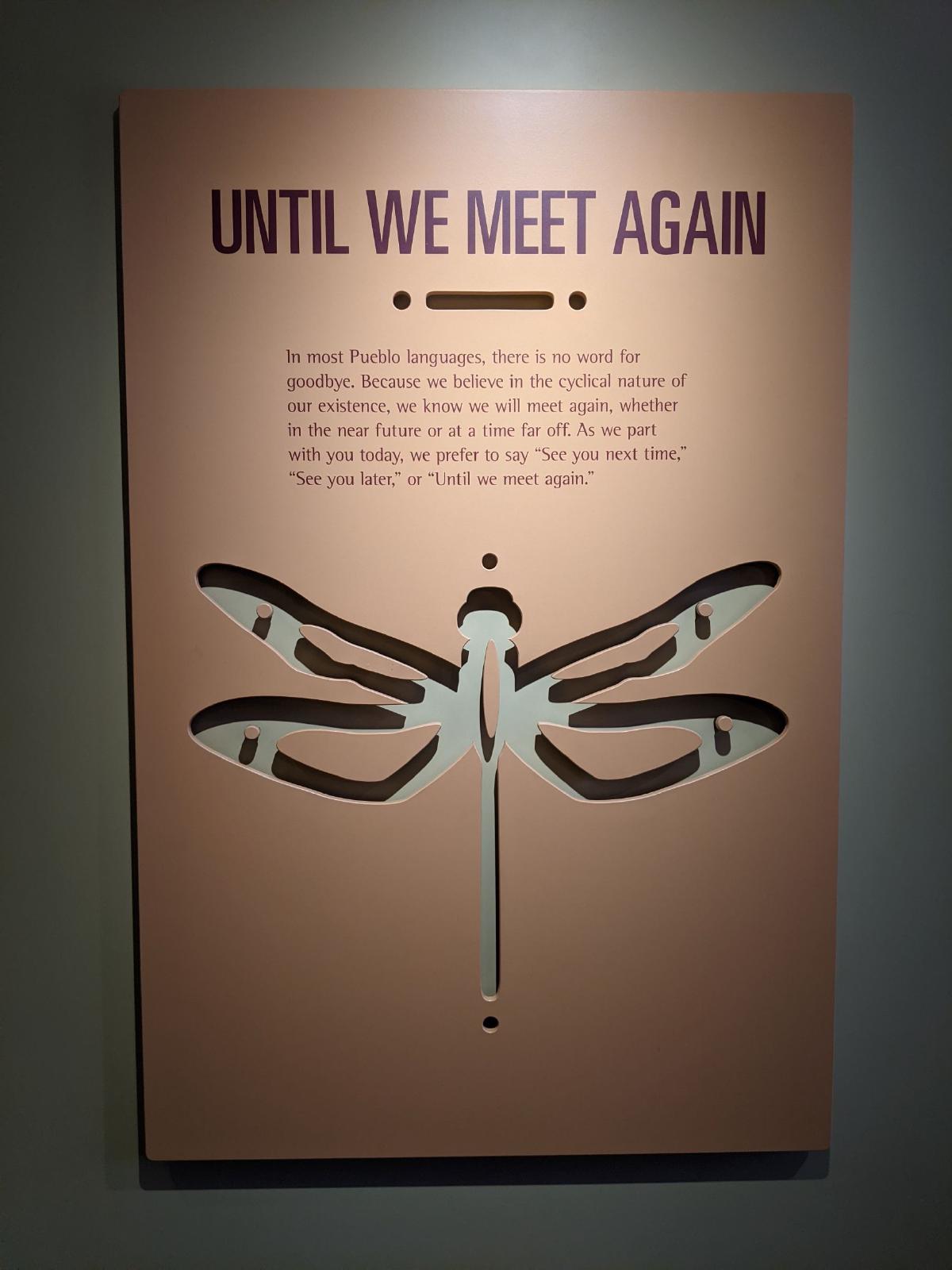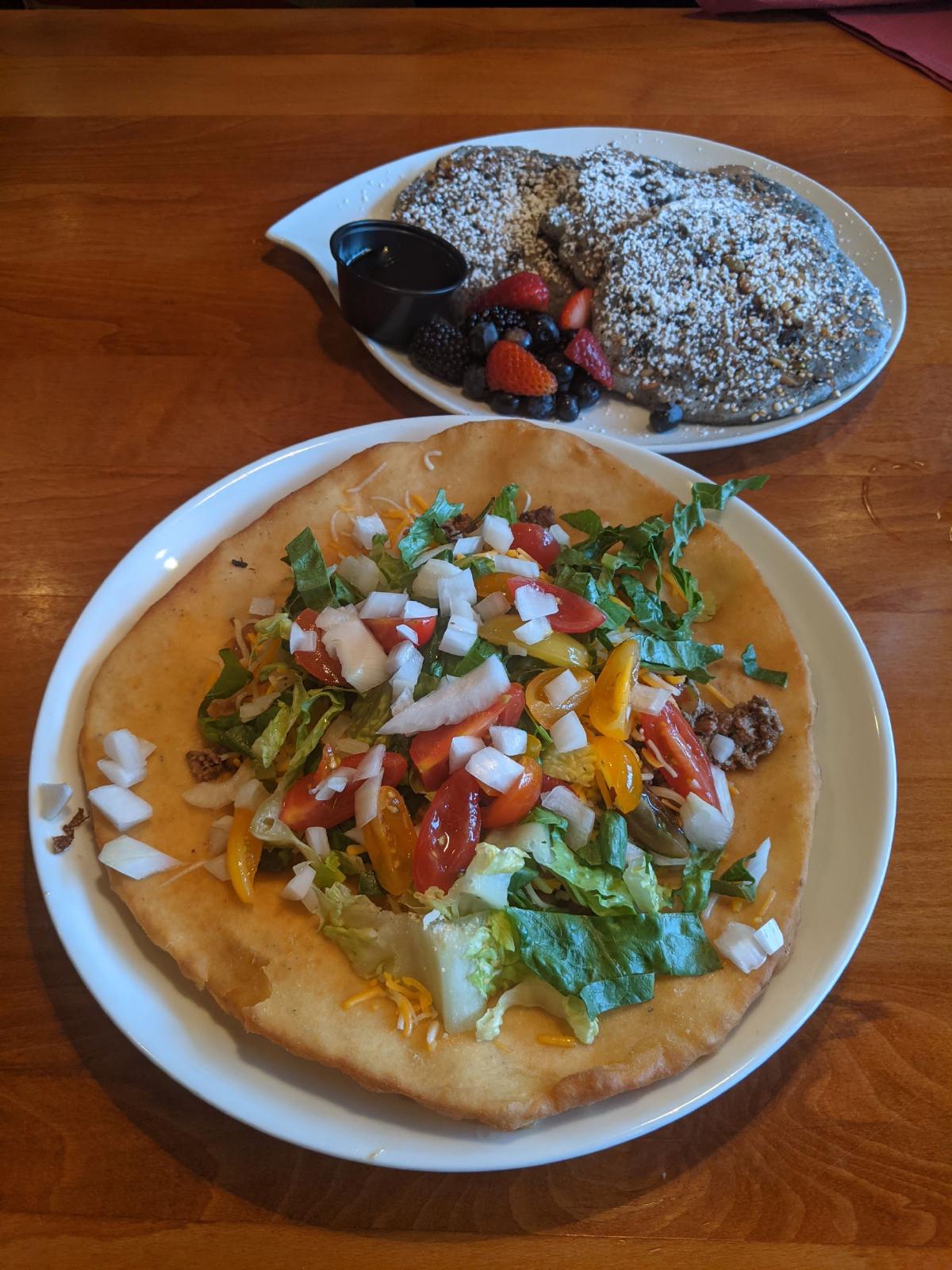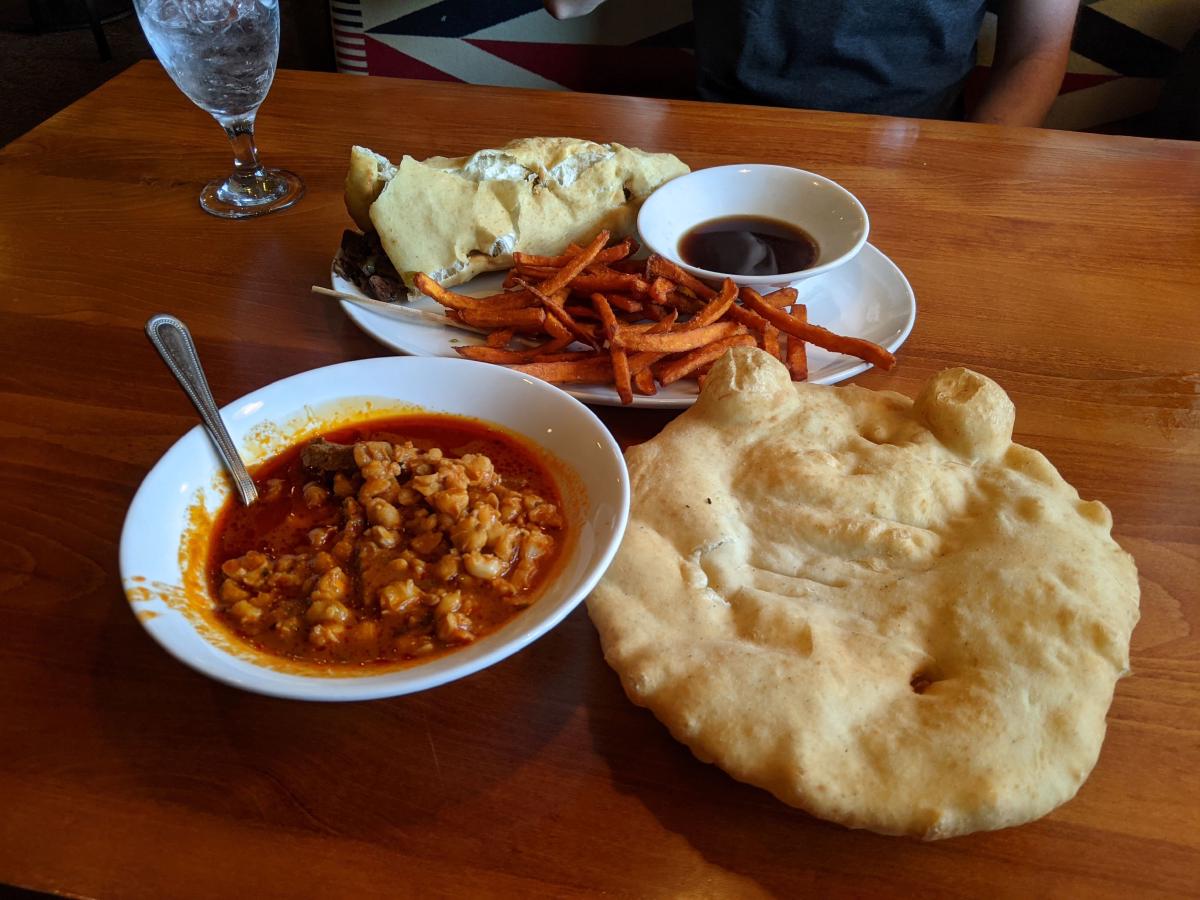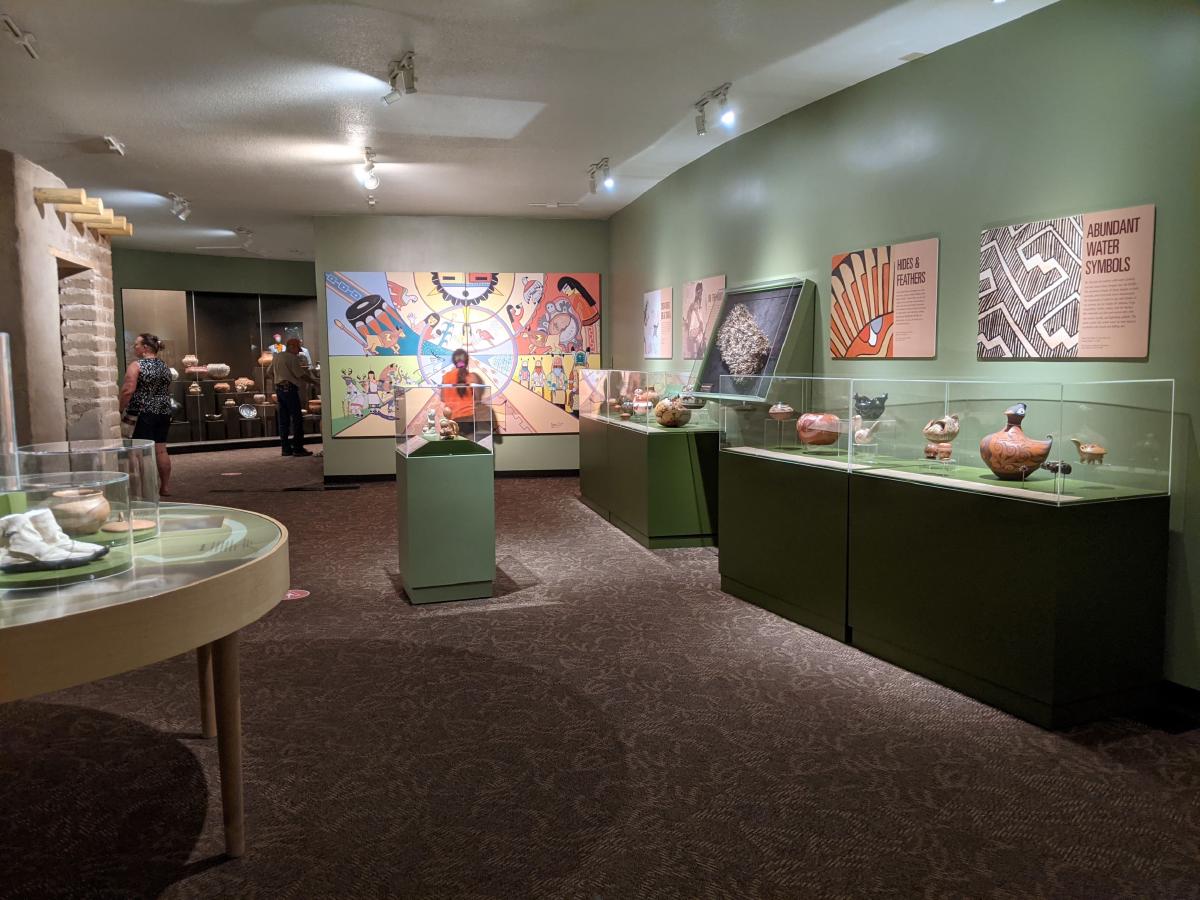 The Journey Home
On Saturday morning, we drove to Lubbock to spend the night and stop in at the Buddy Holly Center. I'm a huge classic rock fan, so Buddy Holly is an icon to me as one of the great influences to the genre. The small but informative exhibit included a multitude of artifacts and letters from his life and his family. We learned the full story of his tragic death on "The Day the Music Died" in 1959. He rented a plane for his band to avoid a freezing cold bus ride to the next show, but perished along with the pilot, The Big Bopper, and Ritchie Valens, soon after takeoff when the plane crashed due to low visibility.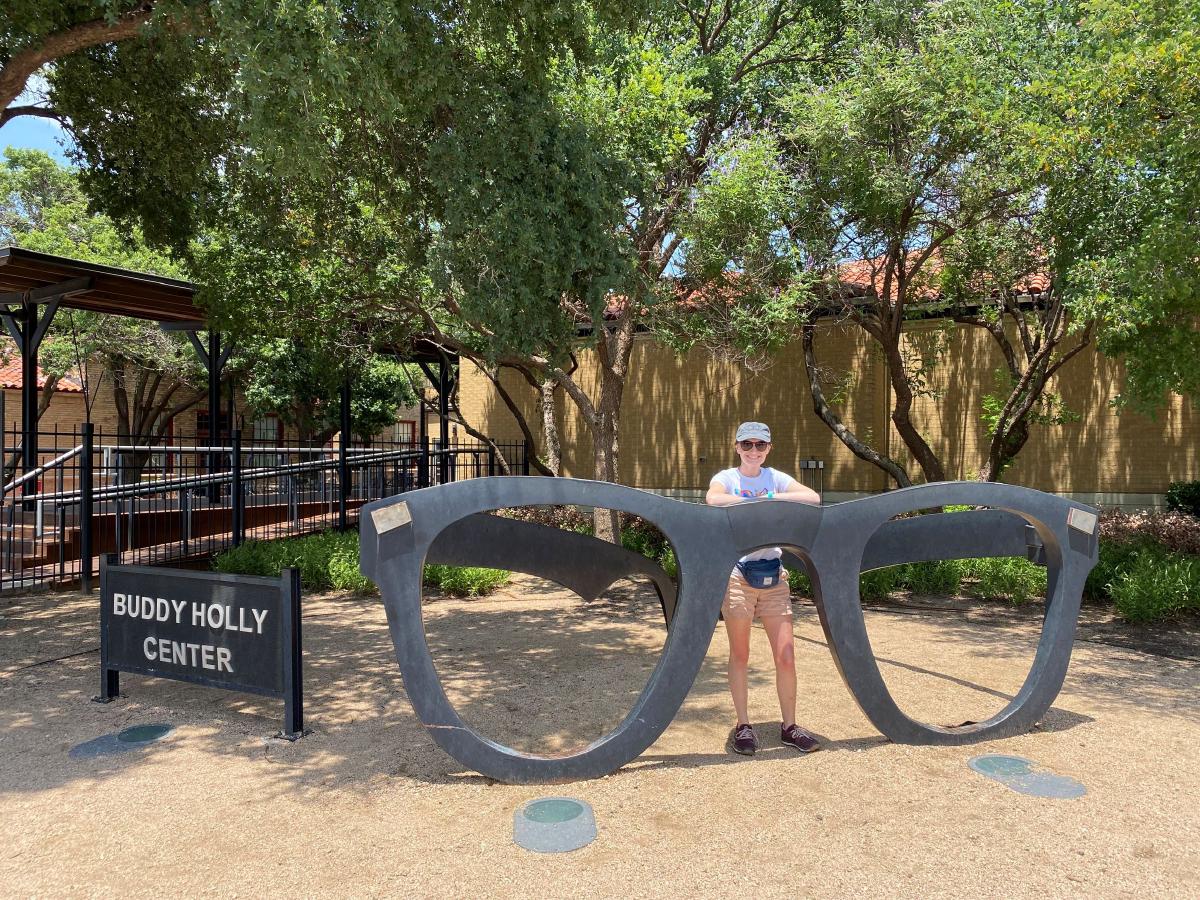 The next morning, we made it back to Austin after a wonderfully full yet relaxed week of travel in the Southwest. Our car was covered with dust and bugs. A week felt like the right amount of time for this trip, and a good ratio of sightseeing days to driving days.
---
So, Should You Visit?
New Mexico captured my heart and surprises me more every time I visit. The variety of food, cultures, and terrain is unmatched. There is always another historic site, natural wonder, or hole-in-the-wall green chile cheeseburger to find and enjoy. The people were welcoming and every person we talked to had a fascinating story to tell about how they ended up in New Mexico and why they will never leave. I also appreciated how much they value the environment and the important part it plays in making New Mexico such a special place.
There is something in New Mexico for every type of traveler. Backpacking and rafting, gallery hopping, spas and horseback riding, incredible food, history and cultural sites from Pueblo, Mexican, and Spanish influences, and of course nature and diverse terrain.
The week-long format worked wonderfully for us. We weren't gone for too long, and the traditionally busy weekend days were spent driving instead of visiting packed attractions and tourist areas. Two days of 6-hour driving got us to Taos in the mid-afternoon with plenty of time to get our bearings in the town, and on the way back we reached Austin before lunch on Sunday. For next time, we might beeline straight home instead of a second stop in Lubbock. This would save on hotel costs, and we don't feel that Lubbock has a lot to see during a future visit.
---
Staying Spontaneous (COVID-19 Edition)
On this trip, we realized that a hike in the morning followed by a hearty lunch meant we didn't need much, if anything, for dinner. We could also splurge on lunch, which is generally less expensive and time consuming than dinner, and relax in the evenings to rest up for the next day.
We tried not to plan too much since we knew we'd be disappointed by closures. In Taos we had to check in advance to make sure restaurants were open. Most places are closed or have limited hours on Mondays and Tuesdays as the weekends are more popular for gallery visitors.
This trip was during the July 2021 lull where many people had received their vaccines, masks were not required for vaccinated people, and the delta variant had not yet made its mark. This let us explore fully and poke our heads out of our lockdown shell for a little bit. We ate indoors and were warming up to being around people again at the end of our trip, while still masking up anyplace it was crowded. We missed visiting the living pueblos of Taos or Acoma, as they were closed to outside visitors, but absolutely understand that having a bunch of tourists coming into a compact city is a bad idea right now.
We lucked out on our trip timing, and I'm not sure I'd make the same trip again right now. The outdoor experiences are certainly still doable during COVID-19 but we would be much more cautious with dining, likely opting for takeout, and avoid indoor exhibits and museums. Make sure your level of travel is comfortable to you. However, as this pandemic isn't going anyplace anytime soon, make sure to live your life as well with the necessary precautions.
Note: I'm going to stop adding maps to my posts as I don't believe they add a great amount of value, and they are time consuming to make.