Back in January, I took what would unknowingly be my last trip for quite a long time. My dad and I decided to turn last year's spontaneous Las Vegas to Bay Area road trip into an annual affair. However, we'd already visited Valley of Fire State Park, and wanted to spend time someplace new. Where else is there between Las Vegas and the Bay Area that can be seen in a weekend? Fortunately, California is chock full of natural sites, so we picked massive Death Valley as a starting point and finished with the petite yet jam-packed Pinnacles National Park.
COVID-19 Note: Since this year's planned travel to Alaska, New Jersey, and Mexico is off the table, I haven't had a lot to write about since I've been working from home for the past 3 months. But hopefully this post shows that once things are a bit safer, you can still explore while keeping your distance from pretty much everyone.
Death Valley National Park
On Saturday morning, we left Las Vegas bright and early (okay, probably closer to 9am) and headed west towards the California border. First things first – Death Valley is absolutely massive and there are very few facilities, so bring plenty of water, some snacks, and a cell phone charger, as coverage is spotty at best and can drain your phone quickly. In January, the temperature was a crisp 50-60F over the course of the day, but dropped quickly at night, so be prepared to bundle up.
We arrived at the photogenic Zabriskie Point around 11am, just inside the East entrance to the park. Had we wanted to take more pictures, arriving at Zabriskie Point before sunrise is a stunning experience as the sun's rays make the colored stone glow. Additionally, sunset is early in the winter, so it's wise to make the most use of early daylight before the sun sets at 4:30pm. But this trip was primarily about the journey rather than the destination, so we didn't sweat the timing too much. Fortunately, most of the popular viewpoints can be reached by car, which is especially helpful given the size of the park.
Zabriskie Point
A short and steep hike up a paved path lead to the stunning Zabriskie Point overlook, where erosion has sculpted peaks of rock and sand in stunning colors and a view of the expanse of Death Valley.

Devil's Golf Course
Death Valley is a geologist's wonderland. Devil's Golf Course can be reached off the main road by driving a dirt and gravel trail out into the flatland. The terrain is gnarly formations of salt crystals from a dried up lake bed.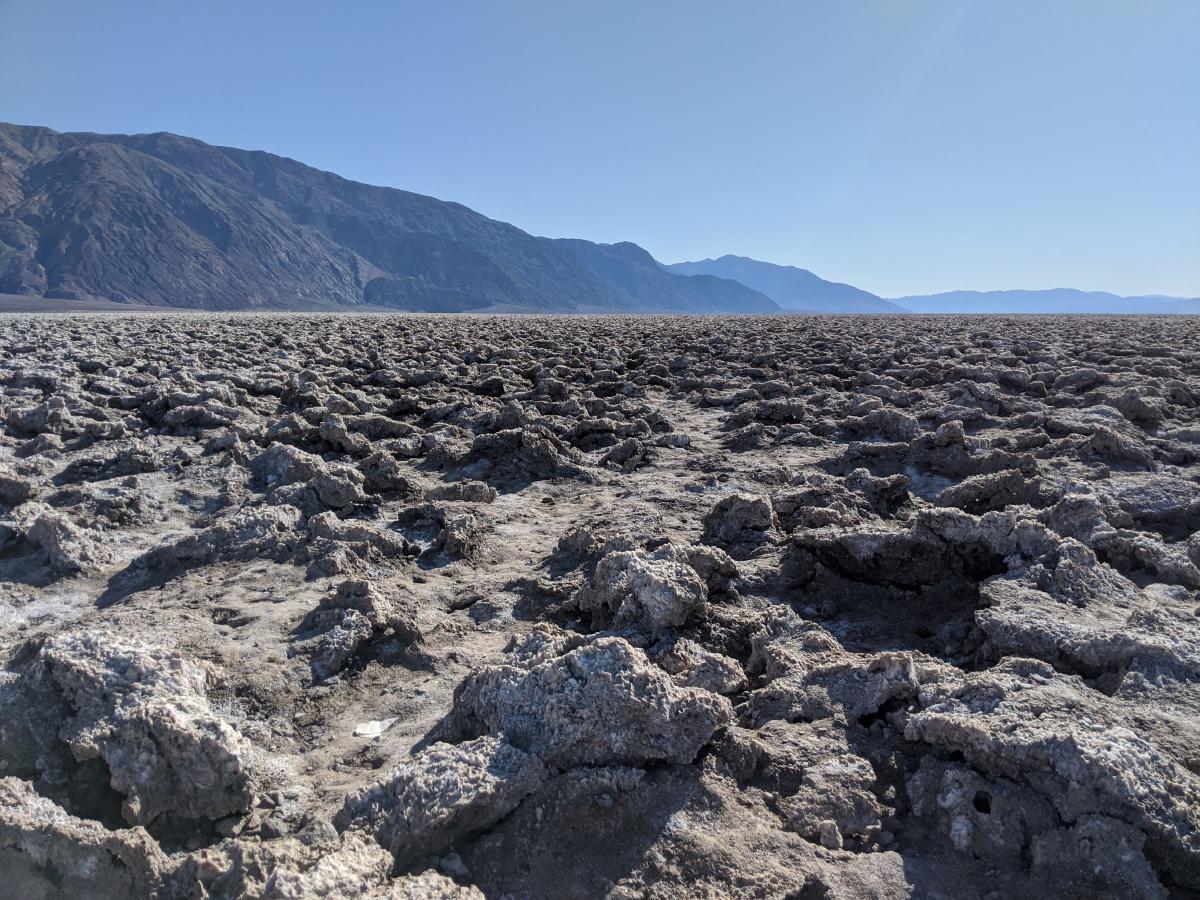 Badwater Basin
A trip to Death Valley isn't complete without a stop in Badwater Basin. This salt flat is the lowest elevation in North America, at 282 feet below sea level. It's hard to imagine the ocean in the middle of a desert, but a sign high up on the cliff face helps drive home how deep it really is.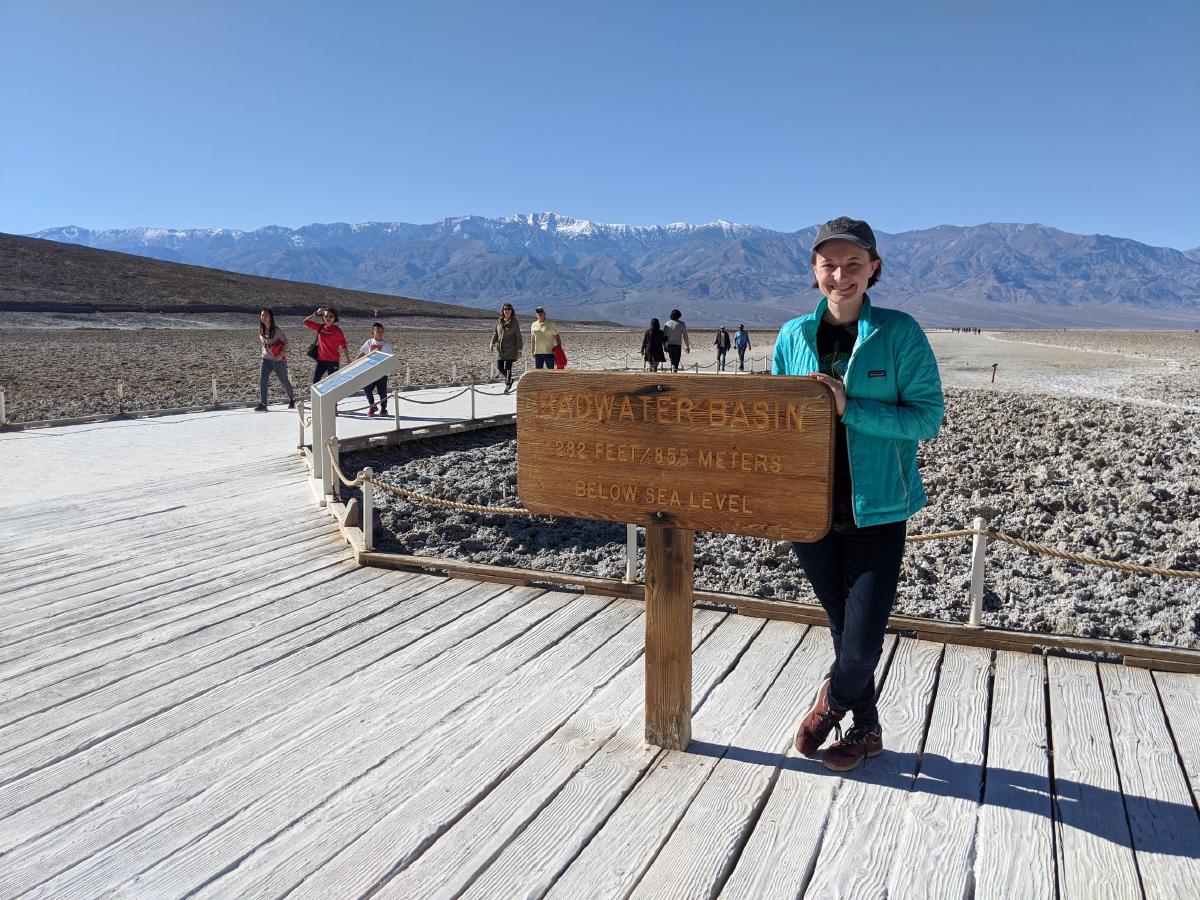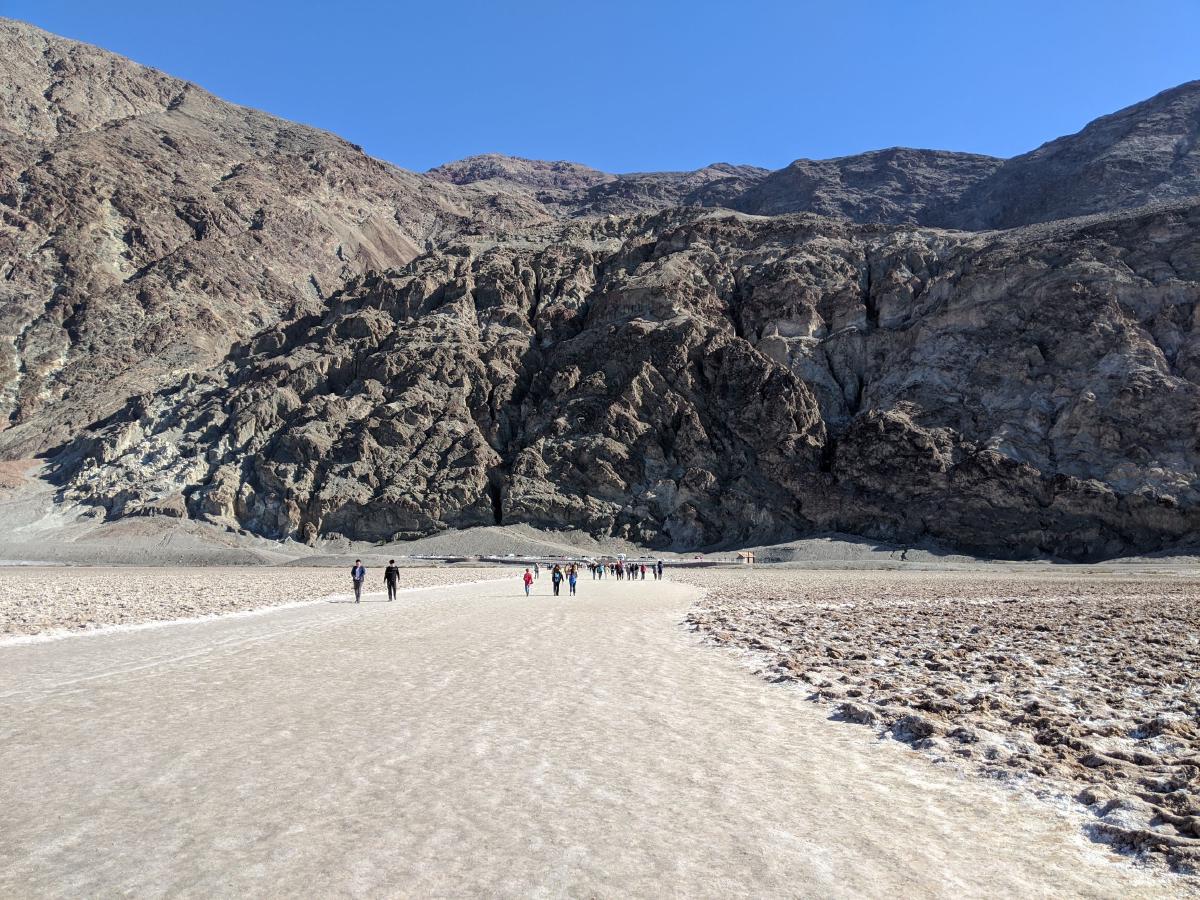 Artist's Drive
This one-way scenic drive showcases some of Death Valley's most stunning erosion and colors, hence the name. From green to pink and purple to yellow, most colors are visible as different minerals eroded and left their mark on the terrain. A series of very narrow and twisting canyons opens up to pullouts where you can admire these landscapes.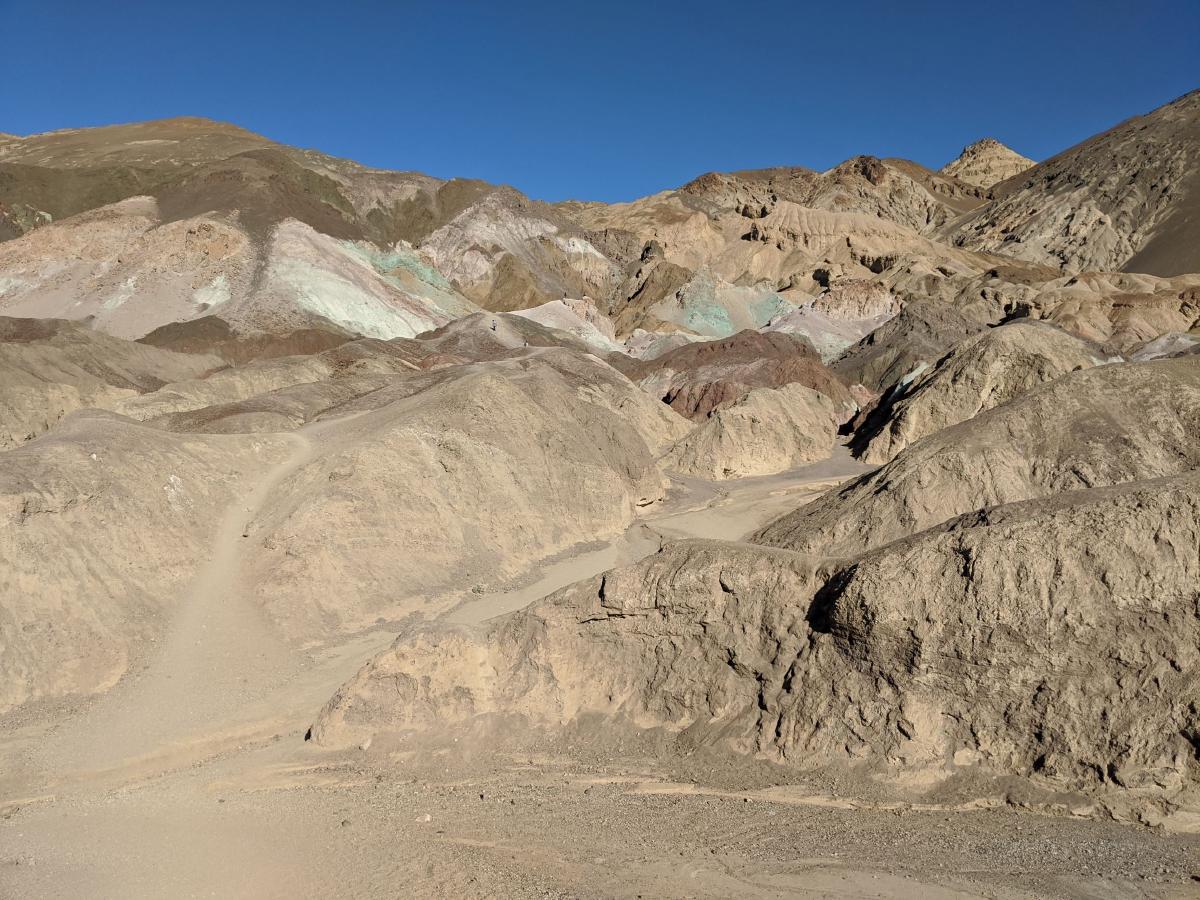 Mesquite Flat Sand Dunes
A desert wouldn't be complete without sand dunes, would it? These dunes are a fun stop on your way out of Death Valley to the West, but getting a good photograph is challenging because of all the footprints. The dunes only "reset" in a heavy storm, so footprints don't get covered up very often.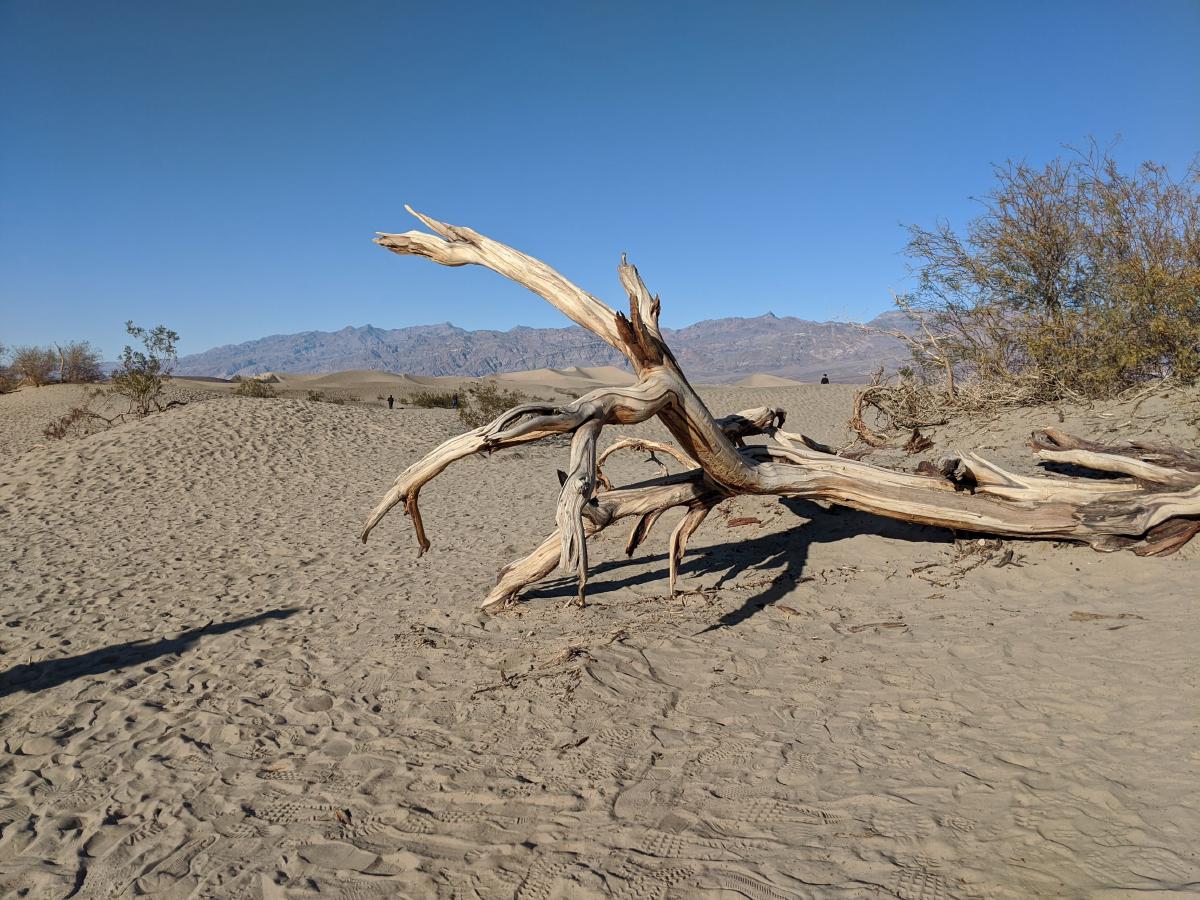 Mosaic Canyon
For our one hike, we picked Mosaic Canyon, which is a slot canyon close to Stovepipe Wells. Never hike in a slot canyon if there's any chance of a storm or rain, as they flood very quickly and can have rushing torrents of water. But we were safe on this clear January day and wound our way for half a mile through high rock walls filled with fossilized wood and different textures. Be warned, it can be very slippery, as the rocks are smooth but covered in a fine layer of dust.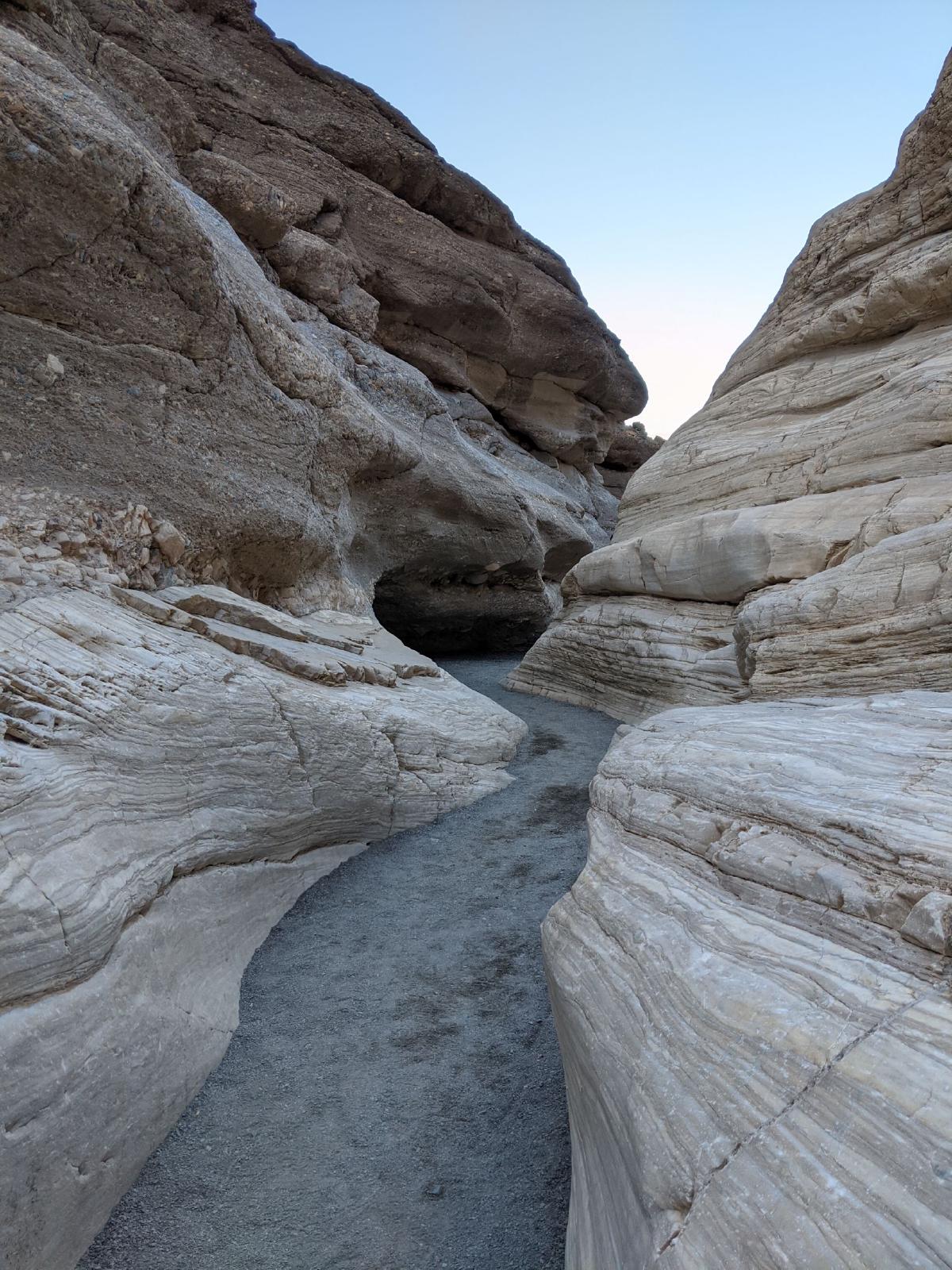 If you have time, stop at the Harmony Borax Works pullout for an informational experience that describes one of the main industries in old Death Valley. Check out my post on the ghost town of Rhyolite for another day trip idea.
As we left the park, the sun was beginning to set, and we enjoyed seeing the rocks glow as we climbed out of the valley. Small patches of snow lined the road as we went from sea level to five thousand feet in the span of an hour. The desert can be hot or cold, and weather can change on a dime, so always be prepared.
Our final stop that night was Tehachapi, a town at four thousand feet halfway across the Sierra Nevada mountains. Tehachapi is home to the Tehachapi Loop, a train track that loops around on itself to gain elevation without getting too steep. If you have time, it's worth watching a train go around, and making a stop at the Tehachapi Depot Museum to learn more about the railroad history in the area. We ate dinner at Jake's Steakhouse, which was delicious and welcoming after a long day in the desert.
Pinnacles National Park
We woke up to a cold Sunday morning in Tehachapi and realized that a trip into Sequoia National Park was likely a no-go because of snow and road closures.
Calling an audible, we opted for a scenic drive to Pinnacles National Park where we'd have a few hours to hike. I wish I'd taken pictures of the area surrounding the Pinnacles – gorgeous rolling green hills like nothing I'd seen before.
We reached Pinnacles in the early afternoon. This park is very close to the Bay Area, just an hour and a half south of San Jose in the mountains inland of Big Sur. It is one of the newest National Parks, formed in 2013, and also one of the smallest and most sparsely structured. There are two entrances, one from the East that has the visitors center, and one from the West that accesses some other campgrounds and trails. However, while the hiking trails connect both sides, the roads do not, so research in advance what trail-heads you're interested in.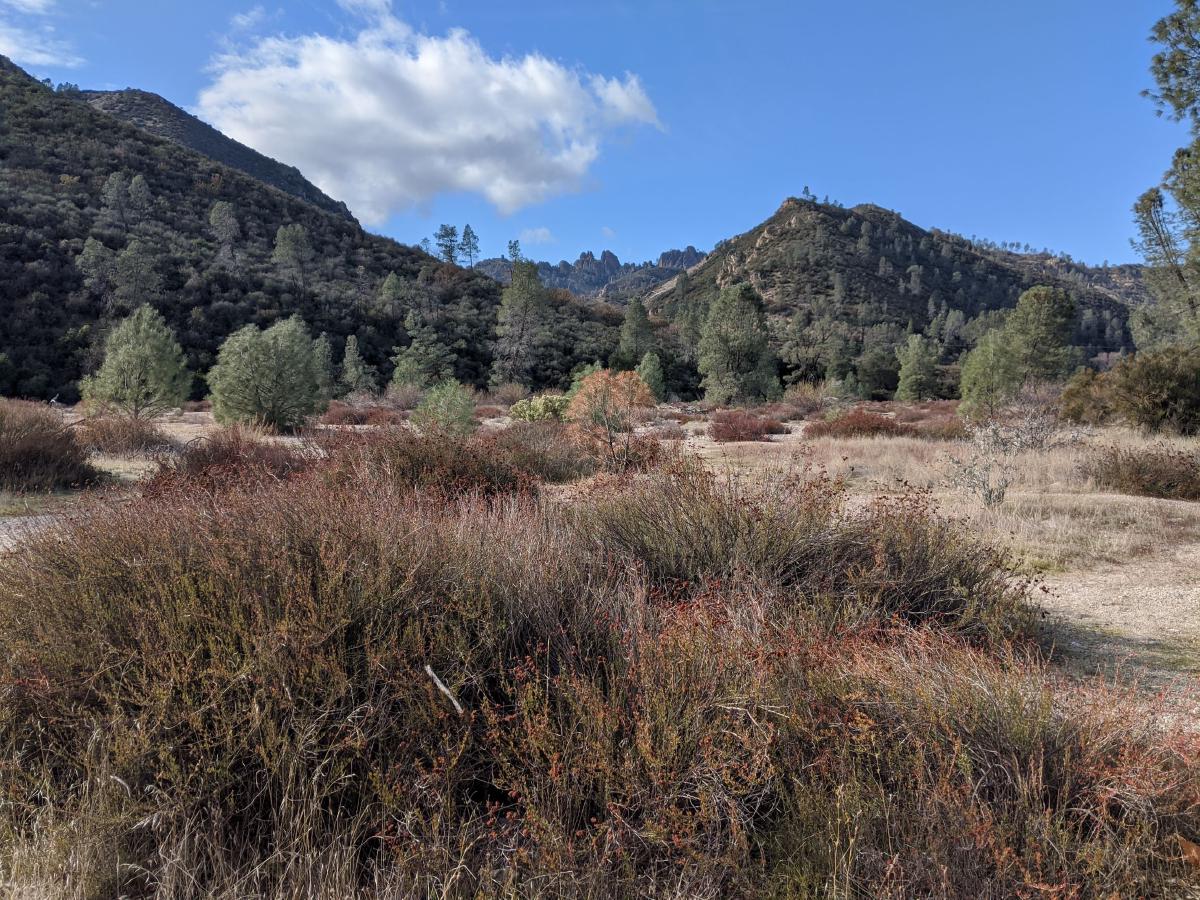 Pinnacles is the home of the California Condor, a heavily endangered bird with a 10 foot wingspan, in addition to high rocky outcroppings and caves that are fun to explore or climb. I remember camping here as a kid and it was an absolute joy. However, given that it's the closest National Park to the Bay Area, the sparse and compact parking lots fill up early in the day. Thankfully there are shuttles from the visitors center to the trail-heads. We opted for a walk along the valley floor, ending in a view of the Pinnacles in the distance, as we didn't feel like scrambling or spelunking that day.
So, Should You Visit?
Death Valley is a must-see and it's possible to hit the highlights in one day. If you have more time, the sunrises, sunsets, and hikes are incredible, and there are other attractions nearby such as the ghost town of Rhyolite, the technologically advanced Scotty's Castle (once it's reopened), and of course Las Vegas if that's of interest, plus countless other natural areas in the California mountains and desert.
The best place to eat in Death Valley if you're in a time crunch is the Furnace Creek General Store. There is also a saloon which has a proper restaurant, but the general store had an excellent selection of packaged sandwiches, salads, snacks, and treats. Make sure to carry plenty of water!
Pinnacles National Park is a more bite-sized experience that's excellent for camping, rock climbing, and experiencing stunning nature close to the Bay Area.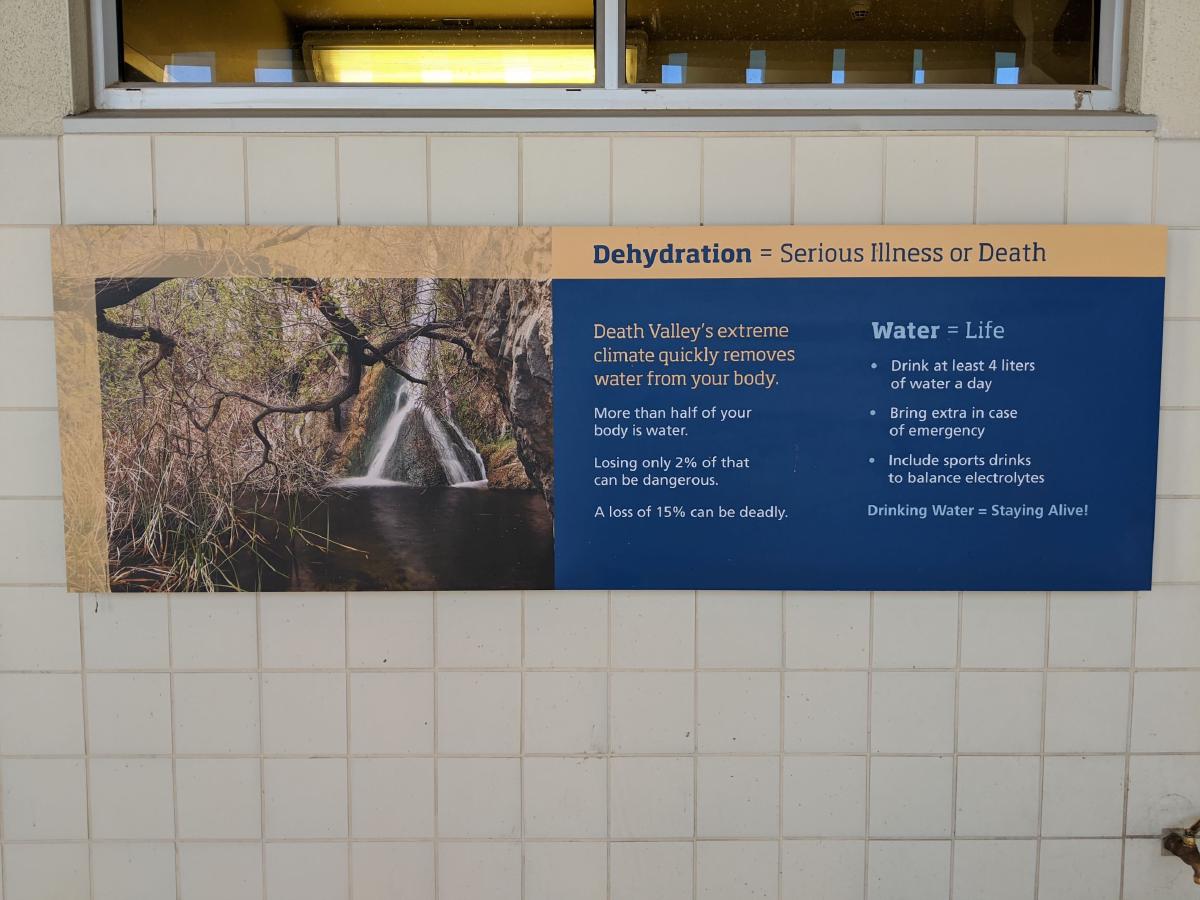 Staying Spontaneous
Time with family is precious, and with the added perspective of COVID-19 having canceled at least two times I was supposed to see my family this year, I like to take Steve Winwood's advice: "When you see a chance, take it."
My standard spontaneity advice applies to this trip as well. Plan just enough so you know where to go, but let the adventure take you and don't be afraid to change things up if needed.
My next post will be about finding adventures and spontaneity when you're not able to travel. There's no reason to dread being stuck at home, and hopefully you'll find something inspiring to try after being sheltered in place for over three months!