To be upfront, this travel guide won't be the most useful for planning a jam-packed trip to the Balkan region. Our nine days was spent visiting family friends who had recently relocated to Montenegro, meaning we spent more time socializing and catching up rather than checking off cities and must-see items. We didn't visit overcrowded Dubrovnik or take a picture of the exclusive Sveti Stefan city-turned-hotel on the coast. However, we did create cherished memories with family while exploring an unfamiliar region of the world, and saw plenty of exciting attractions – just not the ones you might expect. If you want an excellent 11-day itinerary, please see Earth Trekkers for their great overview of 11 days in the Balkans.
I hope this record provides advice about exploring Montenegro and the surrounding area with some spontaneity. It's okay to visit a country and not hit all of the tourist attractions. There's somewhat more pressure to see everything since 17 hours of plane flights each way makes it harder to visit again, but after a year of traveling more spontaneously, I realized it was okay to not see all of the same places everyone else sees. We decided to pace ourselves and go with the flow.
We ate incredible food (prosciutto! cheese! lamb! octopus!) and relaxed in picturesque coastal towns, achieving an appreciation for a different type of travel.
---
So, why the Balkans? (specifically Montenegro, Bosnia and Herzegovina, and Albania)
My husband and I were planning on a big international trip this year, and some close family friends had just moved to Montenegro and very kindly offered to host my parents and us for a visit. That's not an opportunity to pass up! The Balkans have stunning coastlines, tall mountain peaks, and thousands of years of history and culture from Roman to Ottoman to Venetian to Austro-Hungarian and many more. There are forts and castles from all eras, charming coastal cities, and quaint mountain towns tucked into valleys. Plus, the people are friendly and the food is excellent.
---
Getting There and Getting Around
We flew into Podgorica, the capital of Montenegro, connecting through Houston and Istanbul. The long leg was 12-13 hours of flying, which is a haul but manageable especially with Turkish Airlines' excellent seat-back entertainment system. Our layover in Istanbul was 1-2 hours each way, which seems tight for an international connection, but the brand new Istanbul airport is specifically designed for transfers and connections are guaranteed if you fly on Turkish Airlines.
The best way to get around Montenegro is to rent a car – the roads are in decent condition even if they're small, and public transportation is lacking, especially to get to remote areas or small towns and forts. It takes a long time to drive places that are not actually that far away since the entire country is comprised of mountains, but they are well maintained with good passing lanes and lovely scenery. Beware, the drivers are crazy!
---
What Did We Do?
Our nine full days in the Balkans were packed with activities, and there are so many places I'll have to save for next time. We stayed with our friends in Podgorica, the capital, and used their home as a base for day trips and overnight excursions rather than moving from town to town if we'd visited on our own.
Rozafa Castle in Albania and Lake Skadar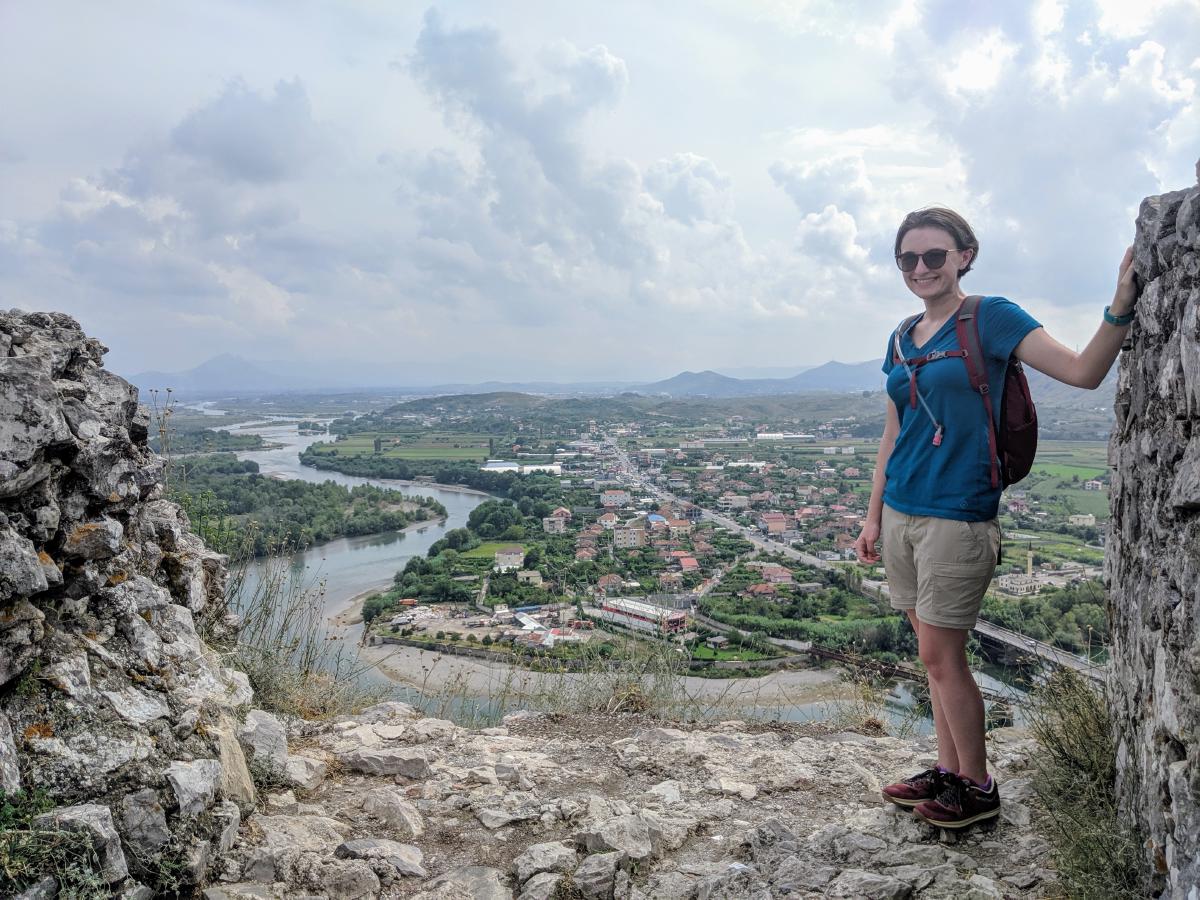 Early in the week, we traveled across the border to Albania and visited Rozafa Castle, built over 500 years ago during Venetian rule. This fort had incredible views of the surrounding rivers, the city of Shkoder, and Lake Skadar. I've visited forts in Germany and Austria, and this one had all of the same elements (fairly well preserved with a photogenic amount of ruin) with the added bonus of us being nearly the only people there. The castle is also home to a legend, the lady of Rozafa, who had to be sacrificed by being built into the castle's walls in order for the castle walls to stop crumbling. Rozafa accepted her fate to save the castle, but insisted on being able to nurse and hold her newborn child through a hole in the wall. The full story of the legend can be read here.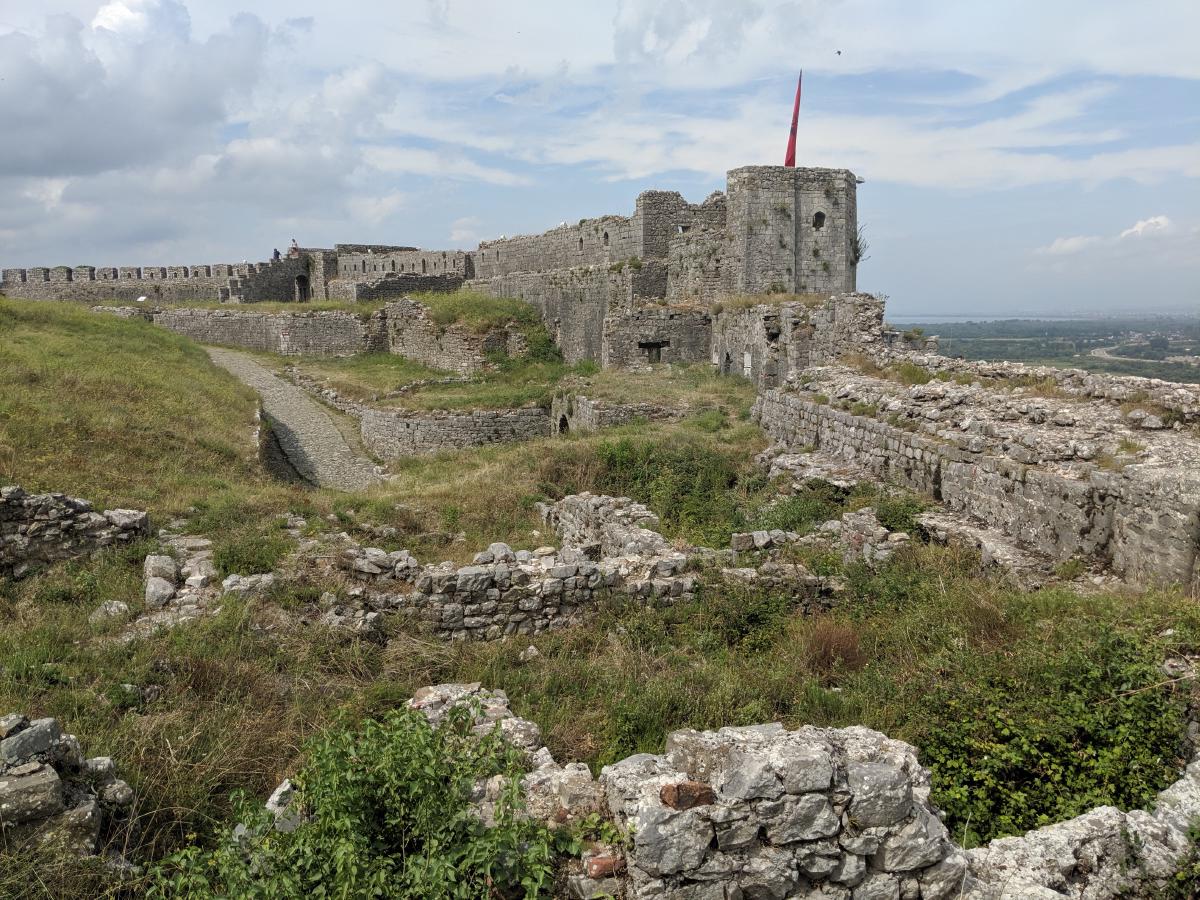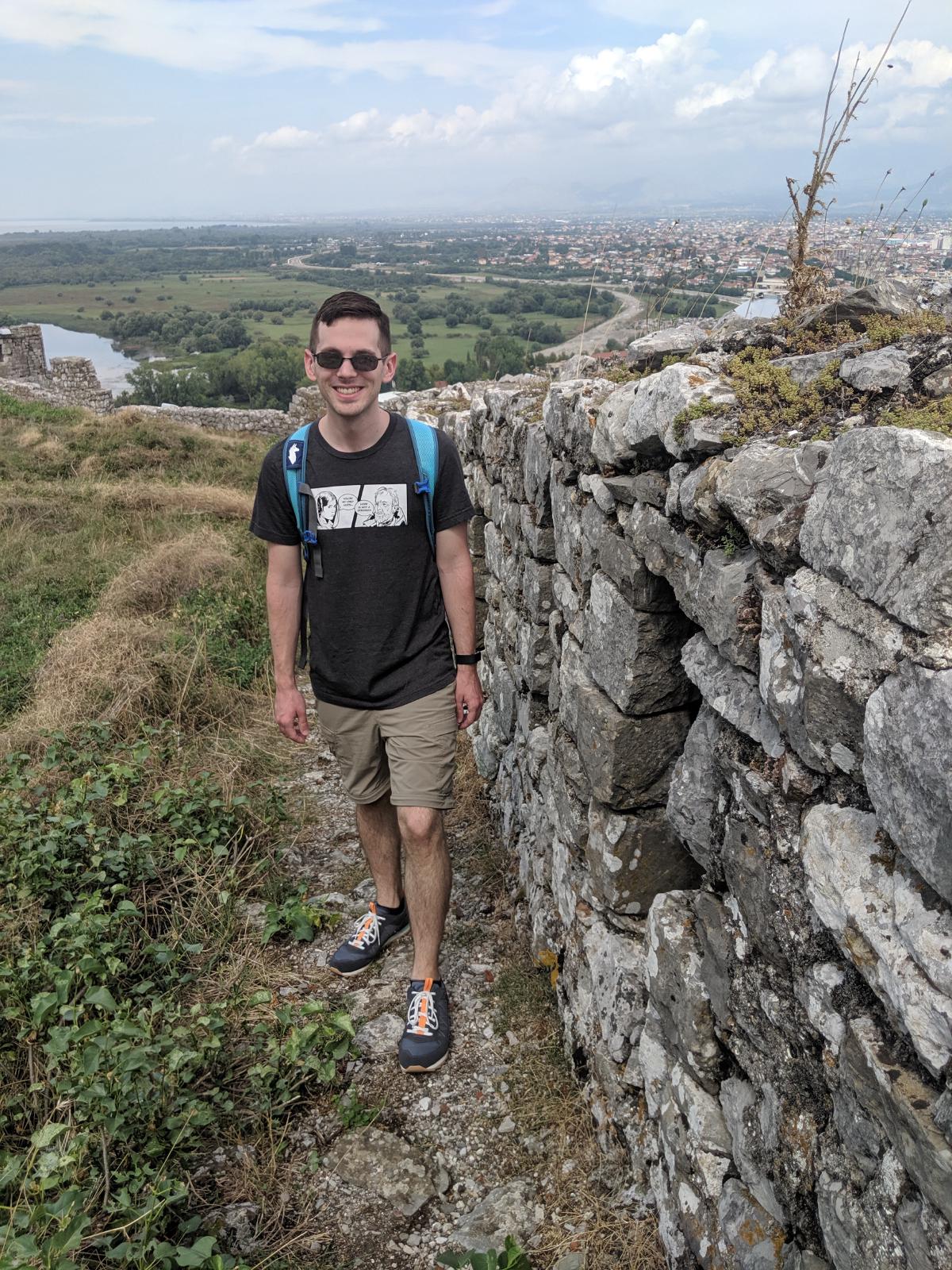 After our quick jaunt to Albania, we crossed back into Montenegro and stopped for lunch on the shores of Lake Skadar. The fish, such as marinated rainbow salmon, was divine, and we looked out over the lily-pads across the sheet of water to the pointy low foothills on the horizon. Lake Skadar is a huge hub of biodiversity, home to migrating bird populations in addition to the fish and other aquatic species living in the lake.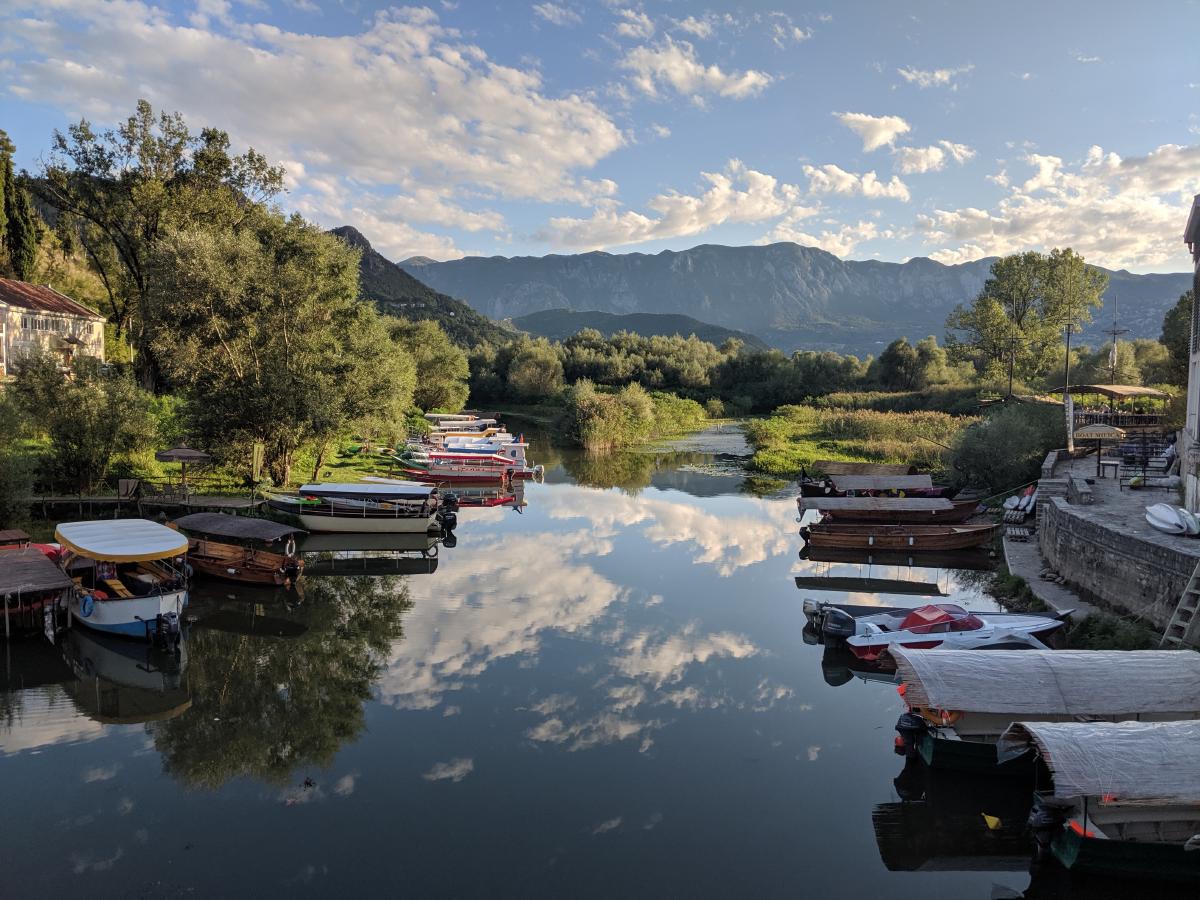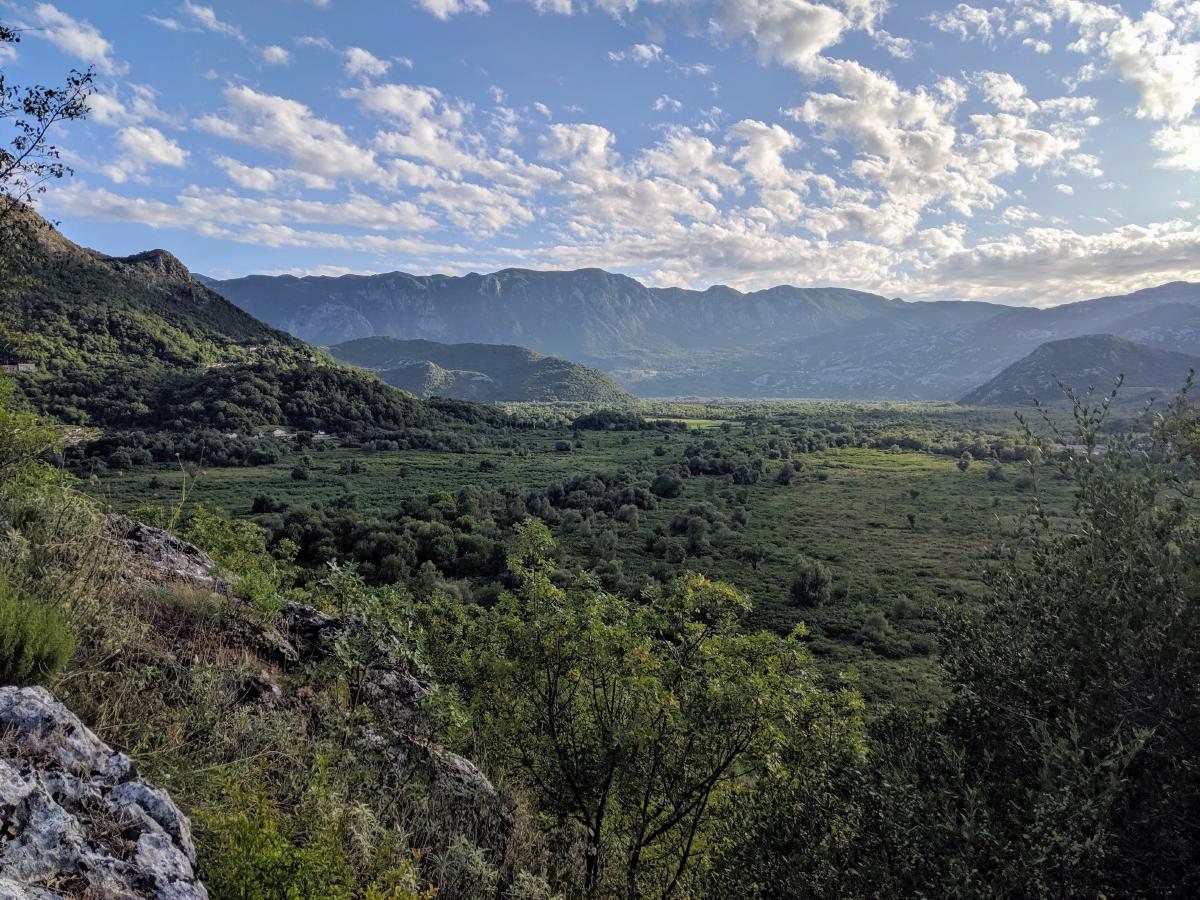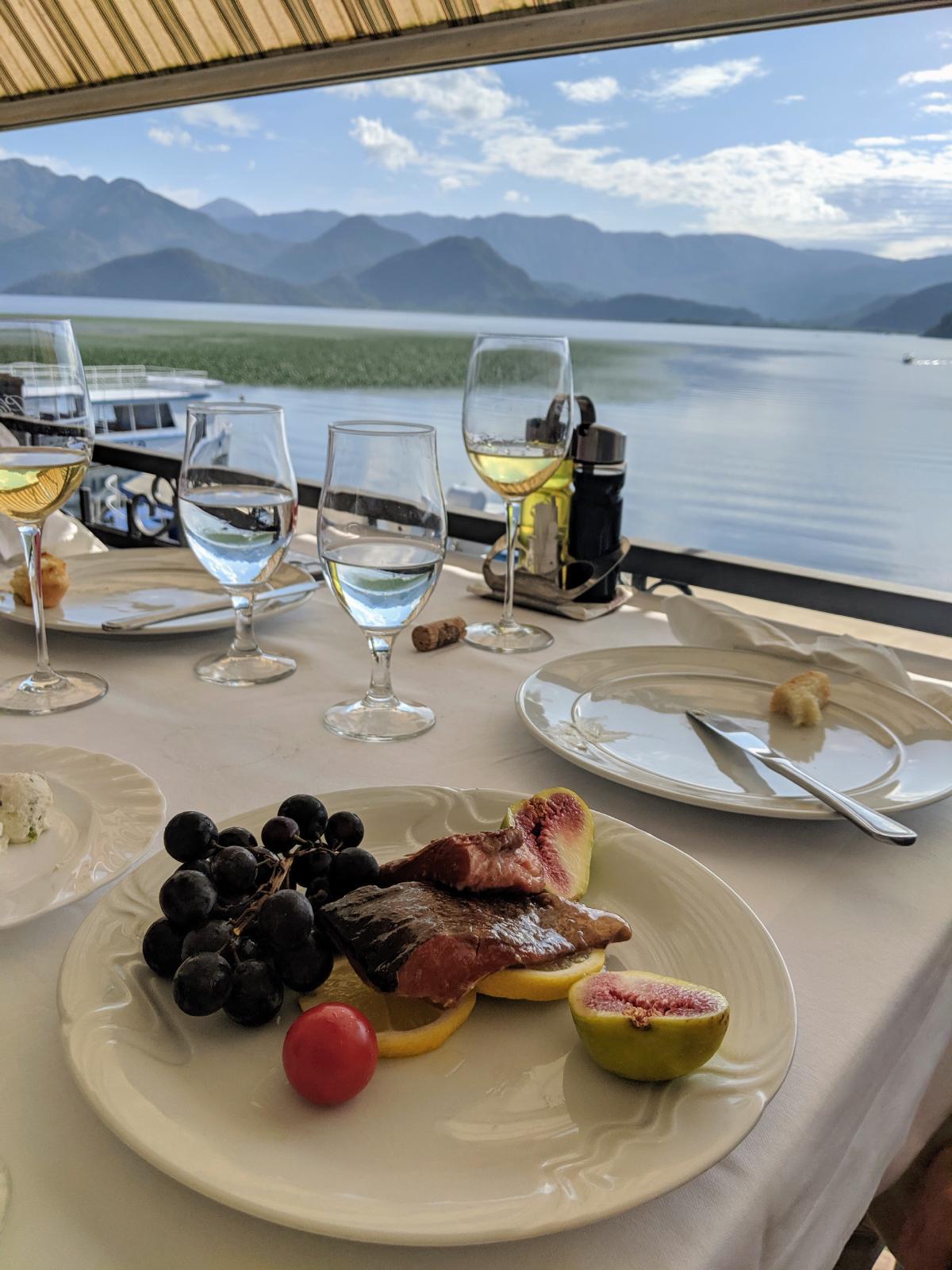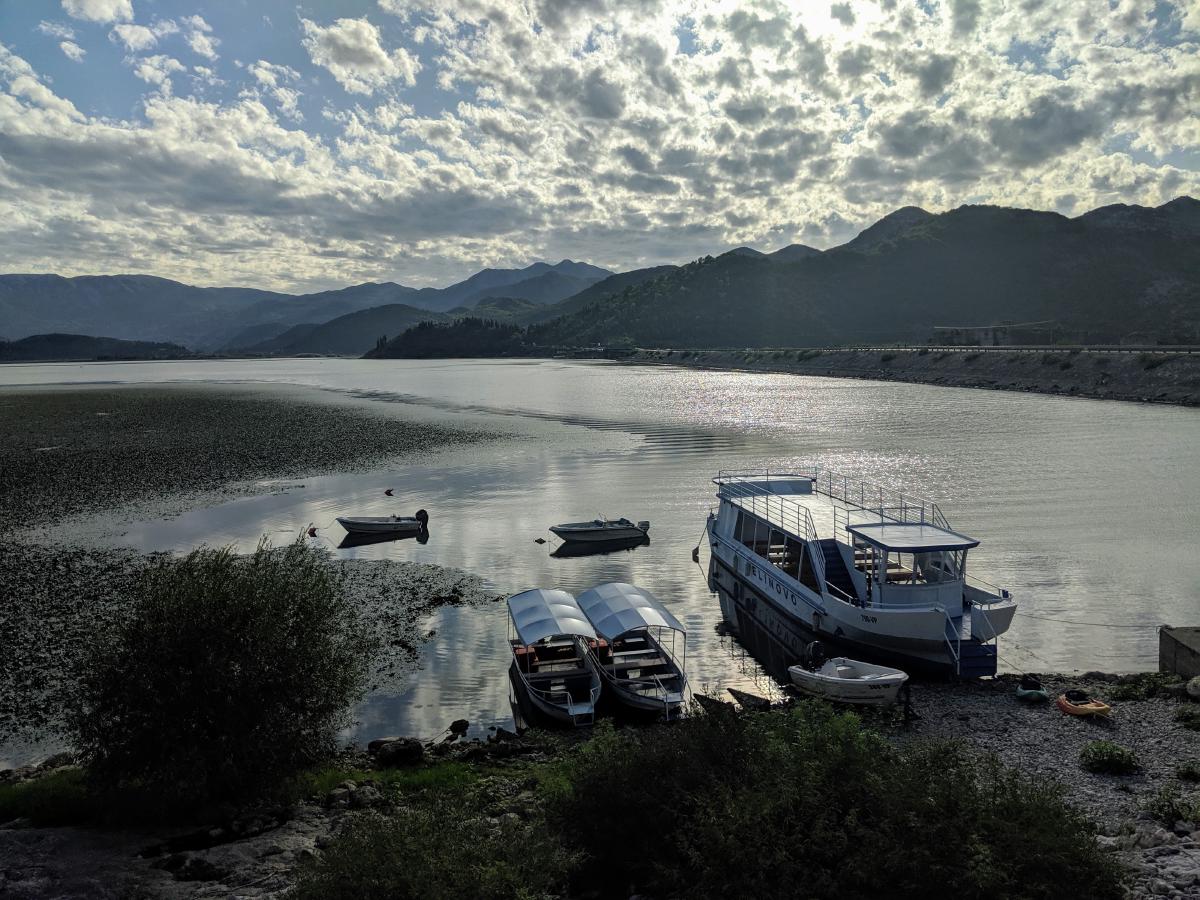 Kosmac Fort and Adriatic Views
Montenegro is known for its mountains and its coast. The border along the Adriatic is full of picturesque old forts, red-roofed towns, and stunning blue-green water. We stopped at Kosmac Fort (once again, the only people there) built in the 1840s during the Austro-Hungarian Empire. We could see the town of Budva and the island-ancient-city-turned-hotel-tourist-trap Sveti Stefan. I loved exploring the interior of the fort, although do so at your own risk, as it is in ruinous condition.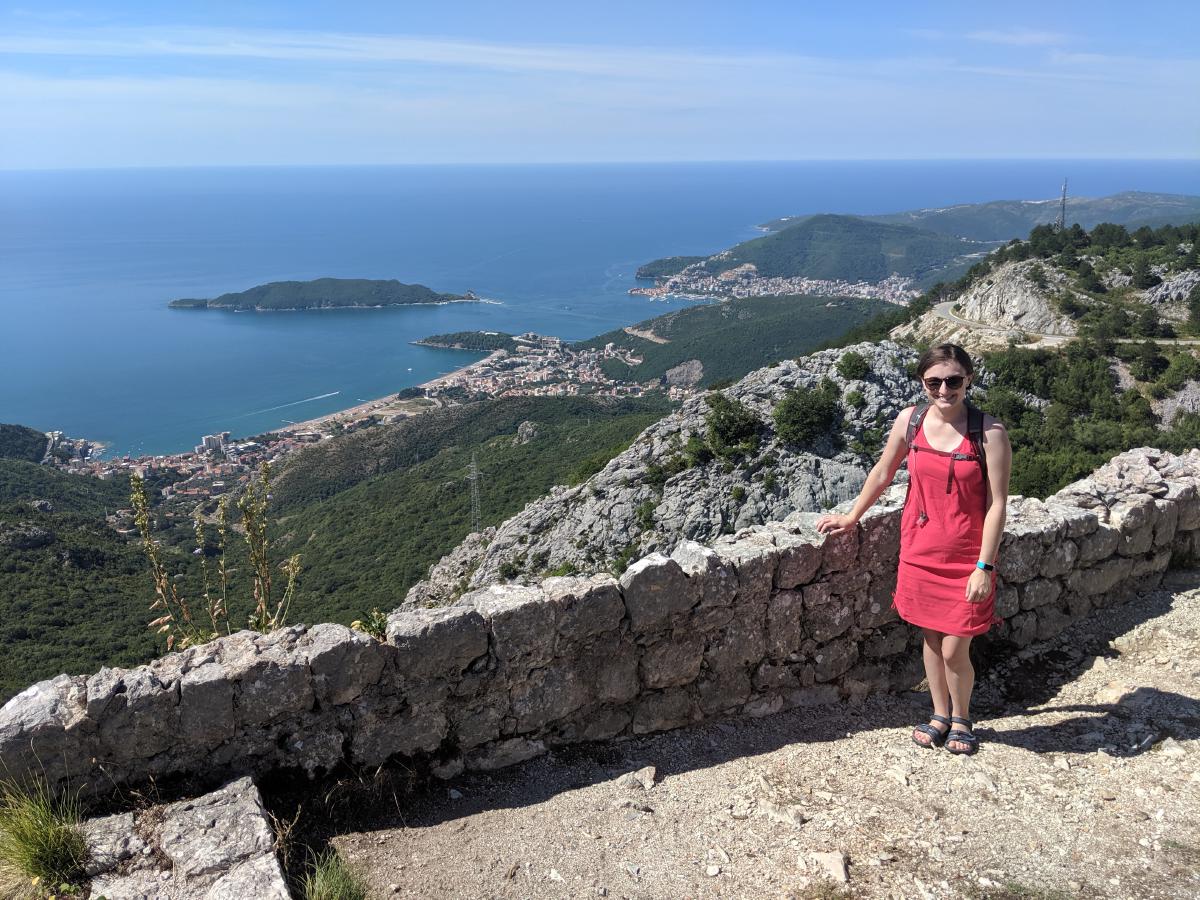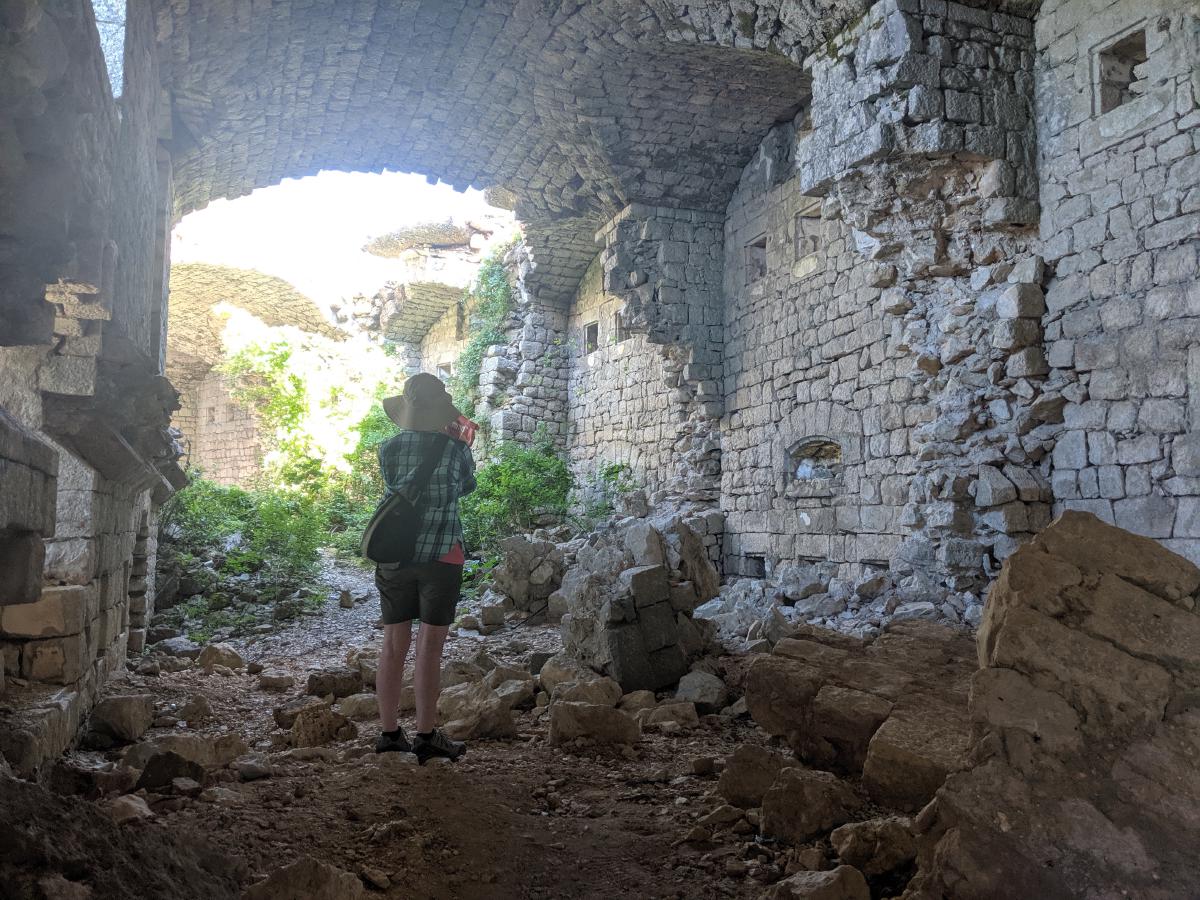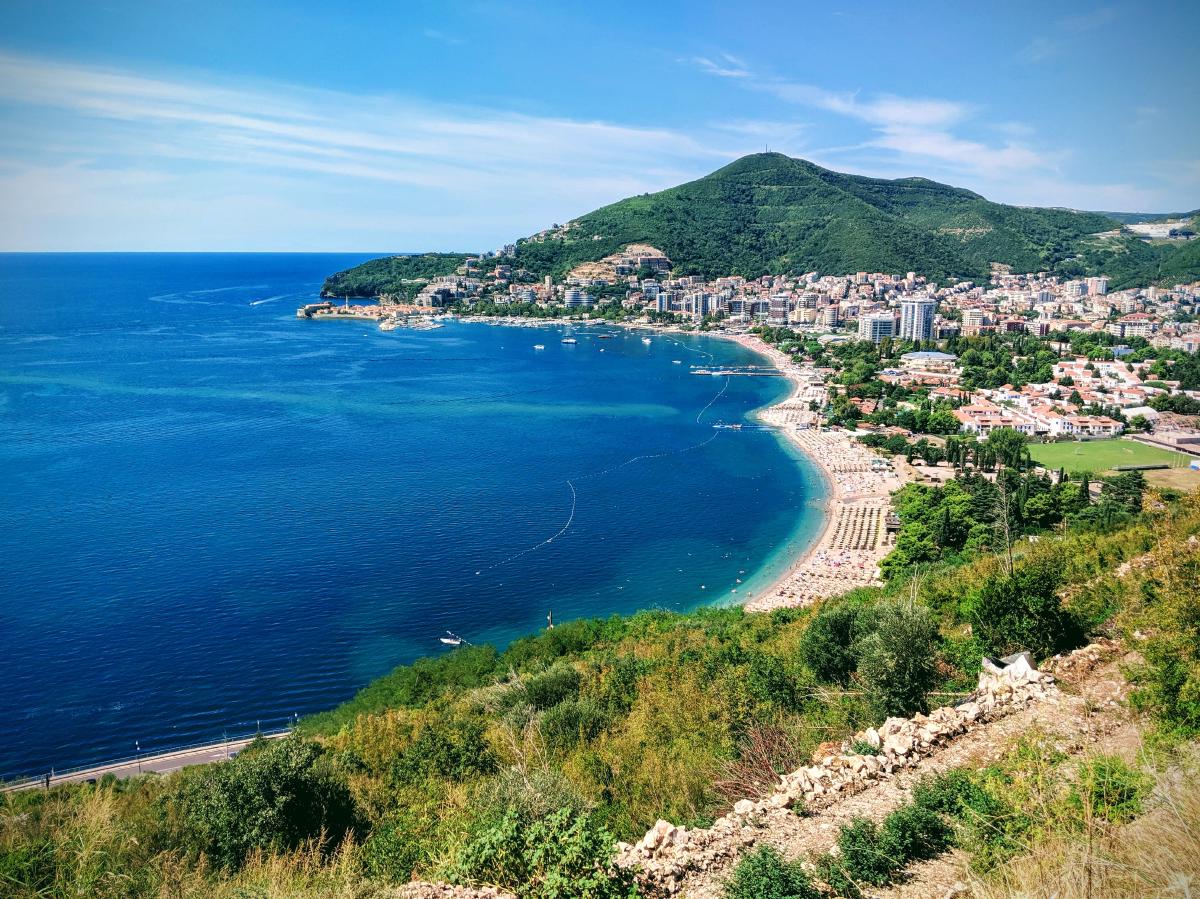 Bay of Kotor: Nights in Perast
The bayside town of Perast, a UNESCO World Heritage Site, was built during Venetian rule, and as a result feels like a little slice of Italy. The sharp mountain peaks drop into the bay, leaving a thin sliver of land for a town before the steep hillsides rise up. We spent two nights in Perast, winding our way through the narrow passageways of the small pedestrian-only town (the main road along the water was only open to buses, golf carts, and the vehicles of locals). We parked in the paid lots on the edge of town and navigated on foot – there are no elevators, and lots of stairs! The bay is wonderful for swimming, with warm, buoyant, clear blue-green water.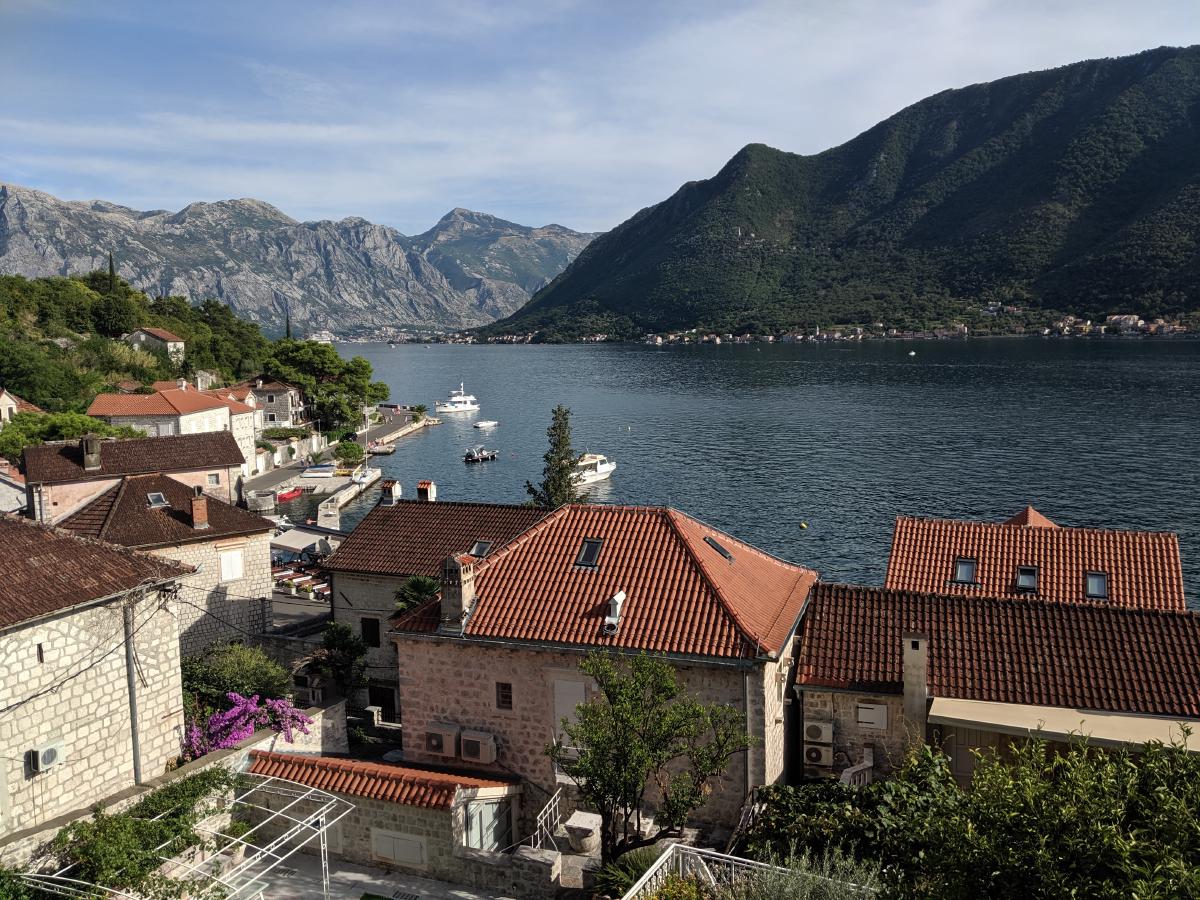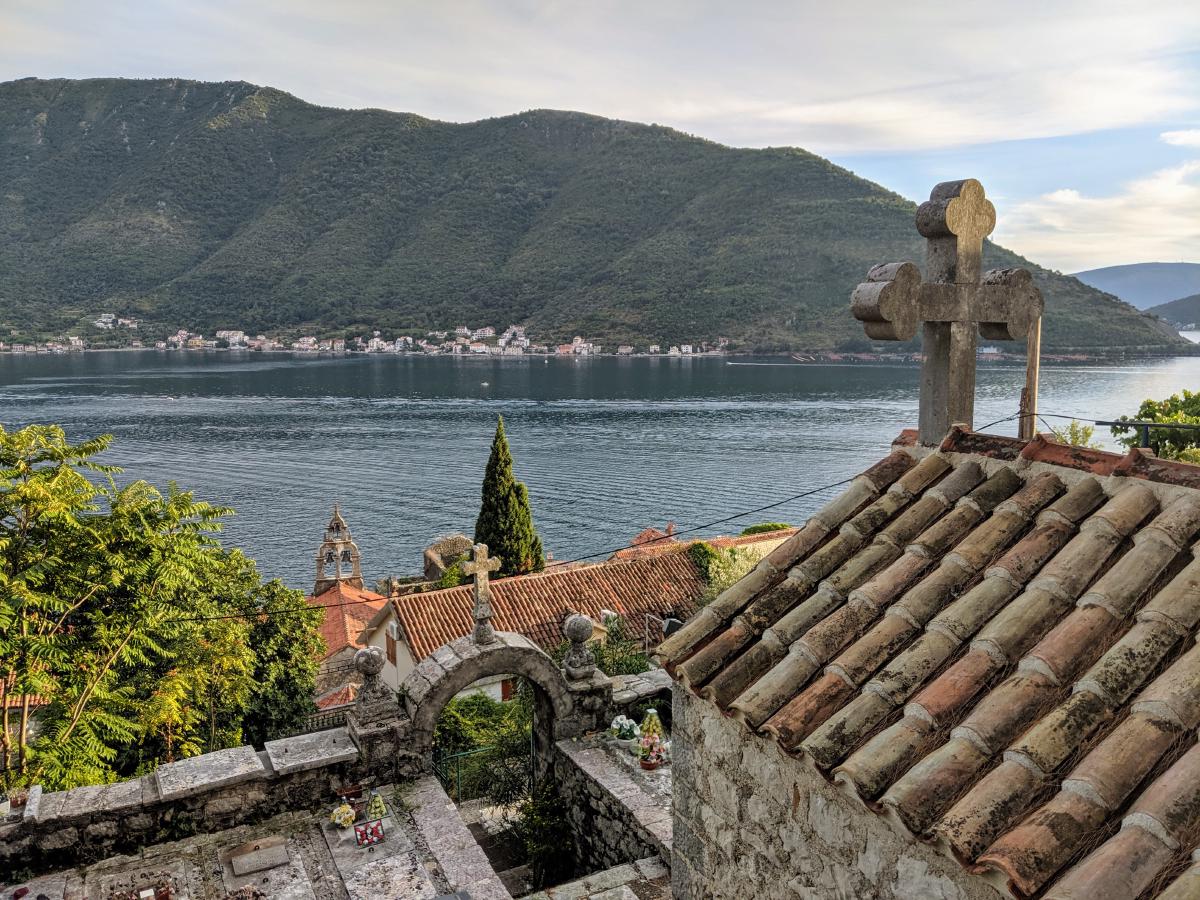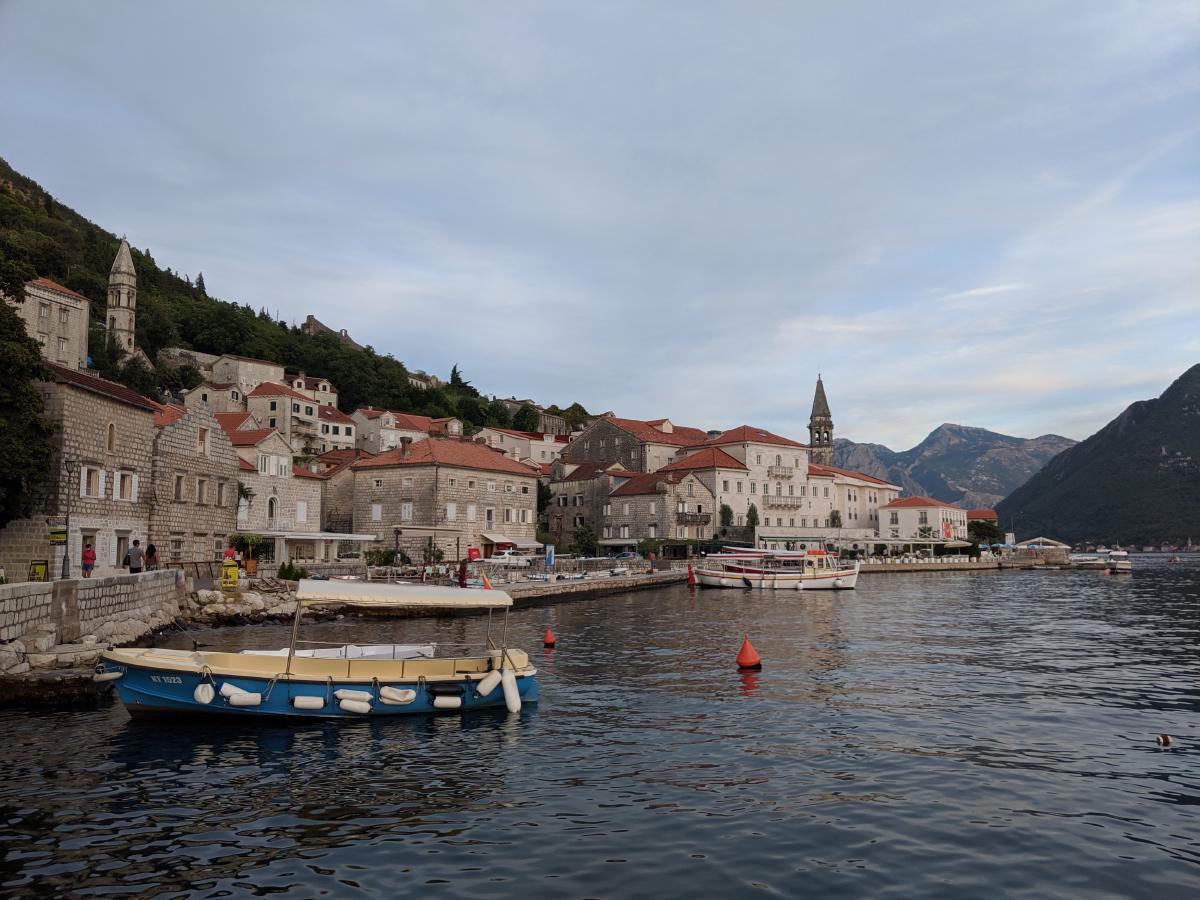 We stayed at Hotel Conte, which is comprised of apartments in different historic buildings and has both a swimming pool and a dock for swimming in the bay. We ate a sunset dinner at the hotel restaurant, which served incredible seafood (including grilled octopus and squid ink risotto). My favorite time to explore was in the morning and in the evening, when the cruise ship passengers hadn't yet arrived. While Perast doesn't have a dock for cruise ships (thanks goodness!), the nearby city of Kotor does, and passengers often take a boat trip to Perast to see the museum and the Our Lady of the Rocks church-island in the bay. It's not as crowded as the walled city of Kotor (more on this later), but you really only get to feel the character of a city by spending time there once the bulk of tourists are gone and you can assimilate into the normal patterns of life. We visited the Perast Museum, wandered the streets and visited the many quaint churches built upon the steep hillside, most with room for only small congregations. More than 20 churches serve fewer than 300 residents and have been built over the centuries as demonstrations of wealth and devotion.
On our final day in Perast, we took a boat tour of the Bay of Kotor with Captain Ivan. It was a gorgeous, sunny day, and we enjoyed a lunch in the small town of Rose. The highlights of the tour were cliff jumping from the top of a Cold War-era submarine tunnel, exploring the submarine tunnel in the boat, and snorkeling on top of a shipwreck.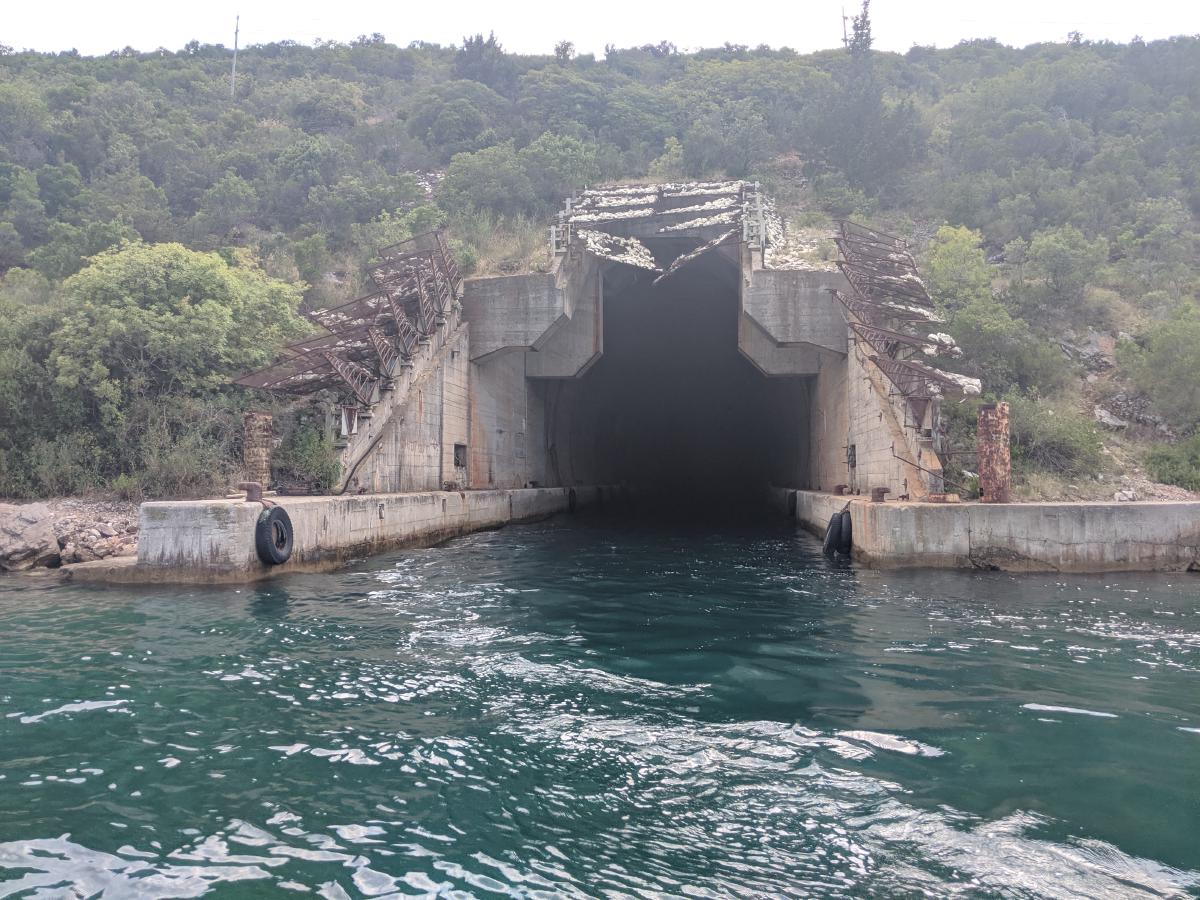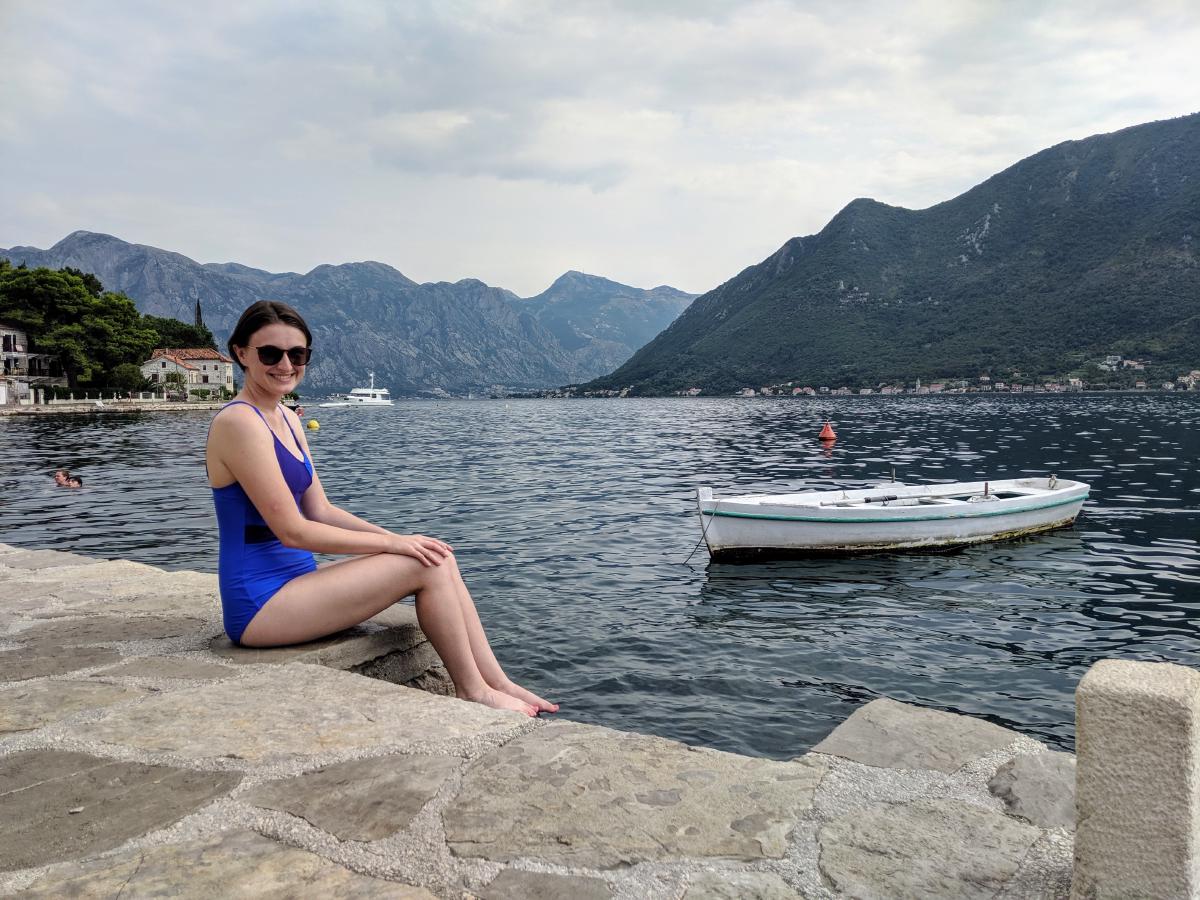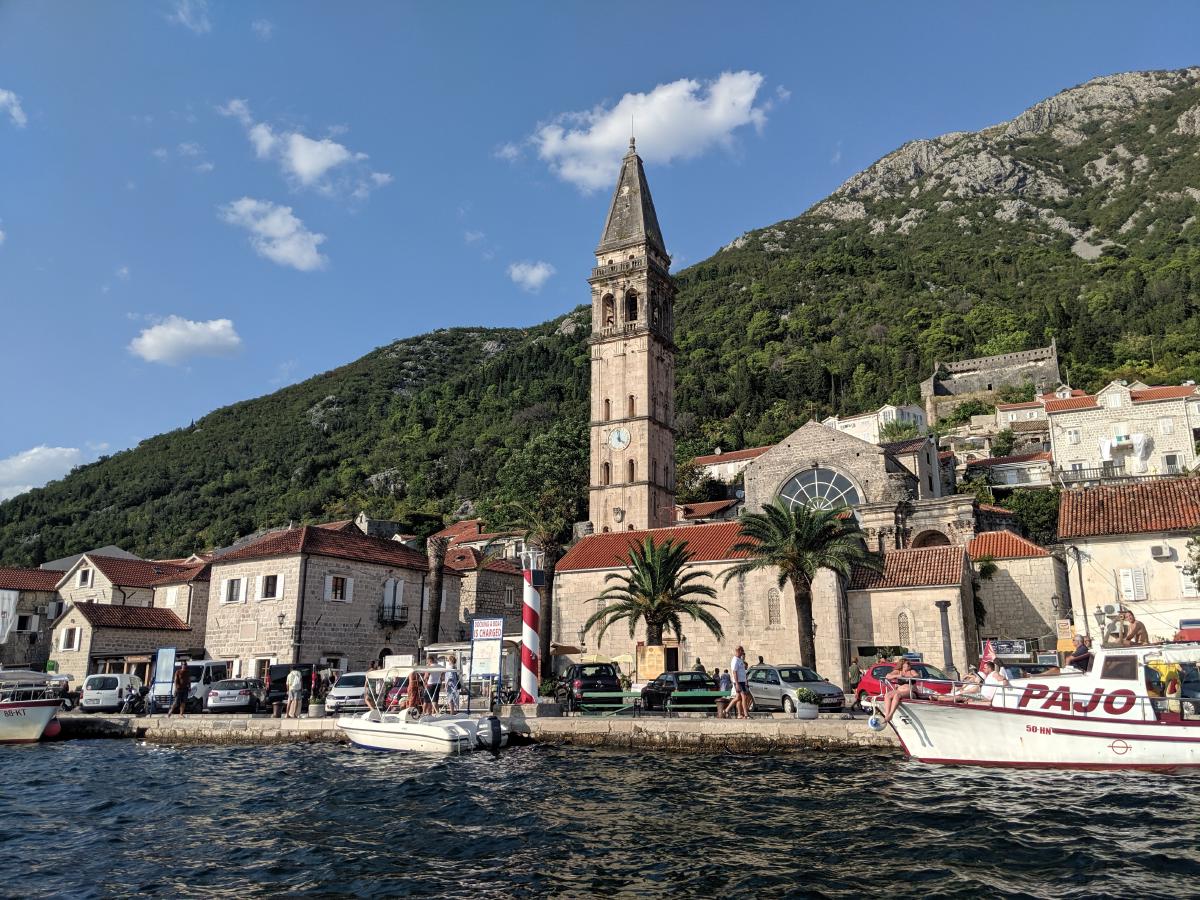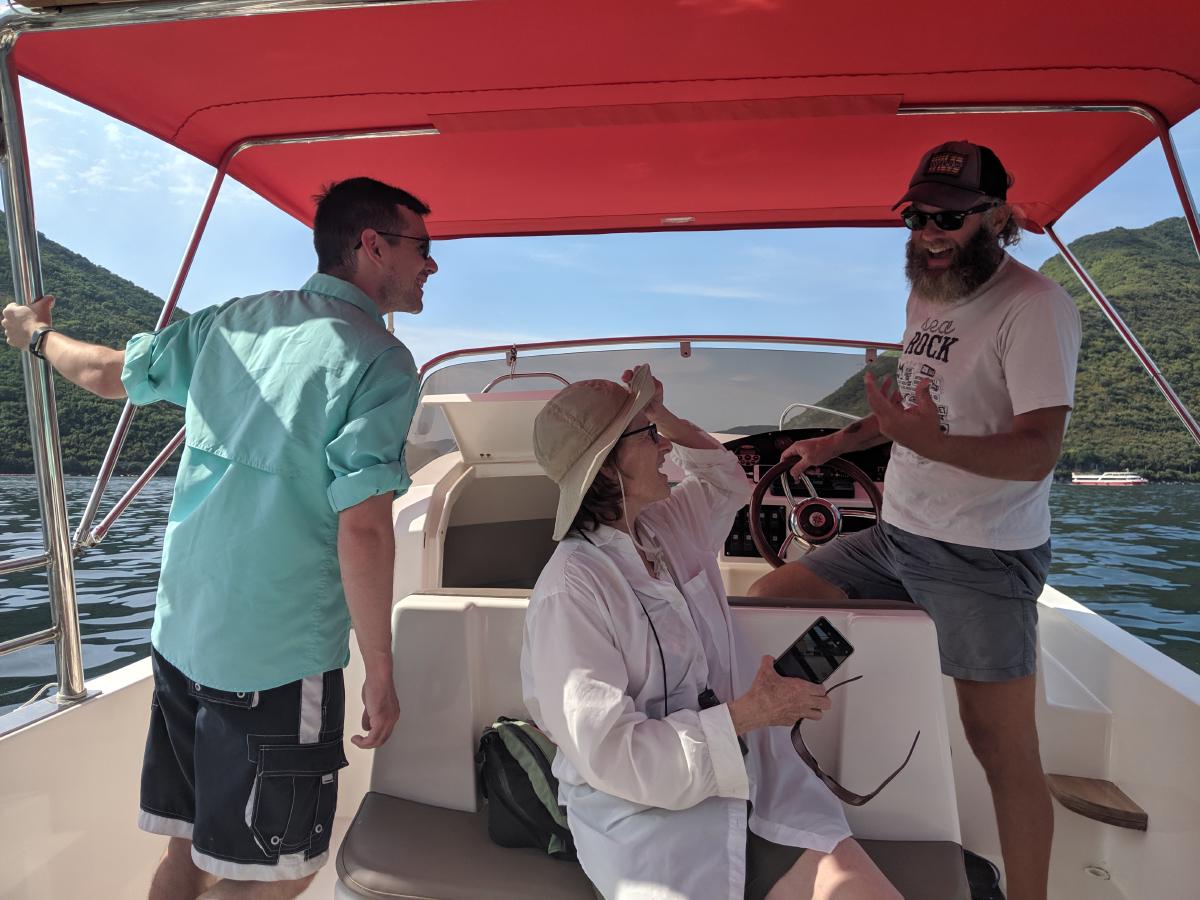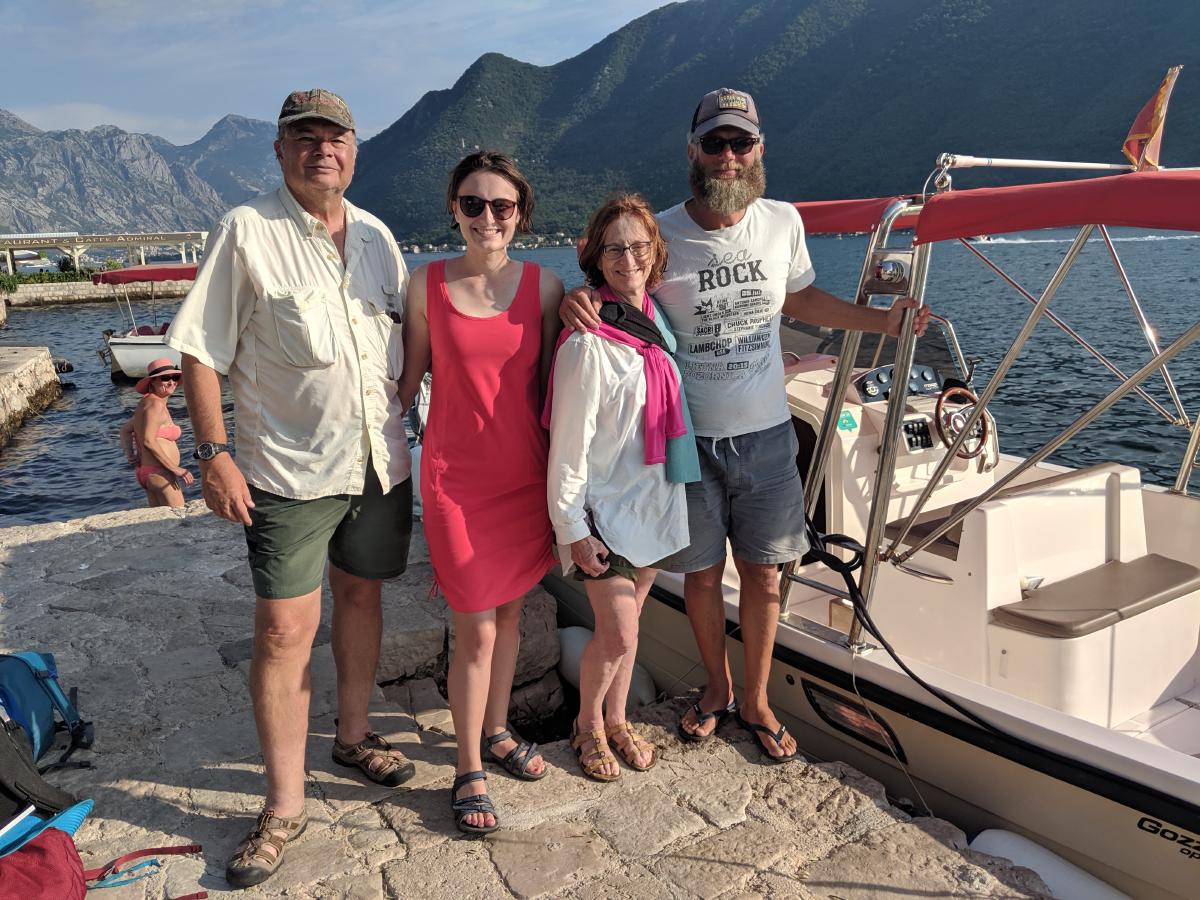 City of Cats: The Walled City of Kotor
The walled city of Kotor is a must-see destination in Montenegro. Narrow alleyways, red roofs, and hundreds of cats fill the small city. However, two to three cruise ships dock here every day, filling the city with thousands of tourists all at once. Instead of visiting Kotor during the day, we waited until the passengers re-boarded the cruise ships and took a bus from Perast (20 minutes) that arrived around 4:30pm in Kotor. Our first stop was the cat museum, where we saw cat art from over the years. My favorite selections were the glamour shots of high-society women with their cats, from the early 1900s.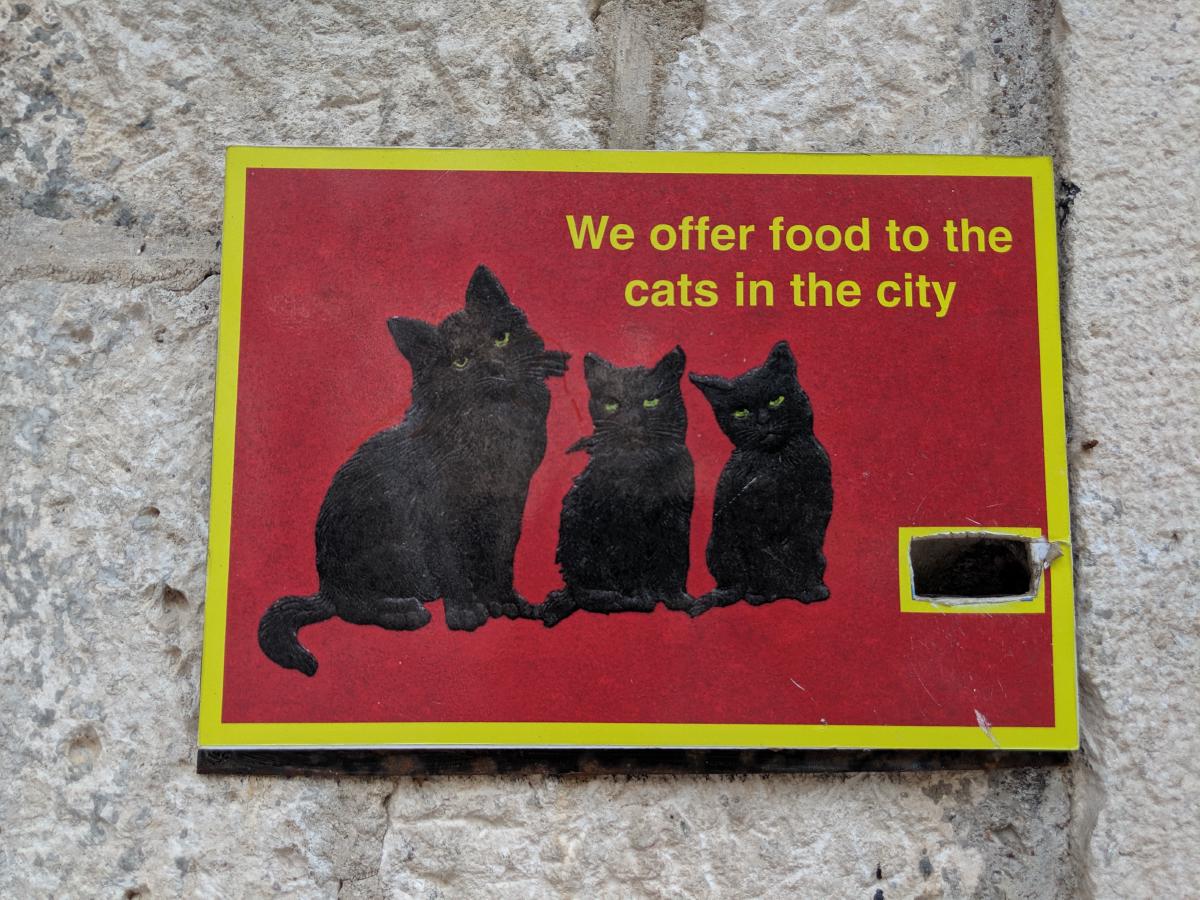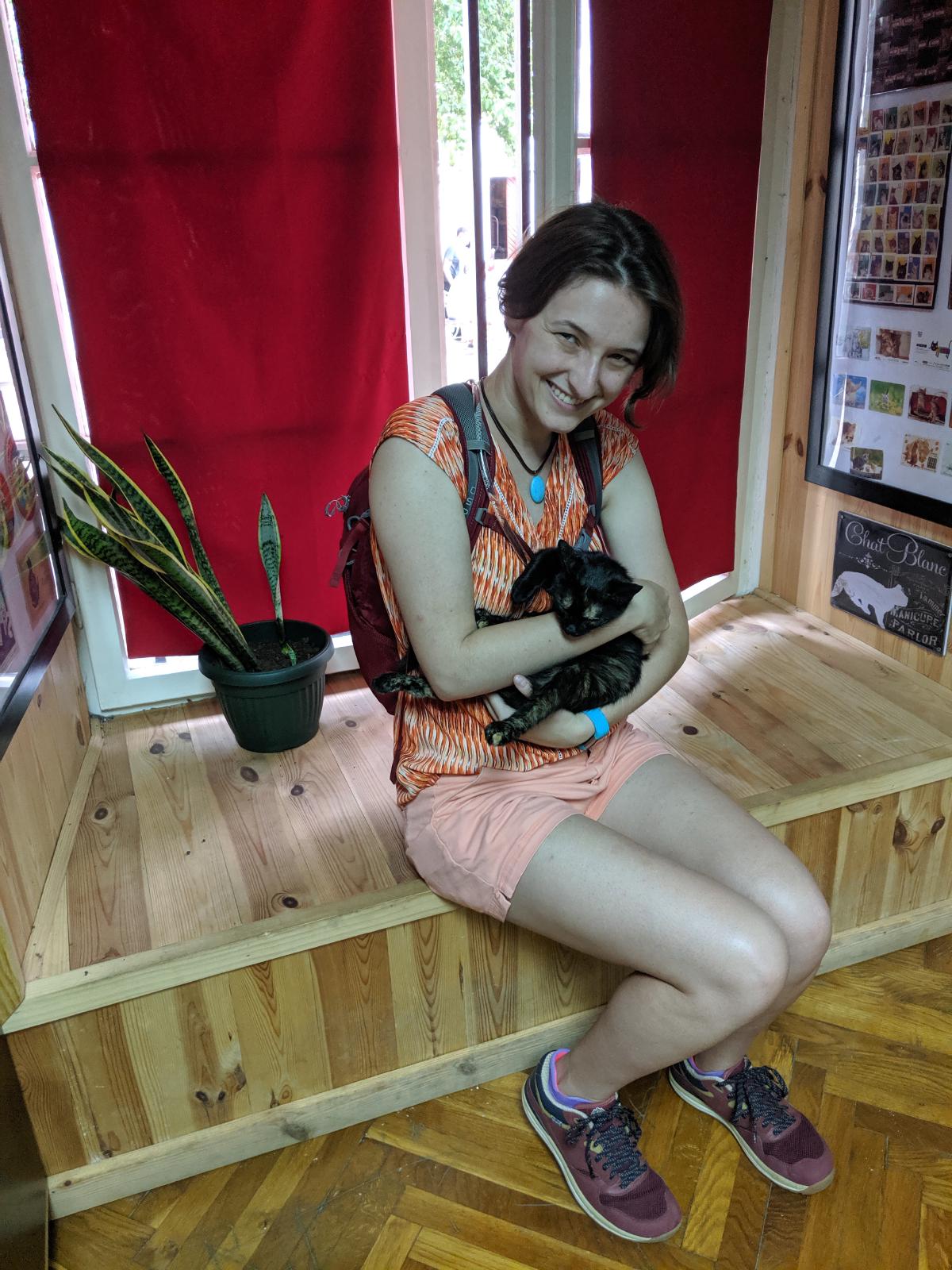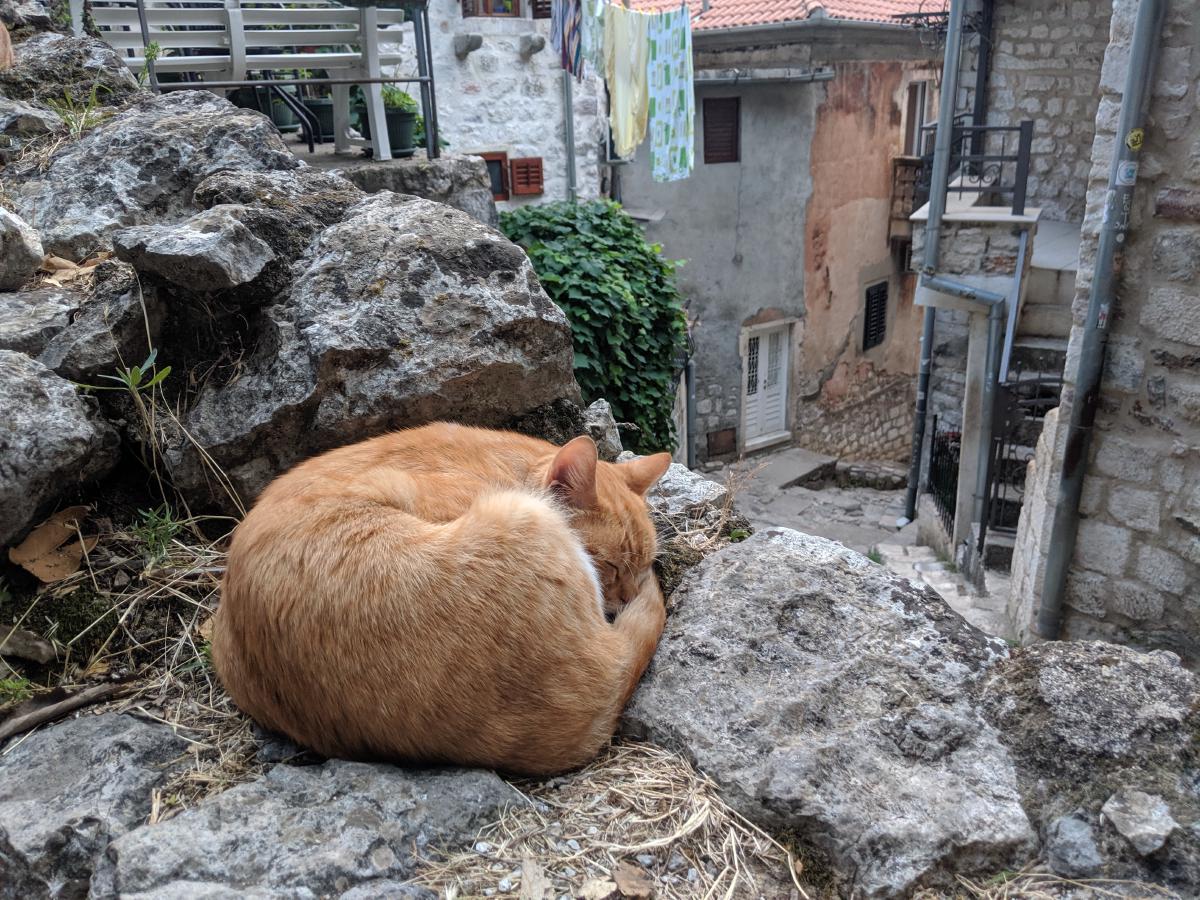 The highlight of Kotor is climbing the city's walls for a stunning view of the bay. The thousand step climb up slippery stones is not for the faint of heart, but the views are absolutely worth the effort. Just don't go during the heat of the day, and do make sure to bring lots of water. It took us a few hours to climb up and down.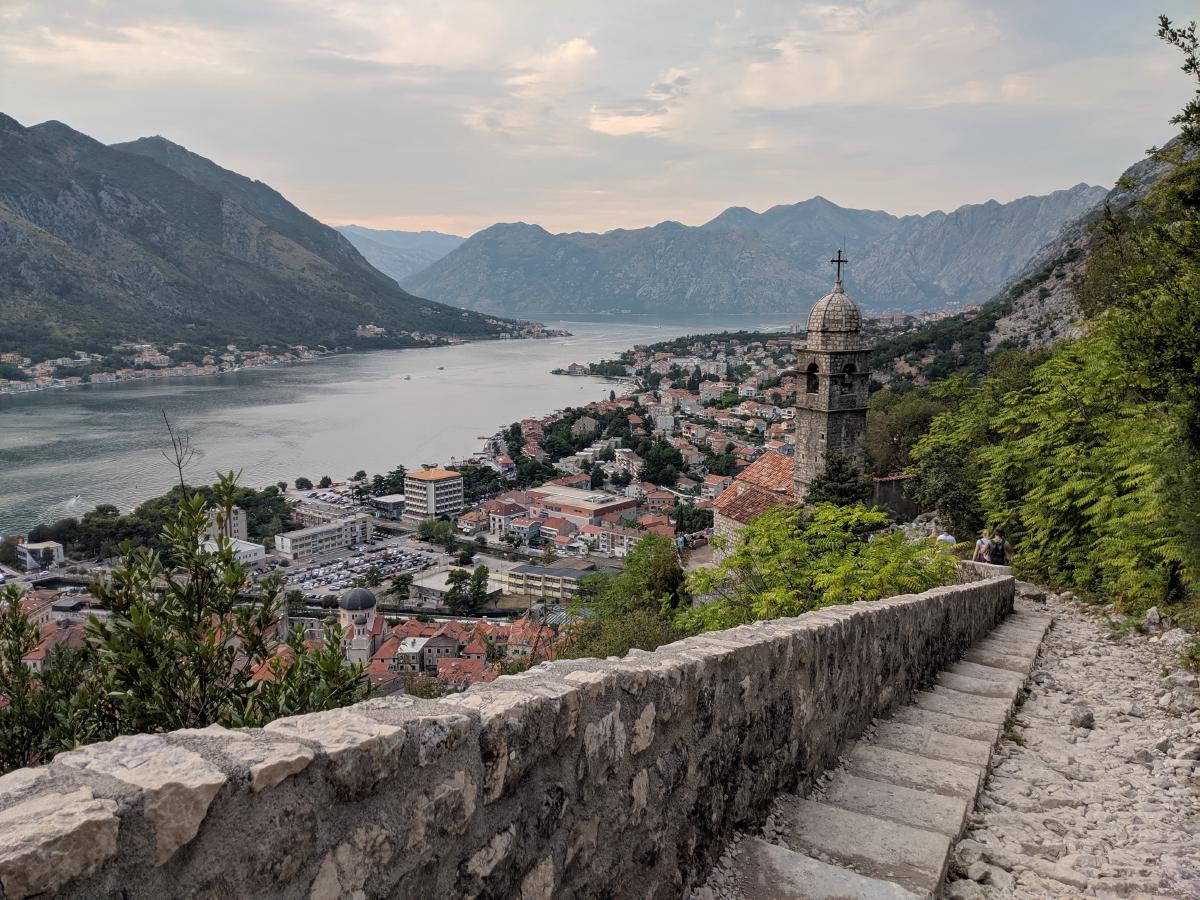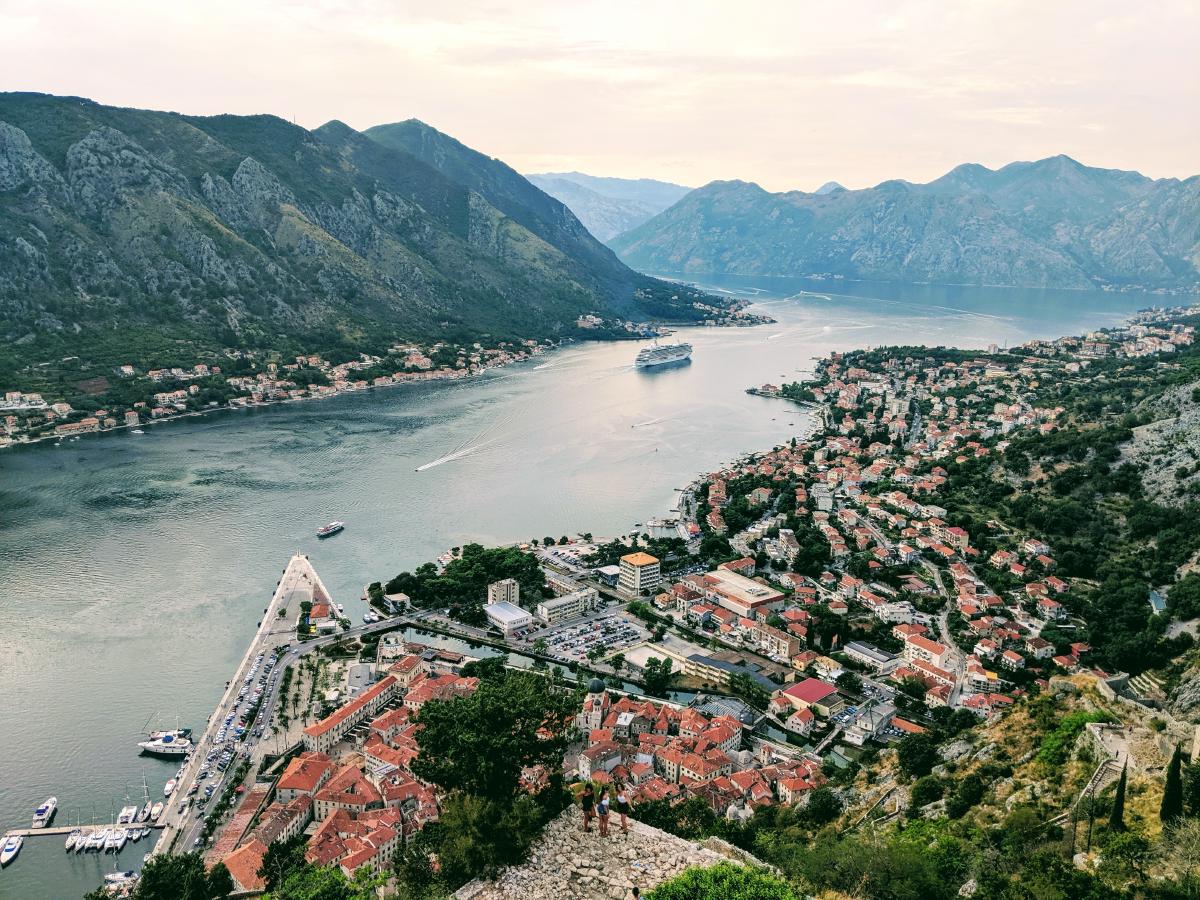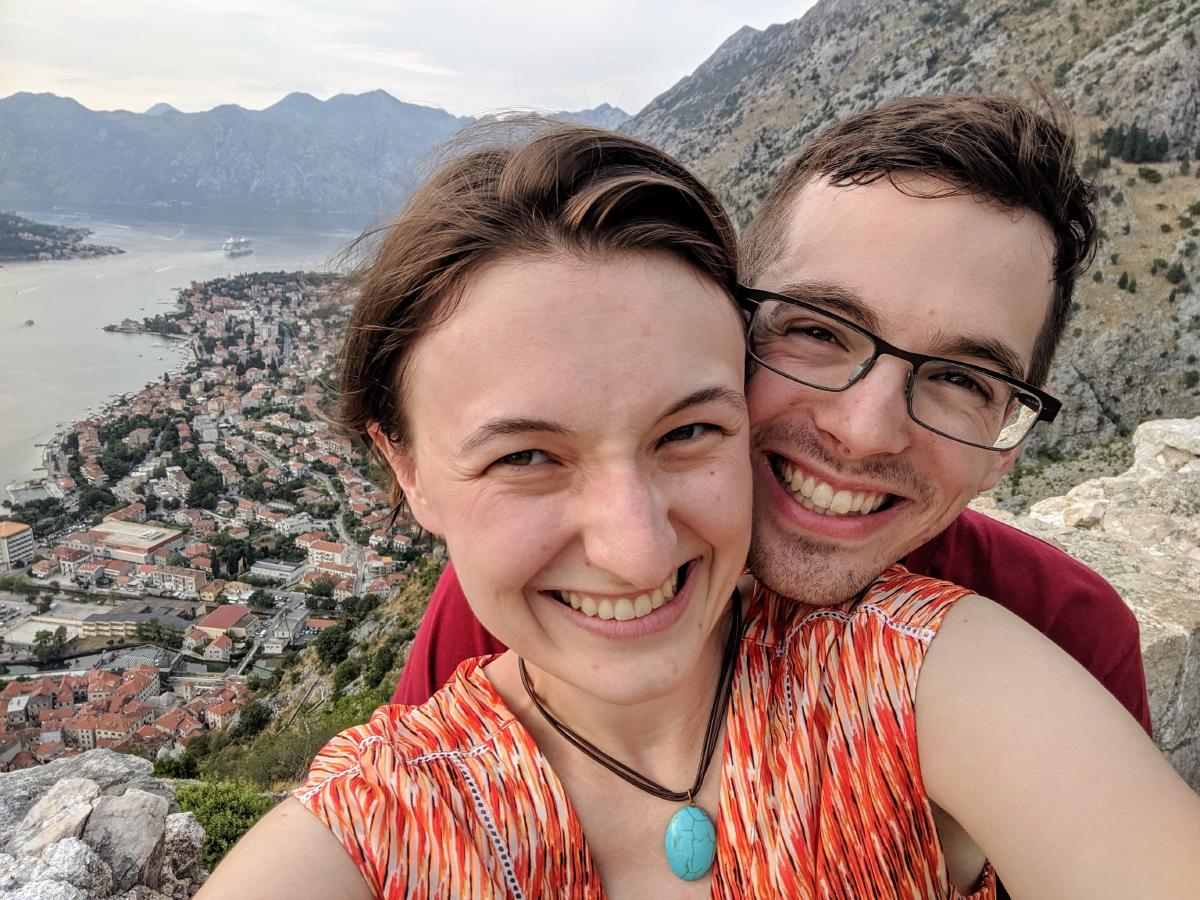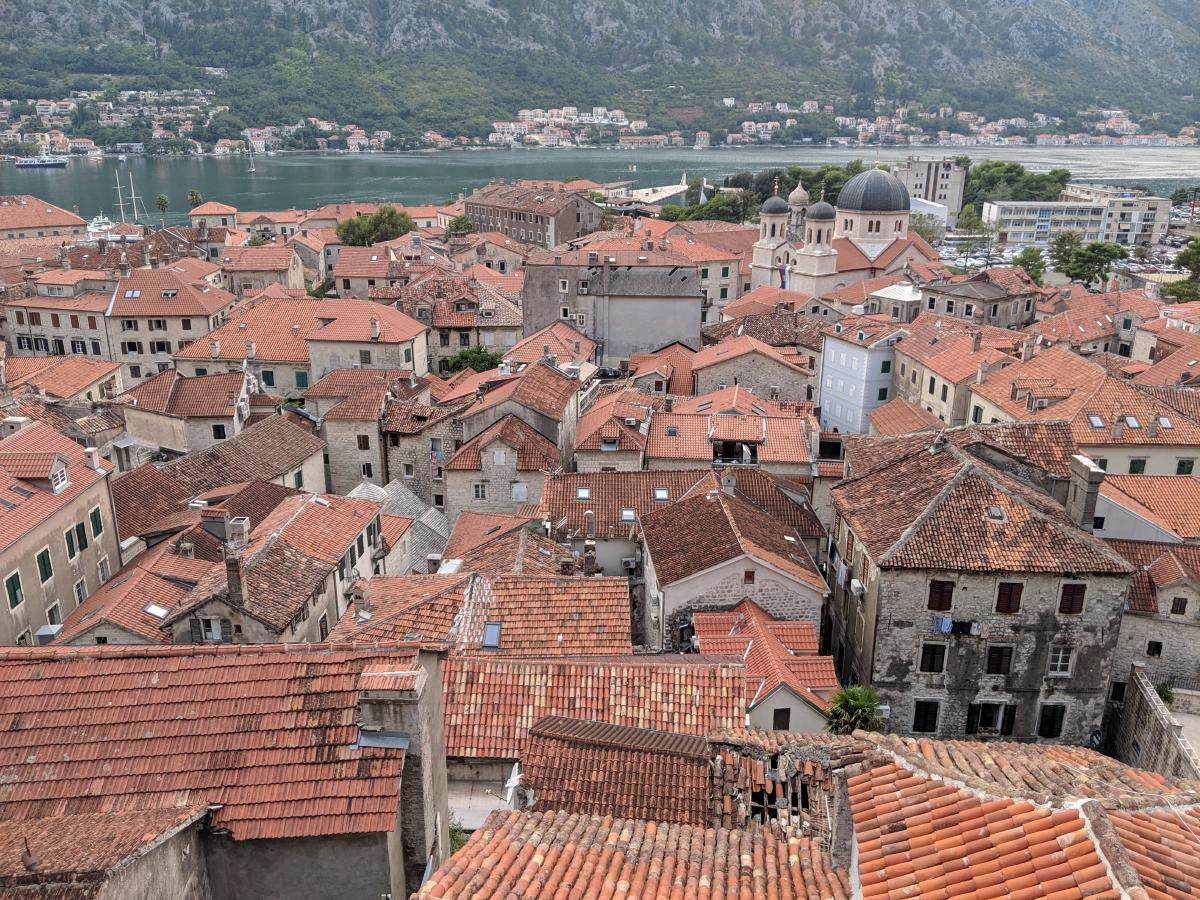 High in the Sky: Njegos Mausoleum and Stunning Views
After returning to Podgorica, we took a day trip to a vista over the Bay of Kotor and purchased some Njegusi prosciutto, the local Montenegrin specialty. This prosciutto is like nothing we had ever tasted before, and likely never will taste again. Truly incredible in flavor and texture.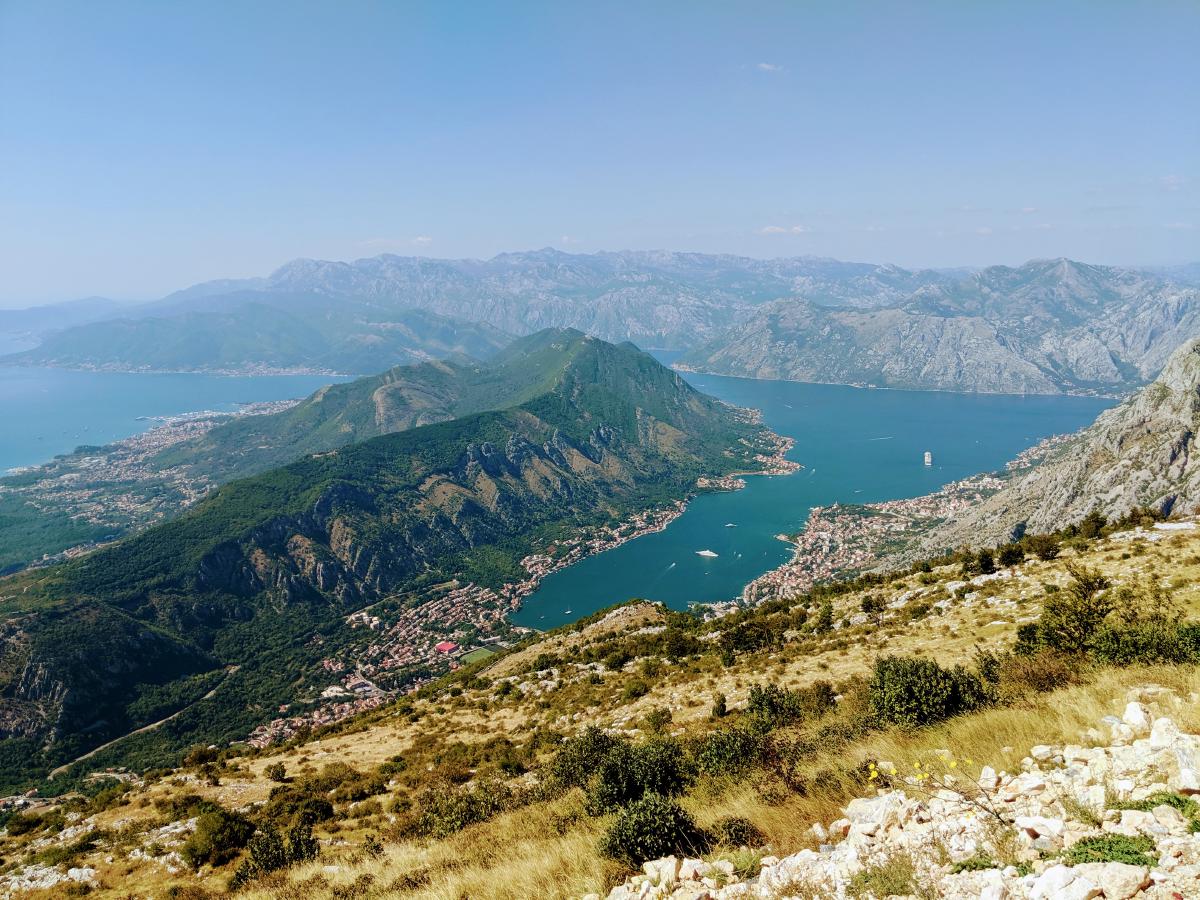 Nearby, the ham's namesake Njegos was born, and there is a mausoleum on the top of a mountain honoring his importance in Montenegrin history. After climbing up 461 steps (did I mention that this country is full of mountains?) we were treated to yet another stunning view of the peaks of Montenegro. The walkway out to the final vista viewpoint can induce some vertigo because of the steep dropoff on either side, but gives an amazing feeling of being on top of the world.
We concluded the day with a stop at a local restaurant, where we ordered thick hot chocolate (twice) that we ate with a spoon. It can get chilly in the mountains, so bring a jacket!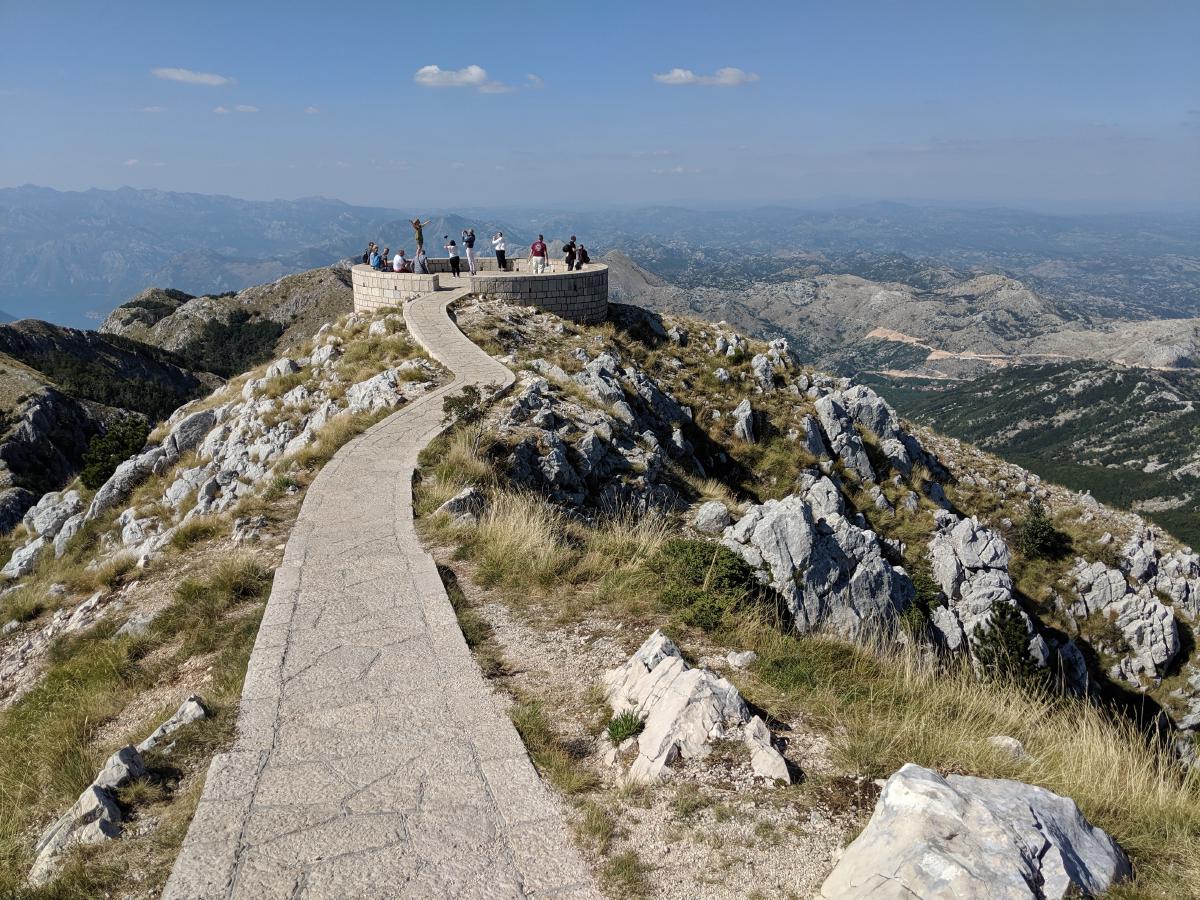 Old Bridges and Lamb: Stari Most and Cevapi in Mostar
Visiting Mostar in Bosnia and Herzegovina has been on my bucket list since seeing a Rick Steves special back in elementary school. This city is heavily influenced by its proximity to Turkey, with a divide of Muslim and Christian cultures, Ottoman architecture, and a charming old town centered around the iconic Mostar Bridge (Stari Most).
We drove for 3 hours to reach Mostar (only about 100 miles of driving, but the roads are small and slow) and checked in to our hotel, the Muslibegovic House, the residence of Ottoman nobility built in the mid-18th century, and a preserved national monument in Bosnia. The interior wood paneling is all period and original – miraculously, the building survived the bombings of the Bosnian War – and a museum tour shows the way of life for its former residents. It felt like a little sanctuary of paradise and a true step back in time.
The pedestrian-only Old Town in Mostar is lined with stalls of lanterns, gorgeous yet fairly modest mosques, Turkish coffee pots, sweets shops filled with Turkish delight, and local artists. We made it to Stari Most – built in 1567, this bridge stood for over 400 years before its destruction in 1993 along with most of the Old Town. The Bosnian War is an event much overlooked in history, even though the breakup of former Yugoslavia resulted in the first genocide in Europe since World War II. Stari Most fell in 1993, but was rebuilt in 2004, galvanizing the reconstruction of the rest of the Old Town. It's hard to tell that most of the area was destroyed just a quarter century ago. However, on the outskirts of the Old Town, the buildings are still pockmarked and in disrepair.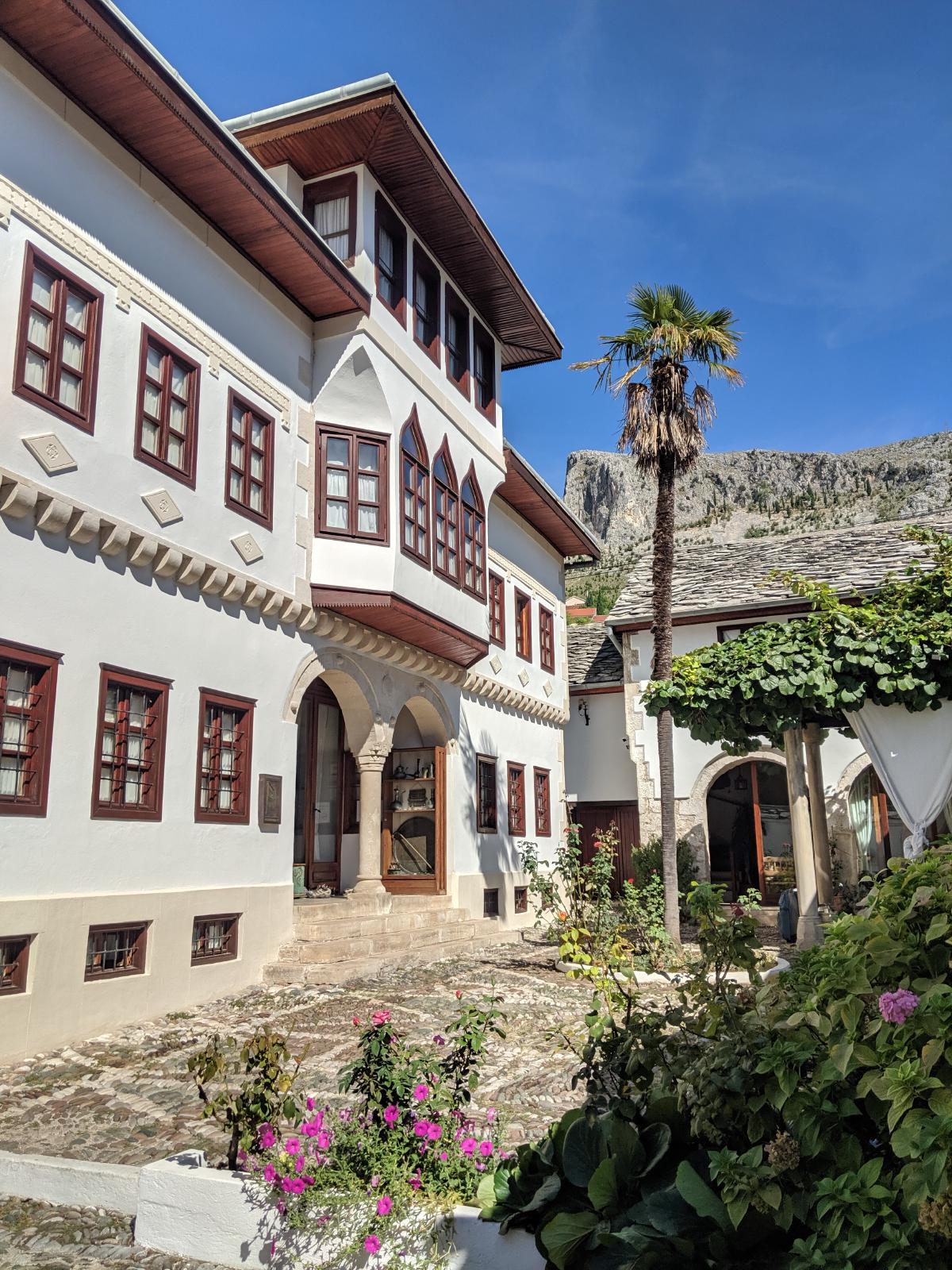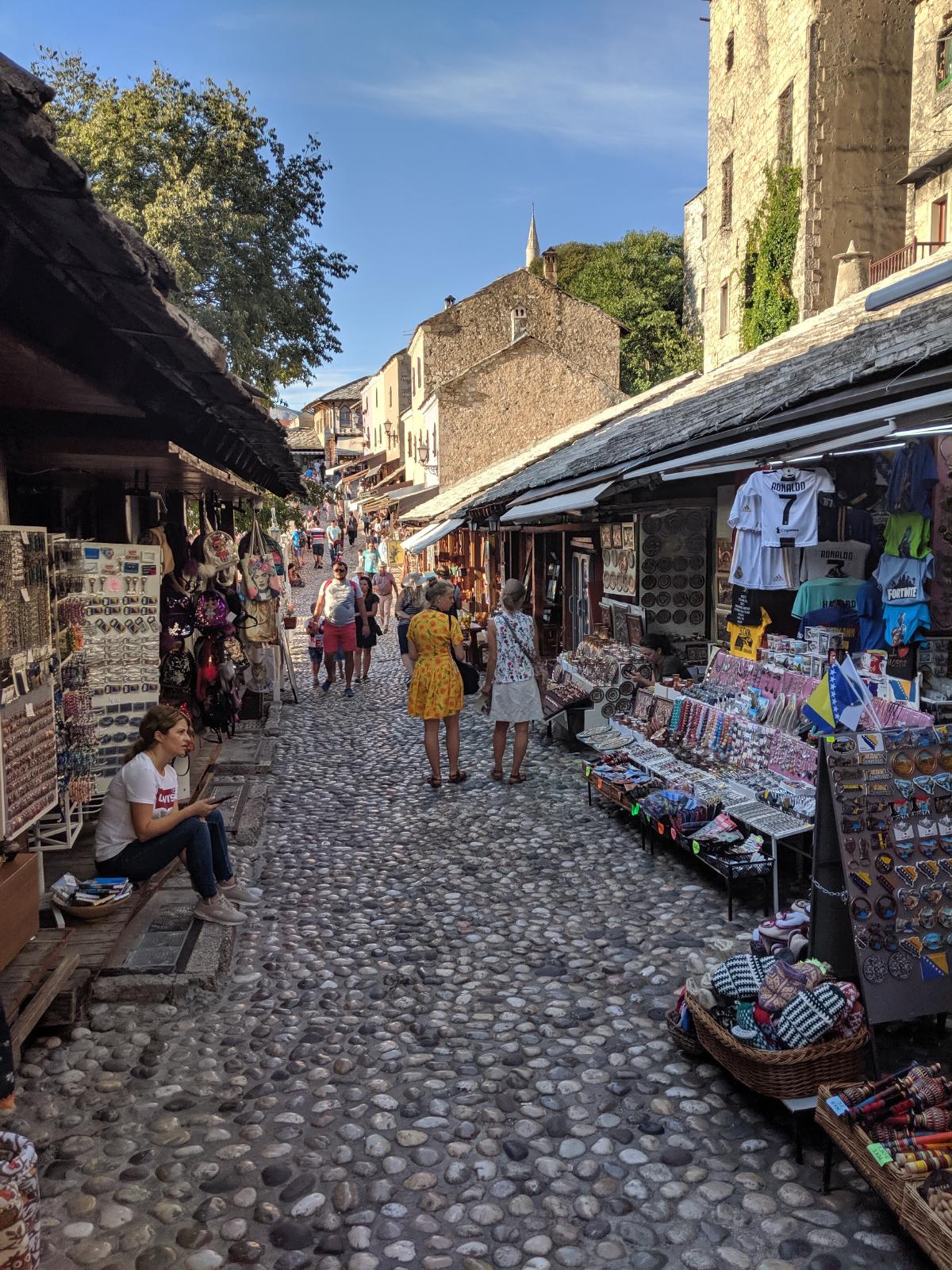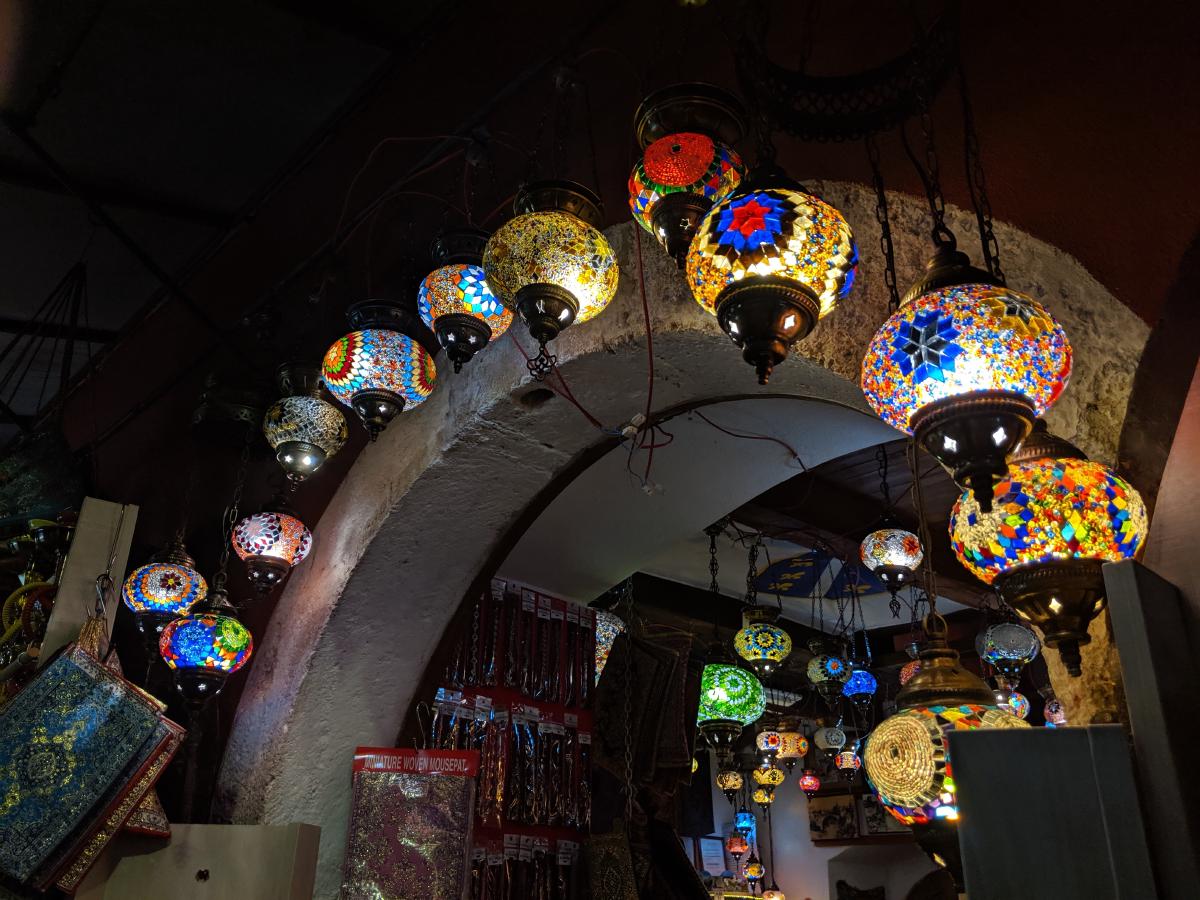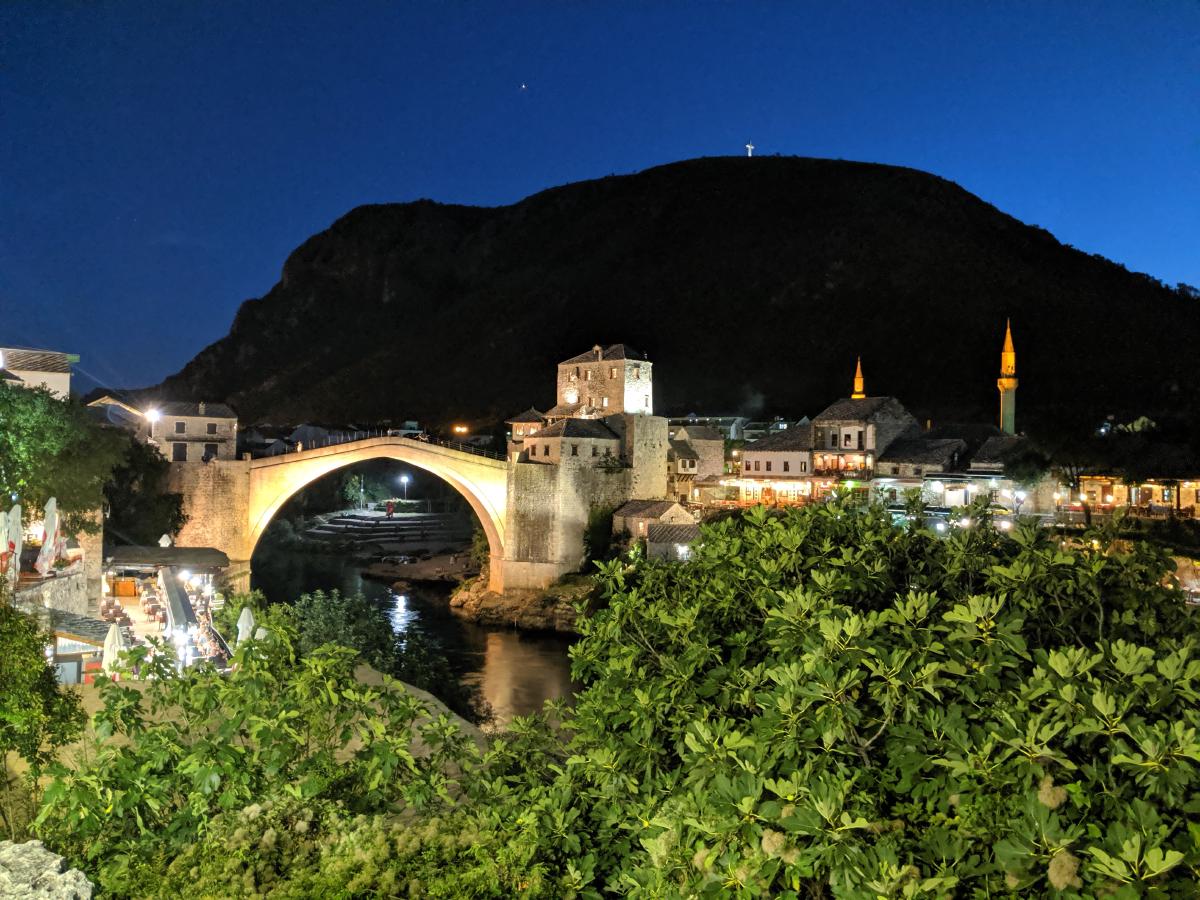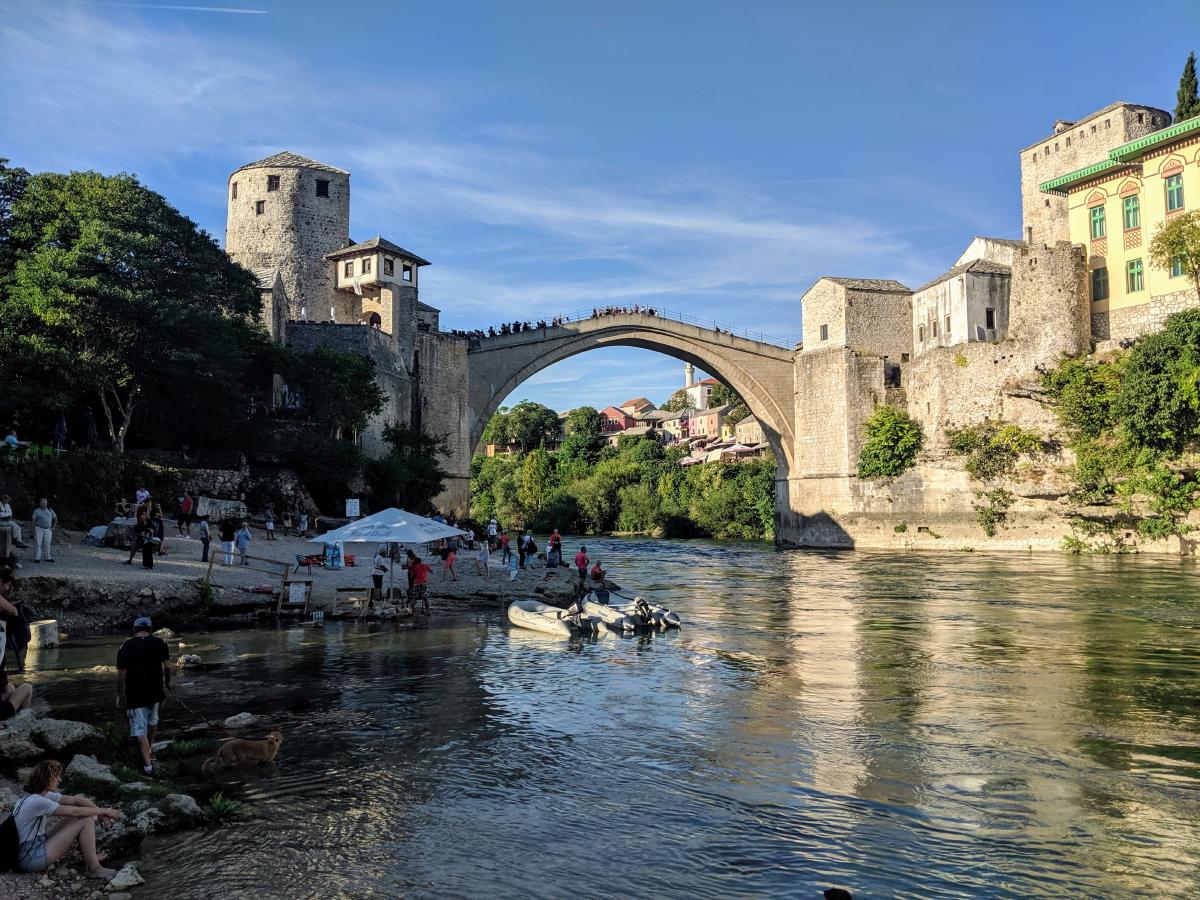 While the streets of Mostar's Old Town were like something out of a fairytale, the true highlight of BiH was the food. A predominantly Muslim country with many cultural influences meant that the food was flavorful, spicy, and most importantly involved copious quantities of lamb. Our first meal in Mostar was lunch at Sadrvan, a traditional restaurant with Mediterranean, Turkish, and Middle Eastern cuisine. We ordered cevapi – grilled lamb meat shaped into a sausage form – served with a side of ajvar (roasted red pepper spread) and lepinje (a Serbian flatbread, pita-like but warm and fluffy). Absolutely delicious. Upon arriving back in Austin, we immediately purchased ajvar at our local grocery store and found a Balkan restaurant serving cevapi.
The next day, we visited a mosque in the morning – the mosque in Old Town Mostar is now a museum and is tourist-friendly, meaning that women were not required to cover their heads, shoulders, and legs or take off shoes, but coverings were provided if desired. I had a scarf with me, and used it to cover my shoulders when wandering around Mostar just to be more considerate and for sun protection, but it was not strictly necessary. The mosque also had a balcony with an incredible view of the bridge, and for a bit more one could climb the minaret for a stunning view of the city. We then drove north for an hour to a very special lunch – spit roasted lamb. I'll let the pictures do the talking.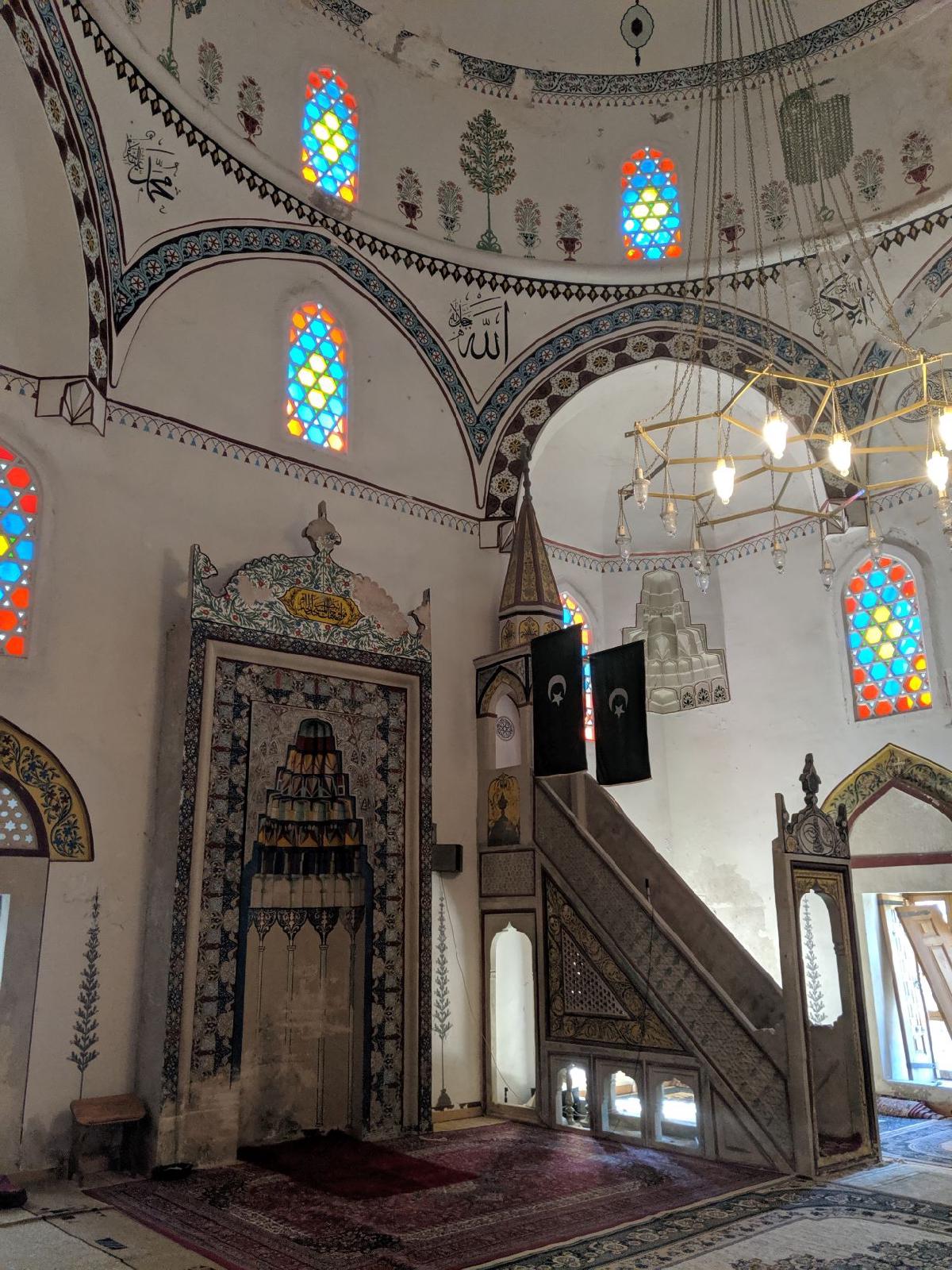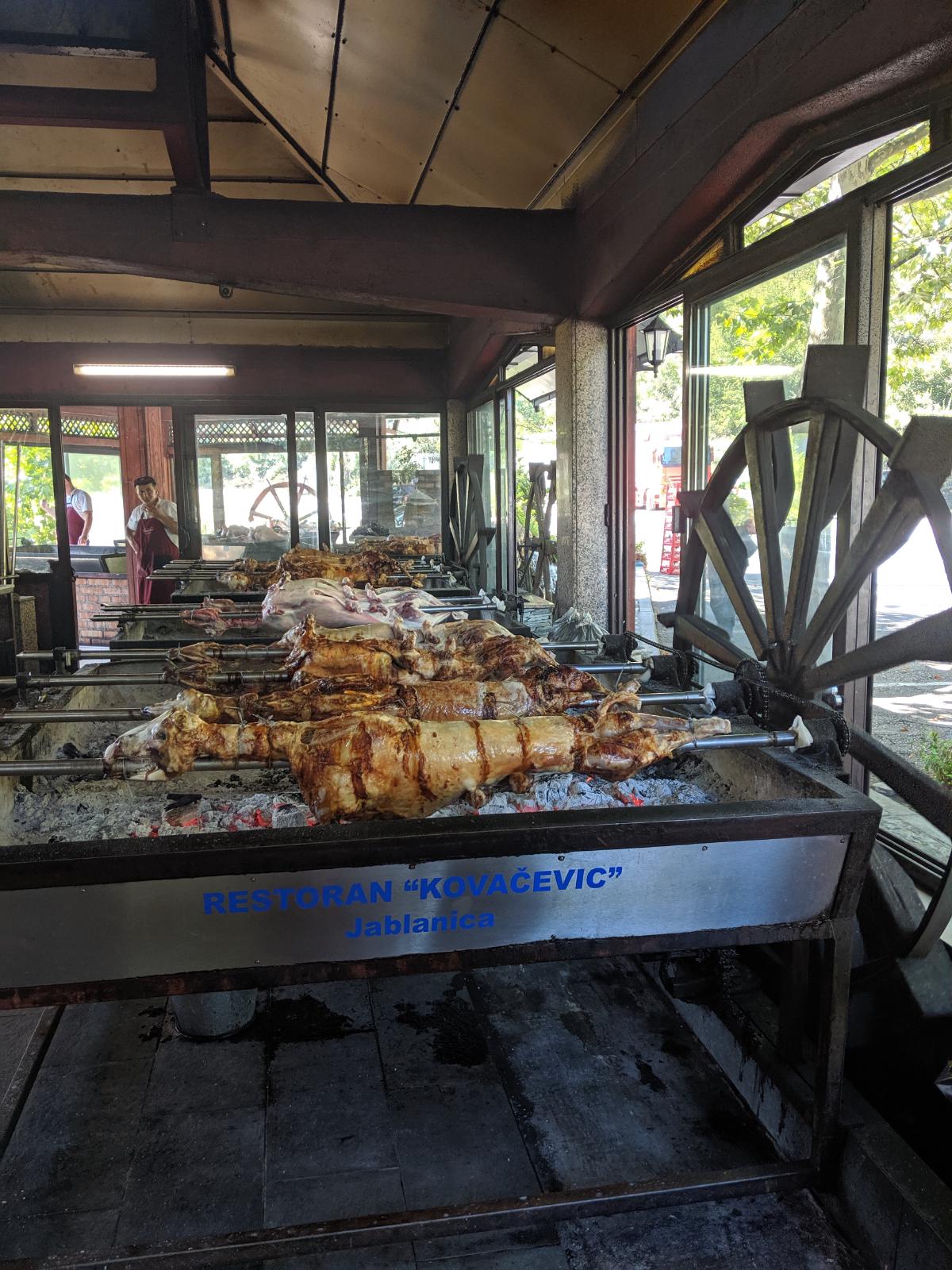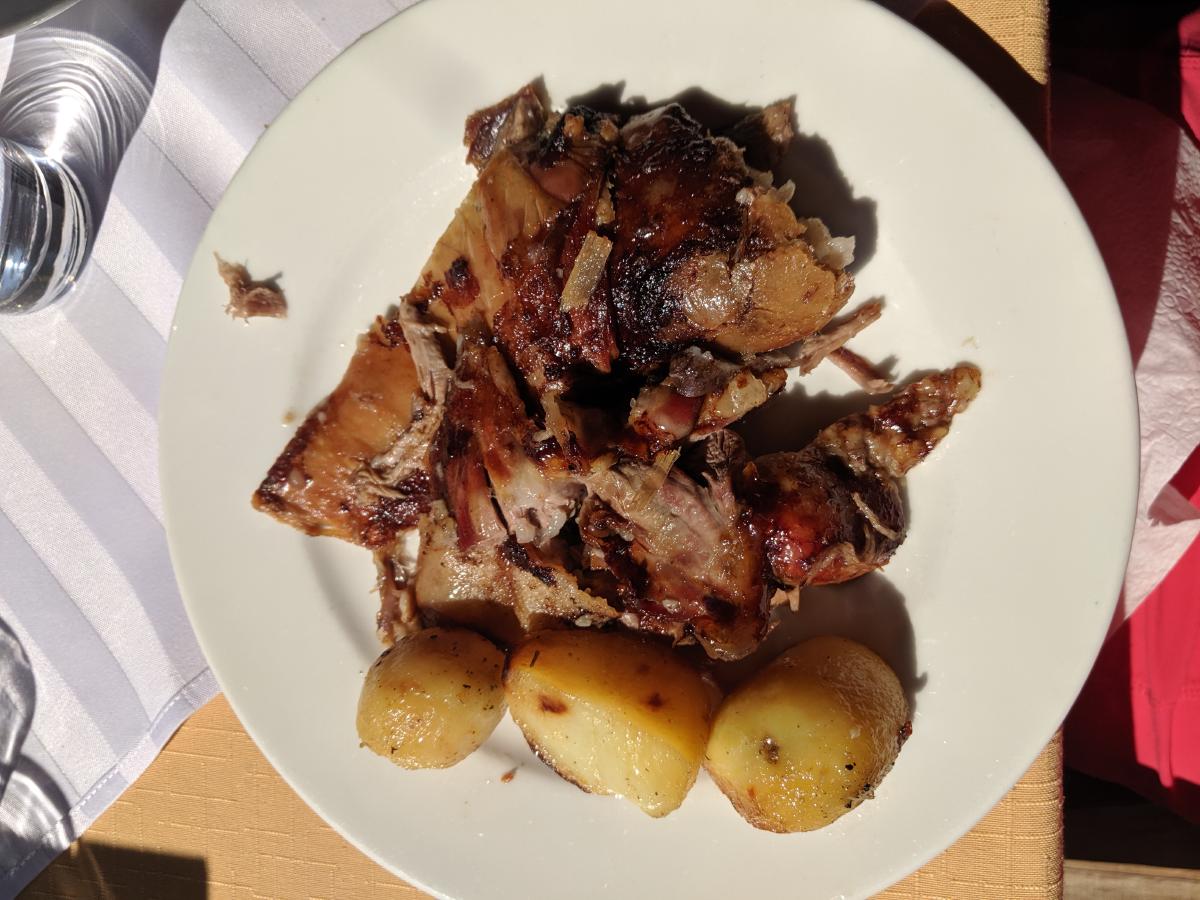 The Dervish House
On the drive back to Podgorica, we stopped at the Dervish House, a national monument built in the 1520s as a monastery for Dervish cults. The house is nestled into the base of a massive cliff and sits over clear blue water. As it is an active place of worship, female visitors were required to cover heads, shoulders, legs, and take off shoes (clothing again provided) and male visitors to cover their legs and take off shoes. The rooms were very simple and compact, with plain white walls, but the men's ceremonial washing room had a gorgeous domed roof inlaid with colored glass stars.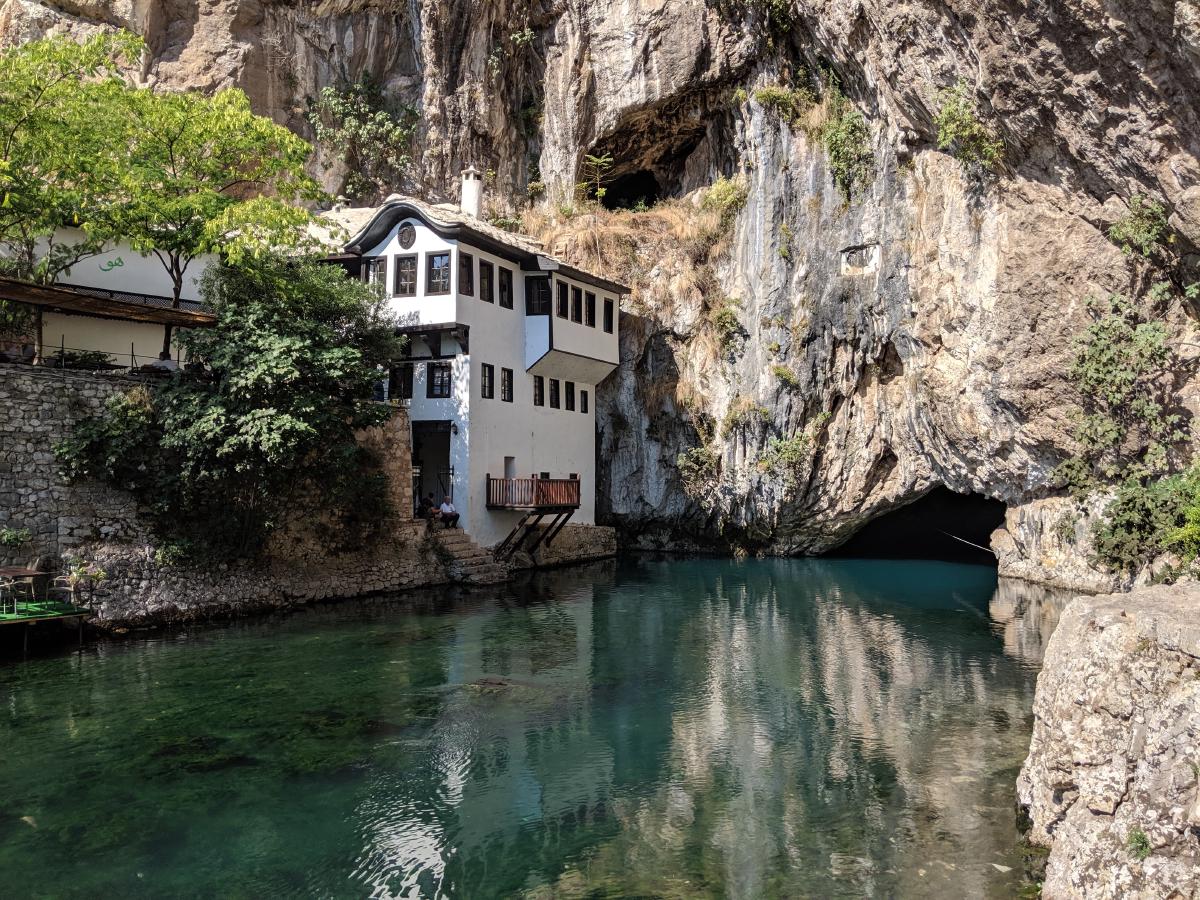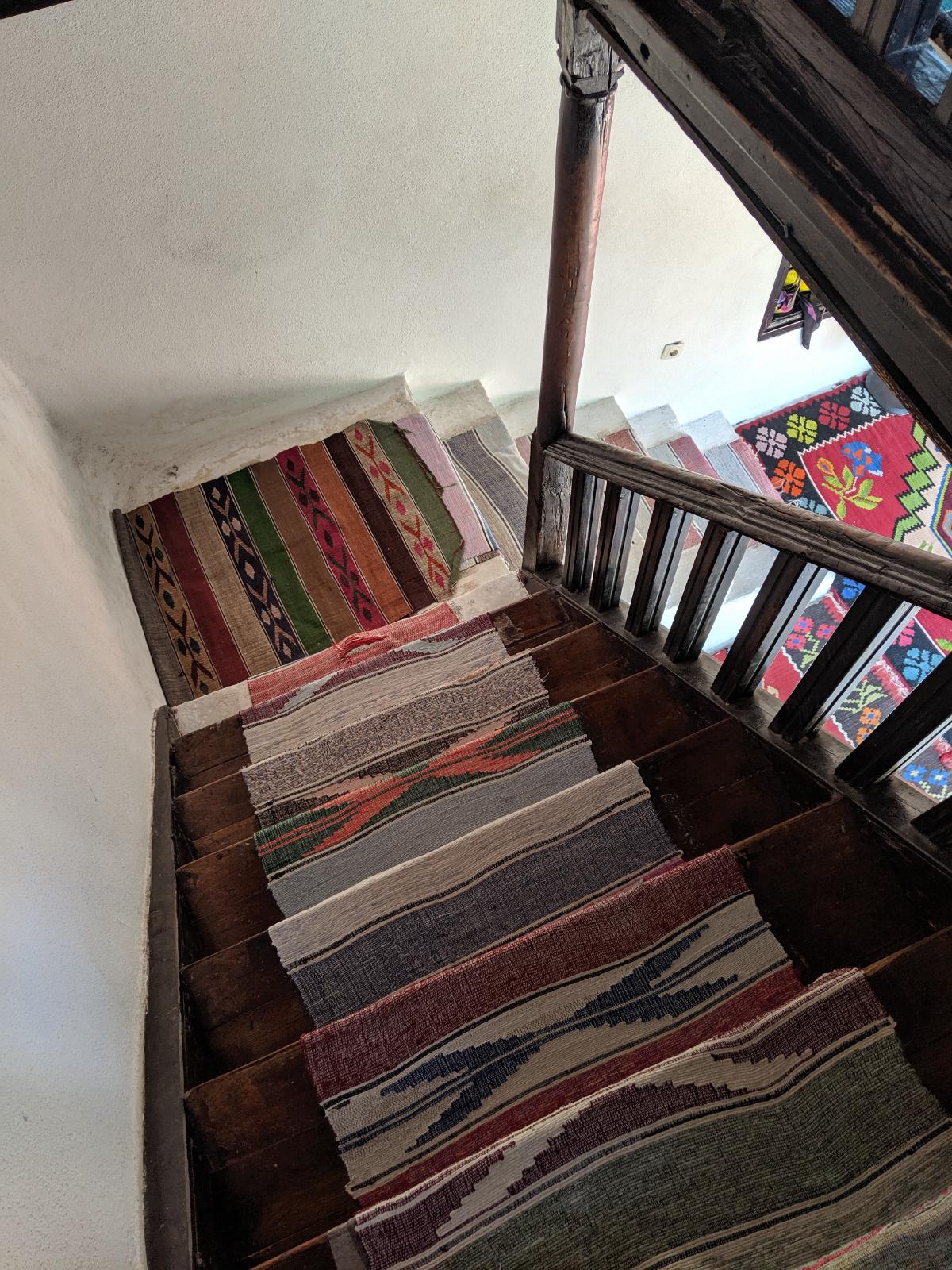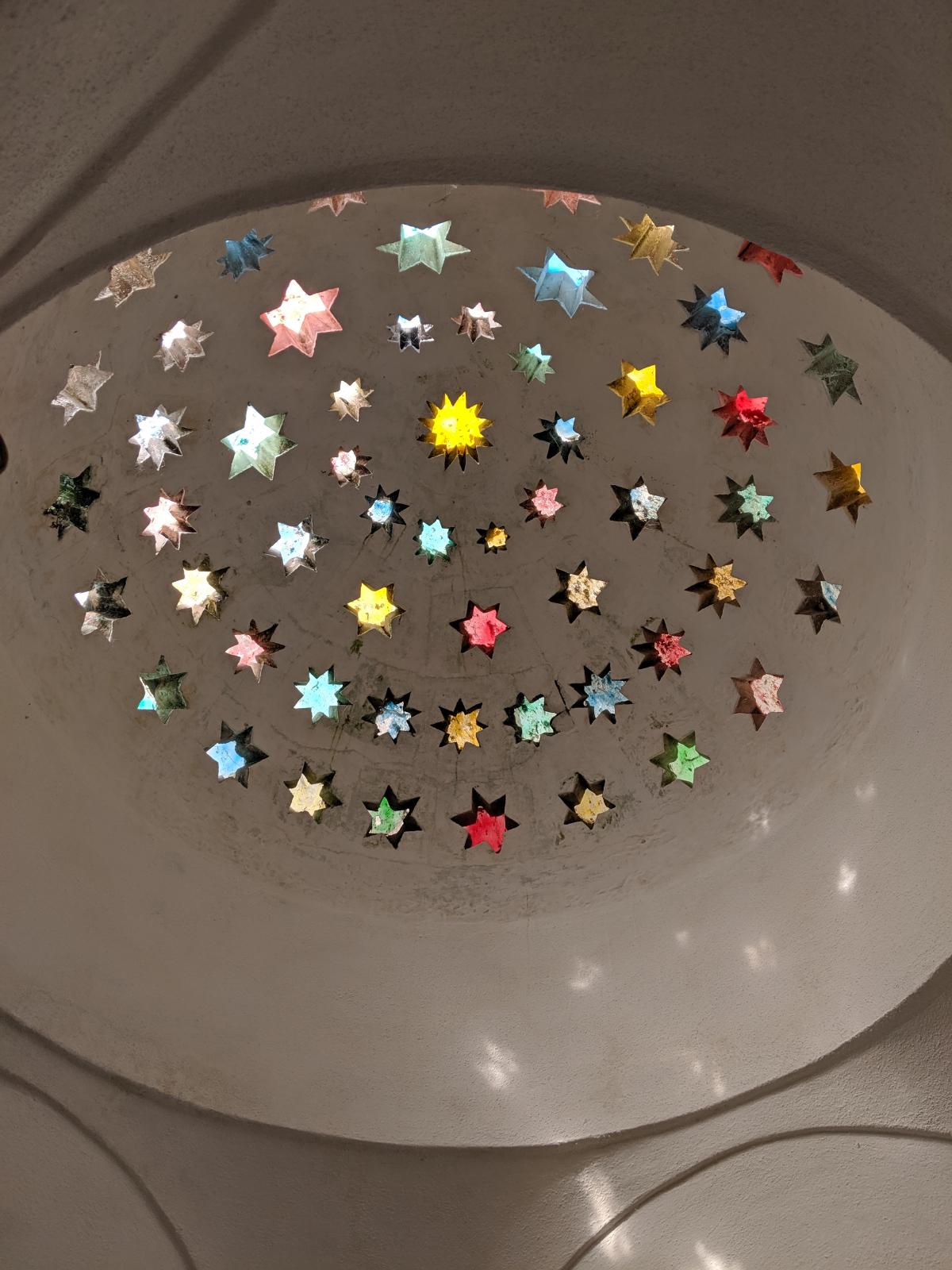 Podgorica and Surroundings
When we weren't driving along the Montenegrin coast or high into the mountains, we stayed in the capital of Podgorica and enjoyed incredible meals. We ate at Imanje Knjaz multiple times – the cheese gnocchi (filled with cheese and covered with cheese sauce and three slices of brie), prosciutto, and local cheeses were phenomenal and we kept going back for more. The trip wrapped up with a hike above Podgorica (the hill is the town's namesake) and a homemade lamb dinner for my dad's birthday.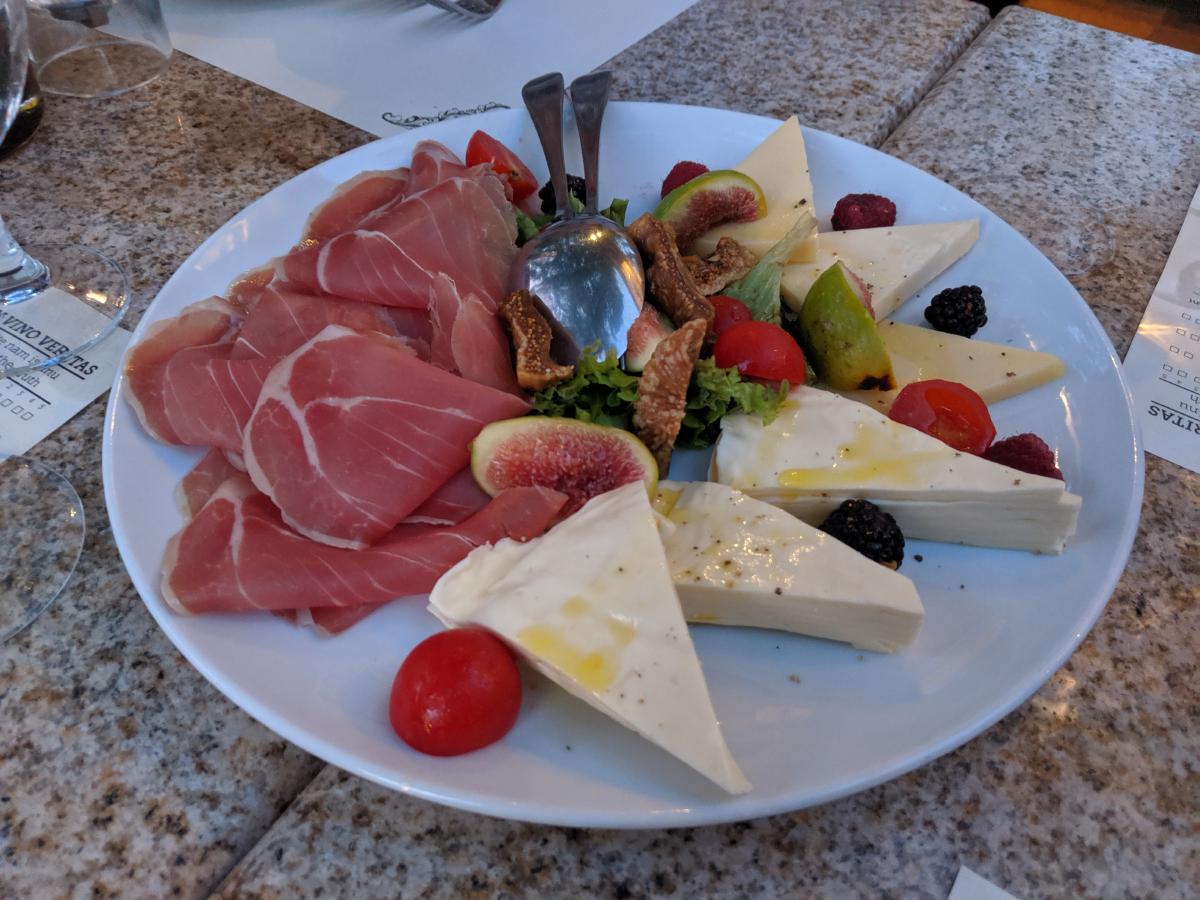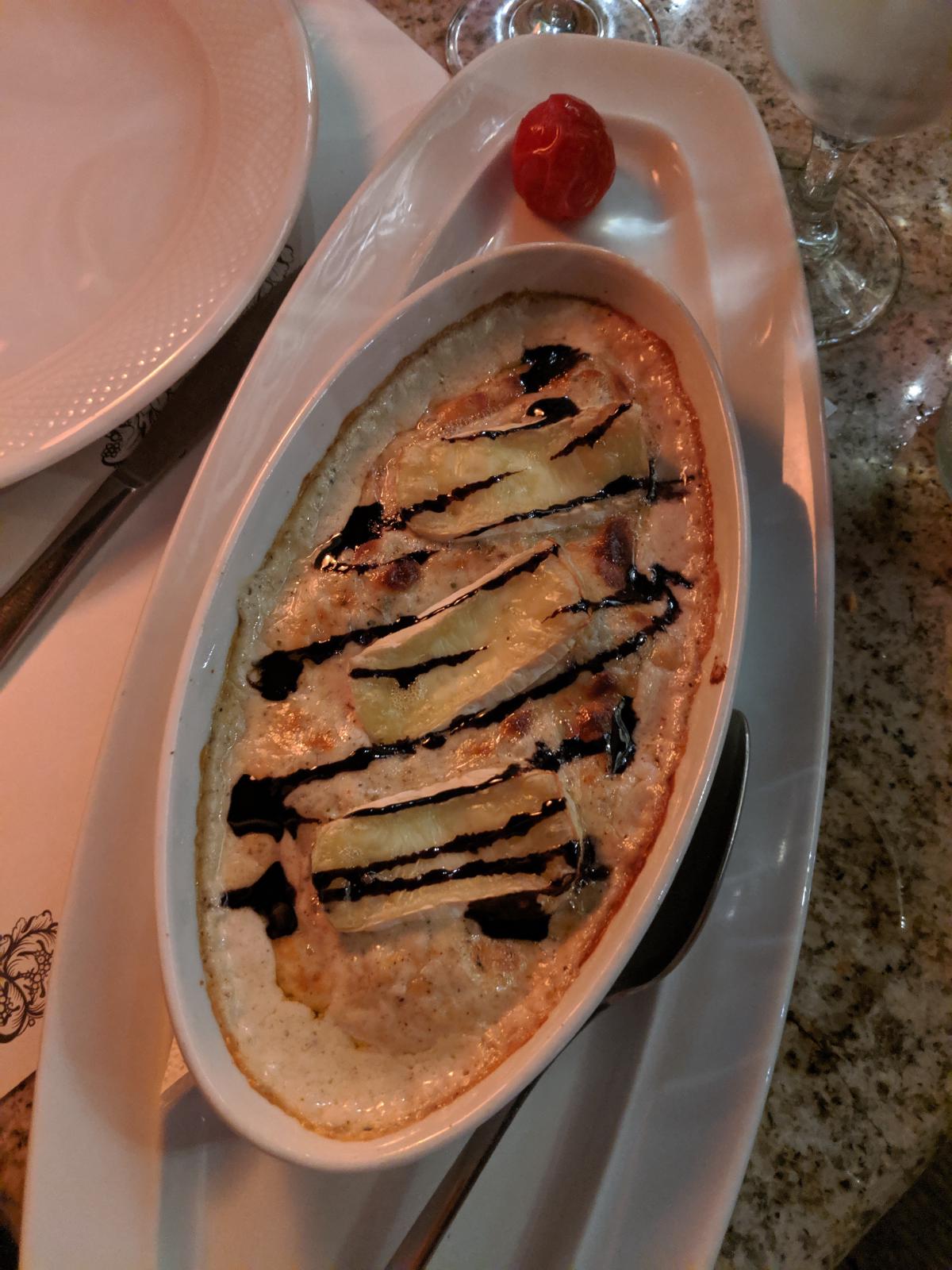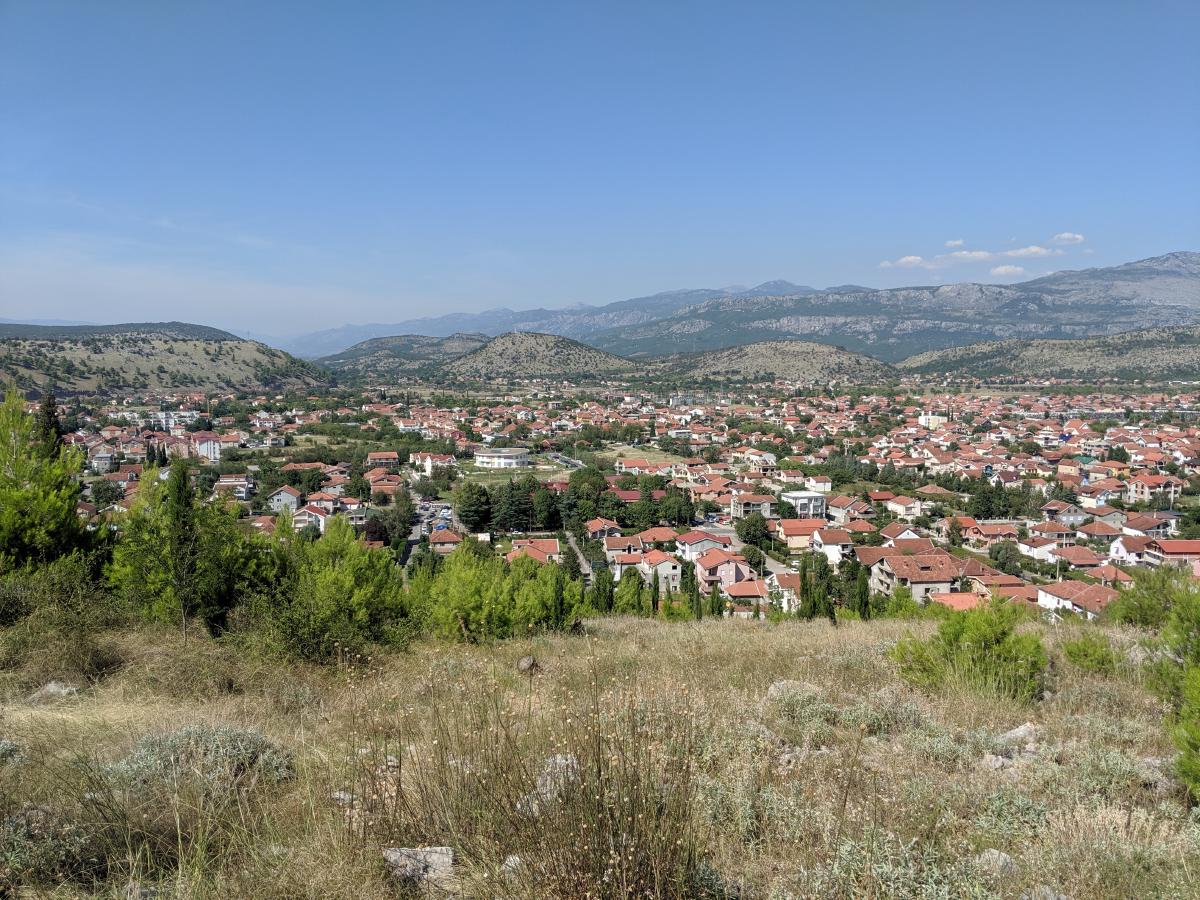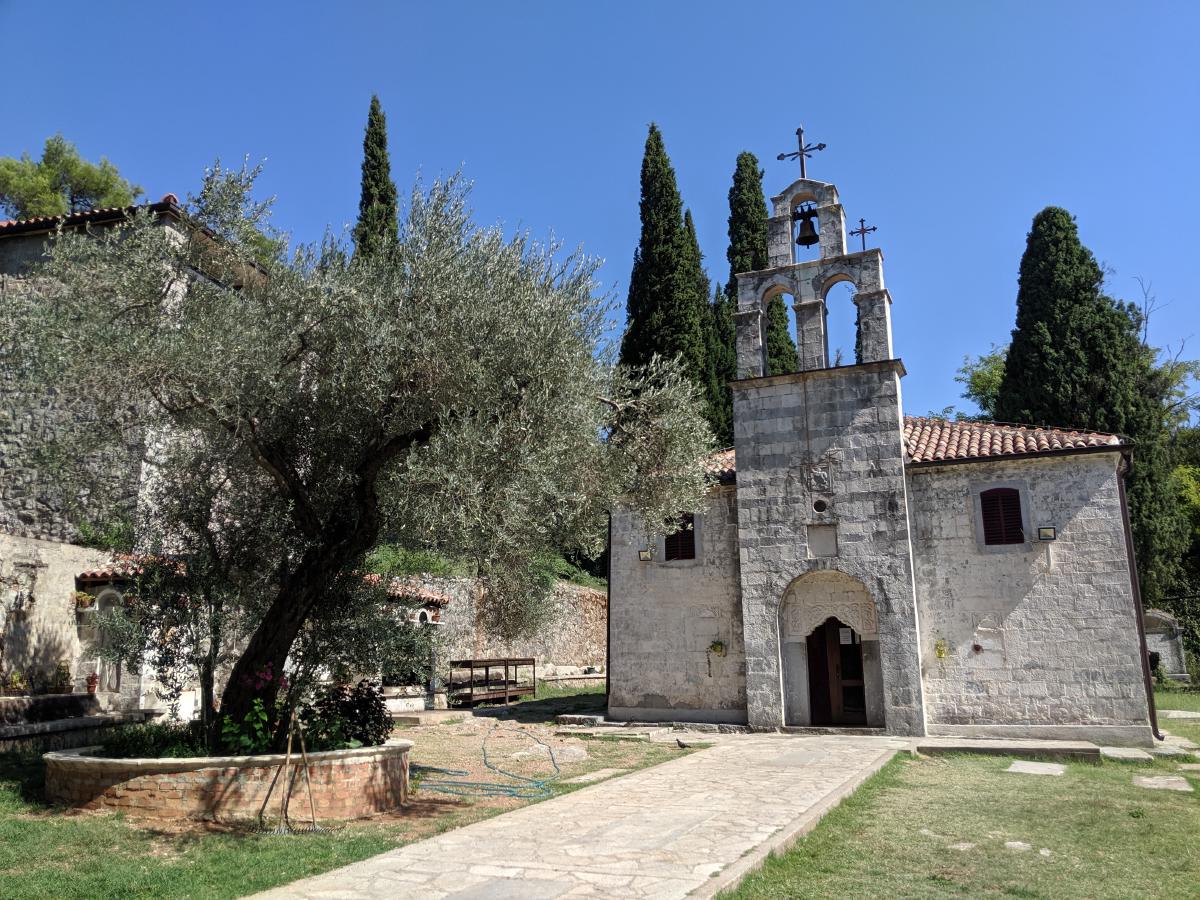 ---
So, Should You Visit?
If you've dreamed of visiting Italy or Croatia but hate crowds and expensive hotels and food, Montenegro is an excellent alternative that deserves visitors in its own right. We spent 9 full days in Montenegro and could have easily stayed another week, dipping into nearby countries or spending more time in Montenegro's mountain region. We visited in September, which had excellent weather coming off of Europe's heat wave but fewer crowds and lower costs. It was overcast some days, but worth it for the better travel experience.
If we'd had more time, we would have taken a boat tour of Lake Skadar, visited the Ostreg Monastery (built into a cliffside), explored numerous other forts and coastal areas (Budva, Stari Bar, Ulcinj), and visited Sarajevo in Bosnia and Croatia. To give an idea of just how much was still left uncovered: the Tara River Canyon in Montenegro has river rafting and ziplining in addition to being the deepest canyon in Europe, and it was low enough on our list that we'll have to save it for next time. Since most visitors to the Balkans visit nearby Croatia, Montenegro is often passed up and is delightfully tourist-free (apart from oneself) if you know how to avoid the cruise ship crowds.
---
Some Things To Note
Montenegro uses the Euro, which is handy when changing money since it's useful for another trip to Europe if not all spent, and was priced at 1.1 USD to 1 Euro for relatively easy conversions while we were there. In Bosnia and Herzegovina, their Convertible Mark is .5 Euros for additional easy math. In both places, food and accommodations are priced very reasonably, especially for the quality (a fresh fish entree at an upscale seaside restaurant ranged from 10-20 Euros).
As is true with most of Europe, water and toilets usually cost money so I carried a filled water bottle or hydration bladder with me at most times and used free toilets (in restaurants, museums we had paid for, or hotels we were staying at) whenever possible.
---
Staying Spontaneous
Montenegro is a destination for gorgeous views, amazing food, and spending time with family and friends. While there are some specific landmarks and historical sites, we mostly enjoyed wandering around the small town roads and experiencing local culture. We planned our overnight excursions in advance (Perast and Mostar) but left the other days open for day trips depending on the weather and how everyone was feeling. As we had a home base in Podgorica, we weren't tied to a specific itinerary or hotel reservations, so we were able to play most days by ear. It's a different form of travel that makes for a more relaxing trip with less density of sightseeing.
I'll forever cherish spending this time with family and friends in a beautiful country that is somewhat undiscovered. Add the Balkans to your list of places to visit – you won't regret it.