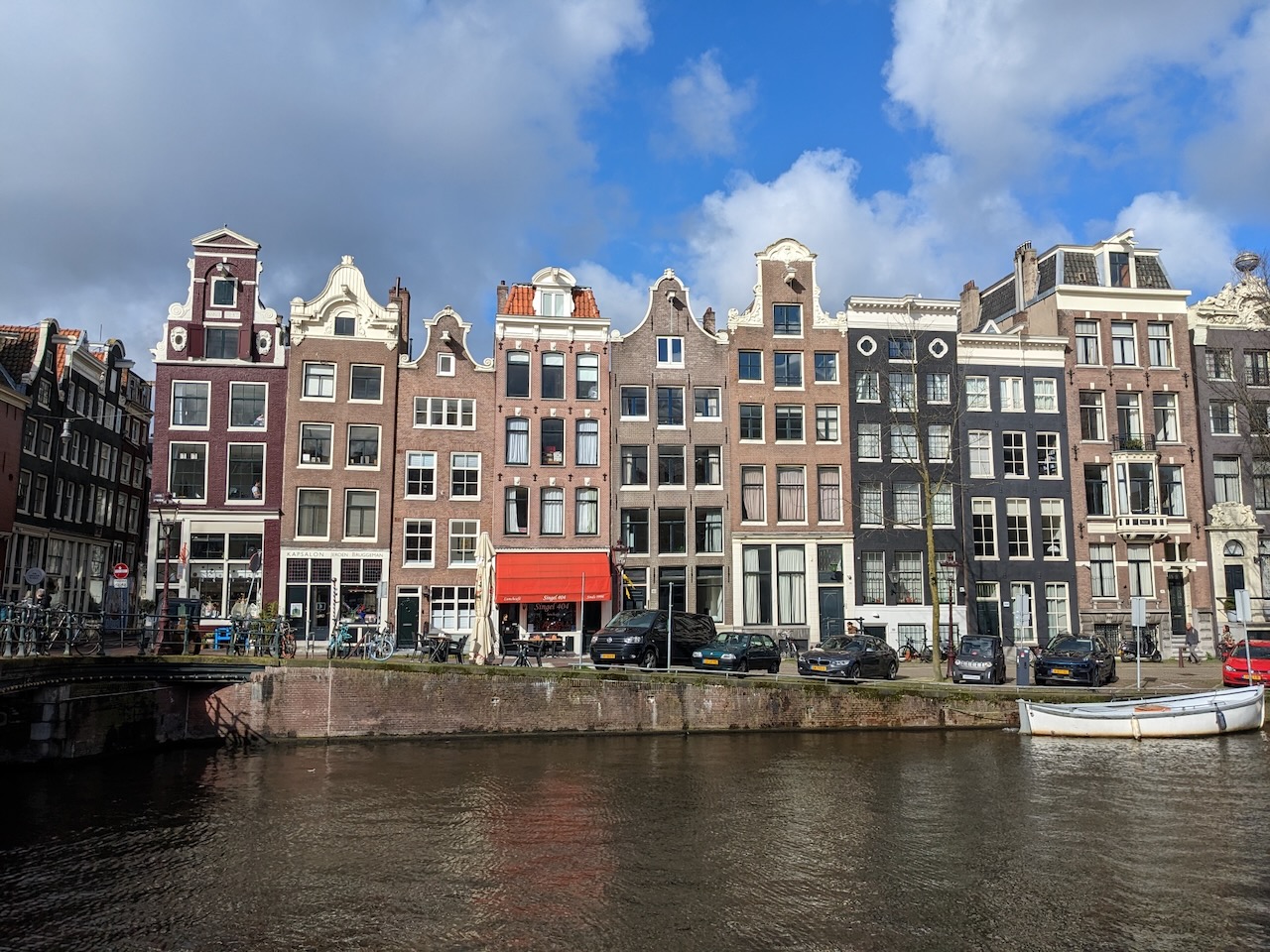 Hey folks! It's been a while. A lot has happened in the past year, most notably my move from Austin, Texas to Minneapolis, Minnesota. I've been very busy developing new hobbies and making friends in a new city, so I haven't been as intentional with blogging. However, I also visited Amsterdam with my husband's family back in March and wanted to share some highlights!
I'd been fascinated by Amsterdam for a while after discovering the YouTube channel Not Just Bikes (NJB). It showcases good urban design in Amsterdam and how the car-centric infrastructure in much of the world is harming our communities and environment in ways we don't even realize. It was discovering NJB that jump-started my husband and my quest to move out of our car-dependent Austin suburb to walkable and bikeable Minneapolis.
Glenn and I wanted to visit Amsterdam as it is widely considered to be one of the best cities in which to live: incredible infrastructure for walking and biking, an extensive and high-frequency public transit network, medium housing density that fits in a lot of people without feeling overwhelming, and local shops, restaurants, bakeries, and grocery stores that create strong and safe neighborhoods and a sense of community. By not needing a car, we were able to wander on foot and notice surroundings, which makes for great spontaneous adventures!
---
The National Maritime Museum
When Glenn and I were last in Amsterdam in 2015, we were fresh out of college and just finding our way in the world (and really, aren't we still?). In one of my college classes, I had learned about the architecture of the National Maritime Museum, a repurposed navy fort on the Amsterdam harbor. The courtyard was enclosed by a stunning glass and iron structure when the fort was converted to a museum. We wandered into the courtyard and stared up in awe, but soon a staff member came up and gently notified us that we weren't supposed to be there without tickets. I was so embarrassed, and tickets were fairly expensive for us at the time, so we sheepishly left.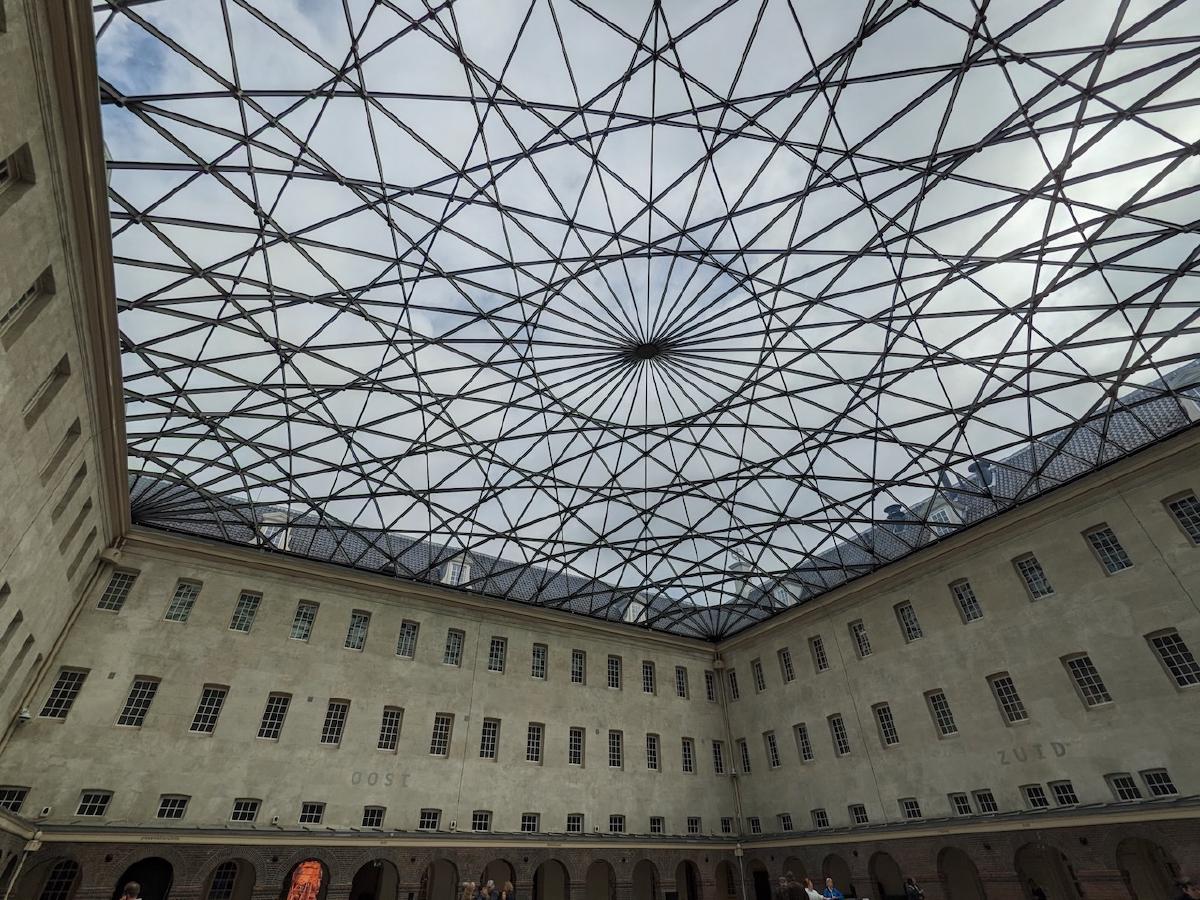 I've grown a lot since then and am no longer nearly as embarrassed by situations where I accidentally break rules. I wanted to redeem myself and help create a positive association with this masterpiece of a building. So this time, we paid for tickets and spent multiple hours exploring the exhibits. Model ships, a history of the Amsterdam navy and Dutch prowess in seafaring and trade, culturally sensitive recognitions that enslaved peoples contributed heavily to the economic growth against their will, an exhibit about whaling, modern art and ocean photography, an exhibit on gay seafarers and their stories, the history of Dutch colonization and the peoples of those cultures, and so much more was inside.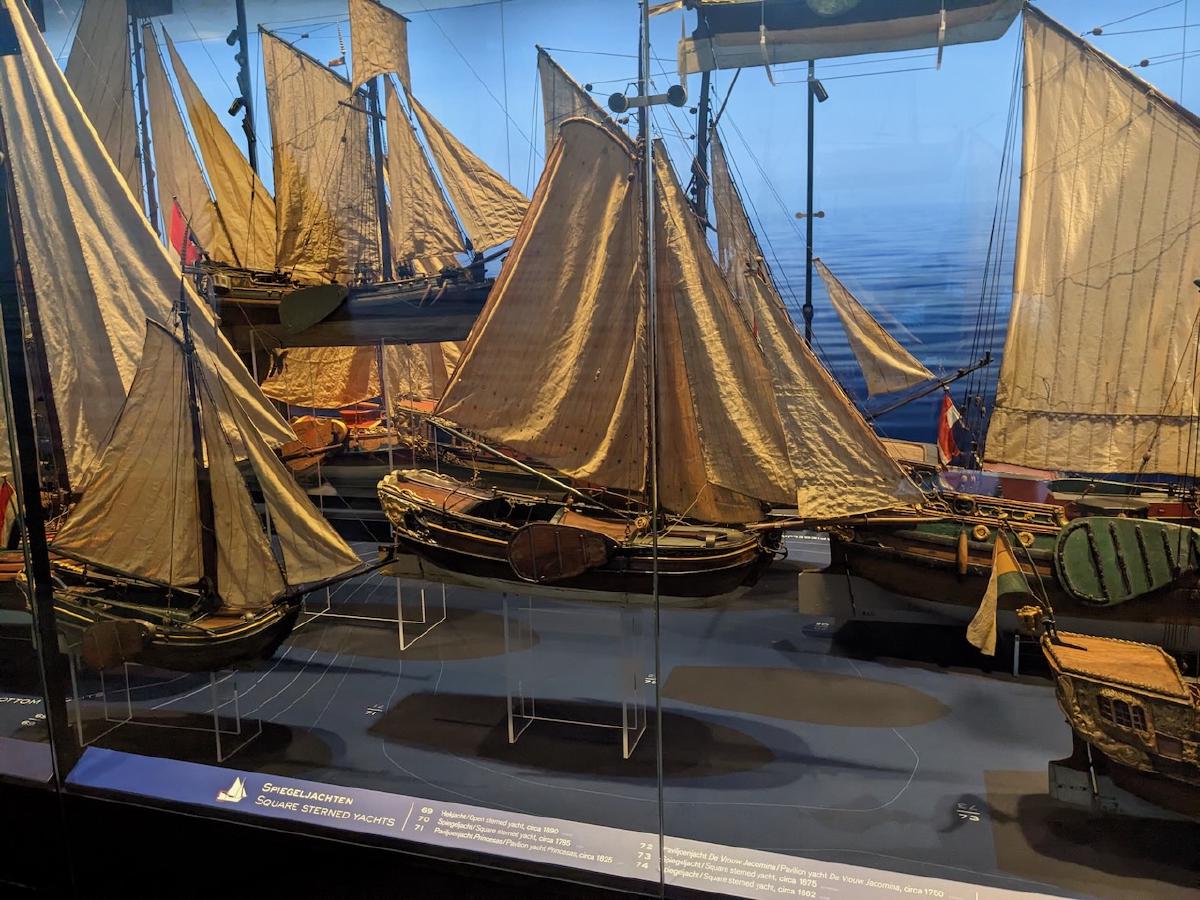 One of the coolest exhibits was about navigation instruments, measurement technology, and cartography. It walked through the history of measuring and navigation technology, such as how distance or speed were measured and calculated, and how the technology developed over the centuries. I finally know how a sextant works now!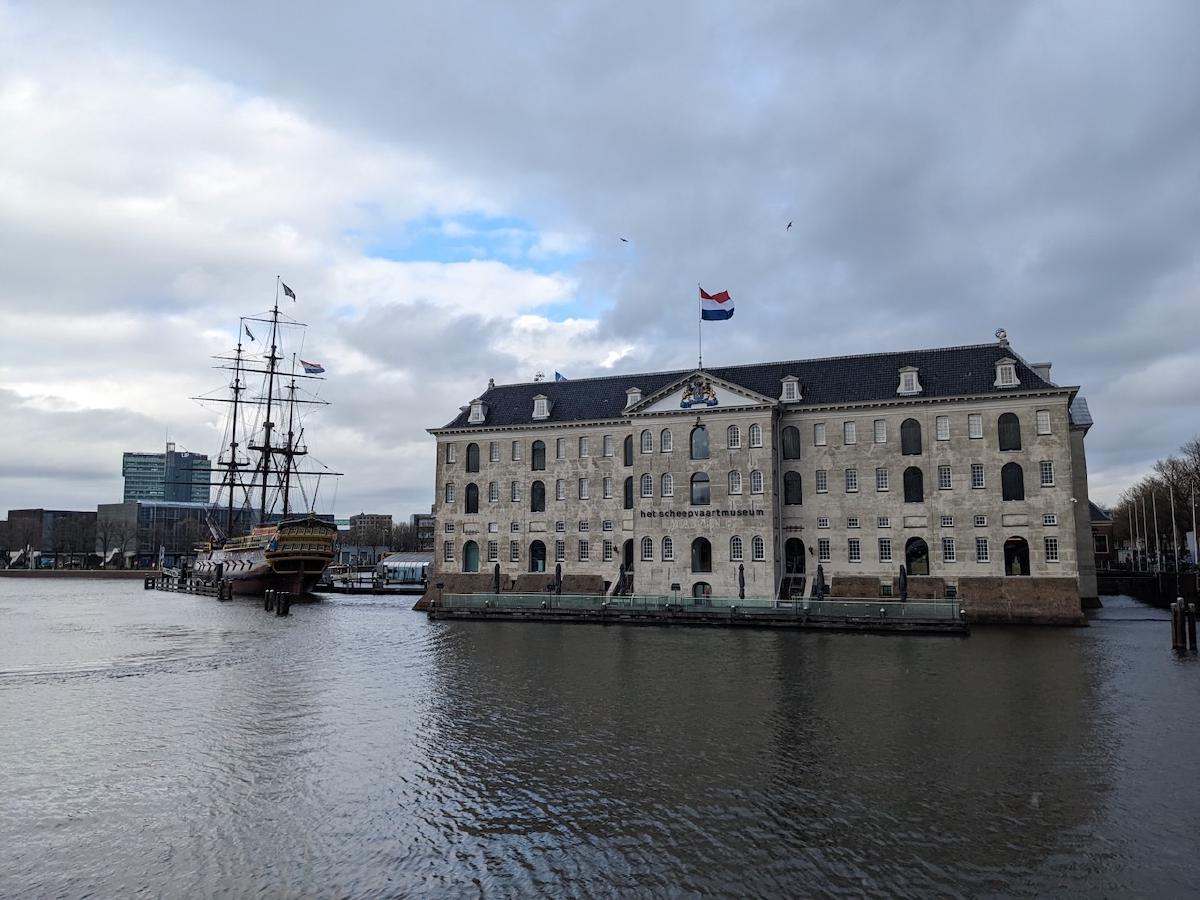 ---
Exploring the Old Town
Amsterdam's old town is filled with narrow nooks and crannies, canals, bridges, and centuries-old architecture - prime exploration territory. One can easily get lost, but then pop out onto one of the major canals and follow it home. I love cities like this where I can maintain a sense of direction and explore without a map. I just see where the city takes me and know I'll be able to find my way back eventually! My favorite part of the trip wasn't any site in particular - it was aimlessly walking around Amsterdam's old town and exploring. Since Amsterdam has been lived in for hundreds of years, it's fascinating to see how it's evolved over time and the juxtaposition between old and new.
Exploring Solo
Sometimes I'd get tired of a museum before the others (I have about a 2-hour limit before I get museum fatigue) and I felt comfortable leaving the museum and finding a nice bench to sketch on while the others finished looking at the art or exhibits. I'm getting more comfortable setting my boundaries and understand that burning myself out in a museum would be detrimental to my overall enjoyment of the trip.
On the final day, I wandered by myself while others were at the Moco (the contemporary art museum). I had seen enough museums that I felt fully inspired by the trip and just wanted to enjoy being alone for a bit. I started by sketching the Bijenhof, a courtyard residence founded in the late 1300s that is bordered by traditional townhouses dating from the 17th century.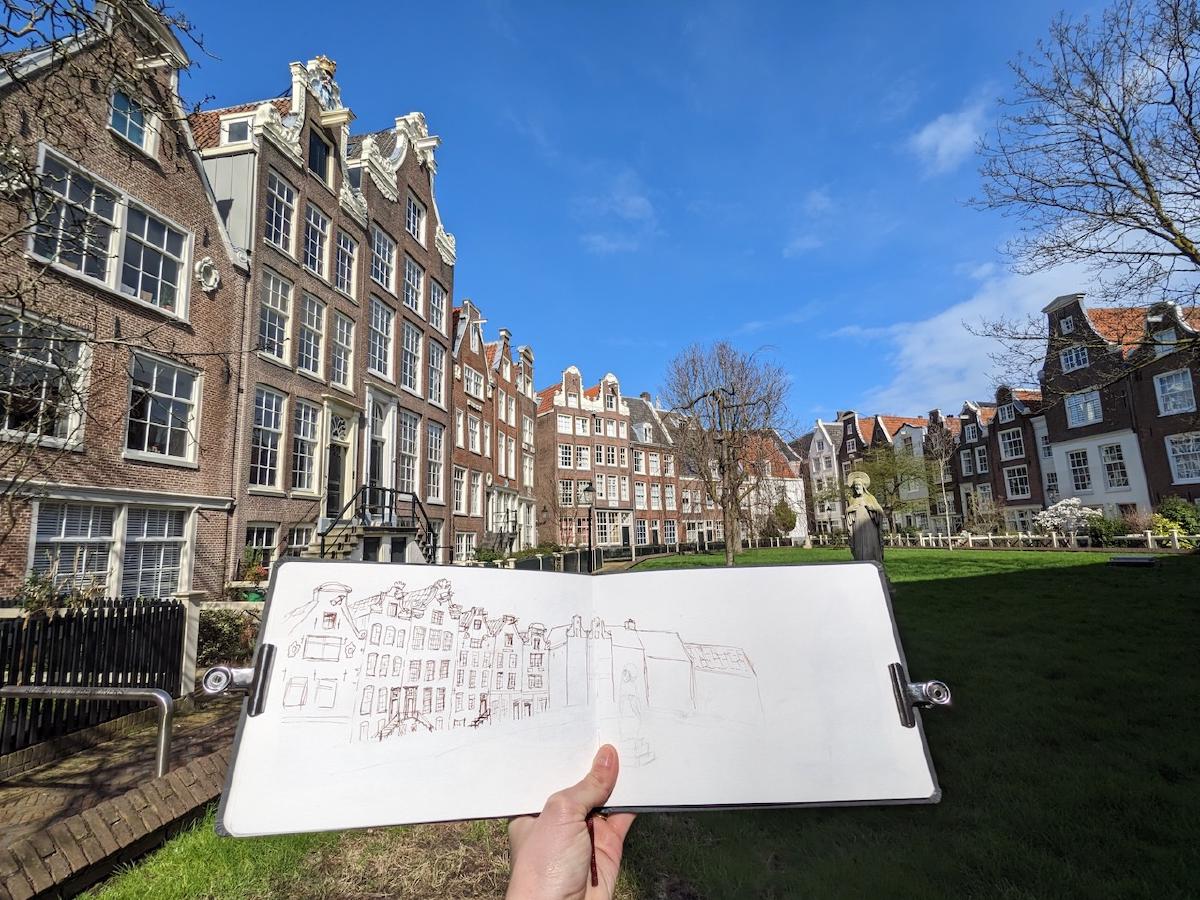 Folks stopped to watch me sketch on my sketching, which was lovely, until it started snowing - yes, snowing - and my hands got so cold I had to retire to nearby Lanskroon for a hot chocolate and ginger cookie. I then sketched the cute red townhouse across the canal.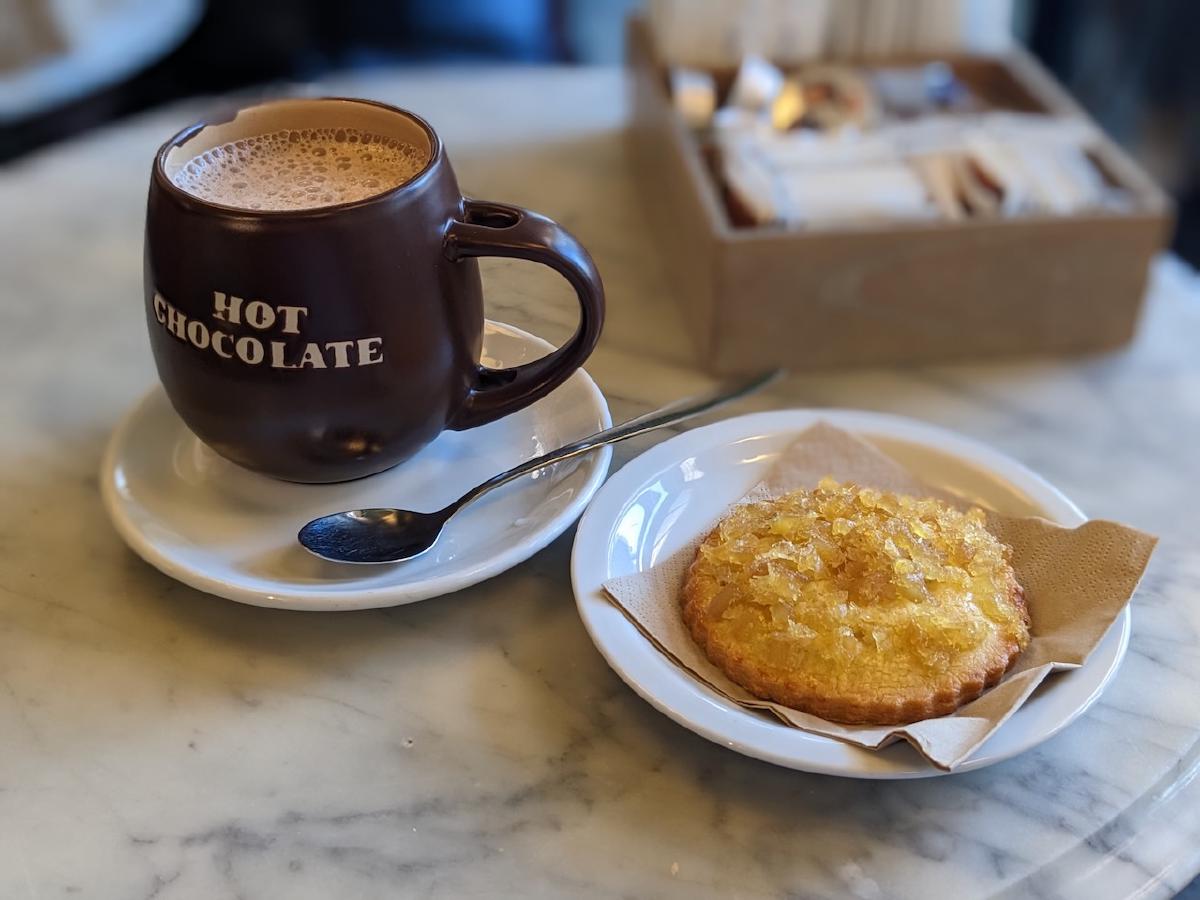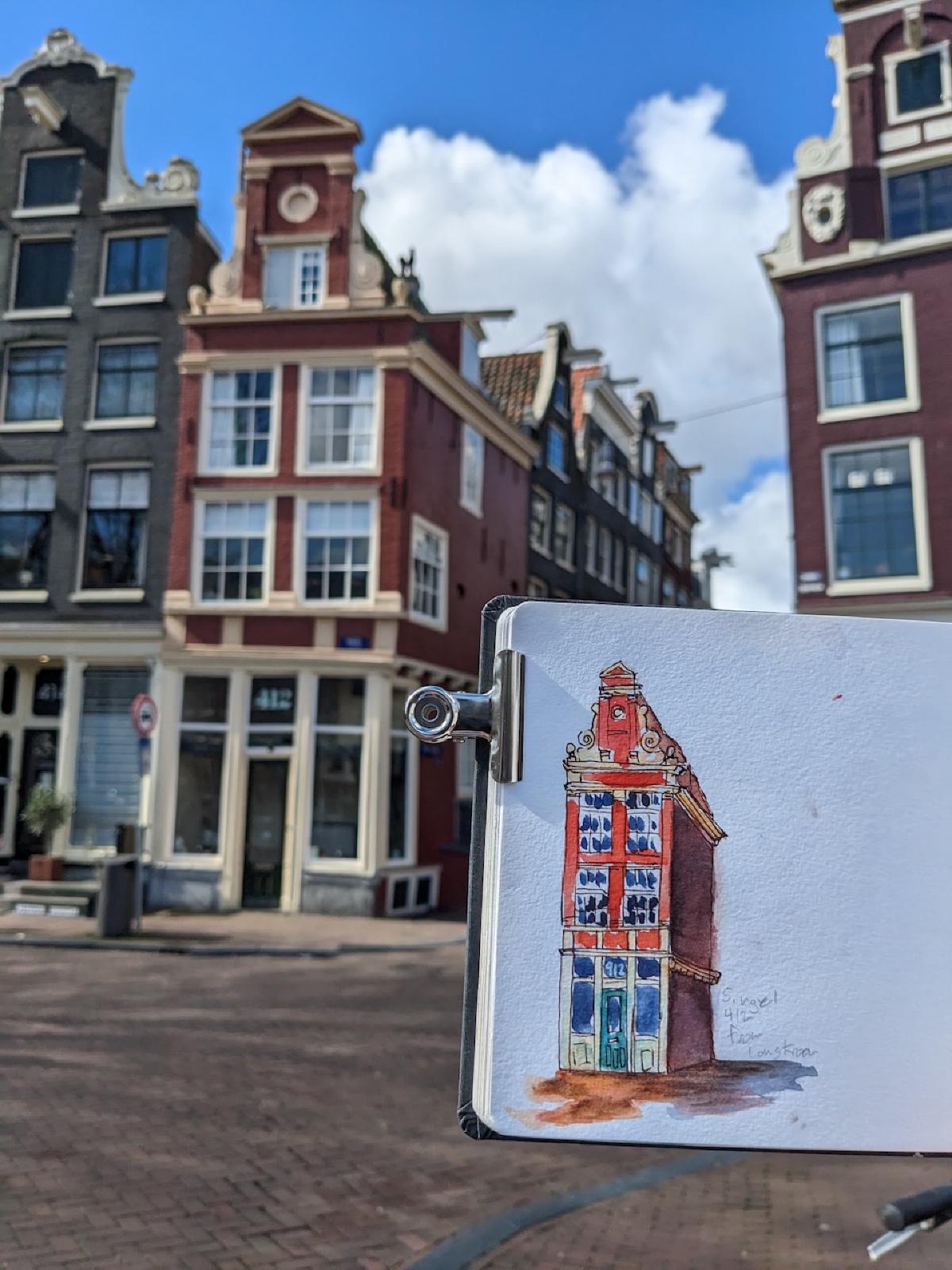 Eventually the sun came back out so I wandered throughout the Singel (the innermost canal of Amsterdam that encircles the old city) and took the most quintessentially Amsterdam picture of the trip - a bicycle in front of a canal.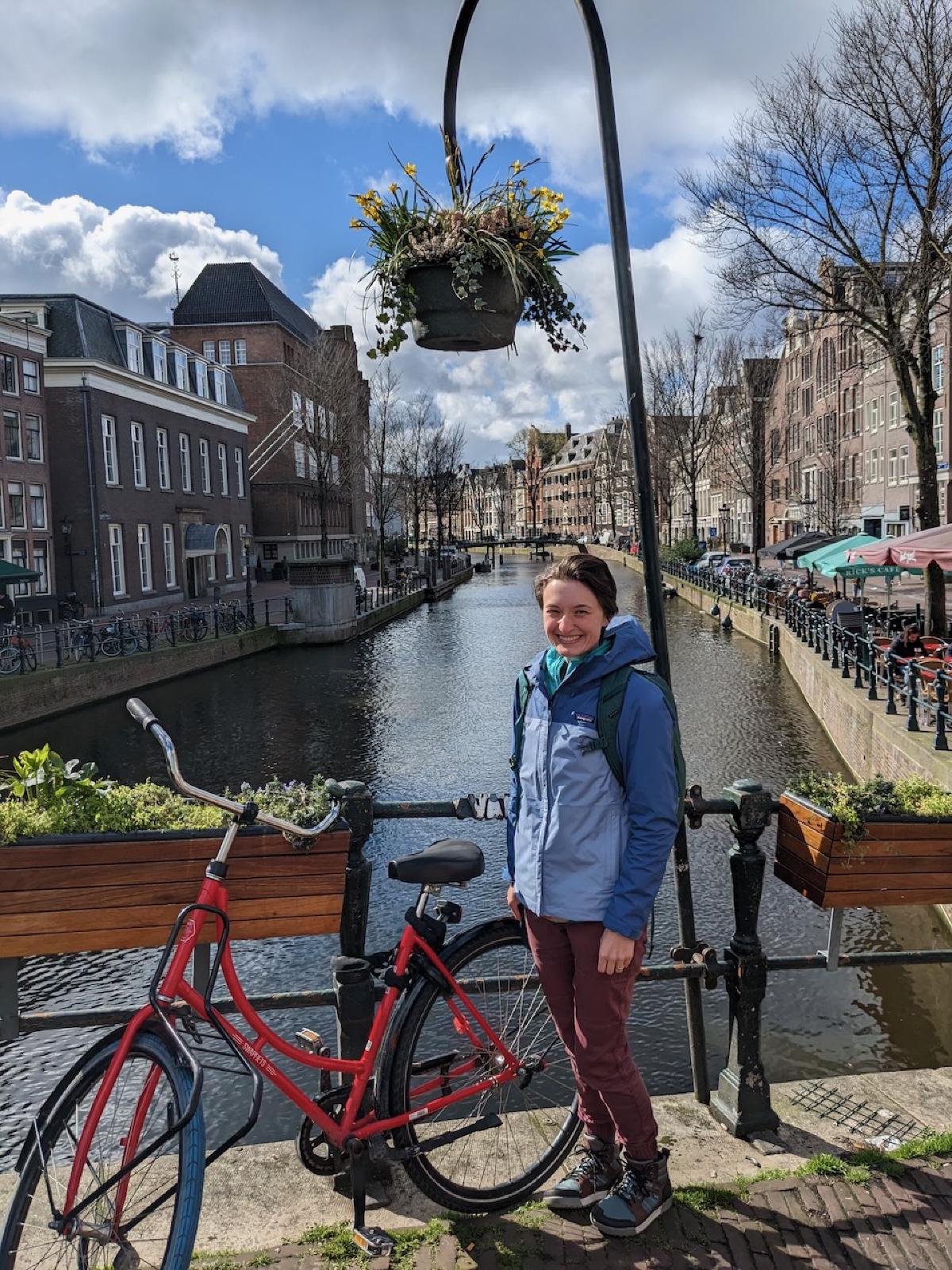 Stroopwafels and Stationery
During our 2015 trip, we had an amazing stroopwafel - a cookie made of caramel sandwiched between two thin waffle-like cookies - at Lanskroon, which is know for its enormous "koningswafel" which is 5 inches in diameter and has a crispier cookie than a standard waffle-style stroopwafel. This time, we made sure to take our family there, and it did not disappoint! I also had a traditional mint tea while sketching the scene and put my stroopwafel on top to melt the caramel inside before consuming. Delicious!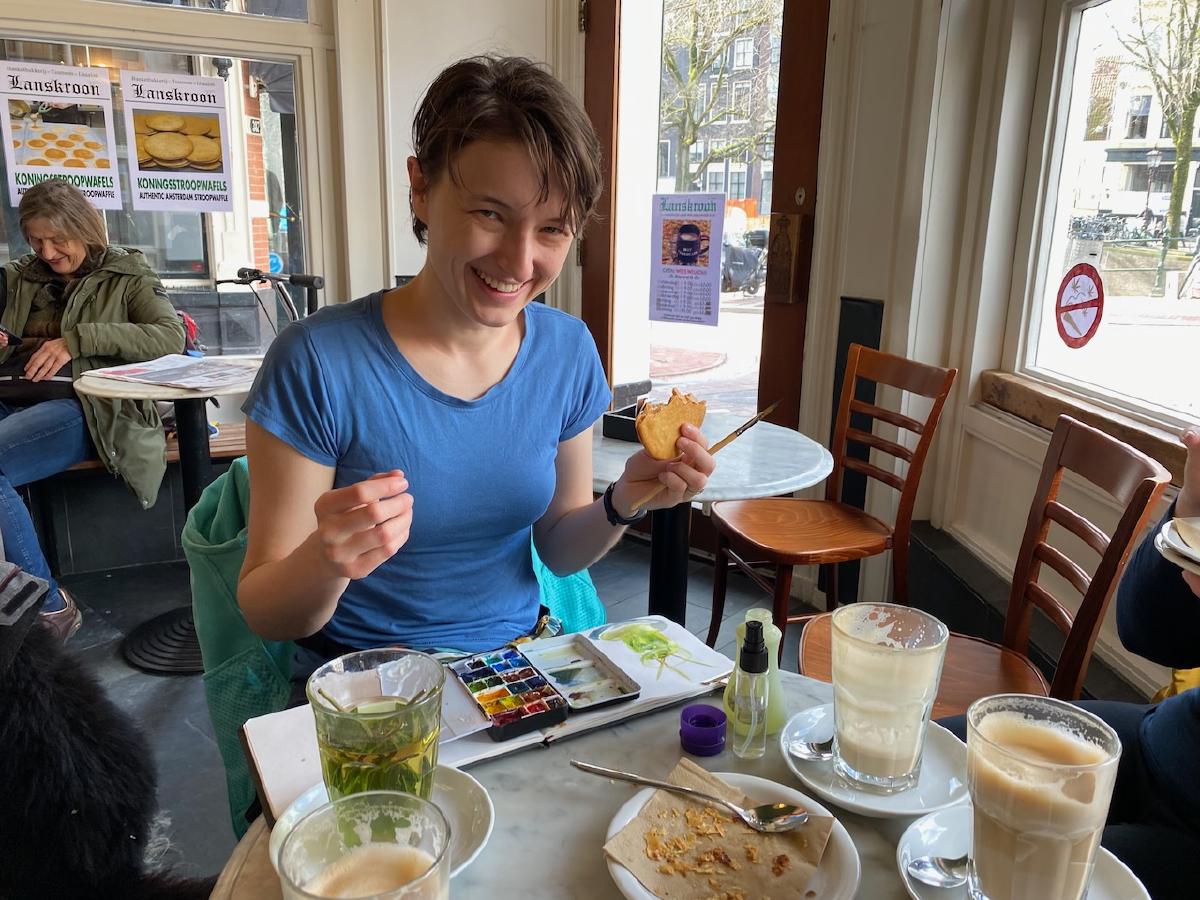 Amsterdam is also home to many bakeries boasting fresh bread, cream puffs, and even more stroopwafels including those freshly made at the Albert Cuyp Market. We indulged often during the trip and enjoyed selecting a different bakery every morning, all of which were an easy walk or tram ride from our lodging in Amsterdam West.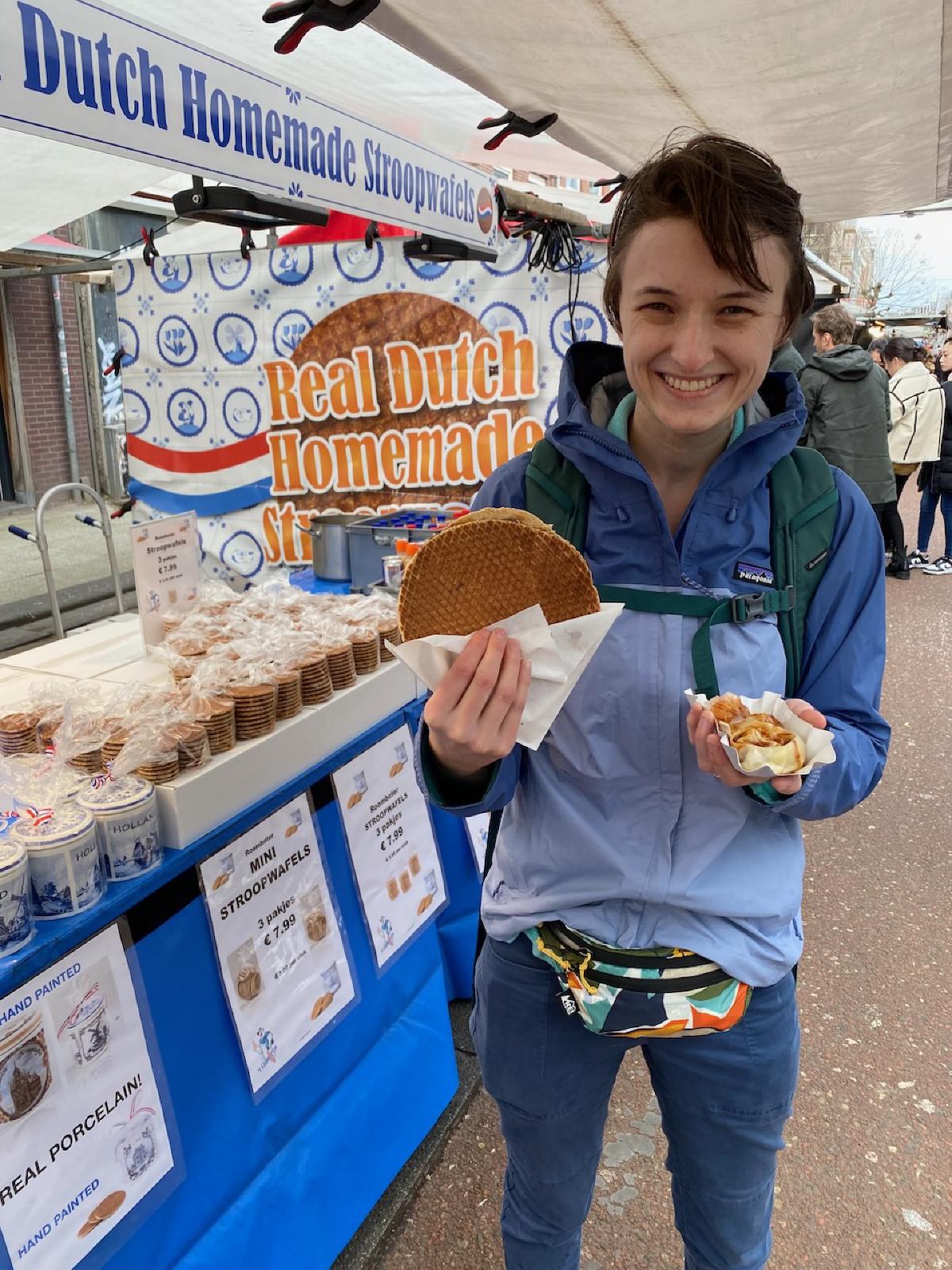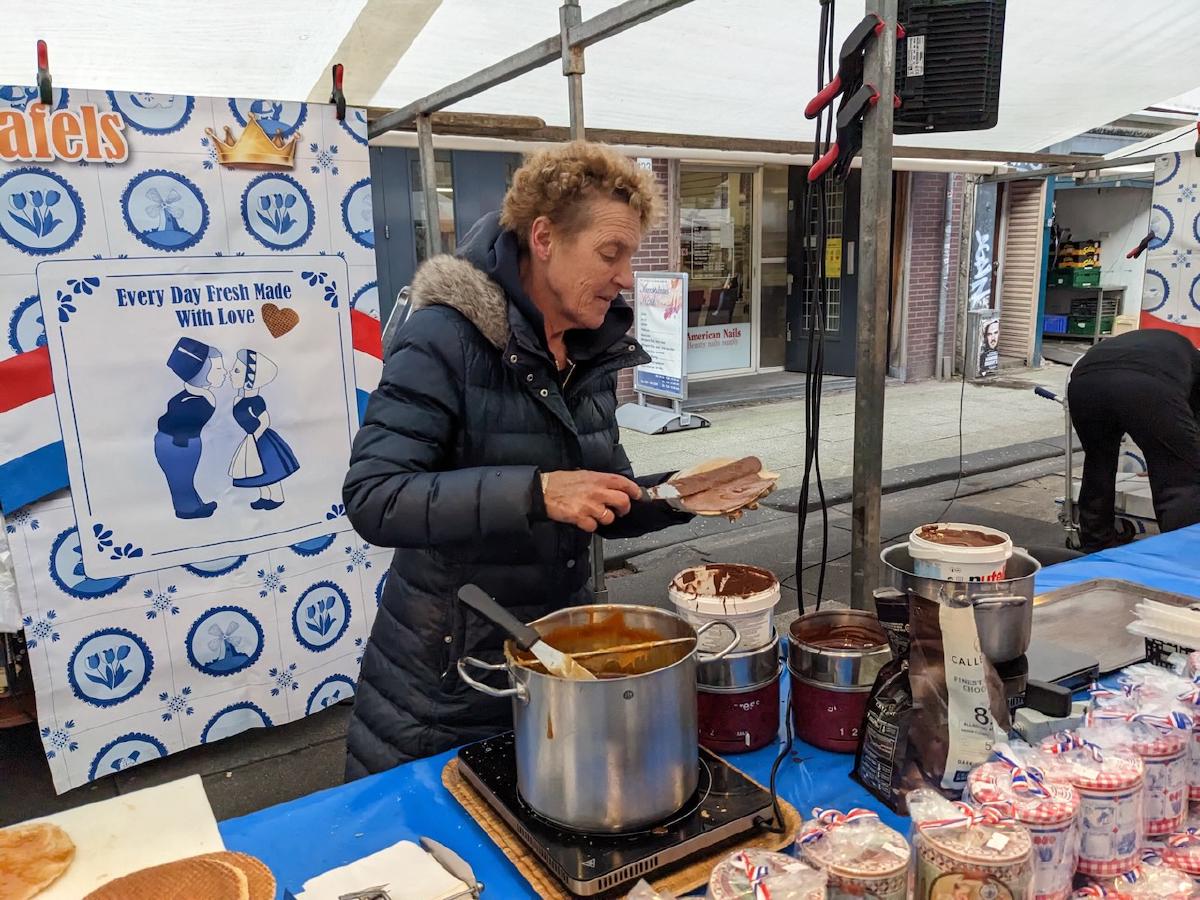 Amsterdam is also home to many art stores to support the artists and students living in the city. I visited multiple amazing and historic stores, including Van Beek for art supplies, Akkerman for Fountain Pens, and Vlieger for an incredible selection of papers.
---
Day Trip to The Hague
The Hague is a smaller city just an hour outside of Amsterdam by train that is home to the Peace Palace, which hosts the International Court of Justice. However, I was much more interested in two other highlights of The Hague - Madurodam, and the M.C. Escher Museum.
Madurodam
Anyone who knows me well knows how much I like miniatures, and a good friend of mine from my dollhouse days suggested a visit to Madurodam. Madurodam is a theme park with miniature models of landmarks all over Holland. We didn't really know what to expect going in, but were absolutely blown away by how detailed the models were, including moving boats, cars, trains, and even a taxiing plane on the runway at Schipol Airport. I really felt like Alice exploring Wonderland, except I was surrounded by tulips instead of roses. We also learned about history and industry in the Netherlands through the various interactive elements of the exhibit, such as how to load cargo onto a barge or how dams and windmills work. And if you ever get the chance to visit, do yourself a favor and go on the Flying Dutchman airplane simulator ride. I don't want to spoil it, but it was honestly an unexpected highlight of the trip and a great overview of Dutch industry!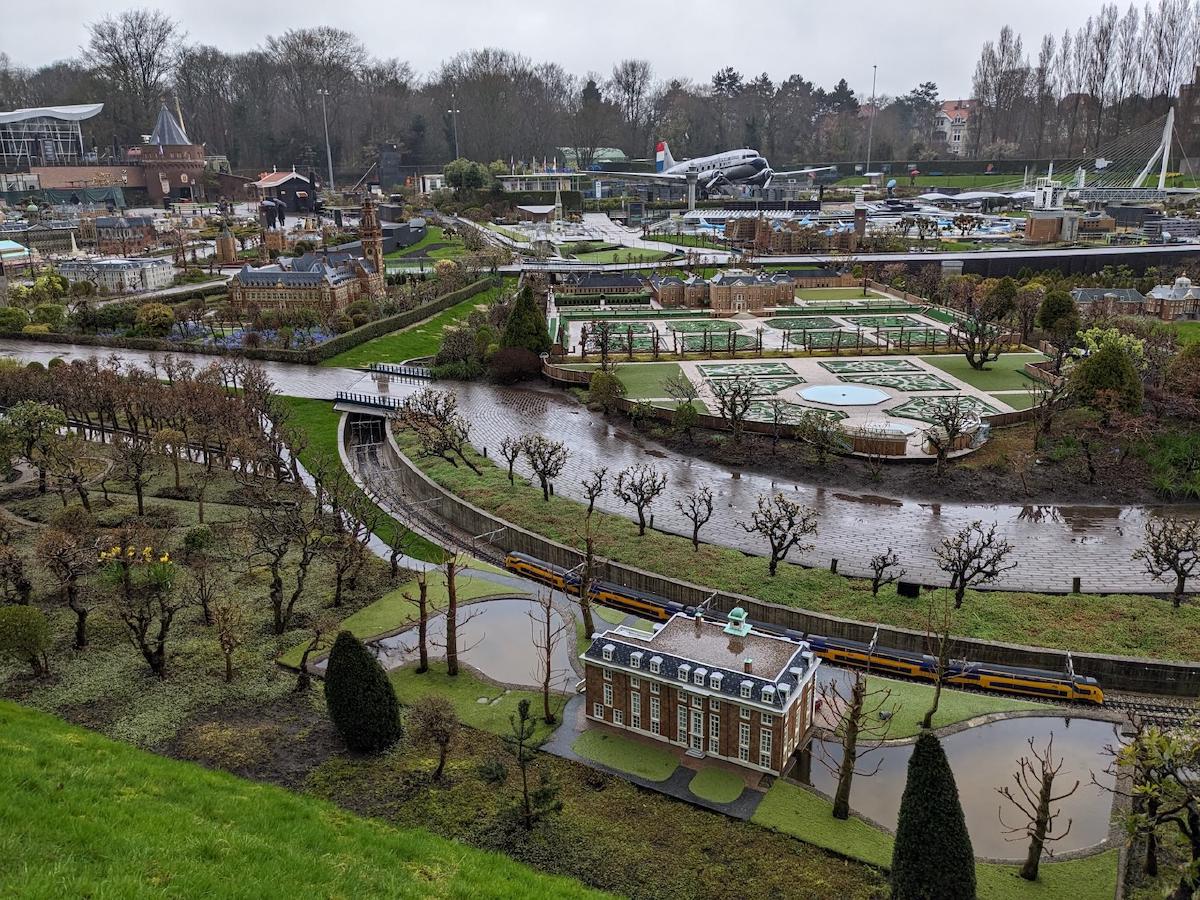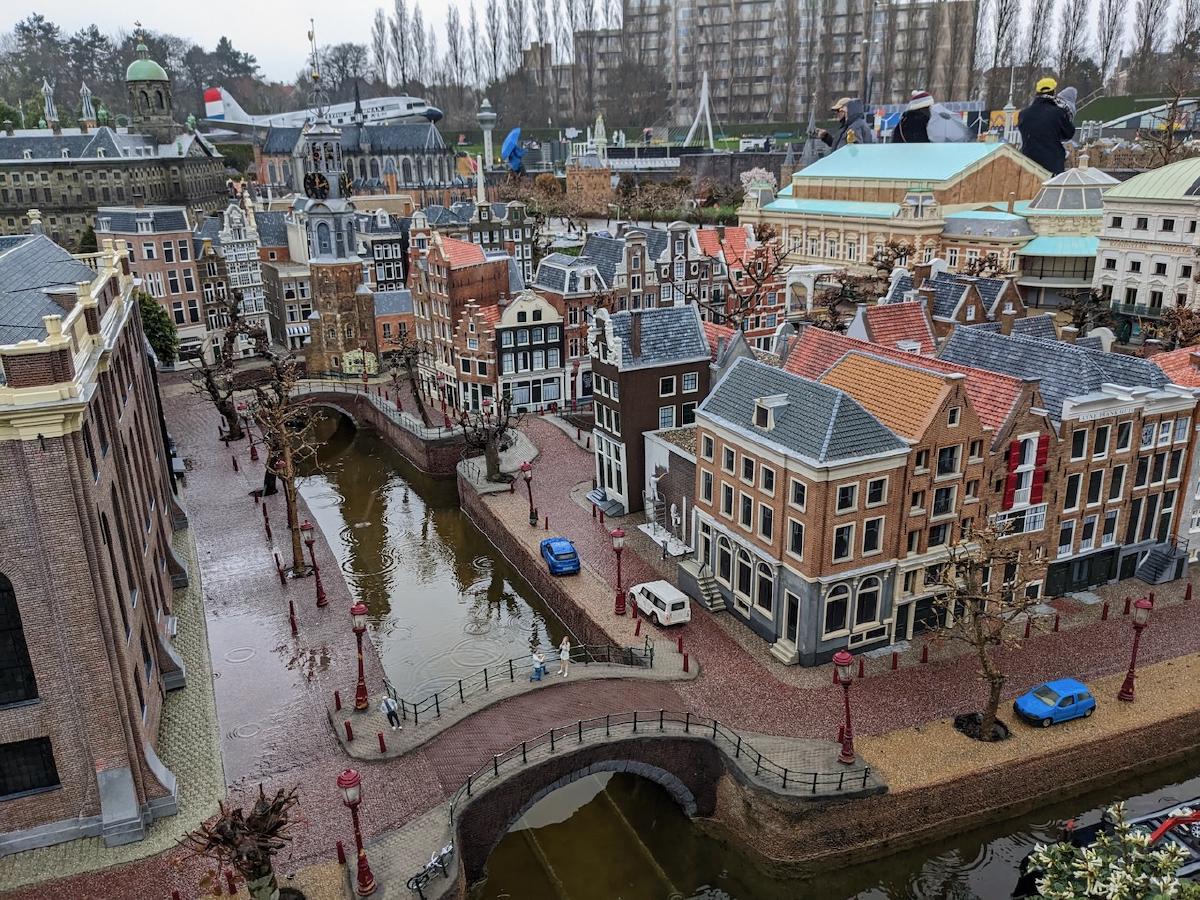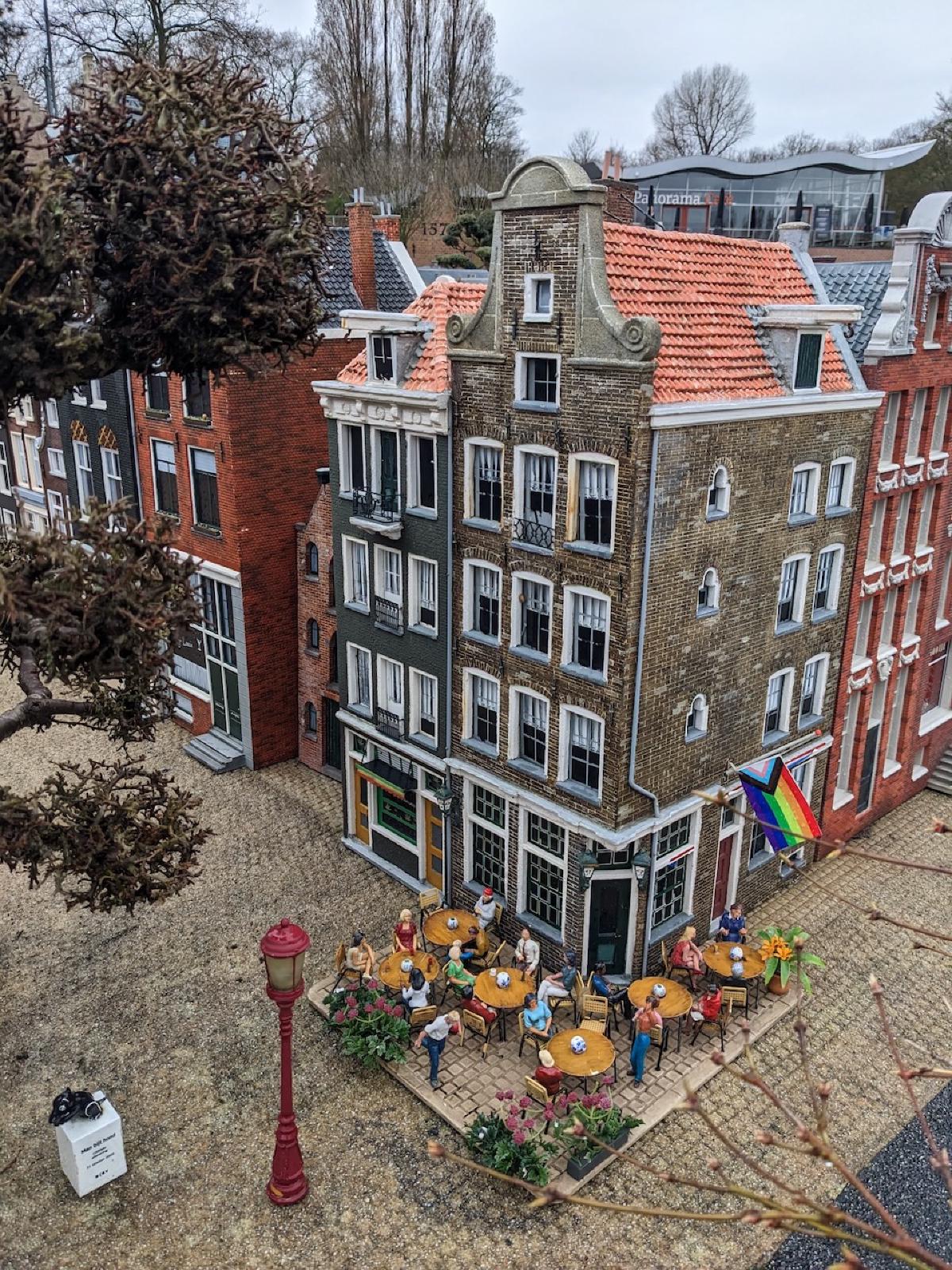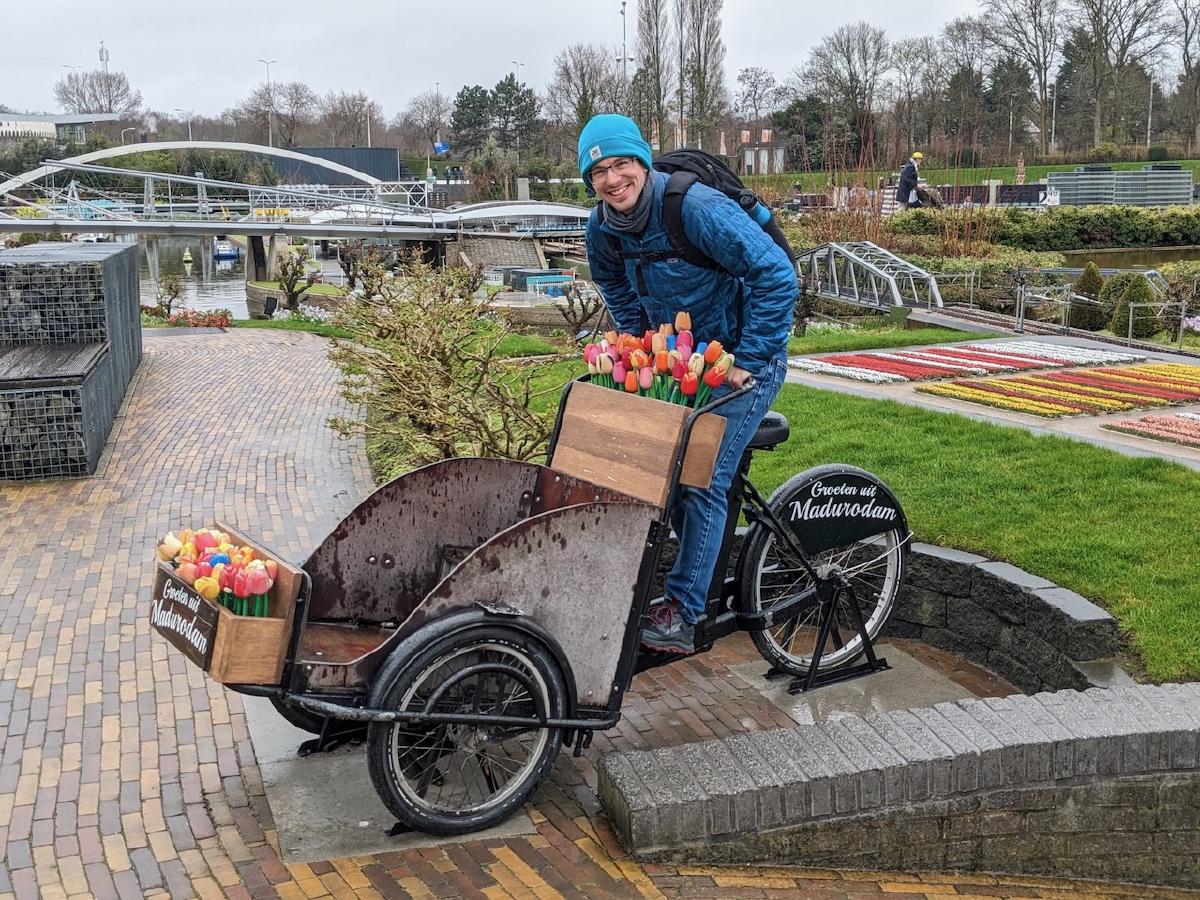 M.C. Escher Museum
I've always been fascinated by M.C. Escher but had no idea that he was from the Netherlands, let alone that there was an entire museum dedicated to his work. While we saw incredible art at the Rijksmuseum and Van Gogh museums, the art of Escher captivated me the most. He's known for woodcuts and lithographs that used geometry and perspective to create optical illusions. It was fascinating to follow his career's evolution from more standard nature and landscape depictions to the layered and evolving patterns he's best known for. I love his use of bold color, black and white, and composition, especially since he had to think in reverse as the carved areas of a woodcut become the white space. It bends my brain to think about, and I'd love to try it sometime! Maybe this winter when Minneapolis is below freezing for three entire months.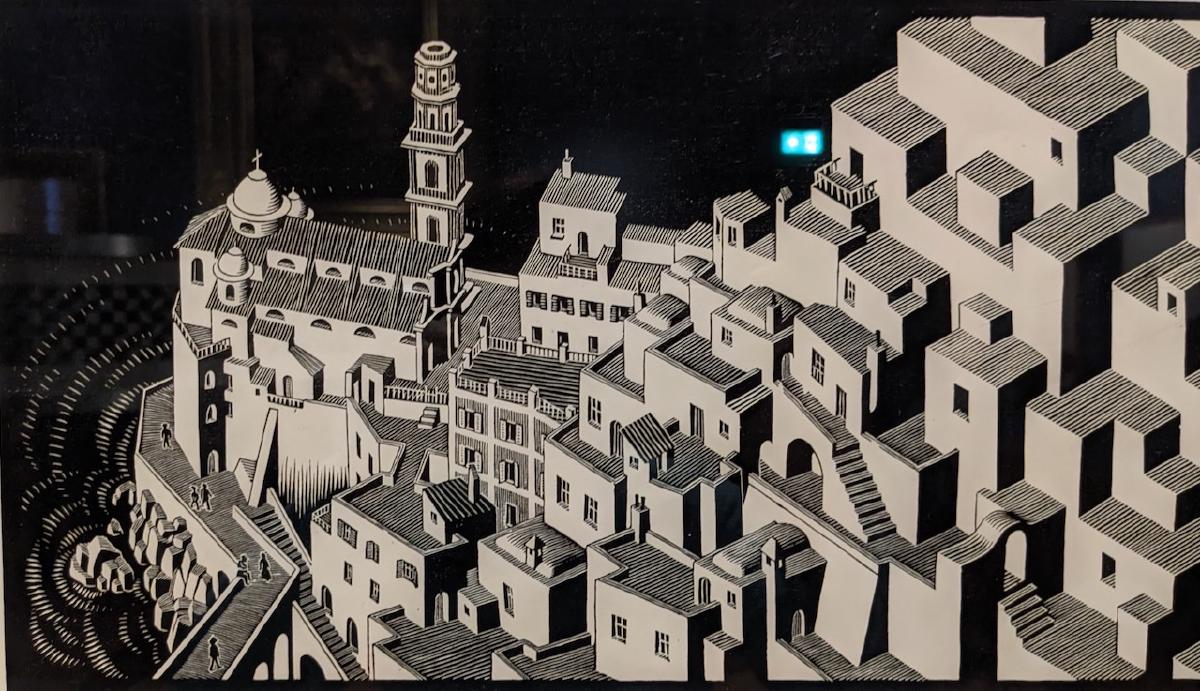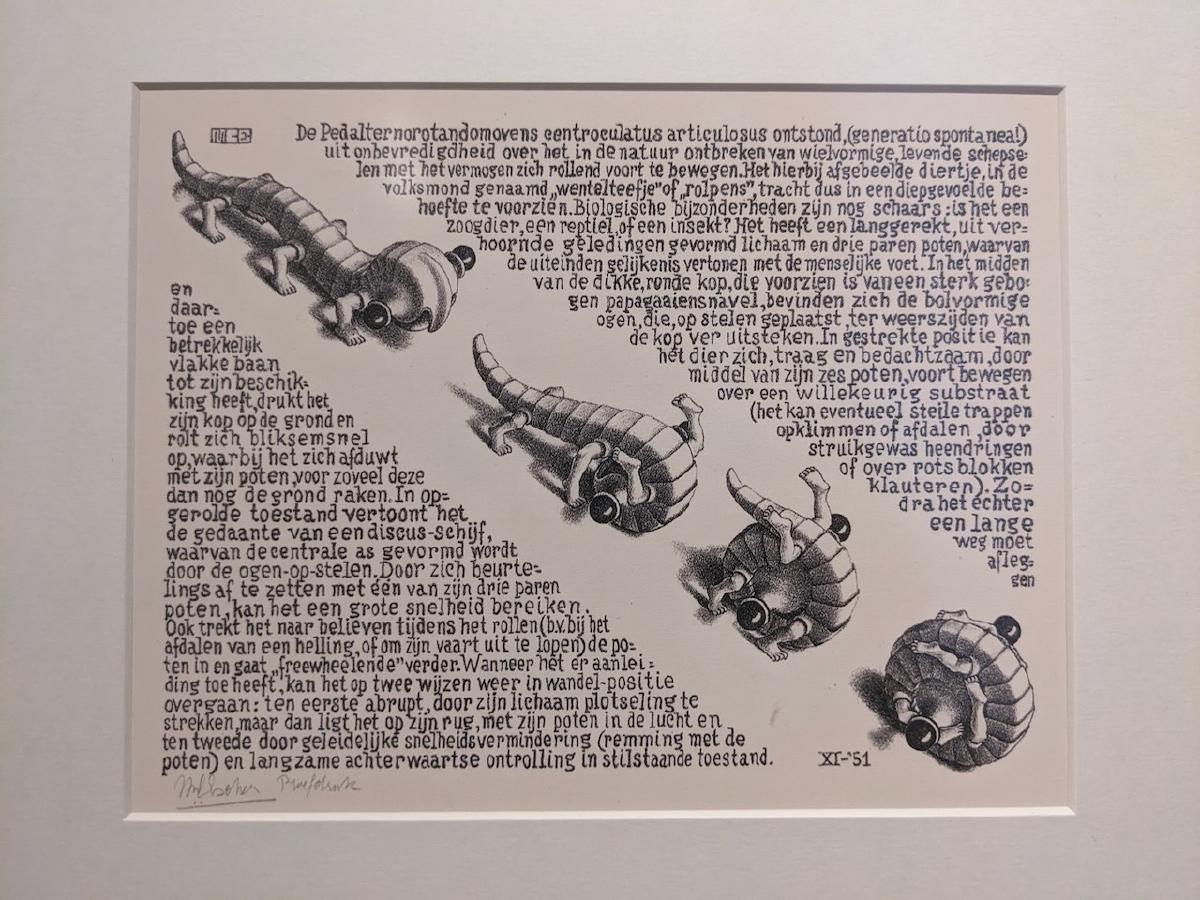 ---
Bistro Amsterdam
The most special evening of the entire trip was dinner at Bistro Amsterdam, a traditional Dutch restaurant tucked below ground level off of a canal. Immediately upon walking in, we were greeted by a cozy and warm environment filled with joyful people. The hostess seated us (we had made a reservation via email in advance) and as we settled in, people at other tables sang along to Dutch pop songs that were playing on the TV. We indulged in stewed beef, mashed potatoes, beet salad, pickled vegetables and cabbage dishes. Everything was delicious, but the atmosphere was what set this experience over the top. We really felt like family at the local neighborhood hangout, and my mother-in-law even got a standing ovation for dancing to the music!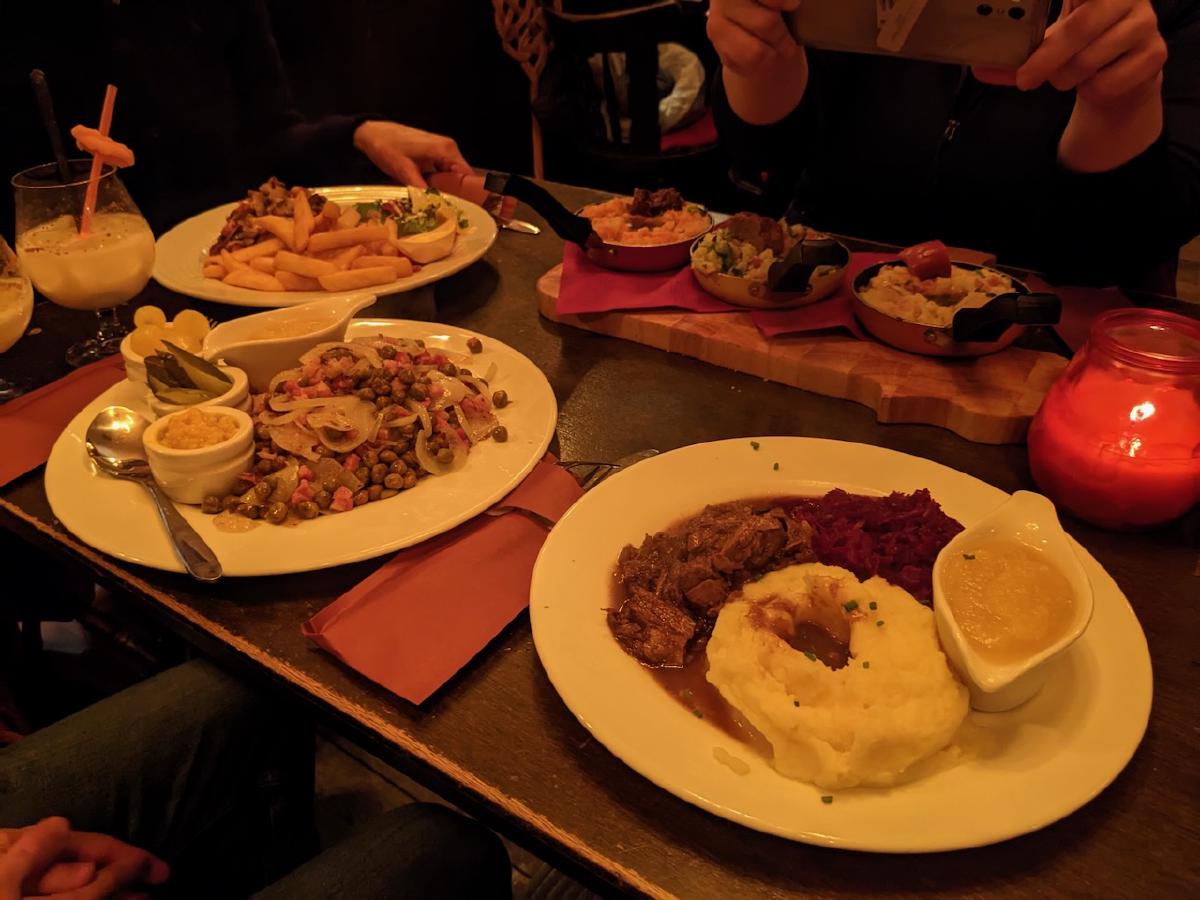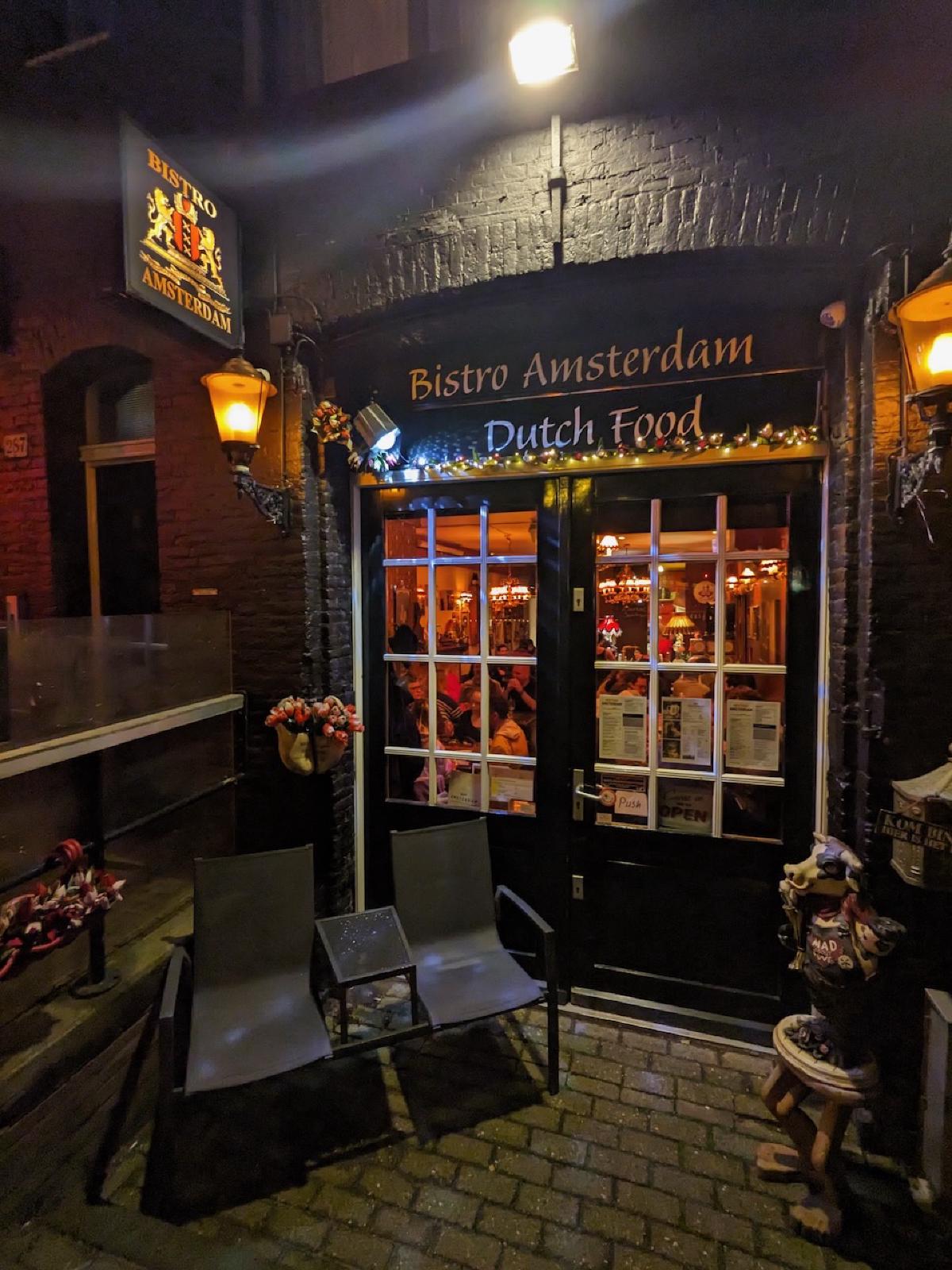 ---
Additional Must-See Museums
No trip to Amsterdam is complete without trips to the Rijksmuseum, Van Gogh Museum, and Anne Frank House. All three of these museums had comprehensive audio tours that added context and depth to the exhibits.
The Rijksmuseum is filled with art from all eras, but heavily features the Dutch Masters like Rembrandt's massive The Night Watch. My favorite pieces in the museum were the porcelain animals and model ships, but the building itself is a work of art.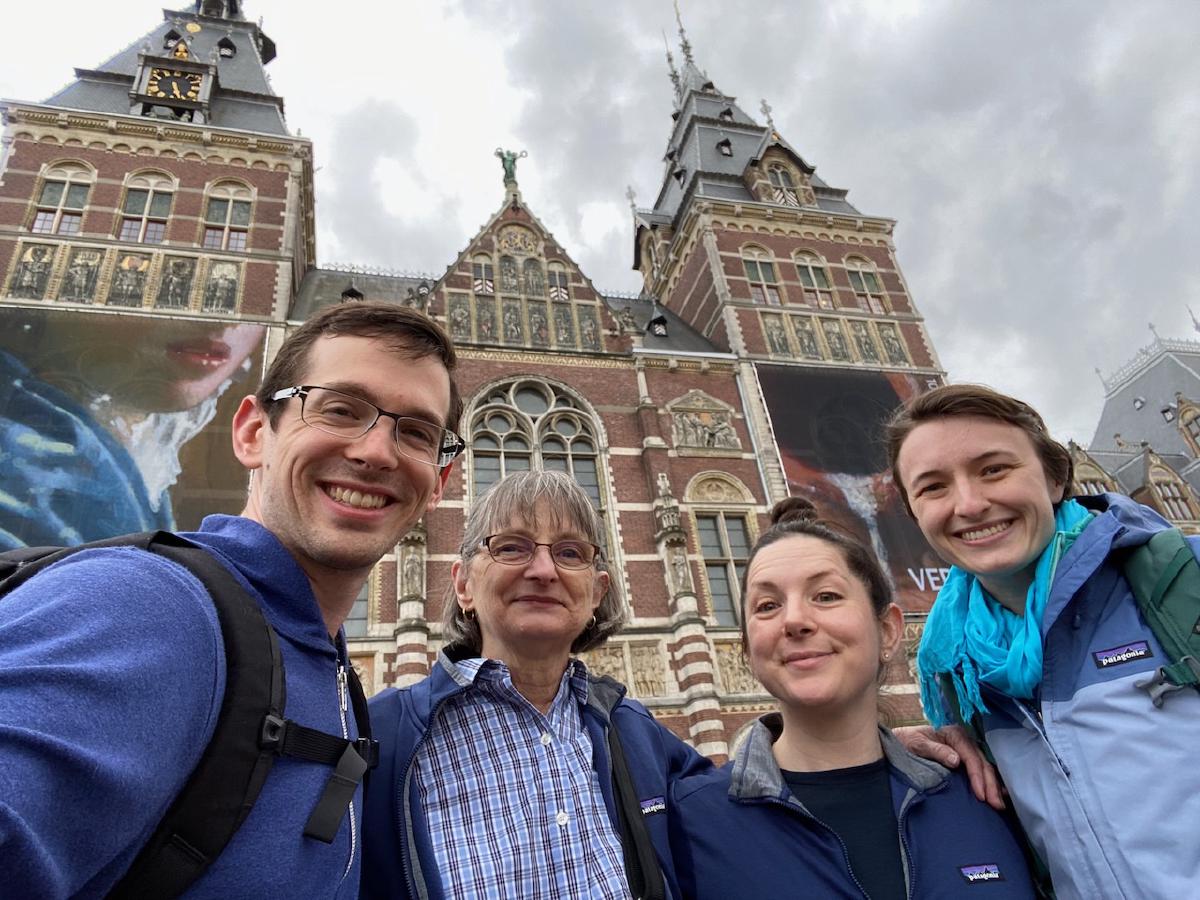 The Van Gogh Museum follows the story of tormented impressionist painter Vincent van Gogh. As I have picked up watercolor painting since last visiting in 2015, I had a new appreciation for his style and paid much more attention to the brush strokes and use of color. My favorite piece is The Pink Peach Tree which captures a blossoming tree with vibrant turquoise color highlights in the trunk and deep shadows on the ground. I was fascinated by the way he outlines tree trunks and branches and uses color and gesture to capture the mood of a place rather than an accurate visual representation. After returning home, I did my own version of The Pink Peach Tree and enjoyed using mixed media to create texture and depth.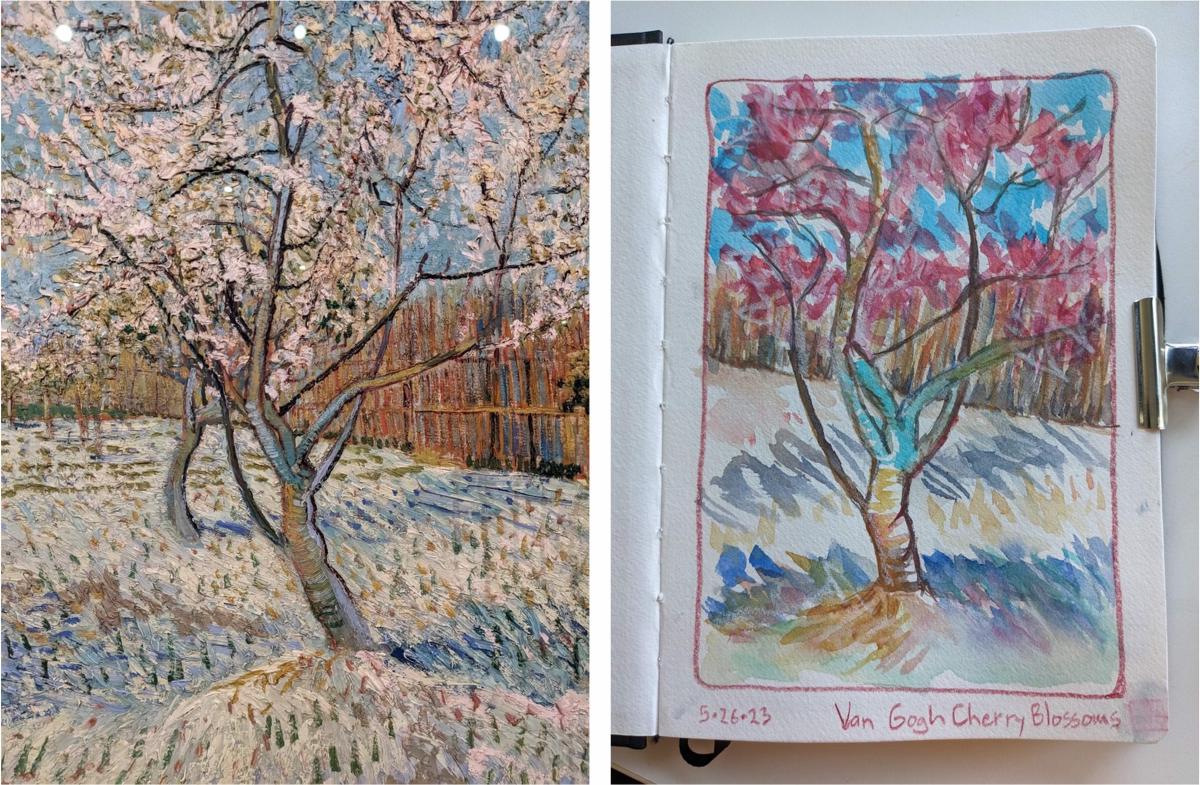 We visited the Anne Frank House, which lets you walk behind the bookshelf door and into the cramped quarters where Anne and seven others hid from the Nazis for over two years. It is a sobering experience and continually encourages one to confront true atrocities and think about how things are different now, but also there is still so much pain and conflict in the world. What struck me most was the quality of Anne's words - she was a girl living during a horrible time and in constant fear, but spoke of regular teenage life along with incredibly perceptive and wise thoughts about the reality of the situation and those living with her. She wanted to be a writer and was in the process of revising her diary for publication when they were arrested by the Gestapo in 1944. She was a teenager with hopes and dreams, just like all of us at one point, and seeing her normal thoughts written in such a timeless way was heartbreaking. I have no pictures as they were not allowed, nor did they need to be taken - the experience spoke for itself.
---
Amsterdam Centraal Bike Parking Garage and Public Transit
I'd seen a video from Not Just Bikes highlighting the brand new bike parking garage at Amsterdam Centraal and knew that we had to visit. The garage is hidden below the harbor in front of the main train station and has a bicycle escalator to bring you down to the lower level. With a capacity of 7,000 bicycles, a fix-it shop, a modern and well-lit interior, and artwork nodding to Amsterdam's maritime history, the garage is the pinnacle of bike infrastructure. It allows folks to easily connect to trains or public transportation and is free to use for the first 24 hours, which is great for daily commuters. One could even park a bike there, then take the train to the airport!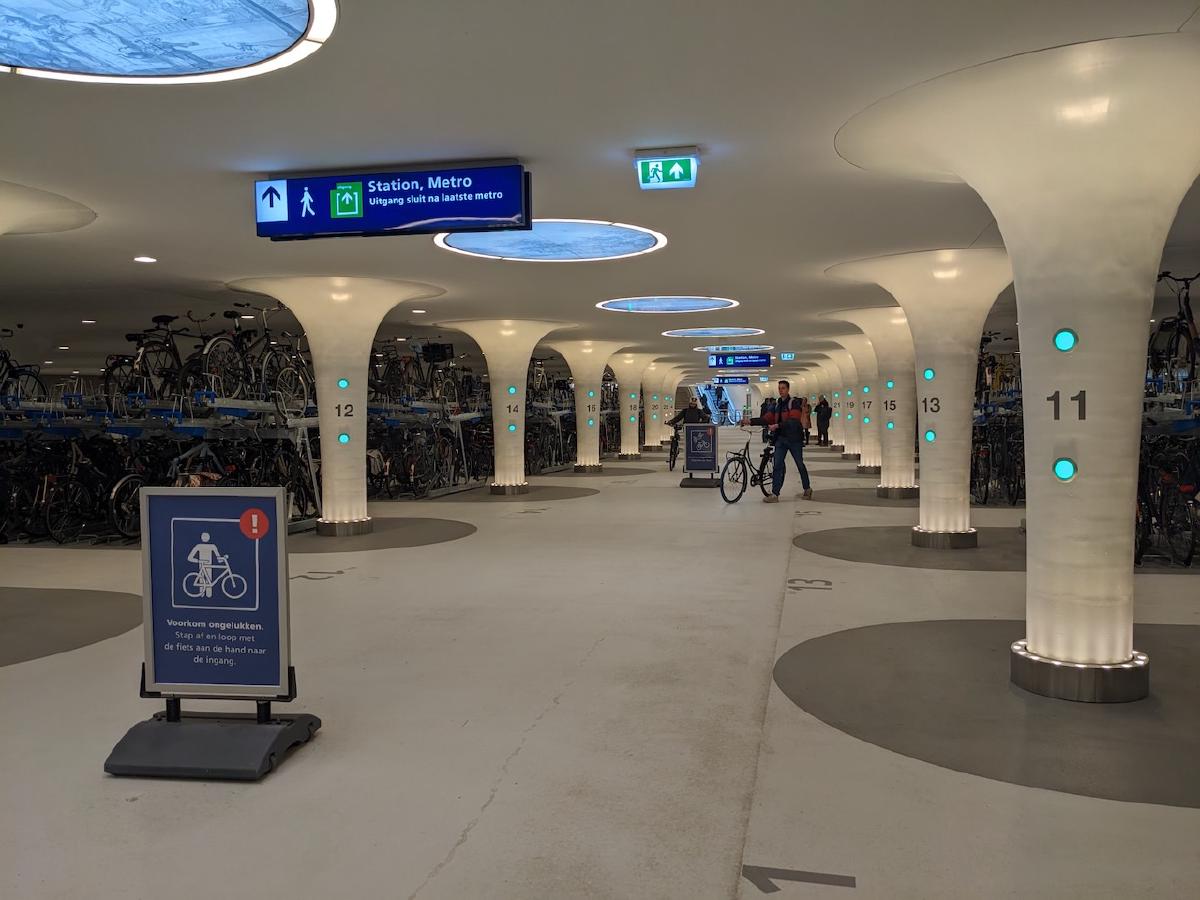 During our time in Amsterdam, we relied entirely upon public transportation and walking to get around the city. We got a daily family pass for the trams which gave unlimited rides for up to five people for 17 euros per day. The trams run very frequently and have a comprehensive network around the city, getting us within a block or two of our destinations. It was so convenient to be able to know that if we missed a tram, another was not far behind. We didn't even have to look at schedules as long as we knew which line we needed to use.
Of course, the bike infrastructure in Amsterdam is unparalleled, with dedicated bike pathways and limited personal vehicle usage and speeds (by design) making it safe for anyone to ride, mostly without helmets. It turns out that when there aren't cars driving at high speeds and fewer points of conflict, riding a bicycle becomes much safer. When used for short daily commutes and errands, bicycling is so pleasant and convenient compared to the headache of getting in a car, driving, parking, and repeating the dance in the reverse direction. We saw plenty of cargo bikes and e-bikes as well, especially Urban Arrows, which often had multiple children in the bucket section of the bike enclosed by a transparent waterproof cover. Kids could see out and enjoy the world around them without worrying about inclement weather. Even the nicest e-bike is far less expensive than a car, especially when accounting for parking costs and gas prices in Europe.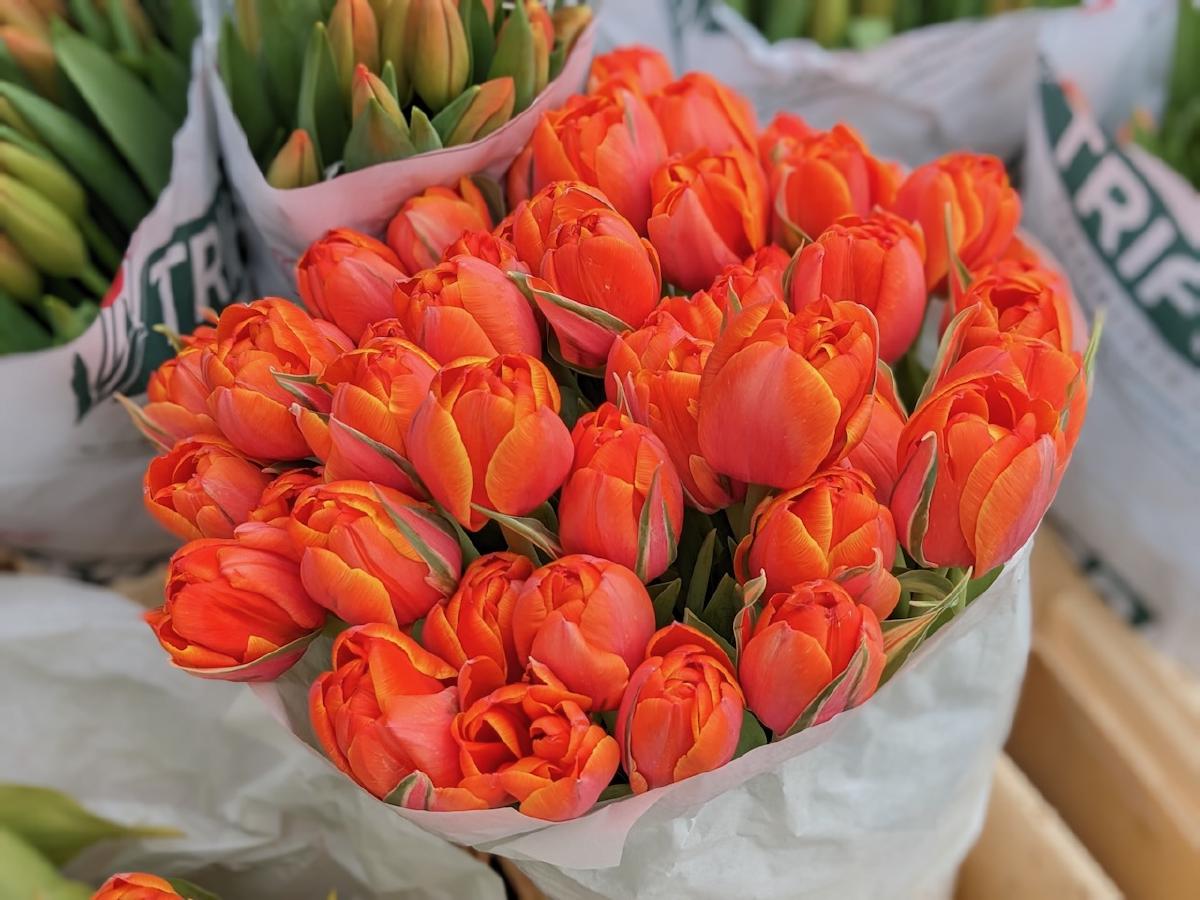 Navigating Amsterdam, a large metropolitan area, felt like being in a small town. You could walk, take transit, or bike everywhere, and ran into locals or could pop down to the nearby grocery store or bakery easily. And for those who say "Well it's Europe, those cities were built before cars," please read this article to learn more about the Netherlands' history of car dependency in the 1950s and 60s and how they realized that this was unsustainable and intentionally changed the city to be safer and friendlier for cycling. It's possible to make change if we all push for it, but it takes hard work and determination.
---
Staying Spontaneous and Amsterdam Conclusions
Compared to my first visit back in 2015, where Glenn and I stayed for 3 days out of a 3-week-long trip around Europe and had very little money, this was a totally different trip. Having more time in a location and less structure makes for a better trip. I wasn't stressed about seeing all the highlights and just enjoyed exploring a wonderful city. It's amazing to see how our style of travel has changed - the focus on unplanning-it has really worked!
We were also willing to spend more money here since it was the only destination, and we didn't have two more weeks of travel. The only pre-planning we did this time was booking tickets for the Van Gogh museum, Rijksmuseum, and Anne Frank House in advance of the trip, and keeping an eye on what days our must-see destinations were open and what times stores typically closed (it's 5pm).
We stayed at an Airbnb in Amsterdam West, just outside of the 3 main canal rings. It was easy to walk or take a tram to anyplace in the city. The only catch was the 5 flights of winding stairs to get to the apartment at the top of the traditional home - very few places have elevators here!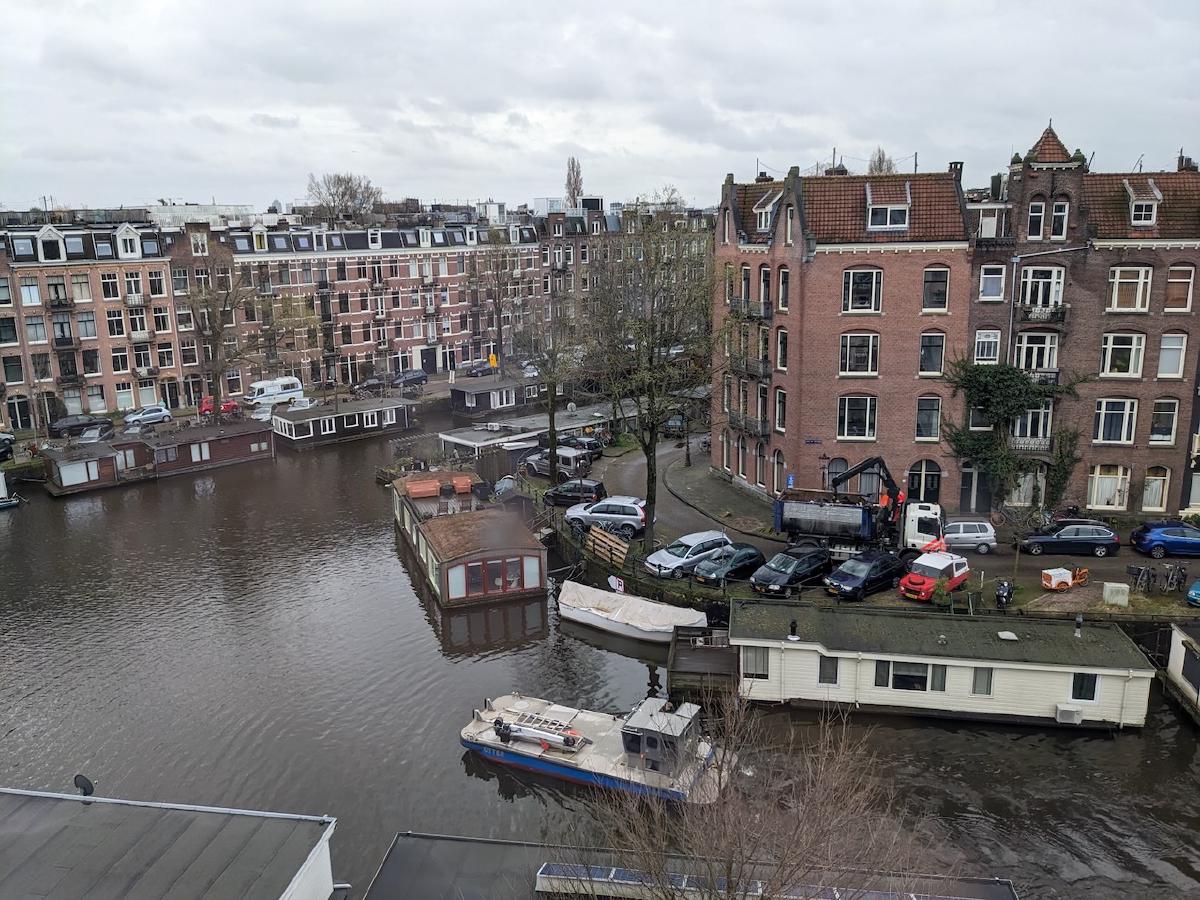 Late March is a great time to visit - the leaves are just coming out on the trees, the temperature is tolerable (50s and 60s), and while it might rain every day it is only for short periods of time. Most importantly, it's not nearly as crowded!
If you have the chance to visit Amsterdam, make sure to truly experience the city via foot and public transit. Let yourself wander and get lost, and enjoy exploring this fascinating historic place with a contrast of old architecture and modern infrastructure. And most importantly, don't forget to try a stroopwafel!