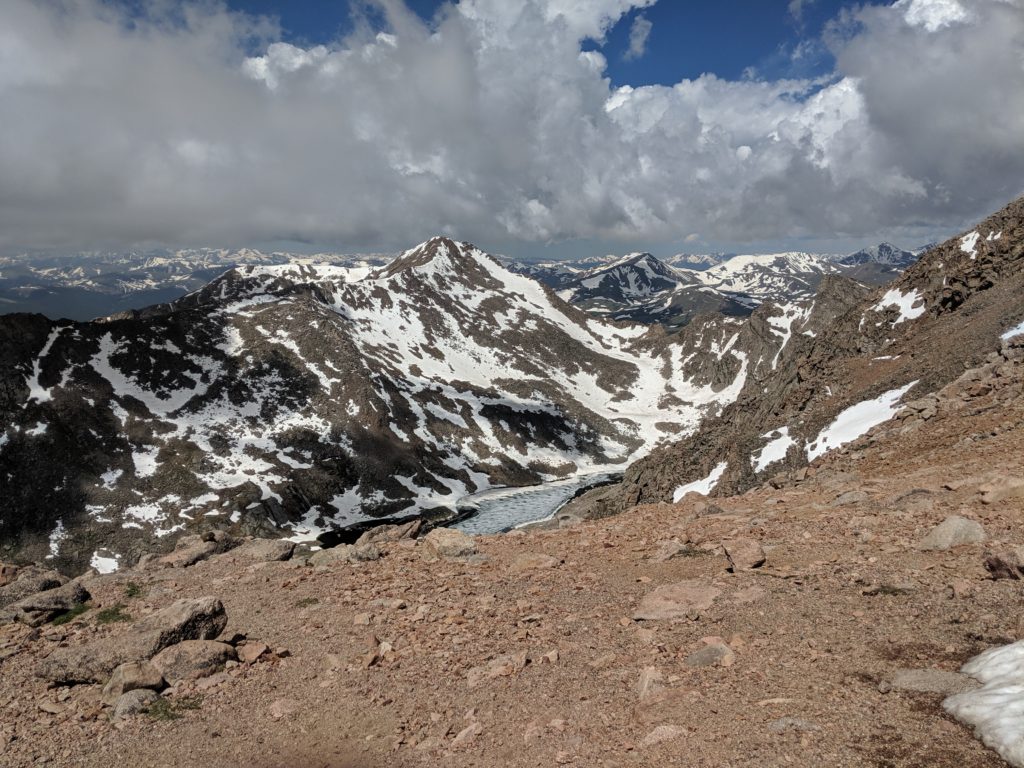 With Austin's summer fast approaching, my husband, our friend Casey and I set out to Denver for the Fourth of July weekend to escape the sweltering heat and enjoy some scenic vistas. We flew into Denver on Wednesday night, rented a car to drive the hour to Boulder, and checked into our Airbnb walking distance from Pearl Street, the main shopping area in Boulder.
Thursday: Hiking and Tea
On our first morning, we packed some sandwiches (after buying some groceries on the drive in) and headed to Eldorado Canyon State Park for a 4th of July hike to get used to the elevation. We arrived at the park, which was already full by 10am, but managed to find parking among all the Subarus farther down the road and walked into the gorgeous canyon. The thousand foot climb up Rattlesnake Gulch gave us splendid views of the Continental Divide. Nothing is better than sitting on a bench with a gorgeous view and eating a sandwich with some BBQ Lays thrown in. This hike is fairly strenuous since it only goes up then back down the same way, so bring lots of water and take your time on your first day in Colorado.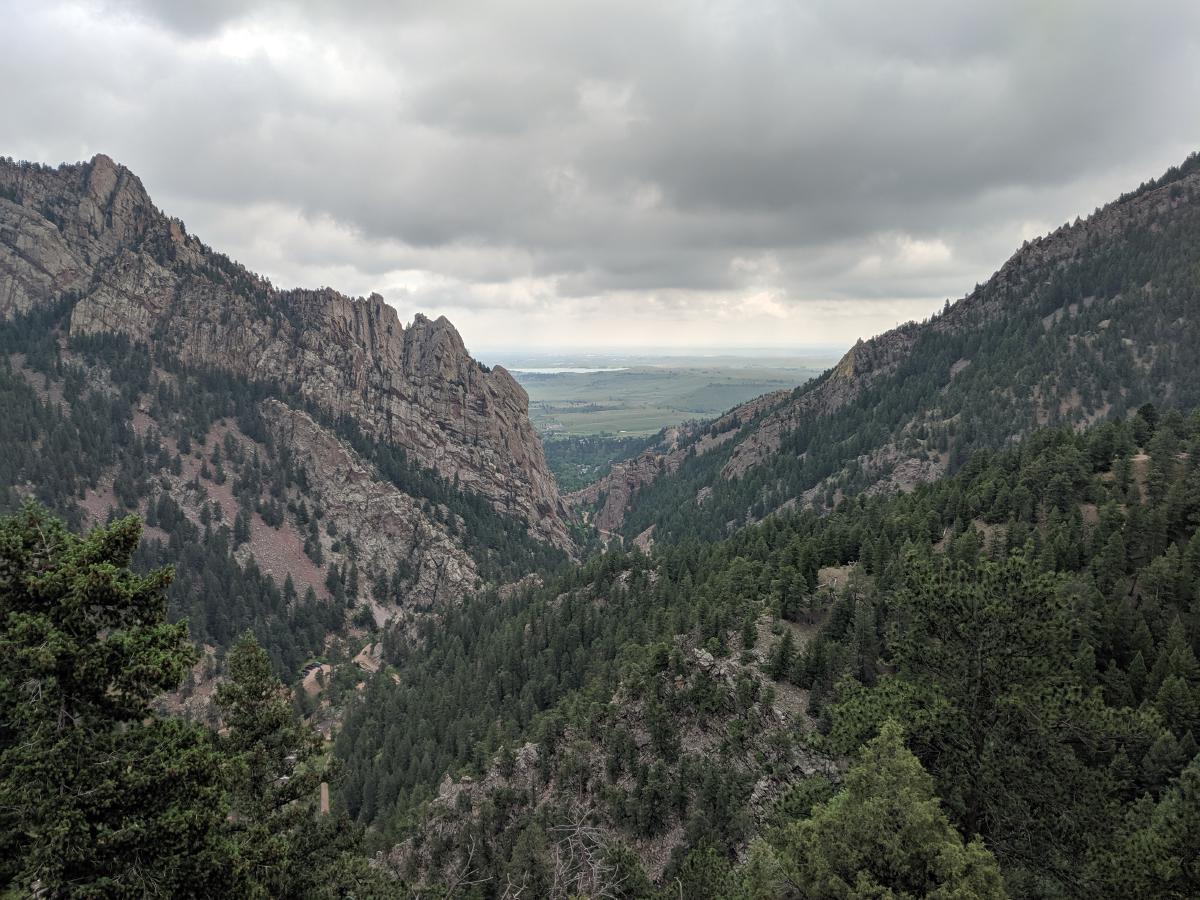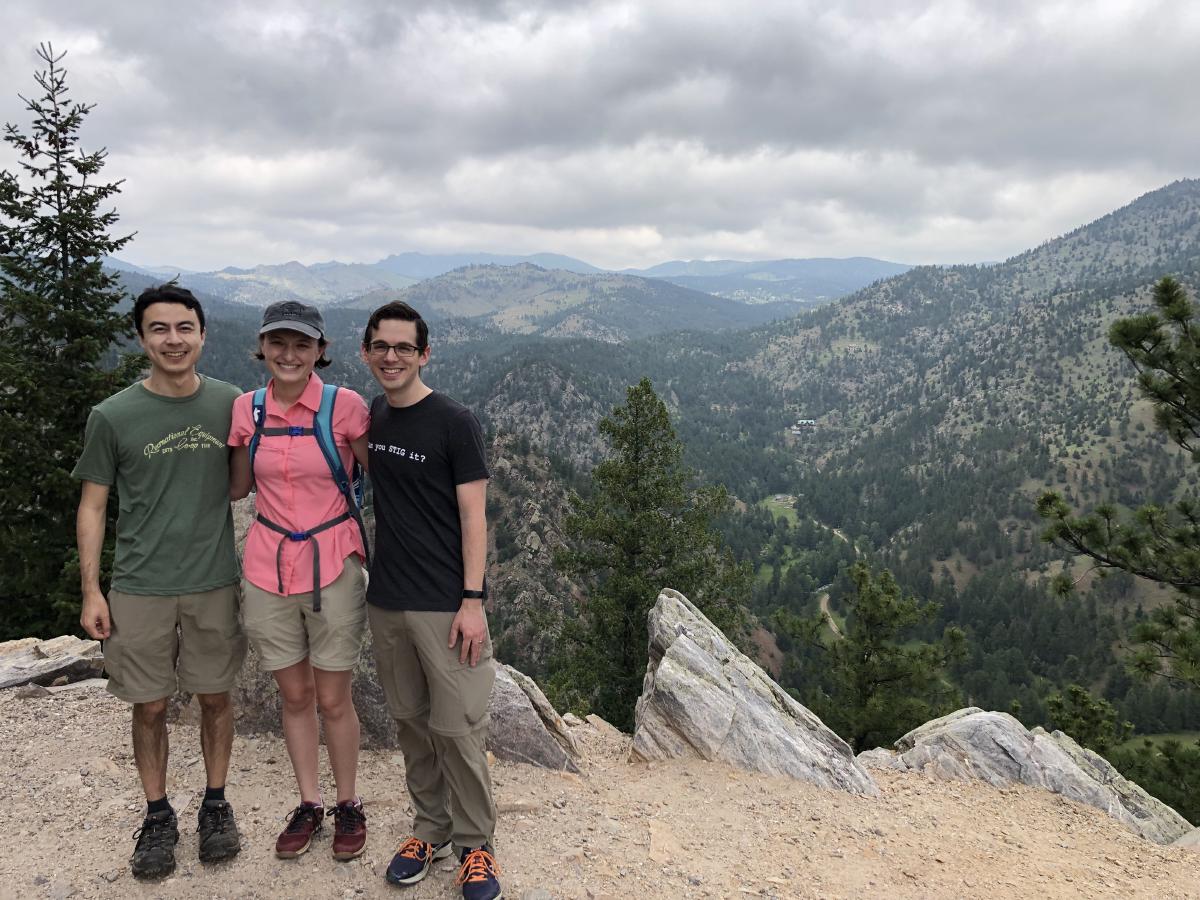 Dushanbe Tea House
After returning from our hike and freshening up, we walked to the Dushanbe Tea House in downtown Boulder for afternoon tea. Reservations are required 24 hours in advance so they know how many servings to prepare, but somehow our reservation was accidentally cancelled and they still fit us in!
The tea house was a gift from Boulder's sister city in Tajikistan. Handcrafted and painted and painstakingly disassembled, shipped, and reassembled in Boulder. The afternoon tea has unlimited tea selection – we tried at least four different kinds – including their delicious Chai. We ended up buying their Vanilla Nut Rooibos to take home. Even if you don't go for high tea, I'd highly recommend stopping in for a cup or a quick bite.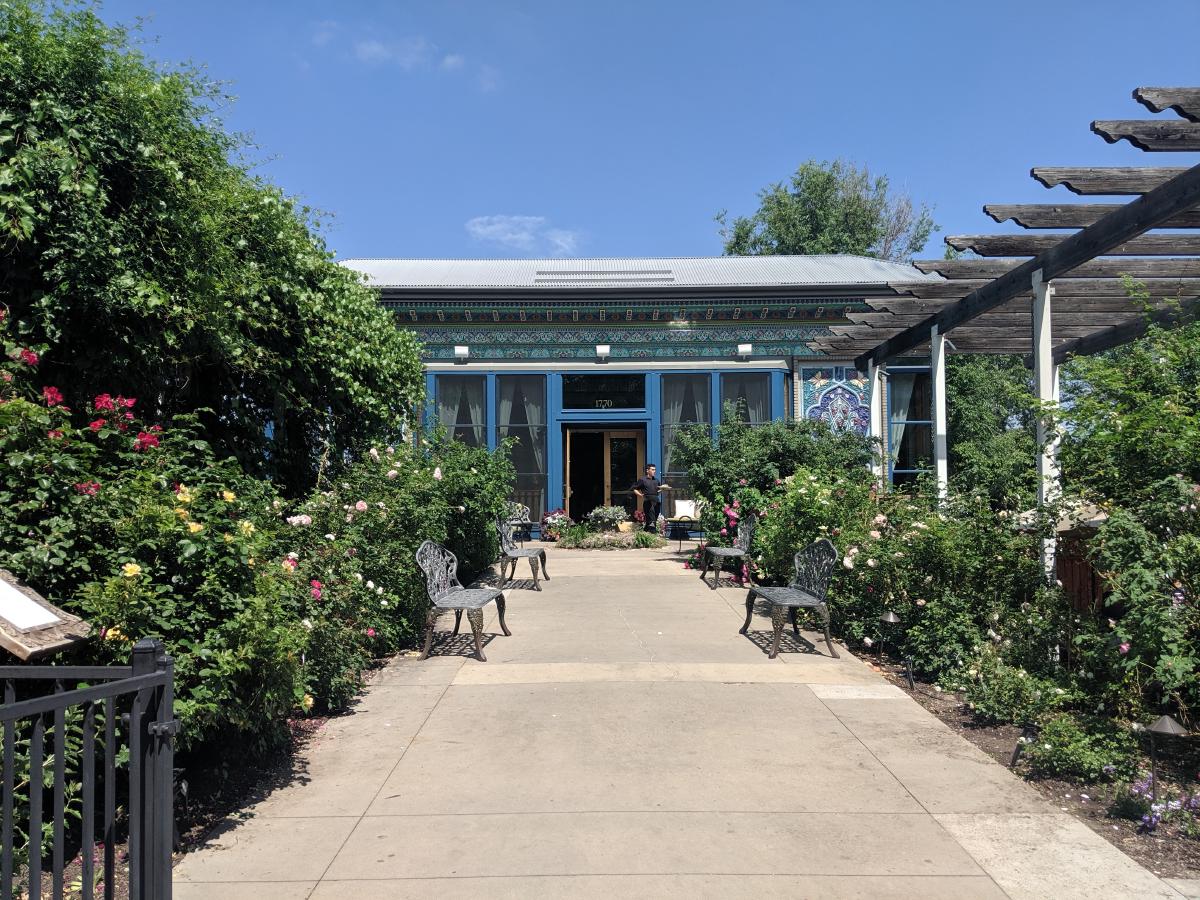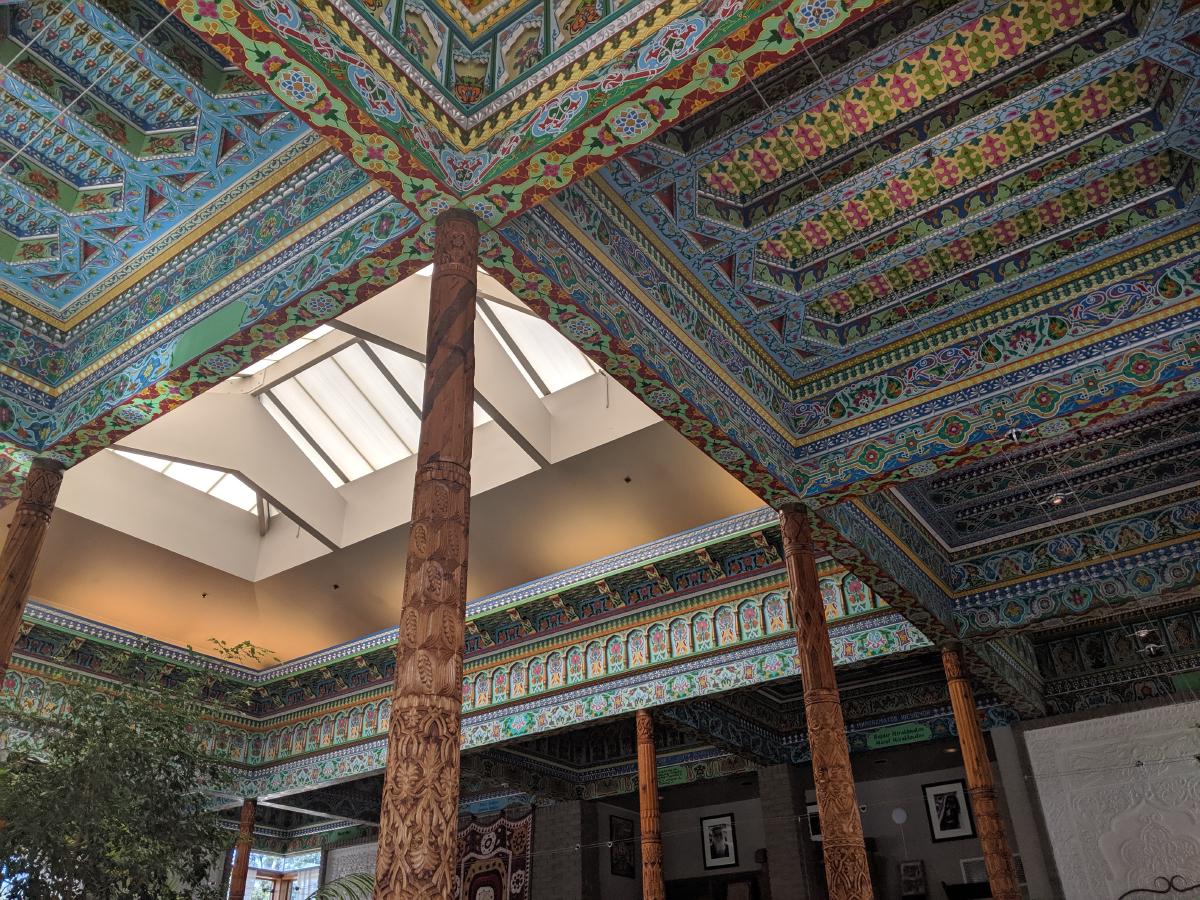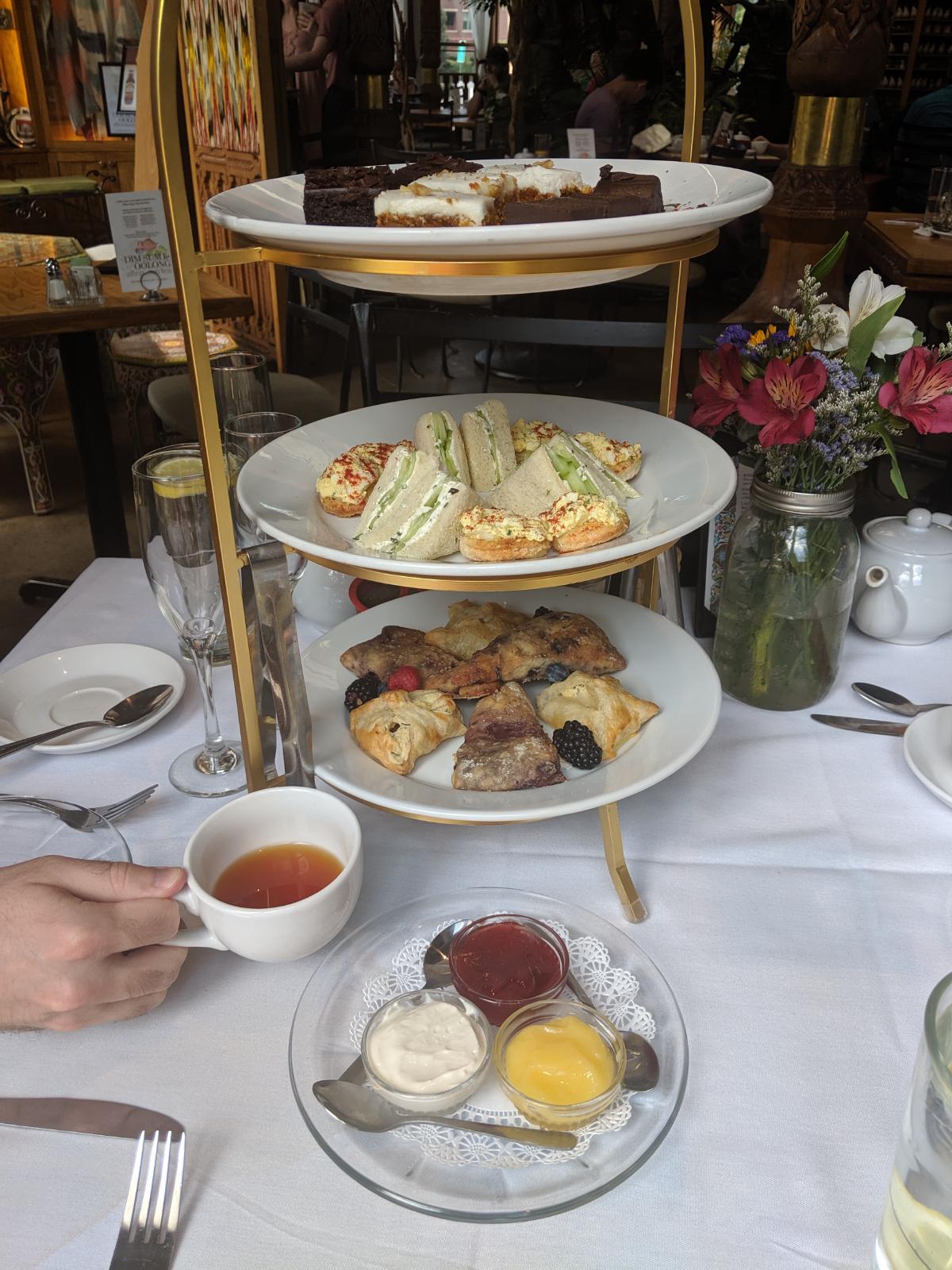 Exploring Pearl Street
Downtown Boulder has a charming pedestrian-only shopping district on Pearl Street. We enjoyed browsing the three-story bookstore, waltzing across the rainbow crosswalk at the only car intersection, and listening to the Grateful Dead cover bands on every block. We dipped into many outdoor goods stores like Prana, Fjallraven, and Patagonia and had great success with Prana shorts – everyone bought at least one pair!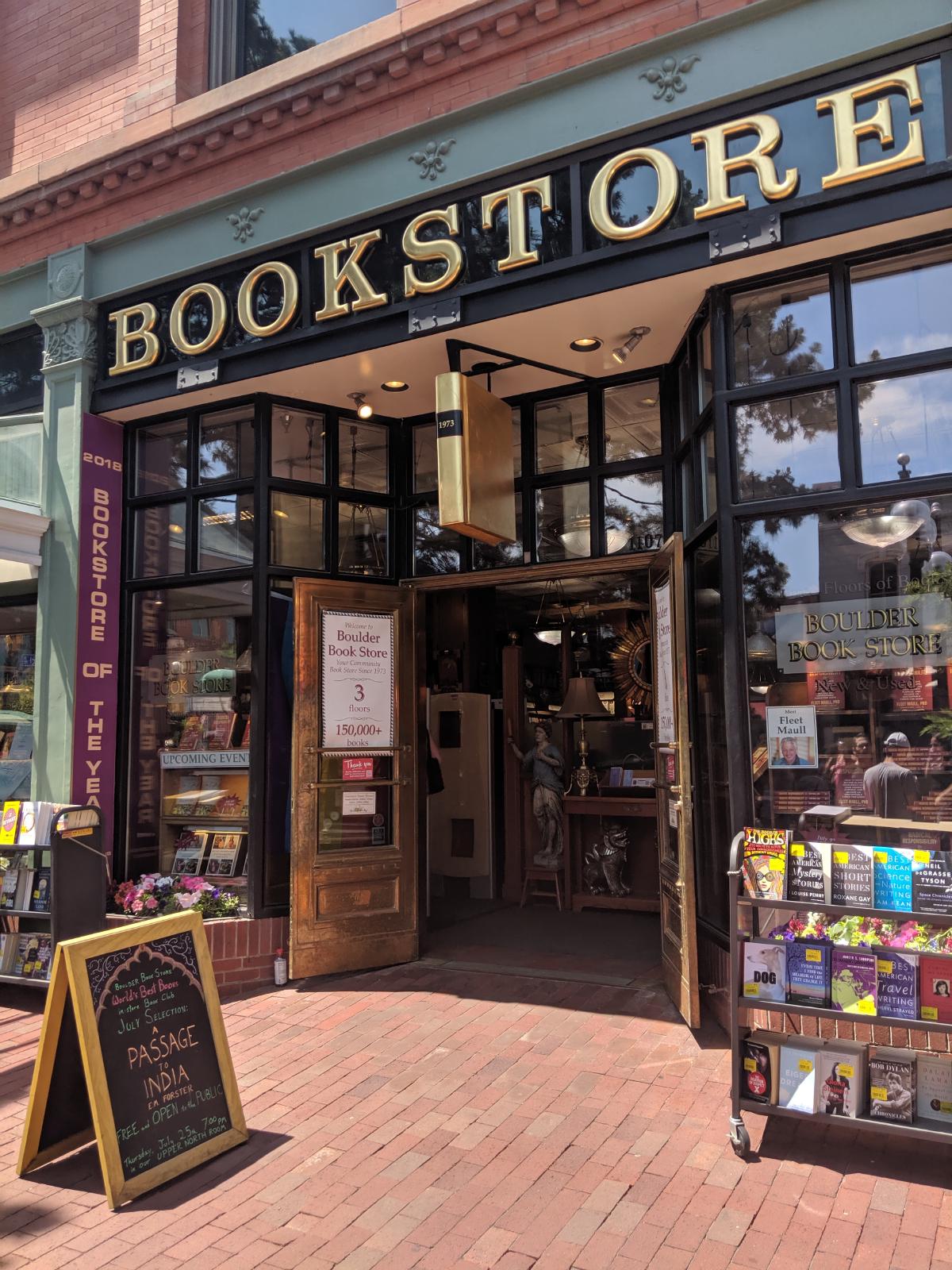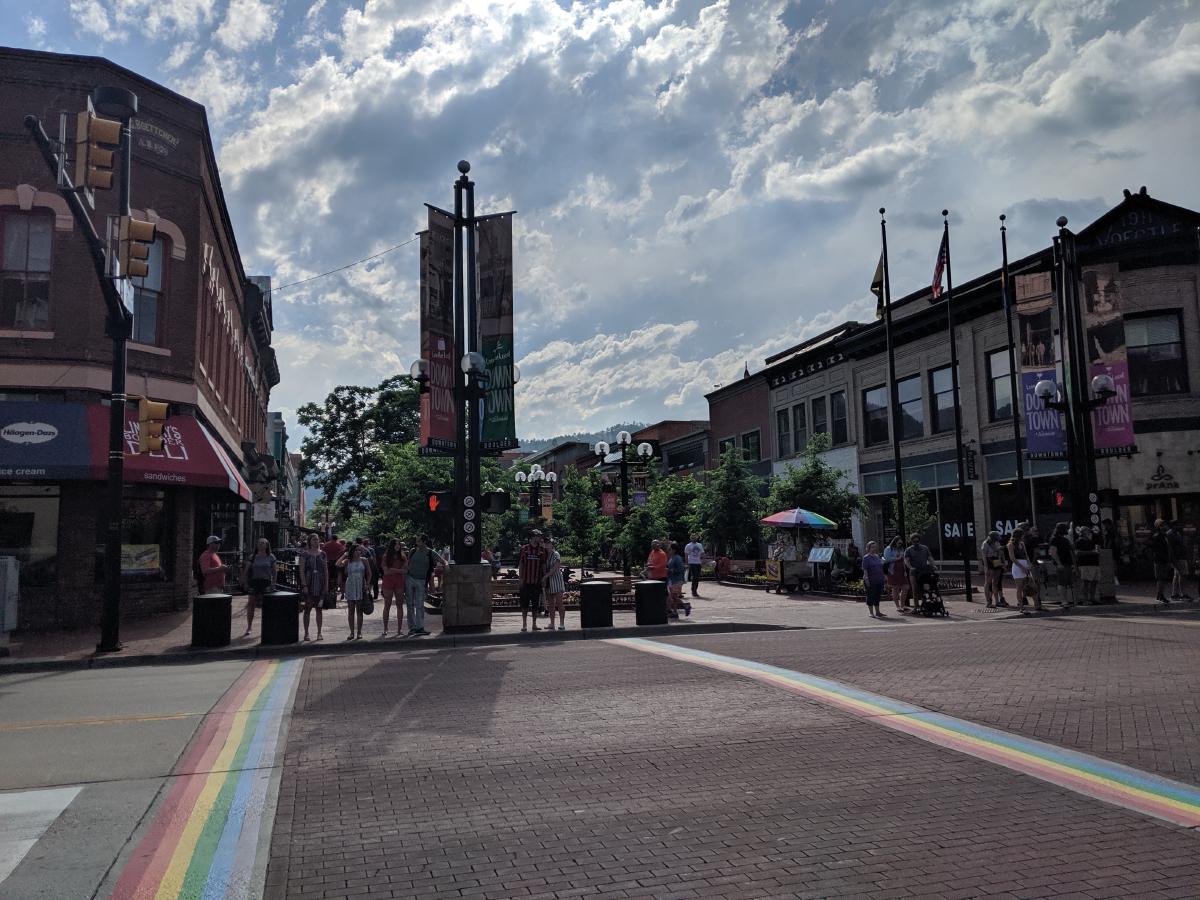 Friday: The Rockies and Oysters
After an early night, we woke up early to drive to Rocky Mountain National Park, about an hour north of Boulder. We aimed to get there when the visitor center opened (8am), but were a bit late and were fortunate to get into the park without needing to take the Park and Ride from Estes Park, the nearby town. The Bear Lake Trailhead (the most popular trail in the park) was full but there was still space at the in-park Park and Ride, where a short wait for the shuttle took us to the trailhead. All said and done, we were on the trail around 9:30am.
Bear Lake is an easy hike just steps from the trailhead, but we headed up to Emerald Lake via Cloud Lake and Dream Lake. This gorgeous hike took us through forests, streams, pristine lakes, and stunning vistas, with some slippery snow crossings even on a warm July day! The second lake, Dream Lake, was my personal favorite because of its bluish color and the way the trees and snowy mountains reflected in the glass-like surface.

We ate our lunch at Emerald Lake sitting on rocks among other groups of people. It was certainly busy, but most folks were respectful of the fact that everyone wanted to enjoy the peaceful outdoors. The 3 mile out-and-back hike has a decent elevation gain (700 feet, starting at 10,000 feet) and some tough footing but is overall a fairly accessible hike – there were many families enjoying the gorgeous summer day. We stopped fairly frequently to let people pass us or to fall back into a less crowded hiking group, which gave us plenty of time to stop and take in the scenery and fresh mountain air.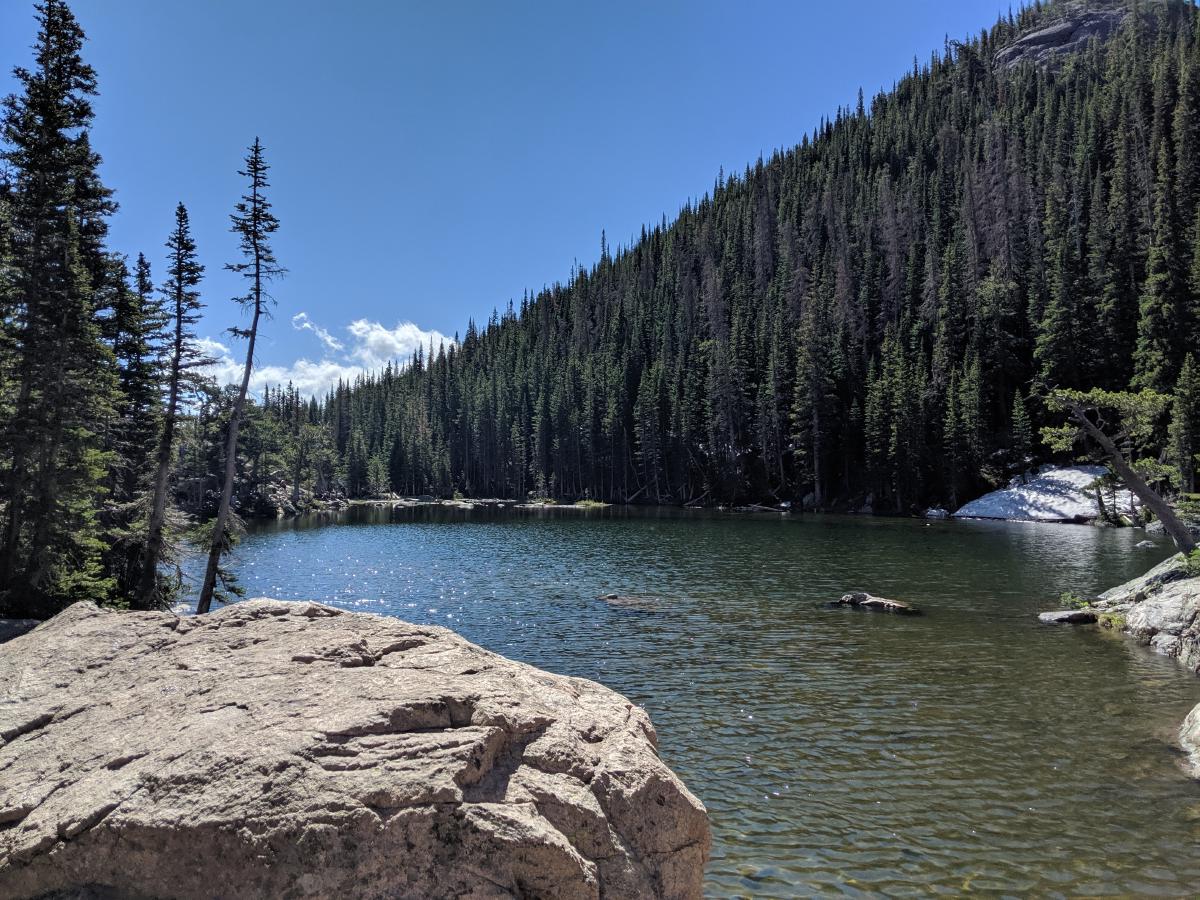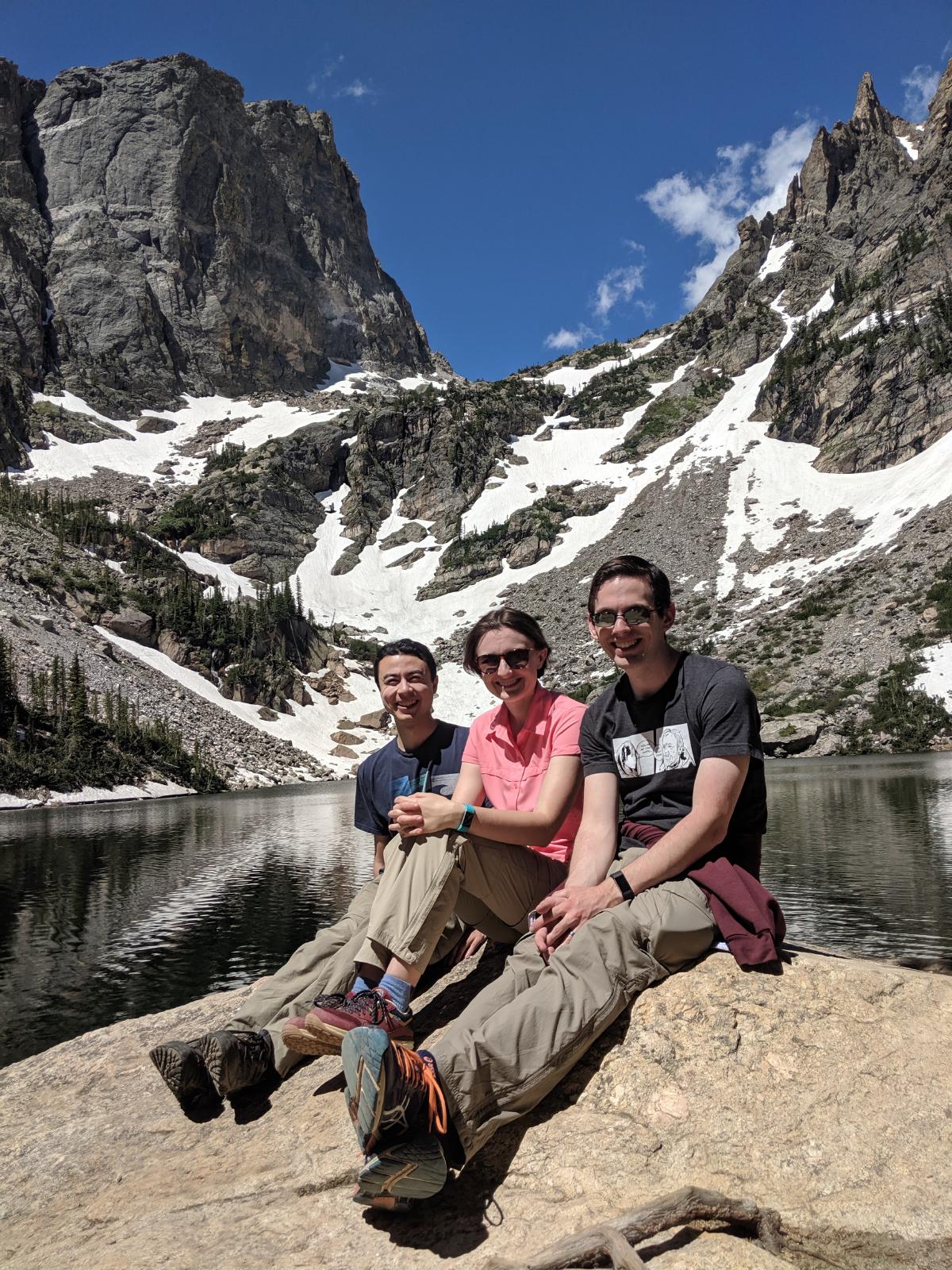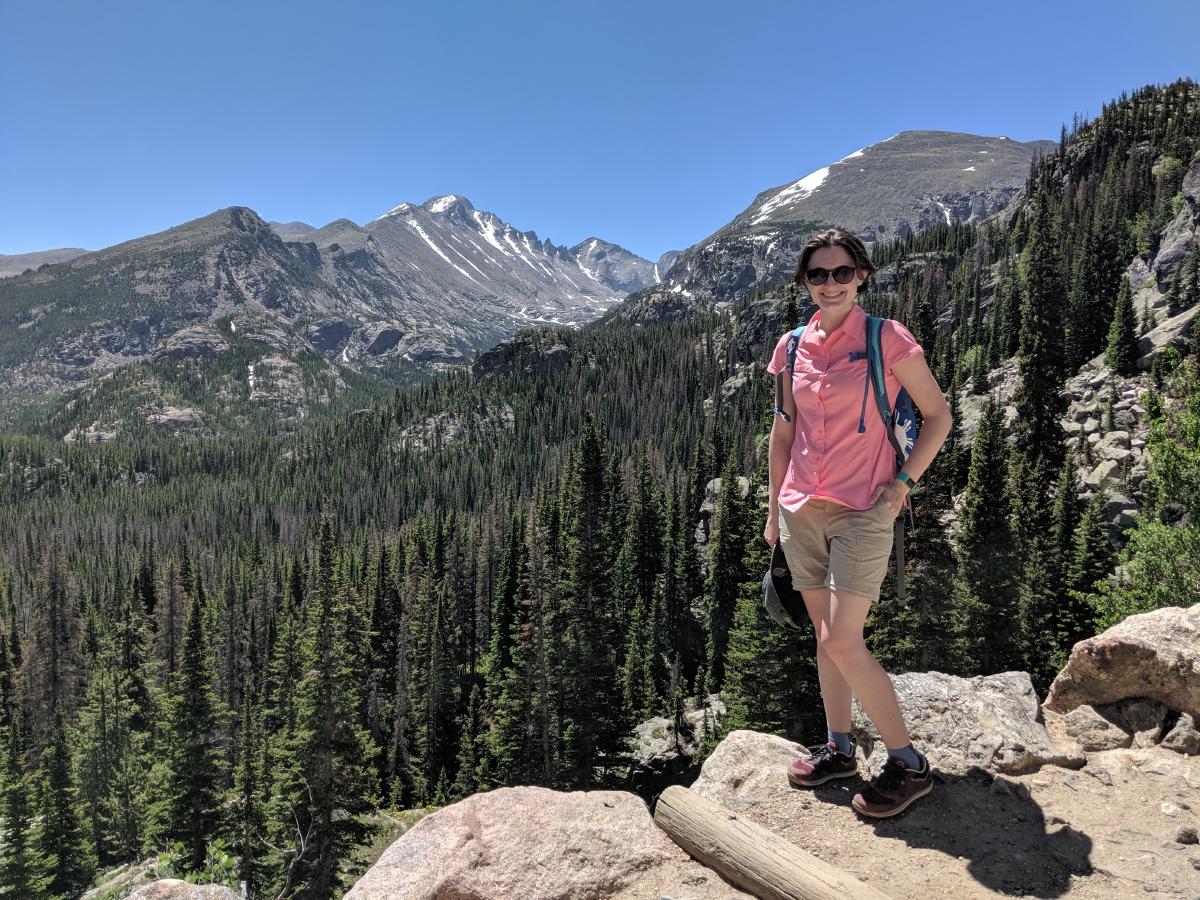 We hiked back down, and the park was getting even more crowded. The shuttle took us back to our car, and we then drove to the Moraine Park Discovery Center to learn more about glaciers and how they form landscapes. A moraine is a ridge formed by the dirt and boulders that a glacier pushes along as it carves out a valley.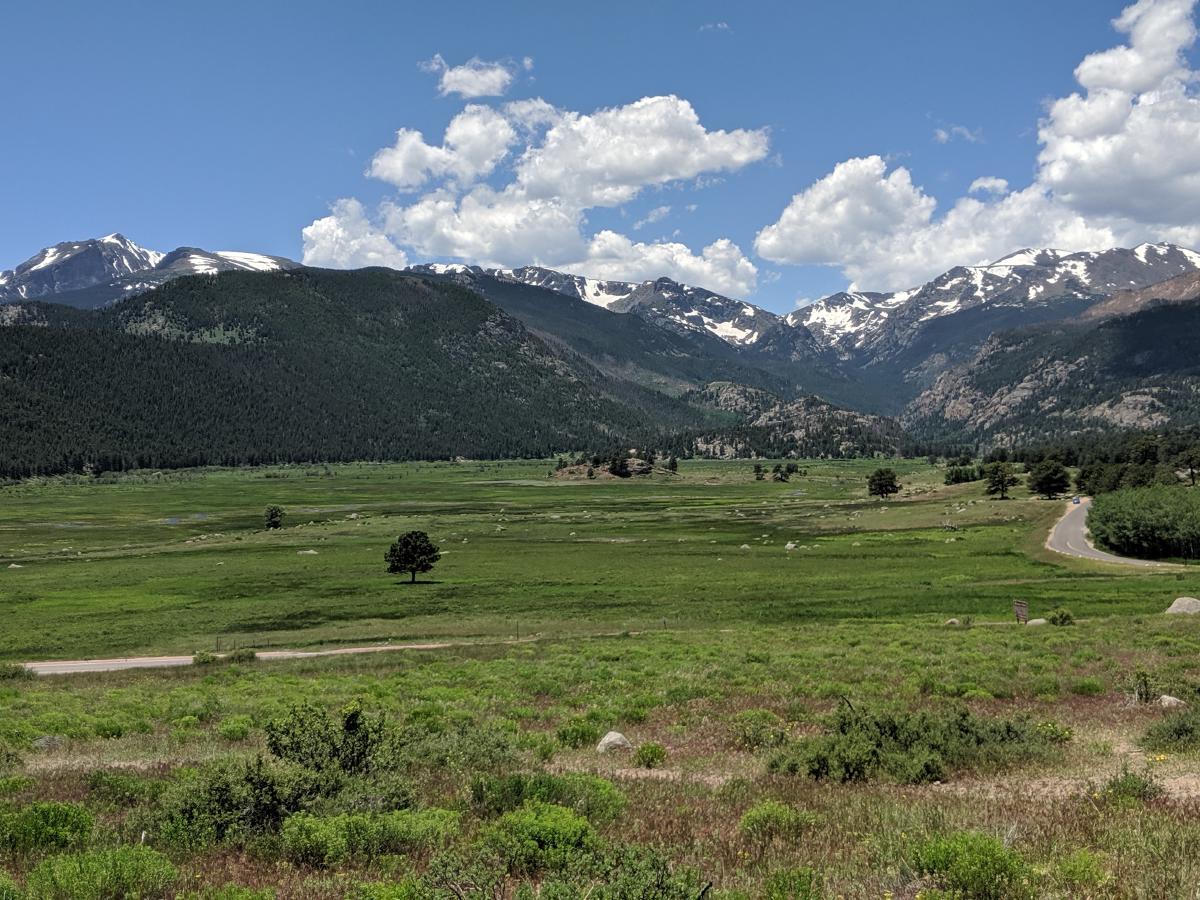 Driving out of the park in the early afternoon, the line of cars wound far past the ticket booth and the visitor center. Definitely get to the park in the morning during busy summer days, otherwise you'll be spending the entire visit queuing in your car – although there are worse places to be.
Bring lots of water and some snacks and/or a lunch, get there early so it's not too hot or crowded, wear sun protection, and take it easy – the elevation is no joke, and it affects you whether or not you're in good shape. We also bought our day pass in advance online to make the transaction faster at the entry booth.
Dinner at Brasserie Ten Ten
Instead of opting for a full-on dinner, we indulged in the incredible happy hour menu (make a reservation!) at Brasserie Ten Ten, an excellent French restaurant in Boulder. Oysters (just normal ocean-based ones), bone marrow, lamb sliders, and charcuterie were only some of the delicious items we sampled at reasonable (for a nice restaurant) prices. What a delightful way to end a gorgeous day in Colorado!
Upon leaving the restaurant, the skies above opened up and started hailing like I'd never seen before in my life. Huge hail, at least the size of nickels, pelleted the cars and street. We were very glad that our car was parked in an underground garage back at the Airbnb.
Saturday: Above the Clouds and Below the Ground
No trip of mine would be complete without some cool rocks (preferably of the red variety) and dinosaurs. Colorado did not disappoint. But before those delightful subterranean adventures, we went on a true expedition: a drive up a mountain to be above the clouds.
Mount Evans Scenic Byway
We reached the Mount Evans entrance around 9am, paid our small fee, and began winding our way up through the different ecosystems of the Rockies. Lush forests thinned out to Alpine meadows, gnarly Bristlecone pines and scrubby brush, until finally there were only rocks and patches of snow.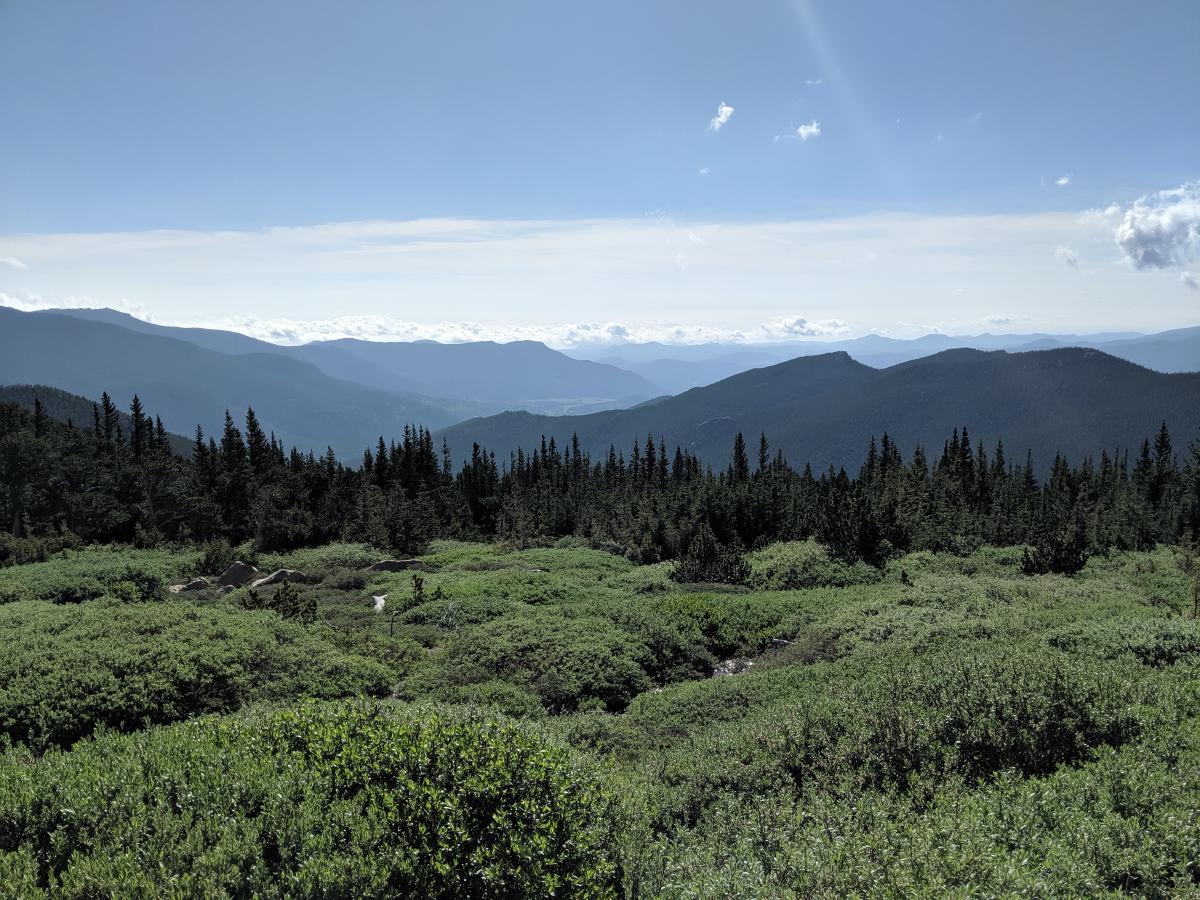 It started to get chilly and windy as we approached 14,000 feet. The peak of Mount Evans is the highest paved road in North America and is an absolute dream. If you've ever wanted to know what it's like to summit Everest without the risk, this is the way to do it. The rangers all recommend making it to the top by midday, as the weather can turn at any second and make the unguarded windy roads treacherous for driving – they often close the roads, and the road only opened for the season in early June this year. The trip is not for those who are afraid of heights or falling off a mountainside, but we all agreed that the drive was the highlight of our trip.
Halfway up, we stopped at the Mount Goliath Natural Area for stunning views and to learn about the flora and fauna, including my all-time favorite Bristlecone Pines. Towards the top, we saw mountain goats (including babies!) and marmots along the side of the road. Upon parking (plenty of space at 10am) and making the final 200 foot rocky ascent to the peak, we were treated to incredible views of snowy peaks, clouds rolling by above and below us, and a true feeling of how incredible this planet is.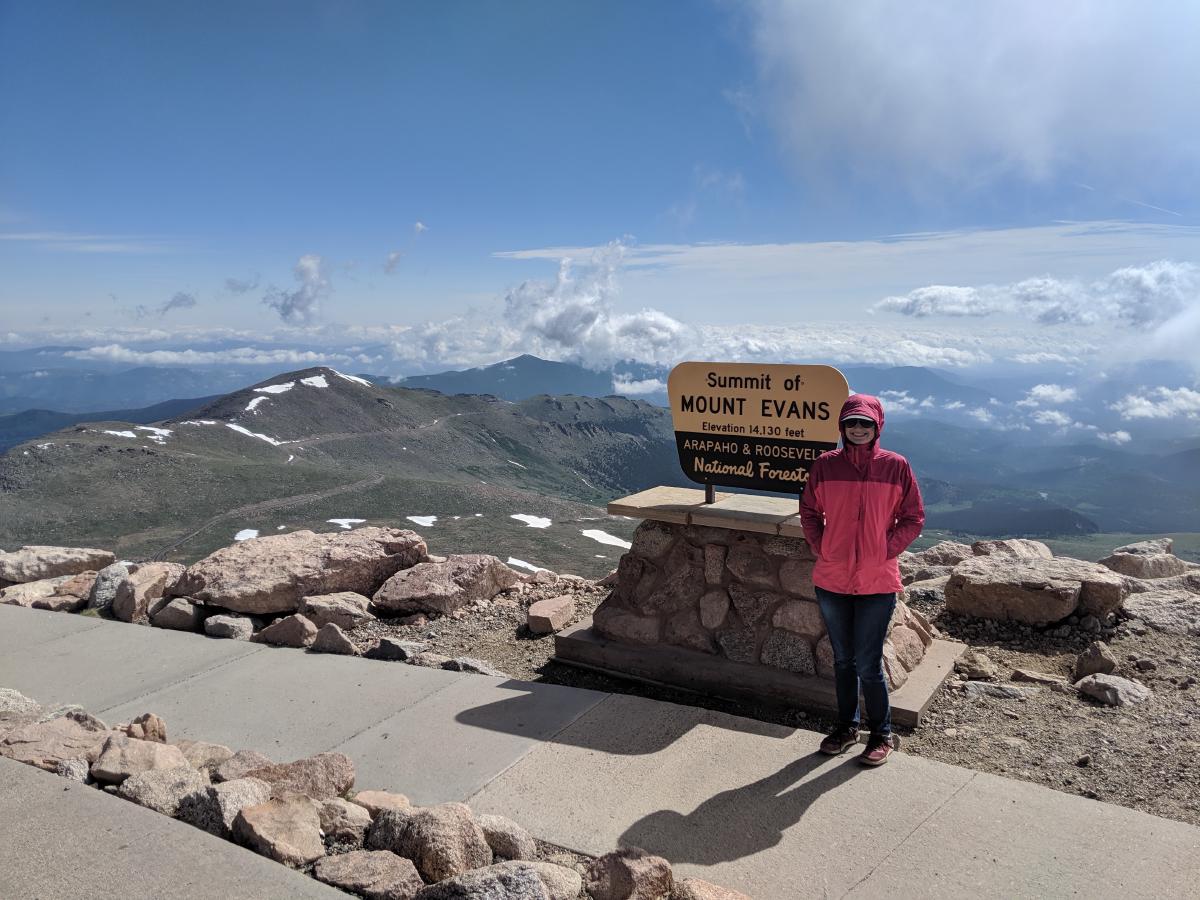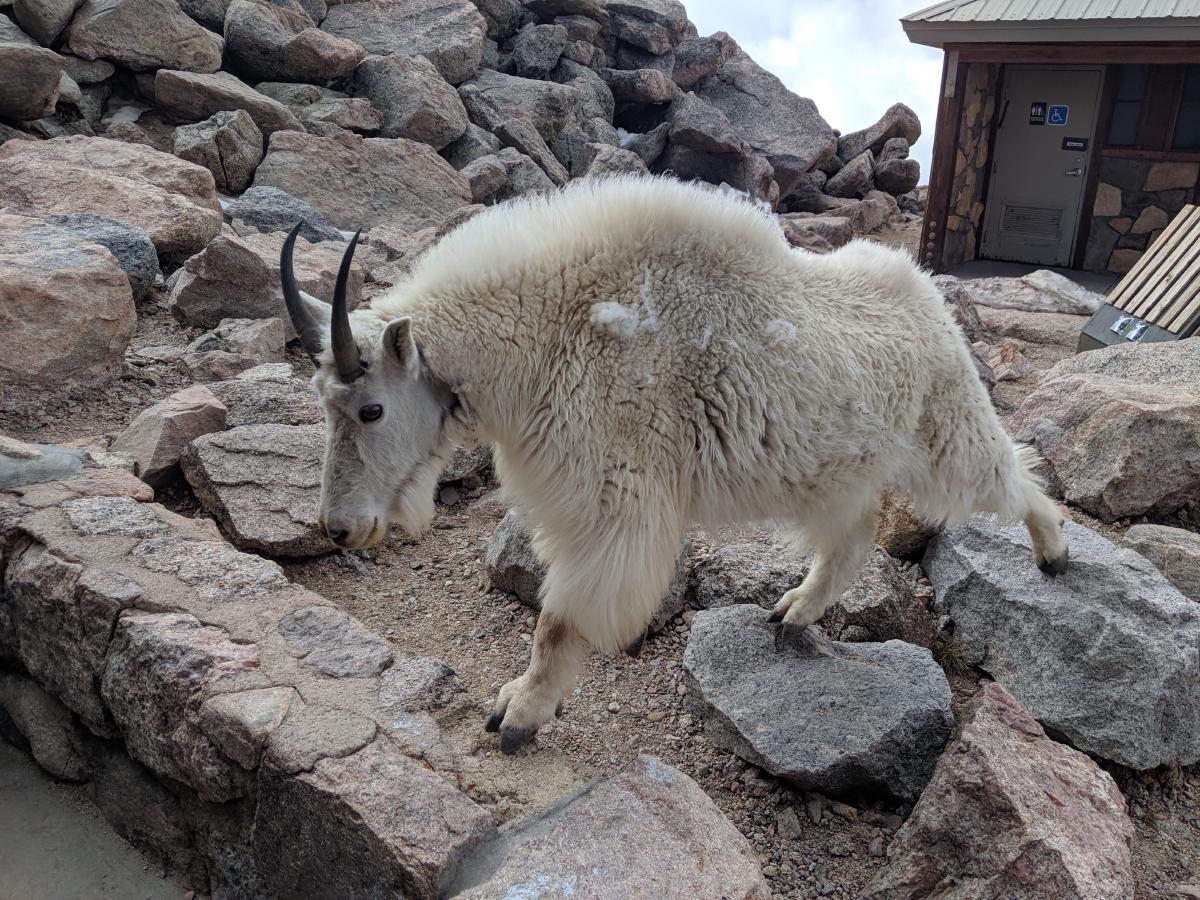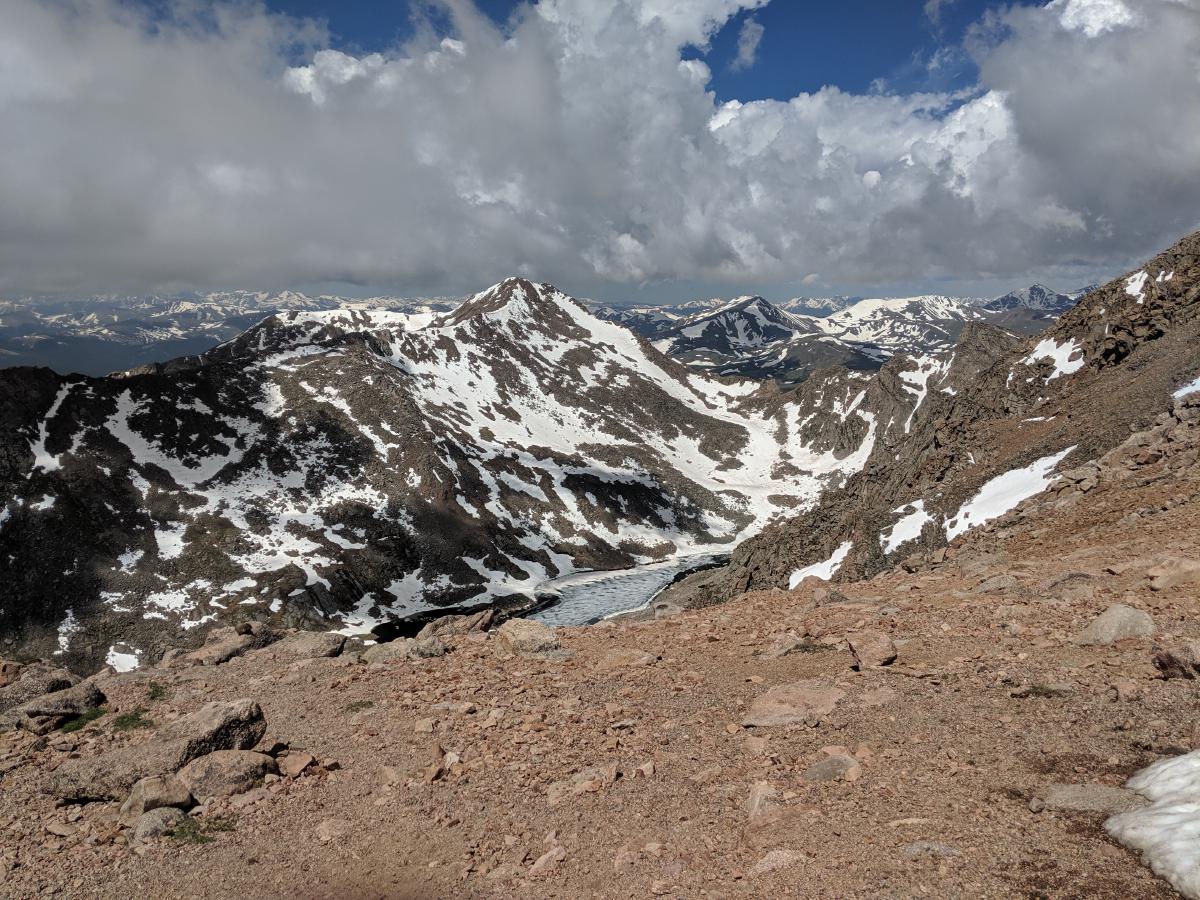 Once we'd had our fill of watching adorable baby mountain goats and were getting chilled by the wind (it can be 30 degrees colder at the top of Mount Evans than in Boulder with slippery snow patches), we wound our way back down and pulled over for this incredible last view of the Rockies.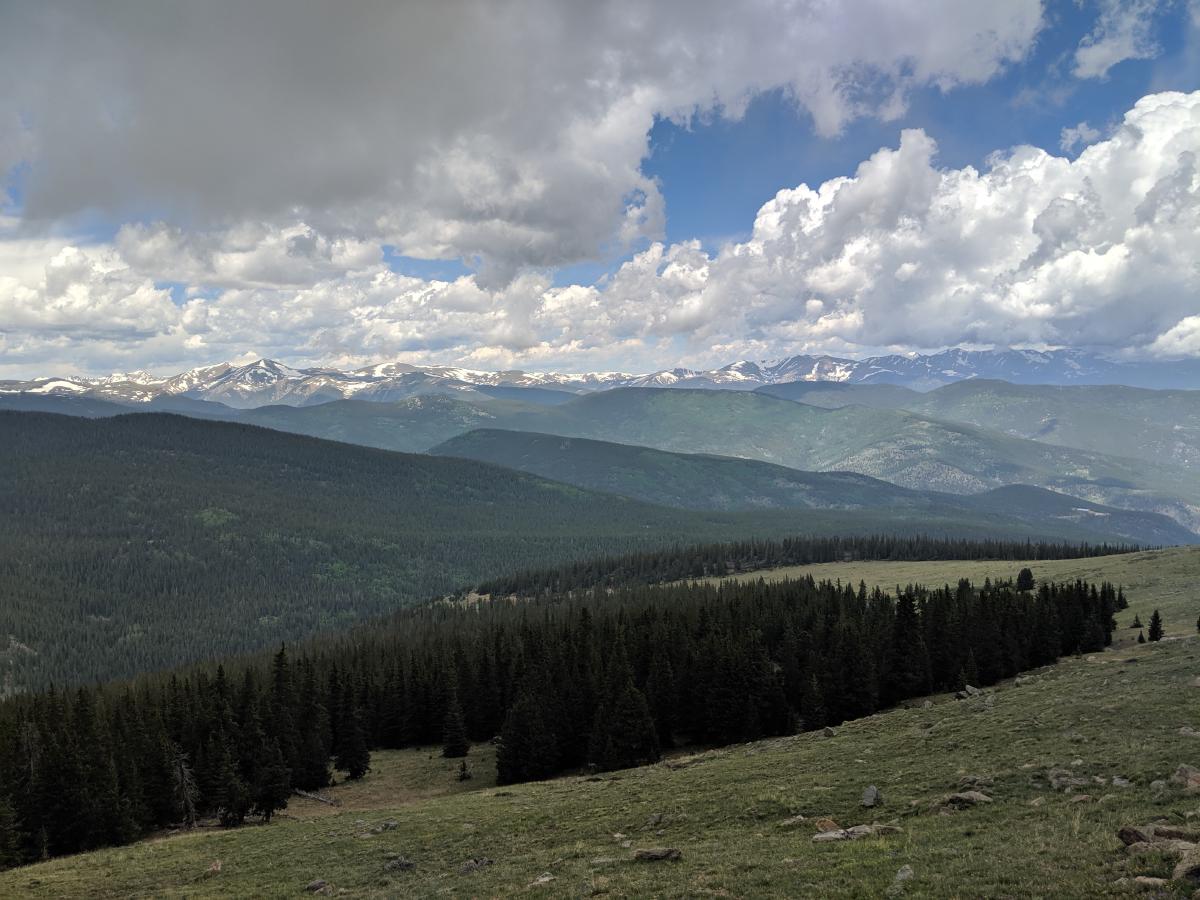 Red Rocks Amphitheatre
As we left Mount Evans and watched the line of late-arriving cars disappear in the rear view mirror, we navigated to Red Rocks Amphitheatre, which was on our way back to Boulder. The Rocky Mountains are formed by a tectonic subduction zone where the (a period known as the Laramide orogeny) where the oceanic crust of the Pacific Ocean sank underneath the continental crust of the mainland to lift up the Rocky Mountains. While the Rockies are the star of the show, other geologic layers were also lifted. As a result, the surrounding area is full of smaller ridges and hills (like Boulder's Flatirons or Red Rocks) running parallel to the Rockies that are formed from different layers of rock that have been tilted and raised out of the ground over tens of millions of years.
We parked at Red Rocks Amphitheatre and hiked up to the top of the venue for a stunning view over the prairies of Colorado (an ancient seabed, of course). While Colorado only has a thin band of red rocks (compared to Utah, which is composed almost entirely of a layer of red rocks), the view out over the flatlands was stunning and it would be incredible to see a show at Red Rocks. Admission to the amphitheatre is free, but they'll close off access when it's close to showtime. We saw plenty of ambitious joggers using the stadium to train.
We were worried when it started to rain that it might spoil our following plans, but the weather in Colorado never ceases to amaze – it can go from hot to cold, windy to still, and rainy to sunny in the blink of an eye. Be prepared for anything and everything!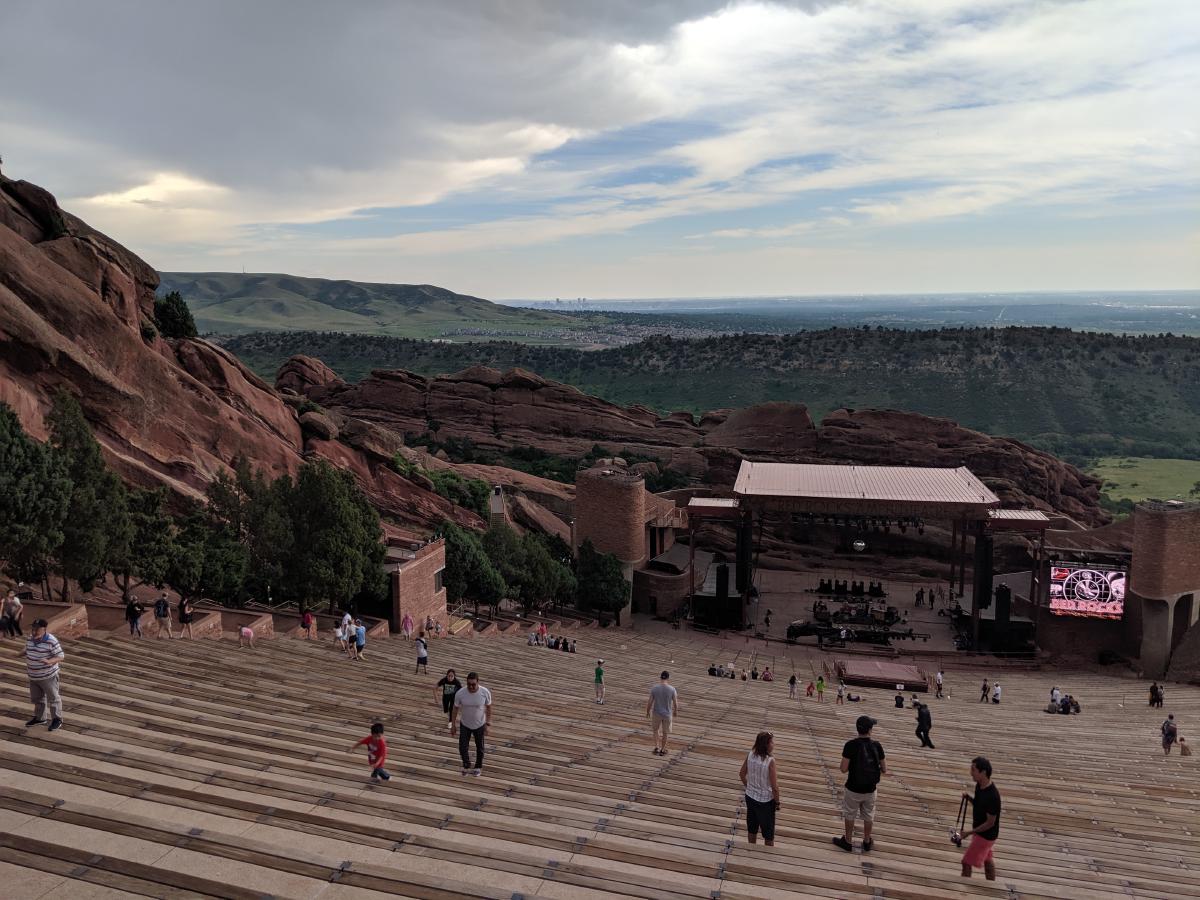 Dinosaur Ridge Trail
Just at the entrance to Red Rocks Amphitheater lies a very underrated area – Dinosaur Ridge, the name of a prolific area of discovery in the Morrison Formation of Colorado. If you've ever wanted to feel like a paleontologist discovering dinosaur fossils in the wild, the short Dinosaur Ridge Trail hike (2 miles round-trip) is a great place to start. We parked at the Dinosaur Ridge Discovery Center and hiked the paved trail up the side of yet another geologic formation – the Dakota Hogback ridge – that very clearly showed the different layers of the Earth's crust protruding from the ground. As we topped the ridge and came down the other side, we were suddenly gazing upon an ancient seabed (part of the Western Interior Seaway, when the center of America was an ocean) filled with the tracks of dinosaurs, paths of seafloor creatures, and ripples from waves.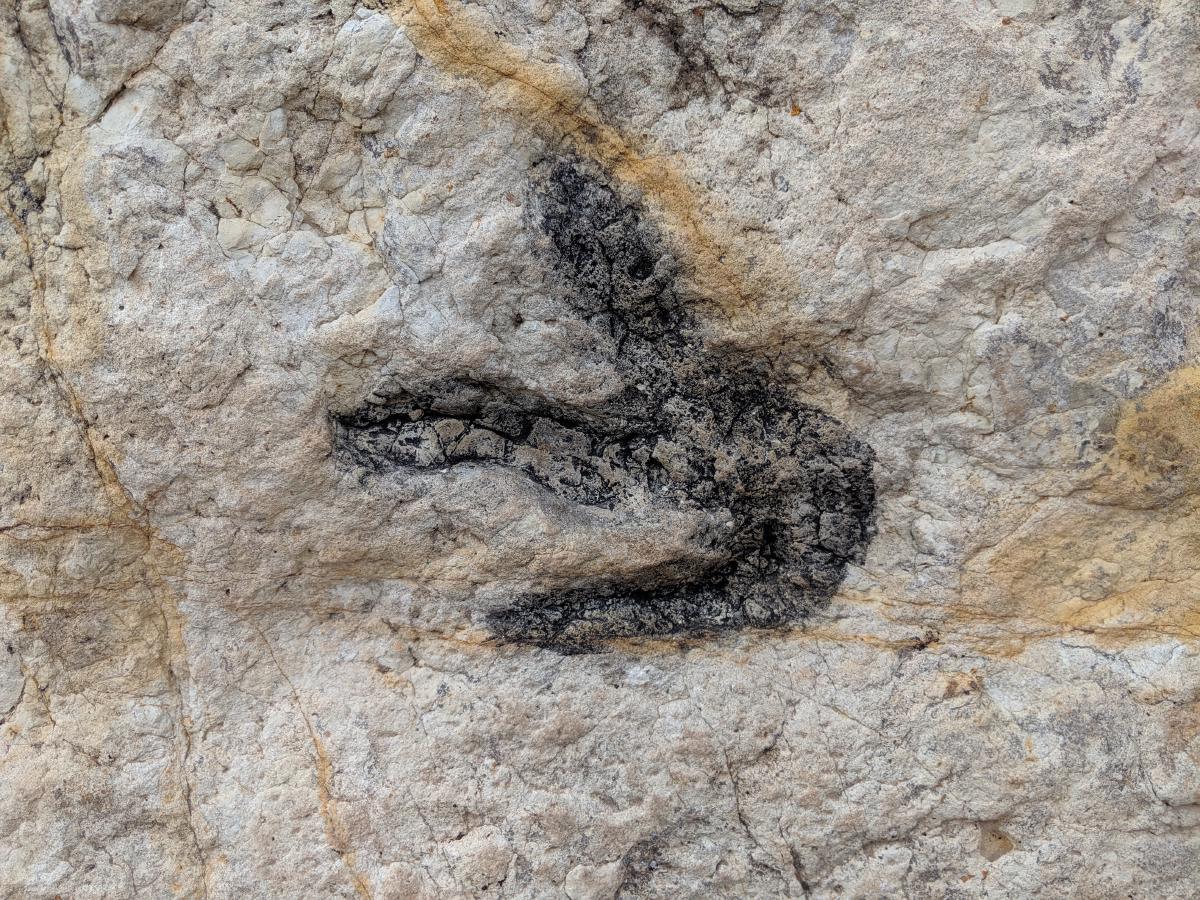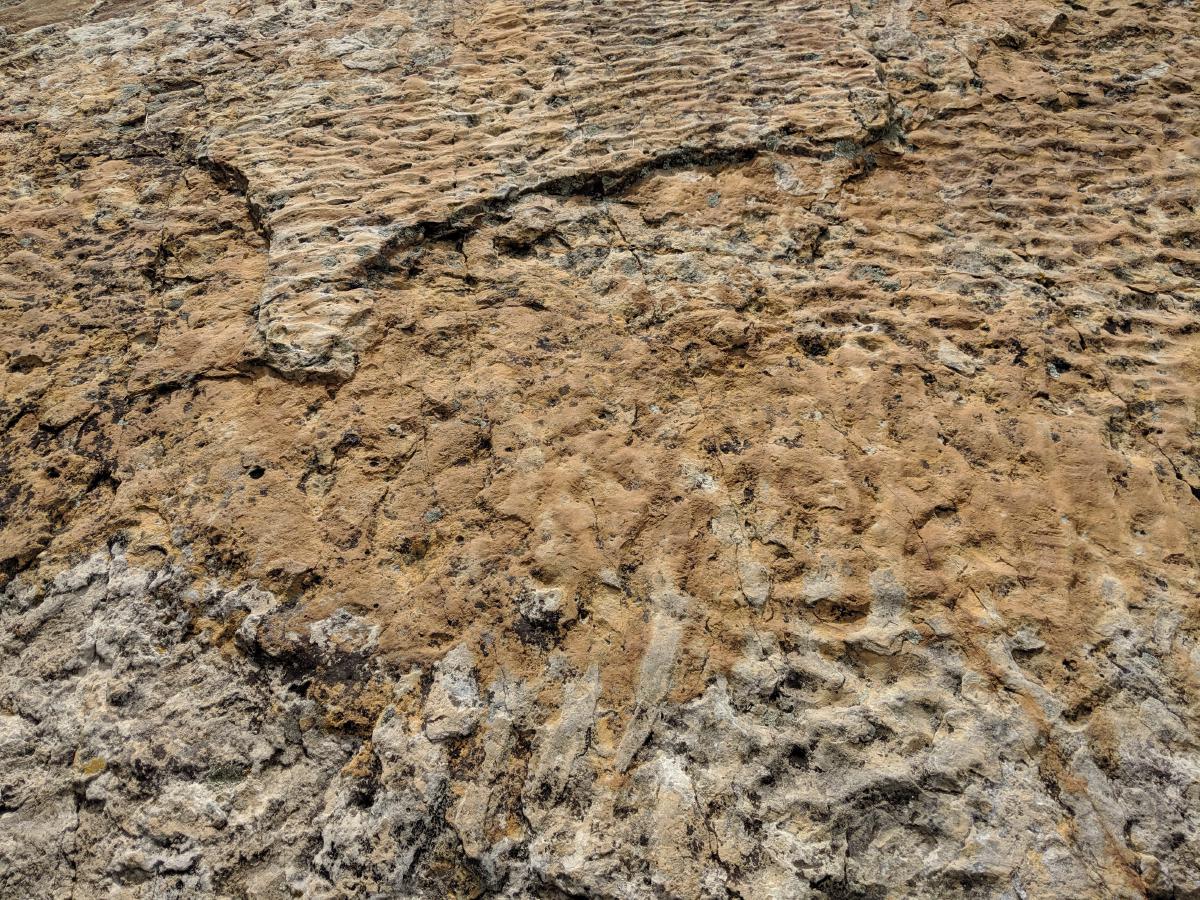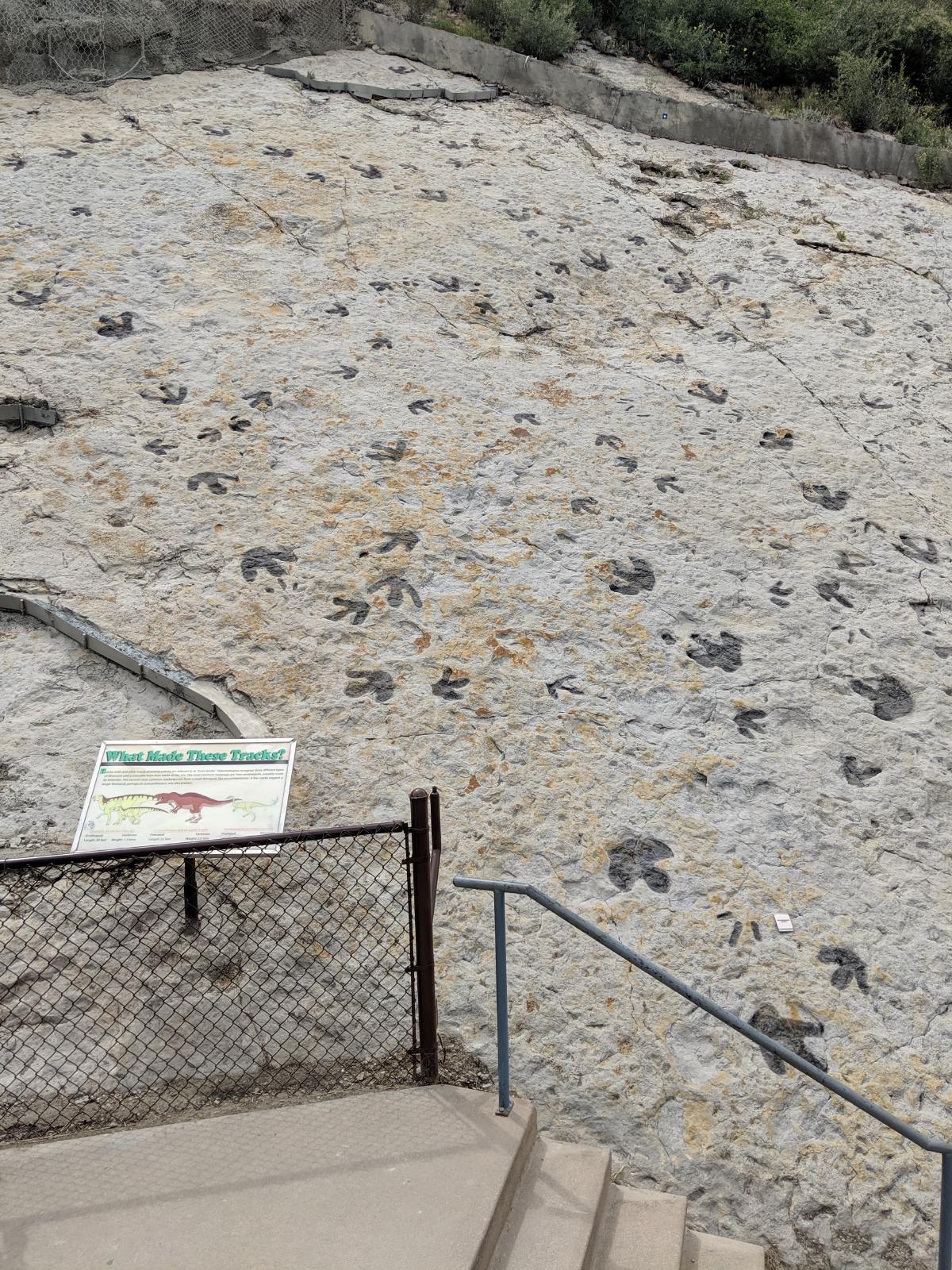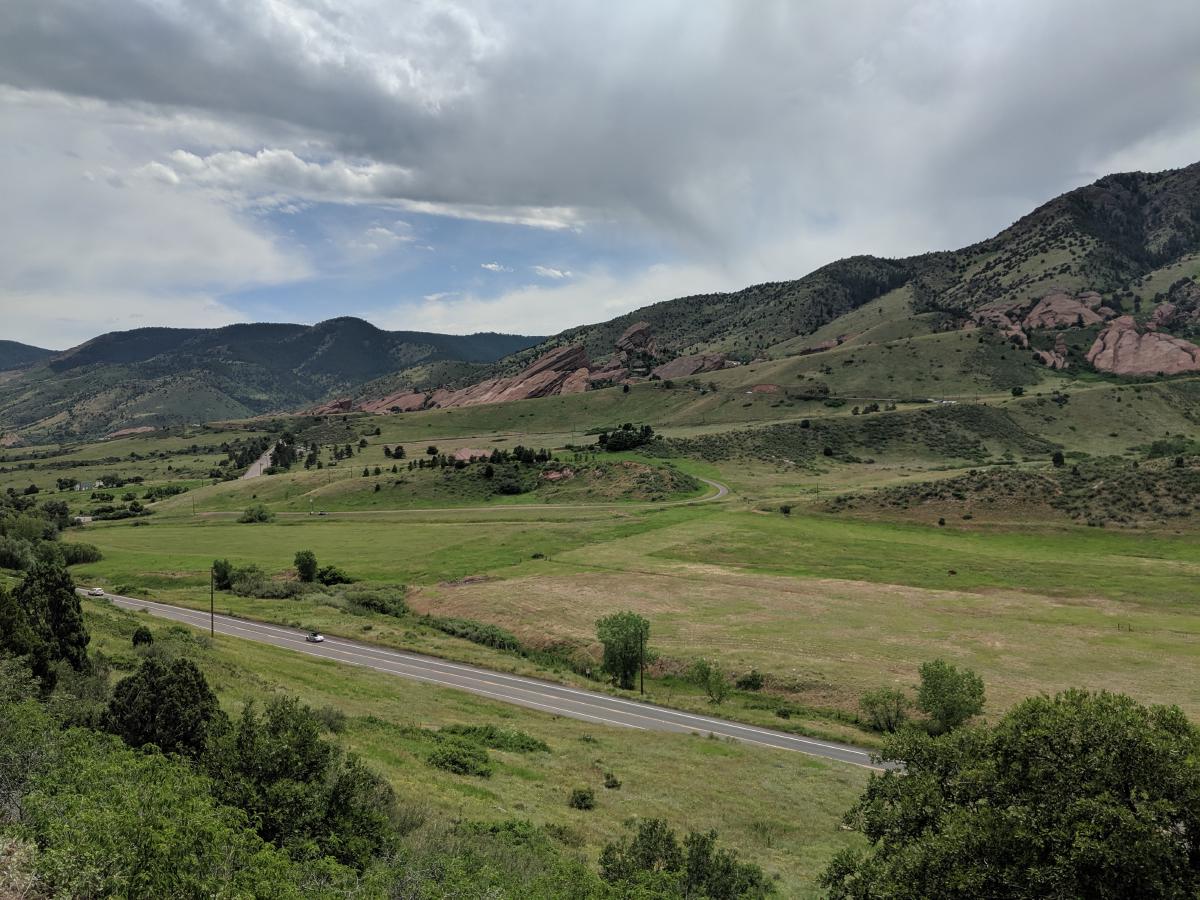 It's one thing to see tracks of dinosaurs in museums, but it's another thing to be standing where they once walked and see fossilized evidence of their presence in the wild.
The Best Ice Cream Ever
This is not a claim that I make lightly, but all three in our party agree – the Salted Caramel Oreo Ice Cream made by Glacier Home Made at Golden Sweets in Golden, Colorado (home of Coors Beer and the Colorado School of Mines) is the best ice cream we've ever had. Soft, almost gelato-like in consistency, with just the right balance of sweet and salty. Especially wonderful on a hot day after hiking in the sun learning about dinosaurs. I also purchased a reusable silicone straw for later use!
Downtown Golden is cute and nestled in the foothills of the Rockies. A clear river rushes through a picturesque park, and the streets are lined with breweries, restaurants, bakeries, and more stores full of outdoor adventure gear. I replaced my Cotopaxi Luzon daypack (wonderful as a free lightweight option but lacking in organization due to its sack-based construction) with an Osprey Daylite with space for a hydration bladder (my preferred alternative to a water bottle when staying hydrated).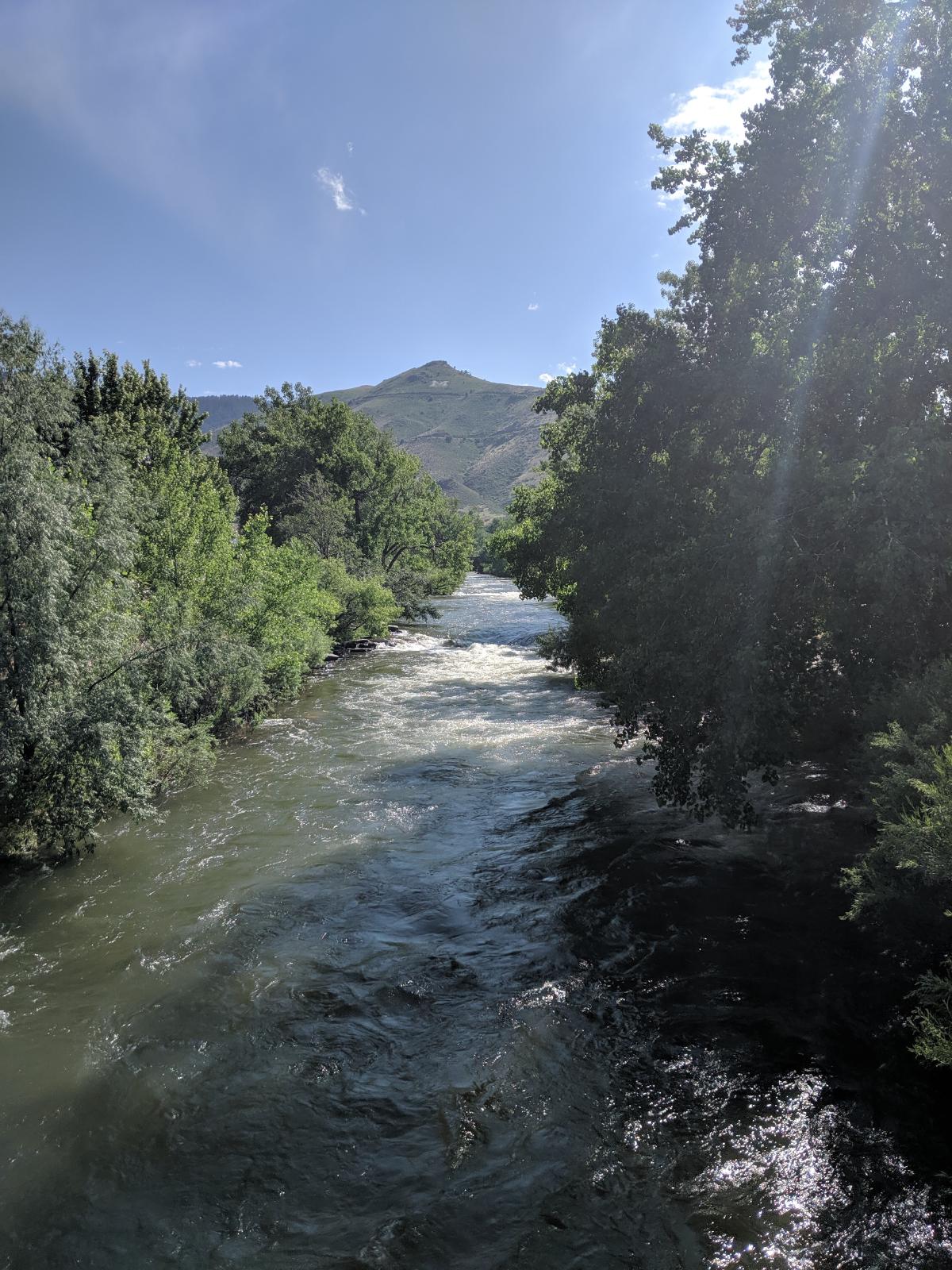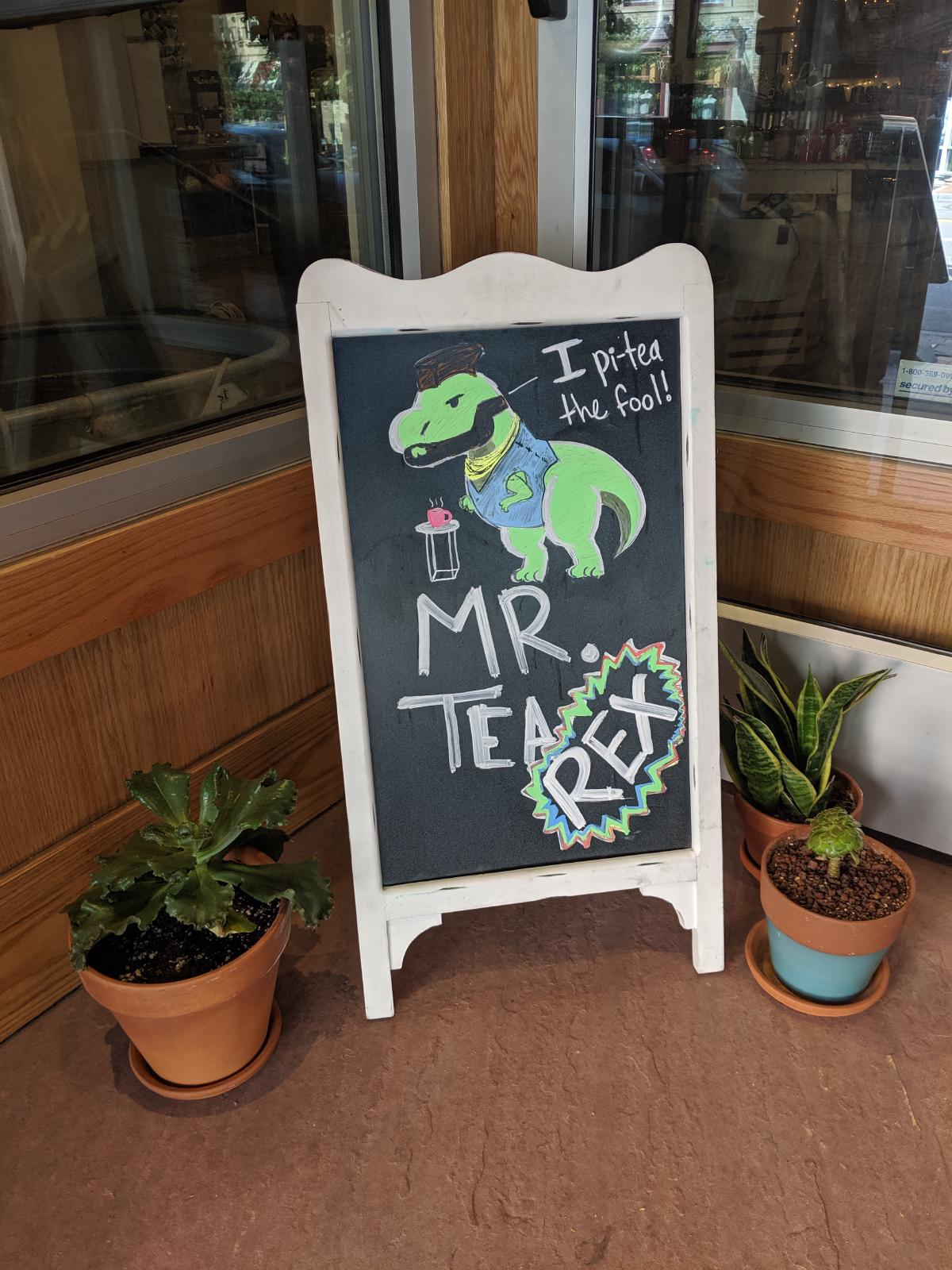 We ate dinner in downtown Boulder at Zoe Ma Ma, a Chinese dumpling and soup restaurant. The food was underwhelming but it was a pleasant evening with warm clear air and a lovely sunset.
Sunday: The REI Flagship and some Cats
We left Boulder early in the morning to get to Babette's Bakery in Longmont soon after opening. The pistachio escargots (flaky pastry twisted together with pistachio paste) was delicious, as was the brown butter cake. Longmont is also the home of Mr. Money Mustache, so we had to drive by his coworking space (closed on a Sunday morning, of course) just for fun.
Outside of Denver in the Tennyson area, we ate breakfast at Denver Biscuit Co. There are many locations, but Tennyson is full of cute shops like the Book Bar, Joy Fill zero waste products, and a cat cafe (more on this later!). I wish I could show you the biscuits, but my only photo was somehow corrupted. We indulged in biscuits and gravy and a chicken biscuit bacon sandwich, all delicious. The icing on the cake was that our meal coincided with the last half hour of the World Cup (the women's one, if you need clarification) where the USA triumphantly beat the Netherlands.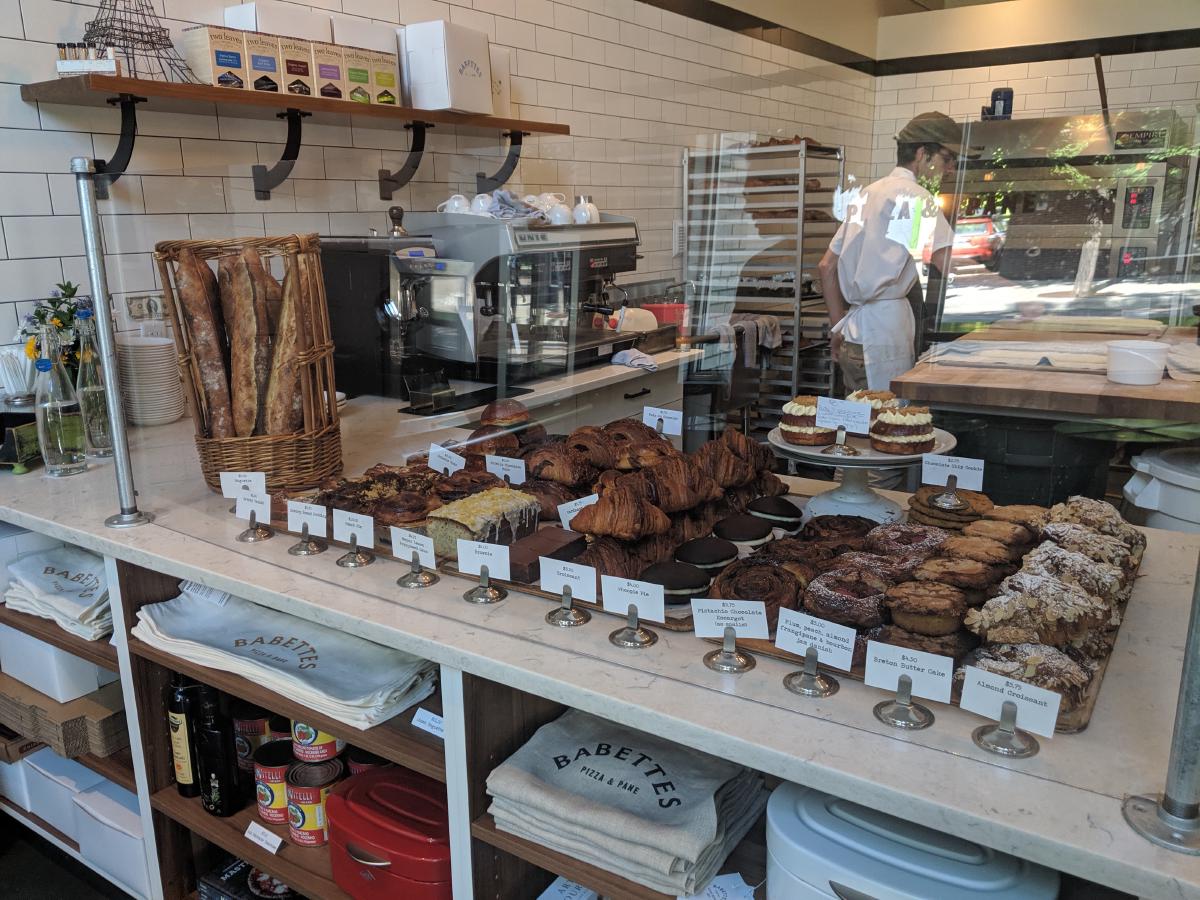 Downtown Denver
Austin has the Whole Foods flagship, and Denver has the REI flagship. The REI in Denver is massive and built in a stunning brick building that was formerly an electrical powerhouse for the city. The massive selection, multiple floors, and rock climbing wall were dwarfed by high vaulted ceilings and skylights. Parking was free for shoppers, but we wanted to explore the river walk area and moved our car farther west to a free parking area, as it was a Sunday.
The sweltering hot day meant that we had only one thing on our mind: ice cream. The line at Little Man was long but we were determined to indulge. It was pretty good, but couldn't compare to the previous day's ice cream in Golden. Nothing ever will…
To explore downtown and the river walk, we did what we had sworn we'd never do and rented electric scooters. It was pure bliss, zipping around the park and enjoying the breeze that mere walking could not provide. Families were swimming in the spillway and playing in fountains by the historic train station. I probably won't use scooters again anytime soon, but do think that they have their place for special occasions.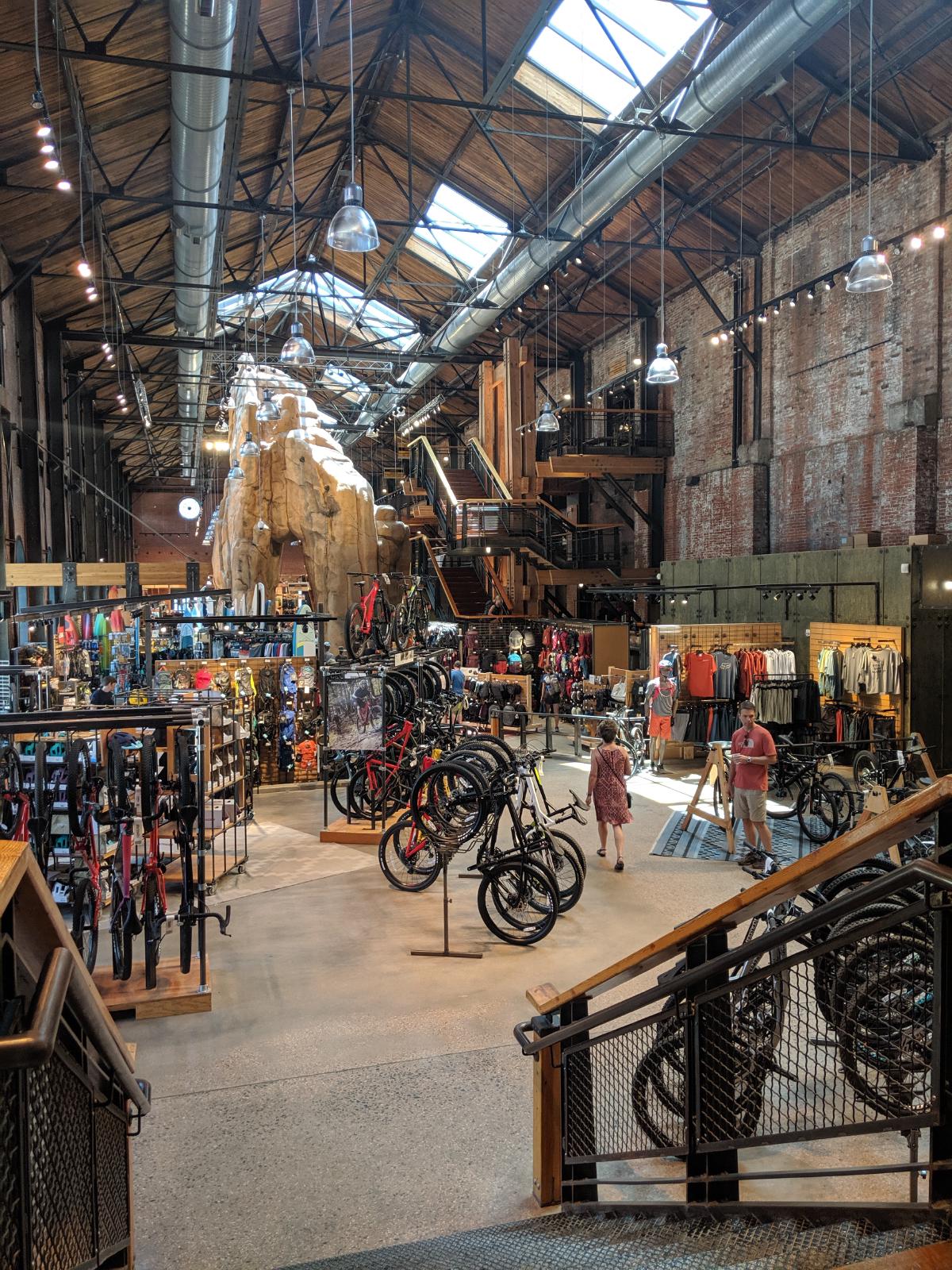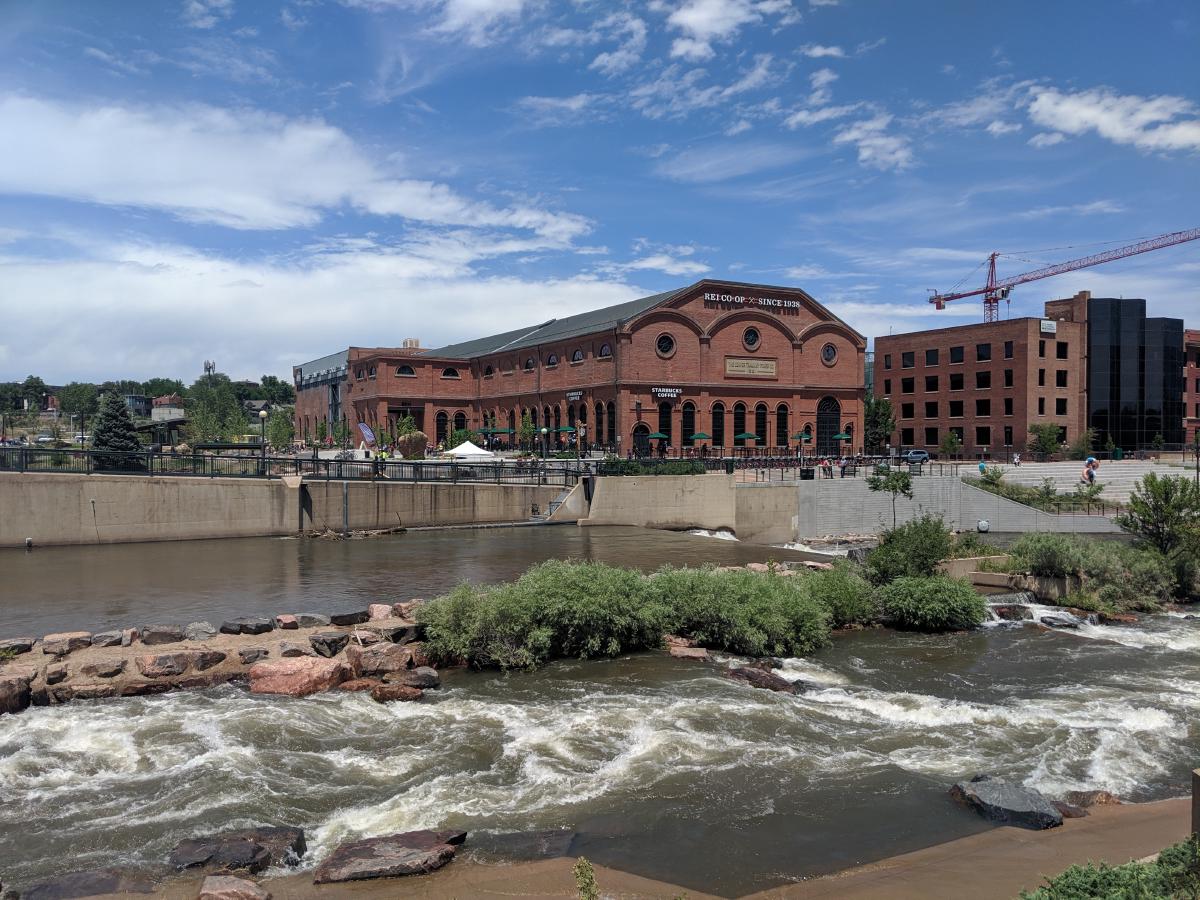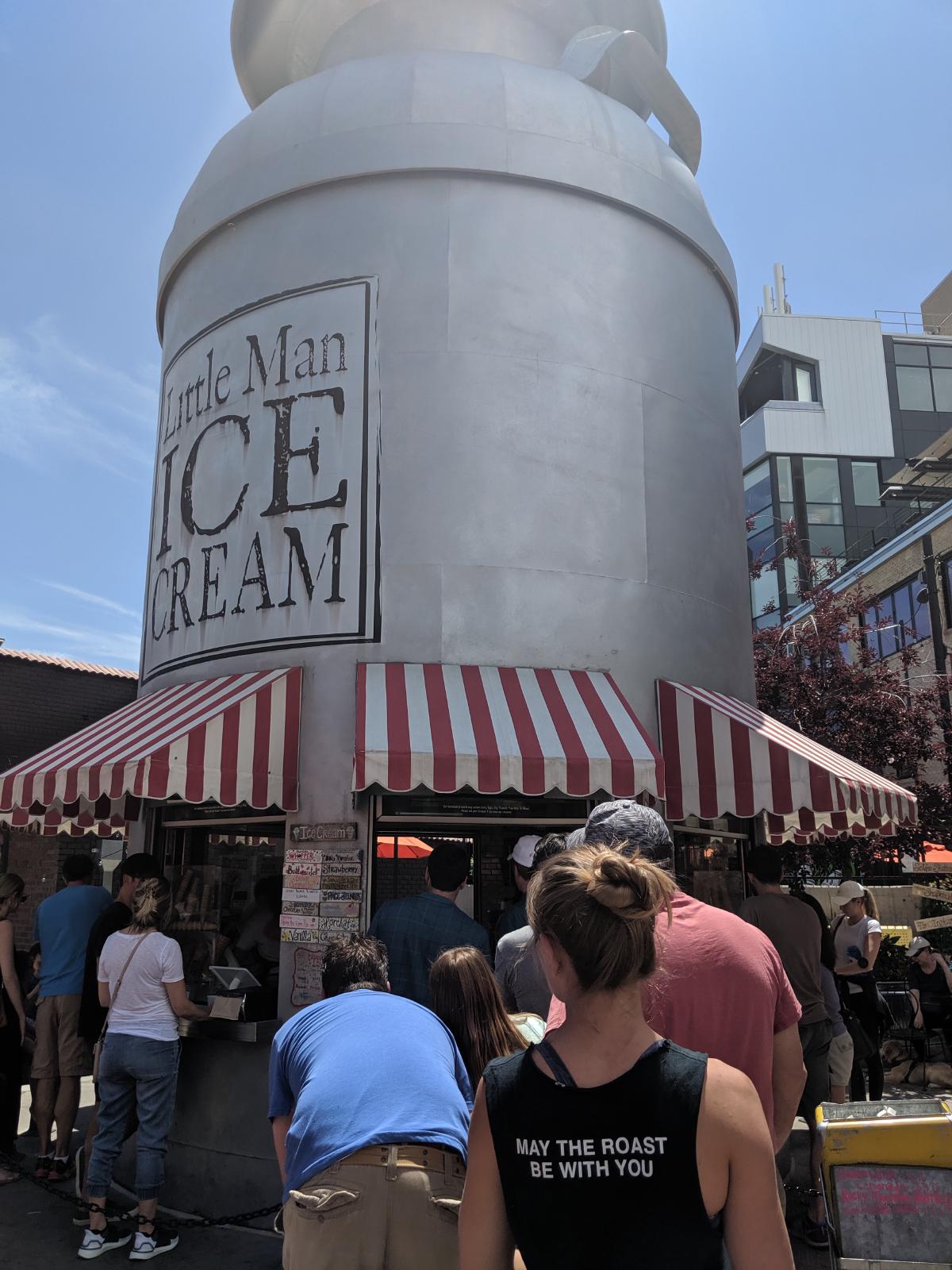 Pre-Flight Cats
Having been away from our cat for almost four days now, we were craving some feline attention, so we drove back to Tennyson to visit the Denver Cat Company. The $10 entry fee was a bit pricey, but it supports the cats while they're being fostered and hopefully adopted. There were even some kittens to play with!
As we reorganized the car to drive to the airport, I noticed a zero-waste store, Joy Fill, across the street from where we'd parked. I've been very interested in reducing my footprint (making my own vegetable stock, composting, using renewable products) and couldn't resist dipping in to explore. The shop manager was very welcoming and excited to share his love of eco-friendly products and lifestyles. They had a box of jars to use for bulk products like lotion, soaps, cleaning products, and even deodorant. I definitely felt inspired to improve my waste reduction – I always carry a reusable straw, spork, and collapsible tote bag in my purse, but there is always more to be done.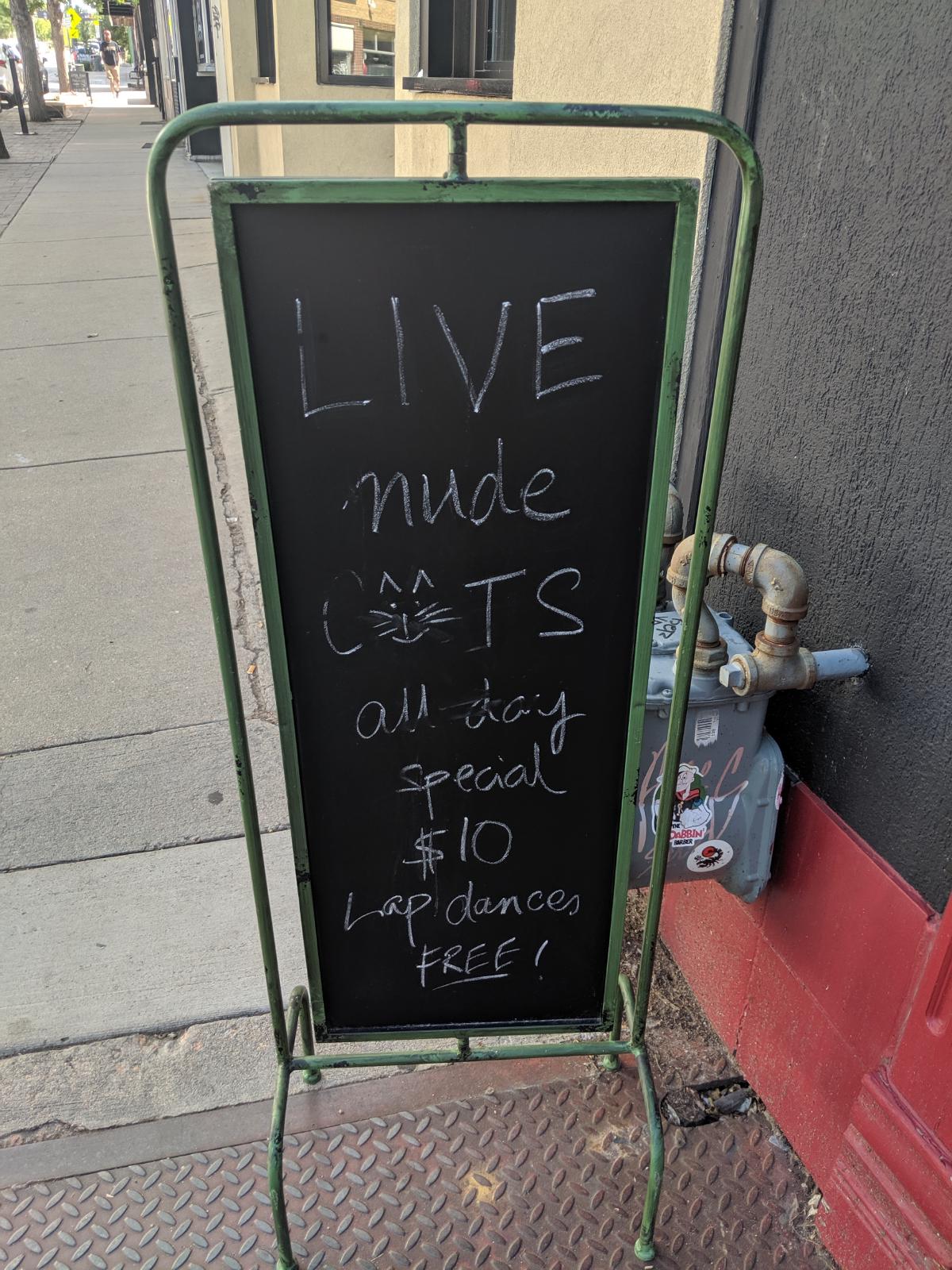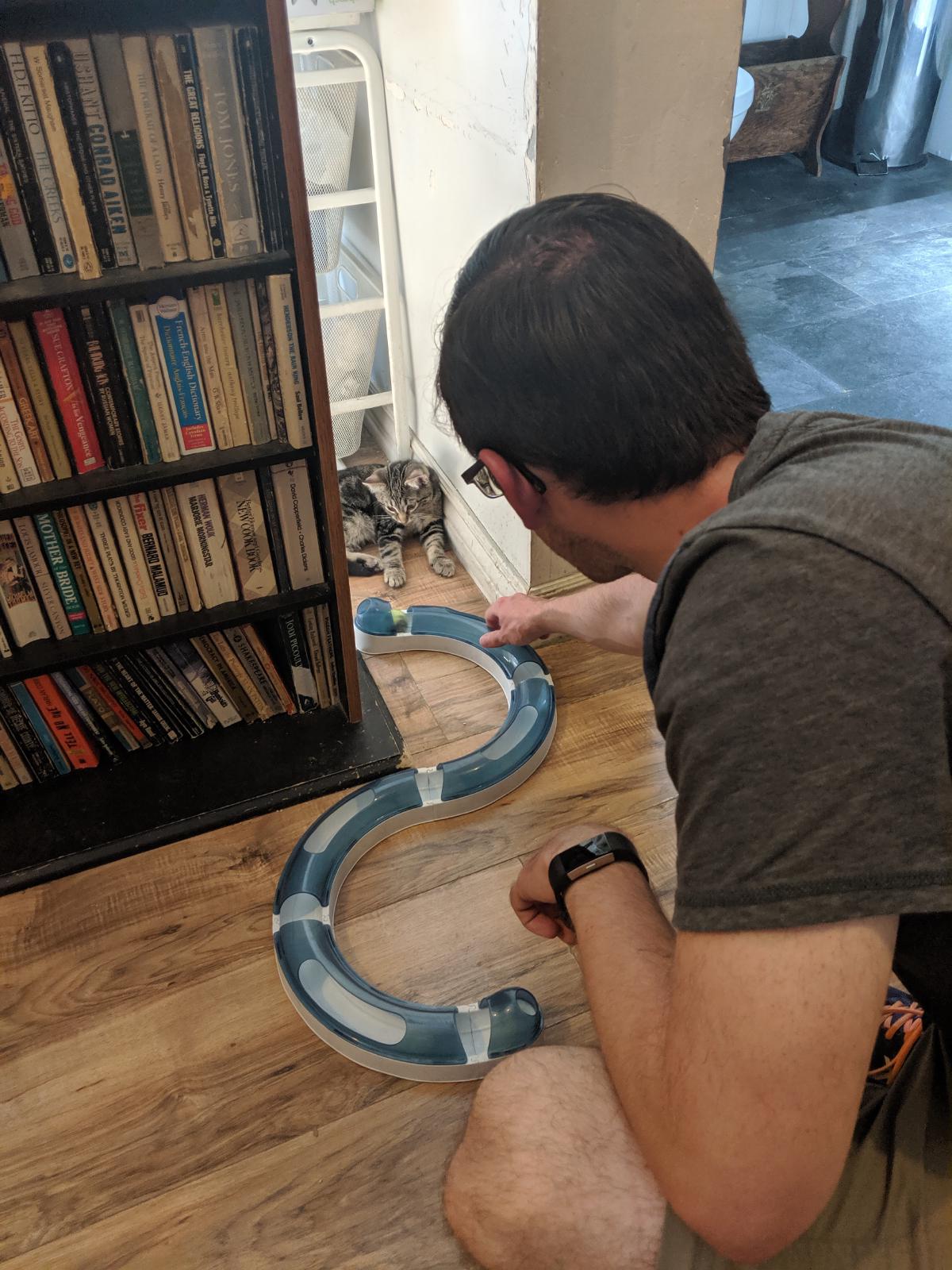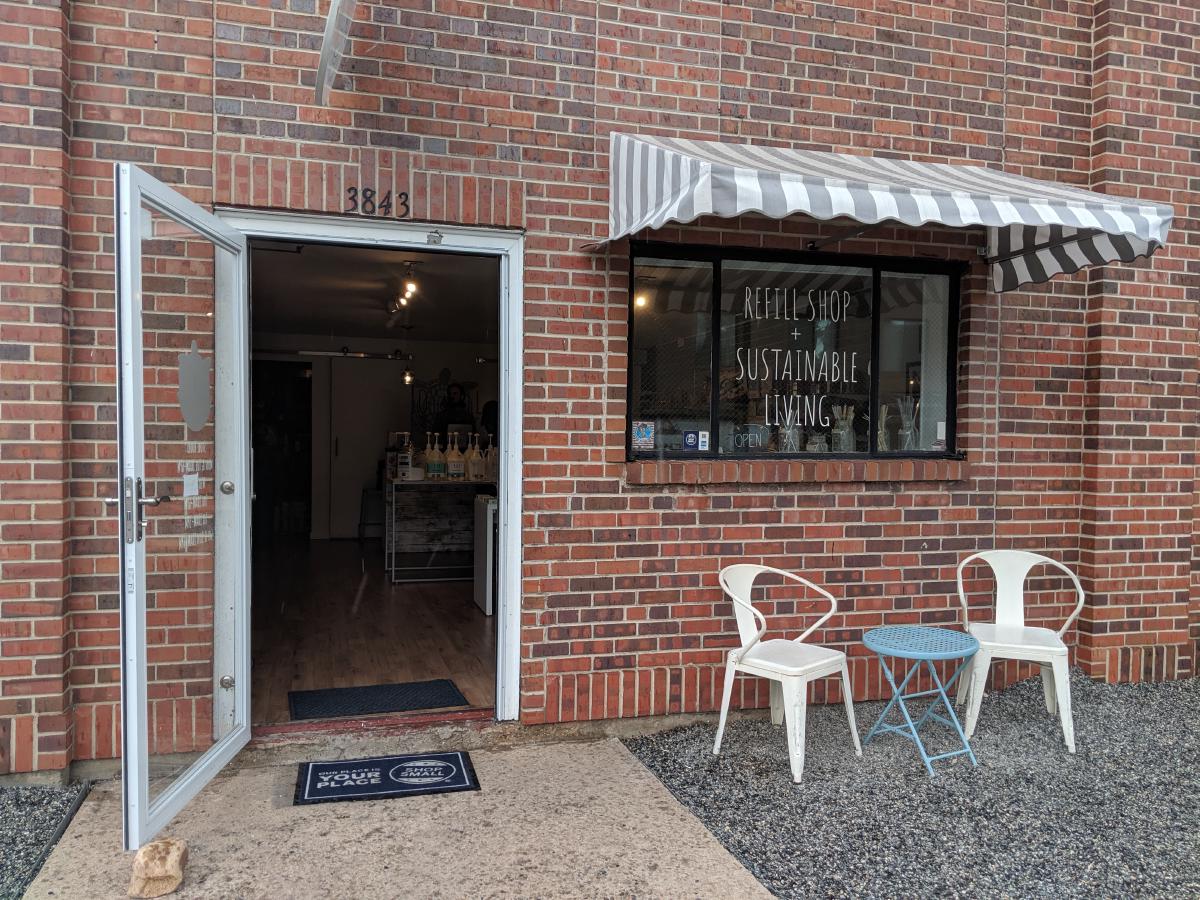 As the skies opened once again and rain poured down, we drove to the airport, dropped off our car, and said goodbye to the cursed red-eyed devil horse statue outside the Denver airport.
---
So, Should You Visit?
In terms of access to stunning outdoor recreation and vistas, Boulder is second to none. It's an easy drive from Denver which has direct flights from all over the United States, and Colorado is fairly central so it's an easy long weekend destination without too much flight time.
We had a magical time exploring nature over four days. Denver is similar to Austin in size and mentality (young families and professionals who are very active, plus some old timers) but was less diverse in culture and cuisine. Additionally, lodging and food was relatively expensive, likely because of Denver's geographical isolation from other populated areas and status as yet another growing tech hub. Boulder is an especially expensive small town but was a pleasant place to spend a few days with central access to many excursions.
The weather can change at absolutely any time – it went from sunny to windy to rainy to sunny again in the span of a few hours. Always bring food, twice as much water as you think you'll need (and fill up at your lodging, since there isn't always water at trailheads), and sun and rain protection. The high elevation takes a toll and it's easy to get dehydrated or sunburned. And if the elevation is hitting you hard, take it easy – altitude sickness can strike even if you're incredibly physically fit.
We loved our stay in the Denver area. Colorado is massive, so we'll definitely need to visit again to see other areas such as Mesa Verde in the Southwest. As I've learned over the years, don't try to do everything in one trip – pick an area, explore it thoroughly and save the rest for next time. We came back feeling relaxed, refreshed, and inspired by the sheer magnitude of the mountains and being away from civilization. We are smaller than we think, and one way or another, the Earth will move on without us.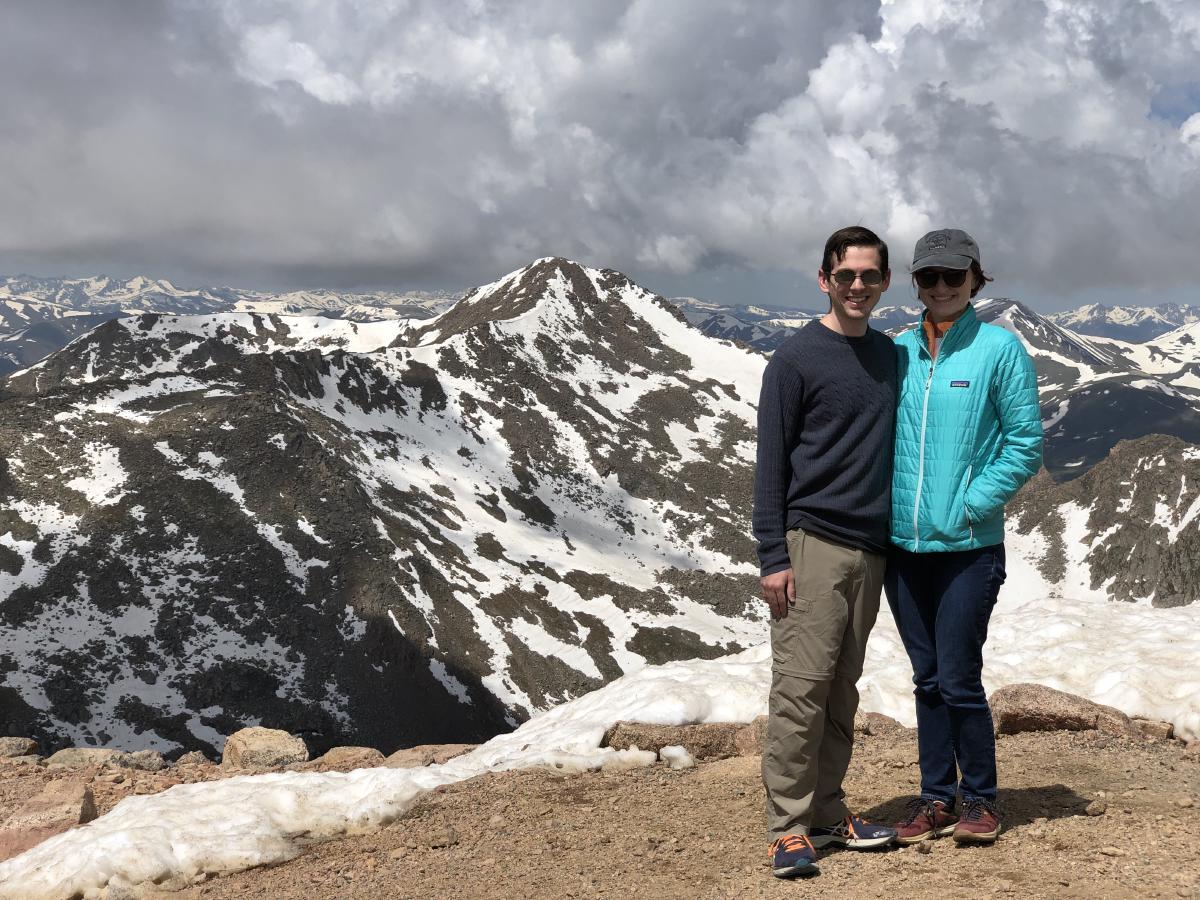 Staying Spontaneous
As always, I recommend leaving unplanned time in your schedule. In our case, we discovered the incredible ice cream in Golden and visited the Cat Cafe in Denver. We had some ideas of places to eat in advance, and depending on how we felt after the day's activities, could choose if we wanted a more formal meal or something casual. In all honesty, we took naps every day because we were so exhausted from hiking in the sun. Pick one main activity for every day and play the rest by ear.