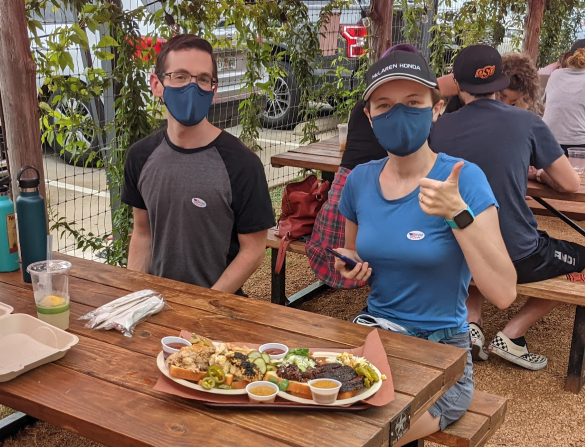 Eating delicious barbecue at Texas Monthly's number 5 pick, Leroy and Lewis | Image © David Cardinal 2021.
---
Welcome to the new Unplan-It Earth.
When I started this blog in 2018, I was anxious, stressed, and needed everything planned. Spontaneity was not something I was at all comfortable with. I hoped that folks would follow my journeys and that my tips would aid them in their lives as well. However, after a few years of hard work, this blog has succeeded at its goal. I'm currently taking a sabbatical from work, which would not have happened without this blog teaching me to stop overplanning my life.
A Change of Pace
I don't want this blog to be a business, or a job, or a side hustle. This new website format provides a chance for a refresh.
I know that my lifestyle may not apply to as many people at this point. I am taking a break from work, so my travel plans are much less restricted and our tips and strategies have completely shifted. The priority now is economical travel, usually with only a personal item, and maximizing our enjoyment without burning out. We don't plan to do month-long backpacking trips - we miss our cats too much - and prefer 1-2 week jaunts with regular life in between.
What's Next?
We have planned travel to Portugal in the spring, Alaska in the summer, and various trips around the US this fall, which I'll absolutely recount here on the blog. But the posts won't be a travel guide - it'll be what happens on the trips, things I enjoy, and memories that I want to put someplace for safekeeping.
Other posts may review some albums I've listened to or books I've read, or recount tales about my newfound hobbies of bouldering and pickleball. Maybe I'll delve into my other interests of reducing waste, cooking from scratch, and exploring sustainable fashion and thrifting. Instead of focusing on travel advice, it will be about spontaneous life and enjoying simple things. Honestly, I have never been happier.
I do hope you follow along and find some ways to enjoy smaller parts of your life without needing big adventures to make it happen. I've come full circle to one of my favorite quotes:
"Life on Earth can be an adventure too. You just need to know where to look." — Sarah Jane Smith
My About Me page has more detail on my decision to take time off. I've also summarized the past year and the leadup to this decision in And We're Back: 2020 and Beyond (2021).
If you find these posts amusing and engaging, then please keep on reading. If you're looking for up-to-date travel tips and tricks, then I'd highly suggest checking out a few of my favorite blogs from those who do this as a job (My Wanderlusty Life, Dangerous Business). Unplan-It Earth is now about living life to the fullest and enjoying things both big and small.
---
P.S. Please pardon any quirks with the website. We've moved to a new hosting service, so there may still be some kinks. Thanks!